October 31, 2017, 2:30 PM
Here's some "new old stock" for you.  Back in March 2016, I had the idea of writing about a fatal pedestrian accident that happened in December 2015 at the intersection of Veirs Mill Road (MD 586) and the Matthew Henson Trail in Rockville.  It was an area that I was very familiar with, as one of the routes that I did on the bus went through this area.  I did the field work for that planned Journal entry, photographing the area in question, as well as a few other pedestrian control devices in Montgomery County, in order to have a discussion similar to the one I did in March 2013 about an intersection on Georgia Avenue.  Unfortunately, however, life got in the way, as I got a promotion at work, and the several-months-long training program that came with that promotion took precedence over the planned Journal entry.  The post eventually got shelved, and now it's a moot point, as the intersection was initially upgraded with yellow warning signals directly over the crossing (vs. 500 feet ahead of it as before), and then after a second fatal accident in the same location, the crossing was upgraded again with signals that actually require traffic to stop vs. only warning drivers of the presence of pedestrians.
I was always a bit disappointed that an entire afternoon's work never got used.  Like the Breezewood photo shoot in 2006, evidence of the shoot showed up fairly soon after the work was done – in this case, a single photo feature – but the intended final product never got made.  In hindsight, I'm not too worried about it, because what I would have advocated for in the intended Journal entry came to pass, though I wish that it hadn't happened as a result of a second fatal accident.
The shoot itself was pretty fun.  I brought Elyse with me, and we made a good team.  The way we did it was that I set the camera up on my tripod and pointed it at whatever I needed, started filming, and then signaled to Elyse to activate the signal.  She then crossed the street, in order to give some legitimacy to the signal activation.  After all, I knew that I was stopping traffic on some fairly busy roads for a photo shoot.  I had Elyse cross the street so that I didn't look like a complete dick, stopping traffic for no reason.  Someone needed to cross the street, so that it didn't look like I was stopping traffic just to film the signals.  I imagine that Elyse probably did about a mile going back and forth across several intersections in Montgomery County and DC.  After all, every single take (and I did multiple takes) required activating a signal, and that meant sending Elyse across the street.
Continue reading…
October 25, 2017, 3:17 AM
On Tuesday, October 17, with Elyse and Aaron Stone in tow, I headed down to Ocean City for the day.  The plan was to do the Ocean City outing that I had wanted to do last year, but which had been significantly curtailed due to a slow tire leak that I had to get repaired en route.  Remembering that, I was very explicit about wanting to make as few stops as possible.  The only stops were restroom stops and a food stop, and we did well enough on time.  After all, the purpose of the trip was photography, and so I needed proper light in order to get it, and that meant making good time on the road.  Once I'm out of daylight, the photography is over, since I am currently without a functioning tripod, and therefore, my nighttime options are limited.
For those of you who are not familiar, Ocean City is one of those dumpy little coastal resort towns that has a very distinct operating season.  Outside of that season, the place is fairly quiet, as many businesses close for the off season, as do many of the hotels and attractions.  I was fine with this, because the off-season meant that there were fewer opportunities for people to get in the way of my shots, and those people who were out were easier to photograph.
The plan was that I would photograph along the boardwalk while Aaron and Elyse, both elevator enthusiasts, went out to ride various elevators.  We parked on 9th Street, and then once we got settled, I went south towards the fishing pier, and they went north to do some "elevator tourism".
Continue reading…
October 19, 2017, 11:17 PM
This past Saturday, Elyse and I got together with our friend Dave, and we went to the Public Safety Open House held at the new Montgomery County Public Safety Training Academy on Snouffer School Road near Montgomery Village.  Then we went out to Middletown and visited South Mountain Creamery, which is a dairy farm that sells products on site.
The Public Safety Open House event was a lot of fun.  There was a little bit of everything for us to see there.  We started out by looking at a row of Ride On buses.  Apparently, this facility is used to train Ride On operators, because there is, more or less, one or two of each type of bus that Ride On operates located at the facility.  We saw two Gillig hybrids, an Orion VII CNG, a New Flyer C40LF, and two Gillig 30-footers.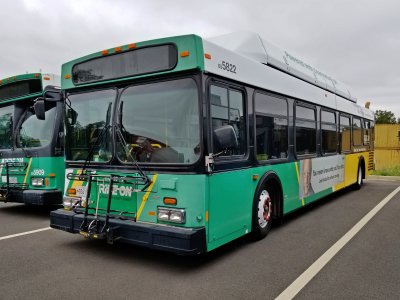 Ride On 5822, a New Flyer C40LF.  We all commented on how the one panel on the front was so faded.  No idea why.  I speculated at the time that it might be from the diagonal parking at the old Gaithersburg division's causing sunlight to hit that corner more than others, but after thinking some more about it, while certainly plausible, I don't know if I'd necessarily go with it now.
Continue reading…