No tire problems this time around…
October 25, 2017, 3:17 AM
On Tuesday, October 17, with Elyse and Aaron Stone in tow, I headed down to Ocean City for the day.  The plan was to do the Ocean City outing that I had wanted to do last year, but which had been significantly curtailed due to a slow tire leak that I had to get repaired en route.  Remembering that, I was very explicit about wanting to make as few stops as possible.  The only stops were restroom stops and a food stop, and we did well enough on time.  After all, the purpose of the trip was photography, and so I needed proper light in order to get it, and that meant making good time on the road.  Once I'm out of daylight, the photography is over, since I am currently without a functioning tripod, and therefore, my nighttime options are limited.
For those of you who are not familiar, Ocean City is one of those dumpy little coastal resort towns that has a very distinct operating season.  Outside of that season, the place is fairly quiet, as many businesses close for the off season, as do many of the hotels and attractions.  I was fine with this, because the off-season meant that there were fewer opportunities for people to get in the way of my shots, and those people who were out were easier to photograph.
The plan was that I would photograph along the boardwalk while Aaron and Elyse, both elevator enthusiasts, went out to ride various elevators.  We parked on 9th Street, and then once we got settled, I went south towards the fishing pier, and they went north to do some "elevator tourism".
My goal was to mosey over from where I parked on 9th Street down to the fishing pier and back, photographing everything along the way.  I had missed the fishing pier last year (it had closed for the evening by the time that I got over there), and so I was determined to get it this year in daylight, and see what there was to see.  I also went on Facebook and acknowledged a reality of ocean photography: "The thing about photographing the ocean is that the horizon needs to be level. If the water isn't level, fix it until it is."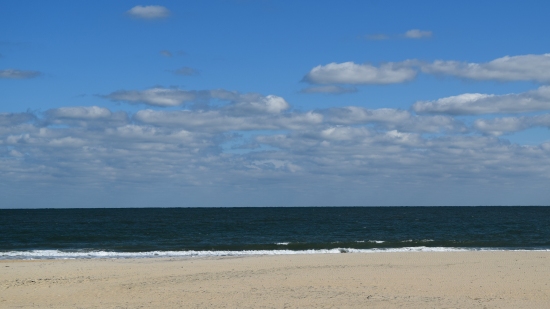 Only slight cloud cover over the beach.  Perfect photography weather.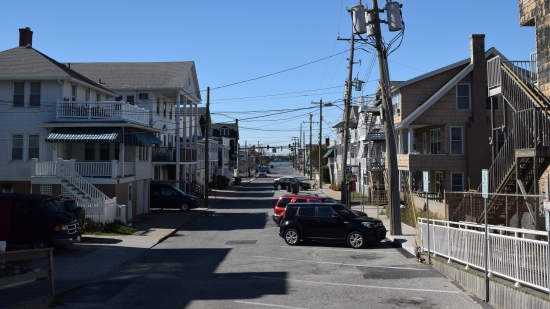 8th Street, viewed from the boardwalk.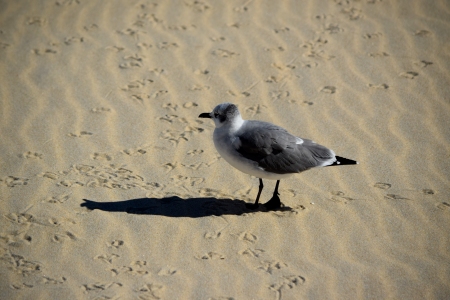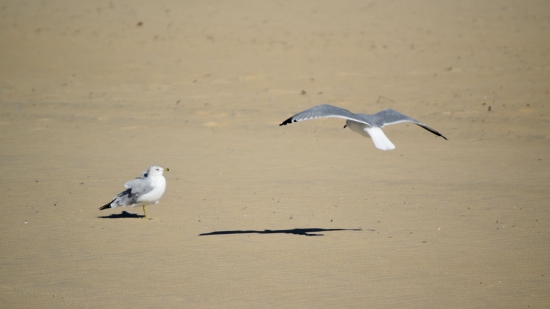 I took a lot of sea gull photos.  I got them moving around on the beach, flying around, you name it.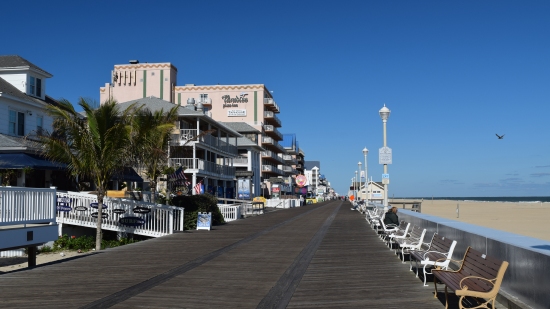 The boardwalk, facing north from just south of 8th Street.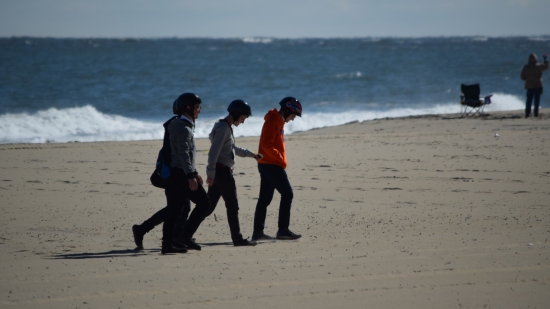 I got a photo of these guys because I found it curious that they were walking around wearing helmets.  It later made sense when we spotted them on motorcycles as we were leaving.  Made a lot more sense then (duh!).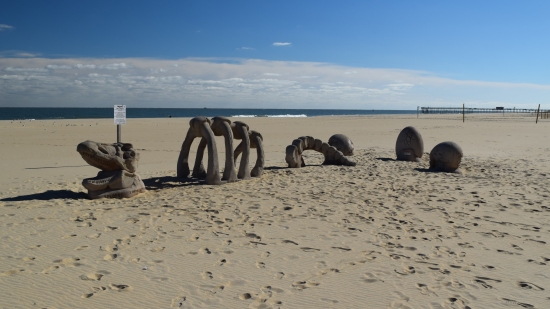 Dinosaur skeleton-themed play structure.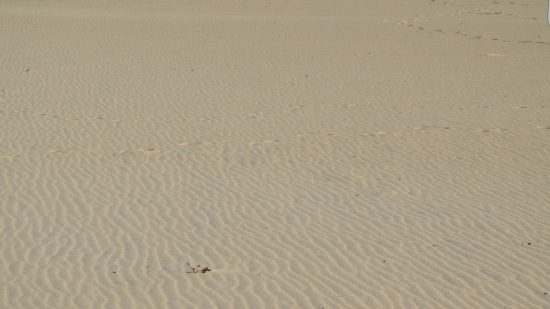 With few people on the beach, it was neat to see the effects of the wind on the sand.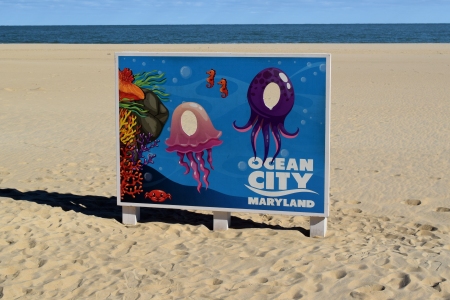 Finding Nemo knockoff on the beach.  I call it "Finding Ocean City".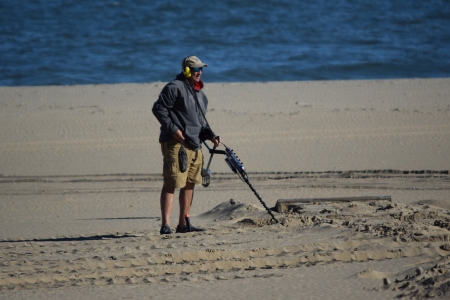 Man using a metal detector.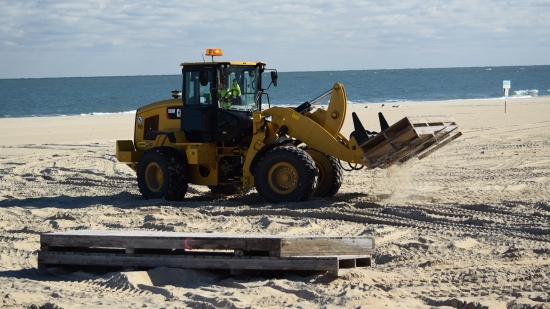 Heavy equipment moving some pallets around.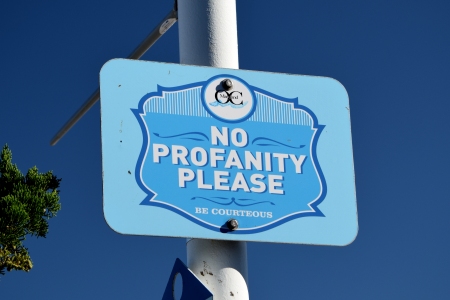 Ocean City's equivalent of the no-swearing sign like Virginia Beach has.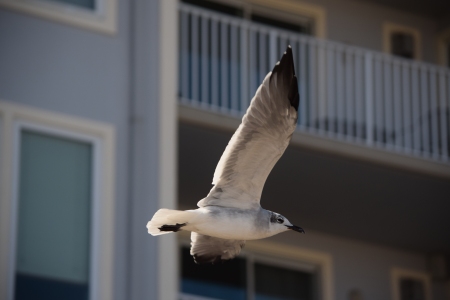 Sea gull in flight.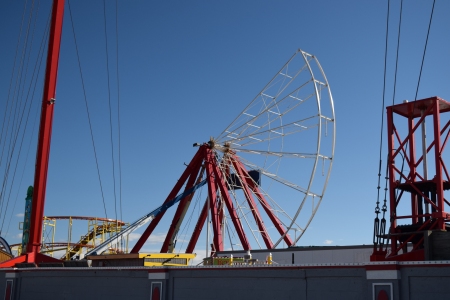 I was very surprised to see the ferris wheel at Jolly Roger undergoing what appeared at a glance to be demolition.  I later asked online about what I saw, and as it turns out, this is part of a major overhaul project that the ferris wheel goes through every ten years, where the ferris wheel is dismantled, refurbished, and reassembled in time for the next operating season.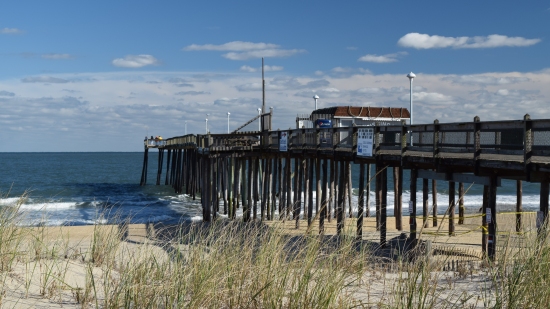 Ocean City fishing pier, viewed from the northwest.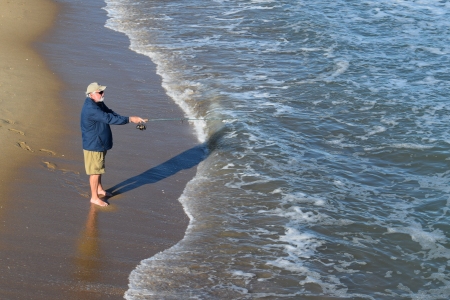 A man goes fishing in the ocean.  Was surprised that he was walking around barefoot!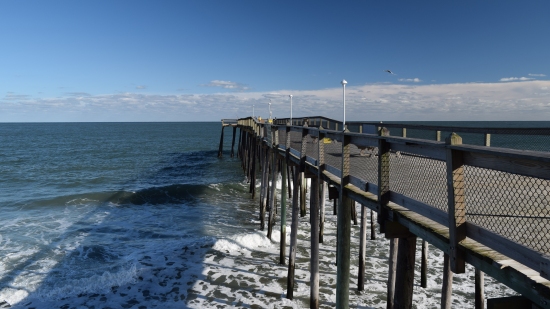 Ocean City fishing pier, viewed from a wide section about halfway down.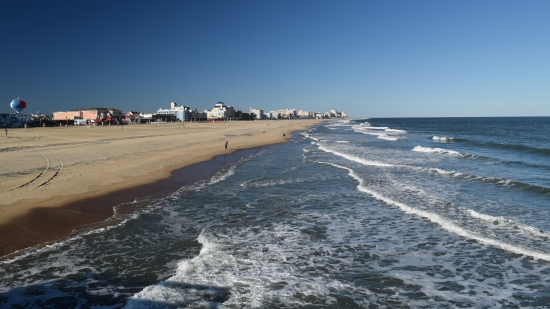 View of the beach and the waves from the fishing pier.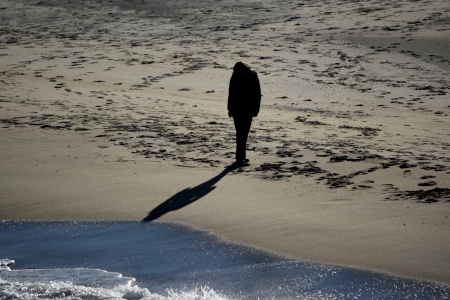 A person walks along the beach, south of the fishing pier.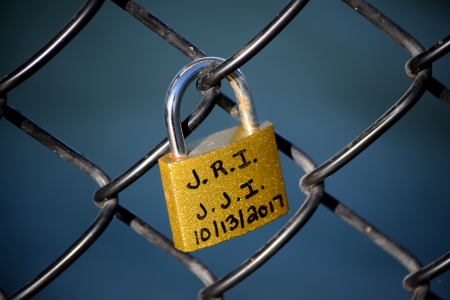 "Love lock" placed on the fishing pier.  Based on the date, this was placed four days prior to our visit.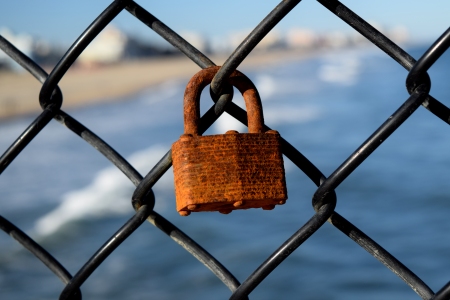 This lock had a surprising story.  I took this photo by chance, as I was moving down the fishing pier to head back to the boardwalk.  I posted it on Instagram the next day, and who responds but the person who locked it to the pier.  Turns out that it was put there in 2011 by a friend of Elyse's, and he was surprised that it was still there.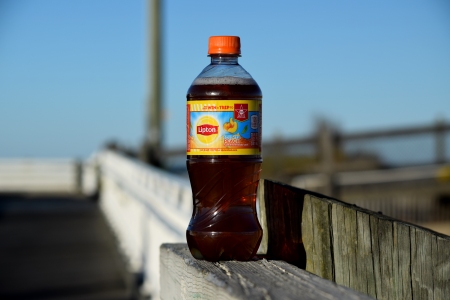 I found an unopened bottle of iced tea sitting on the railing, so I took a few photos of it.  Wonder if Kermit the Frog misplaced his tea?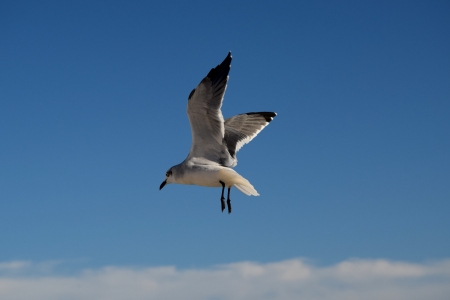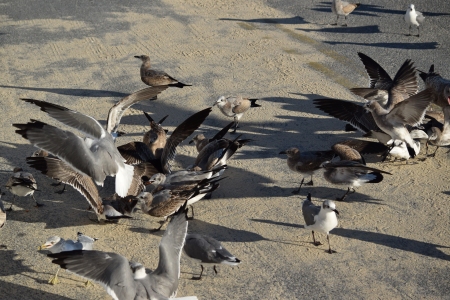 Some people were throwing pretzel bits to the birds, and so I had a bit of a field day photographing the birds, getting them both in the air and on the ground.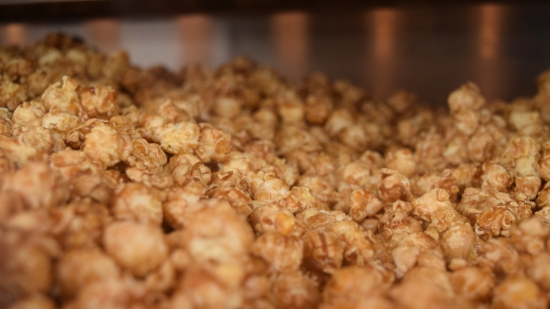 Caramel corn.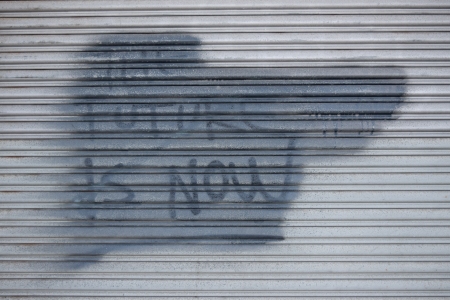 Painted-out "The future is now" graffiti.
All in all, I had fun on my photo walk, which ended up taking around four hours.  Time well spent.  Meanwhile, Elyse and Aaron didn't fare as well.  They made it as far up as 27th Street, but unfortunately for them, almost all of the places that they had wanted to see were closed for the season, meaning that they had no access to the facilities that they planned to see.
We met back up around 5:30, and went to dinner.  We ended up going to The Dough Roller, which is a local chain of pizza restaurants.  It was nothing that you would necessarily write home about, but it wasn't bad, either.  The most interesting feature was the lighting.  All of the fixtures shared a common theme, but no two fixtures were the same.
After dinner, we headed north into Delaware.  Gotta see Rehoboth, after all.  Arriving there, I got another photo of Elyse with the dolphin: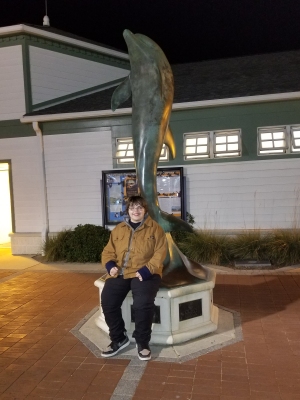 That made a nice companion piece to last year's photo, though this year, the dolphin wasn't wearing a t-shirt.
We then wandered around the Rehoboth strip, which generally runs perpendicular to the beach.  We eventually found our way to Cooter Brown's Twisted Southern Kitchen and Bourbon Bar, because Aaron needed to use the restroom.  He was initially punted, with the employees' citing a "patrons only" policy.  However, shortly after Aaron came back out and reported back to us, the manager then came out and invited Aaron back in to use the restroom.  We all went in, and Elyse and I sat at the bar.  I had a water, and Elyse got herself a Jack and Coke: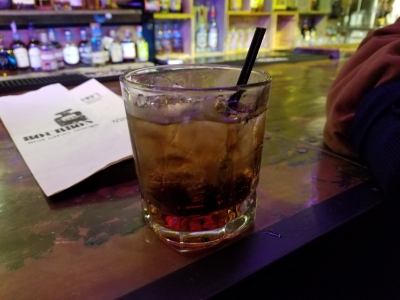 I suppose that this is why you shouldn't have a "patrons only" policy for your restroom.  If they hadn't invited Aaron back in to use the restroom, we would have just continued on.  However, because they let Aaron use the restroom, they sold a $7 cocktail.  I've watched enough Bar Rescue to know that liquor is typically one of the higher-markup items in a bar, so I'd say that the goodwill gesture of letting Aaron use the restroom off of the street paid off fairly well for them.  After all, it got us inside, and Elyse was thirsty.
Then on the way out, we discovered once again that there is no "direct" route to Rehoboth from DC as there is to Ocean City from DC.  You're still taking a bunch of small, dark roads back.  We took Delaware Route 1 to Milford, where we changed to Route 14.  Then Route 14 becomes Maryland Route 317, you then take Route 313 for about two minutes, and then take Route 404 to just east of the Bay Bridge, where you join Route 50.
Last year, we made a wrong turn fairly early on as we were leaving Rehoboth, and the GPS just updated and kept us moving, so we went through a lot of little tiny roads as it sent us towards the Bay Bridge.  This time, we followed the "correct" route, and while we didn't have to make as many moves, it still felt like a convoluted route, going past houses and encountering multiple stop signs (yes, stop signs – not traffic lights).
However, during our two minutes on Route 313, we did spot something interesting during a restroom stop.  We spotted milk being sold in quart-sized jugs that were shaped like the gallon, but smaller: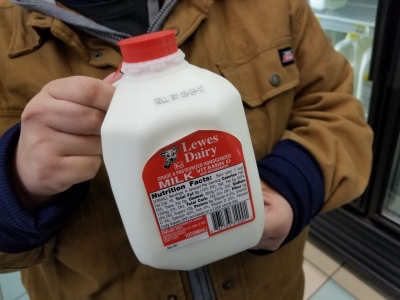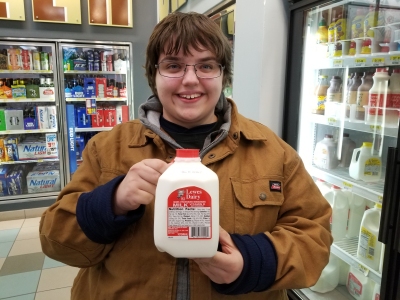 Quart-sized jug of milk, with Elyse for scale.
How unusual.
And that was that, I suppose.  I would say that a fun time was had by all.