July 18, 2021, 11:27 PM
FYI, this Journal entry discusses gross body functions in personal places.  If you're squeamish about such things, you might want to skip this one.  Otherwise, here we go…
This past Friday, I went in for some minor surgery to fix a small problem.  Back in April, I had developed what turned out to be an abscess on my backside.  I didn't quite know what it was for a while, and was doing what they say that you shouldn't do, and looked up my symptoms on Google.  It seems like every time you google your symptoms, it always comes back as a heart attack, and therefore, you need to get your tail to the emergency room right now.  But I knew better.  Even controlling for definitely-not-a-heart-attack, though, I still got inconclusive results, i.e. Dr. Google had no clue what it was.  All the while, this thing was uncomfortable.  At its peak, it was so painful that it was difficult to sit.  And considering that my job is performed from a seated position, that point really made for a long day.  At one point, I tried squeezing it, and pus came out of it.  That made me feel a little better for a little while, but it quickly filled back up and continued to hurt.  Eventually it started to drain on its own without any prompting from me.  That felt a little better because there was no more pressure, but it was still painful, and now it was draining all the time and making a mess in my underwear, even soaking through my pants on occasion, which is not a good thing by any means.  I don't like having to choose my outfits based on thickness and color of material in order to prevent embarrassing abscess leaks from showing up.
I eventually went to an urgent care facility, and there, the doctor diagnosed it as a cutaneous abscess, and prescribed a course of antibiotics (Bactrim) for it.  According to the urgent care doctor, the abscess should take care of itself without any further intervention.  As it would turn out, the antibiotic took care of the infection in very short order, but the drain opening remained, and things kept on draining, albeit with less volume than before, which kept the leakage contained to my underwear and not going through my pants anymore.  I figured that some drainage was normal, considering that I had just had a big abscess that was being treated.  But then it kept on going, even after the infection had subsided, and after I finished up all of the antibiotics.  I kept holding out some hope for a while that it would resolve on its own, but it never did.
Continue reading…
July 17, 2021, 8:44 AM
While Elyse and I were on that trip to Staunton that I discussed earlier, we stopped by Staunton Mall to check in on the progress there.  It would appear that the redevelopment plans for Staunton Mall are for real, because asbestos abatement appears to be happening in a few places, and a perimeter has been established around the building in preparation for demolition.  Recall that I declared Staunton Mall to be a dead mall back in 2009, but it took until 2020 for the mall to finally close.  That fence around the entire mall building, save for Belk, is a major step towards demolition and redevelopment.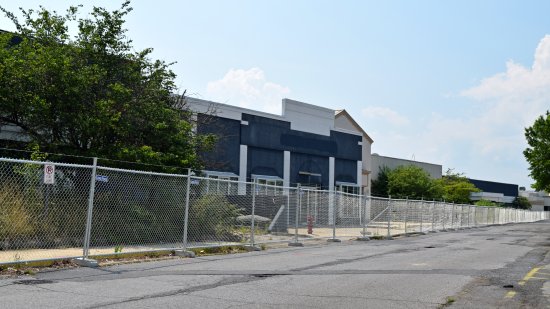 Fencing in front of the former Wills/Books-A-Million store.
Continue reading…
July 9, 2021, 3:50 PM
Recently, on a trip to Staunton, I had my first meal in a full-service restaurant since my weight loss surgery in December 2019.  We were visiting family, as my sister and her husband were in from Chicago.  So our party consisted of Elyse and me, my sister and her husband Chris, our parents, and Chris's parents.  Nice group all around.  We ate at Zynodoa, which is a higher tier restaurant than I typically go to, but it was a good experience overall.
I would say that the timing of things tended to work against restaurants in general.  I had my surgery on December 6, 2019, and so things were still healing for most of December.  I was figuring out through trial and error about what foods would be tolerated by my body, and also determining portion sizes.  When Elyse and I would go out, we typically would stop in at a grocery store with a food bar if we needed to eat, like Harris Teeter, Wegmans, or Whole Foods.  I was typically able to get out of there for about five bucks (I would jokingly refer to myself as a cheap date).  Doing that allowed me to try out a variety of different foods, and only get the amounts that I needed (remember, my tummy is tiny now).
Then the pandemic restrictions came along, which took eating in restaurants out of the picture entirely.  I've never been one to do take-out from restaurants.  If I'm eating food from a sit-down restaurant, I'm more than likely going to be eating it at the restaurant.  If I'm getting it to go, I'm going somewhere else, like a grocery store or something else cheaper than a full restaurant.  Thus if I couldn't eat on the premises because of various rules in place, a full restaurant was of no use to me.  And if I'm getting food to take home, I might as well just eat the food that I already have at home.  All of that said, the pandemic rules came about while I was still forming new habits after having my surgery, and that meant that full-service restaurants were more or less out of the picture, i.e. they didn't exist as far as I was concerned.
Continue reading…
July 2, 2021, 3:59 PM
So Elyse and I recently went hunting online, discovered that woomy.info was available, and snagged it.  This is the result: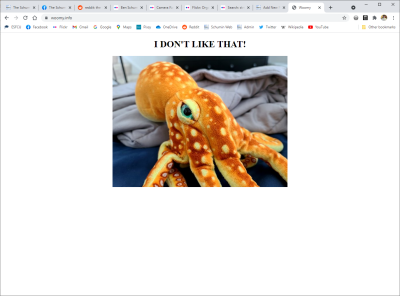 Continue reading…