November 23, 2018, 2:16 PM
A year after buying the place, I'm still working hard to make it my own.  First it was the new furniture from IKEA.  Then I painted Elyse's bathroom.  Then I finished the chairs in the kitchen.  Then I painted Elyse's bedroom.  Then it was the area rugs.  And now, it's new toilets.  I suppose that this is what happens when you become mature, that buying and installing new toilets becomes exciting.
In any case, Elyse and I had both been less than enthused about our respective toilets from the moment that we moved in.  The ones in Elyse's bathroom and mine were both fairly old, and both had problems.  Mine leaked water from the tank into the bowl, which was a waste of water, and it also splashed me in certain places, which was quite annoying.  Then parts of Elyse's didn't work, which reduced its effectiveness, which also ultimately wasted water.  So they were both quickly marked for replacement.  The toilet in the half bath is in good shape, and is not slated to be replaced, though we are planning to do a small refurbushment project on it, likely coupled with a repainting project in that room.
On September 29, Elyse and I finally took the plunge.  While we were out in Hagerstown, after looking at a store called CoinOpWarehouse, we went over to Lowe's and looked at the different toilets that they had.  She got the Ove Beverly, which had a very modern design. I got the American Standard Champion 4, which is an ADA height toilet of more traditional design.  This is what the Champion 4 looked like in the store: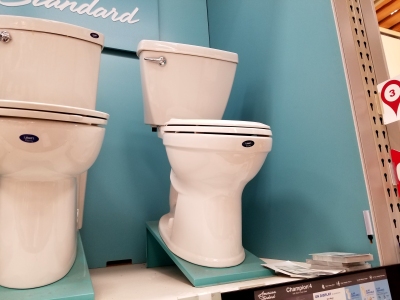 Continue reading…
November 21, 2018, 1:48 PM
Back in the middle of October, as part of a weeklong vacation from work, Elyse and I took a trip to upstate New York and northeastern Pennsylvania.  The first day took us up to Cortland, New York.  The second day, we explored Scranton, Pennsylvania.  The third day, we briefly explored Wilkes-Barre, and then went down to Centralia before heading home.
Our route on the first day took us from home up I-270 to Frederick, and then US 15 to Harrisburg.  We had planned a stop around Harrisburg in order to photograph Three Mile Island from across the river, but scrapped it due to bad weather (clouds).  We can day-trip it to Harrisburg any time, and traveling to the spot for Three Mile Island would have been a significant detour.  We both agreed that we weren't going to make a long detour for bad photos.  Once we got to Harrisburg, we joined Interstate 81 for our travels north.
I definitely got to know I-81 a whole lot better than I did before taking this trip.  Previously, I had traveled on I-81 from its southern terminus near Knoxville as far as exit 116 in Pennsylvania, from my Centralia trip in May (prior to that, I had only traveled as far as the I-78 split).  Now, I've traveled the entire length of I-81 in Pennsylvania, and also 52 miles in upstate New York.  If there's one thing to be said about I-81 north of Harrisburg, it's that the views are outstanding.  I-81 runs through the mountains, and it's quite a sight.  And just like it does in Virginia, it skirts around every single city, which doesn't make for the most interesting trip.  I prefer when freeways go through the cities like I-95 tends to do, because it gives me something to look forward to, and also keeps me more engaged.
But thankfully, we had this license plate game that Elyse found in a thrift store, so as we spotted different states' license plates, she turned that state over on the board.  The most unusual license plate that we saw was for St. Maarten, at a Sheetz in Dillsburg, Pennsylvania.  Why a vehicle from St. Maarten was in central Pennsylvania, I don't know.
Continue reading…
November 4, 2018, 2:59 PM
Last night, Elyse shared a photo with me from Facebook depicting a school bus making a stop way out in the middle of the road: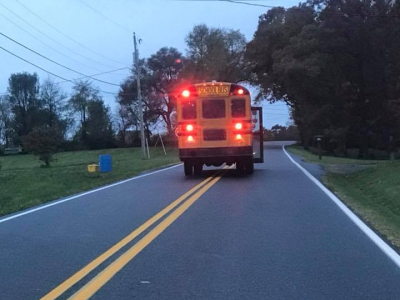 Photo: Dana Shifflett Farrar
The photo was captioned, "With the string of school bus accidents, I loved how this bus driver intentionally placed itself [sic] in the middle this morning.  At first I wondered what they were doing, then I realized the kids had to cross the road.  Well done, sir."  I don't know where this specific location is, but considering that the person who posted it is from Shenandoah, Virginia, this likely depicts a location in Shenandoah County, Virginia, and as such is most likely a Shenandoah County school bus.  This was likely done in reaction to recent news stories where children have been injured while going to school.
Continue reading…