New rugs!
August 2, 2018, 10:28 AM
So I have a little house update for you: carpet!  In the last month or so, I finally got the area rug question figured out, and procured and placed three area rugs in the house.  It makes for a much richer setting with some area rugs on the hardwood floors.  I put area rugs in my bedroom, the back bedroom, and the dining area part of the the living room.  So now, all three bedrooms and the living room have rugs in them.
For some reason, choosing home decor tends to stress me out.  I popped so many Advils in the process of picking these carpets.  I think it's because it's a significant cash outlay, because (A) furniture and carpet aren't cheap, and (B) it's something that you really don't want to return, especially if if required special arrangements to get it home in the first place.  Choosing what loveseat to buy for the mezzanine was difficult, as I visited so many stores in search of the perfect loveseat.  I eventually settled on an Ektorp loveseat from IKEA, which turned out to be the perfect thing to put up in the mezzanine.
Deciding on the area rugs took the stress from the loveseat search and multiplied it by twelve.  I had three rooms to outfit, and each had to be perfect, but I didn't know what "perfect" was.  I knew what my dimensions needed to be, and then worked from there.  I spent many nights on Amazon looking at area rugs.  More headaches.  I went to Walmart and Target's websites.  Nothing good – need more Advil.  I went down to Big Lots and came out empty, save for a brand new headache.  I also went to Ollie's up in Jessup, and came out with something for Elyse, but no rugs.  And rugs were my responsibility, since Elyse didn't quite understand why I was so wound up about rugs, and often suggested that I "just pick something".
In the end, I got something that I liked.  But not at first.  My bedroom was the first to be outfitted with an area rug, and it was a miss: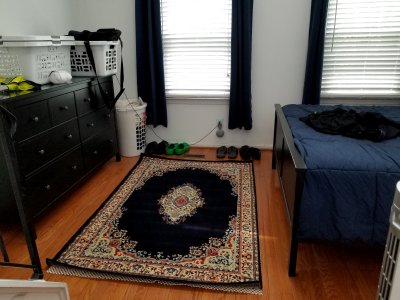 That is a Persian-style rug in navy blue, sized at 4′ x 6′.  It was a little too large for the space, and the color was not as I expected.  I expected a much brighter navy color, and instead got something closer to black.  Plus I wasn't as enthused about how the pattern looked in real life vs. online.  So the rug went back to Amazon.  Lesson learned: I needed a solid color in the room, plus this was a tad too large.  I ended up getting this instead: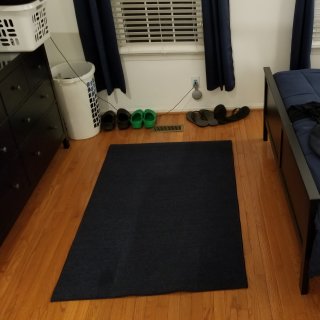 This is a solid navy rug at 3′ x 5′ that I got for $15 at Walmart.  Not a bad deal, and it fits the area perfectly.
The back bedroom, meanwhile, ended up being a stroke of pure luck.  I had searched and searched online, just like for my bedroom, but then I was at Lowe's up in Columbia, and stumbled upon the perfect area rug.  I was going through the rack, found a colorful one, and said to Elyse, "Back bedroom.  What do you think?"  She agreed, so we bought it, and into the Honda it went: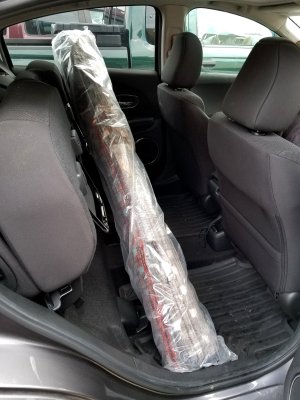 And then it was so: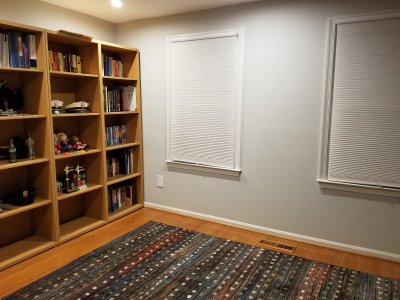 Not a bad look.  Now the question is whether or not I want to hang curtains in that room.  I'm torn between leaving it alone and not hanging any curtains, vs. hanging grommet-style blackout curtains at both windows like I did in my bedroom.  If I do go with curtains, it will probably be a cream color, in order to harmonize with the rug and the pale blue walls.
Then the living room could have gone one of several different directions.  As with the other ones, quite a few Advils gave their lives in the process of outfitting the space.  Lots of Amazon searching.  I hit up Big Lots and a few other places.  I ultimately found the perfect rug at IKEA, along with a bunch of other stuff: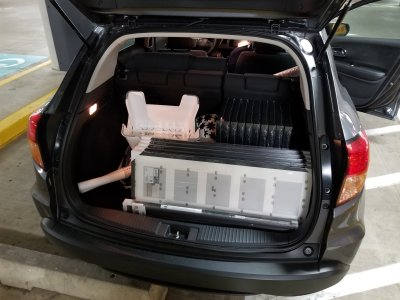 (By the way, Elyse and I should not be allowed to go to IKEA unsupervised, because things like this happen.  So many picture frames.)
Since that part of the living room was already fitted out, I had to clear out the space: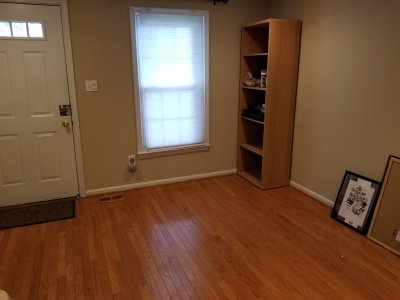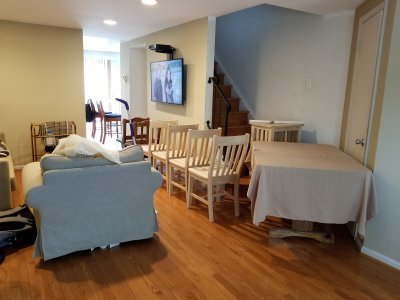 And then the rug went down: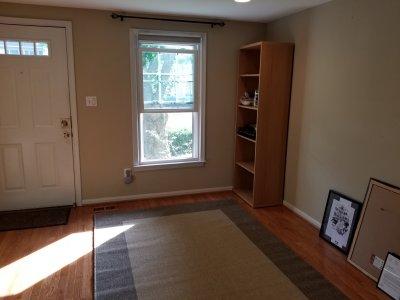 And then the furniture went back: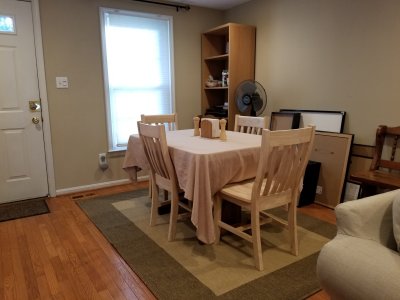 Seems to work.  Meanwhile, those are new chairs, replacing the somewhat dated original chairs, which I still have to stain and finish to match the rest of the furniture.  I have all of the materials, so now it's just a matter of doing it.  I also have an end table for the living room side which will be stained to match.
And lastly, unrelated to the carpet, a minor milestone in Elyse's room: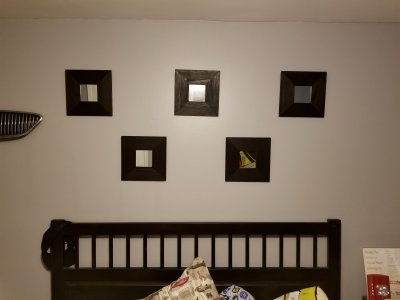 Rememnber those?  The five IKEA mirrors are back in place over my old bed, in the same arrangement as before.  I'm going do something similar in my bedroom with the newer version of the mirrors, but with the additional vertical space that I have, I'm going to do a 3 x 3 arrangement.
So all in all, this place is slowly coming together.  The only major projects remaining are to paint the living room and the hallways, stain and finish the chairs and the end table, and then decorate.