February 28, 2019, 8:33 AM
I suppose that home design is a continuing evolution.  There's the first wave of home organization, which is mainly about making moving boxes disappear, and then there's that second wave later on where you come up with a more sustainable solution, after you've had time to think about how things should go.  I recently did this with the back bedroom, where I put it through a second wave of organization.  The back bedroom has always been a bit of a multipurpose room.  I can inflate my air mattress in there, and it becomes the guest bedroom.  It's something of a playroom as well, as Elyse has used it to build Lego sets.  It's also the home library, as that's where I keep my books and videos and such.  The closet is a "miscellaneous storage" area, and is an open design.  It had an Elfa shelving system in it when I moved in, and it was laid out for hanging clothes at that time.  I organized the linen closet in the hallway at the same time that I did this project, since I was moving things between both spaces.  I had previously reorganized the linen closet in order to make the shelving arrangement more compact, and discovered how inefficient that space was.
Here's what both spaces looked like before I started working on them: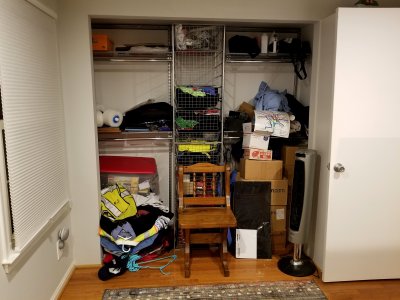 Back bedroom closet.  Note that everything is just kind of thrown in there.  We did this in order to quickly get the room operational ahead of a guest's coming to visit, so that we could put them in here rather than in the living room.
Continue reading…
February 18, 2019, 2:20 PM
So with the 2018 midterm elections behind us, that means that it's presidential season again.  This one is already shaping up to be an interesting one, with a large field of Democratic candidates, and a few possible primary challengers for Donald Trump.
As of this writing, there are eleven declared candidates on the Democratic side of things.  A big field like that should produce a good nominee.  By comparison, in 1992, the last time that the Democrats (or anyone) unseated a sitting president, there was a field of nine candidates.  At this point, I am taking a watch-and-see attitude, because I consider it to be too early to really judge it all yet.  I expect that we will see even more candidates emerge on the Democratic side before it's over, and there is still much to happen before I really dive in and pay attention to them like I mean it.  I'm more hopeful about certain candidates than others, but again, it's still too early.
In the meantime, I am more interested in what the Republicans are doing at this stage in the process.  As I indicated in the title, I want to see Trump fend off a primary challenge from within his own party.  I have seen lots of discussion and speculation on possible Republican candidates to primary the president, and they all seem like they have potential.  I've heard Utah senator Mitt Romney's name get thrown around as a potential primary challenger, along with former Ohio governor John Kasich, former Senator Bob Corker, and Maryland governor Larry Hogan.  In addition, former Massachusetts governor Bill Weld has formed an exploratory committee, though hasn't formally declared.  All of them seem like decent enough politicians.  They should run.
Continue reading…
February 7, 2019, 1:18 PM
Today marks the one-year anniversary of the day that I lost my Kia Soul in a massive fire.  I've chosen to commemorate the occasion with a photo set called "Remembering the Soul", which looks back over the entire life of the Soul, from test drives to the end.  I made the set in part for Elyse, because she had a harder time getting over the fire than I did, and I also wanted to put the fire in perspective with the rest of the Soul's life in an attempt to somewhat curate the way that she is remembered.  In the past year, it's been very easy to think of the Soul only for the fire, because the last memories with her involved standing on the roadside and watching her burn to death.  But there were quite a few happy years and wonderful memories made prior to that, and the photo set is a reminder of that, even if she never made it to 100,000 miles.
Meanwhile, in the intervening year, I've watched as Hyundai and Kia have gotten some major criticism for other fires in their vehicles, including another 2012 model Soul in Virginia.  From what I can tell, it's involved the Hyundai Sonata and Santa Fe, and the Kia Optima, Sorento, Sportage, and Soul.  Most recently, I've seen a recall that focuses on the above named models, minus the Soul, and it seems to explain everything adequately as far as my fire goes.  According to an article on the subject:
Hyundai and Kia started recalling 1.7 million vehicles in 2015 – about 618,000 of which are Kias – because manufacturing debris can restrict oil flow to connecting rod bearings.  That can cause bearings in 2-liter and 2.4-liter four-cylinder engines to wear and fail.  The problem can also cause fires.  The repair in many cases is an expensive engine block replacement.
Continue reading…