May 30, 2014, 10:36 PM
So today was my birthday, meaning that I am now 33 years old.  And for my birthday, I got a baby elephant.  Check it out: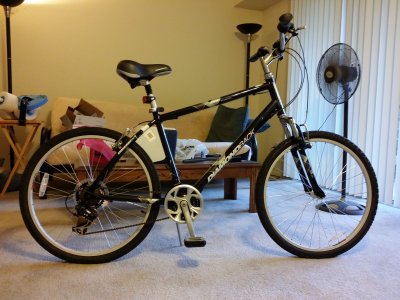 Continue reading…
May 12, 2014, 11:12 PM
And there you have it.  I figured that, when Herb, three firefighters, and I had trouble resetting the pull station during that accidental fire alarm at the pool last Thursday, the Edwards 270A-SPO that had recently been installed at the pool and was the center of the action in this alarm would not be long for this world.  And I was right.  This is what greeted me when I arrived for today's workout: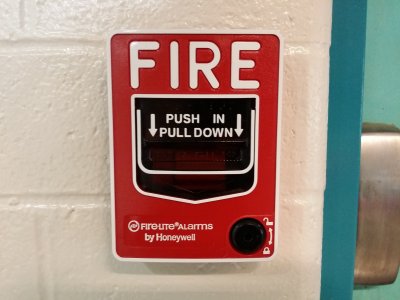 Continue reading…
May 12, 2014, 12:19 PM
On May 4, I got together with Melissa, Pete, and Pete's dog Bruno, and we went on a trip out to Harpers Ferry, West Virginia to do some hiking.  The inspiration for this trip was twofold.  First of all, Pete and Melissa had recently become friends on Facebook, though they had never met in person.  This seemed like a good opportunity for them to actually meet.  And then the venue came about after I saw someone else post pictures of the Maryland Heights overlook at Harpers Ferry onto Facebook, and I decided that I wanted to see it for myself.
Heading in, I first picked Melissa up at her house in Hyattsville, along with, to my surprise, Jason.  He was going to check out the Smithsonian, and so we brought him down to a Metro station.  After dropping Jason off at Eastern Market station, Melissa and I met up with Pete for breakfast at Sizzling Express.  After breakfast, we headed back over to Pete's house to get Bruno, and then we all walked down to the car, which was parked on 6th Street SE.  I ended up taking Bruno's leash, which was an experience all of its own.  Realize that when I was growing up, my family had a dachshund, which is a small dog.  Bruno is a basset hound, which is a much bigger breed.  Walking a basset hound is a different experience entirely from walking a dachshund, in that I was mostly walking Bruno, but there were definitely times when Bruno was walking me.  Bruno is pretty strong, and was able to pull me around at times as he checked out various items along our path.  Greta could never have pulled me around like that on account of her being too small.  But it was fun, so all was well, and Pete was there to remind Bruno to be on his best behavior if necessary.
When we got to the car, Bruno got in his carrier, and we were off.  To get there, we took the Southwest Freeway to GW Parkway to the Beltway to I-270 to US 340.  And for the record, 340's east-west signing in Maryland always throws me off, because I am very much accustomed to 340's being signed as a north-south route, as it is in Virginia and West Virginia, though that's by far not the only US highway that changes directional designations like that.
Continue reading…
May 8, 2014, 10:19 PM
I think this describes my workout at the pool tonight: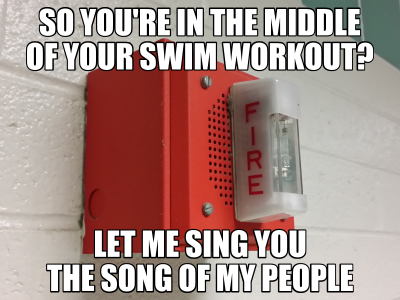 Yes, I got interrupted by a fire alarm.  I was simultaneously annoyed and delighted about the situation.  On the one hand, Olney Indoor Swim Center has a Notifier voice evacuation system, and I had never heard it go off in the three years that I have been swimming at Olney.  So I was delighted that I finally got to see and hear it in action.  On the other hand, though, I take my swimming quite seriously.  I find interruptions to my workout to be quite a bother, like the time that a storm-related power outage ended my workout early back in August 2012.  So a fire alarm during my workout annoyed me, because it knocked me out of my groove.
Continue reading…