April 29, 2014, 9:42 PM
Sometimes you've got to love what kinds of amusing things you can get into with friends.  Last Wednesday, Melissa, Jason (whom I know through Melissa) and I got together and went up to Baltimore.  The primary purpose was to visit the observation deck at the Baltimore World Trade Center.  And that we did.  We got to see Baltimore from above, and I got all sorts of photos from 27 stories up, but then we also got all sorts of crazy pictures of each other, mostly of Melissa and me.
But first of all, for those not familiar, this is the Baltimore World Trade Center: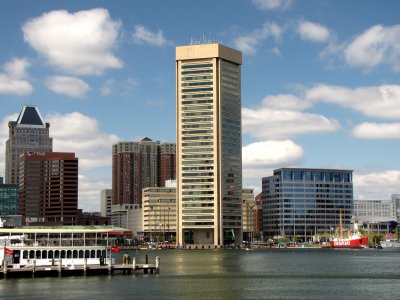 Continue reading…
April 28, 2014, 2:18 PM
This past Saturday, I went out to Lake Artemesia to photograph out there.  For those not familiar, Lake Artemesia is a manmade lake in PG County that may be best known as the big lake that you go past while riding up to Greenbelt on the Green Line.  I'm going to put the lake photos up on my Flickr page at a later date, because the highlight of this outing was, by far, in watching the 7000-Series railcars undergo some of their acceptance testing prior to entering revenue service.  This particular weekend, the Green Line was single-tracking between College Park and Greenbelt on track E2 (normally for service to Branch Avenue) for the acceptance testing, and the testing was occurring right next to the lake on track E1 (normally for service to Greenbelt).  Thus, this was a common sight near the lake on Saturday: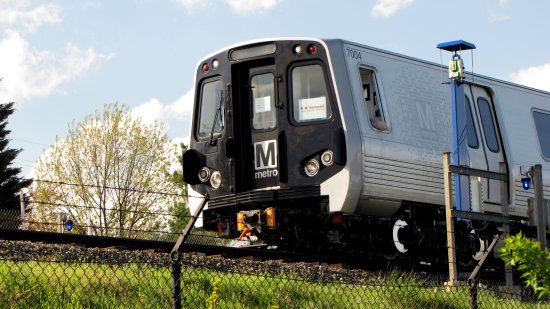 Continue reading…
April 28, 2014, 1:22 PM
One tweet just says it all sometimes, doesn't it?  Such describes my experience on the 13th seeing the cherry blossoms on the Mall.  It was my first time doing that, and, as long as I don't forget about this experience, it will also be the last time that I do that.  I was reminded once again that large crowds of tourists tend to get on my nerves very quickly.  I was also reminded that I have springtime allergies, as I discovered that putting myself in close proximity to cherry blossoms activates my seasonal allergies.
That said, all of this made my cherry blossom experience something that I was very interested in getting over with not long after I got there.  I took Red Line in, and walked over from Metro Center.  I believe that this sight, near the Holocaust Museum, should have been my warning that this would not necessarily be a pleasant experience: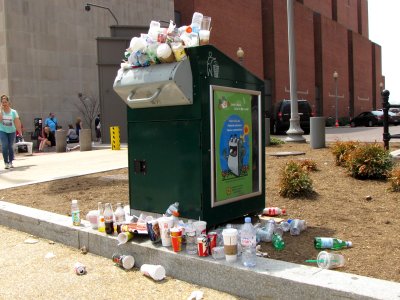 Continue reading…
April 20, 2014, 8:34 PM
On Saturday, April 12, I got together with my friend Matthew, and we went to a car show in the Sterling area.  I've always enjoyed a good car show.  I used to go with my father when he would bring his Mustang to car shows in the 1990s.  I met Oliver North at a car show at Wright's Dairy Rite in Staunton back when he was running for the Senate in 1994, in fact.
Thus I was quite pleased to go to this show with Matthew.  I had been to this show once before, in 2012, and had a lot of fun, but for whatever reason (possibly related to the ongoing site conversion at that time) never really featured all of the neat cars that I saw, save for one.  I'm not about to miss this time, because I saw some really neat cars.  I also remembered what I like when photographing cars.  I like seeing show cars as they might appear while being driven.  Thus I like it when the hood is kept down.  For whatever reason, I'm not that interested in looking at the engine.  And then if it's a convertible, I love seeing the top down.
That said, this is not the way I like to see a car when it's on display: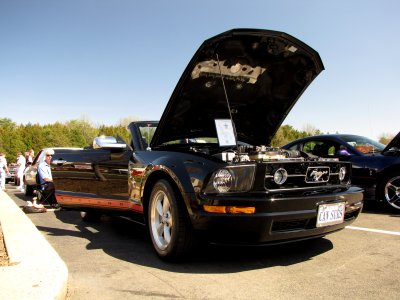 Continue reading…
April 10, 2014, 9:34 AM
I have had my current main camera, a Canon PowerShot SX10 IS, for approximately five years and two months as of this writing.  The camera still works quite well, but is starting to get up there in age.  For one thing, the fliparound screen on the back of it no longer works when the screen is flat against the camera while facing out.  The electronic viewfinder comes on and the screen goes black when it's in that position.  Go figure.  I'm also often finding myself "hitting the wall" with the camera as far as its limits go.  Some of the ways I want to go with my photography, the camera can't go there with me because it doesn't go far enough.  Also, if it gives you any concept of how much time has passed, I wrecked Big Mavica in a rainstorm after I had owned it for five years and four months.
All that said, I am looking to replace my main camera.  In this case, however, there is no camera damage forcing my hand.  My current camera works fine, though it is starting to show some signs of age.  And even if the main camera was kaput, I have two other cameras plus a phone as backup.  So this puts me in a good position, as there is no pressing need to replace equipment.  I also do not feel that I am currently in a position to upgrade, so running on existing equipment works just fine for me.
However, this doesn't mean that I'm not trying out other equipment when I can.  I recently got an opportunity to borrow a friend's Nikon Coolpix P510 and take it out for a photo shoot.  The Nikon Coolpix P510 is a "prosumer" level camera similar to my Canon PowerShot SX10 IS, but is newer and takes photos in higher resolution (16 megapixel vs. 10).  I did this mainly to see where the prosumer cameras had gone in the past few years, since I've been toying with the idea of getting another prosumer or finally going to a digital SLR.
Continue reading…