Listen to the 7000-Series accelerate…
April 28, 2014, 2:18 PM
This past Saturday, I went out to Lake Artemesia to photograph out there.  For those not familiar, Lake Artemesia is a manmade lake in PG County that may be best known as the big lake that you go past while riding up to Greenbelt on the Green Line.  I'm going to put the lake photos up on my Flickr page at a later date, because the highlight of this outing was, by far, in watching the 7000-Series railcars undergo some of their acceptance testing prior to entering revenue service.  This particular weekend, the Green Line was single-tracking between College Park and Greenbelt on track E2 (normally for service to Branch Avenue) for the acceptance testing, and the testing was occurring right next to the lake on track E1 (normally for service to Greenbelt).  Thus, this was a common sight near the lake on Saturday: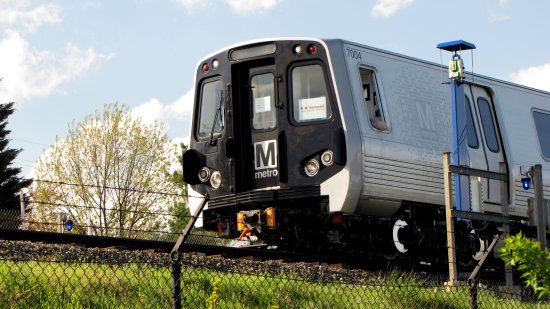 The quad set undergoing acceptance testing was the same set that was displayed in January, i.e. 7004-7007.  What they were doing was going from one end of the test course to the other.  They were running the train from the bridge over Paint Branch Trail to the north end of the Lake Artemesia park and back.
I stood next to the right-of-way fence in the park to watch.  Thus this was one of a few different spots where I watched from within the park: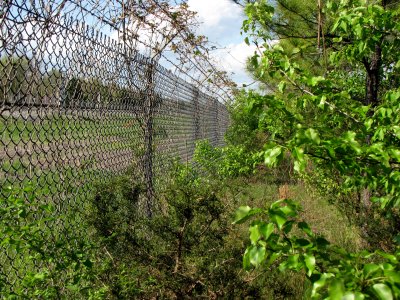 Yes, I was more or less hiding in the bushes.  I would have much preferred that they did the testing a bit further to the north, so that I could have watched the testing from the pedestrian bridge that goes over the tracks.  But this is about as close as anything ever got to the pedestrian bridge: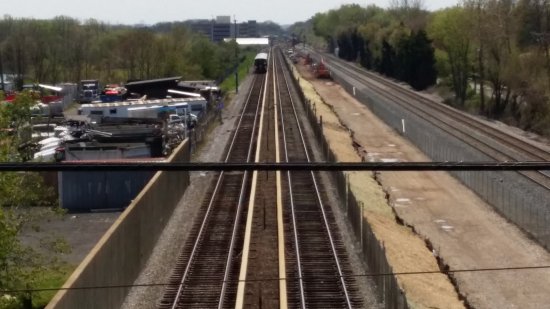 So that, unfortunately, wasn't going to work.  So I watched from the park.  I was looking forward to hearing what the Toshiba motors that were installed on these cars really sounded like.  I got a movie of the train's departure from Greenbelt station back in January, but even I cautioned against reading too much into what was heard on that video, because it traveled far more slowly than it would do during a normal station stop in revenue service.  Thus the whole range of sounds wasn't necessarily coming out in that demonstration run.
First thing that I got was the train accelerating northbound (direction of Greenbelt) on track E1, viewed from the Paint Branch Trail:
Then after I moved up a little bit, I got a video of the train heading northbound on track E1:
And then southbound:
Then I got a clip of a Green Line train traveling northbound towards Greenbelt on track E2 while the 7000-Series set was between runs:
And then I moved a little bit further up, and got a clip of the 7000-Series set accelerating while traveling southbound (toward Branch Avenue):
Unfortunately, I don't know what that hissing sound that you hear coming from the train is.  I don't know where it's coming from, what it signifies, or if that's a normal sound or if it's indicative of a problem.  Would love to know, though.
[Update: a Reddit user said this about the hissing sound: "The loud noise you are hearing is the main reservoir tanks bleeding air in order to force the air compressors to run on the cars. You won't hear that noise during revenue service as this is only done during testing."]
And lastly, a clip of the train traveling northbound and coming to a stop near the north end of the park:
I'm inclined to read more into the sounds that I hear on these recordings than I did with the January clip as far as what these new railcars will sound like in revenue service.  However, as testing is still underway, it is still possible that things could change.  I also heard them sound the yard horn a few times during the testing, and that appears to be the same as is fitted on the 5000-Series and 6000-Series railcars, i.e. a Wheelock electronic horn (and trust me, I would know that Wheelock electronic horn sound anywhere).  But there you have it: 7000-Series railcars in action.  Can't wait to ride on them.