Car show!
April 20, 2014, 8:34 PM
On Saturday, April 12, I got together with my friend Matthew, and we went to a car show in the Sterling area.  I've always enjoyed a good car show.  I used to go with my father when he would bring his Mustang to car shows in the 1990s.  I met Oliver North at a car show at Wright's Dairy Rite in Staunton back when he was running for the Senate in 1994, in fact.
Thus I was quite pleased to go to this show with Matthew.  I had been to this show once before, in 2012, and had a lot of fun, but for whatever reason (possibly related to the ongoing site conversion at that time) never really featured all of the neat cars that I saw, save for one.  I'm not about to miss this time, because I saw some really neat cars.  I also remembered what I like when photographing cars.  I like seeing show cars as they might appear while being driven.  Thus I like it when the hood is kept down.  For whatever reason, I'm not that interested in looking at the engine.  And then if it's a convertible, I love seeing the top down.
That said, this is not the way I like to see a car when it's on display: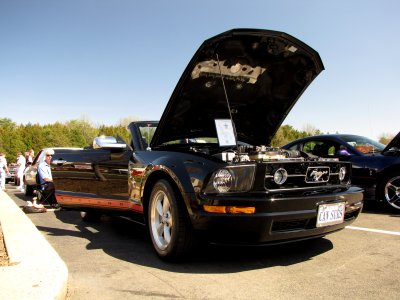 I just don't think it looks all that great when I photograph it.  The raised hood throws the proportions off, and also blocks the windshield.  Plus in order to get the hood in the shot, it puts the car in the bottom of the frame.  So put the hood down.
And then here are some of my favorites from the show: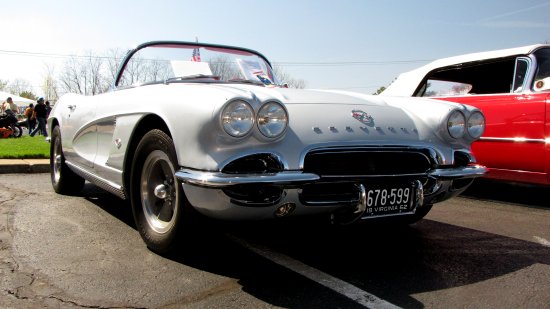 1962 Chevrolet Corvette.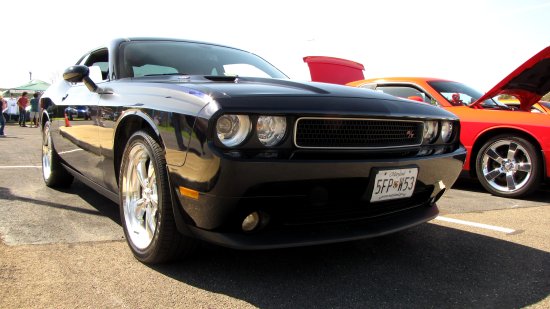 Third-generation Dodge Challenger R/T.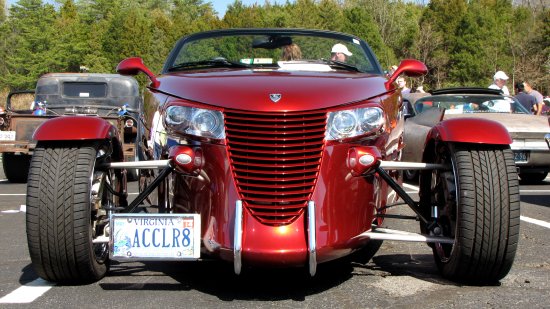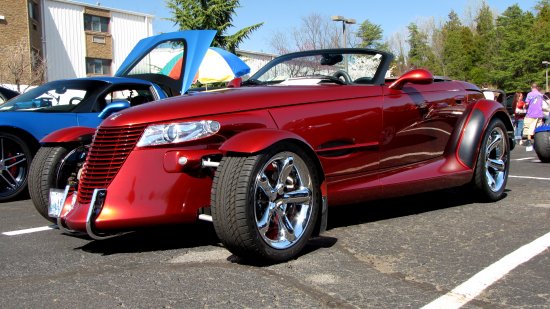 Chrysler Prowler.  I love this car because it has such a unique design for a non-hot rod car.  Reminds me to a certain extent of a street-legal version of an Indy car.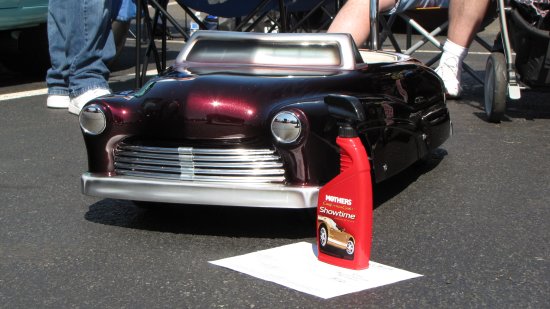 I saw this miniature car, and commented, in jest, "What happened?  Did it stay in the dryer for too long?"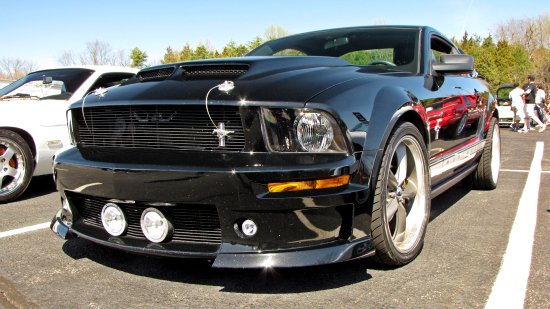 Fifth-generation Ford Mustang.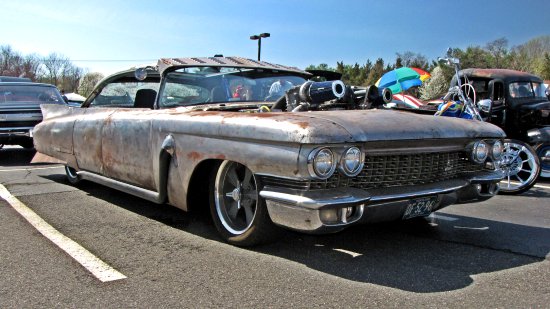 Rat rod built from a fifth-generation Cadillac Eldorado.  I love the rat rods because they are deliberately made to look like a jalopy.  Definitely not something you see every day!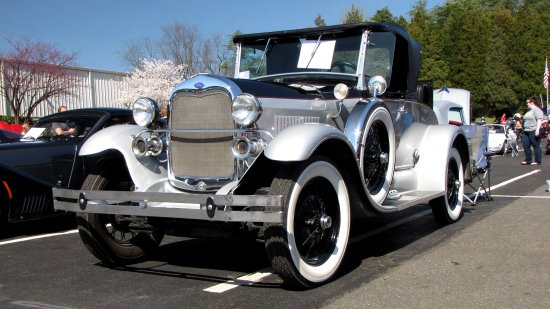 Ford Model A.  For those familiar with Today's Special, this car made me think of Gertrude, even though Gertrude was a Model T.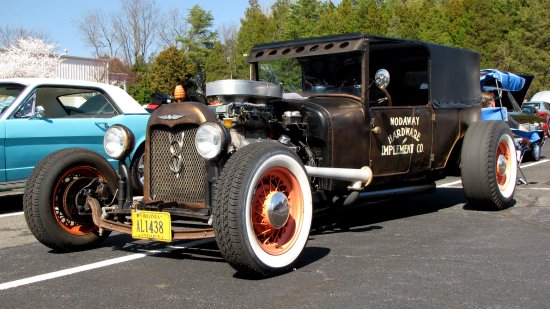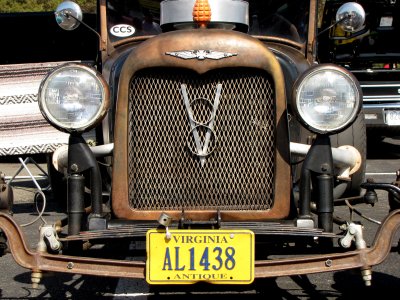 This rat rod is based on a 1920s Ford Model A sedan, with a lot of other customization.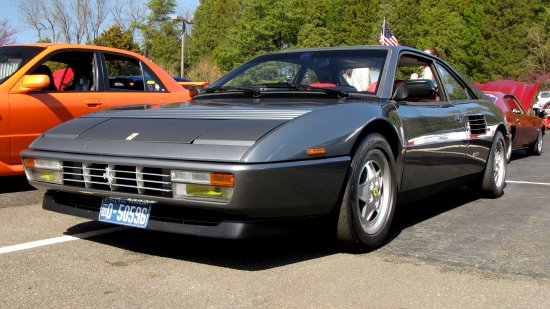 A Ferrari Mondial.  I'd dare say that there is no doubt about what decade this car is from, as the styling is very 1980s.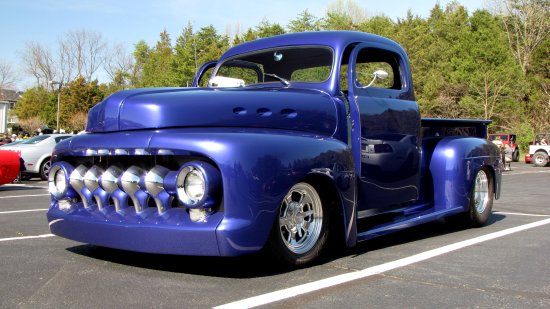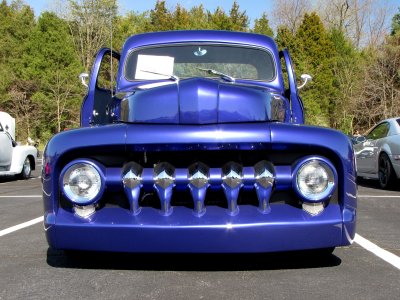 This car is a highly-modified Ford F-1 pickup truck.  Likely because you see far fewer classic trucks than you do classic cars, these kinds of vehicles really strike me as interesting, especially when you consider how low to the ground these trucks are compared to modern trucks.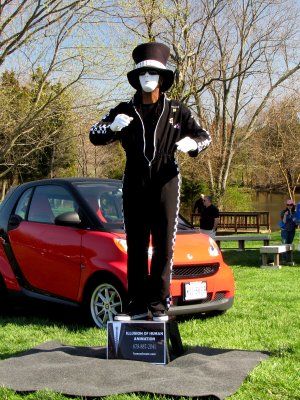 While not a car, this person's "robotic mime" performance was quite impressive to watch.  This person would stand motionless for several minutes, and then change position in a way that made the movement appear mechanical in origin rather than being done by a living being.  They have a website, humanimate.com, where there are photos and videos of other performances, as well as a description of what robotic mime is.
If you remember the Today's Special episode "Our Story Part 2", I believe that Jeff's movements shortly after his arrival at the store are considered robotic mime.
All in all, I had a fun time at the car show, as I did in 2012, and I met a lot of nice people.  However, I don't think I was able to hide my rising level of frustration with the photography as much of a secret as I would have preferred.  It comes with the territory when it comes to events that are open to the public, and I knew to expect it: people's suddenly walking into my shots.  Understandably, I wanted the best shots that I could get of these cars.  And others wanted to look as well (it was a well-attended event).  I photographed 24 different cars, and it felt like every time I had a shot all lined up, someone would walk into the frame, or worse, linger while I'm standing there, bent over the camera, waiting for them to move before I can take a picture.  I'm not blaming anyone, but it did become a bit of a bother after a while.  After all, it does come with the territory.  You go to a car show, and you know, it happens.  Though I think I might have inadvertently scared two kids.  I was photographing the Prowler, and these two kids walked past the passenger side of the car.  I looked up at them, and I must have given them the "look of death" or something, because they immediately apologized and quickly high-tailed it out of there.
But on one of the raised hoods, I did manage a selfie: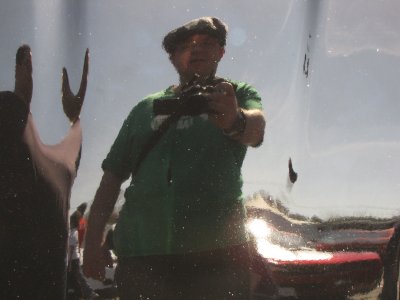 So overall, I enjoyed my time there.  Looking forward to next year's show.