"It should be legal to push tourists into the Tidal Basin when they don't watch where they're going."
April 28, 2014, 1:22 PM
One tweet just says it all sometimes, doesn't it?  Such describes my experience on the 13th seeing the cherry blossoms on the Mall.  It was my first time doing that, and, as long as I don't forget about this experience, it will also be the last time that I do that.  I was reminded once again that large crowds of tourists tend to get on my nerves very quickly.  I was also reminded that I have springtime allergies, as I discovered that putting myself in close proximity to cherry blossoms activates my seasonal allergies.
That said, all of this made my cherry blossom experience something that I was very interested in getting over with not long after I got there.  I took Red Line in, and walked over from Metro Center.  I believe that this sight, near the Holocaust Museum, should have been my warning that this would not necessarily be a pleasant experience: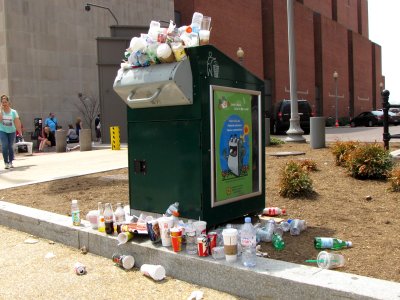 What you are looking at is one of those high-tech trash cans that runs on solar power, overflowing with garbage.  I believe it can be safely assumed that the container is full.  Then the opening is full as well.  Then with those two things full, people started placing their trash on top of the can and on the ground around it.  You would think, seeing that the can was overflowing, that people would hold onto their litter until the next can, but no.
I did, however, get some decent cherry blossom photos: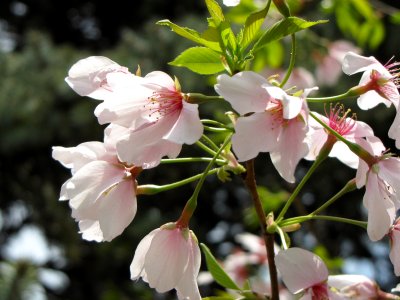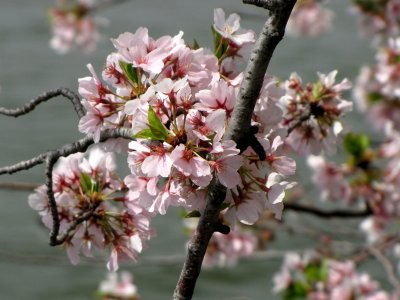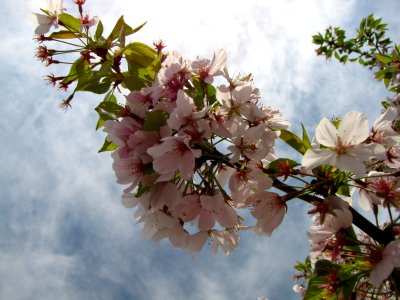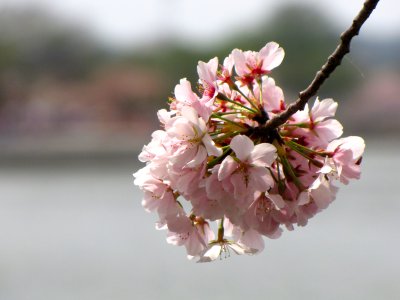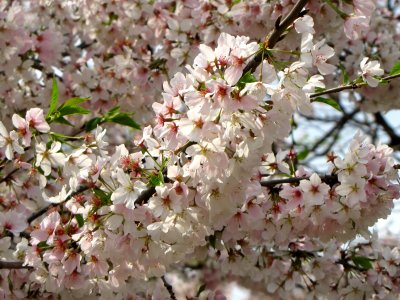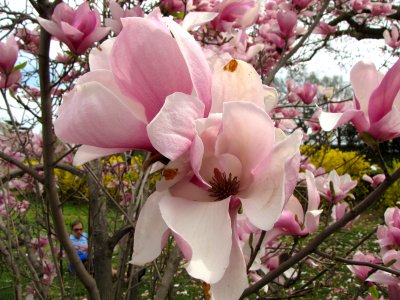 I would describe these as "okay", rather than "great" or even "good".  I think it was because I was quickly running out of patience, as the frustration from the car show the day before came back, and then new frustration got added on top of it.  And yes, I knew that there would be lots of tourists, but not as many as I got.  Plus my eyes started to itch, and I started to sneeze, as my allergies made themselves known.  Plus it was starting to get cloudy, which took a good bit of sunlight out of a lot of my photos.  Therefore, this photo shoot would not be another Chicago Botanic Garden set.  I love the way that the Chicago Botanic Garden set came out, and I consider it a favorite because of it.  This is not that kind of work.
I will admit that I had far more fun photographing things other than the cherry blossoms.  This road flare, for instance: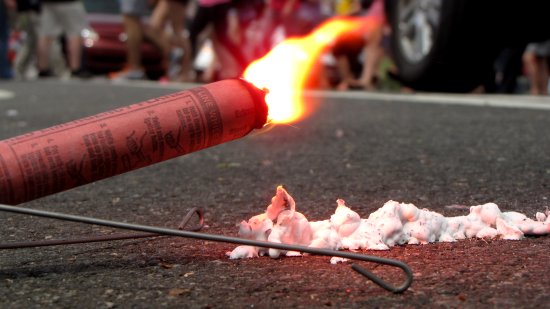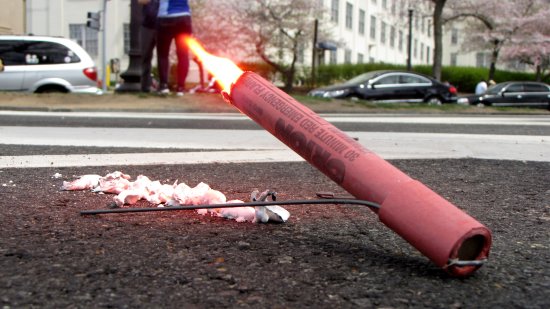 I ended up continuing past the Tidal Basin, and went over Memorial Bridge, photographing whatever I found interesting along the way.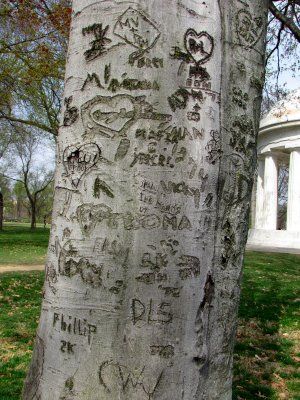 This tree, near the DC War Memorial, has been carved on by various people for decades.  I saw one carving with "1974" on it, and more recent carvings through the 2000s.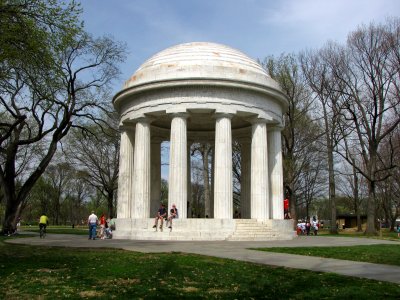 The DC War Memorial on on this Sunday afternoon.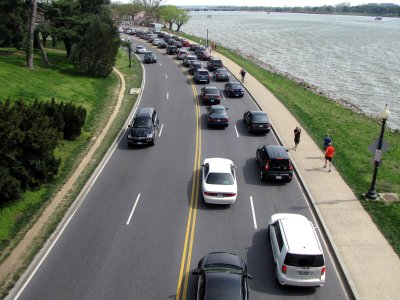 Ohio Drive SW.  The backed up traffic is headed toward the Tidal Basin.  Why someone would drive in to see the cherry blossoms, I don't know.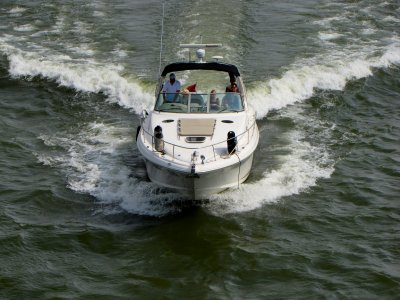 I really enjoyed photographing the boats along the Potomac River from Memorial Bridge.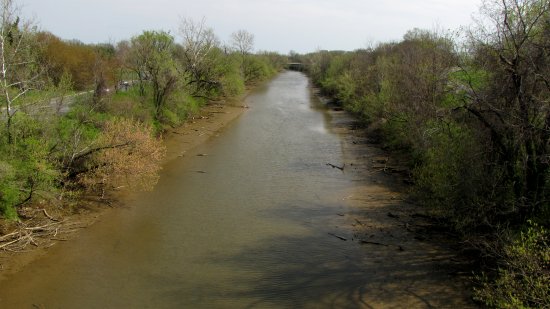 The Boundary Channel.
Then I went back into the world of Metro at Arlington Cemetery.  I tip my hat to Metro for this message that they were displaying on the information monitors: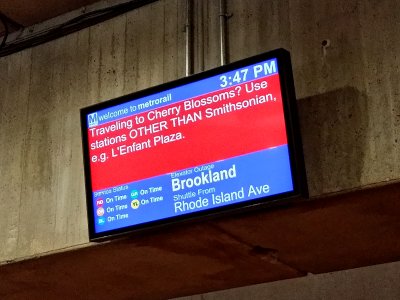 "Traveling to Cherry Blossoms?  Use stations OTHER THAN Smithsonian, e.g. L'Enfant Plaza."
I wonder how many people followed that advice?  I did, though I was planning to get out at Metro Center all along because I didn't want to transfer.  But really, Red Line riders should use Metro Center or Farragut North, Green and Yellow Line riders should use Archives or L'Enfant Plaza, and Orange and Blue Line riders should use Federal Triangle, L'Enfant Plaza, or just about any station as far back as Foggy Bottom.
So that was my cherry blossom experience.  I want to try photographing cherry blossoms next year, but now I know better than to go to the Mall.  Next year, I see my cherry blossoms in the neighborhoods, or out in the suburbs.