Chicago Botanic Garden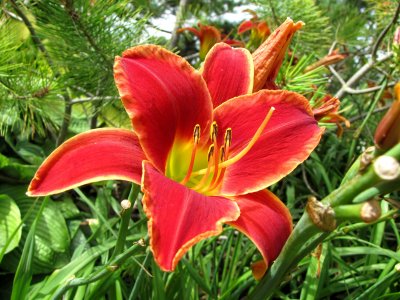 The Chicago Botanic Garden is a living museum of more than 2.4 million plants, situated on 385 acres of land in Glencoe, Illinois, a suburb of Chicago.  Spread across nine islands surrounded by 81 acres of water, the outdoor garden is home to 9,084 different kinds of plants, arranged into 33 different gardens throughout the campus.
The photos included here were taken during a visit on July 27, 2013, during my annual visit to Chicago.  The weather on this particular summer day was partly cloudy and unseasonably cold, with temperatures in the 60s for much of the day.
In making this set, my focus was on macro photography of flowering plants, getting sharp details on small features, and capturing lots of colors.  Many of these photos were taken in the Rose Garden, the English Walled Garden, the Waterfall Garden, the Water Gardens, and the Sensory Garden.  In arranging this set, plants of the same type are placed together.  The name of each plant is listed in the caption beneath the enlargement.
My thanks go out to the staff and volunteers of the Chicago Botanic Garden for their help in identifying some of these plants.