Chicago 2013…
August 9, 2013, 8:10 PM
At the end of July, Mom and I took a trip to Chicago.  We took the Capitol Limited, like we usually do, leaving DC on July 25 and returning July 30.  Not a bad trip, but I believe that there was something pivotal about this particular trip: Chicago was becoming a regular thing.  This isn't a bad thing by any means.  It doesn't mean that I enjoyed the trip any less, though, it's just that it's become something that we do every year, and that's fine.  With the trip's becoming something of a regular thing, this is the only thing you're goign to get that's specifically about the trip.  There's not going to be a Journal entry for each day like I did in 2011.  No special photo set about the trip like I did in 2010 and 2012.  And that's fine.  That's not to say that there's not going to be a photo set from the trip, though.  But it's going to be a regular photo set, in Photography, about the Chicago Botanic Garden.  That photo set's going to be what I describe as "flower porn".  Seriously, I got very close to a lot of flowering plants, and got detailed photos of them.  When I used the term "flower porn", Sis commented that it was also accurate, as I was photographing the reproductive parts of flowers.  So there you go.
On the outbound trip, Mom and I were in a roomette.  Second car back, room 14.  That's a lower level roomette.  Mom and I were surprised to find that we felt like we didn't have quite enough space on this trip.  That came about mostly in regards to legroom, as neither one of us really could extend our legs very far without getting in the other person's way, and sitting diagonally was a little uncomfortable for both of us.  Having only one electrical outlet was also a problem, as we had several devices that we needed to charge: my laptop, my phone (which we were also tethering for Internet access when we had service), Mom's phone, and Mom's iPod Touch.  And one electrical outlet.  It was a shame that, when the Superliner I roomette panels were updated around 2011 or so, they didn't add at least one additional power outlet.  What we ended up doing was plugging in the laptop and charging everything off of that.  It didn't work as well in this capacity as I would have liked, however, we were asking the computer to do something that it probably was not designed to do, i.e. be a mobile charging station for three devices (vs. just one).
Meanwhile, the ride out was at times like visiting familiar places.  This was not just because this was our fifth round trip on the Capitol Limited.  Realize that as of this trip, I had visited all of the towns where we made a station stop between DC and Cumberland.  DC, Rockville, Harpers Ferry, Martinsburg, and Cumberland.  Now mind you, it's been eight years since I last visited Martinsburg, and even longer since I was in the part of Martinsburg where the train goes, but it still counts.  Then I added Harpers Ferry earlier in the same month, and Cumberland in April.
We also got some photos on the outbound trip, too.  First, matching dining car photos: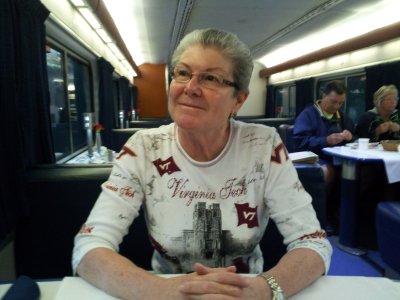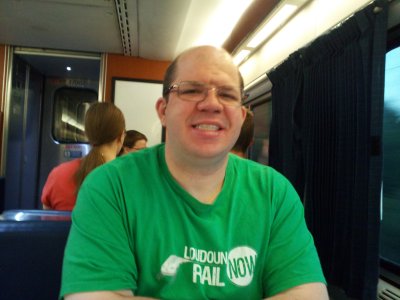 Then as we were making sure we had everything in our roomette as it became time to leave, we found a surprise: old ticket stubs!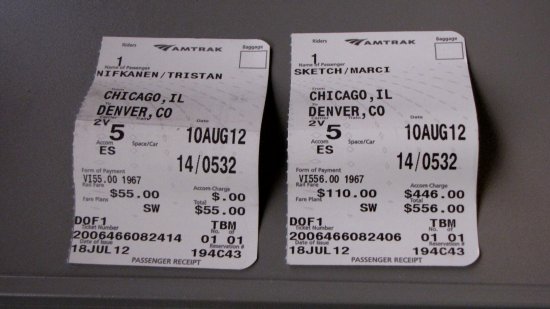 These are ticket stubs for Tristan Nifkanen and Marci Sketch, who were assigned to our roomette for the California Zephyr in August 2012.  Go figure.  It was an amusing find, and we then put the old stubs in the trash so that they could be properly disposed of.  I hope that they had a good trip, though.
Later that evening, we saw Improvised Shakespeare at the iO Theater in Wrigleyville.  The way Improvised Shakespeare works is that the actors on stage take a suggestion for a title from the audience, and then improvise an entire play in the style of William Shakespeare's works for the audience.  Thus each play is completely unique, and it is, as they describe it, the opening and closing performance of our play.  For our show, they took two audience title suggestions, Horatio and the Dragon and Dragon of the West, and combined them into one, making our play Horatio and the Dragon of the West.  But before you think this is something boring like the way that they teach Shakespeare in high school, it's not like that at all.  It's amazingly funny, and you will laugh your ass off, I promise.
The next day, which was unseasonably cold for summer (upper sixties!), Mom, Sis, and I went out to the Chicago Botanic Garden in the suburb of Glencoe.  The day was mostly overcast, which was disappointing (I prefer partly cloudy for photos), but I think I did all right nonetheless.  This is going to become a Photography set, and it's going to look way better than the Botanic Garden photo set that I did in 2002.  Here's a sampling of some of what I did there: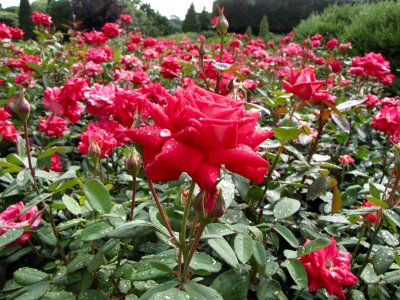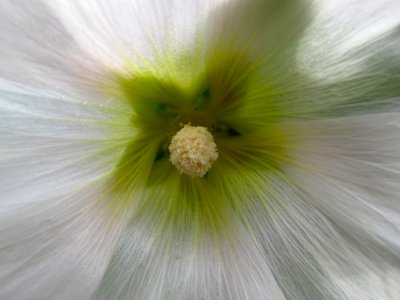 At this point, I have no idea whether or not these two photos are going to make it into the final photo set, but I suppose we'll see.
The Japanese garden was a lot of fun.  It didn't have that much in the way of flowering plants, which is what I focused on, but it was very scenic, and there was lots of water around.  It consisted of three islands.  Two we could go on, and the third was deliberately inaccessible, reserved for the use of immortal spirits in accordance with Japanese tradition.  This is Horaijima, reserved for immortal spirits: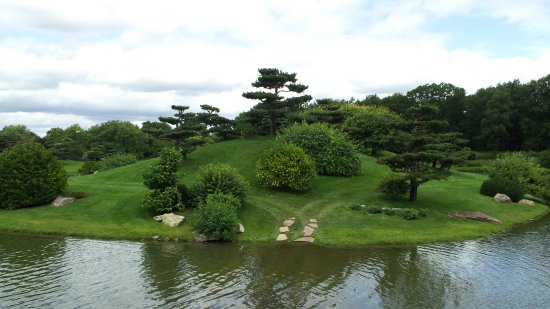 Horaijima Island. Note the tire tracks, however, which all three of us found amusing. Then there was this sign, which completed the amusement, regarding who gets to access the island: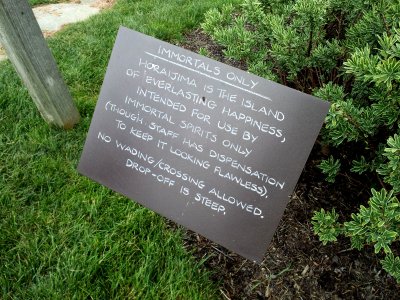 There you have it.  Immortals only, except staff for the purposes of groundskeeping.
After we left the Botanic Garden following what felt like ages in the gift shop (thank goodness for smartphones and a bench), we headed down to Winnetka, where we saw a piece of movie history: the Home Alone house.  In planning this trip, I mentioned that if we could make it work, I wanted to see it (but if it didn't work out, no worries).  I was delighted to find out that yes, our travels would take us nearby, making the trip to Kevin McAllister's house a 15-minute side trip.  And here it is: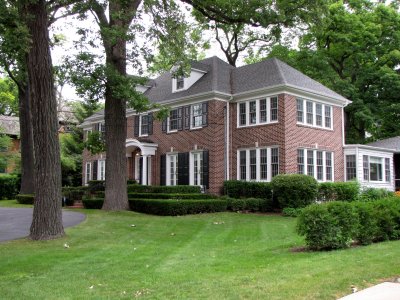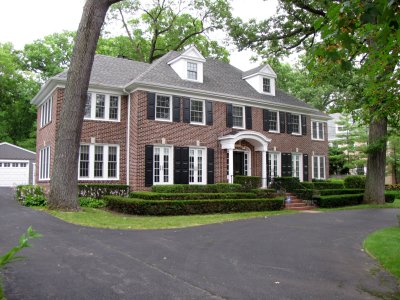 I don't know about you, but it looks smaller in real life compared to how it looked in the movie.  The Family Matters house looked bigger in real life, but this definitely looks smaller.  Meanwhile, the garage definitely looks different: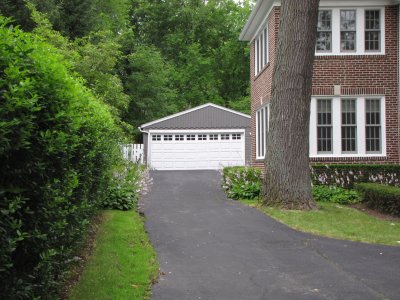 As seen in the movie, the garage had a brick exterior and two doors.  Now, it appears that it has been sided over, and the two garage doors have been merged into one.
After this, we went to Old Orchard, which is an outdoor shopping mall.  There's not much special about this place, except that it's not enclosed.  Otherwise, it's your typical American shopping mall.  Mom ended up getting a hoodie for the cold weather at the Macy's there, and I got some photos in a giant lawn chair: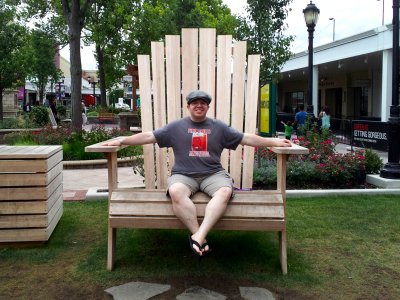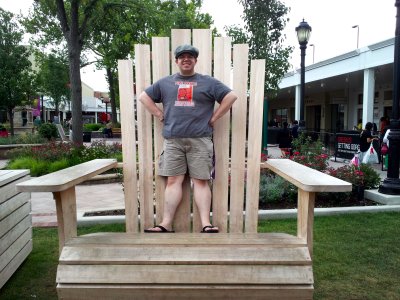 I'm sure that one of these will be the splash photo at some point.  I just don't know which one it will be yet.
Then the next day, Mom, Chris, and I headed up to Wisconsin, where we met Sis, who had traveled up separately with her friend Vickey, whom we had met once before.  Vickey's a lot of fun, and so I was glad that it worked out to get to see her this time.  We went outlet shopping at the Pleasant Prairie Premium Outlets.  That place was a bit of a disappointment.  First of all, there was bad cell phone reception.  Almost the entire property was a dead zone for cell phone coverage, which meant that I was cut off from social media.  If you follow me on Instagram and the Twitter, you'll see that when I'm shopping, I like to tweet comments and take photos that I find amusing and then comment on them.  No such activity this time, which kind of left me bored, since that was what I was looking forward to doing while everyone else was looking to buy stuff.  Me, I go to malls mainly for entertainment, since I have no use for most of the stuff sold at malls.  Then the other thing was that the outlet store prices really weren't all that great.  I believe that the main attraction for this facility is sales tax.  The facility is just over the state line, and based on the license plates that I saw, attracts a large crowd from Illinois, where the sales tax is much higher (9.5% in Cook County, 6.25% statewide).  Mom commented that you could do better on prices at a local store, vs. traveling out to an outlet mall.  I wasn't too impressed.
The layout of that property was also a bit weird.  The facility is comprised of three average-sized strip mall buildings that each surround giant parking lots, with a food court building near the middle of it all.  It was basically a glorified strip mall, and I didn't think it was too conducive to visiting multiple stores.  It was more conducive to how I visit a strip mall, where I'm usually only there for one place, park near it, go in, patronize that place, and then leave.  It also wasn't very pedestrian friendly, because to get from one end of a strip to another required walking across a giant parking lot perpendicular to traffic (which didn't instill a sense of safety in me), or walking the long way back around the entire strip.
The destination after the outlets was a lot of fun.  We went to Mars Cheese Castle in Kenosha.  The place is exactly what it says on the tin – a building that looks like a castle that sells cheese.  It is classic roadside America, with a big sign visible from far down the highway: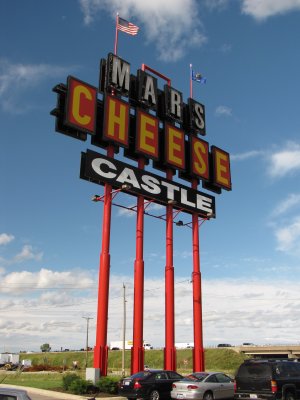 I also featured this sign on the Main Page on August 4 (currently on the Main Page as of this writing).  Then the building looks like this: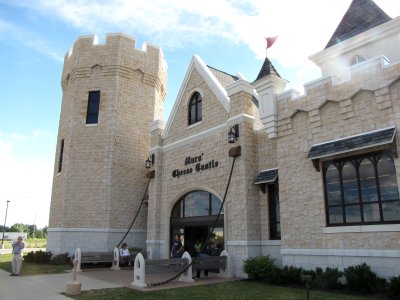 This photo doesn't really do the place justice, but it was getting to be late afternoon, and the sun was behind the building – not good photo conditions, unfortunately.  Still, I was digging the novelty architecture.
Once we went in, Sis, Chris, and Vickey went out in search of foodstuffs that they can't get in Chicago, since Chris is a major "foodie".  Mom casually looked at the cheese, and I was enjoying the various tourist-trappy elements in it, like this little guy:
Then there was also a statue of a cow wearing a cheese hat, which Mom and I took each other's pictures with, wearing cheese hats: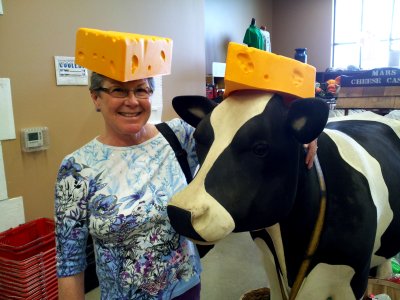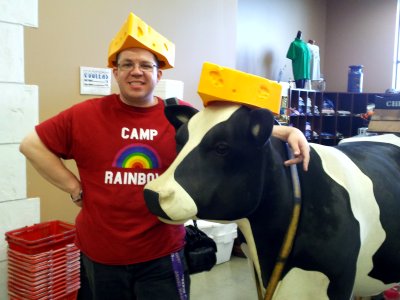 I sure can rock a cheese hat, can't I?  Only thing is that I have a big head, and thus the cheese hat didn't fit amazingly well.  If I were going to actually buy one of these cheese hats, I would need to do a little carving on it.
Then after Mom and I finished playing with the cheese hats, we went to the back to find some local beer that you couldn't get on the east coast.  After all, you can bring your own alcohol on Amtrak in the sleeper cars, and so we ended up getting a German-style Pilsner called Memory Lane by O'so Brewing Company.  I'll tell you this: it wasn't a bad beer.  I enjoyed it.
Then as we were leaving, Vickey got a photo of the four of us with my phone: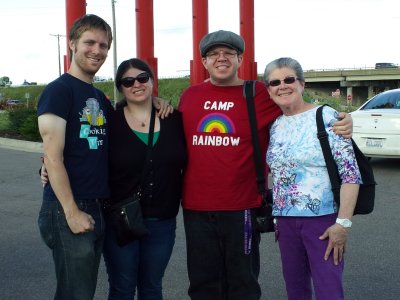 And then it was back to Chicago for all of us.  We later went out to dinner at Farmhouse in Evanston, which is a restaurant supplied by local farmers.  Great place, though the lighting was a shade too dark.  All in all, I'd go there again.
Then on Monday, it was time to go back home.  We had upgraded to a bedroom for the return trip in order to have a little extra space, and so we checked out of our hotel in Evanston and headed down to Union Station.  After stashing our stuff, Mom and I went out for a walk.  We walked from Union Station to Sis's office building a few blocks off of the Magnificent Mile (quite a walk!).  We met her, and went over to Soupbox for lunch.  After lunch, Sis went back to work, and Mom and I walked back towards Union Station.
But not before Mom got a picture of the two of us: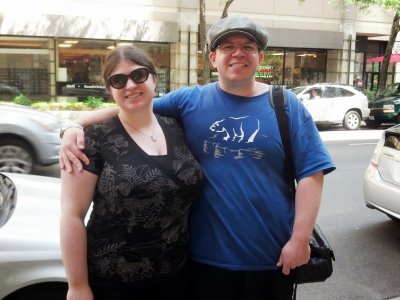 Then on the way back, I got some architecture photos, like these: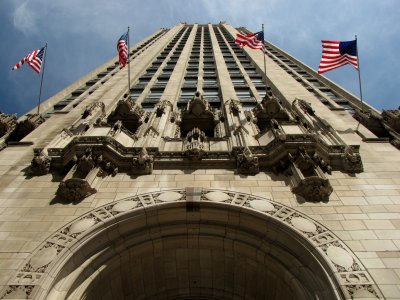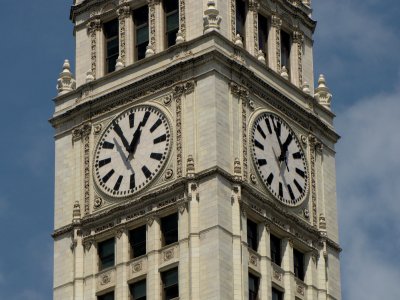 Meanwhile, when am I going to learn that if I know I'm going to be walking a lot, to not wear flip flops?  I have done this far too much this summer.  I go somewhere and know I'm going to be doing a lot of walking, and I wear flip flops.  Rather than put the flip flops on my feet, someone needs to take said flip flops and smack me upside the head with them and then get some of my more substantial shoes that I also brought with me on this trip if I know I'm going to be walking.
On the Amtrak ride coming home, we had a good time.  Mom and I tried the Wisconsin beer that we bought, and had a great time at dinner with a woman from New Jersey who was my age and her niece, and then had a wonderful conversation at breakfast with a woman from Florida.  You never know who you're going to meet in the dining cars on Amtrak.  And then the bedroom that we got had enough power for everyone.
And that was that!  Not a bad trip.  See you next year, Chicago!