Splash Photo Archives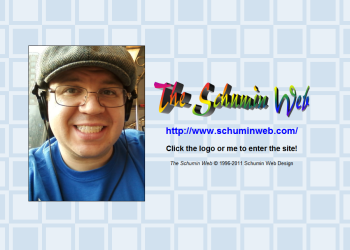 When I redesigned the site in 2002 to the "Minimalist" design, I also redesigned the splash page (example seen at right), which, from February 2001 until June 30, 2012, was the first page people saw when entering the site.  Until August 2002, the splash page contained the logo in large size and the URL, with an invitation to click to enter.  With the 2002 redesign, the splash page reduced the size of the logo and added a picture of me, which I changed monthly.  This was the splash page's design for more than nine years, with only minor color changes throughout the years until the splash page was discontinued with the completion of the site's conversion to WordPress in 2012.  At that time, the splash photo feature was temporarily moved to the Welcome page.  When the site was redesigned in September 2012, the splash photo, though now smaller in size, was placed in the upper right corner of every page.
Since August 2002, I have run many photos in the spaces where the splash photo has resided, with "whatever I find interesting" as the guideline.  All of the photos that have come and gone over the years are listed here, and I hope that you will find these photos interesting, too…
---
---
| | |
| --- | --- |
| | Standing next to the HR-V after a drone flight near Harrisburg, Pennsylvania. |
| | |
| --- | --- |
| | Enjoying a steamed milk at a Starbucks in Annapolis, Maryland. |
Woomy and I pose for a photo in downtown New Bern, North Carolina.

Notes: I love the contrast between my big smile, and Woomy's expression, where it's clear that he doesn't want to be there, but someone made him.
| | |
| --- | --- |
| | Smiling while sitting at a table at the Hampton Inn in Frederick, Maryland. |
| | |
| --- | --- |
| | Selfie in the meat department of an Acme grocery store in Ocean City, Maryland. |
| | |
| --- | --- |
| | Selfie at home. |
| | |
| --- | --- |
| | In patriotic colors at the Apple Store. |
| | |
| --- | --- |
| | Woomy and I look at something with disapproval. |
| | |
| --- | --- |
| | Flying my drone at Sandy Point State Park, near Annapolis, Maryland. |
| | |
| --- | --- |
| | All smiles during a planespotting outing at Dulles Airport. |
| | |
| --- | --- |
| | Wearing my "Eat Your Greens" shirt up in the mezzanine room at home. |
| | |
| --- | --- |
| | Tie-dye shirt selfie. |
| | |
| --- | --- |
| | Selfie while wearing my tie-dye onesie. |
| | |
| --- | --- |
| | Toddler-sized me at Christmas, likely 1982. |
| | |
| --- | --- |
| | Selfie while flying a drone in downtown Staunton, Virginia. |
| | |
| --- | --- |
| | Selfie on the front step with a Mavic Mini drone. |
| | |
| --- | --- |
| | Selfie while trying on a new rainbow tie dye onesie. |
| | |
| --- | --- |
| | Planespotting at Montgomery County Airpark in Gaithersburg, Maryland. |
| | |
| --- | --- |
| | Preparing to photograph the town sign in Shanghai, West Virginia. |
| | |
| --- | --- |
| | Taking a photo of a fire alarm at the Giant Food store in Leesburg, Virginia. |
---