A weekend in New York…
April 26, 2023, 8:33 PM
From April 12-14, Elyse and I took a little weekend trip to New York City.  This was the new HR-V's first road trip, and what better place to go to than New York, I suppose.  It was definitely a different experience than the Soul's first road trip, which was the trip home from Staunton the day after I bought it, as well as the original HR-V's first road trip, which was a day trip to Philadelphia.
With this trip, I was looking forward to seeing how the new HR-V did on a long trip with the various smart features that it has built into it, such as the adaptive cruise control and the lane watch system.  I had tested these things on my commutes to and from work on various occasions on a somewhat limited basis, but I hadn't done a long drive with them yet.  The good news was that these systems worked quite well together on our trip, which we took largely via I-95 and the New Jersey Turnpike.  I think that this was probably the least stressful drive on I-95 that I've ever had, as the cruise control maintained a safe distance from the cars ahead of me, and it maintained my lane quite well, following the various curves in the road.  That put me, as the driver, in something of a more "strategic" role, as I was responsible for navigating and making lane changes and such, as well as watching out for any hazards, but the car largely drove itself.  I wouldn't use these systems on city streets, but for a road trip on freeways, it was great.  The thing to remember, though, is that these are driver assist features.  This is not self-driving, and should not be confused with that.  This does not absolve the driver from the responsibility of driving at the proper speed for conditions, and it also does not mean that you can kick back and play on your phone behind the wheel.  Not at all – you're still very much in charge, even if this does automate certain parts of it.
The trip up was fairly uneventful.  We had to detour onto Route 1 from White Marsh to Joppa in order to avoid a backup, and there was a construction project on the Delaware Memorial Bridge, which had a direct connection to the Turnpike that crossed us over to the southbound span.  Additionally, Maryland House, one of the two full-service travel plazas on I-95 in Maryland, was closed for emergency plumbing repairs.  And then, of course, when driving on the New Jersey Turnpike, the speed limit signs are merely suggestions.  Just keep up with traffic, and you will be fine.  And if traffic is going 20 over the speed limit in a work zone, you're going 20 over in a work zone, too.  Otherwise, you become a hazard to traffic.  Then upon arrival in the New York area, we got on I-278, where we followed roughly the same route that we did in our impromptu 2017 trip to New York, but in reverse.  We parked on the street in front of our hotel, the Aloft, got checked in and brought all of our stuff up, and then I took the HR-V to its own hotel, which was on the next block over.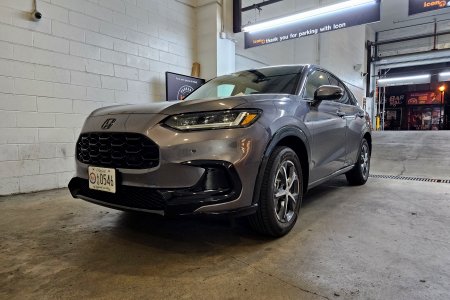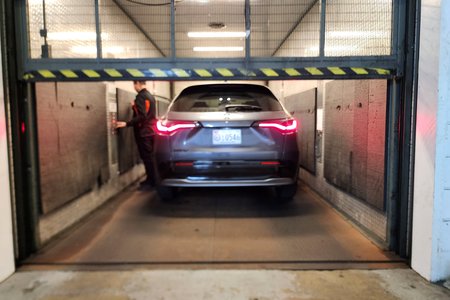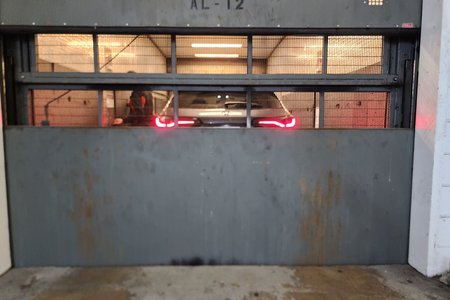 Bye bye, HR-V!  See you in a couple of days.
I admit, though, that I was a little bit jealous that I wasn't allowed to ride in the car elevator with the HR-V.  That seems like it would have been fun.
After getting settled in at the hotel, Elyse was ready to go out.  Realize that Elyse feels right at home in New York City, and has been to the city and stayed overnight enough times that she knows where she's going (by comparison, all of my past visits to New York have been one-day things, and I am highly dependent on Google Maps).  Therefore, while I'm usually in charge on our trips, she's calling most of the shots when we're in New York.  We got on the subway at Jay Street-MetroTech, and headed into Manhattan.  We wandered around there a bit, stopping in at Starbucks Reserve and a wine store, and I just kind of took it all in, starting with the Solari board at Starbucks:
I hadn't seen one of those in a very long time, since Amtrak has replaced most, if not all, of theirs with LEDs.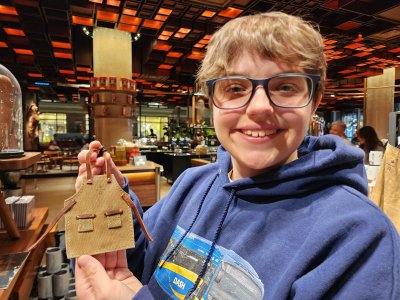 Elyse found a tiny little apron at Starbucks.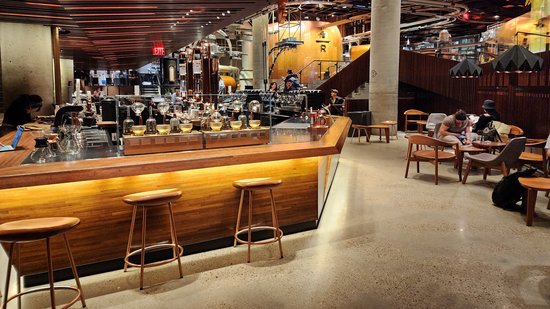 A large coffee bar at the Starbucks Reserve.  There were other bars as well, some of which served adult beverages.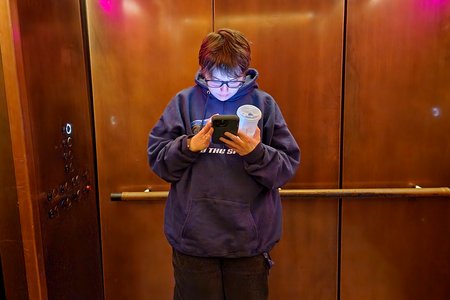 Elyse looks on her phone while we ride the elevator at Starbucks Reserve after going down to the restroom.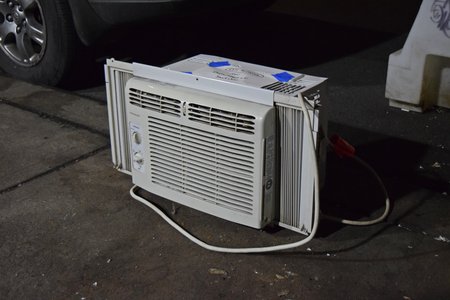 A window air conditioning unit on the sidewalk.  A note taped to it read, "CFC recovery for Department of Sanitation".  This refers to a service offered by the Department of Sanitation where they will remove the freon from freon-containing appliances before they are disposed of.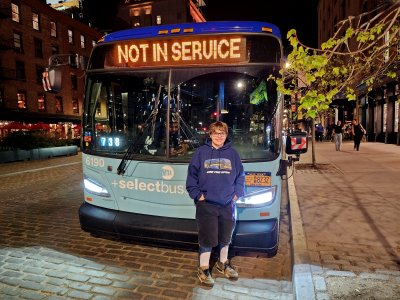 Elyse poses for a photo with a New Flyer Xcelsior bus, while the operator unintentionally photobombs us.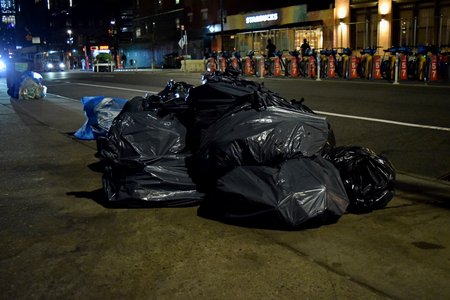 Trash bags in the street.  Every time I see this, I can't help but think that this is so New York right there.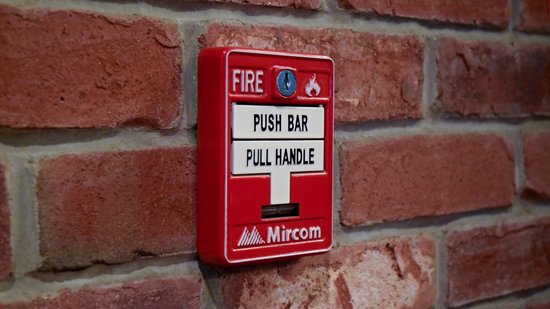 When we dipped into a wine shop, I stopped to photograph the Mircom pull station by the entrance.  You really don't see Mircom systems all that often, so spotting one in the field is noteworthy.
Then we went into the subway, where Elyse was taking me over the Williamsburg Bridge to a neighborhood in Brooklyn.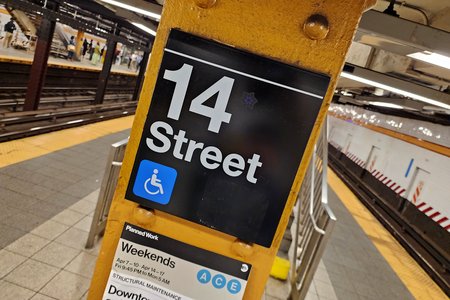 Signage on a column at 14th Street station.  I sort of like this angle.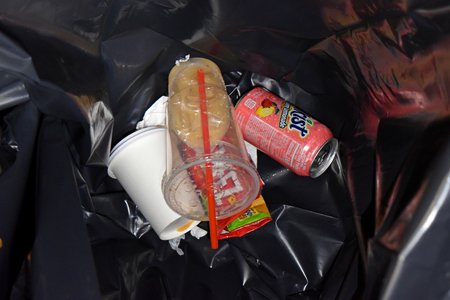 Looking down into a trash can on a platform at Fulton Street.  Elyse thought this was weird, but, you know, I kind of liked it.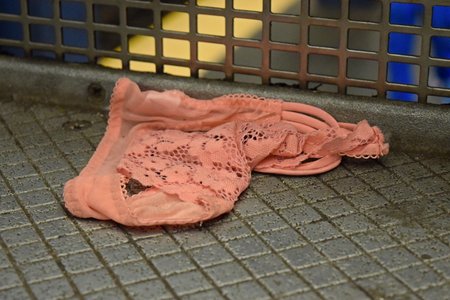 A pair of used panties on a stair at Fulton Street station.  G-R-O-C-E gross.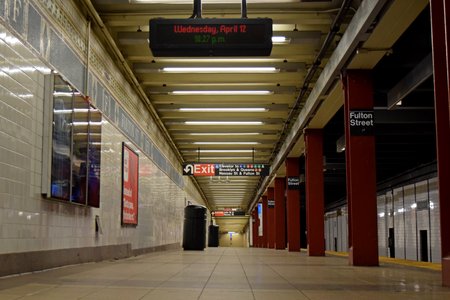 Low angle view of a platform at Fulton Street.
We got off of the subway at Marcy Avenue, where Elyse and I took a walk through the Williamsburg neighborhood.  There, Elyse wanted to visit some of the Jewish markets in the neighborhood.  However, what we failed to account for was that Passover was still going on, and as such, all of the Jewish-owned businesses were closed.  We did, however, see lots of Jewish people out in the neighborhood, wearing traditional clothing, including shtreimel hats, which I had never seen before.  We also saw a Hatzalah ambulance responding to a call.
We eventually made our way to Hewes Street station, where I saw this sign: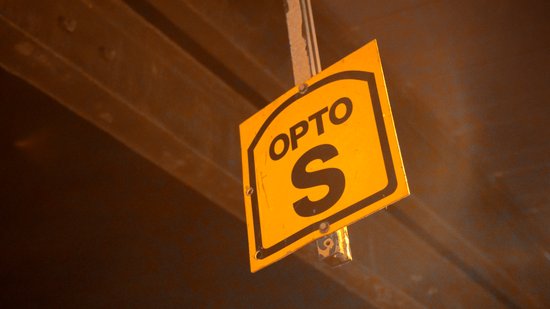 "OPTO S".  I appreciated this because it's a little reminder that New York trains are largely operated by two-person crews, consisting of a motorman, who operates the train, and the conductor, who operates the doors and makes announcements.  My agency's trains are one-person operation, i.e. OPTO, meaning that I'm both the motorman and the conductor.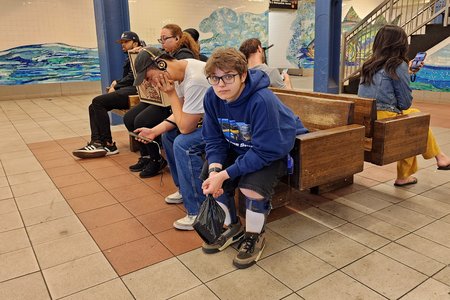 Elyse sits on a bench at Delancey Street while we wait for an F train back to Jay Street-MetroTech and then our hotel.  Elyse's expression is basically saying, "You done, already?" with a bit of a lack of patience.
Meanwhile, as our train was getting ready to arrive at the platform, I got the idea to photograph the people queuing up at the train doors after seeing people do that at another platform and thinking that it would make a nice shot.  Unfortunately, it didn't work out, for a few reasons.  Take a look: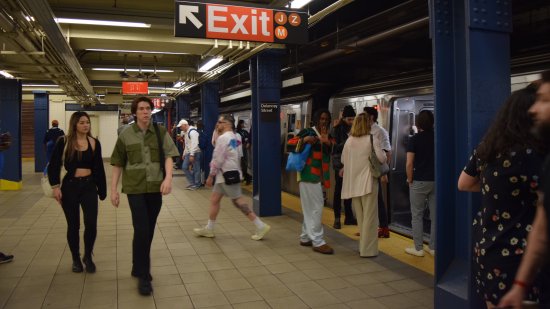 I soon discovered after it was too late that I had positioned myself poorly, as this was a high-traffic area, and people were circulating all around between me and my intended subject.  So that sucked.  But then do you see that guy with the orange and green sweater and carrying the blue bag?  He had spotted me, and was trying to signal to me with his hand that he didn't want to be photographed.  I saw that the guy had noticed me, but I didn't see what he was doing, because I was concentrating on shooting, and was starting to recognize that the shot wasn't going to work out.  But in any case, my usual stance on these sorts of people that don't want to be photographed in public when they are a background character, i.e. they are not specifically the subject of the photo, is basically, "Screw you, you have no right to privacy out in public," and "You really think you're a lot more important than you actually are, don't you?"  So when someone is photographing a crowd, just act natural and blend in, i.e. don't draw any attention to yourself.  So that was annoying that the guy noticed me, and that he fouled my shot.  But that was kind of a moot point, since the shot sucked to begin with, independently of anything that he did to mess it up.  But what really pissed me off was that, once we got on the train, he came up to me and confronted me, asking if I'd taken any shots of him.  I told him that no, I had not taken any shots of him, just to make him go away.  I don't know if he actually believed me, but he went away, so, problem solved.  Either way, I was glad when he got off of the train.  He reminds me of the guy with the awful outfit at the Macy's on my January trip, acting all, "Oh, I don't want to be photographed," and I couldn't help but think, "Dude, you are in my way and fouling my shots, and the sooner that you move it, the sooner that we can all get on with things."  But in any case, much like Karen at Sherando Lake, if the guy on the subway had said nothing and just kept on moving and didn't draw any attention to himself, he wouldn't be on this website, because in this case, the photos weren't very good anyway.  But since he drew attention to himself and then confronted me over it, here we are.
After we got off of the subway, we stopped by one of those corner pizza joints that sells slices for 99¢ that New York is famous for on our way back to the hotel.  I was less than impressed by the pizza.  It looked like it had been sitting out for a lomg time, and reheating it in their oven didn't improve things much.
The second day, the first thing on our agenda was the New York Transit Museum.  For those not familiar, the Transit Museum is operated by the MTA, and housed in the former Court Street subway station, which only operated for ten years as a subway station before closing on account of being underused.  But first, breakfast.  Elyse left ahead of me and went to this place called Pio Bagel, and I was to meet her there.  I initially went to a place called Tio Pio, thinking that I was in the right place, and, not finding Elyse, asked the employees if they had seen her, describing her as a short person with glasses.  They hadn't seen her.  I checked their back dining room as well, and then, not finding Elyse, called her up.  Keep going, she said.  It's further down the street.  Then I found the place: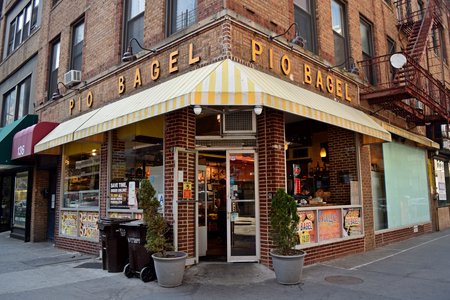 Pio Bagel, a little corner bagel joint.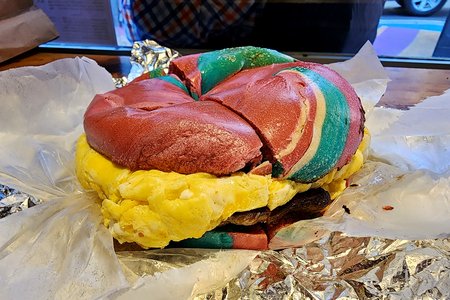 My breakfast, consisting of sausage and egg on a rainbow bagel.
Then on the walk over to the Transit Museum, I found myself photographing traffic signals: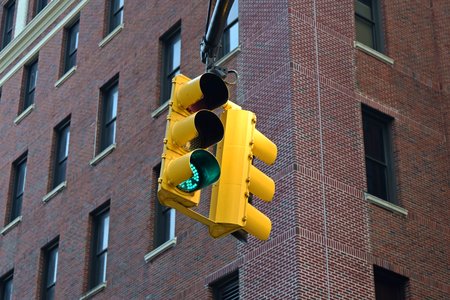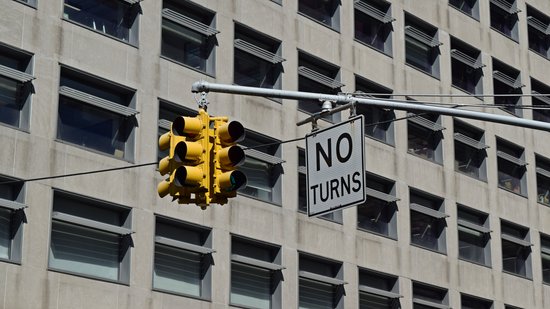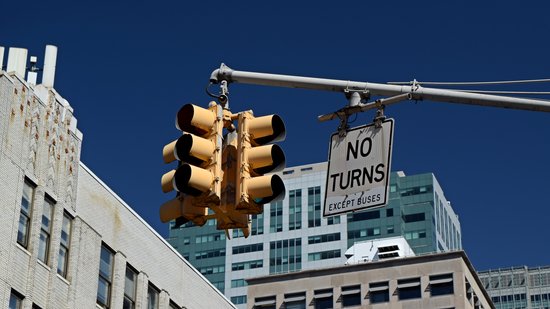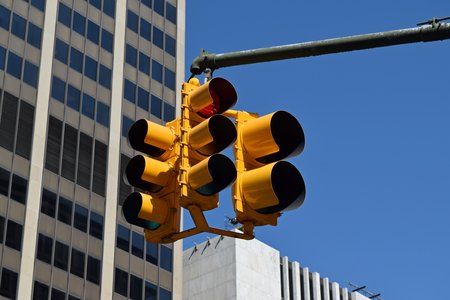 I also got a photo of Elyse with a New Flyer C40LF: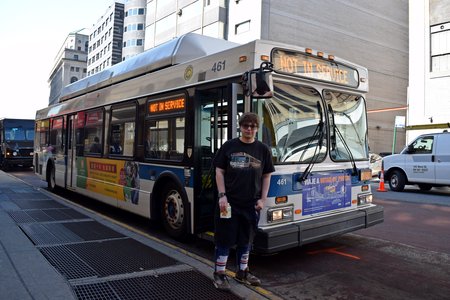 We used to have these same New Flyer CNG buses in DC (they all ran out of Bladensburg division), but they were retired and replaced with new New Flyer Xcelsior CNG buses (XN40) a few years ago.
Arriving at the Transit Museum, we paid our admission and then went on in.  It was a fun place, with much information about the history of public transportation in the New York area.  One thing that struck me in reading about the construction of the system was that racism was still alive and well back in those days, as Blacks and Italians tended to work the more dangerous jobs, while other races/ethnicities were often in less hazardous roles.
I took a zillion photos in the Transit Museum, so I'm just going to skim over the highlights, because we could probably be here all day otherwise, and I have other things to share, plus this is only a Journal entry and not Life and Times (i.e. more is coming when I process for Flickr).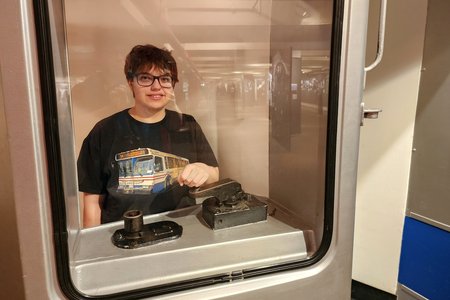 Elyse stands at the master controller of an R46 train.  I found it interesting that these trains had a master controller that moves side to side, compared to front-to-back like I'm used to.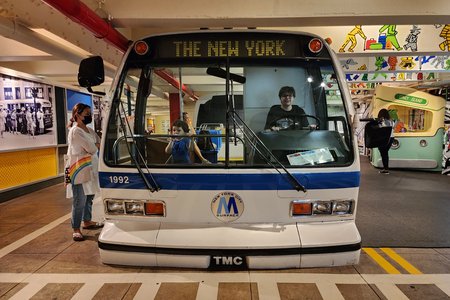 Elyse sits in the driver's seat of an RTS bus.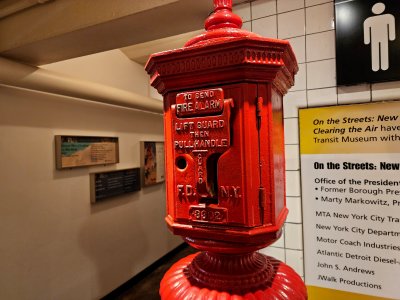 Vintage New York fire call box.  Fire call boxes still exist in New York, but they are now of a more modern design.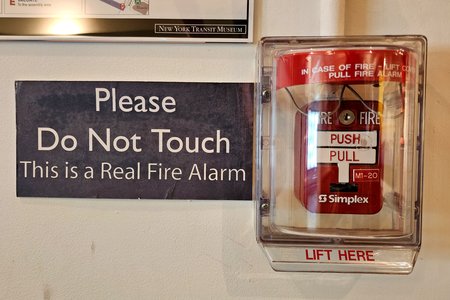 This sign amused me, because you know exactly what happened to make this sign necessary, and also why that Stopper cover is there.  People saw and interacted with the vintage fire call box that was on display, then saw the pull station on the opposite wall, assumed that it was an exhibit as well, pulled it, and initiated a masterpiece of light and sound brought to you by a joint effort of the fine folks at Simplex and Wheelock.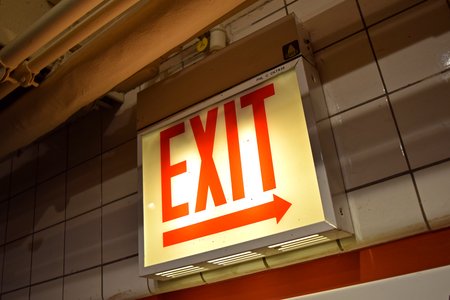 I was surprised to see that the exit signs in the Transit Museum were all to Chicago's specifications, which require a steel frame and tempered glass front, and backlighting across the entire face.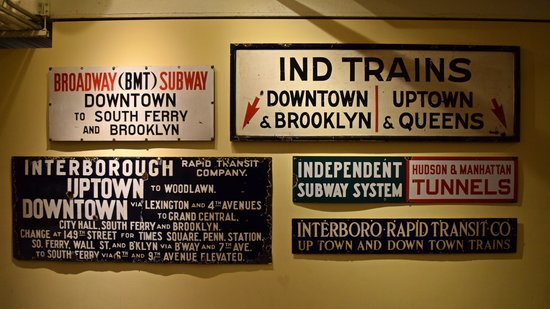 Display of various signage used in the subway system over the years.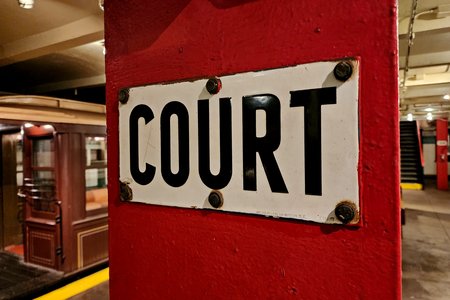 Vintage signage on a column on the platform level, which dates from when this was a functioning subway station.  That's one really neat thing about the museum's being in a former subway station: the facility itself is an exhibit all of its own.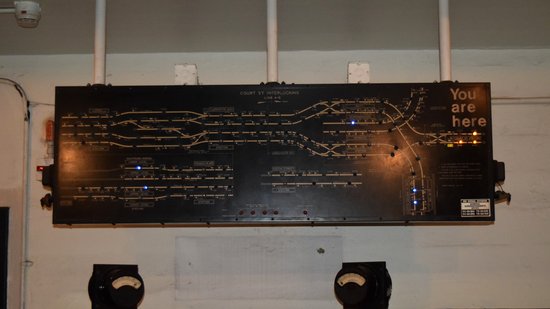 Court Street interlocking board.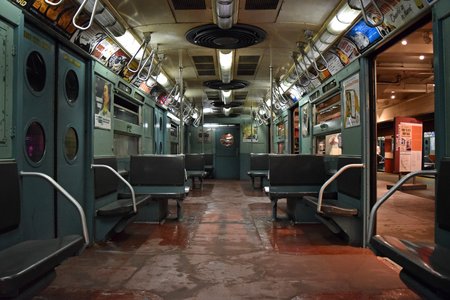 Interior of car 8013, an R11 Prototype/R34 car from around 1949.  I loved the round porthole-style windows on these cars.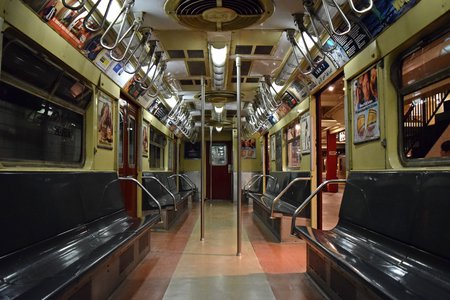 Interior of car 9306, an R33S from 1963.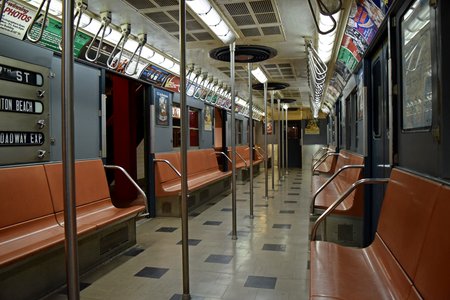 Interior of car 8506, an R30 car from 1961.  Upon seeing this car, I couldn't help but think that the interior looked very sterile, "almost clinical".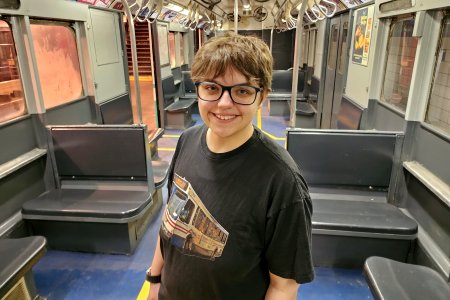 Elyse smiles for a photo on an R12 car.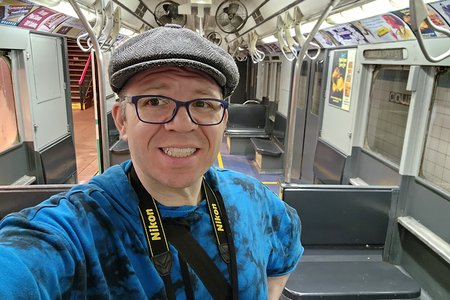 Selfie on the same R12 car.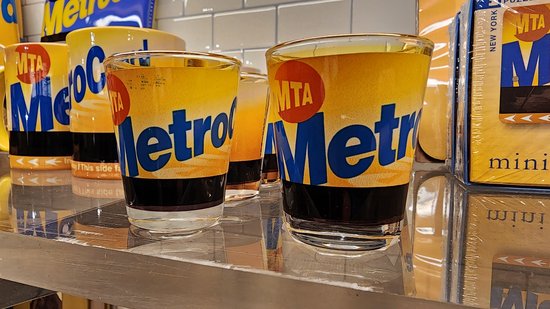 In the gift shop, I saw the MetroCard shot glasses, and the first thing I thought of was, "You are the reason why I drink!" (And I don't even drink alcohol anymore.)
And that's a quick overview of the Transit Museum.  Look for more photos when I process this trip for Flickr.
From there, we headed back to our hotel in order to offload photos and recharge batteries.  I had managed to burn through an entire camera battery and some change in the Transit Museum, plus I hit my phone pretty hard as well, so that gave me a chance to quickly recharge everything, since I was planning to shoot a whole lot more, and I would rather charge batteries on my real equipment than with my portable battery pack if I can avoid it.
On the way back to the hotel, I spotted this: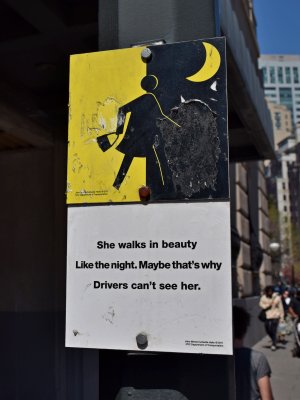 I couldn't help but be reminded of an episode of The Cosby Show when I saw this, because I first became familiar with the poem that this is based on, "She Walks In Beauty" by Lord Byron, in a second-season episode where Cliff is trying and failing to recite this poem from memory.  The best line was from Clair Huxtable, when she said, "Cliff, please let the woman sit down, she's been walking a long time!"  She then recited the first stanza of the poem perfectly, showing Cliff up once again.  The moral of that story is that Clair Huxtable is smarter than you.  I don't care who you are.  Clair Huxtable is still smarter than you.
Then before I went up, I got some photos of the buildings across from our hotel: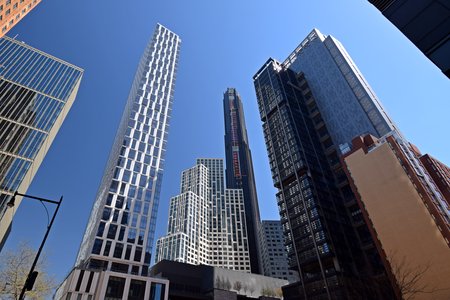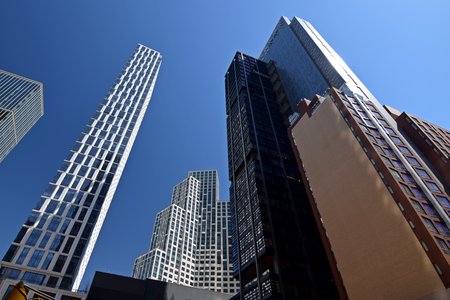 And then once we got back to the room, got our photos offloaded and uploading to the cloud, and recharged our devices, we were off.  We took the subway down to 28th Street, where Elyse was catching a bus to White Plains.  There, she was going to go busfanning, riding the Bee-Line service, where they still operate the Orion V.  Case in point, this is what picked Elyse up for the ride out there: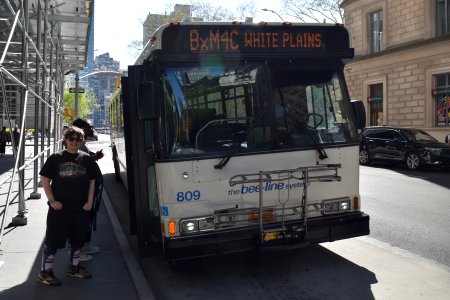 That is an Orion V in full form right there.  That bus is a real beaut, even if the photo that I got of it is terrible.
I didn't want to go to White Plains, so Elyse and I parted company for a while at this point.  As I remarked on Facebook, "Elyse is out busfanning in White Plains, so I am now unsupervised in New York for a few hours…"  My plan was to do a photo walk, and just photograph what I saw, while moving between the Flatiron Building and the Chrysler Building.  The Flatiron Building was pretty easy, since Elyse's bus picked up on the opposite side of Madison Square Park from the Flatiron Building.  However, upon arrival at the Flatiron Building, it quickly became apparent that it would be a no-go, since the building was largely surrounded by scaffolding.  That scaffolding would ruin my shots, so I skipped it, vowing to return on a future trip to properly photograph it.
I did, however, get some lovely shots in the park: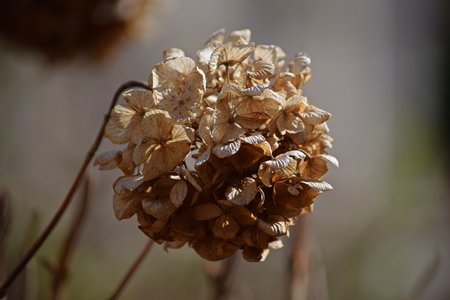 A wilted flower in a garden area.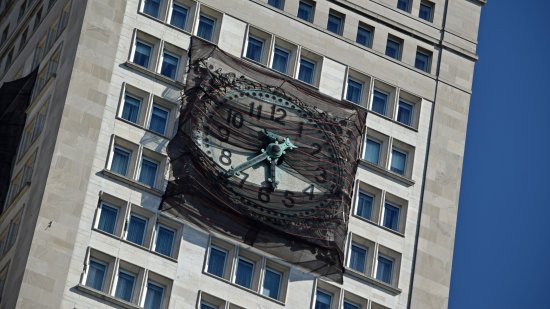 Clock face on 5 Madison Avenue, with a large mesh cover on it, presumably to protect it during maintenance work on the building.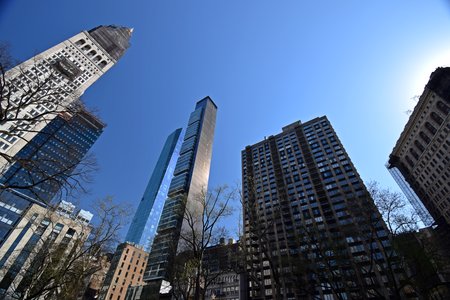 Buildings surrounding the southeast corner of Madison Square Park.
I then started my photo walk in earnest, walking uptown on Fifth Avenue.  The plan was to go up Fifth Avenue for a while, and then cut over to the Chrysler Building once I got a bit further uptown.  Rather than focusing on my surroundings, though, I ended up focusing on a few landmark buildings and getting tons of photographs of them.  I want to say that the lighting was poor at street level because of the time of day (it was after 4 PM), but the sun was hitting the upper floors of some of those skyscrapers perfectly.
My first target was the Empire State Building: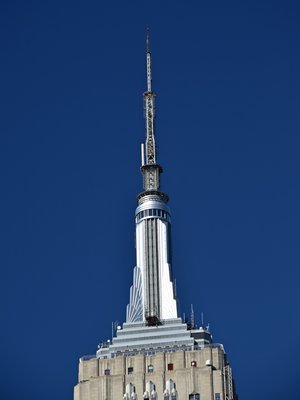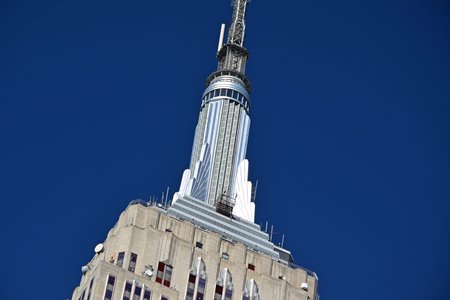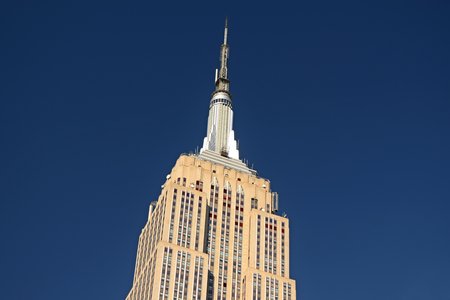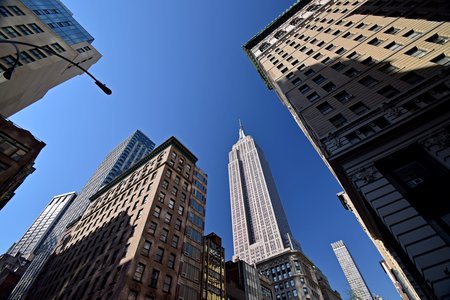 While I was photographing the Empire State Building, I also got this shot of 281 Fifth Avenue: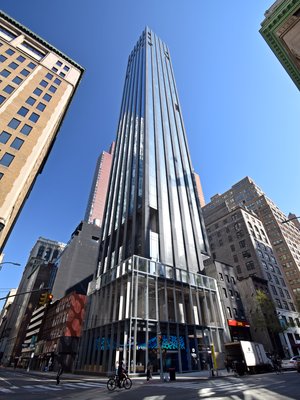 Around this time, it was getting to be time to eat, so I stopped in at another corner pizza place and had a slice.  This was Little Italy, at the corner of 33rd Street and Fifth Avenue.  I figured, the place that we went to in Brooklyn the night before wasn't that great, but this place (A) was in a busy part of Manhattan, and (B) it was the dinner hour.  In other words, the pizza should be flying off of the trays and therefore be quite fresh.  I got a buffalo chicken pizza, and this was the result: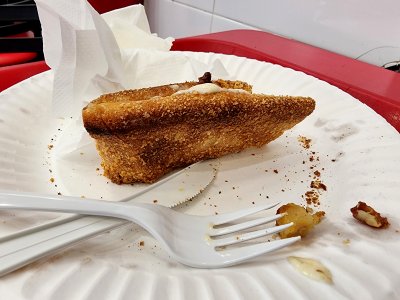 And before anyone asks, it's not that I didn't want to eat the crust.  I was full.  There was no way that was going in, and Elyse was not around to eat it for me.
The pizza, unfortunately, was still kind of sad.  Like the other place, you could tell that it had been sitting out for a while, and it was a bit dry on account of that.  I just didn't have a good pizza experience on this New York trip.  I know that New York can do better on pizza, because the place that Elyse and I went to in March 2019 was top notch, so maybe I just had bad luck this time around.  I also made a big noise while I was there, as I inadvertently flipped one of the metal chairs as I was getting up.  That was a tad embarrassing, but I set the chair back up and moved on.
After I had the pizza, I happened upon 500 Fifth Avenue.  I've always liked this building when I've seen it in photos because it's architecturally similar to the Empire State Building, but it's shorter and less ornate – kind of like the Empire State Building's little brother.  It was designed by the same architectural firm, Shreve, Lamb & Harmon, and built around the same time.  This was an accidental find, because, while I liked the building, I didn't remember where it was or what it was called, but I was glad to have found it.  For those wondering where it is, if you take the avenue that Empire State is on and the street that Chrysler is on, where they intersect is where 500 Fifth Avenue is.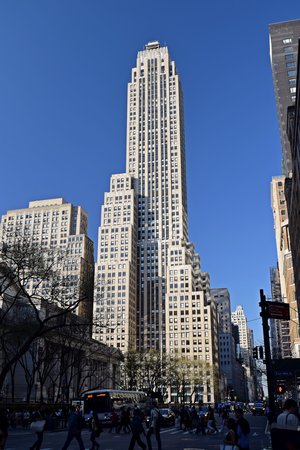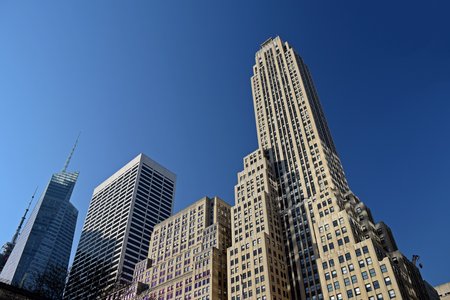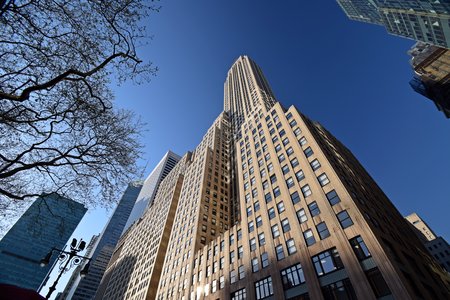 And that's 500 Fifth Avenue, aka the Empire State Building's little brother.  And then when I was done there, I glanced to the right, and boom – there was the Chrysler Building.  I figured that I had to go further uptown, but nope, there it was.  Good.  So I headed over there.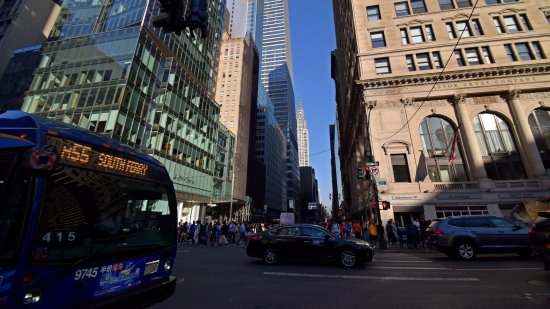 Chrysler building goes "peekaboo".
The Chrysler Building was what I really wanted to photograph on this outing, and I hit it at just the right time as far as lighting went.  So here it is: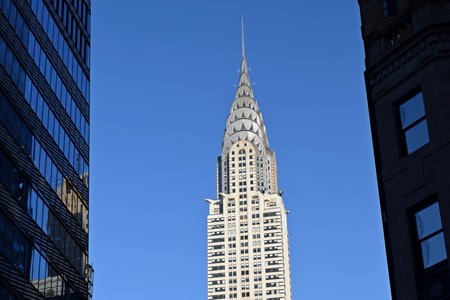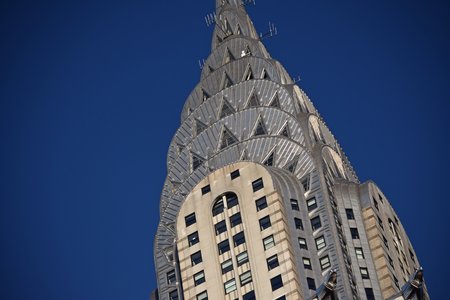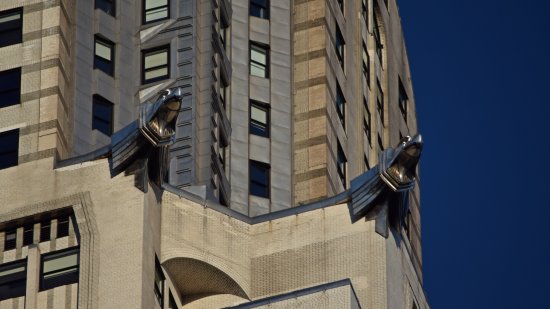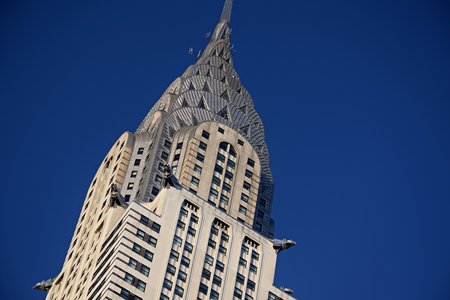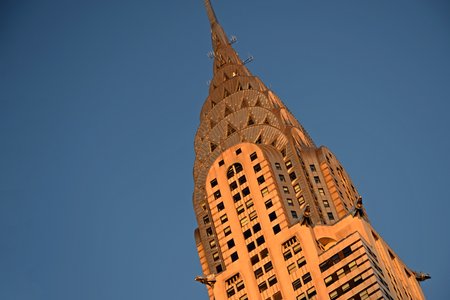 I especially liked that last photo, with the Chrysler Building lit in a more orange color, as the sun started to go down.
Finishing up at the Chrysler Building, I headed into Grand Central Terminal.  Grand Central was not on my list of places to see, but considering that it was right next door to the Chrysler Building and had a subway station on it, a visit made sense.  I came in via the entrance on East 42nd Street, and the first thing that I noticed was this empty section that was cordoned off: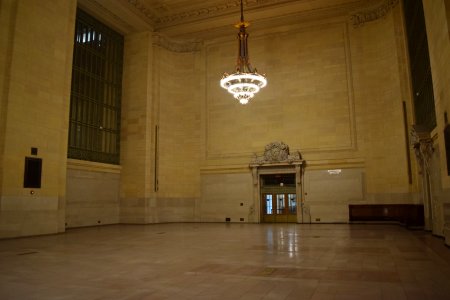 So empty in an otherwise bustling train station.
Otherwise, I got a few shots of Grand Central: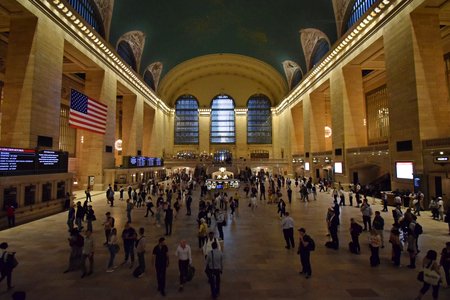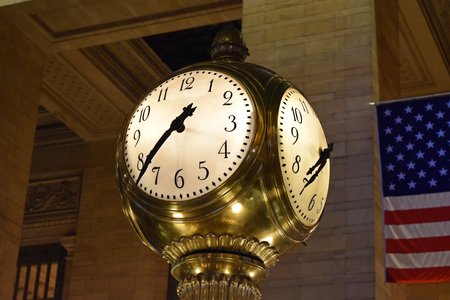 What captured my interest most, though, was the chandeliers throughout the place: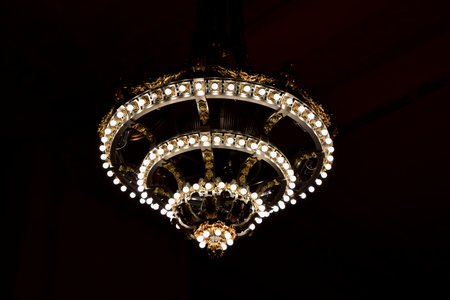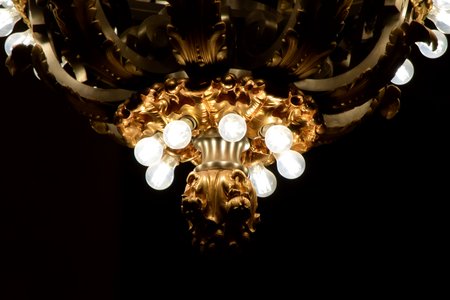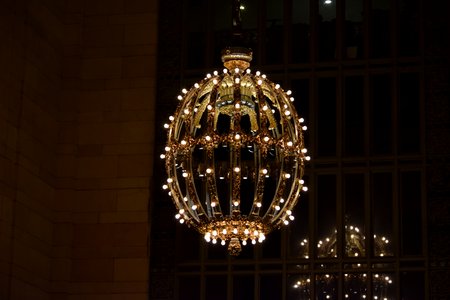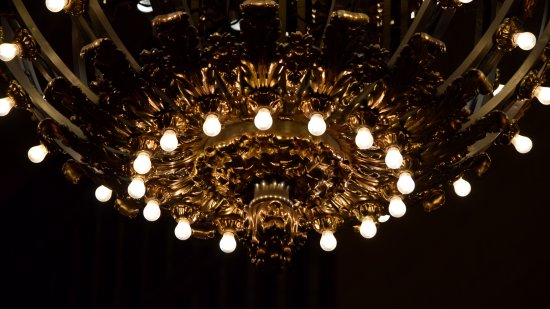 From there, I caught the subway and headed back to the hotel.  I was done for now, and needed to offload photos and recharge electronics again, as well as hydrate.  On the way up to the room, I noticed an interesting property about our hotel: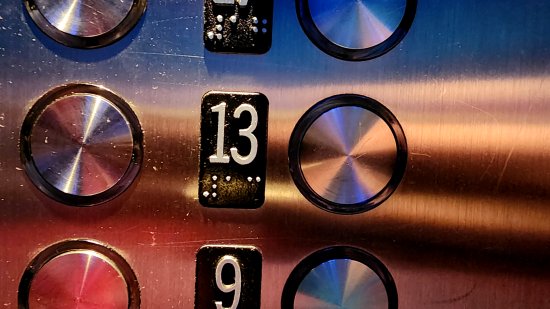 A 13th floor!  A lot of high-rise buildings omit the number 13, and go straight on to 14, because the number 13 is sometimes considered to be bad luck.  I was a bit surprised that our hotel did not follow that convention.
When Elyse got back, we ordered dinner from Dallas BBQ for delivery, which a colleague of mine refers to as "BBQ's".  I got a selfie with the delivery bag to show my colleague: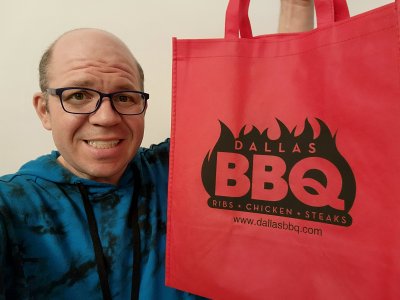 BBQ's wasn't bad, but it was a bit pricey, though admittedly we ordered it for delivery, and app-based pricing is often a little different than in the restaurant to account for app fees.  I got a pulled pork and brisket sandwich, and Elyse got a burger.  I would do it again, perhaps when we have more time to actually go there physically.
After dinner, Elyse wanted to take me on a walk around Brooklyn.  I was fine with that, so off we went.  This is something that Elyse does, where she had a vague idea of a destination and then just goes.  We walked all over, going past Borough Hall, the federal building at Cadman Plaza, and then down to Brooklyn Bridge Park: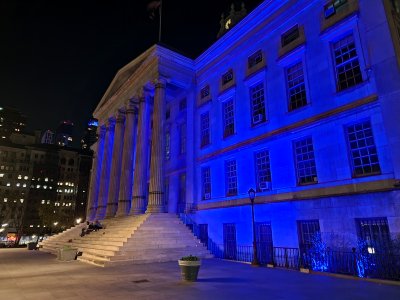 Borough Hall.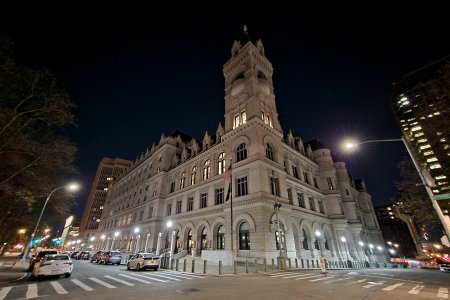 Federal building at Cadman Plaza.
Then this was the view from Brooklyn Bridge Park: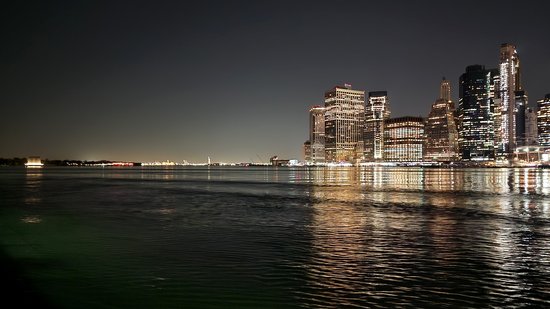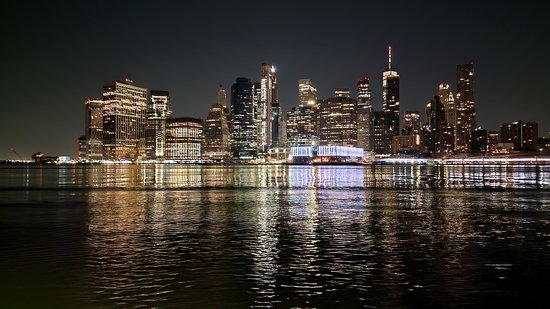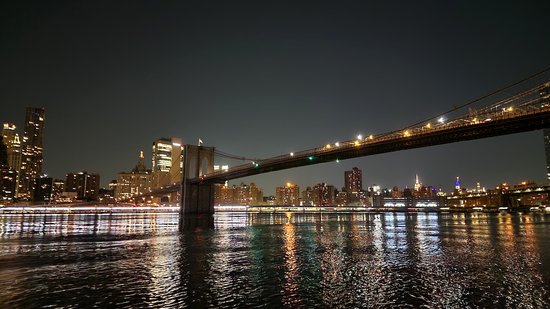 The view was amazing, and these phone shots do not do it justice by any means.  I was a little annoyed about this, thinking, damn it, Elyse, you brought me somewhere really photogenic and my real camera is back at the hotel.  Turns out that was kind of her plan all along: she wanted to spend time with me, rather than wait around while I photographed this gorgeous view.  So, okay, fair enough, I suppose.  Next trip to New York, though, this spot, with its view of the Statue of Liberty and much of Lower Manhattan, is going on my list for both daytime and nighttime photography.
We then walked over to the subway and took the train back to our hotel.  On the way over, we saw this: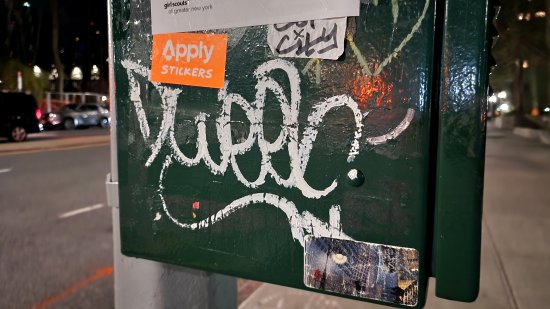 I found this amusing because it says "dweeb" on it.  I feel like "dweeb" is a term that you really don't hear much anymore – one that got left back in the 1980s.
In the subway, one of the tracks at High Street station was out of service for track maintenance, and we saw work cars: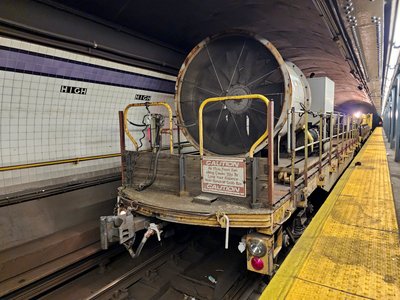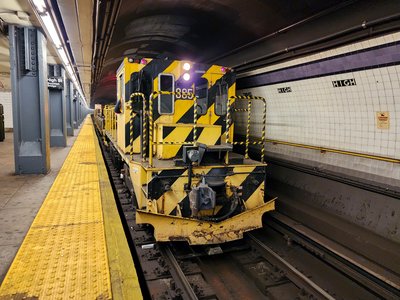 I have no idea what kind of work they were doing, but there they were.
Then when we got to our stop, we went back to the hotel, and that was our night.
The next day, Friday, was our last day up north, and we were spending it in North Jersey.  We had been planning to see a few different sites in North Jersey for a while, but we could never justify the trip out for them.  Bundling this in with our New York trip made perfect sense, since we were already up there and these things were all mostly in the immediate New York area.  When I had posted photos of the HR-V all packed up for the trip before I left, one friend asked why we were driving instead of taking Amtrak.  This part of the trip was why.  If we were just doing New York without the New Jersey component, Amtrak would have made the most sense, but our itinerary in North Jersey ruled Amtrak out.
But before we could go to North Jersey, we had to retrieve the HR-V and then get checked out of the hotel: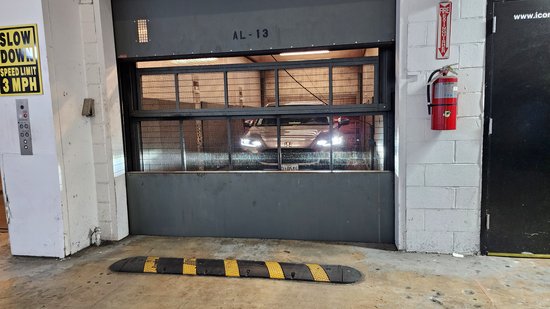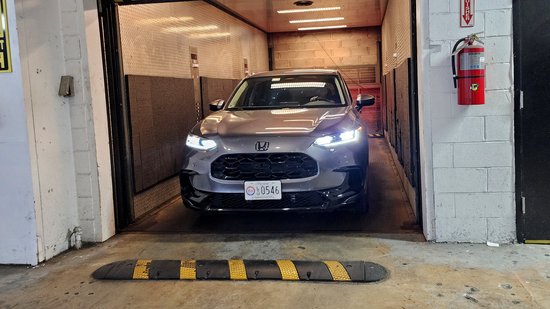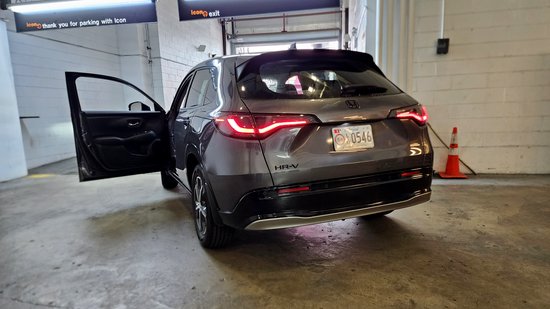 Retrieving the HR-V from the parking garage.  Elyse was disappointed that she wasn't allowed to ride the elevator, despite that I said that she wouldn't be able to beforehand.  Also, note the gloss black badging that the HR-V now sports, replacing the original chrome.  That was a customization that I ordered when I got the HR-V, and it was installed the week before our trip.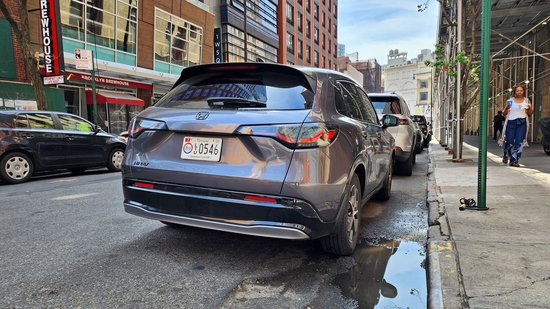 The HR-V, parked in front of our hotel, ready to be loaded up for the trip home.
Leaving the hotel, we continued the trend from the trip in, doing our 2017 impromptu trip in reverse, as we went over the Manhattan Bridge and then through the Holland Tunnel.  Our route took us through Chinatown, where we sat through a lot of lights: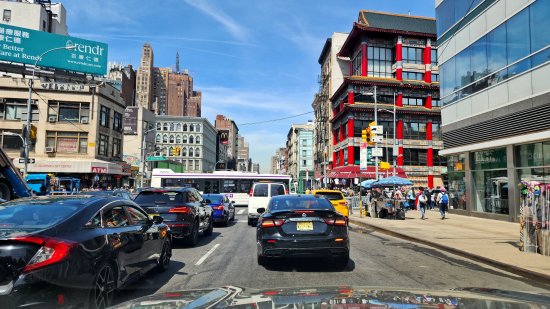 We then reached the Holland Tunnel, and that was the end of New York for this trip.  In the Holland Tunnel, I got an unexpected demonstration of the "collision mitigation braking system" on the HR-V.  We were moving relatively slowly in the tunnel, and I was maintaining a safe following distance, and then the guy in front of me unexpectedly hit his brakes.  I saw it and reacted accordingly, but the car got to it a split second before I did, displaying "BRAKE" in big letters on the dashboard.  Good to know that works well.  I can't tell you how hard it hit the brakes, though, because our reactions were so close to being in sync that I noticed nothing else other than the indicatior's going on, as well as the warning chime.
Once we were in New Jersey, we headed to the end of Chapel Avenue in Jersey City, using Hudson House, which is a little event venue, as a landmark for purposes of navigation.  I wanted to fly the drone and get some photos of the Statue of Liberty, and this was the result of research on (A) where I could fly, and (B) where I could stand.  This was similar to when I photographed the Delaware Memorial Bridge last year, in that I had to do my research to find a good launch site, though in that case, the area was clear for flying, while New York has a lot of airspace restrictions due to its being home to three major airports, among other things.  In researching where I could fly, I found a swath of airspace that was completely clear to fly, where I could photograph what I wanted and stay out of the areas where I wasn't supposed to be, and it came to a neat point with a landmark, meaning that I could use that landmark as a visual boundary for where I was not supposed to go past.  New Jersey prohibits flying drones in state parks, so that was one side of my boundary, and then the main part of the Hudson River is restricted airspace, and reached out to the edge of the park, forming the other part of my boundary.  Here it is: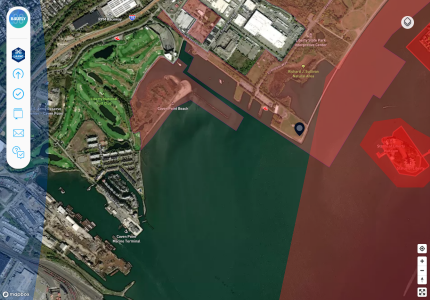 With the flight parameters determined, I then had to find a place to launch from.  I do this using Google Maps.  I identify a potential location on the overhead maps, and then drop down to Street View to see what the area actually looks like.  I settled on Hudson House, at the end of that triangular piece of land with the waterway running through it in the left part of the above map, because it had a public street running all the way out to the water.  Everything else within a reasonable distance was industrial, so Hudson House was it.
This would be my first time flying the drone in nearly four months.  The last flight of the drone prior to this was in December 2022, when I photographed Staunton Mall.  It's not that I intended to take four months off of flying, but it just worked out that way.  It took me a few tries to get going, though, because I had problems with the drone's collision avoidance system at first.  It was reporting that its sensors were blocked, and as such, wouldn't fly more than two inches off of the ground on several launch attempts.  That was no good.  I ended up having to power it down, and I also used my shirttail to wipe down all of the sensors.  I don't know if restarting it made the difference or if the wipe-down did, but regardless, it was flying fine after that.  I've had instances in the past where it would be a bit off kilter in its flight after I power it up, and in those cases, landing it and restarting it takes care of it.
Then this is what I got: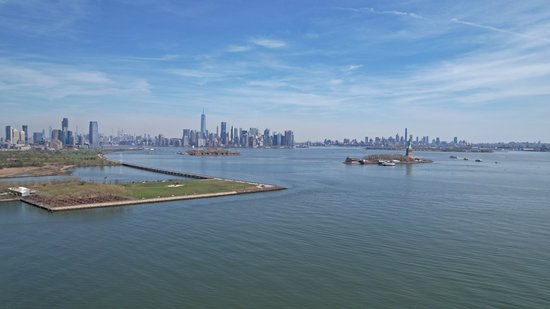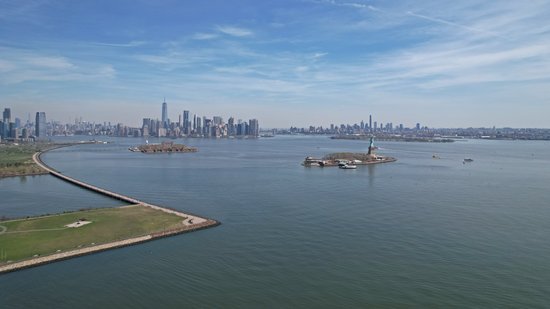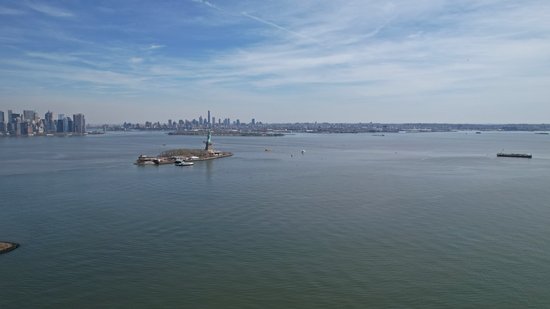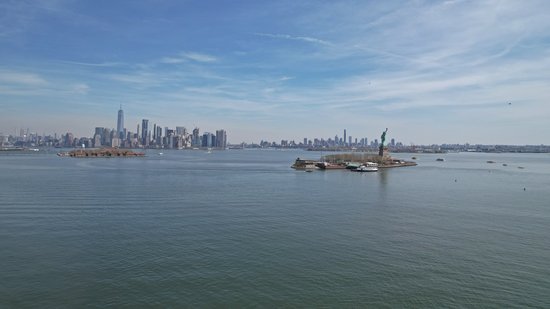 The Statue of Liberty, Ellis Island, and the New York skyline.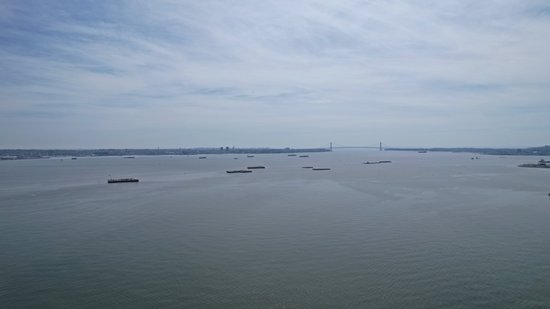 Facing the other way, with a lot of barges sitting in the river, and the Verrazzano-Narrows Bridge (which we went over on the way into New York) visible in the distance.
The way I see it, these photos aren't amazing, but they're not bad, either.  I worked within the parameters that I had, and got what I could get.  Meanwhile, that angled plot of land that you see in the left part of the first three photos is the landmark that I used to define my boundaries, i.e. to make sure that I was inside the area where I was supposed to be.  As long as I could see that corner in the camera while I was moving, I knew that I was in compliance.  The photos were also a bit hazy, but that was New York in general on this trip.  Elyse and I had noticed driving over that there was a bit of a haze over Manhattan.  We also wondered if that haze, and resulting lower air quality, was why my seasonal allergies had been acting up particularly heavily on this trip vs. at home, where it had been more mild this season.  Go figure, I suppose.
Our next stop was something particularly geekish: Ironbound Studios in Newark.  Those of you who have seen Ink Master are probably familiar with Ironbound Studios, since that's where they filmed that show, save for the most recent season as of this writing (that season was filmed in Vancouver, Canada).  When I figured out where Ink Master had been filmed, I went down on Street View and found the big "TATTOO" sign that they used for establishing shots to show that they were back at the shop.  The imagery was a couple of years old, but if there was a chance that the sign was still there, despite that Ink Master has not filmed there in over three years at this point, then it was worth the visit in order to get my own photos of it.  It also wasn't too far from the other things that we had planned, so that worked out well.
And here it is: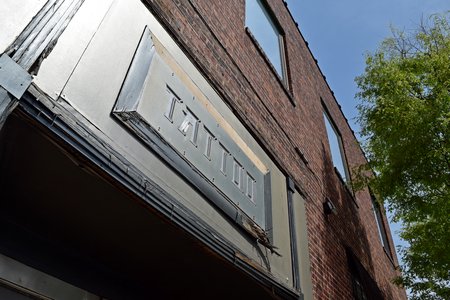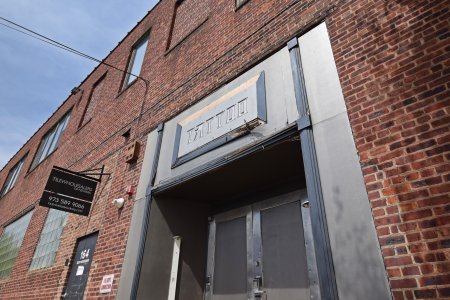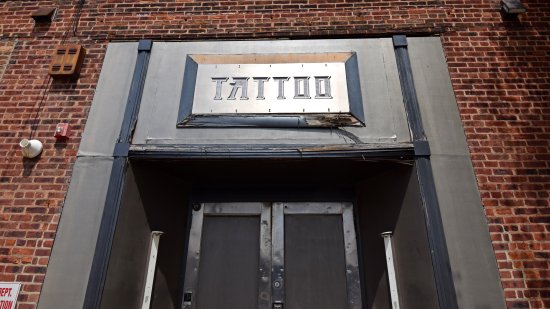 And I also got a selfie with it: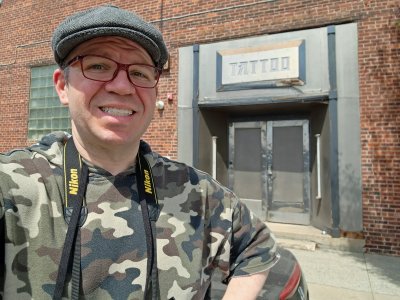 When I posted it to Instagram, I captioned it, "Just FYI, I do not have what it takes to be Ink Master," along with a laughing emoji.
I was glad to see that the sign was still there, though I was also surprised about the damage to the bottom of the sign.  Apparently, nature has not been kind to the sign, as the bottom of the frame looks more than a little worse for wear, likely from water intrusion.
From here, we headed up to Passaic, where Elyse was visiting someone who was selling Hot Wheels cars.  They were in an older industrial center, and while getting to the industrial center was pretty straightforward, we had some difficulty finding the specific location.  What we didn't realize is that all of the buildings had the same street address, with different building letters.  We ended up going up the stairs in this one building and called the number on the door, and a man answered who was quite confused at first about why we were calling him.  He was very helpful, though, as he explained that the buildings had different letters, and that there was a map that showed all of the buildings at the entrance to the property.  We thanked him for this, and then, after following his advice, we found the place.  However, we didn't quite find it the way that the operators of the space intended for us to find it.  This was a second-floor space, with a front entrance and a back entrance.  Unbeknownst to us, we had come in through the back entrance, but at least we were in the right place.  We asked a few folks, and one lady in an office was able to point us right to where we needed to go.  There, we found a room with racks full of Hot Wheels, and some people attending to it.  So I left Elyse to do her thing, and went out and took the drone out for a flight.
Here's what I got, starting with the industrial center itself: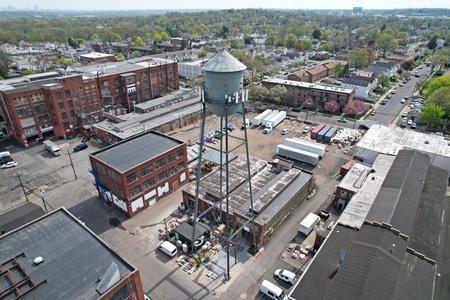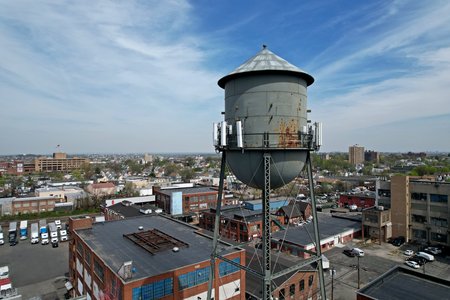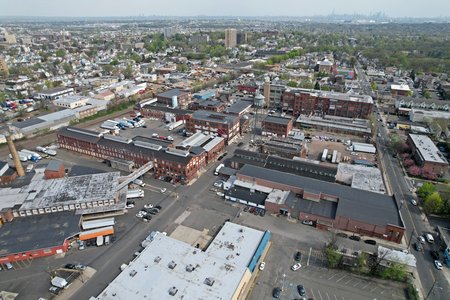 Then, as I brought it in for a landing, I focused on the HR-V: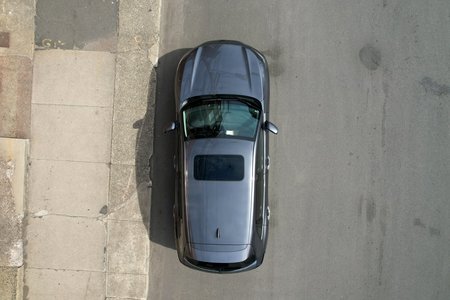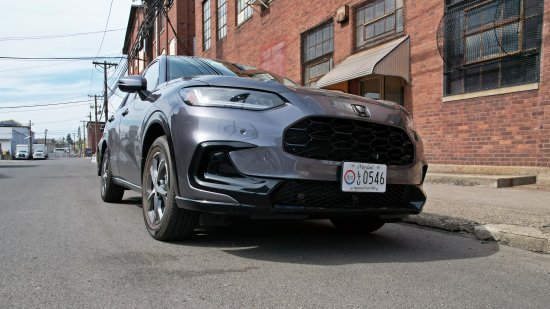 Then I repositioned and went up again, photographing Thomas Jefferson School No. 1: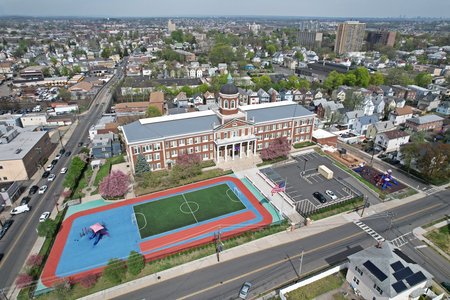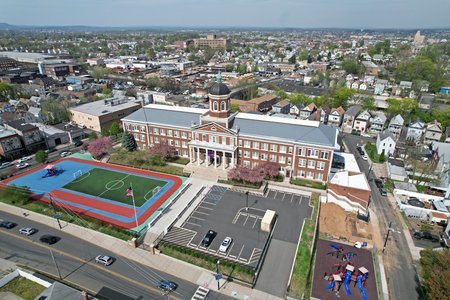 After that, I parked near the front entrance to the place that Elyse was at, went in, collected her, and then we left.  Our next stop was in Paramus, and it had a hard deadline of 4:00 PM.  This was the office at George Washington Memorial Park, the cemetery where my grandparents on my mother's side are buried.  Elyse didn't understand the whole idea of a hard deadline for a cemetery at first, but it was because we had to dip into the office in order to get their burial location (my grandparents were not on Find a Grave at that time), and the office closed at 4:00.  I had attempted to do my homework and get this information prior to our visit like we did when we visited Elyse's birth mother in Tennessee, but the cemetery doesn't list any way to contact them electronically on their website, and when I called them up, they told me to come to the office for it, and that they closed daily at 4:00.  So if we didn't get to the office before 4:00, I would not get to visit my grandparents, and I wasn't going to let that happen.
We rolled up there about 3:45, so we were good there.  Considering that it was a Friday, I had called ahead to make sure that they knew that we were coming, in case they wanted to get an early start to the weekend or something.  When we got there, we spoke to the lady at the front desk, who quite helpfully printed out a map of the cemetery with my grandparents' plot clearly marked, and then gave me landmarks to help find it, i.e. between the 25th and 26th trees, and then it's right where the markers change direction: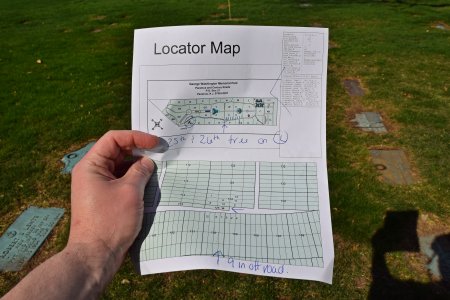 So I was going down the road in the cemetery counting the trees and hoping that I didn't miss one.  When we got to the 25th tree, I pulled over, and off we went.  Thankfully, their marker was easy to find, with Elyse's spotting it first.  And here it is: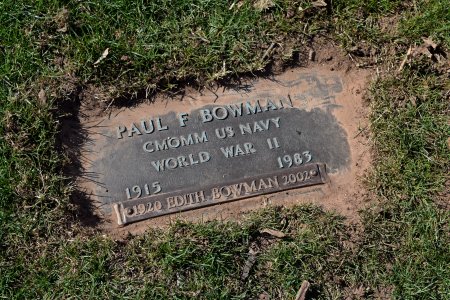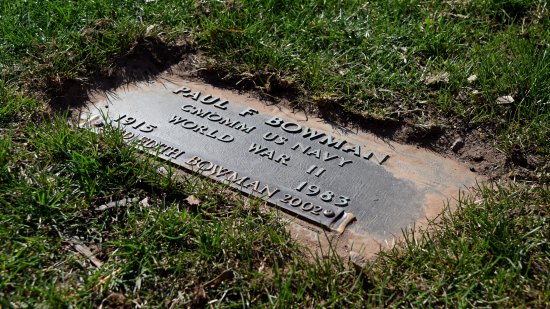 There it is.  I was a bit surprised about the presentation of it.  Grandpa Bowman has a typical military-style marker, as he served in the Navy during World War II as a Chief Motor Machinist's Mate.  That wasn't too surprising, but the treatment for my grandmother was.  I expected a second marker nearby for her, but instead, a small plate was just bolted onto Grandpa Bowman's marker.  My grandmother was cremated, so I imagine that a second marker was not necessary, considering that her ashes were in a small box.  Additionally, my grandmother had remarried about seven years after Grandpa Bowman died, and her last name from her second marriage, Wilander, was omitted.  I get that, though, since she had spent most of her life with Grandpa Bowman.
Meanwhile, when we got there, the marker was somewhat obscured by plant growth.  We moved the plant growth off of the marker as well as we could, and brushed as much of the dirt off of the marker as we could.  That's why there's so much dirt on the marker: because it was partially covered, and we lacked a brush to properly remove it.  We used a small stick that we found nearby to clear it.
We also made sure to get a good GPS lock on their grave location while we were there, and put them on Find a Grave.  This way, if we, or any other relatives for that matter, want to go visit in the future, we can bypass the office and go right to it.  I posted the photos to Facebook, and Mom and Uncle Johnny were both quite appreciative of our visit.
Leaving the cemetery, we headed to Ridgewood.  Mom had wanted us to visit Ridgewood, which is the town where she and Uncle Johnny grew up, and since we were already right there, we did it.  Our first stop in Ridgewood was the high school: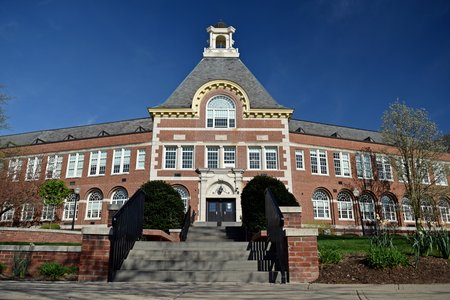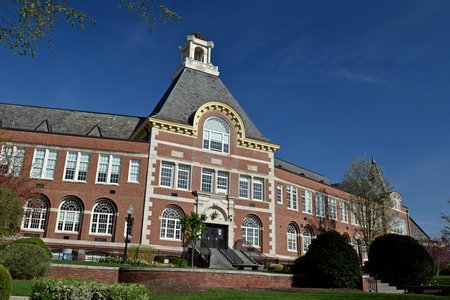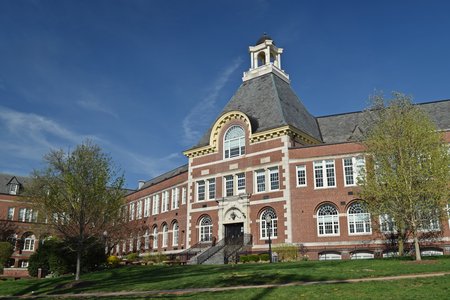 These shots are definitely nicer looking than when I photographed this school in 2003.  I believe that the school had also been renovated in the intervening years, as there are some differences in the windows and doors between then and now, which makes me think that changes were made.  Mom was appreciative of these photos, as were some of her former schoolmates who I'm also connected with.  I wanted to fly the drone here as well, but the property is rather tight, with the football field directly across from the school, and there was a sports practice going on there. In order to get the shots that I wanted, I would have had to overfly the field, and that is not allowed.  But I was pleased with what I got, and so I'll try that next time I'm up there.
After this, we drove past the two houses where Mom had lived while in Ridgewood.  First, 346 Northern Parkway: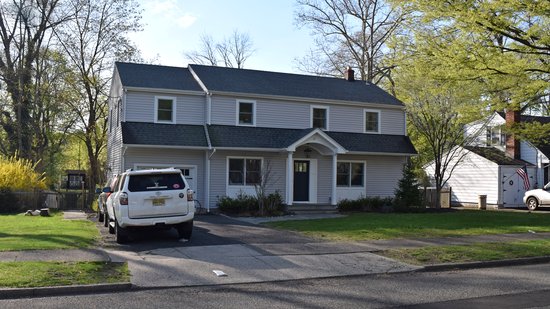 Then 500 Northern Parkway: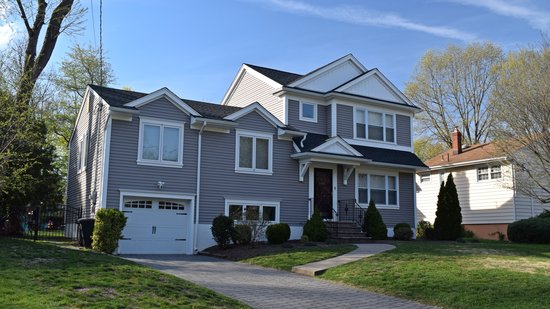 I wasn't all that pleased with the way these photos came out, mainly because it was late in the day and the position of the sun was not favorable.  If I had gotten there earlier in the day, I imagine that I would have gotten better lighting.  But it shows the houses, both of which had received renovations in recent years.  346 had changes on the first floor, with the front door in a different location and a new window arrangement (compare to 2003, as well as this photo of my grandmother standing in front in the 1980s), and 500 was very dramatically changed, with an additional floor over the right section (compare to 2003).
While we were over that way, I also took new photos of the Gamewell fire alarm box that I had previously photographed in 2003: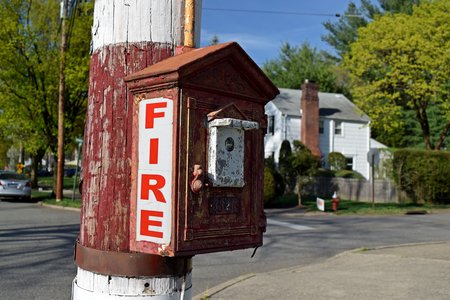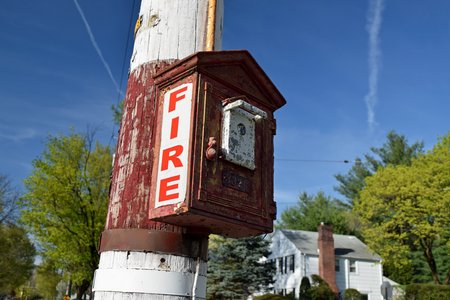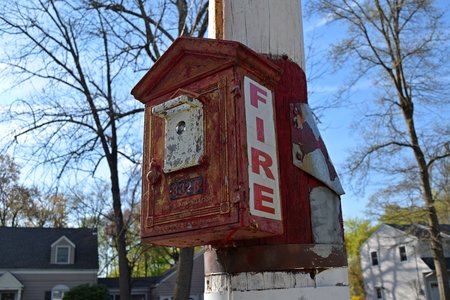 Not bad.  The light worked well enough for the pull station, though it was still clear that these shots were taken late in the day.
We then headed over to downtown Ridgewood, where we visited the train station.  I got some photos of the station, which was serviced by New Jersey Transit trains, but they weren't very good.  It was quite late in the day, and the station was pretty busy.
We then went in search of food, and found a Whole Foods store.  Good.  I know how a Whole Foods works.  This was a relatively small store as Whole Foods locations go, and much to my surprise, they had a salad bar, but no hot food bar.  Instead, they had a spot where you could order meals.  I ended up getting a curry chicken salad off of the shelf, and that was sufficient.  Elyse, meanwhile, in her words, "went shopping thirsty" and bought about seven different drinks.  We were both rather parched, so I knew that those drinks would not go to waste.
At that point, we were pretty much done in Ridgewood.  We dipped into a park briefly in order to plan our route, and then headed off to our next stop: the Archer Hotel in Florham Park.
This next stop was one with some professional significance.  A few years ago, a design firm had contacted me about the use of one of my photos of the Asbury Park Casino in a hotel that was being constructed in North Jersey.  The photo was fully cleared for use, and that was that.  Later on, I came across a page about the design firm, which discussed the art that they had installed for their client, the Archer Hotel in Florham Park.  I found out there that my photo was in a men's restroom.  I added the hotel to my list for a future North Jersey trip, since I couldn't justify that as its own thing.  Now, we were finally in North Jersey, and it was time to see it in person.  Elyse called the hotel to make sure that it was still there, and they assured us that the art had not changed.  Excellent.  When we got there, we talked to the lady that we had spoken with on the phone, and she kindly directed us to the men's room.
Now, going into this, it was my expectation that the photo would be framed and hanging on the wall somewhere in there.  Imagine my surprise when I opened the door and saw this: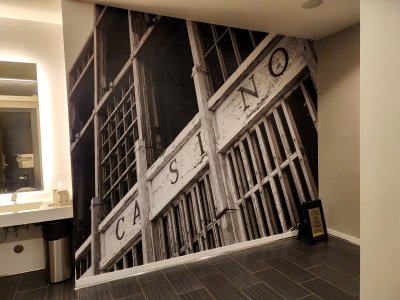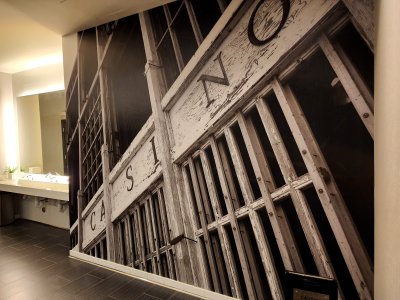 That is my photo right there, enlarged floor-to-ceiling.  I was absolutely blown away, because I never thought that it would enlarge so well.
Then this plaque accompanied it: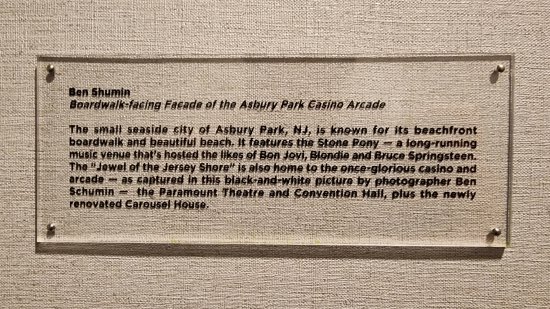 Not a bad description, if you ask me.  It's a better description than I would write, I imagine.  They misspelled my name at the top of the plaque, but then they spelled it correctly further down.  Go figure.  Still pretty awesome in any case.
At this point, it was just after 8:00 PM, and it was time to start heading home.  Elyse wanted to go to a big H Mart in Ridgefield, so we did that on the way out, as well as got some gas for the trip back home.  The trip back was pretty uneventful, with the car's largely running in adaptive cruise control and lane watch, and that was that.  All in all, this was a really fun trip, and we did a lot of stuff and got a lot of great photos.  This is one of those trips that left me wanting more, so I imagine that we will do New York and vicinity more frequently than we have in the future.  There is so much to see and do there, and I have barely scratched the surface.
Meanwhile, I think that I may have just busted a record for the Journal, with 112 photos in a single entry – not including the older shots that I linked to.  This isn't the biggest as far as word count goes (the Hewitt Gardens entry still holds that title), but I'm pretty sute that it's got the most photos in a single entry.  And this was supposed to be a "quick" view of things, with the intention of putting the rest of the shots on Flickr.  I guess that goes to show how much of a fun trip that this was.