Looking back on ten years at Hewitt Gardens…
March 3, 2018, 4:54 PM
When I moved to Montgomery County in 2007, I never imagined that I'd stay in the same apartment for a decade.  But I did.  Hewitt Gardens Apartments, on Hewitt Avenue in Aspen Hill, was my home from May 10, 2007 to November 16, 2017, i.e. ten years and six months.  In the intervening decade, the apartment served its purpose, but I eventually outgrew it, and it eventually became very clear that it was time to move on.
I found Hewitt Gardens in a second round of apartment hunting, in May 2007.  I originally wasn't supposed to live at Hewitt Gardens at all.  If things had gone as originally planned, I would have lived in Oakfield (now split into two properties, with the other called Glenmont Crossing), i.e. closer to Wheaton, across Shorefield Road from H-Mart.  But what happened is that after I filled out their pages-long application and sent in a deposit, I was informed that there were no one-bedroom apartments available, and that they could "upgrade" me to a more expensive unit with a den, and give me two months' free rent, allegedly to compensate for the change.  However, even that would not be deliverable in the timeframe that I needed, plus what they tried to pull with me was a bait-and-switch, which is a really dishonest thing to do.  Nothing like starting a relationship with mistrust of the management's business practices, right?  So Oakfield was out, I got my deposit back, and I conducted a new search.  In the new search, I had Hewitt Gardens, Peppertree Farm (off of Bel Pre Road), and Montgomery White Oak (off of Lockwood Drive) on my shortlist.  Hewitt Gardens was first, and it was perfect.  It had a lot of space, it was close to the Metro, it didn't have a lot of unnecessary amenities, and at $920/month, the price was right.  Plus, unlike Oakfield, they showed me my actual apartment, and not a model.  We ended up putting a deposit in with Hewitt Gardens on the spot, with the idea that no matter what else happened, I would have a place to live when my new job started in a couple of weeks.  Peppertree Farm was more money and had a bunch of amenities that I didn't need, and then Montgomery White Oak was a five-minute visit, since the apartment was just not very good, as well as more expensive than I would have liked.  So Hewitt Gardens it was.
It took Hewitt Gardens a few days to complete all of the processing on my application, and by Wednesday, May 9, 2007, they were ready to go.  I was up the next day to sign my lease and move in.  So far, everything was good.  I got my stuff moved in, I got the Internet turned on, I got my parking permit, etc.  Additionally, the new job, where I was an underappreciated office monkey at a nonprofit, was going well.
I would soon learn, however, that the place was run by amateurs, and this would hold true throughout most of my time there.
For the first few months of my time there, the property manager was a woman named Jessica Snyder (now Jessica Montz).  She was a nice enough person, being pleasant to work with, and she was willing to accommodate my various requests, such as running a new laundry key to my apartment when a lock change was about to occur vs. my coming down to the leasing office as stated in their memo.  Additionally, if the answer for something was no, she didn't fool around with that answer, and would tell me so, and, most importantly, she would explain why. I could respect that.
However, there were two incidents during Jessica's tenure as property manager that should have been red flags as to how the place was run.  The first incident occurred on Friday, July 20, 2007.  I walked out of the front door on my way to the bus stop to go to work, and I noticed that my car was not in the space where I had remembered parking it the night before.  At first, I thought that maybe I had parked it somewhere else, since there were no assigned spots in those days.  I took a quick look around the lot, and my car was nowhere to be found.  My first thought was that the car had been stolen, but then something told me to call the towing company that patrols the lot to see if they knew anything.  As it turned out, they had towed my car the night before, and it was in their impound lot in Silver Spring.  The reason that they gave for towing my car was that sixty days had passed, and I had not yet registered my car in Maryland – as if that was any of their business.  In other words, because I still had Virginia tags, the tow company decided on its own that my parking permit was not valid anymore, and I got towed.  I ended up having to leave work early that day in order to pay the $150 ransom to get my car out of the impound lot.  When I asked Jessica about this, explaining that she should not have issued me a parking permit and had me use the guest parking hangtag if I was obligated to change the tags first, all she did was apologize for the mistake, but explain that the cost of the tow was on me.  So their mistake cost me $150.  Thanks for nothing.
The other incident under Jessica's tenure happened with the maintenance staff.  On September 26, 2007, they were repairing my shower, as one of the knobs was leaking water out of the back.  They stepped out of the apartment to get something, and locked the door behind them.  Then they realized that their maintenance key was still in the apartment, and therefore couldn't get back in.  I got a call at work to let me know about what had happened, and that, as a result, when I got home, I would find my shower disassembled, tools on the floor in the living room, and a maintenance key that they needed me to return in order to complete the work the next day.  In other words, they couldn't access my apartment because they had locked their only key inside my apartment, and I had to bring it back to them in order for them to finish their work (pay attention to that – you'll see it again).  This place wasn't sophisticated enough to have a master key system.  So I ended up having to shower at work the next morning because of their mistake, and the repairs were finished that day.
Jessica eventually ended up getting transferred to another property owned by the same company, and left Hewitt Gardens.  After Jessica, we ended up with a string of several short-lived managers, most of whom were pretty bad in handling maintenance requests in a timely or adequate manner.  "Talking into a void" more or less covered it, because I would have gotten the same results doing that.
One issue that cropped up during this revolving-door period was the air conditioner for my apartment.  At Hewitt Gardens, every apartment had its own HVAC unit.  Therefore, if either heat or air conditioning was out at my apartment, it only affected my unit.  What happened was that the air conditioning became weaker over time.  On hot days, even with the air conditioning running full blast, it would still be hot in my apartment.  I put in work requests for the air conditioning every year, and every time, they would come back and tell me that the air conditioner had a clean bill of health.  I didn't believe a word of it, but chalked it up to being on the top floor with an attic space above, and heat from other apartments below me rising up to mine.  I suppose that it didn't matter much to them if my air conditioning was working or not, because air conditioning, unlike heat, is considered a luxury, and thus is not required to be provided, plus, since we were responsible for the cost of our own electricity, higher energy bills due to inefficient operation didn't affect their bottom line.
During this period, while Melody Taliaferro was manager, we also went through one of several instances where the parking permits were completely reissued to everyone.  In other words, they had maintained their parking records so poorly that they needed to start all over again and issue new parking permits to everyone in order to get the lot under control again.  There's nothing worse than having to help clean up someone else's mess, and scraping off parking stickers is a pain in the butt.  This was also when the property management decided that we were not allowed to manage our own guest parking permits anymore.  After this, we were required to go to the property management office to get a guest parking permit whenever we needed one, and they were issued for specific dates only, rather than something that we could use as needed.
We also had to suffer through memos like these about it: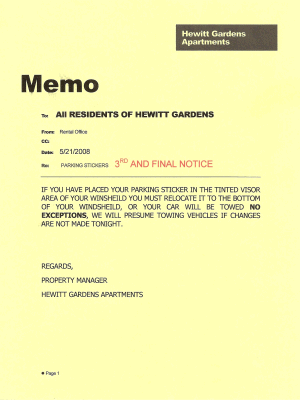 From what I can tell, that is one long run-on sentence, with two very creative spellings of "windshield".  Also note that it's signed "property manager" rather than "Melody Taliaferro".  If I had sent out that trainwreck of a memo, I suppose that I wouldn't want my name attached to it, either.
Needless to say, Melody didn't last very long.  She wasn't particularly nice, either, so I wasn't exactly unhappy or disappointed when I found out that she was gone.  Word around the property at the time was that the leasing consultant had been asked one day to take a long lunch break, and when she came back from said break, Melody was gone.
After Melody, we got a guy named Keith Johnson.  Keith was a genuinely nice guy, and it seemed like he was trying his best, but my maintenance requests still didn't get addressed in a timely manner, if at all.  I admit, though, that my first interaction with Keith was positive, as he got a cleaning request done in very short order.  A few weeks prior, a bird had pooped on my bedroom window, in an area that I couldn't reach without removing the screen.  I was hesitant to remove the screen to clean it, because I wasn't confident that I could either remove it or get it back in place properly without damaging it, whereas I knew that the maintenance guys could get it back in correctly.  I had previously put this request in with Melody, and it had gotten ignored.  With Keith, after we discussed it and my concerns over popping out the screen myself, it was done the same day.  If I recall, he said that all that the maintenance guys would do would be to reach around and clean the stuff off of the glass, and I explained that was perfectly fine, because that's what I would have done, but that the screen was my main concern.  In the end, boom, boom, done, but that was about the only thing that I ever got out of them during Keith's relatively short tenure.
In January 2010, we got Ralph Padron as property manager.  His tenure had a very rocky start, though.  The way that I found out that we had a new manager was when I received a notice of non-compliance regarding items kept on the balcony from said new manager.  I sent him an email:
I live in the 3355 Hewitt Avenue building, apartment 203.  I received a notice on Friday, January 29 that my balcony is not in compliance with the guidelines of patio furniture only on the balcony as specified in the lease.  I find this puzzling, as the only items that I have on my balcony are pieces of plastic patio furniture that have been out on the balcony for more than two years without issue.  What issue came up in your inspection that was not compliant?  Please let me know so that I may correct this matter.  Thank you.
Then I followed up in person a few days later.  As it turned out, Ralph sent this warning letter to everyone, intending it as a reminder memo about proper balcony usage, not specifically targeting anyone.  I had no problem with a memo reminding about balcony standards.  Those came out every so often, reminding us that plants and lawn furniture were, more or less, the only things permitted on our balconies.  Using a warning letter template was another matter entirely, since it warns of noncompliance with the lease, which I took very seriously.  After all, there are two things that you shouldn't screw around with: my money, and my housing.  They couldn't screw with my money, but they screwed around with my housing, making me think that I was out of compliance.
We also had another parking permit replacement during this time.  This time, they partnered up with a company to operate the system.  We were given our own guest parking permits again, but they were only valid if we activated them online per usage, and then they were only valid for one or two uses per month, after which you had to pay to use your guest permit.  Even though I got some freedom back by not having to ask the property management for a guest permit every time I had someone over, I really resented the idea of charging for use of the guest permit, because it felt like we were being nickel-and-dimed.
The rest of Ralph's tenure, through about April or May of 2013, was pretty uneventful.  I actually liked Ralph a lot, though he was no better about getting things done than the previous managers were.  In other words, my air conditioning still didn't get fixed, and good luck getting anything else done in a timely manner.  I requested a new thermostat because mine was very old and it was difficult to accurately set the temperature, plus my next door neighbor, who worked for the management company, got a new digital thermostat when he moved in during spring 2010.  If he is allowed to have one, so should I.  I got rebuffed: after putting in the request, the maintenance guy later told me, when I saw him in passing, "We're not replacing your thermostat."  It was again something that didn't affect the property management because I was responsible for the electric bill, so they didn't care whether or not I could set the temperature properly.  Yeah, I love you, too.
I found out that Ralph was gone when I saw a memo come out with a familiar name on it: Jessica Snyder.  I forget what the memo was about, but I was like, oh, Jessica's back, but what happened to Ralph?  Turned out that Ralph was "no longer with the company".  Okay, then.  Turned out that Jessica was only managing Hewitt Gardens temporarily until they found a new manager.  That new manager was in place by July, and it was Bonnie Chenault (now Bonnie Dixon), who was the leasing consultant at Hewitt Gardens back when I moved in.  So I knew Bonnie, and knew that she was good, having worked with her before.
That period, from the middle of 2013 to mid 2015, with Bonnie as the manager, and Adriana Castellon as the assistant property manager, was the best as far as a working relationship with the property management was concerned.  We also had new maintenance people.  Great folks all around.  Just about any maintenance request that I put in was addressed quickly and completely.  For instance, I finally got my new thermostat.  I just went in and told Bonnie the truth, that my thermostat was very old, and that I wanted a new one in order to better regulate the temperature.  Sure, we'll get that put in.  And it was, though the maintenance guy that did it got to see a little more than he bargained for, because he knocked and entered while I was taking a shower.  You couldn't hear anything in the bathroom when the shower and the fan were on, and so I came out of the bathroom, and, BOOM – there he is.  I laugh about it, because whatever – there are photos of me in a speedo on here, after all, and besides, it's not like he saw anything that he doesn't have himself.  In any case, it's those little quality-of-life things that make all of the difference.  If a $20 thermostat is what it takes to make someone happy, it seems like a worthwhile investment, especially since you would eventually have to change it anyway.  I was pretty annoyed when the previous management refused to change my thermostat, because it just reeked of cheapness.  Now I was pleased because I got my thermostat (however, the air conditioner was still a problem).  I also got a new kitchen floor under Bonnie's management.  The kitchen floor in my apartment was very old when I moved in, and it really was showing its age eight years later.  I asked nicely, explaining that it was in such bad shape that even when it was clean, it still looked dirty, and we arranged a day to make it happen.  The new floor, which had a faux-wood pattern, was a definite improvement.
I also got a new dishwasher during this period.  That new dishwasher was a surprising solution to the problem that I presented.  The racks on my old dishwasher had started to look a little worse for wear over the years, and a few of the rubberized metal pieces had broken off.  I had asked if they could replace the racks.  It turned out that an entirely new dishwasher was cheaper than replacement racks.  Go figure.
This particular group was also really great about an occasion where I accidentally blocked up the outflow line from the new dishwasher.  I was hoping that they wouldn't charge me for something that I thought was clearly my fault.  They never once asked anything about how it happened, and they fixed it all perfectly.  I was so thankful for the way that they handled that issue that I brought a container of cookies over for everyone as a way of showing my appreciation.
A mildly amusing situation happened in March 2014.  On March 12, I received a late rent notice on my door.  I was surprised about this, because I always paid my rent on time.  I went looking through my checkbook to find the carbon copy of the check, thinking that there must have been some mistake for me to get a late rent notice.  It turned out that there was a mistake: I forgot to pay the rent.  Whooooooops.  I think that everything to do with my CDL training's wrapping up around that time had me distracted to the point that I never bothered to write the rent check.  I ended up having to pay the rent plus a small late fee with a cashier's check.  When I brought it over, Bonnie and I both got a laugh over it, because we both recognized that it was very unlike me to miss.  And lesson learned, because I didn't have a job at the time, and so every penny had to count, and I didn't want to pay any fees for things that I had the power to prevent.
Then, in spring 2015, Adriana, the assistant property manager, got a promotion and left Hewitt Gardens.  The new assistant property manager was a woman named Maira Granados.  I didn't quite know what it was, but from the first time that I met Maira, there was something that I didn't like about her.  I dismissed it at the time, because regardless of first impressions, she was there as assistant property manager, and I needed to form a good working relationship with her.  I was told that she quickly curried favor with the higher-ups at Faller Management with a phone greeting that went, "Thank you for calling Hewitt Gardens, I can help you!"
Not long after this, in summer 2015, we got a few new amenities.  We got the option of adding a reserved parking space to our lease for an additional monthly fee, a refurbished building vestibule, and an access control system for the building.
Of the three new amenities, I most appreciated the reserved parking.  I was more than happy to pay for a reserved space for myself, because of my work hours on the bus.  Working late into the night, the lot was typically full when I came home, and I had to take whatever was left.  Sometimes I was able to get a parking space near my building, but on several occasions, including one night where the parking lot and sidewalks were icy following a freezing rain event earlier that evening, I had to park all the way across the lot.  And on that icy night, I slipped and fell twice on the ice while making my way to my building.  I took good care of myself and prevented that situation from ever happening again by buying up that reserved space.  Here it is, relative to my building's front door: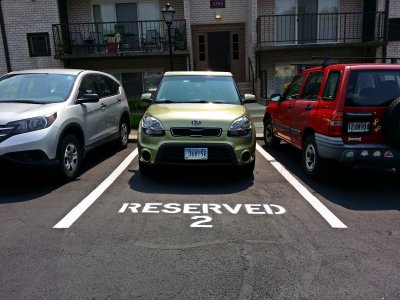 I wanted the shortest path possible from the front door to my driver's side door, and by golly, I got it.
The other new amenities were less than satisfying.  The vestibule was never fully completed, and had color mismatches: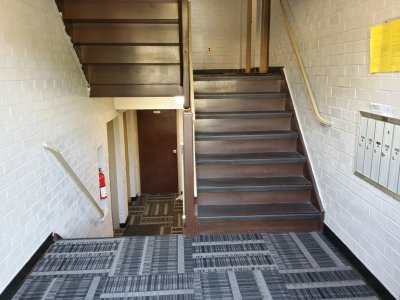 The walls, originally tan brick (same as the building's exterior) were painted a light gray color, and then the carpet was placed over the original brown floor tile.  The doors, the door frames, the stairs, and the railings were all kept brown, which clashed with the new color scheme.  This would have looked really good if they had done the full job and painted everything to match.  In addition, the company that they hired to do the painting did a poor job, as roller strokes were visible on the walls when the work was done.  You could tell exactly where the roller overlapped the previous line and where it didn't.  Additionally, I found it strange that they would replace a very resilient surface (tile) with a surface that was much more easily damaged (carpet).  One would think that for a high-traffic area, a very resilient surface would be preferred, and thus instead of carpet, the tile would be replaced with new tile.  Apparently not.
The access control system was something of a mixed bag.  On one hand, by securing the front doors, it prevented solicitors from coming to the door, and it also prevented restaurants and such from leaving their menus on my door.  However, they really did a poor job on the implementation for a residential building.  The setup was such where residents were given a key fob, and service personnel (think UPS, USPS, FedEx, etc.) were given access codes.  There was no call box installed outside, and we had no way to buzz someone into the building.  Anyone who came to visit had to call me on my phone, and I had to then come down to let them in.  This setup would have been adequate for a commercial setting where the building is open during business hours and secured after hours, but not for a residential setting where the doors are always secured.  Despite the property management's providing access codes for delivery companies, receiving deliveries was always a bit of a stumbling block, because if the shipper used an in-house carrier, such as Amazon uses, the delivery personnel had no way of making those deliveries.  The carrier would come to the door, find that they couldn't access the building, mark it as an unsuccessful delivery attempt, and leave, without ever saying a word to anyone.  Amazon provides me with a space to enter an access code in the delivery instructions section of their website, but that meant that I would have to have an access code to give them.  The property management refused to provide me with a code to enter into Amazon's website, insisting that the delivery people come and get the code directly from them.  If I put a note in Amazon to go to the property management office for the access code, I typically got a notice of an unsuccessful delivery attempt.  If I told Amazon to deliver to the property management office, then that's where the package was released, and I had to pick it up from there.  I ended up having to use Amazon lockers to get my deliveries, and thus making a special trip there to do it, because I couldn't get packages delivered to my house.  I blame the property management entirely for that, because Amazon provides a space to enter an access code, but the management insisted that they give the codes directly to the shippers.  I got the distinct feeling that the management just plain didn't trust the tenants to handle a door code responsibly.  Thus we ended up suffering for their ridiculous decision on how to handle building access for delivery people.
(By the way, if all of this sounds familiar, I wrote about the security system previously in September 2016.)
I didn't think that a personal access code was that big of a deal, especially since a personal access code was also insurance that I could always get back into the building if I ever forgot or lost my key fob.  Imagine what might have happened if I was still living in the apartment when my car caught fire, and the key fob was destroyed.  I would have been locked out completely, and would have had to wait for emergency maintenance staff to come and let me into the building.
In the end, the way that these new amenities were implemented gave me the impression that this was a decidedly lowbrow apartment complex that was trying to be highbrow and not succeeding at it.  They wanted to be more like the upscale apartment complexes, but weren't willing to spend the money to do it right.  I also got the distinct impression that they thought that their tenants were even more lowbrow than they were.
Another thing that happened during this time was contractors' being sent to enter and perform work in my apartment without any notice to me.  On two separate occasions, I was awakened by the sound of contractors inside my apartment.  One time was Manders, a drywall and painting company that was sent to repair some minor settlement cracks in the drywall that were noted during a routine inspection (the inspection was done with notice, but the repair was not).  I chased them out, telling them to return later, and I let the management know what I did.  The other occasion, I woke up to two contractors standing in my apartment who wanted to refinish my bathtub.  Apparently, the property management saw my tub in a less-than-immaculate state of cleanliness during their quarterly inspection, assumed that it was a worn finish, and sent a contractor to repair it.  The contractors told me that I would have to move out of my bathroom completely in order for them to complete their work due to spray. You can imagine how well that went over with me.  I called Bonnie on the phone about that.  My exact words were, "Why are there are two people standing in my apartment who want to refinish my tub, and may I kick them out?"  She said yes, and they were gone.
In any case, there's something to be said about what the property management really thinks about you when they provide no warning about non-emergency repairs to be made by unescorted third parties in your apartment.
And of course, the air conditioning still hadn't gotten fixed.  By summer 2016, the air conditioner had gotten to the point that in the peak summer heat, the apartment would never get below 85 degrees, with the air conditioner running nonstop.  That cost me a lot of money, with my August 2016 electric bill's coming in at $252.08 – for a one bedroom apartment.  My average electric bill for August in the previous five years was $113.27.  This was more than double that due to the malfunctioning air conditioner.  And of course, this didn't affect the property management, since I was responsible for my own electricity.  According to the maintenance people, the air conditioner still got a clean bill of health, with the maintenance guy using a laser thermometer to measure the temperature of the walls and saying that it's perfectly acceptable.  I didn't believe a word of it.
The air conditioning saga finally came to a head in August 2016. The policy for emergency maintenance on the air conditioning was that if the temperature inside the apartment reached 90 degrees or more, it qualified for emergency maintenance.  It finally hit that threshold on August 13, when the temperature in my apartment got up to 96 degrees: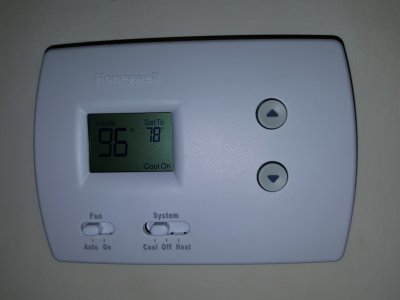 I called emergency maintenance on that and then left for work. When I came back, I found this in my apartment: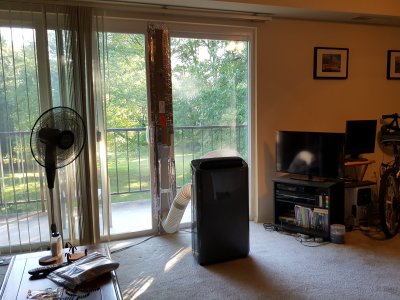 That is a portable air conditioning unit, with an exhaust hose leading outside.  I couldn't use my balcony due to this setup, but it did what the regular air conditioner couldn't do, and brought the temperature down to a more reasonable level.  The next day, the portable unit was gone, and my air conditioner was working properly again, like it should have been all along.  Seriously, the place was cool and comfortable.  So the same maintenance people who gave it a clean bill of health a couple of months ago now said that the poor performance was due to a problem with the condenser, and fixed it in less than a day.  I had been complaining for the better part of eight years about that bloody air conditioner, and all this time, it was a problem that they could have fixed in a short amount of time.  I was seeing red about that realization, but at the same time, was just delighted that I had air conditioning again.  In any case, it goes to show that if the problem isn't costing the management money, then they really aren't concerned about it.  After all, the cost of electricity was my responsibility, and so if the air conditioner was in bad order, it didn't affect them, and that was that.  And as things happened, the air conditioner stopped working again by the end of the season, so the "fix" turned out to be less than adequate.
In the fall of 2016, a routine memo came out with something surprising at the bottom of it: "Maira Granados, Property Manager".  Not "Assistant Property Manager", but "Property Manager".  What happened to Bonnie?  Turned out that she was "no longer with the company".  Okay, then.  I wasn't all that surprised that Bonnie was gone, though, either voluntarily or involuntarily, because I don't think that Bonnie had been having a good time there for a while leading up to her departure.  Since 2008, when the property management office was renovated in order to also function as a model apartment, the property manager's office was a large room in the back – the equivalent of the master bedroom in a standard two-bedroom apartment.  In 2016, the property manager's desk was moved out of the back and placed in the front room of the office, directly across from the assistant property manager's desk.  I couldn't imagine that Bonnie was happy about losing her office, and having a desk right out in front of everything.  I suspect that I was right, because in my interactions with Bonnie in her last few months at Hewitt Gardens, I sensed that she was not having a good time there anymore, as the warm, friendly Bonnie that I had known since 2013, whom I used to stick around and chat with when I came by to pay my rent, had been replaced with a Bonnie who seemed agitated, and definitely not in her happy place.  I hope that she's in a better situation now, but I'd be a liar if I didn't say that I missed her, as she was definitely the best manager that I had at Hewitt Gardens.
Meanwhile, Maira's becoming the property manager directly from the assistant property manager position was unusual.  I had never seen a leasing consultant/assistant property manager get promoted directly to property manager at the same property before.  Property managers had come and gone, and leasing consultants/assistant managers had come and gone, but if they had gotten promoted, they had always transferred to a different property, like happened with Adriana.  Bonnie had served in the second spot back in 2007, but there was a five year gap in between, and she worked for other companies during that time before returning in the top spot.  It was never a direct move from one to the other.  In any case, I congratulated Maira on her promotion when I came by to pay my rent, while privately unhappy that Maira, who, as you may recall, had my spidey sense tingling when I first met her, was now in charge.
As things would turn out, my suspicions were right. That whole "Thank you for calling Hewitt Gardens, I can help you!" facade went right out the window, as Maira quickly showed her true colors.  There were no two ways about it: she was a snake.
My first direct experience with the "real" Maira occurred in November 2016.  One evening in early November, on a night when Elyse was staying with me, we spotted a trail of drops leading up the stairs when I got home from work.  We followed their trail up the stairs to see whose door they lead to.  The drops went all the way up to the top floor, i.e. my floor, but we lost the trail at the top of the stairs, so we couldn't figure out whose apartment the drops led to.  It was a little disappointing, but whatever.  Imagine my surprise when I found this on my door a few days later: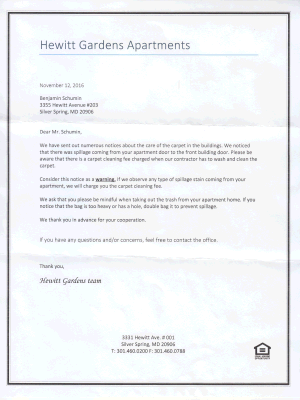 That was a very condescending warning letter addressed to me, accusing me of dripping trash juice down the stairs.  There was only one problem with this: I didn't make the mess.  I wasn't home at the time that it occurred, and had the train manifests to prove it.  If I had actually made the mess, I would have cleaned it up myself, and even more likely, if I had noticed drips, I would have stopped the drips well before it left a trail all the way down the stairs.  After all, any dripping would have started in my apartment, and I didn't want trash juice on the carpet inside my apartment, so that would have been nipped before it ever went out the door.
So I did what any reasonable person would do, and went down to the management office to ask about it.  I expected a reasonable discussion that would lead to the removal of the warning letter with an apology.  Instead, I got berated for making the mess, and told that they had witnesses to the mess's being made, and even tried to blame Elyse for it.  When I said that I wasn't the one who made the mess, she immediately assumed that I was about to blame my next door neighbor, who worked for the company, and made the suggestion of that herself.  I had no idea who did it, and so I wasn't going to point a finger at anyone else without proof.
Then came the condescending part: I was also told not to worry about it, because they cleaned up my alleged mess "as a courtesy".  You don't know how insulting that was.  She had just accused me of what was essentially a lease violation, and then was dismissive of it, claiming that they cleaned up the mess that I didn't make for me, rather than charging me for it.  I wasn't going to sit there and have a black mark on my tenant record for something that I had no part in causing.  If I had caused it, that would be one thing, and I would be appreciative of the "courtesy" cleanup for my mistake, but I didn't cause it.
You know, it's one thing to be a liar. It's one thing to lie and then believe your own lies. It's another thing to be a bad liar, i.e. lying and doing it badly. Maira was a bad liar. If you're going to lie, at least make it believable, especially when your claims are easily verified. In any case, it must be a liberating feeling to be unfettered by the truth.
There was also no mention of using the security camera footage to verify the actual person who made it.  Apparently, the security cameras only worked one way: to assess fines on tenants when it is convenient for the management.  A later memo summed that up rather nicely: "We have cameras and can see the presons responsible. Each item that we remove is assed [sic] a $100.00 removal fee."  I imagine that in this case, the camera footage didn't fit the narrative that Maira was trying to push, so it was conveniently left out.
I wonder if the trash juice accusation wasn't a way to try to get rid of me.  At the time, I paid just under $1100 per month for my one-bedroom apartment.  When a friend researched Hewitt Gardens on my recommendation during Bonnie's tenure, the going rent came back around $1200 per month for a one-bedroom, i.e. a bit higher than what I was paying, plus water was no longer included in the base rent (water was included in my lease).  Thus, as the thought went, was this calculated, and were they pulling these shenanigans in order to make me leave in order to re-rent my apartment at the higher rate that they charged new tenants?  I don't know for certain, but it was certainly reasonable to think that it might be the case.  I had been pushed out of jobs with Walmart and with Food & Water Watch for false accusations when they decided that my time was up, so I had seen what people will do when they're trying to get rid of someone.  This fit that mold.
In any case, that accusation, and then Maira's subsequent sticking to her guns when informed that she had made a mistake, instantly destroyed my good working relationship of more than nine years with the property management.  At that moment, the relationship turned hostile, as I now realized that we were no longer a team, and that it was now an "us vs. them" mentality.  I don't like having to constantly protect myself against dishonest people, because it is a constant source of unnecessary stress, but that is what I had to do with Maira.
I had to take proactive action to protect myself from Maira on January 22, 2017, when, upon my arrival home from work, I found that the stairs were once again soiled leading all the way up to the floor that I lived on.  In that case, it was dirt rather than trash juice, but nonetheless, I documented the situation: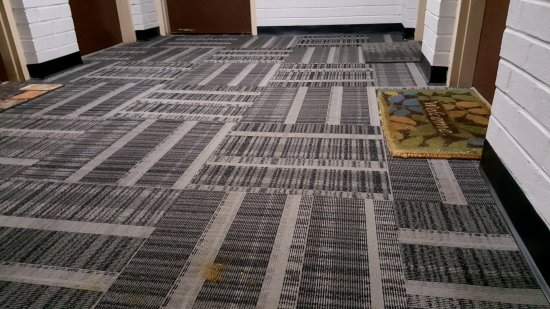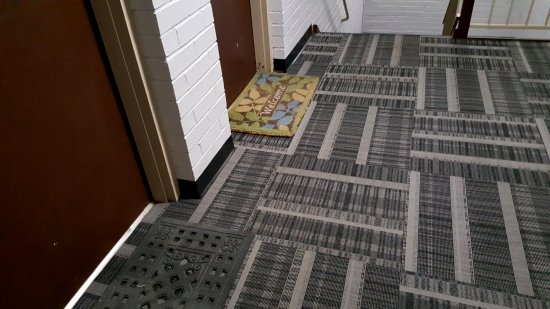 This was the same situation, where the trail of dirt ended at the top of the stairs.  But this time, I was prepared, and was not going to be blindsided again by Maira.  I had train manifests to document where I was at the time of the incident, and I had my own photos showing the situation.  If she was going to try to accuse me of making that mess, she would have to prove it, and I was prepared to defend myself.  I imagine that would have been ugly.  Thankfully, I never heard a word about this, and this turned out to be an exercise in caution.  But nonetheless, I shouldn't have felt that I needed to document everyone else's messes in order to protect myself.
In February, the parking situation came to a head again.  In this case, the property management decided to phase out the use of the previous version of the parking permits, which had barcodes on them, and began issuing new residents more conventional parking permits with a number and the name of the apartment complex on them.  The barcoded permits were presumably grandfathered, remaining valid for those who still had them.  I remember that at some point during Bonnie's tenure, they sent out a memo saying that they were transitioning away from the barcodes and to come and get a new permit, but never gave a deadline for when the barcoded permits would no longer be valid.  I got a new permit not long after that, when I went to pay my rent, and said permit sat in my center console for many months, until I eventually needed to do some windshield work, and removed the old permit and placed the new permit at that time.  Then on February 15, this memo came out: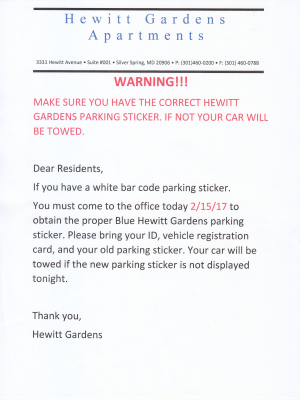 Yes, folks, that is a same-day warning that the older barcoded parking permits were no longer valid.  This memo went out in the afternoon, and the leasing office closed at 5:00.  That meant that people who still had the old permits only got about four hours' notice that their permits were no longer valid, and so it was quite possible, for people working a 9-5 schedule, that someone might have been unable to get the permit in time, and therefore would have lost access to the parking lot that their rent paid for.  This didn't apply to me because I had already changed my permit a few months prior, but it still struck me as a bit unprofessional to only give tenants half a day's notice of a parking permit change deadline.  Not a week's notice, as one might expect.  Only half a day's notice.
And then the air conditioner saga continued.  In May, as it was starting to get really warm again, I played the emergency maintenance card with the air conditioner:
FYI, my air conditioner is likely malfunctioning and in need of repair.  I ran it all day today, and it remained over 90 degrees inside my apartment despite the air conditioner's being in operation.  Could you please send someone over to look at and repair it?

The A/C was last repaired in August of last year after a similar problem came up.  At that time, they had to do something to the condenser, after which the air conditioner worked properly again.
I wasn't fooling around.  With that, they were in the next morning, and the air conditioner was fixed for good, as I had no further issues with it for the remainder of my time there.  It only took a decade of complaining, but I finally got my air conditioning fixed.  Elyse was at my house at the time that the repair was made, and of course, Maira just couldn't help but make her disdain for Elyse and me known, again trying to blame Elyse for something:
Good afternoon,

Pedro just left your apartment and not sure if the child home told you but she has the balcony door open.  Pedro needed to close it to see if the a/c is cooling and she would not allow him to close the door.  Please inform them that it needs to be closed in order to cool.

Thank you,

Maira Granados
I wasn't home when the repair occurred, but I got a completely different story from Elyse about what happened.  It doesn't take a rocket scientist to figure out who I was more inclined to believe: Maira, who had a track record of making false statements to me, or Elyse, who didn't.  I have also observed on many occasions where people are mean or otherwise unkind to Elyse for no discernable reason, and I take a very dim view of people who fall into that "mean to Elyse" category.  Maira just cemented her place in that category.
Then on June 12, I was informed by Elyse while I was at work that Pedro, one of the maintenance people, had come by, allegedly to repair something, and then realized that he had gone to the wrong apartment.  When he left, he left the maintenance key behind.
Now, do you remember how, a decade prior, the maintenance people left their key in my apartment, realized it immediately, and asked for me to return it, because otherwise, they couldn't get in to complete their repairs?  Yeah.  I was now in possession of their only key to my apartment, and so no one could get in without my saying so.  This was also a good opportunity to see exactly how seriously (or not) they took the security of their residents' apartments.  I documented the date that the key was left – June 12, 2017 – and explained to Elyse that they could have it back… when they came to me and asked me for it.
In the meantime, I discovered a light at the end of the Hewitt Gardens tunnel, as I toured my current home in Montgomery Village on July 29, and my offer was accepted about a week later.  I knew that I was leaving soon, and so that changed the way that I handled things, because now I felt a little bit more free to put the screws on them, knowing that our relationship would soon end.
On August 16, I found this in my email inbox, following a scheduled filter change and inspection:
Good afternoon Ben,

We were trying to complete a work order request and it looks like we left our copy of the key in your apartment.

Can you please bring it to the office, if we are not in the office please drop it in the drop box.

Hope you have a wonderful day!

Maira Granados
The key had been in my possession for two months and four days at that point.  I had other matters going on at the time related to the new place, so that message got passed over.  On August 24, I received this message:
Good afternoon Ben,

This is the third attempt in obtaining the copy of our key to your apartment.  We need to change the filter in your apartment as it is now overdue.  Additionally, we as the landlord, must have access to your apartment at all times therefore, if we do not receive our copy of the keys by Monday August 28th, 2017 we will have to change your locks at the lease holders expense.

Please let us know if you have any questions regarding this matter,

Thank you,

Maira Granados
Okay, then. With that sort of attitude, it was time to get mean. I fired back:
What is the name and email address of your supervisor?  I have a number of concerns about your handling of my tenancy, and they shall be addressed before you do any such thing.
Her response indicated that she knew that she was in trouble:
Ben,

As the property manager, you have not addressed any concerns with me.  Therefore, you may discuss your concerns and if we are able to address them we will.  If it something that I am unable to resolve I will forward to the appropriate person.
This is where you separate the bad managers from the good ones.  I think that bringing a supervisor in on a conversation is a reasonable request.  It attempts to ensure some level of accountability on the part of the targeted person, with the idea that if you're doing nothing wrong, then your supervisor will be behind you, and you have nothing to worry about.  If you won't do that, it makes me think that there might be some funny business going on.  With my request spurned, I went down to the management office and asked her directly for the name and email address of her supervisor.  Whenever she tried to make excuses, I asked the question again.  Eventually, she threw me out of the office.  Okay, then.  I wonder what she was trying to hide by acting as a gatekeeper between herself and the main office.
I came back with a long email, documenting all of my concerns. Here are the relevant excerpts:
I find it very concerning that you, or people that you, as property manager, are responsible for, have lost the copy of my key, and have therefore compromised the safety and security of my person and my possessions in my apartment.  How long has the key been missing?  Certainly, you have records of when the key has been checked out by staff, no?  According to my records, the latest date that I have documentation that your staff was in possession of the key was on May 18, when Pedro entered my apartment to perform a repair on the air conditioning unit.  That means that it is possible, if the key was lost that day, that your office has compromised the security of my home for more than three months.

[…]

Additionally, I have found your behavior toward me in the last several months to be highly unprofessional.  In your letter on November 12, 2016, you accused me of creating a mess in the vestibule regarding some sort of liquid on the stairs and carpet, and threatened to charge me a cleaning fee for future incidents.  When I confronted you on the matter shortly thereafter, you claimed that you had eyewitnesses to said mess being made, but were unwilling to identify the alleged witnesses.  I was not home at the time that the incident occurred, and therefore, I knew that you were lying to me, i.e. you were unwilling to name the alleged witnesses to my allegedly soiling the rug, because there were no witnesses.

[…]

In our email exchange on August 24, I requested the name and email address of your supervisor, both via email and in person, since much of the problem lies with you.  Considering our previous interactions where you have made false statements for other people's mistakes that have the potential to cost me money, I have no reason to think that you will be honest in any dealings with me, especially when my concerns are over you.  Requesting a supervisor's contact information is the way to address concerns about an employee, which is what I did.  That you refused to provide me such information, even going so far as to ask me to leave the management office, is highly concerning.  I have been a tenant at Hewitt Gardens for more than ten years, after all, and one of the reasons that I've stayed this long is because I've always had a good relationship with the property management.  It concerns me that you seem all too willing to trash a good working relationship with your tenants over mistakes that your office has made.

[…]
In other words, I went right for the jugular, i.e. your security practices are deplorable, your behavior is unprofessional, and you are a liar. I'm sure that Maira's supervisor would have loved to have heard about the hostile relationship between one of their employees and a long-term tenant.
Maira's response indicated not only confirmed that was she a liar, but she wasn't even a good liar:
Ben,

The keys are located in your bathroom, Pedro can come show you today.  Pedro was in your apartment as I stated in my initial email, to do repairs on August 16th and I sent you an email as soon as I was near my computer.  Therefore, it has not been out since May 18th rather August 16th.

Regarding the letter from last year, we had three witnesses to the spill.  We value our residents anonymity therefore, would not ever jeopardize any residents tranquility by giving out their name or address to another resident.  Again, we did not charge you as we normally do, we simply sent you a reminder.

If you do not locate the keys by 4pm we will be changing the locks at that time, if you are not available then we will place the copy of your new keys in your mailbox as that will stay the same.
I was starting to wonder if I had walked into a Burger King, with the amount of whoppers going around.  I knew for a fact that they weren't in my apartment on August 16, because their only key was in my possession, and I'd had it since June.  Maira's August 24 email confirmed this, because she indicated that the work that they had scheduled for August 16 was never completed, telling me that the filter change was overdue.  Meanwhile, regarding the carpet, three witnesses that you can't produce?  Really?  I remember that Walmart pulled that same sort of crap when they were looking to fire me, with alleged witnesses that they were unable to produce.  And still no mention of any security camera footage that might identify the perp, or at least exonerate someone.
In any case, I believe that I had made my point, and I'm pretty sure that Maira had painted herself into a corner.  I made them change my locks, it was completed in my presence, and they paid for it.  Considering that the key had been out of their possession for more than two months before they realized that it was missing, it told me that they took a somewhat cavalier attitude towards key control.  It was clear that they did not routinely audit the keys to ensure that they were all accounted for, and that there was no formal key checkout process to document who had what keys, for how long, and for what reason.  That alone should give anyone pause.
Following the resolution of the key issue, I had no further issues with Maira.  I am pretty sure that she knew that I was looking for an opportunity to get her fired.  Therefore, if you want to keep your job, you play nice with me, because I'm not fooling around.
The smoothest thing that ever happened with them was moving out.  I gave my 60 days' notice via email that I would vacate, effective December 31, I got confirmation that my notice was properly given, and they left me completely alone after that.  I expected that I would hear from them on moving day, when the movers would block the door open (there had recently been a condescending memo about propping the doors), plus park their massive truck in the lot.  And if they had said something, I am pretty sure that I would have told them exactly where to shove it.  I believe that it would have been something along the lines of, "Okay, evict me.  Right now."  I was already in the process of vacating the unit, after all, so they had no leverage.
Then after the move was over, I still had the apartment for another 45 days.  I suspected that Maira and crew would find a reason to keep my deposit, and I was determined to give them no valid reason to do so.  Thus I came by after work on December 4 to spackle all of the nail holes.  Then on December 7, Elyse, Aaron Stone, and I came by armed with cleaning supplies to give the place a thorough cleaning.  And finally, on December 31, I came by before work to do a final walkthrough and turn in the keys.  Surprisingly, I found two items that the movers and I missed: a set of popsicle molds, and a bottle of cleaning spray.  Both were in really obscure locations, so I'm not surprised that we missed them.  In the end, my thoroughness worked, as I got my entire deposit back, with interest.  I imagine that because I had been there for so long, anything that they would have charged me for was likely too old to justify, i.e. they would have had to replace or refurbish it anyway.
All of that said, I wouldn't recommend Hewitt Gardens to anyone.  The rent for new tenants is a lot higher than what I was paying, and water is no longer included in the rent.  And there were far too many acts of management over the years that either cost me money or had the potential to cost me money.  One instance of that is a fluke, but more than once is a pattern, and is indicative of the way that business is done.