I definitely didn't expect to go to New York City on Wednesday…
August 25, 2017, 12:30 PM
Wednesday, August 23 had been planned as a road trip day for quite some time.  Elyse turned 21 two days prior, and this was my birthday present to her, going on a trip up to Asbury Park, New Jersey to visit the Silverball Museum, a pinball arcade on the boardwalk.  We previously visited this facility in May.  Then the plan was to go up to Menlo Park Mall in Edison to go to Rainforest Cafe, where we were having dinner, and I was buying Elyse a drink.  The day that we ended up having was a lot of fun, but definitely more expansive than I had originally planned.
We left the house around 11:00, with Asbury Park as our destination.  We made a quick stop at Maryland House, and then a White Castle in Howell Township: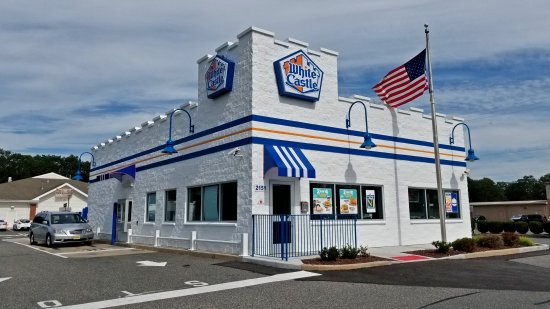 White Castle was a fun little side adventure, because I've been wanting to try out White Castle for a long time, and this was as good an opportunity as any.  I was told that their burgers, like those by Wendy's, were square-shaped, and that they were a bit different than your typical fast food burger, being more oniony than most.  My only previous experience with White Castle was the episode of Undercover Boss where their CEO appeared, and so I was kind of excited to give it a try, especially considering that this one is the nearest White Castle to me.  Elyse and I shared a combo, which was cheap (around $7 for burger sliders, fries, and drink), and it wasn't bad.  It was an experience, though not one that I would necessarily go out of my way to do in the future.
The Silverball Museum was pretty fun, just as it was in the past.  I got to take a number of the vintage machines out for a spin.  Those older mechanical pinball machines, with their tiny little flippers, have a certain charm that the solid-state machines from my own childhood and modern pinball machines just don't have.  As before, I particularly enjoyed the ones where the pinball feeds another game, such as "Hayburners", where the actual game is a horse race, and the pinball action moves the different horses.  There, the game chooses your horse, and you win if your horse crosses the finish line first.  There's another game where the game is a car race, and the pinball action moves the cars around the track, and the player who makes the most laps wins, though the horse game is more fun.  I also took the various video games for a spin, played a puck bowling game, and skee-ball.  Elyse managed to get 91 tons on the crane game.
We also got to see the inside of one of the machines, as one of the employees was repairing it: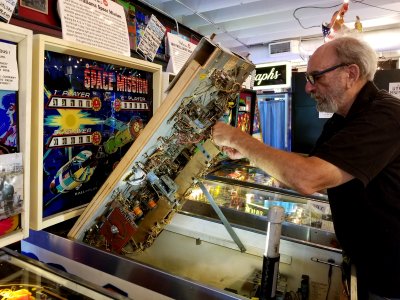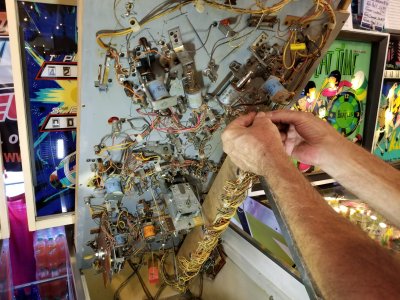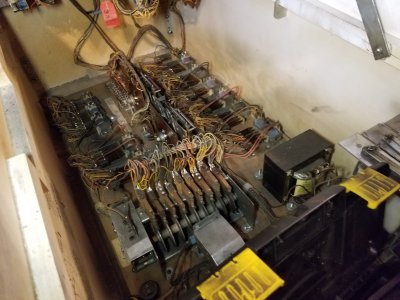 In this case, the piece that the gentleman in the photo has his hands on wasn't functioning properly, and was being repaired.
After the crane game, we made a quick stop at a Kmart in West Long Branch, where we spotted this on the building: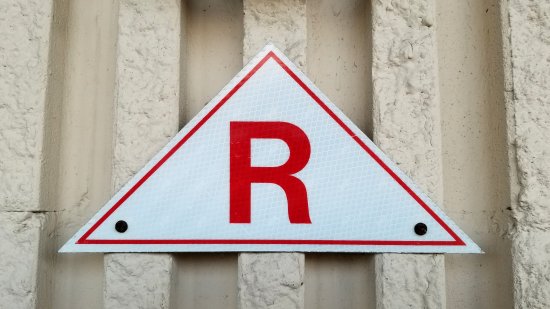 I have been in plenty of Kmarts before, but this sign was new to me.  I also spotted the same sort of sign on the White Castle, but, with White Castle's being a new concept to me entirely, I didn't pay it as much mind.  Turns out that this sign is for firefighters, and tells them that the roof is built with trusses.  This is important because of the way that trusses behave in fires compared to other methods.
Additionally, this Kmart had a single checkout queue for all of the registers, instead of each register having a separate line.  It worked really well in this setting, because everyone is handled in the order that they arrive, and if more registers come on, they just join the pool of available registers, i.e. there is no rush to a new line when another cashier comes online.
We then took a number of different roads up to Menlo Park Mall up in Edison.  Driving in New Jersey is always quite an experience, as the drivers are very aggressive and sometimes drive at extremely high speeds.  No wonder they have behavioral signs along the roads, because the people driving up there are nuts.
Arriving at Menlo Park Mall, the Rainforest Cafe was right next to the entrance.  First thing I saw was an animatronic snake: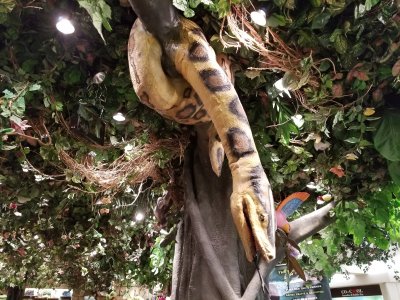 Then we fooled around in the gift shop.  We found some animal hats in the gift shop, and I was surprised that they actually fit my big head.  Check these out: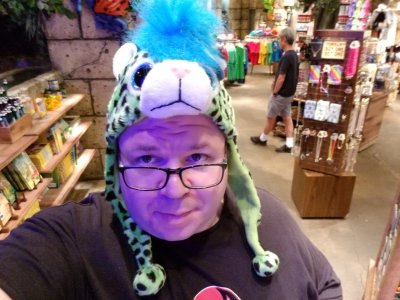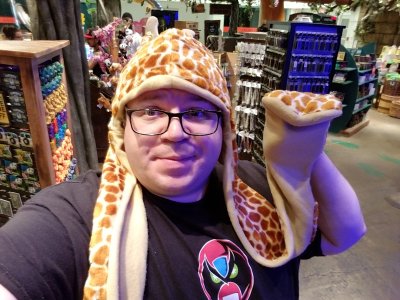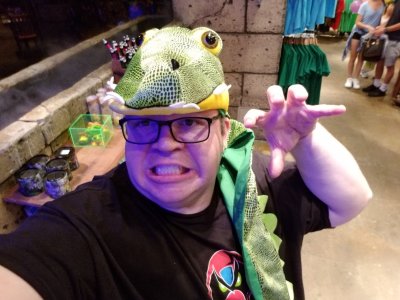 Then this was the setting upon our getting seated: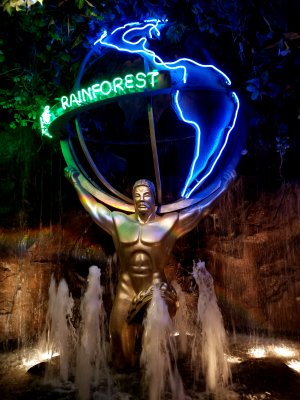 We sat right in front of this statue of a naked man standing in a fountain.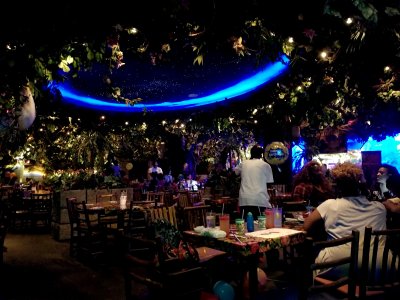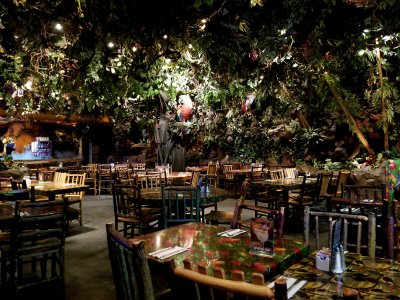 The inside of Rainforest Cafe, viewed from our table.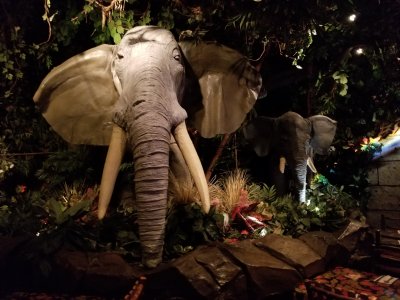 The elephants.
And then we got our drinks.  I ordered a margarita for Elyse, and I ordered a Shirley Temple.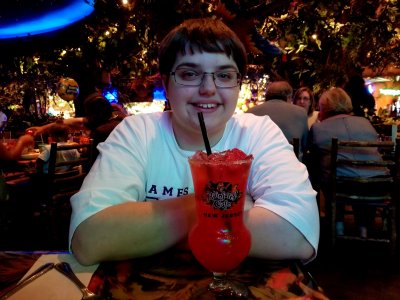 Elyse and her margarita.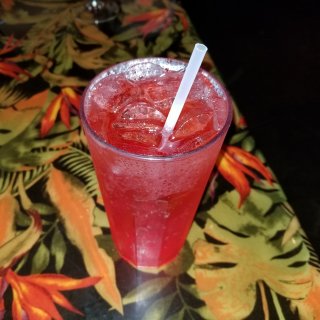 Yes, I really did order a Shirley Temple for myself.
Then the restaurant staff brought out ice cream with a candle on it for Elyse, and wished her a happy birthday: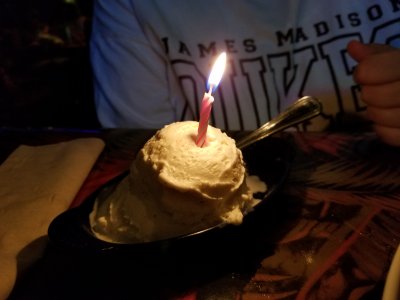 On the way out, I got a photo of Elyse with the pineapple on the wall: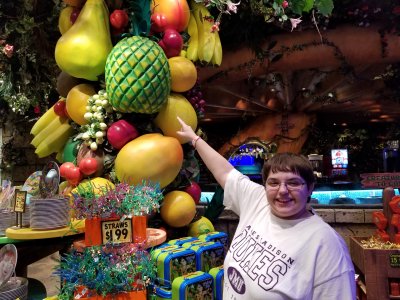 That was the end of our trip as originally planned.  After Rainforest Cafe, the plan was to return to Maryland via the New Jersey Turnpike.  However, things didn't exactly work out that way.  While we were up here, Elyse wanted to do the Holland Tunnel.  A quick Google search indicated that the tunnel was only thirty minutes away.  Seemed reasonable enough.  A quick in-and-out seemed pointless, so I looked on the map and found the Verrazano-Narrows Bridge, and then added home to the itinerary.  So we had about a five-hour trip ahead of us, going into and out of New York, and then down the New Jersey Turnpike to go back home.  We wouldn't get back until late, but you know, it would be fun.
We ended up following largely the same route that I did to Journal Square during my 2015 trip to reach the Holland Tunnel.  I took a few photos at red lights, sort of as a way to document this strange spur-of-the-moment trip: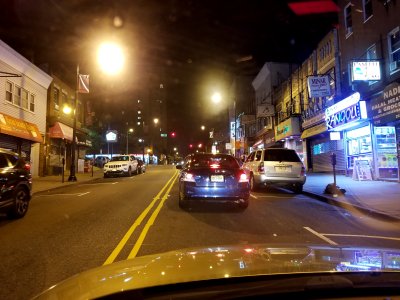 Driving through the India Square neighborhood in Jersey City.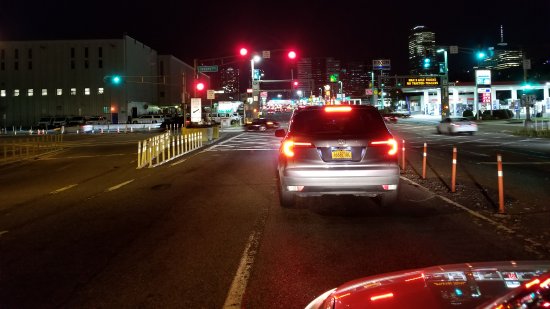 On Interstate 78 where it follows a pair of surface roads prior to entering the Holland Tunnel.
There was a bit of a backup going into the Holland Tunnel, as the left lane of the inbound tube was shut down for repairs to a wall.  You had to be aggressive and fight your way in, because if you gave an inch, the other guy would take a mile, and you'd never get there.  Once we got through the tunnel, it was easy moving through Manhattan.  We didn't stop in Manhattan, simply driving across the island and heading over to Brooklyn.  A minor surprise: the routing that we reviewed at dinner sent us over the Brooklyn Bridge.  Now, the phone was sending us over the Manhattan Bridge.  Well, cool.
In Brooklyn, we found our way onto Jay Street in the DUMBO neighborhood.  We needed to get reoriented, and so we looked for a place to stop.  As luck would have it, I found a spot to park next to the Jay Street-MetroTech subway station.  Elyse went in to check out the station, while I figured out where we were going.  She got this photo from the station: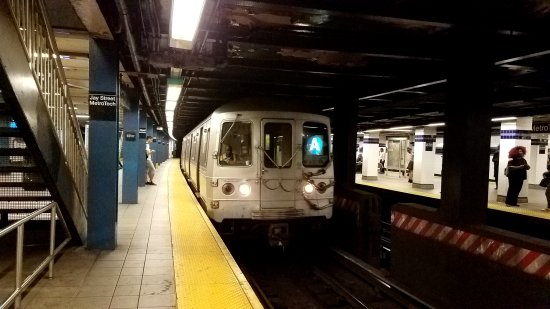 The A train at Jay Street-Metrotech.
Once we figured out where we were going, we went in search of a restroom for Elyse.  We found one at Rocco's Tacos and Tequila Bar, where it was located on the lower level.  On the way out, Elyse photographed the elevator: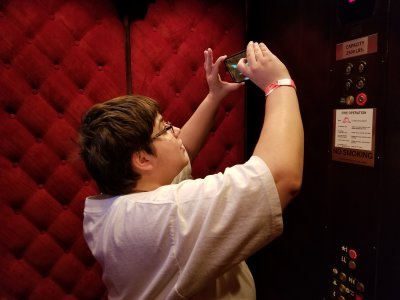 I found the padded walls to be amusing, myself.
Returning to the car, we started driving along Flatbush Avenue towards the Verrazano-Narrows Bridge.  We made a stop at Grand Army Plaza, where I got a few photos of the Soldiers' and Sailors' Arch: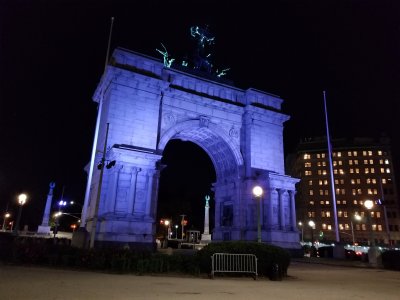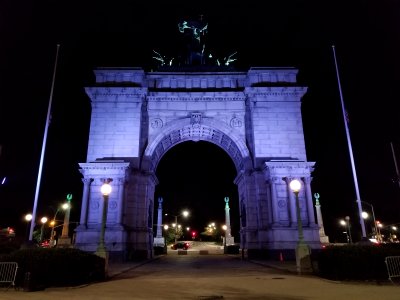 We also got a selfie on a nearby bench: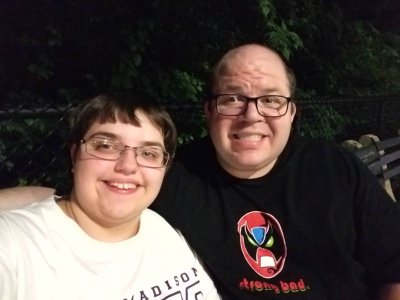 Then we got back into the car and continued on our way.  Google sent us through a few neighborhoods, and then we got on I-278 to catch the Verrazano-Narrows Bridge.  That took us to Staten Island, and then the Goethals Bridge took us back into New Jersey, where we caught the turnpike to get back home.
All in all, not a bad time.  I certainly didn't expect to see New York City on this trip, but it was pretty fun nonetheless.  Plus now I can say that I've driven in actual New York City, and not just on I-95, like I did in 2010.