A solo adventure up north…
January 21, 2023, 10:17 AM
On January 5 and 6, while Elyse was at National Harbor attending MAGFest, I did a little overnight trip up north while I was unsupervised.  This was to be a quick adventure, since this wasn't one of my long weekends, and the goal was to pack as much fun as I could have into two days' time.  The plan was to leave home in the late morning on the 5th, go up to Philadelphia that day and stay at the Courtyard by Marriott in Langhorne, Pennsylvania, which would stage me for the second day, where I would head over to Trenton and then take the train up to New York.  I would spend about eight hours in New York, ride the train back to Trenton, and then head home from there.  Interestingly enough, this was an adventure where I put more focus on the logistics of the travel than I did on what I would actually do at the destination.  Thus, the execution didn't go as well as I had intended, as I ended up getting there and then was like, well, now what? as I more or less played it by ear with less direction than I usually like to give myself.  I also knew that this would need to be a more indoor-focused trip, because it was going to be rainy or overcast all day both days.  This adventure was also unusual because on this adventure, the drone stayed home.  The Philadelphia day was not going to be conducive for flying, and New York, forget about it – too many people to worry about.
For the "Philadelphia" day, I actually put more of my efforts into the Wilmington area than I did in Philadelphia.  I have a list of photo shoot ideas on the computer, which I jokingly refer to as "the place where photo ideas go to die", and initially pulled out the Cathedral Basilica of Saints Peter and Paul, which a photographer friend had previously photographed.  However, I wanted to do the interior, and they also closed at 5 PM, so that would have to be a first stop since it closed relatively early.  So while I wanted to do it, I put it into the "we'll see" pile, because I wanted to do some stuff in Delaware, which would have to come first because of its location.  I ended up spending a lot of time at Christiana Mall, since I'd been going past it on 95 in 15+ years of adventures up north, but I'd never stopped there in all of that time.
When it came to Christiana Mall, I sort of knew what to expect.  Christiana Mall was a one-story mall, and, unlike a lot of malls these days, was doing well.  As such, I didn't go in expecting something massive like King of Prussia and then experience disappointment when I got a one-story mall.  Even for a one-story mall, the facility was smaller than I expected, being arranged roughly in a loop.  It had five anchor spots, and they were all filled.  I think that the biggest surprise there was the way that Target was attached to the mall.  In most cases where I've seen Target at an enclosed shopping mall, the store is either adjoining the mall but otherwise freestanding (i.e. no mall entrance), or the mall entrance is located at the front of the store near the regular exterior entrance.  Not so at this store.  At Christiana, the mall entrance for Target was in the back of the store.  From the perspective of the store, there was a row of self checkout machines in the random location in the back of the store, and there was a mall entrance nearby.  If it tells you anything about how random the mall entrance's location is, after I finished up at Target, I had to hunt for that mall entrance in order to get back to the mall.  It is very non-obvious in its placement.
Otherwise, I had lunch in the food court, where I went to a place called Master Wok.  That place left a lot to be desired.  These days, when I get mall Chinese food, I typically get one entree and call it a day, but this was disappointing.  I got a beef and vegetable dish, and even with already low expectations for mall Chinese food in the first place (because mall Chinese food), this was not good.  Typically, with my stomach post-sleeve, poultry items tend to be a bit like Russian roulette with whether they will sit in my stomach or come back up (it has to do with moisture content), but red meat like pork or beef tends to go down a lot better than poultry.  The beef here was rubbery and flavorless, to the point that I ended up only having a very little bit of it and then realized that I could not make myself eat any more of it.  I also couldn't bring myself to take it with me for later, for the same reason.  So I ultimately ended up having a few bites of it and then threw the rest away.  Nine bucks mostly straight into the trash.  My stomach was also left feeling a bit unsettled from this awful food, though the awful food did ultimately stay down.  If I'm at Christiana Mall again, I am definitely not eating at Master Wok again.
I only got one photo at Christiana Mall, of this exit sign in the restroom corridor: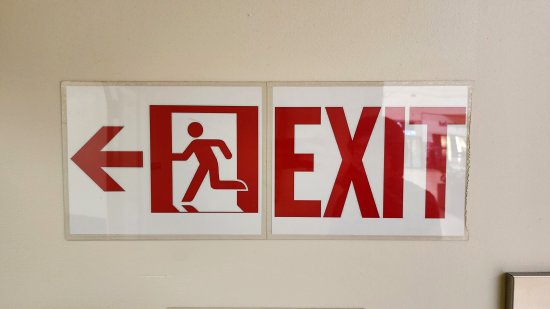 I found this curious because this is a mashup of the international style of exit signage with the "running man" pictogram and the American style with the big, red "EXIT" lettering.  Note that the running man icon is in red to match the American-style sign, unlike what we usually see with that icon, where it is typically green.  And these were clearly printed on a computer and then put up on the wall, and only in this area of the mall.  Go figure.  I have made no secret about it on here that the US should adopt the international style of exit signs as a requirement for new installations, especially as we're quickly becoming a multilingual society, but so far, no dice.  Highway tunnels already are required to use the running man icon in their signage, so it only makes sense to extend it everywhere.  Would love to see the running man become a requirement at the federal level, in order to standardize the many, many, many different and contradicting specifications for exit signs in various states and localities.
Leaving Christiana Mall, I headed up into Philadelphia.  I had some plans for Philadelphia, but ended up doing relatively little because I spent all of my time at Christiana.  But it's okay, because Philadelphia is close enough that I can go there just about any time.  I ended up going to the Penn's Landing area, where the former Downey's restaurant was located, at the corner of Front and South Streets.  Downey's was featured in the first season of Bar Rescue, and closed in 2016.  I knew about the closure, so I figured that I'd check it out to see how the building was doing, and whether or not it had been repurposed for another tenant.  Here's what I found when I arrived: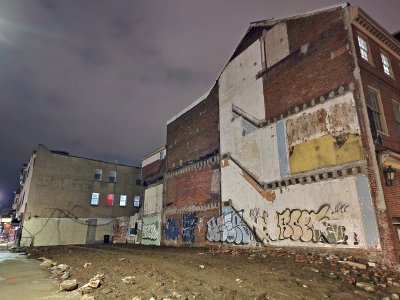 I expected to find the former Downey's building, but instead, what was Downey's is now a vacant lot.  Apparently, the property is supposed to become a small mixed-use development, but no construction has begun as of yet.
Downey's only took a few minutes to photograph, so since I had 30 minutes on the parking meter, I walked around and explored the area just a little bit.  There was a pedestrian bridge going over I-95 across from Downey's, so I wandered around that for a little while, photographing stuff with my phone.  First, I photographed some of the graffiti on the bridge: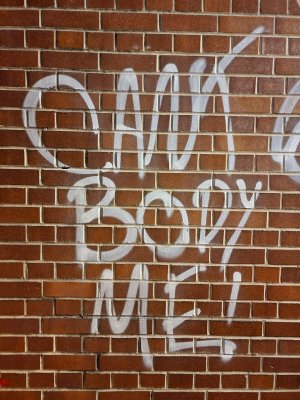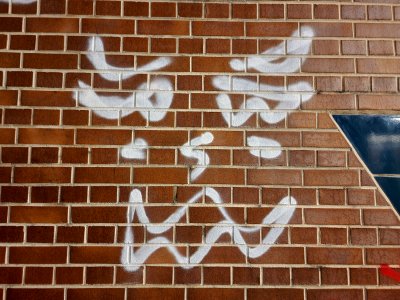 Then I got some long exposure shots from the bridge: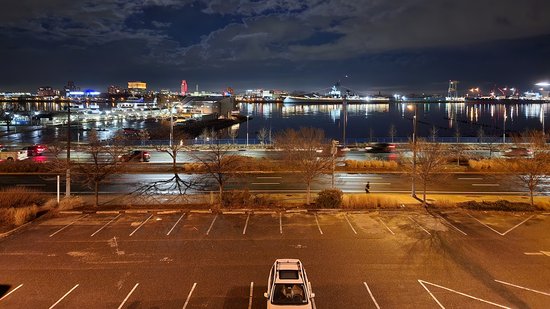 Parking lots along Columbus Boulevard, the Delaware River, and then the USS New Jersey in Camden.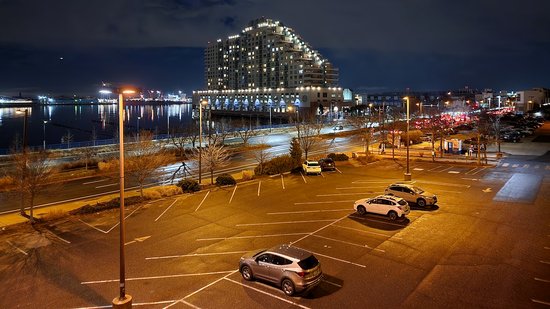 Another view from the bridge, facing south, showing the Dockside condominium building.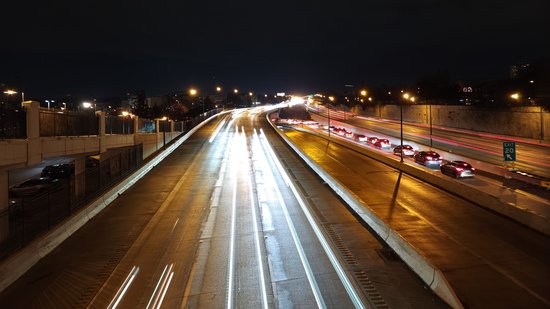 View facing south, showing the northbound lanes of I-95.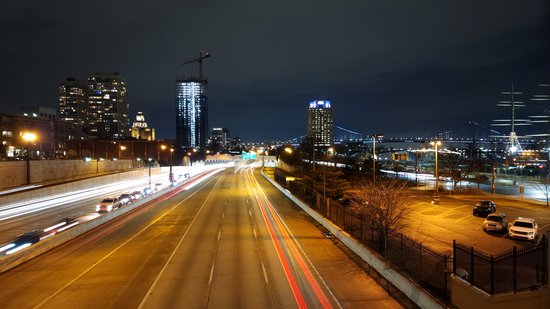 View facing north, showing the northbound lanes of I-95.  The Ben Franklin Bridge is visible in the distance.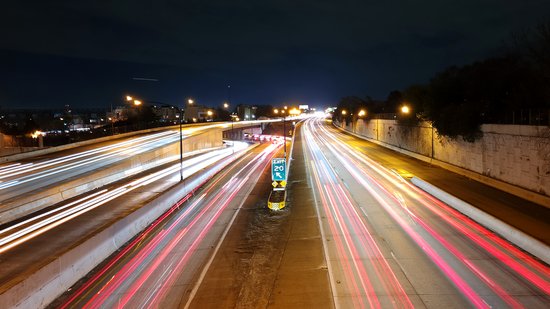 Another view facing south, showing the southbound lanes of I-95.
I'm just kind of amazed that these long-exposure images are phone photos.  Usually, I have to set up my real camera on a tripod for this sort of thing.  This was just my phone held against a solid object with my hand.
Finishing up here, I headed down to J&J Pizza, which Elyse and I had visited on our last visit to Philadelphia over the summer.  I enjoyed their egg sandwich last time I was there, and so I got it again.  Then I headed to a nearby Acme store to pick up a pack of zero-sugar cucumber lime Gatorade, which a friend from Philadelphia had indicated was in stock.  I had not been able to verify whether it was also available locally (Safeway is the equivalent grocery store brand by me), and I knew that Acme would have it, so I did.  I also checked out the cherry tomatoes to see what they had (I have these with my lunches at work), but didn't get any, being a little concerned about overnight temperatures.
From there, I headed up the road to Langhorne, where my hotel awaited me.  When I got there and did the online check-in, though, I learned something pretty quickly: that stuff's not instant, as it needed about 30 minutes to prepare for my arrival once I checked in on my phone.  So after I checked in while sitting in the parking lot, I went out in search of some food to bring back to the room for later.  I ended up at another Acme store in nearby Levittown, and got some imitation lobster.  I also ended up getting my cherry tomatoes, after looking up the predicted temperatures for overnight and seeing that it wouldn't get lower than the forties on the entire trip.  In other words, the worst that it would do would be to get down to refrigerator temperatures overnight, and it's not like I wasn't going to put these in the fridge as soon as I got home anyway.  Good.  I also spotted this brand, which amused me: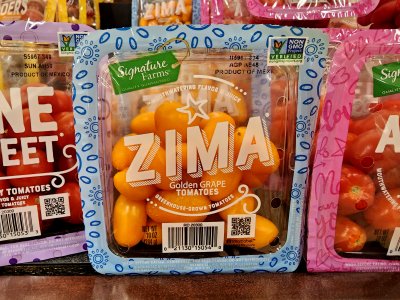 These tomatoes were branded "Zima".  Those of you who were around in the nineties will probably remember the old Zima alcoholic drinks, and understand why I laughed at this branding.  I ended up buying a pack along with what I was buying for my lunches, and brought it home.  Elyse had most of them, but gave them good reviews.  I also checked later on, and Safeway does sell these as well, so I can get more Zima tomatoes locally.
And that was my day.  I went back to the hotel, processed my photos from the day, changed the photo feature on here, watched some stuff on YouTube, and then went to bed.
Then the next day, I was up and ready to go.  I had a lot of stuff that I wanted to do, and so I got started with it.  Staying the night in Langhorne was a strategic decision, because the Trenton Transit Center was only a ten-minute drive away.  I would have stayed in Trenton, but as it would turn out, there were no hotels in Trenton.  Everything that I found in New Jersey was a good distance out, which just made things more complicated.  Therefore, Pennsylvania it was.  And I didn't mind – I liked the Courtyard.
Arriving at Trenton Transit Center, I parked in a nearby parking garage, and then quickly boarded a train to New York.  I timed that perfectly, as the train was already on the platform when I arrived, I boarded, found a seat, and then we were moving in no time flat.  The ride was quite enjoyable, as I took a new set of noise-cancelling headphones out for their first adventure, listening to podcasts and such.  This was my first time with noise-cancelling headphones, and I was quite pleased by how much of the background sound they blotted out (I also wear big can-style headphones – never earbuds – so that probably helps as well).  Definitely a good purchase.
The train's final destination was Penn Station, right in the heart of Manhattan.  I've been to Penn Station before, as my last my last two visits to New York – both unplanned – involved arriving and departing there.  Right offhand, I liked what I found, though.  Check out this beaut: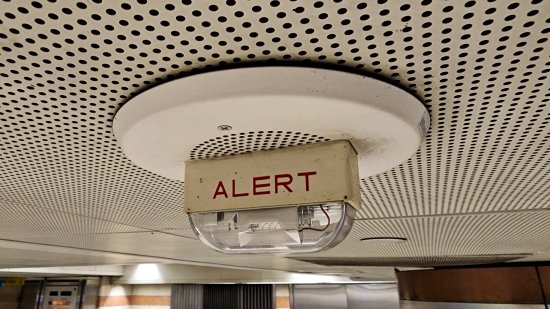 I'd never seen a Wheelock speaker/strobe with "ALERT" lettering before.  I've seen it with "FIRE" lettering plenty of times, but never "ALERT".  I want one of these for my collection.
Navigating around Penn Station wasn't bad, but the station had changed a lot since I was last there.  The station was now well into a major renovation project, so a lot of the landmarks that I was expecting to use to navigate just weren't there anymore.  And all of the eateries were gone, too, which kind of messed up my plans for lunch.
Going up to the street, my first order of business was to take care of one of Elyse's requests.  She had requested two transit cards: the OMNY card for MTA, and the SmartLink card for PATH.  I researched where to get these cards on the way up, and as it turned out, you could get the OMNY card at many retail locations.  So I dipped into a Duane Reade (aka Walgreens) and got an OMNY card for each of us.  I would take mine for a spin later in the day, while Elyse's went in my camera bag.  I was also hoping to get a high-speed charging cable for my phone, since I had my portable battery with me, but the cable that I had would only trickle-charge my phone, and that just would not do.  After all, I had big plans for my phone in New York, and I needed every last bit of juice I could get, and so running out of power was not an option.  Duane Reade didn't have any high-speed cables, but they were able to refer me to a T-Mobile store across the street, which had exactly what I needed.
I then started wandering south a bit, looking for lunch, and also photographing around.  The search for lunch was about finding something that wouldn't kill me (i.e. it would have enough moisture to sit fine), and also was somewhere that I could sit down and eat, and not get my hands dirty.  Considering how difficult it can be to find a restroom in New York (a lot of establishments just plain don't have any customer-facing restrooms), I wasn't about to take any chances with having messy hands for an extended period.  I looked in on a place called DIG, but didn't see anything on their menu that I liked.  I then happened on a Whole Foods store at 7th Avenue and West 24th Street, but much to my surprise, while it was otherwise a fully-outfitted Whole Foods store, there was no indoor seating area.  But they did have a restroom, which I appreciated.  But the search for some grub unfortunately continued.  I dipped into a Pret A Manger store on the way back up the street, but couldn't find anything that I liked there, either.
And the whole time I was on the hunt for lunch, I was just photographing around, seeing whatever I could see.  Here's some of what I got: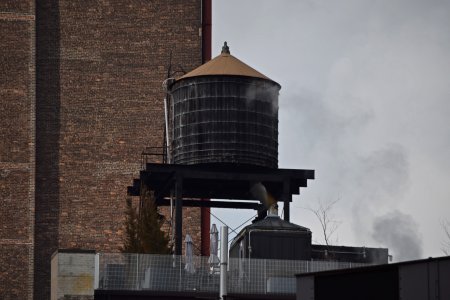 Water tower on top of a building near the intersection of 7th Avenue and West 26th Street.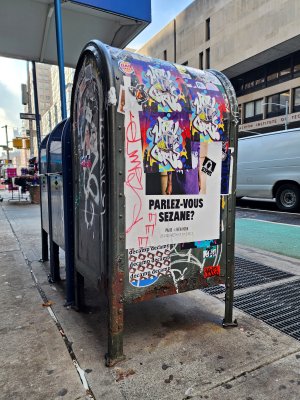 Mailbox covered in stickers and graffiti along 7th Avenue.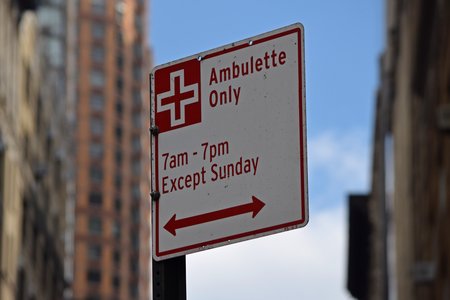 "Ambulette Only" signage on West 26th Street, just past the intersection with 7th Avenue.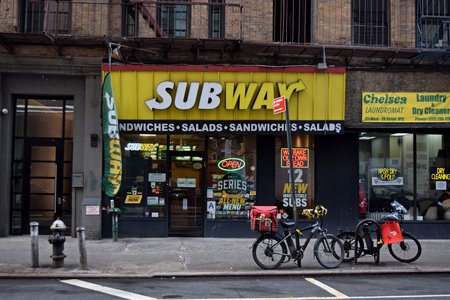 Subway storefront along West 26th Street.  I look at this photo, and I can't help but think that this looks so stereotypically New York.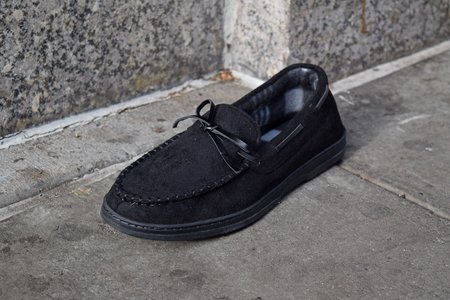 A random loafer on the sidewalk near the entrance to the Whole Foods.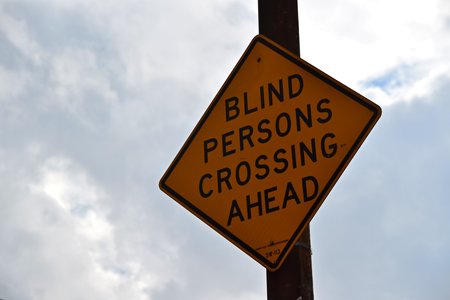 "Blind persons crossing ahead" sign on 7th Avenue between 23rd and 24th Street.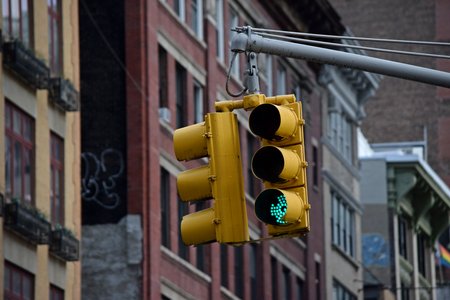 New York City-style traffic signal at the intersection of 7th Avenue and West 24th Street.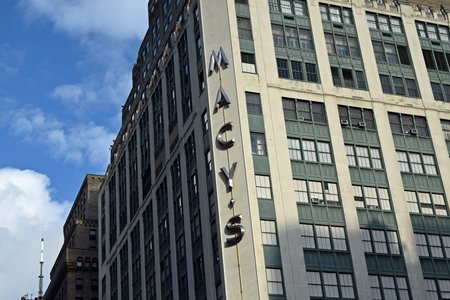 Macy's sign at the corner of 7th Avenue and West 34th Street.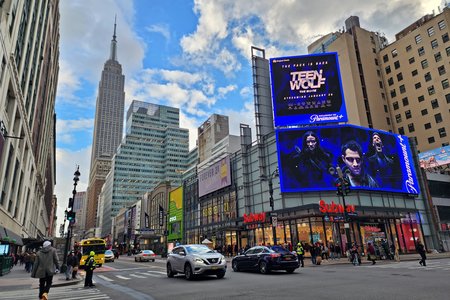 View facing approximately east, looking down West 34th Street from 7th Avenue.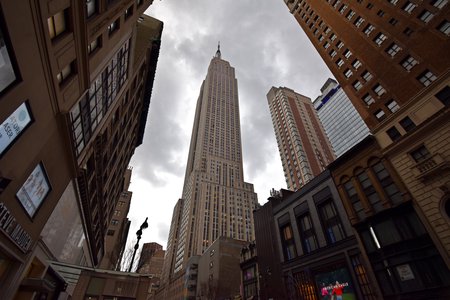 A shot with the wide-angle lens showing the Empire State Building and its neighbors.
Speaking of the Empire State Building, that's where I ended up having lunch.  Yes, that Empire State Building, and probably the last place I would have expected to go for lunch.  But, you know, there was a Chipotle right at street level, and I knew that Chipotle would sit well with my stomach, so I got myself a burrito bowl with barbacoa.  The restaurant wasn't anything special as far as Chipotles go, though.  It was a standard Chipotle that just happened to be in the Empire State Building.
And this was my lunch: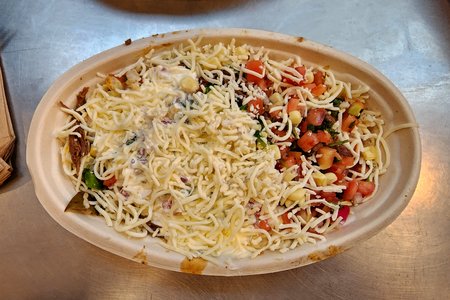 Boom, boom, done.  Schumin is sated for a while.
Now that I had some food in me, I checked out the Macy's flagship store.  I figured, I was right there, so why not.  One thing that I had forgotten about here, though, was the one thing that makes this store unique: its escalators.  Many of them use wooden components.  The escalators for the first two floors are conventional, but once you get beyond that, the famous wooden escalators are there for the riding.  I rode all the way up and back down on them, and got a number of photos in the process.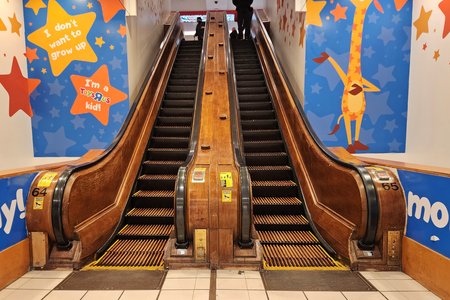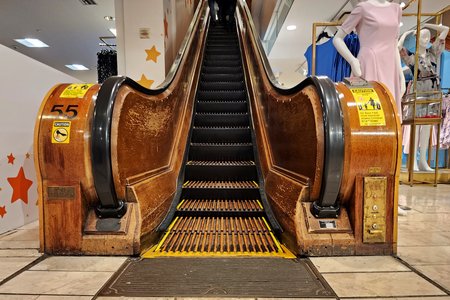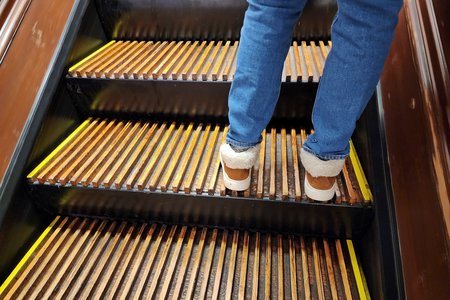 Note the width of the grooves on the steps compared to more conventional escalators.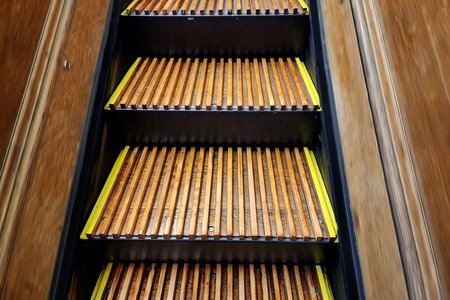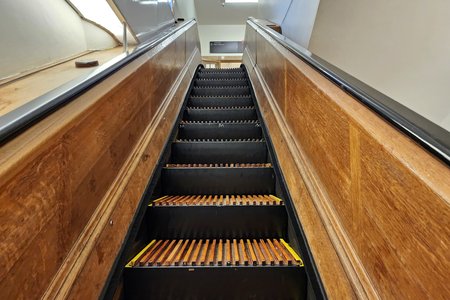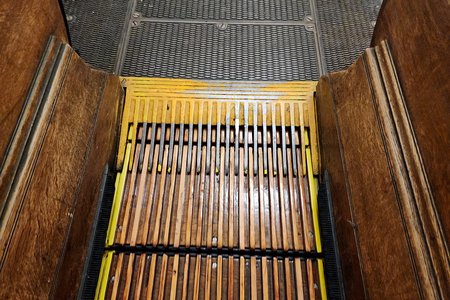 Similar to the width of the grooves, note the width of the teeth on the comb plate at the end of the escalator.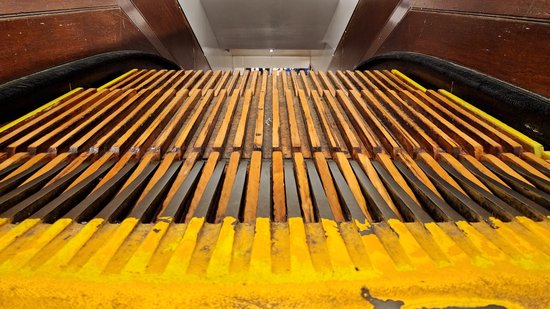 Photographing the escalators was a more time-consuming experience than I had anticipated, but it's also not surprising.  After all, it's New York, and there are lots of people moving through it, so you have to wait.  Almost no one paid me any mind, though, which was fine with me, and if they did notice me, I'd wave them through.  The thought was, first off, that I was going to take a lot longer than others might want to wait for me to get the right shot, so I'll wait for you to clear instead.  The other thought was that I didn't want the mental pressure of having someone standing there waiting for me to finish affecting my shots.  Generally speaking, if you're moving through my shot, I'll wait for you.  If you stop and linger without realizing it, however, I may ask you to take a few steps one way or the other so that you're out of frame.  In other words, I have great patience for people moving through my shots, but I have my limits, especially when I'm squatting for a shot (more on that later).
Meanwhile, there was one guy with this absolutely awful hairstyle and equally awful outfit that I waved through who remarked that he didn't want to be photographed.  I looked at him, and I thought, "Based on your hairstyle and your outfit, we all would like to forget that we were subjected to your fashion sense.  Trust me, no one wants to have that on their camera roll."  I also couldn't help but think that he probably thought that he was dressed in high fashion.  If I dressed like that, Elyse would never let me out of the house.  It would be one of those occasions where Elyse would put her hand on my shoulder, smile, and say, "My dear boy, you have no sense of fashion."
Besides the escalators, though, it was a fairly standard Macy's store – just on a larger scale.  There was nothing that would make me go, "Oh, wow!" as far as the actual merchandise or store features went.  I did, however, check out the Toys "R" Us branded store-within-a-store: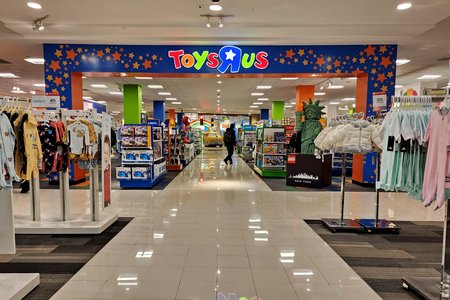 Besides the brand, it really didn't resemble the Toys "R" Us stores that we grew up with at all.  It looked like a typical department store toy section, and the prices weren't great, either.  I suspect that they were hoping that people's nostalgia for the old Toys "R" Us would turn into sales, but they've basically just slapped a well-known brand onto an otherwise generic toy department.
I then got on the subway, and headed north.  I wanted to see Tom's Restaurant, which was used as the exterior for Monk's Cafe on Seinfeld.  I took a 1 train to Cathedral Parkway–110th Street station and then walked the block or so up to Tom's.  I wanted to get the classic establishing shot from across 112th Street, but unfortunately there was a Ram pickup truck blocking that shot.  The truck was attended, but in looking around, I couldn't see anywhere else for the truck to move to, so I didn't bother asking if the guy would move in order for me to get my shot.  It's okay, though – I can get it next time I'm there.  But I did get some decent shots of the place despite not getting the shot that I really wanted: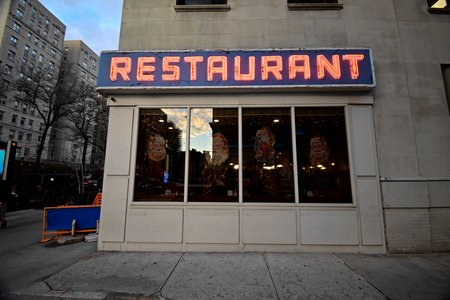 The closest that I was able to get to the establishing shot from Seinfeld.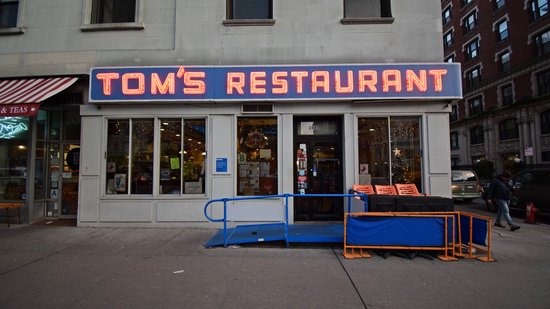 The other side, facing Broadway.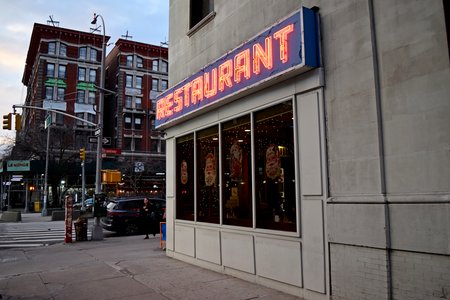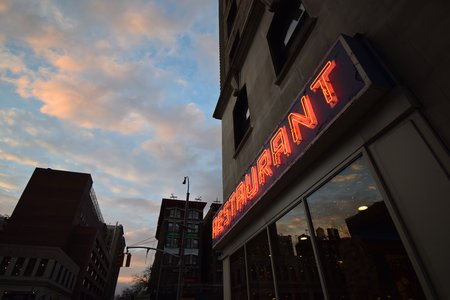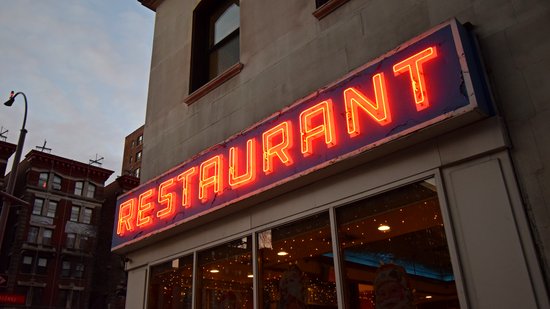 Various shots of the sign on the restaurant's south facade, focusing on the sign.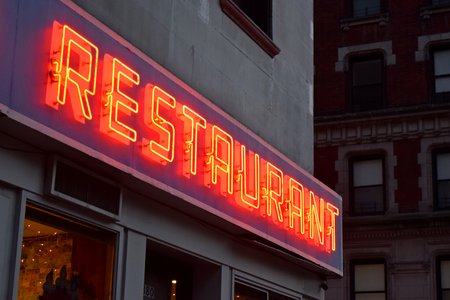 Close-up of the sign on the Broadway facade.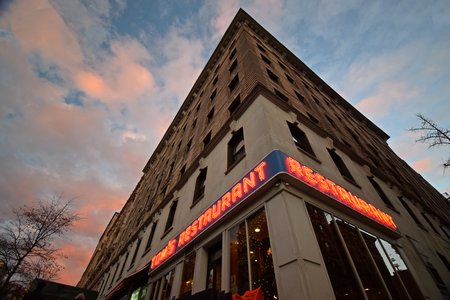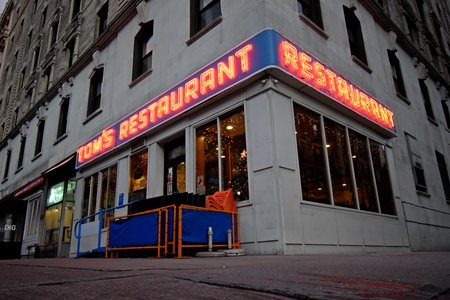 Some low shots of Tom's Restaurant, taken while in a squatting position.
In taking those last two shots, I was down in a squatting position for several minutes, lining up the shots, and also waiting for people to pass in and out of frame.  As mentioned above, I generally prefer passers-by to not wait for me, and this is multiplied a bit in New York because it's such a busy and very walkable city, and this is right along Broadway.  Holding a squatting position like that for an extended period can be a challenge, because eventually, those groin muscles start to tire and become sore.  But I got the shots, and I was content with the results.  The next day, however, I was paying for all of that squatting.  All of those muscles that I worked while squatting were very sore, and the way that I was walking around at work that day reflected that.  It took about two days to recover from that.  Totally worth it, and I imagine that if I squat more often and build those muscles up some more over time, I won't have that issue anymore, or at least it will lessen it.
At this point, it was starting to get dark, and so I headed back to the subway in order to get to my next destination.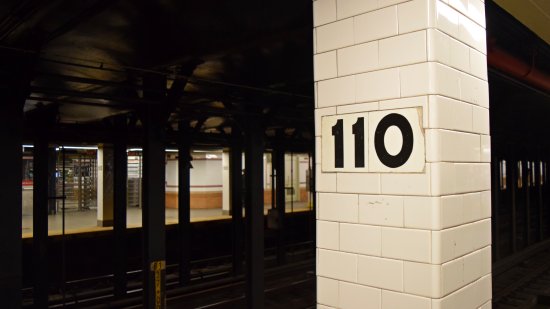 Station name signage on one of the columns along the downtown platform at Cathedral Parkway–110th Street station.
I also got a few videos of the subway while I was there:

A train of R62A cars operating on the 1 line departs Cathedral Parkway–110th Street station heading uptown.

A train of R62A cars operating on the 1 line departs WTC Cortlandt station heading downtown.

Three trains, all consisting of R62A cars operating on the 1 line, arrive at, service, and depart WTC Cortlandt station in lower Manhattan.
In riding the R62A, meanwhile, I couldn't help but notice the door chime, which was the same as the door chime on the WMATA Rohr (1000-Series) cars prior to the introduction of the Randi Miller door chimes in 2006.  In other words, this sound, minus the spoken portion.  In listening to the sounds of the subway, I couldn't help but long for that the distinctive Rohr motor sound as the train departed each station.  Once I got home, I cobbled a little something together, taking the video of the train at Cathedral Parkway and splicing the sound of the Rohr motors over top of it:
For me, at least, that just sounded better.
As you probably gathered from the videos, I made my way down to the World Trade Center.  I went there in order to go over to the PATH station in order to pick up SmartLink card that Elyse wanted, or as I tended to refer to it, "the SmarTrip for PATH".  You must realize that after years of living in the Washington area, I refer to all transit cards as SmarTrip cards, no matter what their actual name is.  Therefore, as I would say it, I have SmarTrips for several different systems, and when I go to Chicago later this year, I will get one of their SmarTrip cards as well.
To get the PATH card, though, I had to go about it in a somewhat roundabout way.  I went to the station, and after looking at the machines cluelessly, not knowing which one dispensed the SmarTrip cards, I found an employee, who helped me out, telling me that they were five dollars, and they were cash only in the machine.  Okay, cool.  So I went to a nearby Duane Reade, bought myself a protein bar, and paid for it with debit and got $10 cash back.  I warned the cashier that the cash back was coming, and asked for it as two $5 bills.  Then I got two of those PATH SmarTrips: one for Elyse and one for me.
While I was there, I checked out the architecture in the area that I found myself in.  This was not here when I was last in the area of the World Trade Center with Doreen back in 2015, as this was all very much a construction zone at that time.  It was certainly striking: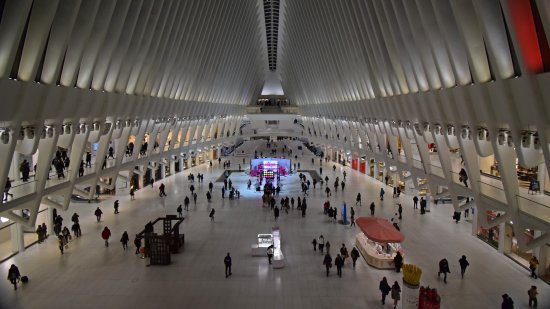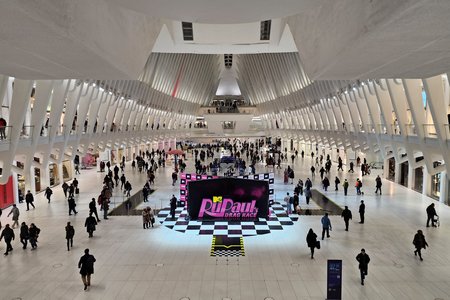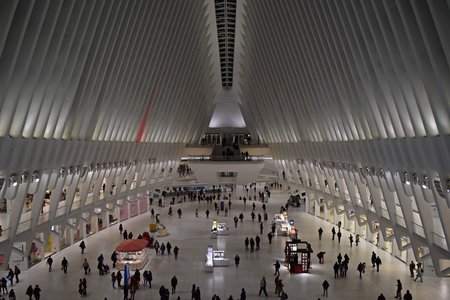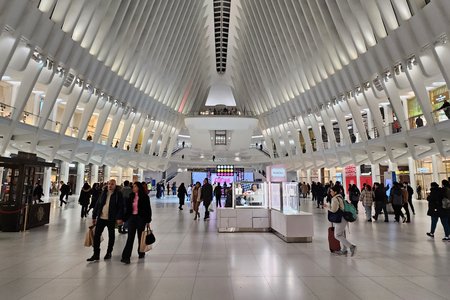 The new World Trade Center shopping mall, under the big "Oculus" roof.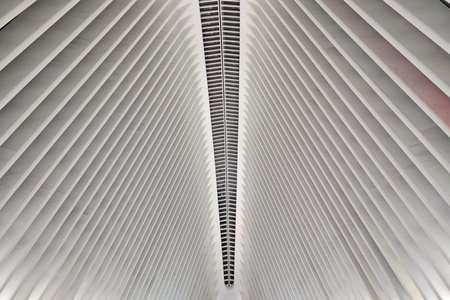 Detail of the roof.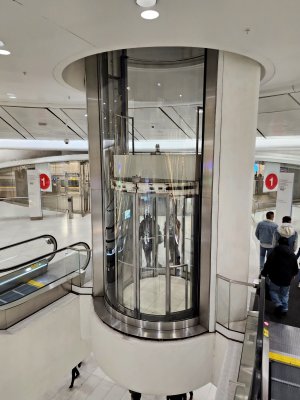 I absolutely loved this elevator.  It only went between two levels, but it was round, plus it also was suspended a few stories above the main floor of the mall.  I had never seen an elevator situated like this before.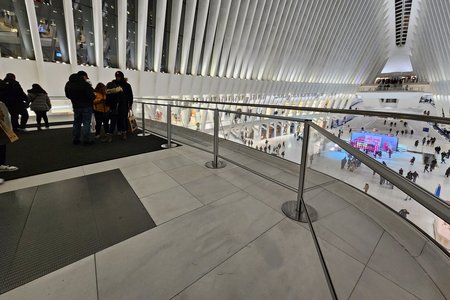 This second, movable railing appeared to me to be a patch on a poor design.  The original railing flared outward, and this additional barrier keeps people from getting too close to it.  I found it annoying because I wanted to get right up against it, but I assume that it's there for safety reasons.  I wonder if this design will eventually be corrected with a better railing that doesn't require a barrier to keep people away from it.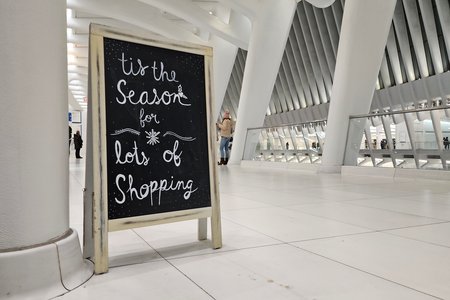 "Tis the season for lots of shopping" sign in front of The Canvas.  I thought that sign was a tad self-serving, but we'll go with it.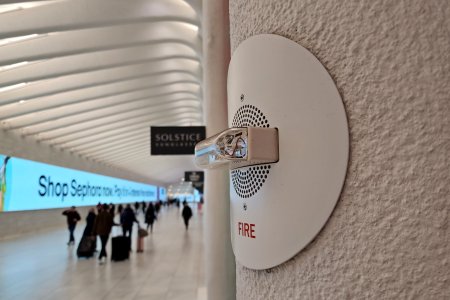 Curved Wheelock fire alarm speaker/strobe near the Duane Reade store.
I then went outside and wandered around the plaza around the 9/11 memorial and One World Trade Center.  I didn't bring my tripod on this trip, so I just fired off some shots using my phone: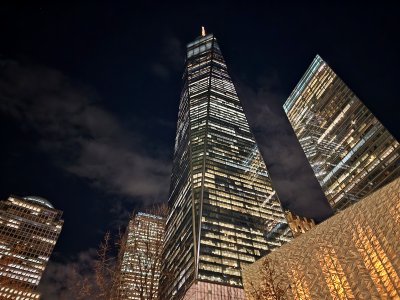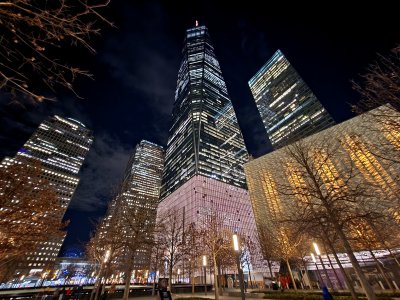 One World Trade Center and surrounding buildings.  I find it interesting the way that the light from the surrounding buildings reflects so cleanly off of each other, because it goes to show how smooth these facades are.  Also note how much more built out the interior of One World Trade Center is compared to how it appeared in 2015.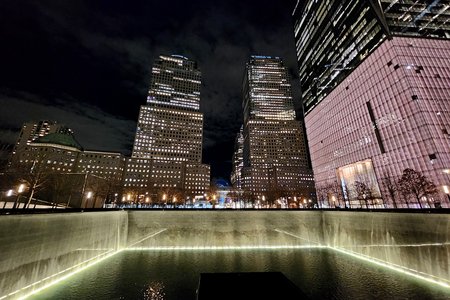 View across the North Tower pool, with One World Trade Center to the right, and the World Financial Center in the distance.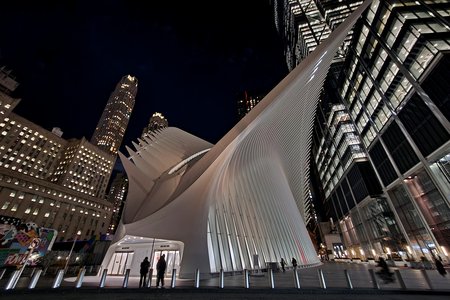 The Oculus, i.e. the roof of the big shopping mall that I showed you above, seen from outside.
At this point, I went back into the shopping mall and found the 1 train.  My plan was to ride up to Houston Street station, just to quick check on 10 St. Luke's Place in Greenwich Village, i.e. the house from The Cosby Show.  Recall that in 2015, the house next door to it was being renovated, and I wanted to see how it looked without the construction stuff in the way.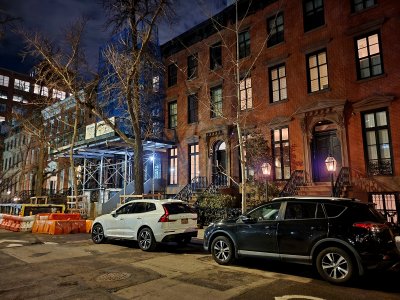 10 St. Luke's Place, viewed from across the street.  When I went by in 2015, the house to the right was under construction.  Now, the house to the left was under construction.  Figures.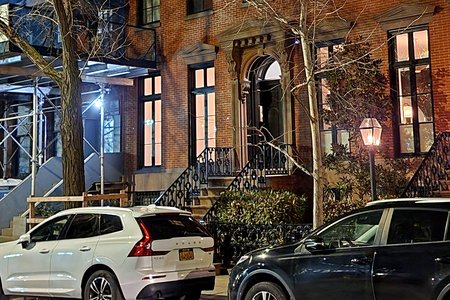 This is a zoomed in view from across the street, shot to look like the establishing shots on The Cosby Show.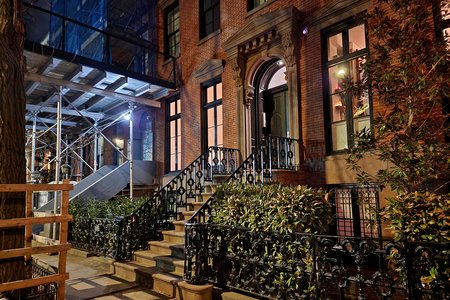 View of the house from the same side of the street, in front of the neighboring house.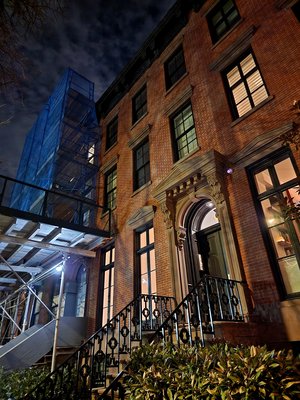 Another view, looking upward.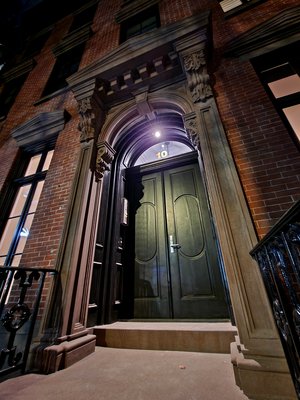 Note that front door.  Since my visit in 2015, they changed the front door!  That's not Cliff and Clair Huxtable's front door.  The new front door is solid, without any windows.  I imagine that it's probably way more energy efficient than the old door, but it's not the Huxtables' door anymore…
While I was out in this area, I also photographed a few other things in the neighborhood: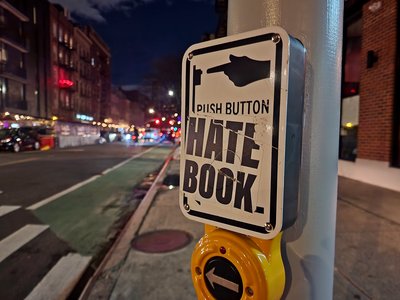 "HATE BOOK" sticker on a sign for a pedestrian signal call button at the intersection of Carmine and Varick Streets.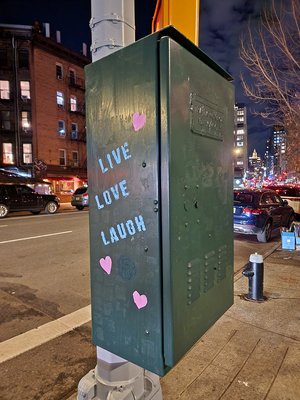 "Live, love, laugh" stenciled on a traffic signal box at the corner of 7th Avenue and Leroy Street.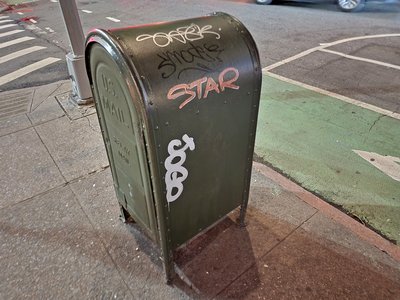 Mailbox with some graffiti at the corner of Varick Street and Downing Street.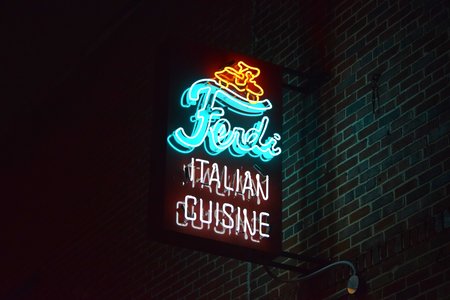 Neon sign for Ferdi Italian Cuisine.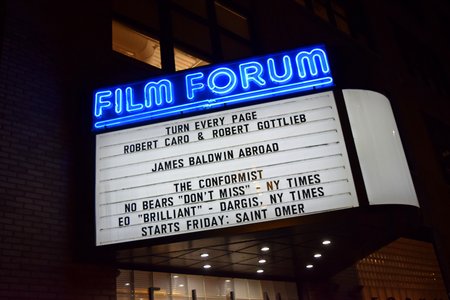 Marquee for Film Forum, an independent nonprofit movie theater.
Finishing up here, I got back on the subway and headed back up to 34th Street–Penn Station.  It was now approaching 8:15 PM, and so it was time for me to start heading home.  I had work the next day, and I had a good amount of distance to cover between where I was and my house.  Coming out of the subway at 34th Street, I dipped into Macy's again to use the restroom.  I knew that Macy's had clean, freely accessible restrooms, so I made sure that I was good before starting my journey home.  I then went into Penn Station and found the section for New Jersey Transit.  I planned to take the 9:06 train to Trenton, and fortunately, I only had to wait around for about five minutes before they announced what track our train was on, and then joined the rush of people heading to the train.
And that was New York.  The train ride was pleasant enough, though I did end up in a train with a lot of kids, when I just wanted a nice, quiet ride back to Trenton.  Thank goodness for noise-cancelling headphones and a good podcast.  Getting back, I returned to the parking garage, got into the Scion, and started making moves back home.  As I was driving through Trenton, I soon understood why there were no hotels there, because who would want to stay there?  It was rather run down and grungy looking.  Mind you, Langhorne, where I stayed, wasn't exactly the swankiest area, but it was a whole lot nicer than Trenton.  I took I-295 back down as a matter of personal preference.  Google was trying to get me to go back over the Route 1 bridge back into Pennsylvania to catch I-95 through Philadelphia, but I didn't want to deal with that traffic.  Plus, I'm originally from South Jersey, so it felt wrong to just dip in and then immediately dip out.
All the way down 295, I was watching the Scion's odometer closely.  The car had about 123,000 miles on it, and I was waiting for it to get to 123,456 (because sequential) so that I could get a photo of it.  After all, the HR-V missed that number by 15,466 miles (the way that I drive, if the HR-V were still here, I would probably be pretty close to that by now, if not already there), and the Soul missed it by about 32,000 miles, so this was a rare thing for me.  Just after going over the Delaware Memorial Bridge, the car hit that magical number, and I pulled over on I-295 near the exit for US 13 to get that photo.  And here it is: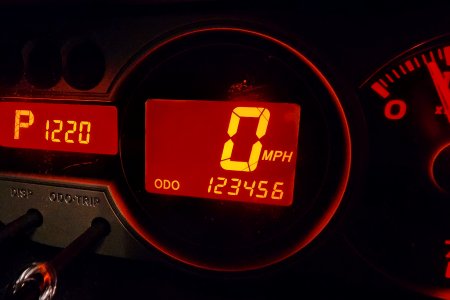 I was surprised in that in 15 years, the Scion only had about 10,000 miles more than the HR-V's final mileage, but at the same time, Mom mostly only drove it to and from school and church, and on errands.  It didn't do many road trips with Mom.  Once the new HR-V shows up, it will return to its life of going to and from church and the store.
From there, the rest of the trip home was pretty uneventful.  I made a bathroom stop at Delaware House, and a food stop at the Sheetz in Joppatowne (the only Sheetz along my entire route), and then I was home soon enough.  I enjoyed this little one-two trip, using a small adventure in Philadelphia as a way to stage myself for a day in New York that wouldn't leave me completely exhausted at the end of it.  It worked out fairly well, so I feel like I could use this basic trip profile for future overnight adventures to New York, and plan some amazing adventures.