Philadelphia? How about New York?
August 18, 2019, 12:55 AM
August 13 was a day of unexpected twists and turns, for sure.  What was supposed to be a trip to Philadelphia with friends ended up turning into a trip to New York City for Elyse and me.  As originally planned, we were going to meet up with Brian, Trent, and a few other folks from the DC area who were traveling up separately at 30th Street Station, and the bunch of them plus Elyse were going to go fan transit for a while, while I did my own thing, mostly photographing in and around Center City.  That didn't happen.
What caused our plans to change was twofold.  First, the weather forecast called for storms all up and down the east coast.  So I would have to figure out something else to do, as I would be rained out.  Secondly, we were running a tad late due to traffic around Baltimore that led us to take a more southerly route before resuming our planned route.  Once we got up there, the plan was to park in New Jersey and then ride PATCO into the city.  What happened, though, was that the other group didn't want to wait for us at 30th Street Station, and so they went and continued with their plan without Elyse, and took SEPTA Regional Rail out to Norristown, with the idea that we would catch up with them later.  We learned this while we were on PATCO riding into the city.  So essentially, they ditched us.  We did not take too kindly to this, and so rather than chase them in an effort to catch up with them, when it was pretty clear that we were not a priority (otherwise, they would have waited for us), we did our own thing instead.
We ended up getting off of PATCO at City Hall station in Camden.  There, we walked over to the Walter Rand Transportation Center station for the River Line.  Neither of us had ever ridden the River Line, so this would be a new experience.  We were surprised that there was very little transit-oriented development around the River Line stations.  Much of what was right around the stations that we could see was older construction that predated the service.
We rode the River Line up to Trenton, which is the end of the line.  There, I got some photos: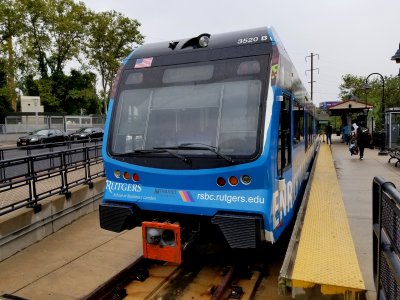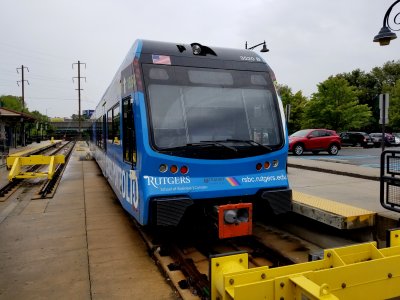 From there, we went into the train station and caught a New Jersey Transit train to New York.  On the way, we saw the monorail at Newark International Airport from a distance: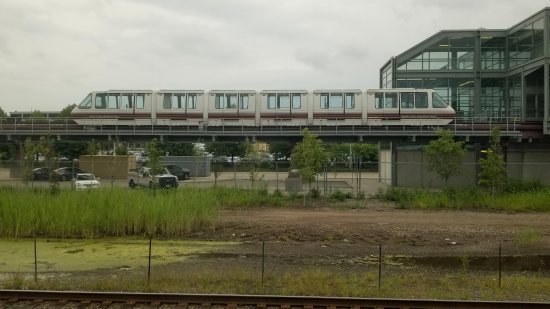 As I understand it, this monorail is slated to be replaced with a new system, as the current system is reaching the end of its design lifespan.
And then we got to New York: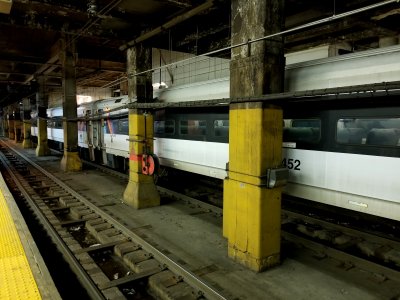 Welcome to Penn Station!
At Penn Station, I needed to pick up a charging cable for my phone, and did so at what I considered an unlikely place: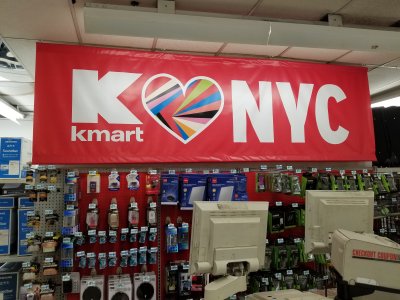 Never did I expect to go shopping at Kmart – especially in a train station.  But they had the cable that I needed, and they had it at a price that I could live with, unlike some of the other stores at Penn Station that were charging exorbitant amounts for the same thing.  I also got through the checkout very quickly.
Meanwhile, Elyse got trapped inside a restroom because of a massive fight occurring outside that blocked her in.  I had seen several police officers running down the station concourse, and that was what they were responding to.  Once the fight was cleared, Elyse could come back out.
We then made our way to the subway, where we caught a 1 train up to 137th Street-City College.  We went up here because Elyse wanted to see an adult store in New York for some reason, and we had located a place up there called Romantic Depot.  Being New York, I expected something awesome, but unfortunately, this place was pretty generic, as it had much of the same products that every other generic adult store carries.  I was not impressed.  There's a store in College Park down by me called Comfort Zone that is way better than this store could ever be.  In any case, they did have some things that I'd only ever seen wrapped up out for customers to handle.  Interesting products, for sure, but none of which I would ever purchase for myself.
From there, we went to Subway to eat, and then headed south a little ways.  We stopped at the portal where the subway goes back underground at 135th Street after coming up for a few blocks in the middle of Broadway, and I got some photos.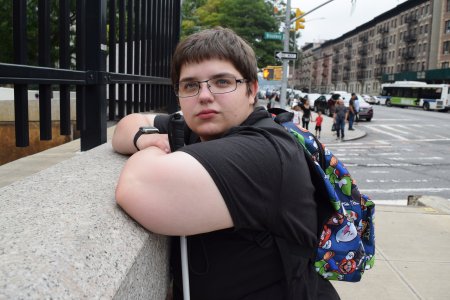 Elyse looks at me as I get ready to photograph trains.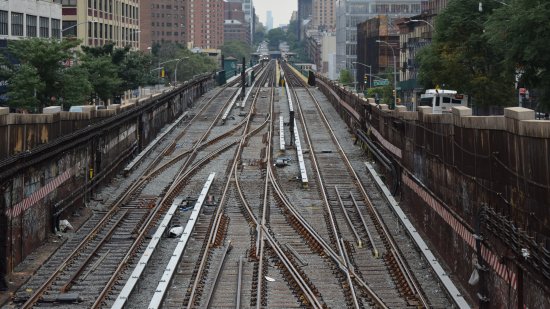 The 1 line through this area is three tracks.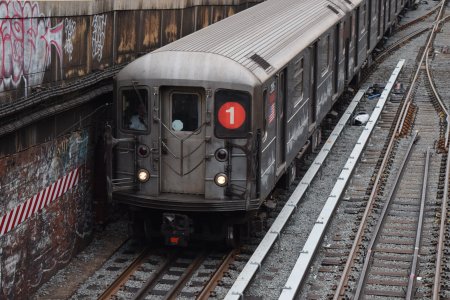 1 train going uptown.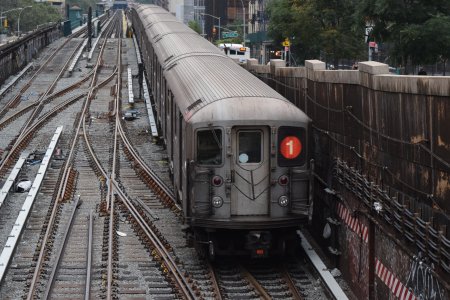 1 train going downtown.
We continued down the street, stopping by a newer Columbia University building.  Near there, Elyse found a penguin sticker on a truck amusing: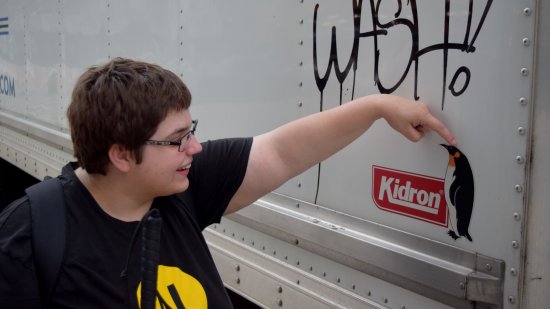 From here, we boarded a train at 125th Street, and took that down to Lincoln Center, getting some railfan shots at 125th on the way: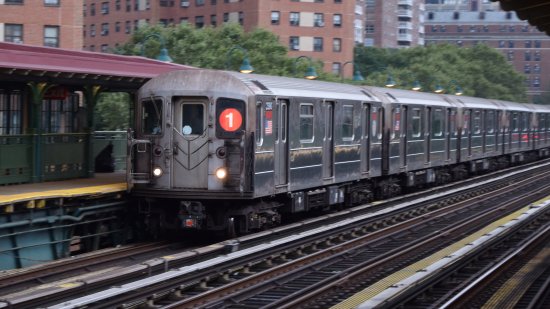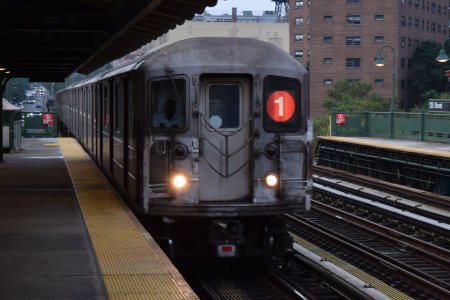 Arriving at 66th Street-Lincoln Center, we took the M66 bus to end of line.  There, Elyse wanted to do the elevators at NewYork–Presbyterian Hospital.  But first, she got a bite to eat at Sophie's, a Cuban fast casual restaurant nearby.  She had an empanada, and I had a smoothie.  Good place.  Will definitely patronize again.  We found a gas stove on the street next to the apartment building that Sophie's is in: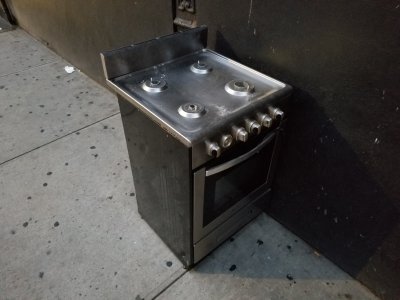 This just seems very "New York" to me, for some reason.
Meanwhile, at the hospital, Elyse couldn't get the access that she wanted for her elevators.  Unless you were getting something done there or visiting a patient, they wouldn't let you in.  This was understandable, but Elyse was disappointed.
By this point, it was getting close to 9:00, and we both had planned to leave New York around 9:00.  So we walked to 72nd Street on the new Second Avenue line, and caught our train from there.  I was that nerd who was photographing the signals:
After all, I work in the transit industry myself, and New York has a completely different signaling system than what I'm used to.  They have wayside signals up and down the line in most cases, whereas my system only has signals on the wayside at interlockings, and uses cab signaling otherwise.
From here, we took a Q train to Times Square, and then took a 1 train to 34th Street-Penn Station.  We boarded an NJ Transit train towards Trenton, and that was the end of our visit to New York.  At Trenton, we transferred to the last SEPTA train of the night going towards Philadelphia: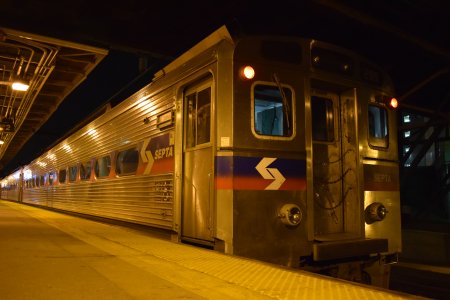 Our SEPTA Regional Rail train at Trenton.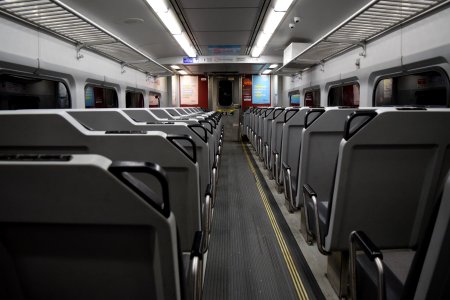 Interior of car 395.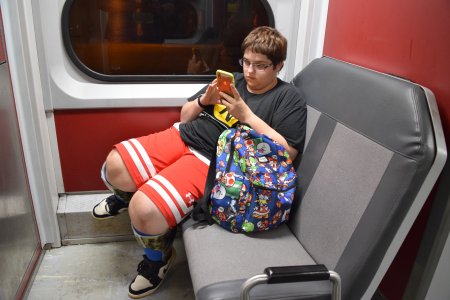 Elyse checks her phone on the train.
For a trip that was supposed to focus on Philadelphia, this SEPTA train was the first time that we ever touched Pennsylvania.  But, hey, at least we could say that we did, in fact, go to Philadelphia, as our train took us into Suburban Station.  From there, after we sought assistance from a guard in finding the exit, we walked over to PATCO's 12-13th & Locust station to go back to Lindenwold.  So our alleged Philadelphia trip actually went to Philadelphia.  Here is a photo of City Hall as proof: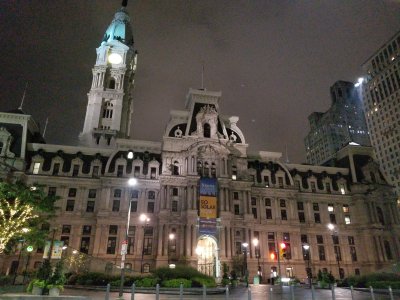 Once we got back to Lindenwold, we got a bite to eat at a nearby Wawa on White Horse Pike, and then it was back home for us.  I was surprisingly perky for having been up as long as I had been, and the drive down was fairly uneventful, save for one guy that I encountered who was weaving a little bit.  I ended up having to use the shoulder to avoid a collision.  I suspect that he was probably drowsy, because he was definitely not moving like you should on I-95.
And as is typical for a trip that involves New York City, we got home much later than I would have otherwise liked.  But we had fun, so it was okay.