Adventures in Tennessee
Part 4
Saturday, the fourth day of our trip, was our "transition" day.  This was the day where we were moving hotels and visiting our next city: Kingsport.  The day started out pretty well, as I got breakfast downstairs, and then got everything packed to go.  Elyse was a bit slower that morning, wishing to sleep a little bit longer, but we also had an 11:00 checkout time that I did not want to miss.  While I was downstairs, I also figured out why the hotel was so much more expensive than I had anticipated: there was a big college football game that weekend, as Tennessee was playing Alabama in Knoxville.  That game also made my choice of the more eastern hotel, which Elyse didn't like because it wasn't transit-accessible, even wiser of an idea, because I was positioned so that I wouldn't have to deal with any game-day traffic on the freeway.  And apparently, as far as football went, Tennessee ultimately prevailed.
Once we got checked out, our first stop was right outside of our hotel.  Just after you turned to get to our hotel was a warning sign with an unusual message, and we had to see it.
---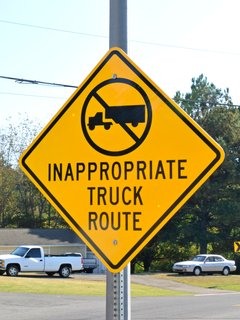 "Inappropriate truck route".  That's a new one.  I never thought that I would see "inappropriate" used on a road sign.  It sounds like something that a teacher would say, like, "That is an inappropriate route for your truck, young man!"
---
After that, we went about two exits down on I-40, and visited a Harley-Davidson dealership in Sevierville.  There, Elyse got her poker chip.  She also spotted a giant flea market on the other side of the freeway, and wanted to check it out.  So after leaving the Harley dealership, I dropped her off there, while I went a short distance away to fly a few things with the drone.
In making this flight, I was acutely aware of a few details about the North Carolina trip from the year before.  Specifically, I remembered that the reason that I had my DJI Air 2S drone in the first place was because of an accident during the first flight of the day on the "transition" day on the North Carolina trip.  In that case, the DJI Mavic Mini that I was flying at that time threw a propeller blade over Rocky Mount, receiving significant damage upon impact with the ground after a 400′ fall.  I couldn't fix it in the field, and I had a lot of stuff that I wanted to photograph that required a drone, so I bought my current drone at a Best Buy that evening.  With all of that in mind, I flew extra carefully, and made doubly sure that my equipment was in good working order before I took off, in order to prevent a repeat of that incident.  With unexpected expenses related to the car accident, plus the pricier hotel stay because of the football game, I was already spending enough money without having to deal with a drone issue.  Thankfully, though, the flight was both successful and uneventful.
---
Exit 407 on I-40, a diverging diamond interchange with State Route 66, in Sevierville.
---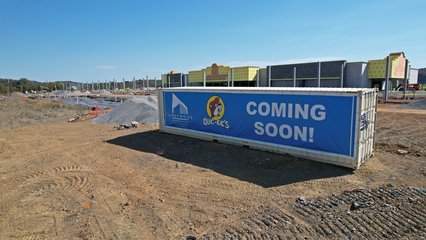 A large banner hung from a shipping container announcing that a new Buc-ee's was coming soon, visible from the highway.
---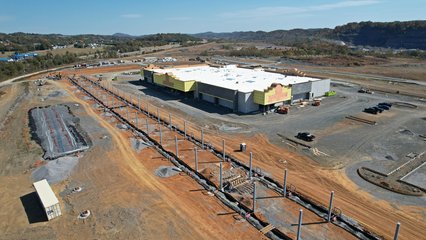 The new Sevierville Buc-ee's, under construction.  Unlike the Buc-ee's that we visited in Crossville, this Buc-ee's will located on a hill, and will have a single, very long fuel canopy.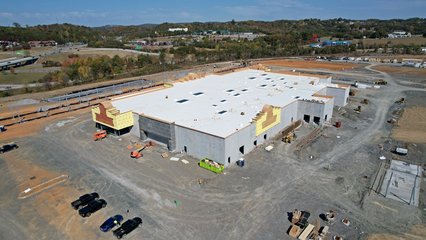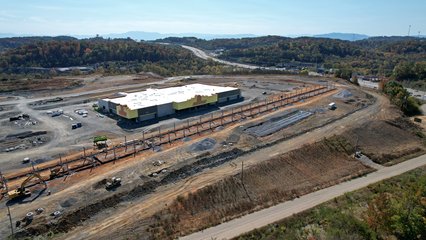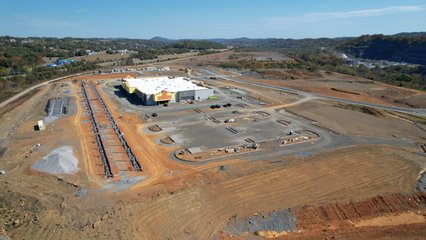 ---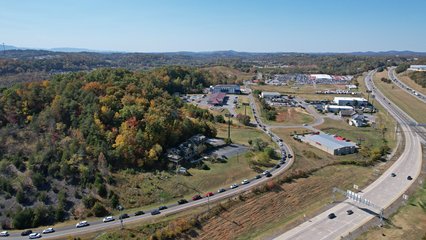 Flying back to the launch site after photographing the diverging diamond and the Buc-ee's.  I parked at the former Eagle Springs Winery facility, which gave me good line of sight to everything that I was trying to photograph.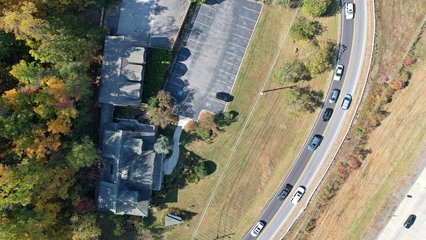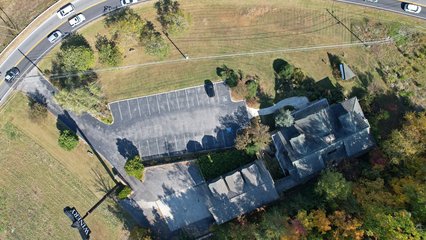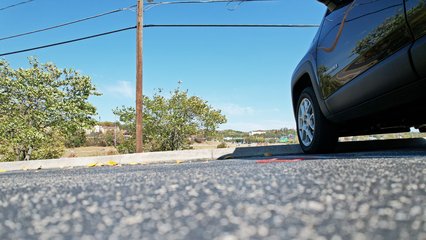 ---
When I finished up with the flight, I headed back to the flea market to scoop up Elyse.  While I was there, I really was reminded that Tennessee was a "red" state, considering that the first booth that I saw was selling nothing but Trump and other right-wing merchandise.  I found it amusing that the stuff that showed years on it typically showed 2016 and 2024 on it.  2016 was the year that Trump was elected president, and then 2024 seemed to be wishful thinking about the future, assuming that Trump will run again and win.  Funny how they just quietly skip right over 2020, where Trump was defeated for his reelection bid, but there you go.
---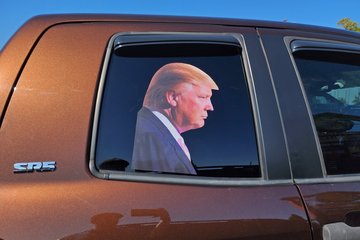 Trump decal on the right rear door of a Toyota Tundra parked at the Harley dealership, as an example of some of the right-wing stuff that we saw.  I believe that the intent of this is to look like Trump is sitting in the back seat.  However, I suspect that it should be placed against the edge of the window, because here, it makes Trump look like he has a hunchback.
---
Finishing up at the flea market, our original plan was to dip down into the Pigeon Forge and Gatlinburg area to see a few things down that way, like the Titanic museum, but I ended up vetoing that plan after looking at Google Maps and seeing all of the dark red on what would have been our route.  I didn't have any desire to sit in that kind of traffic, which would have left me a bit cranky by the time that we actually got down there, plus that would derail much of the rest of our plans for the day, especially since we got a later start than I would have preferred.  Elyse didn't like the idea of skipping it, but these tourist traps weren't going anywhere, so it's not like we couldn't come back here in the future.
Instead, we headed east to Dandridge, where we had planned to visit the Bush's Visitor Center.  This is Bush's as in the bean company.  The visitor center is located across the street from their factory, and we had planned to see their museum and then have lunch at the adjoining cafe.  The drive there, though, was not as I expected.  It was a relatively straightforward drive, but it was on a bunch of curvy country roads, which I had not expected.  One thing that we passed was a lake with an exceptionally low water level on the way down, which I made a mental note of for later.
We also got another reminder of the redness of the state that we were in as we saw a house fully decked out in Trump signage on the left as we went down.  Among the many signs, there was one that said "fuck your feelings" on it.  Classy.  Unfortunately, though, it appeared that this house had suffered a major fire, as the entire house from the bottom of the windows up was burnt to a crisp.  I imagine that the house is a teardown, and the people who lived there probably lost everything.  Despite the sign, it does make you feel a little bit badly for them.  Looking at the house on Google Street View later on, I found that imagery from June 2021 showed the house burned out at that time (which surprised me, as I thought that the fire would have been more recent), but all of the political banners and other signage that we saw were missing.  The next image back, from April 2018, showed the house intact, and political banners were visible in that older shot.  So apparently, while the political banners were removed following the fire, the ones that we saw were added back more recently to the house in its burned-out state.
The Bush's Visitor Center, meanwhile, was pretty fun. We saw the exhibits, and got a bunch of photos.
---
Elyse and I stand with the big Bush's sign at the entrance.
---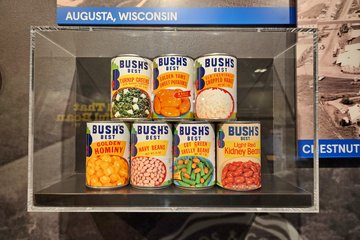 Cans with vintage Bush's labels on display.
---
Elyse poses for a photo with a pallet of cans of beans, and gets a selfie with the same.
---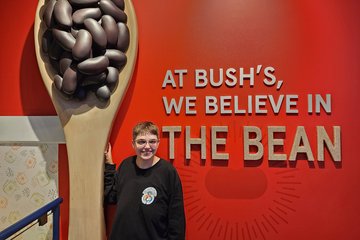 Elyse poses with a giant spoon holding some giant beans, along with lettering that says, "At Bush's, we believe in THE BEAN".  The letters in the last two words, meanwhile, are filled with beans.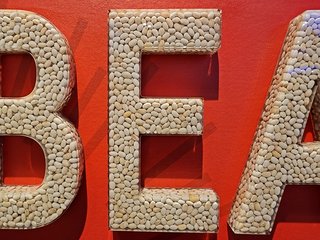 ---
Elyse takes a selfie as well as poses for a photo with a giant bean.
---
One amusing moment was when we were looking at the big map on the wall that showed all of the big bean-producing states, visible in the background in the photo where Elyse was taking the selfie with the giant bean.  That map showed the name of the state and the kinds of beans that they produced.  I was reading them off, and when I got to the state of Washington, I read off the name of one of the beans rather than the state name.  Whoops.  When Elyse called me out on that, I just said that I had renamed Washington to "Garbanzo", that "State of Garbanzo" had a nice ring to it, and that it sounded way, way cooler than "Washington" for a state name.  Someone should let the people that live in Garbanzo ("Garbanzans"?) know about their state's new name.
Then after the museum, we looked at the gift shop.
---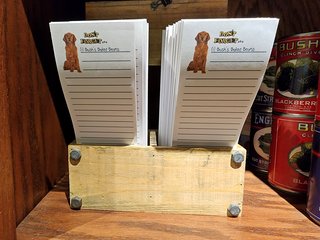 Souvenir notepad with Duke the Bush's beans dog, titled "Don't forget…" with Bush's baked beans printed as the first item.
---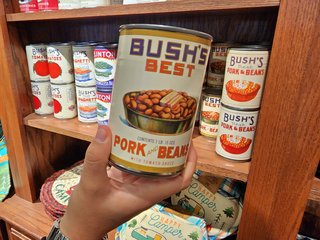 Elyse holds up a can with a vintage label.  These cans were intended for decoration, and as such were empty.  The gift shop did also sell full cans of Bush's beans in the gift shop, but those cans were sold with the standard retail labeling that you would see anywhere.
---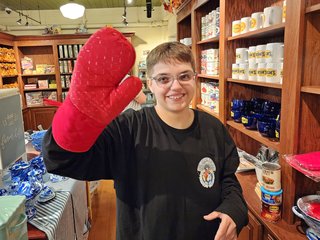 Elyse holds up a red oven mitt.
---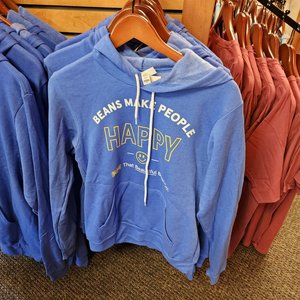 Bush's hoodie, reading, "Beans make people happy."
---
Elyse looks at a canned t-shirt.  Yes, the Bush's gift shop offered t-shirts in cans.  Just open the can with a can opener, and pull out your shirt.  They also sold the shirts without the can.
---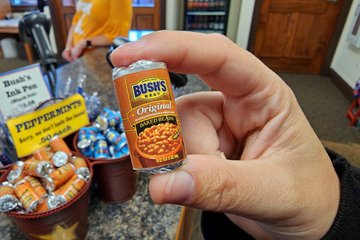 Elyse holds up a package of Bush's brand mints.  They are just regular peppermints with novelty packaging.  There's even a note that reads, "Sorry, we don't taste like beans!" with them.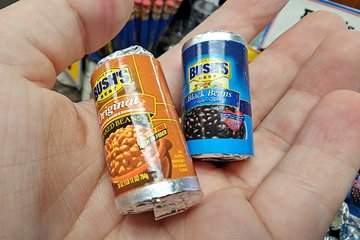 ---
We then had lunch at the cafe, which was a fun time.  Elyse and I both got the chili, which came with cornbread.  They also gave out samples of their new sugar-free beans, which would be available in stores in a few months.  We both thought that the beans were awesome.
---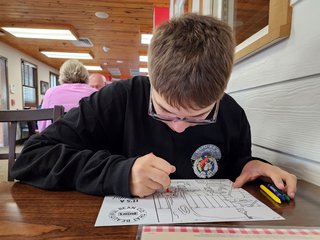 Elyse colors the placemat at the cafe.
---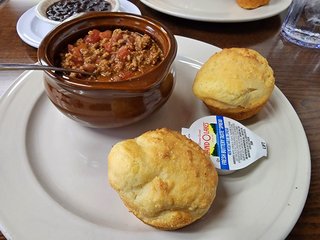 Lunch, consisting of a bowl of chili and two pieces of cornbread.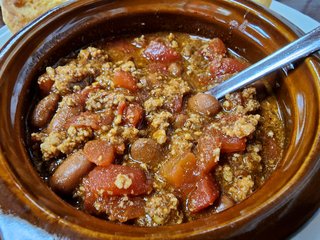 ---
They also were handing out cards with the recipe for the restaurant's pecan pie on it.  We didn't order it at the time because the chili was plenty by itself (as it was, I saved the second cornbread for later on account of being full), but we could definitely try our hand at making it ourselves later on.
Leaving Bush's, we followed that curvy country road again to get back to the freeway, and dipped into another Food City on the way through.
---
Like the other Food City, this one also had skeletons placed around the store for Halloween while wearing a Food City uniform.
---
We then stopped near the lake with the low water level, and I got the drone out for a few shots.
---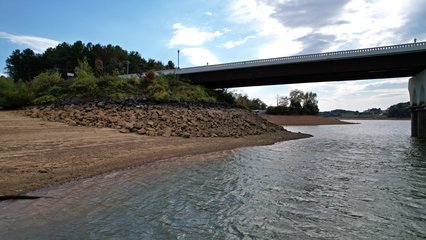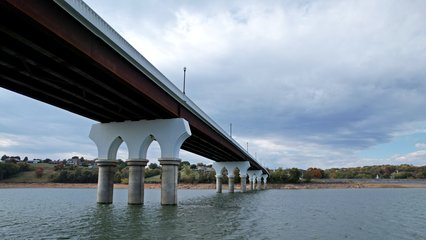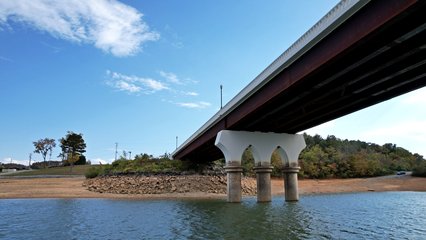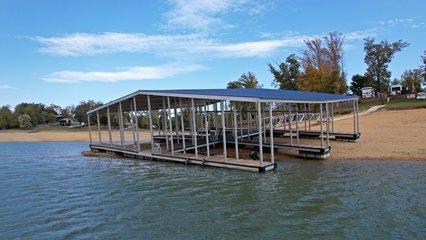 ---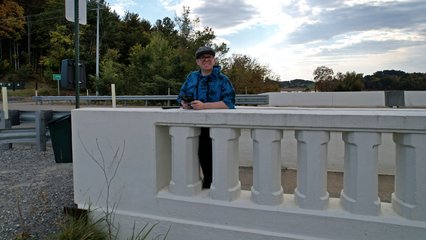 Bridge selfie.
---
I later found out that this was Douglas Lake, and that the low water level that we had observed was intentional.  Douglas Lake is used for flood control purposes during the winter season, and the Tennessee Valley Authority, which operates the lake, lowers the water levels ahead of winter in order to be able to catch the runoff from winter storms, and gradually releases it over a longer period.  During the summer season, with a lower risk of flooding, the lake level is kept higher to support recreational use.  I had initially thought that either something was wrong or this was an exceptionally low level to support a maintenance project of some sort, but instead, it was just a routine part of the management of the lake.
We then got back on Interstate 40, and headed eastbound towards the I-81 split.  I enjoyed traveling on I-40 for the first time in over thirty years, essentially running the last third or so of the trip where we moved from Arkansas to Virginia in reverse to do this trip.  Hopefully it's not another thirty years before I see I-40 again.
Meanwhile, if we were going to make a move with that Honda dealer in Asheville, this was the day that we would have done it.  We had made contact with the dealership while we were in Knoxville, but then when they later called me back, I had failed to recognize the number and sent it to voicemail.  When I called them back, however, I only got voicemail, and left a message.  I tried them again on this day, since this is the day where a side trip to Asheville would have fit, but instead, our game of phone tag continued.  If I recall, I even said, "Tag, you're it," on the message that I left.  I didn't hear back from them until much later, well after I had gotten home, and learned at that time that the guy that I was referred to had gone on vacation, and apparently, no one was picking up his sales leads while he was away.  By then, though, it was a moot point, as I'd already reserved a new HR-V through Shockley Honda up in Frederick, the same dealership where I had gotten my original HR-V.  I considered Asheville to be a bit of a longshot in the first place, considering the "coming soon" status of that listing.  After all, for all that we knew, "coming soon" could have meant two days, or it could have meant two months, but most importantly, I didn't want to make a special trip down to Asheville just to pick up a car, nor did I want to pay to have one transported to me from Asheville.  So with Asheville's dropping the ball, that sort of took care of itself.  Such is life sometimes.
Our next stop was GreeneLawn Memory Gardens, which is a cemetery in Greeneville.  This was a stop with special significance to Elyse, as a relative of hers is buried there.  For those not aware, Elyse was adopted, and it was an open adoption, i.e. she knows who her birth parents are, and has maintained relationships with both of them.  Sadly, however, her birth mother, a woman named Rosa, took her own life in 2012.  While Elyse and her parents went to Rosa's memorial service, they were not able to attend the burial.  This trip to the cemetery was to visit Rosa's grave, essentially coming to see her one more time.
---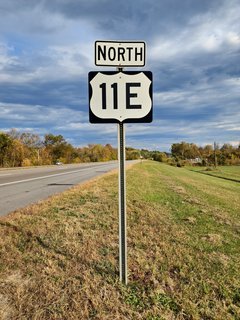 Northbound US 11E reassurance marker on the way to the cemetery.  Route 11 was a constant thread throughout our trip, as we never strayed very far from it.  However, I had never seen Route 11 with a suffix on it before.  Google pronounced this as "US 11 East North", which was a tad confusing at first, but the "east" part of it is part of the route designation (there is also an 11W in this area), and north is the direction of travel.  Confused yet?
---
Prior to our trip, Elyse and I had differing views on how to handle locating Rosa's grave.  Rosa's entry on Find A Grave did not list a location for her grave, nor did it show what the grave marker looked like, so we would need to find it.  Elyse's idea was to just wander the cemetery and find it through a visual search.  I wanted to determine the location ahead of time and go straight to it.  After looking at the size of the cemetery on Google Maps, I quickly realized that if we went with Elyse's method, we would be looking for a needle in a haystack, and that we could have easily spent all day there and still never have found it.  That wouldn't have been a good result, because then Elyse would have gotten no closure, and we would have been left wondering if we had missed it.  So in order to make sure that we would find it and avoid any disappointment, I contacted the cemetery back in August inquiring about the location of Rosa's grave back, and the cemetery very helpfully sent me a diagram of the cemetery and a screenshot of Google Maps, both with an arrow pointing to the exact location where Rosa was buried.  Elyse was a little annoyed about my contacting the cemetery for the exact location ahead of time because she wanted to find it on her own, but it ended up working out (more on that in a bit).
The cemetery is in a very picturesque area, with an amazing view of the mountains.  The memorials there are largely flat-style markers with flower vases.  When we arrived, we drove around the entire cemetery to get our bearings.  It is a large space, and the road layout within the cemetery had me a little confused.
Eventually, we figured out where we were, and got to the area where Rosa's grave was located.  Elyse was still a bit salty about my doing prior research, but the compromise was that I would take her to the correct section of the cemetery, and then cut her loose to find Rosa's grave on her own, keeping the exact location to myself unless asked.  While she went searching, I photographed some of the grave markers in the same area, with the intention of adding them to Find A Grave later on.  I also intended to do this with Rosa's grave as well once Elyse found it.
---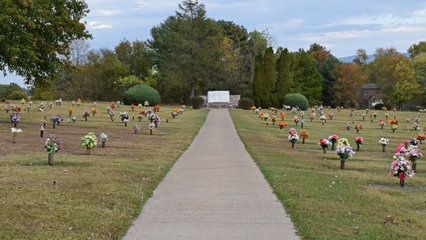 Rosa was buried in this section, called the Prayer Garden.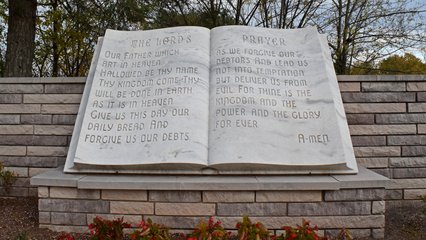 ---
Various graves in the Prayer Garden section of the cemetery.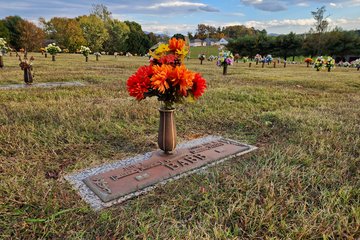 ---
Upon finding Rosa's grave, Elyse intended to place the diecast Cadillac sedan there that we had gotten in Wytheville the previous Wednesday, as Rosa was a Cadillac fan.
However, after searching the entire area, Elyse hit a snag: she couldn't find it!  We had found other graves nearby with the same last name, but no marker for Rosa.  Suddenly, I was vindicated for doing my research ahead of time, because when she called me in for assistance, I pulled it right up and verified the location using the diagram of the cemetery, finding the exact location where Rosa was buried.  And much to all of our disappointment, there was no marker to be found.  That's when we realized that Rosa's grave was unmarked.
I was disappointed that we went out there and found nothing to see, and quietly wished that the cemetery had let me know that the grave was not marked.  But at the same time, I had asked for the location of Rosa's grave, and the cemetery had answered the question that I had asked them exactly, so I couldn't be too mad about it.  I had just assumed that it was marked, so that was on me.  Elyse, meanwhile, took it really hard, and started crying right there in the cemetery.  As I understand it, Rosa never had a whole lot of money, and apparently, no one else had cared enough to place a memorial.  That realization hit Elyse like a ton of bricks, and she was crushed.  I did my best to comfort her.
With no marker, we never did place the diecast Cadillac, as we felt that it would be like a shot in the dark, even though we knew the location.  We both felt unsettled about the lack of a marker, and we determined that we would find a way to make this right when we got back home, especially since I had already made previous contact with the cemetery.  We made good on this, purchasing a marker through the cemetery and having it placed on her grave.  Better late than never, I suppose, but now her grave is properly marked, as it should have been all along.
Leaving the cemetery, we stopped in a nearby shopping center and visited an Ingles grocery store.  Elyse really needed some time to recenter after the disappointment at the cemetery, and exploring a new grocery store brand seemed to fit the bill.  For those not familiar, Ingles is a regional grocery store chain that operates stores in the southeastern United States, with locations in Alabama, Georgia, North Carolina, South Carolina, Tennessee, and Virginia.
---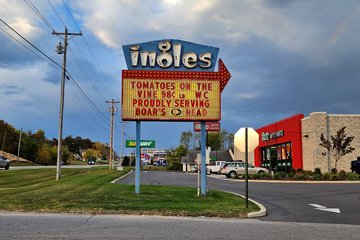 Neon sign in front of Ingles.
---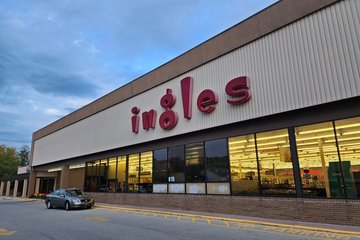 Exterior of Ingles.  I found this to be a remarkably similar design to Food Lion, and initially thought that this was a former Food Lion.  Inside, however, not enough details lined up with Food Lion, and I soon learned that this store was built as an Ingles, and that they just used a similar building style to Food Lion.
---
One thing that I found interesting was the restroom, with a vintage style and vintage fixtures.
---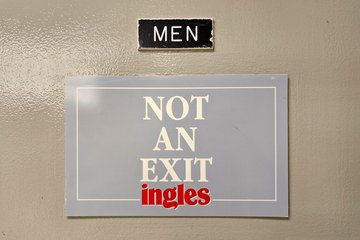 And in case anyone was wondering, the men's room is not an exit.  I imagine that there is probably a reason that this sign is here.
---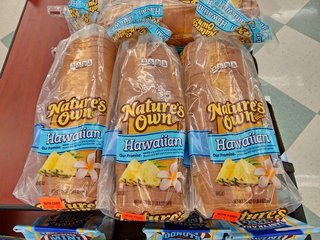 One thing that we both love about going to grocery stores on our travels is seeing the different regional variations on products.  This is one example, a Hawaiian sweetbread version of Nature's Own.  I have never seen this anywhere else before.
---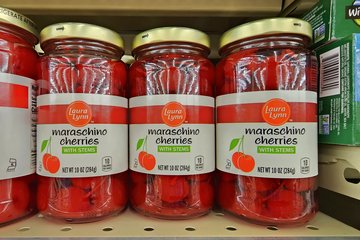 Laura Lynn brand maraschino cherries.  "Laura Lynn" is an Ingles store brand, named after the daughter of the company's founder.
---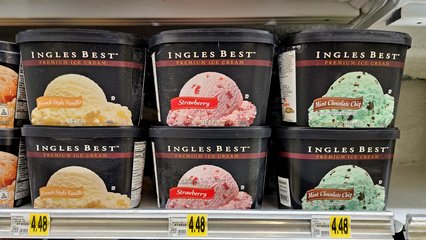 Ingles Best, the store brand for ice cream.
---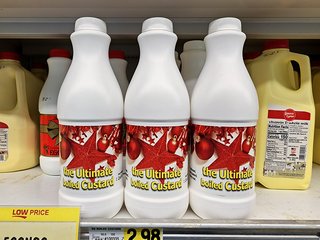 SD Boiled Custard, which is, from what I can tell, another Ingles store brand.
---
Speaking of store brands, we were very surprised to find this in a bargain bin.  This is ginger and blackberry seltzer water… from Giant Food.  Yes, the Giant food that exists around where we live, in the mid-Atlantic region.  Apparently, a shipment of those was sent to Ingles by mistake, and so Ingles put it out all the same.
---
Aisles 6 and 7 at Ingles.
---
Leaving Ingles, we headed to Kingsport.  We took what I considered to be a surprising route, mostly following US 11E and State Route 93.  If you look at a map, it makes perfect sense, but I was nonetheless not expecting to take local roads the entire way.  I had fully expected to get back on I-81 and go up that way, and then take I-26 (which was I-181 the last time I was through here) into Kingsport.  But when you look at a map, that routing goes well out of the way.  Shows how much I know.  This is why I let Google do the navigating in situations like this, because it clearly knew best in this case.
Arriving in Kingsport, we made a brief stop at Scooter's Coffee, where Elyse got a hot chocolate.  She was familiar with Scooter's from other travel, and wanted to visit again.  From there, we headed to our hotel and got checked in.
---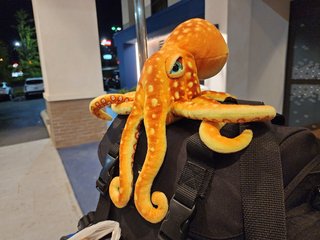 Woomy rides into the hotel on top of my camera bag.  Clearly, based on his expression, he did not enjoy the ride.
---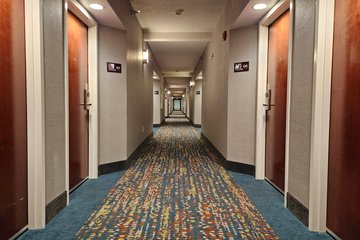 The corridor at the Hampton Inn in Kingsport.  I got the sense that this was an older property that had received many updates over the years.  It was still quite nice, so don't get me wrong, but it was clear that this was not a new building by any means.
---
Once we got settled in our hotel, I started to feel kind of bad.  I felt somewhat off, and then started feeling feverish. That's not something that you want to deal with when you're traveling.  Then I went to bed, and was shivering under the covers.  I hoped that I wasn't getting sick, since that was the last thing that I wanted to deal with while traveling.  Considering how quickly it came on, I suspected that it was probably a mild case of food poisoning, as I had similar symptoms as occasions when I had gotten food poisoning in the past.  When we considered that Elyse was fine and I wasn't, and the only thing that I had eaten that day that she hadn't also eaten was the hotel breakfast in Knoxville, we were willing to chalk it up to that.  Good thing that my body knows how to fend off these sorts of things, because we had no time for me to be out of commission on account of an illness.
Part 4