Adventures in Tennessee
Part 6
Monday was another early day, and it would be another travel day as well, as our plan was to end up in Roanoke by the end of the day.  Getting up, we got packed up, and checked out of the hotel at 9:30.  We met up with both Marc and Jackson in the hotel lobby.  We would be having breakfast with Marc downtown, and Jackson came by to say hello and see us off.
---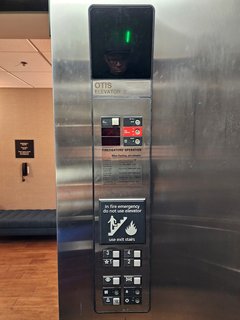 The elevator in the hotel was an Otis Series 1.  Meanwhile, my reflection on the indicator amuses me.  I look so serious.
---
On the way downtown, Elyse wanted a quick photo with the sign in front of the Eastman facility, which was near our hotel.  We had wanted to fly the drone around the facility, however, bad weather on our main Kingsport day, as well as time considerations and our inability to locate a suitable flying location on this day led to our passing it up.  But there will be other opportunities, as we intend on coming back to this area again in the future.
---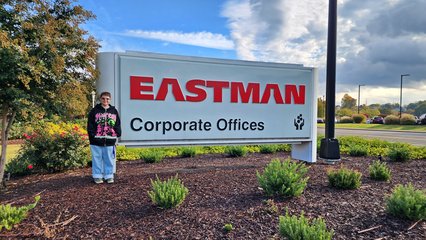 Elyse poses with the Eastman sign.
---
At the coffee shop, Hibbert-Davis Urban Brews, we all got breakfast, and also got to look through the 1990-1991 yearbook for Dobyns-Bennett High School, which is the local high school in Kingsport, which was sitting on a table.  Such a random thing to find in a coffee shop, but okay.  Marc went to this school, though he was not in this particular yearbook, but he did remember a number of the teachers shown there.  One thing that I noticed is that with this being a school district with only a single high school, they had a lot more than I was accustomed to as far as offerings.  Something that immediately came to mind was that they had many vocational programs within the school.  At my high school, which was one of five high schools in the district, vocational education was done at separate facility that served all of the high schools.  Some of the things in the yearbook amused us, and I got a few photos of various things in there.
---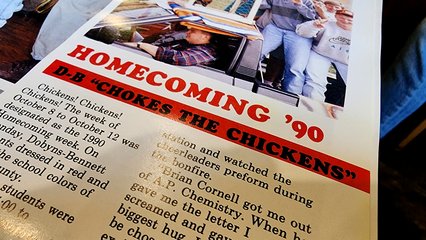 I don't know what surprised me more: that the homecoming theme was "Choke the Chickens" in the first place, or that the adults in charge let that make it past the idea stage.
---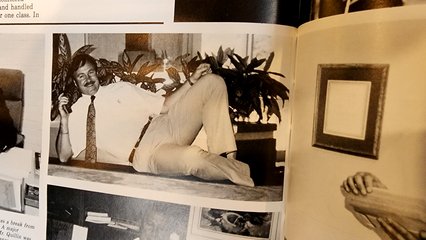 Um.  Yeah.  I could have gone my entire life without seeing that and been just fine.
---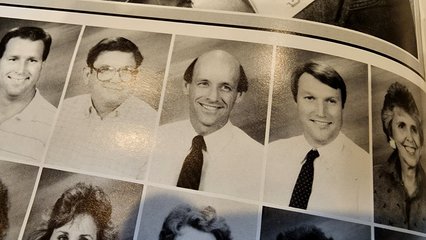 I thought that this guy looked like a bald version of Bronson Pinchot.
---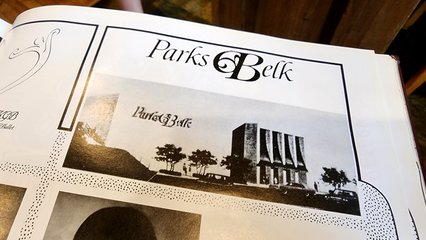 This was on the sponsor pages, and is an example of the way that Belk used to brand some of its stores with various other stakeholders' names.  As I understand it, the Belk family bought out all of these other stakeholders' interests in the nineties, which is why it's just "Belk" today.
---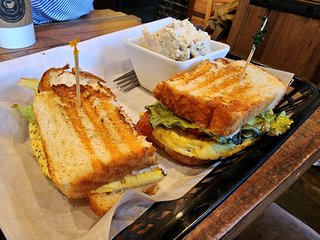 My breakfast sandwich.  It was really good.
---
This vending machine is owned by MPJ Vending.  We've known Matt Justis for a while through various social media, so it was neat to see one of his vending machines in person.
---
After we finished up at the coffee shop, we headed over to Marc's self-storage unit.  He had been storing some various items there and was looking to eventually clean the unit out, and wondered if we would be interested in some of them.  We ended up taking a few items, including a vintage film splicer, as well as a Polaroid camera unit that we thought would make a good donation to the camera museum in Staunton on a future visit.
---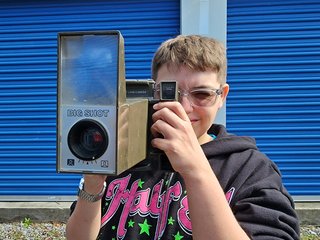 Elyse holds up the Polaroid "Big Shot" camera.
---
Leaving the storage unit, I enjoyed going up the gravel driveway, which went up a hill, in the Jeep Renegade.  The thought was, you know, I have this vehicle with 4×4 and all of that, so I might as well have some fun, and gun it up a hill and kick up some dirt.
We then followed Marc to the Marquee Cinemas at The Pinnacle in Bristol.  That's where Marc works, and he gave us a tour of the whole facility.  I was amazed to see all of the racks of equipment, as he explained to us how the movies come in, how they are processed ("ingested" as he called it), and how all of the equipment works, and what makes the theater run.  The thing that surprised me, but didn't at the same time, is that the projection side of things is more or less fully automated.  I guess I always expected there to be a guy that stays up there operating and monitoring the equipment, but no – it was all run by computer, and unmanned most of the time.  I also had to resist the urge to put my hand in front of one of the projectors just to see my shadow on the big screen.  It was really tempting, but I was an adult about it the whole time.
We also got to see the back end of a Coca-Cola Freestyle machine, and saw how much equipment is attached to it that feeds into it that is out of sight of the customers.  I always figured that there was a water feed into it, and that was it.  Turns out that there is stuff lurking in a back room that is two or three times the size of the machine that is in view of customers.  I was also surprised to learn that unlike most states, Tennessee has a law that prohibits minors from viewing an R-rated film in the theater without a parent or guardian's being present.  In other words, in Tennessee, it's not just industry practice.  It is actually the law there.  I guess the surprise comes two ways: that Tennessee has such a law, and that other states don't have similar laws.
---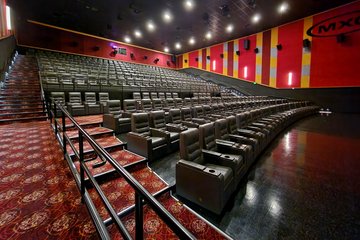 One of the theaters at the Marquee in Bristol.  Those seats look amazing, and definitely beat the pants off of the seats that they had at the theaters that I used to go to as a child.
---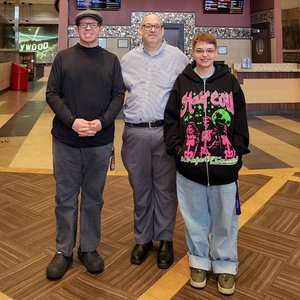 Marc, Elyse, and I pose for a photo in the lobby of Marquee Cinemas.
---
At this point, Marc had to start work for the day, and we took some photos of the outside of the theater.  It was a little cloudy, so patience was a virtue, as I had to wait for lots of clouds to pass by.  I also took the drone up for a flight around the area.
---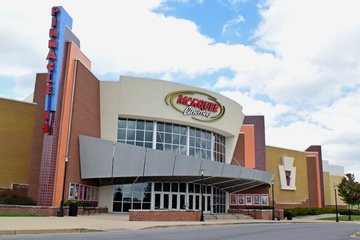 Marquee Cinemas in Bristol, photographed with my DSLR.
---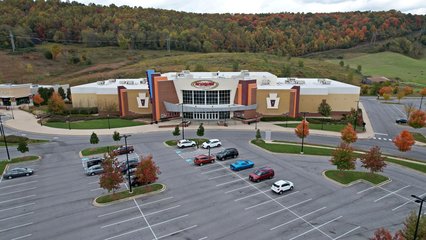 Drone shots of Marquee Cinemas and the rest of the development that it sits in.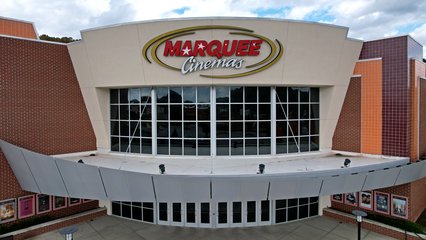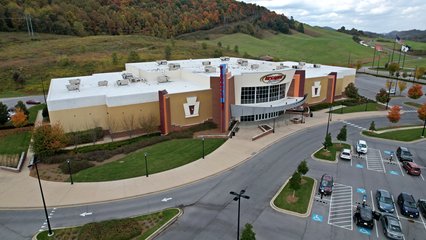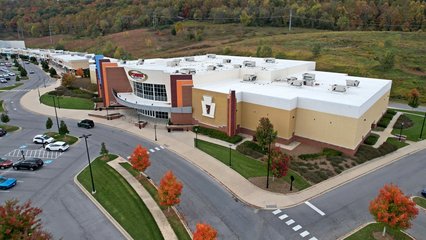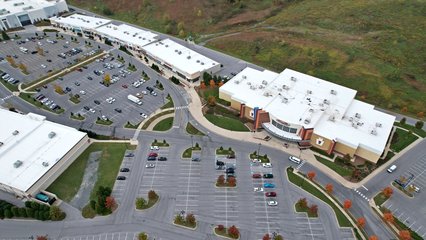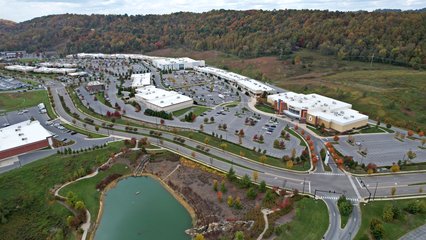 ---
Finishing up here, we headed into downtown Bristol.  There, my plan was to photograph the Bristol sign that straddles State Street, while Elyse wandered around the downtown area.
---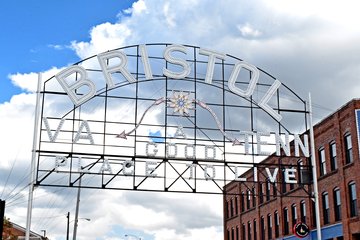 The Bristol sign, taken from the ground with my DSLR.
---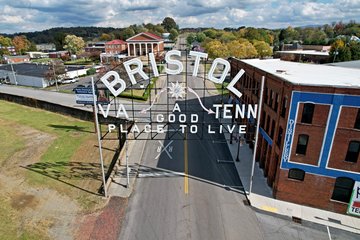 Aerial view of the Bristol sign.
---
I also took some time to discuss logistics about the car swap with my parents.  By this time, I was having second thoughts about my original plan.  Recall that the plan that I had originally come up with would be to have us return the rental car in Staunton while we were still on our trip, and therefore unload all of our stuff for the trip from the Renegade and load it all into Mom's Scion in the field, and then finish the trip in the Scion.  It was a little too complicated, with our needing to drop all of our stuff in Stuarts Draft and then caravan over to Staunton to drop off the Renegade.  I also felt that the timing of things was a little too close, because if I missed the 5:30 close time for Enterprise, I was screwed.  So I changed the plans a bit: we were going to run the visit like we had planned from the outset, before the whole car thing happened, and then we were going to make a special trip down the following week to deal with the cars.  That made a lot more sense, since it kept this trip as a fun adventure, and we would worry about business later.  I first explained it to Dad, who was fine with it, and then I called Mom to explain to her.  Then just as Mom answered, Elyse called in, so I conferenced them both in together and told them at the same time.  Elyse was pleased with that development, since we would have had to cut a significant amount of our time in Roanoke in order to pull it off.  This gave us more flexibility.  In the end, everyone was content to put it off by a week, so… good.
---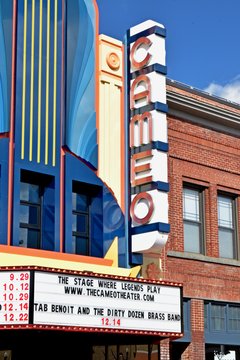 Cameo theater sign.
---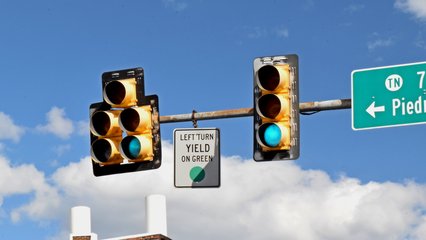 Traffic lights over State Street in Bristol.  From what I could tell, despite the boundary's running down the middle of the street, Tennessee maintains the entire road, judging by the use of Tennessee-style traffic lights rather than Virginia-style lights across the entire road.  For those curious, the difference is that the traffic lights on the Tennessee side have vents on the backplates, and the backplate around the "doghouse" signal is shaped around the top light rather than continuing straight up and squaring off.  Compare to this intersection on the Virginia side.
---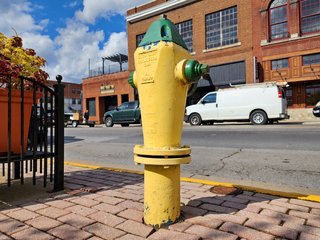 This was a unique shape for a fire hydrant.
---
I then headed over to Elyse, who was at L.C. King, which is a local manufacturer of jeans.  There, Elyse was getting a pair of duck-colored jean shorts.  They were a good company, and from what I could tell, their product was very high quality.  Their front entrance, however, left a bit to be desired, as there was a small step up from the sidewalk to their front stoop, and it was not obvious that it was there.  That led me to trip on it, though I did catch myself.  That's when I saw the small "Watch your Step" notices painted on the ground.  Big help.
---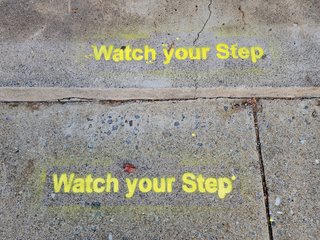 "Watch your step", spotted a tad too late.  A sign higher up, on the door or the window, would be far more helpful.  Even more helpful would be to eliminate that step altogether and make it slope up to the entrance instead of that tiny step.
---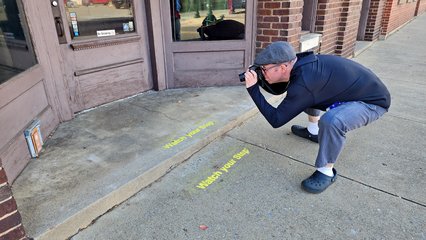 Meanwhile, Elyse took my phone for a moment and got a photo of me photographing this little mouse-sized door.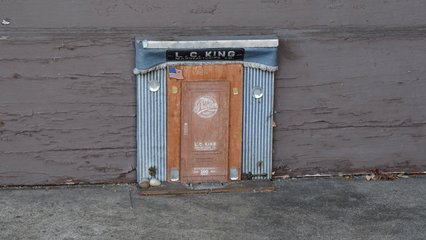 ---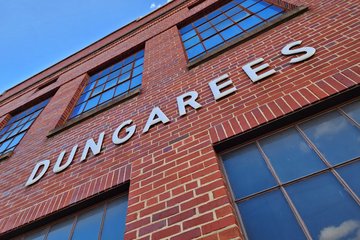 I also loved this sign on the building that read "DUNGAREES".  It's so rare that you see this term anymore instead of "jeans".
---
After Elyse got her jeans, we stopped in at Boyd's Bicycle Shop, after we were drawn in by a very unusual sign on their front door.
---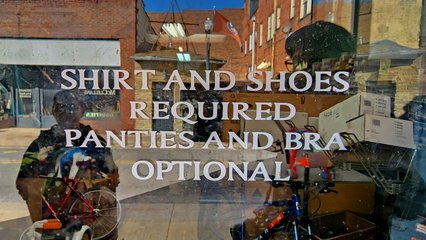 "Shirt and shoes required.  Panties and bra optional."
---
They were a fun bunch.  Turns out that someone added the sign on their door as a joke, and they just sort of ran with it.  And it worked, because I admitted that we probably wouldn't have stopped in at all if we hadn't noticed that humorous sign.  And Elyse ended up buying a set of old Dodge key blanks with the Pentastar logo on them, so that sign ended up earning them a sale, albeit a small one.
From there, we made one more stop in Bristol for what looked like a former Kroger cube sign, at 1913 West State Street.
---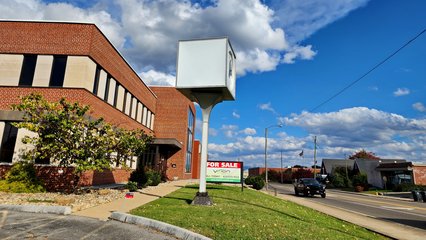 What looked like a former Kroger cube sign, now containing a clock.  Turns out that this probably was never a Kroger sign, though it was more recently used to advertise Coca-Cola brands, as this building previously housed a Coca-Cola bottling facility until around 2019.  The sign was converted to its current form as a clock during a renovation of the building in 2019.
---
We then continued on up the road to Abingdon.  This was our last opportunity to visit Food City and Pal's, as Abingdon was the northernmost location for both companies.  I took the opportunity to photograph Pal's in the daytime, while Elyse visited Food City.  I first went around with my real camera, and then took the drone out.
---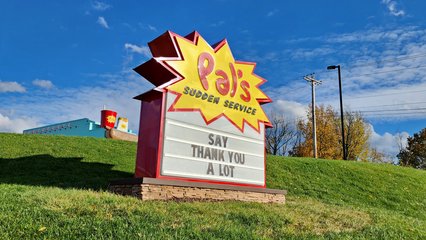 Pal's Sudden Service in Abingdon, Virginia.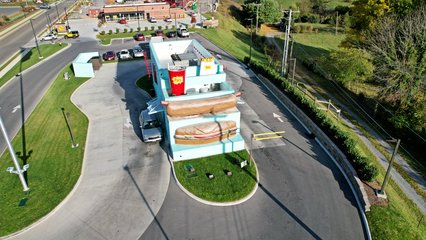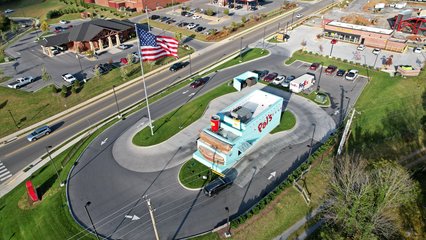 ---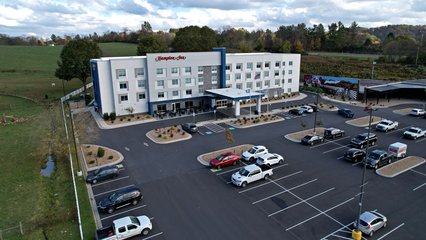 A relatively new Hampton Inn on an adjacent property.  I found it curious that it anchored a shopping center.  Apparently, it replaced a Magic Mart on the same site (Magic Mart went out of business as a company in 2018).
---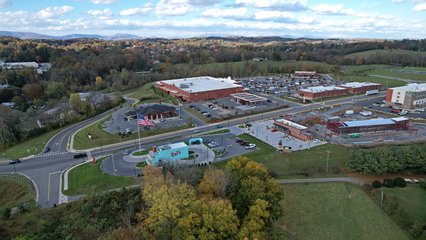 Flying back from the Hampton Inn, with Pal's, Food City, and some other businesses around.
---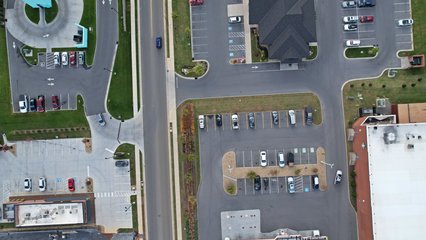 Coming in for a landing, centered over the Renegade.  When I'm flying from the car, I will typically launch from the roof of the car, but I will land on the ground.  Roof landings are too easy to mess up, and I stopped doing it after I landed on the roof of the HR-V one time, and the drone slid down the windshield as soon as the motors turned off, coming to rest in the windshield wipers.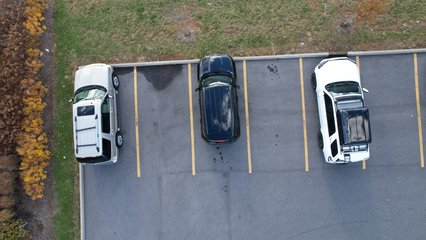 ---
I then joined Elyse at Food City, where we saw this display of skeletons.
---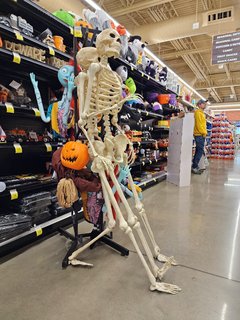 They certainly were a bit buddy-buddy, weren't they?
---
We then continued on up the road to Marion.  We were stopping in Marion for a relatively quick thing: the Walmart.  As far as I know, Marion is the most vintage Walmart store in Virginia as of this writing, as it is a small non-Supercenter store that contains a number of older elements.  Apparently, the company has no plans to replace it, as it had the still-common Project Impact store design when we visited.  I photographed it with my phone and with the drone, while Elyse visited the Ingles store in the same shopping center.
---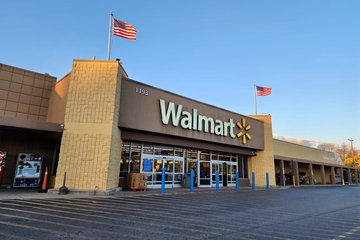 The Walmart in Marion, Virginia – definitely a vintage store.  Notice the pylon entrance, and the canopies extending from either side.  The pylon entrance is likely from the nineties, but the canopies are from a much older building design.  Also note the labelscar of the older logo visible behind the more modern logo.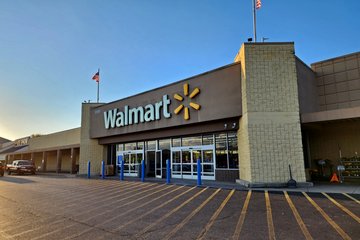 ---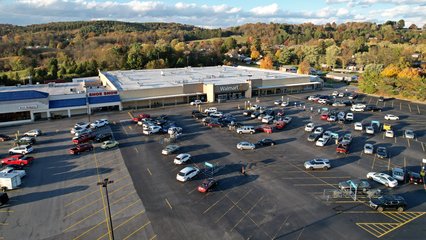 Then I put the drone up in the air and got some aerial shots of the store.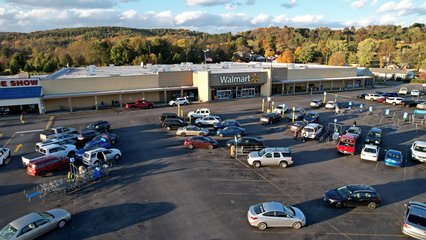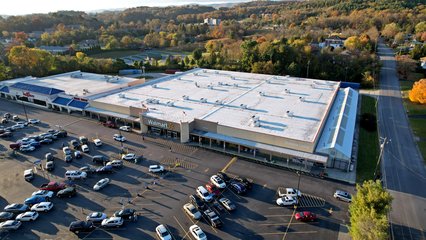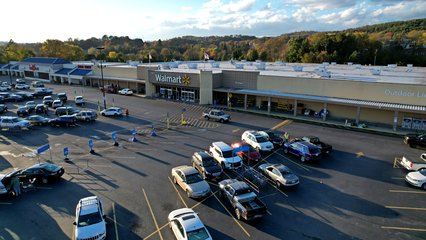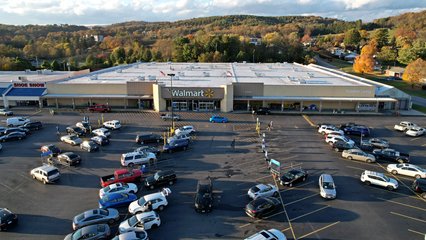 ---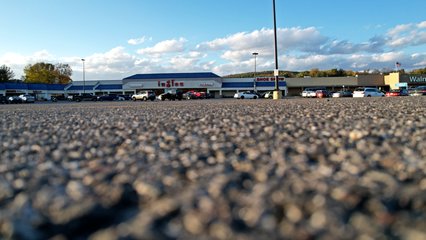 The rest of the shopping center, after landing.  I suspect that this Ingles is the reason why the Walmart here is not a Supercenter.  That Ingles store building gave me former-Kroger vibes, but after doing some research, I discovered that it was always an Ingles, much like how I thought that the Ingles in Greeneville was a former Food Lion, but it turned out to have been a purpose-built Ingles as well.
---
After I finished photographing, I went in, and Elyse joined me.  Our mission here was to buy some lightbulbs for my parents.  When we visited my parents in September, we noticed that while their house is primarily lighted with 2700K color temperature bulbs, they installed some 3000K color temperature bulbs in the laundry room and the vestibule off of the garage.  That bothered both Elyse and me, so we told them that we were going to fix it the next time we were there.  We've done this before with them, fixing bulbs that don't match the rest of the house, because when they buy light bulbs, they don't pay attention to such things.  I remember one time, we replaced a bulb in the bathroom without saying anything to them, and then I let them know afterward, saying, "We replaced the bulb in the bathroom with one that matches.  You're welcome."  In this instance, I remember that Dad said that they got them because they were really bright.  So we got bulbs of the same lumen output (100W equivalent), but with a color temperature of 2700K rather than 3000K.
Completing our purchase, we then continued on, driving the roughly 100 miles to Roanoke.  Elyse wanted to ride some buses, while I needed to get something to eat.  Marc had recommended a chicken salad place called Chicken Salad Chick earlier, and as it turned out, they had a Roanoke location at Tanglewood Mall, so I was going to check them out.  Elyse would then meet me down there later on, and that would guide her bus riding.
---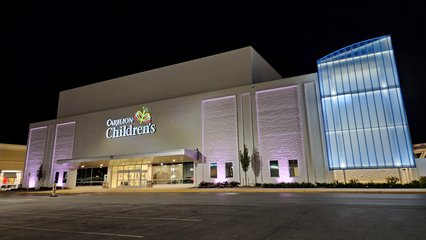 When I got to Tanglewood, I did notice that the former JCPenney, which had closed in 2017, had now been leased, albeit by a nontraditional tenant.  Now, it had been fully renovated inside and was a children's center for Carilion Health.
---
Meanwhile, I also discovered when I got to Tanglewood that Chicken Salad Chick had already closed for the night, which was disappointing.  So that became something for tomorrow, and I had dinner at Panda Express, which worked out well.
---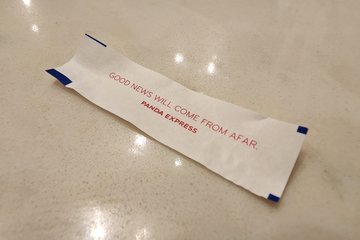 My fortune was, "Good news will come from afar."
---
Elyse eventually showed up with Fred, and we headed out, with Elyse and Fred's once again sitting on each other's laps.  We ran a few quick errands with Fred, and eventually ended up at our friend Andrew's house, where we were staying the night.
After getting settled in at Andrew's house and downloading the photos from the day, we took Fred home, and then we went to bed, to get ready for our last day of vacation.  I also discovered and fixed a setting for the sensor sensitivity on my DSLR that had been set for a specific purpose on our last night in Knoxville, but that I had forgotten to set back when I was done.  That explained why so many of my photos had looked a bit blown out.  I was glad that it was fixed, but I was also mad at myself for not setting it back immediately, but what was done was done.  But at least the rest of the photos that I would take would be okay, and it's not like we would never go back to any of the areas where I shot photos with the wrong settings.
Part 6