BrickFair
On August 5, 2018, Elyse and I went to BrickFair, which was a Lego expo held at the Dulles Expo Center in Chantilly, Virginia.  There, we found all sorts of Lego enthusiasts, both selling custom Lego-compatible products, and also displaying their own Lego creations.  As soon as I saw these people's Lego creations, I instantly knew that all of my various childhood Lego creations would be put to shame.  Elyse and I followed different paths going through BrickFair.  She tended to focus on the vendors, while I focused more on the displays.  It was sort of like an art show made entirely out of Lego.  I really admired the creativity that I saw.
---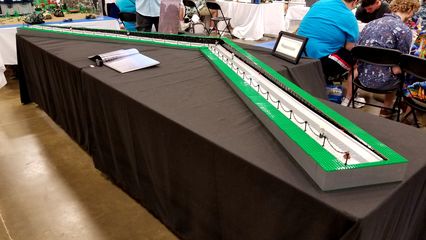 The first thing that I saw was the Vietnam Memorial in Lego form.
---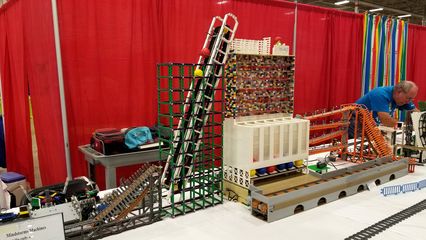 I saw a lot of animated displays at BrickFair.  This one, called Mindstorms Machines, took a ball through a course and then eventually loaded it onto a train, which brought it back to the start.  It reminded me of the Swiss Jolly Ball at the Museum of Science and Industry in Chicago.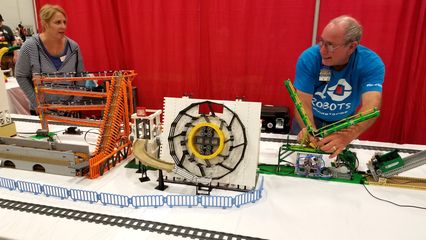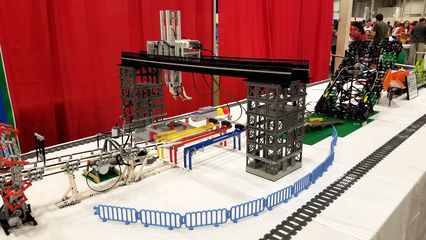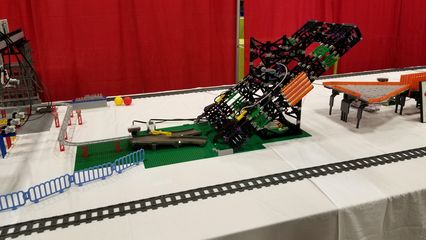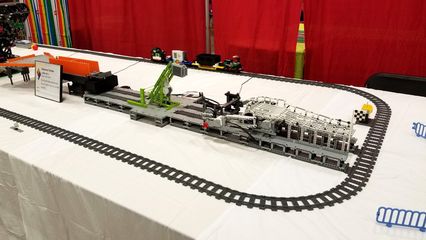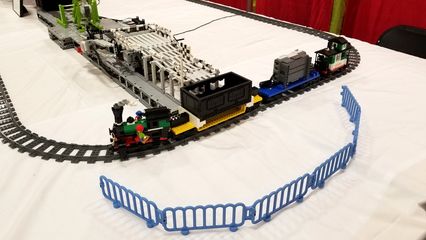 ---
Mindstorms Machines in action.
---
A Lego amusement park and city.  The rollercoaster is based on the Futuron Monorail set, which I used to own as a child.
---
Large Lego sculptures near the entrance.
---
Lego C-130, with working propellers.
---
"A Night to Remember" by Tyler Haney of Allentown, Pennsylvania.  Recreation of a photo in Lego.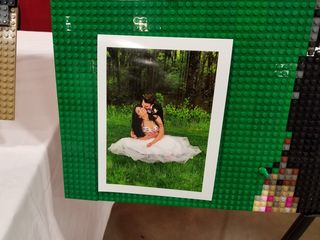 ---
Lego city with trains running through it.
---
Toys "R" Us by Jackson McCoy, showing Geoffrey the Giraffe leaving the store for the last time, with a sign reading "No more toys" on the door.
---
New Fairhaven City by Stefan O'Dell of Annandale, Virginia.
---
Custom Lego shunter, running on a short loop track.
---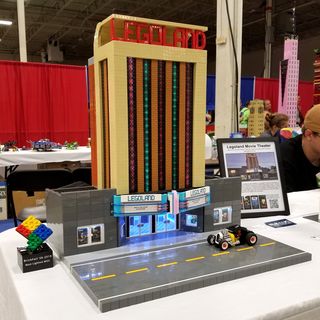 Legoland Movie Theater, based on the Ashland Theatre in Ashland, Virginia (near Richmond).
---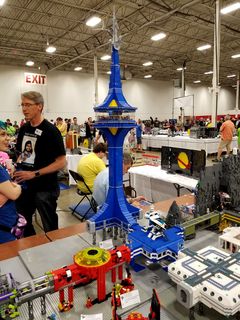 A rotating restaurant and crystal hotel by Mike Ripley of Marlborough, Massachusetts.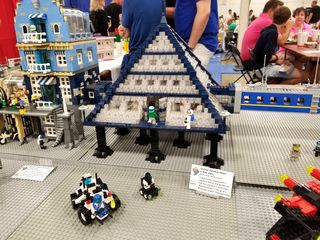 ---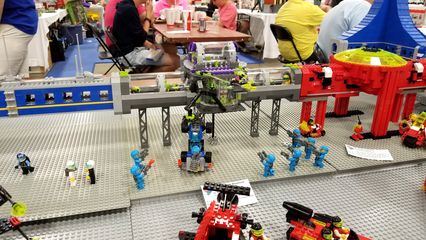 Moon base.
---
Various high-rise buildings constructed from Legos.
---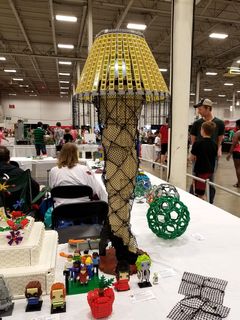 This was titled "A Major Award", built by Alfred Speredelozzi of Kingston, Rhode Island, described as "The X-rated prize from our favorite X-mas story."
---
A lighted Lego ferris wheel.
---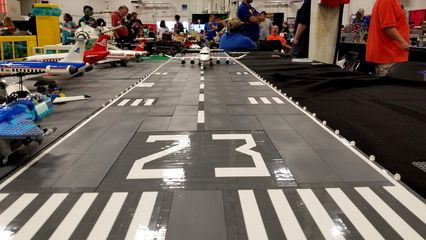 Lego airport.  I built an airport out of Legos once, but it was never this detailed!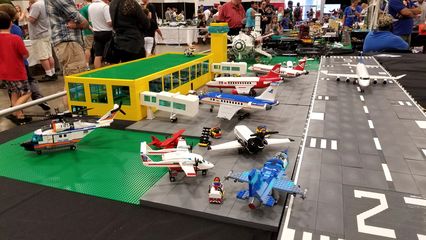 ---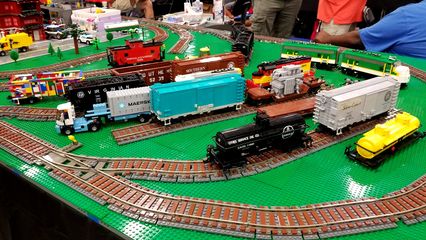 Railroad freight yard and locomotive.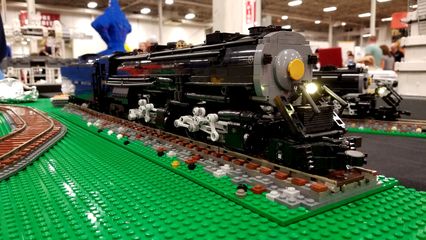 ---
Trains in motion around the freight yard and city.
---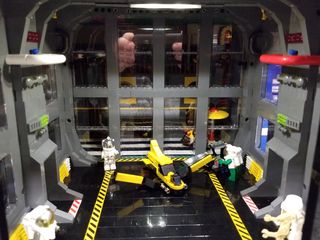 Interior of a space base.  I was amazed about how much detail goes into the insides of these things.
---
Another Lego monorail, though not built on the Futuron system.  This was part of a much larger space base, called "Lunar Arboretum and Solar" by Mark Anderson of Chesapeake, Virginia.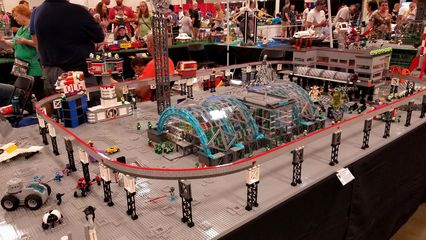 ---
The monorail in action.
---
Lego dragon, called "Rubik's Guardian", by Tristan Cain of Southwick, Massachusetts.
---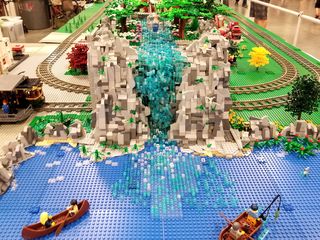 Waterfall.
---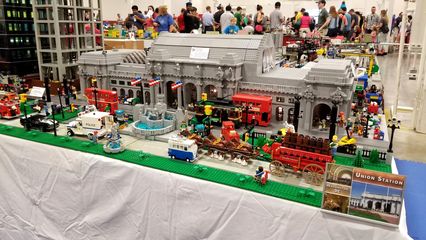 Washington Union Station, built out of Legos.
---
A freight train moves around a city, and then a trolley travels to Union Station.
---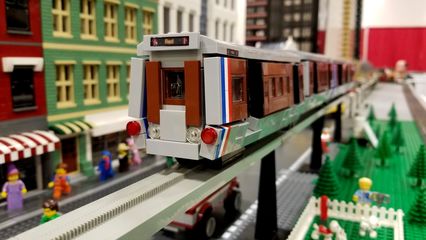 And around the corner from Union Station was the Metro, built on the Futuron monorail system.  It was titled "WMATA Metro Train 6000", and built by Chuck Viggiani of Woodbridge, Virginia.  It's not quite a 6000-Series (that is a 7000-Series headsign), but it definitely looks like the Metro.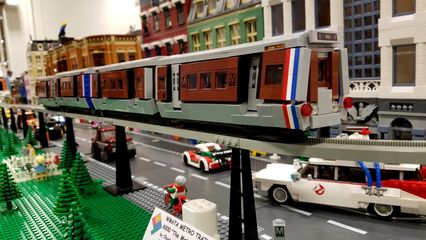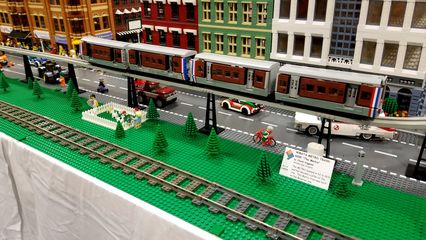 ---
A light rail vehicle and a passenger train travel around a city.
---
Lego amusement park.
---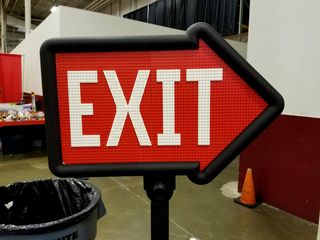 It's always the little things.  This exit sign is made out of Legos.
---
This Capitals sign is actually a sliding puzzle.
---
The Lego equivalent of the Mad Tea Party ride from Disneyland, as well as a carousel.
---
Freight trains moving around a city.
---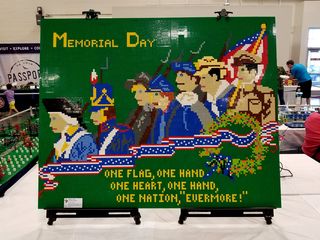 Memorial Day illustration, based on a World War I-era postcard.
---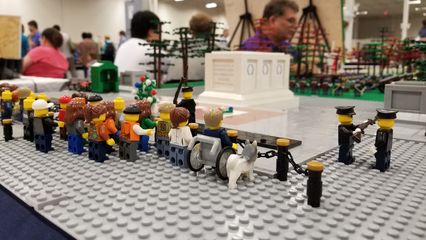 The Tomb of the Unknowns from Arlington National Cemetery, reproduced in Lego form.
---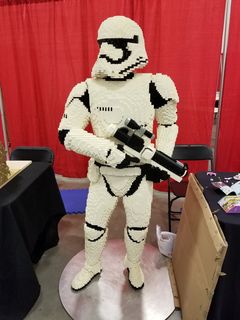 Star Wars stormtrooper.
---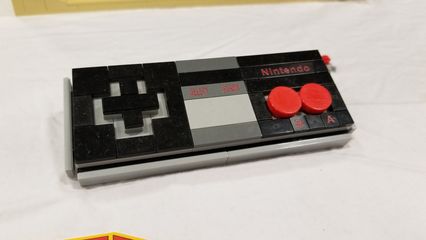 One booth was all video game displays.  I was just tickled to see various classic video games immortalized in Lego.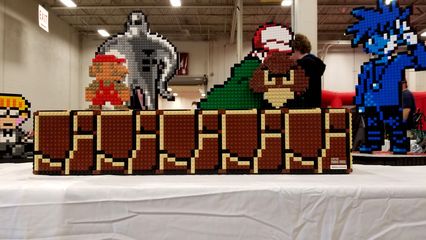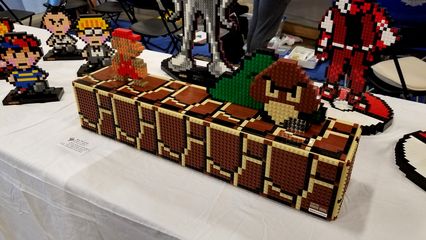 ---
And finally, Quidditch Stadium from Harry Potter.
---
All in all, thoroughly enjoyed BrickFair.  Hopefully my work schedule lines up properly in order to allow me to attend another event, because I had a whole lot of fun.