Virginia Beach 2005
Part 1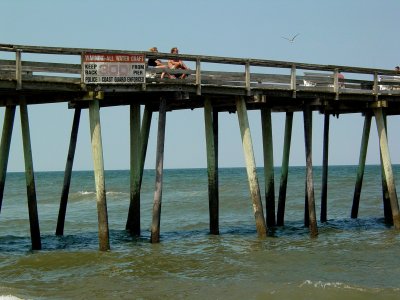 As happened in 2004, I took some time off of work and spent it in Virginia Beach.  This year, I spent August 22-25 there, and what a time it was!  Four days in Virginia Beach to enjoy the surf, peruse the strip, and photograph to my heart's content.  All in all, it was fun.
When I take a trip, it will take one of a few different formats.  There's the get-there-and-get-back format, where I try to make as good of time on the driving as I possibly can.  There, all my stops are usually predetermined, and I concentrate all my energy on the destination.  My bi-weekly trips to Washington DC are usually like that.  I get up there, make as much out of the day as I possibly can, and then get back.  My stops are completely predetermined, and I avoid making any stops on the way up or back outside of those designated locations.  Then there's the road-trip format, where I kind of have a destination in mind, but this destination is by no means etched in stone.  In fact, it's quite negotiable, as I have done in the past, like a recent trip where the intended destination was Fredericksburg, but I ended up going in a big loop around the state, spending time in Charlottesville, Richmond, Massaponax, Stafford, Woodbridge, Arlington, Washington DC, and Woodstock.  I think you'll agree it was quite a road trip.  And then there's what I call the "hybrid" format.  That's what I did this time.  I have a specific destination, and a goal time to get there, but I have a lot of time built in for unplanned stops, and will get off the highway if I find something interesting.  I'll also take local roads as I see fit if I find something that amuses me.
So with that in mind, the first thing I did after getting out of the neighborhood was to take the scenic route to the Interstate.  Now to get to Virginia Beach from Stuarts Draft, you take Interstate 64 eastbound until you reach I-264 in Norfolk (your choice on whether to take I-295 around Richmond or going straight through it on I-64 with a short multiplex with I-95).  Then you take I-264 eastbound until you hit Parks Avenue, which is the formal end of I-264.  The road, however, continues as 21st Street for another six blocks to Atlantic Avenue.  Reaching Atlantic Avenue, you are "there", and for any more eastbound progress, you'd better know how to swim.  Now normally, to get to eastbound I-64 from my house, I would take US 340 straight into Waynesboro, and join up with I-64 at Exit 94.  Instead, I took Route 610 (Howardsville Turnpike), which is a windy, hilly road through some really rural country.  That links up with Rt. 664 (Mount Torrey Road) which turns into Delphine Avenue, which connects up with I-64 at Exit 96.  Then from there, I high-tailed it out of the area via eastbound I-64.
The first stop was a planned one: Zion Crossroads.  There, I grabbed a copy of the McPaper and had some breakfast at McDonald's.  Zion Crossroads is, as I once described in the Journal:
Zion Crossroads, for most people, is a small cluster of roadside businesses in the middle of nowhere designed to capture business from people getting off of I-64 for a food and gas break. There is a Citgo station (which is also a truck stop), a combination Burger King/Exxon station, a combination McDonald's/BP station, and (get this) a University of Virginia Health System Dialysis Center.
The grub was good.  I not only devoured the meal, but also the newspaper's front section, reading about a strike by unionized mechanics for Northwest Airlines.
Then it was back on the road, and I was off!  I followed I-64 straight into Richmond, and stayed on I-64 through the multiplex with I-95.  I wonder, though: can you consider the I-64/I-95 multiplex to be a "wrong-way multiplex", even though one road is signed east/west and the other north/south?  Northbound 95 shares with westbound 64, and southbound 95 shares with eastbound 64.  If you consider a wrong-way multiplex one where the mileage counts in opposite directions (in the multiplexed section, eastbound I-64 counts up in mileage while southbound I-95 counts down), then this qualifies.  If you consider it strictly where one number is northbound and the other is southbound and they share the same direction, then this doesn't quite count.
Following Richmond, I stopped at the New Kent rest area, which I visited last year.  It's still a nice rest area, but it's starting to show some signs of wear a year after my first visit.  The paint on the doors was practically gone in places.  Additionally, there was a fly problem, as the building had more flies buzzing about than I would have liked.  Of course, it's likely the nature of the beast for a lot of it.  You have a high-traffic building with lots of people coming in and out from outside, and you're bound to let some flies in, and then they'll be trapped inside when the door closes.  Plus don't forget that it's nice and cool inside.  Still, it looks like they need to fit some blowers over the doors into the building to keep the flies away.  Perhaps they should also place some fly paper in strategic locations to take care of those flies already in the building.
After the rest area, it wasn't far from there to Williamsburg and then Newport News.  I consider Newport News to be the boundary for the Hampton Roads metropolitan area.  Thus crossing into Newport News is an important step.  I also had some goals for Newport News.
First, though, some backstory.  Back in 2003, when I visited Norfolk to shoot what ultimately became part of An Urban Comparison and Norfolk Waterside, on the way back, I stopped at a mall for a restroom break.  It had a Barnes and Noble as an anchor store, and had Edwards horn/strobes in the fire alarm system.  It was enough to make a positive ID on it if I found it again.  Doing research online at home beforehand, I thought it was the Patrick Henry Mall in Newport News.  There was a Barnes and Noble there, though it was on an outparcel rather than part of the mall itself.  Inside, the mall was undergoing a renovation, which further clouded things up.  After all, the Barnes and Noble store could have moved, and the mall was well into a renovation.  However, I was getting the feeling that the Patrick Henry Mall wasn't the right one going in, since even the approach to the facility didn't look familiar.  Exploring around the Patrick Henry Mall, though, I found that it was a nice mall on its own merits, and certainly will be even nicer when the renovation is complete.  I also spoke with the employees at a jewelry store there, and found out about the Coliseum Mall in Hampton.  I got directions on how to get there, and made notes in my cell phone.
But first, I made a stop at the nearby Newport News Wal-Mart.  Why?  My understanding was that one of our former Waynesboro associates transferred there.  So I swung by to see if I would see them.  I did!  I ran into Carliqua, formerly one of our cashiers in Waynesboro, running Register 33 in Newport News.
---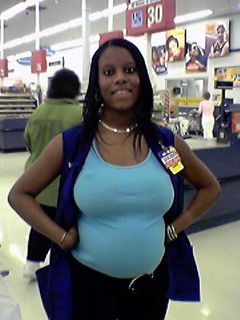 This is Carliqua, formerly of the Waynesboro Wal-Mart.  At the time, she was expecting a little baby girl.
---
Before running into Carliqua, however, coming in, two things happened.  One is seeing a plane coming in for an approach to the Newport News/Williamsburg International Airport.  The airport must be literally right across the street, because this plane was flying LOW over Wal-Mart's parking lot!  So low you could almost make out faces in the windows.  Then the second thing was this lady who got out of a car at the grocery door as I was coming in.  She appeared to not be walking very well.  She kindly asked me if I could get her a cart.  I figure, I'm a nice guy, so sure.  I asked if she wanted an electric cart, and she said she did.  So I went in, got the electric cart from the greeter, and took it out to her.  I didn't even get out the door, when the woman yells to me that she didn't want one of those!  She wanted a regular shopping cart.  Needless to say, I was starting to get aggravated.  So I brought the electric back into the store and brought out a regular cart.  While I did that, she got some other guy outside to get her a cart, and as I came out, she told me that she did.  Now, I was really irritated.  Before taking any frustrations out on the lady (who would have deserved it, mind you), I just turned and walked back into the store, noticeably perturbed.  I vented about it to the greeter, who witnessed the whole thing, and who understood.  Kind of a bond between Wal-Mart people there, I guess.
The thing that gets me about these situations is that I always come up with the good comeback after the fact.  After she yelled at me for the electric cart, I should have simply said, "You can get your own damn cart then!" and taken the cart back in and been done with it.  I thought of quite a few other comebacks, too, but they were mostly unprintable, with a nice sprinkling of four-letter words, and a five-letter word or two, too.
---
After visiting Wal-Mart in Newport News, I found the Coliseum Mall.  All I have to say is, JACKPOT!  This was the one.  I remember taking all the approaches before, most notably a long flyover bridge to a side street, and this was most definitely the place.  I located the Barnes and Noble (and the nearby Hooters restaurant on an outparcel, which was another landmark), and headed on in.  The entrance didn't really look familiar, though, as it was nighttime when I visited previously.  But once inside, there was Edwards on the wall.  This was it!  So I explored around the mall some.  It's not as nice as Patrick Henry Mall, but it felt really good to get it right, and having finally put a name on the mystery mall that I visited in 2003.  And that whole name thing had been bothering me for some time, too, so a resolution on that was a good thing.
---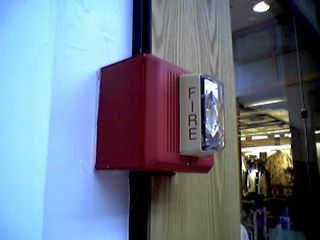 And there you are – Edwards fire alarm horn/strobes.  This was the way I knew I was spot on this time.
---
Then from there, it was non-stop to Virginia Beach.  I took the Hampton Roads Bridge-Tunnel to Norfolk, and missed my exit to I-264.  Why did I miss?  I was not properly positioned to take the exit due to not seeing it in time, and with traffic's being too heavy to comfortably bust a move across.  No problem, though.  I just looped around like I accidentally did in 2000.  This took me to I-64's eastern terminus, and onto I-264 at its western terminus.  That took me through Norfolk and through the Downtown Tunnel.  Then I crossed I-64 where I was supposed to have taken the exit, and it was all clear from there.  I-264 eastbound then turned into 21st Street, which finally ended at Atlantic Avenue.  Made it!
From there, I quickly found the Travelodge at 19th and Atlantic.  But I didn't stop yet.  I had to get some supplies first.  So I passed it, and continued.  I switched to Pacific Avenue, which then turned into General Booth Blvd.  After a drive in heavy traffic, I made it to Nimmo Parkway, and found the same Wal-Mart that I visited last year at the beach.  This time around, that store seemed a little less impressive as it was last year.  There were no carts waiting inside the store – they were all out in the lot.  And no cart pushers in sight to clear it.  I also experienced the difference between doing this at midday like I did in 2004, and later in the afternoon like I did this time.  The difference?  Lots of other thirsty people had already gotten their hands on all the 24-ounce six-packs of Pepsi.  So I had to figure out something else, which ended up being a 24-pack of Pepsi in cans.  I did get the six-pack of 24-ounce bottles of Coca-Cola that I had intended to get.  I mixed it up this year a bit.  After I got so completely tired of Pepsi on 2004's vacation, since that's all I got to drink, I got Coke as well.  Then I also bought a couple of adult beverages, consisting of some Arbor Mist wine, plus a box of Pop Tarts, since I wasn't going to eat out for both breakfast and dinner.
From there, I headed over to the self-checkouts and found the shortest line.  This lady got in line behind me and complained how people were so slow on the self-checkouts.  I even told the lady that if she wants speedy, watch me.  My turn comes up, and I'm scanning, bagging, and putting my items back in the cart like I work there, even if this is the IBM version of the self-checkout, and not NCR's Fastlane system like I'm most accustomed to.  Zap, Arbor Mist.  Zap, Coke.  Zap, Pop Tarts.  And key in that Pepsi, which I'm not picking up any more than I have to.  And then with it all done, the attendant came over and approved my adult beverages.
Now for that, I'm surprised she gets away with the way she approved that.  She came up to me, and asked me, "What's your birthday?"  Not, "May I please see your ID?" or just keying past it.  I didn't exactly feel comfortable letting her go on my word alone (after all, I could be 20 years old with four years' experience), so I showed her my ID and let her key it in off of that.  And then I got to see what would happen if the name of the store manager changed at this store, since this was the store with two lines for the manager.
---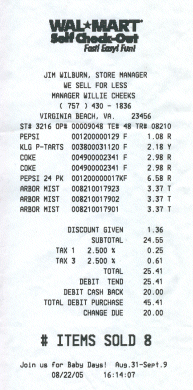 And there you have it.  The "Jim Wilburn, Store Manager" line is still there.  My guess is that it will stay that way for a long time.  The other manager line now reads "Willie Cheeks", which I presume is correct.
---
Then it was back to the hotel.  I checked in, got a luggage cart, and I was off – off to get all my junk and bring it up to room 711.  Going up, though, I was wondering if I'd made the right decision about my choice of accommodations.  The building was kind of old looking, and was mostly painted cinderblocks on the outside, with a little stucco on the parts housing the stairwells and the elevator.  The small corridors to the rooms looked kind of dumpy as well, and you could see that the air conditioners were retrofitted in the walls at a later date.  And the elevator was very old looking.  However, it turns out that despite the exterior's appearance, the accommodations were good.  It's a suite configuration, with a living room, kitchenette, and bedroom.  And all of recent mint, too, as the rooms were all refurbished in 2004.  And the balcony was private, too, with solid partitions in between the different rooms' balconies, even if they were obviously retrofitted.
---
The living room was nice.  It had a little dresser, a mirror, a TV, a table, and a couch.
---
The bedroom was fitted with a king size bed… all for me.  The bathroom had a strange configuration, however, with the sink in the small corridor in the living room, while the toilet and shower were off the bedroom.
---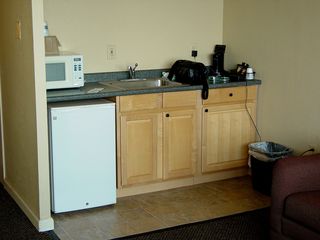 The kitchenette had a coffee maker, a refrigerator, some cabinets, and a microwave.  The kitchenette also became the home of Big Mavica, as I kept the camera bag and charger plugged in here.  I also kept my cell phone on the charger here, too.
---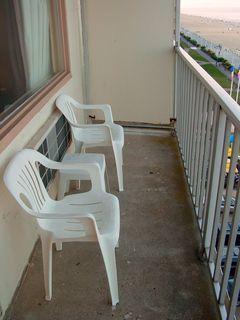 The balcony was a simple affair, with a concrete floor, a railing, and the retrofitted-in sides.  The furniture was basically the same as at the Ocean Holiday.  Two chairs, and a little table.
---
And after I fully checked out the hotel room, I took a moment to relax.  Ahhhh.  Turned on the TV, and checked out what that was like.  Strange was that the picture was somewhat poor (with the exact quality of the picture depending on the channel) on the living room TV, but the bedroom TV was crystal clear.  Guess it was a problem with the cable connection to the living room.  No problem, though.  I also spent some time out on the balcony, watching the surf, hearing the sounds, and smelling the sea air.
---
I also had some fun with Big Mavica and the tripod from my balcony…
---
As it started to get dark, I started to think about feeding my tummy.  It wanted dinner!  So I grabbed my wallet and room key, and it was off to the strip to see what looked interesting.  I ended up getting dinner at the same place I went to in 2004 – the Guadalajara Mexican Restaurant on 21st Street.  Nice place, and I had a margarita again.  However, this time I got it frozen.  And it didn't get me totally tipsy like before.  So that was a good thing.  And from there, back to the hotel again, and then out again, this time with Big Mavica, my camera bag, and my tripod.  I was going out to the boardwalk for some night photography.  Last year, I basically stayed within sight of the Ocean Holiday while I did this, and didn't stray very far.  This year, I was on the boardwalk, and went about two blocks south, to 17th and Atlantic – just beyond the Boardwalk Hotel.  I took all sorts of night photos, too.  Some photos were of the hotels.  Some were of the boardwalk itself (which is a bit of a misnomer, as the "boardwalk" is concrete).  Some were of the ocean.  And some were of the beach.  All in all, I got a nice look at things.
---
First, however, I warmed up with a little aerial photography of the strip from the street side of the hotel…
---
By the way, for reasons like this, I ended up being very appreciative that the hotel corridors were open-air, since it allowed me clear photos all the way around the hotel, which turned out fairly well.  I was originally a little concerned about the open-airness of it (I normally prefer an enclosed corridor), but it ended up working out.
---
And then from there, off to the boardwalk!
---
The Boardwalk Hotel had bright lights mounted to its roof that shone onto the beach.  It really had an interesting effect on the photography in front of the hotel…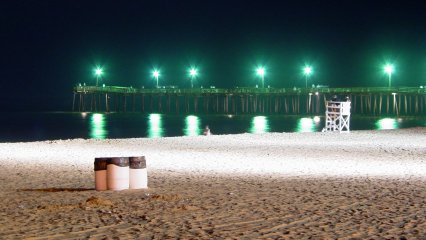 ---
In front of the Boardwalk Hotel, a woman approached me, curious as to what I was photographing, having noticed my walking back and forth along the boardwalk, stopping to take photos and such.  That ended up blossoming into a full conversation about all kinds of stuff.  I showed her my photos on the camera, and we shared our respective experiences.  She also called her boyfriend over, to show him the photos I did as well.  Turns out that they were from Pennsylvania, and were staying at the Rodeway Inn on Pacific Avenue, which they described as being downright awful.  Looking online at reviews of the hotel, they're not the only ones who thought poorly of the place.
---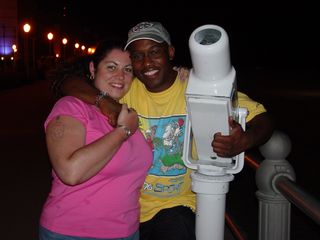 And right before we all parted company, I got their photo to remember them by, and I gave them the URL to Schumin Web.
---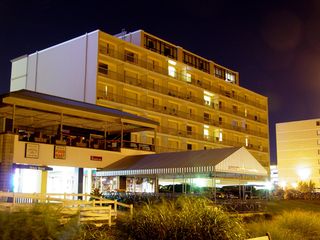 And finally, back to the hotel.
---
After returning to the hotel, I got ready for bed, as I was going to get up early to watch the sunrise, and possibly get some more photos of it as well.  And now, sleepy time!
---
The second day was a bit of a wash.  Things didn't quite go as I'd hoped, but they went well enough.  First thing I did was get up at 4:00 AM to watch and photograph the sunrise.  So I grabbed my tripod, set it up, hooked up Big Mavica, and went out on my balcony.  I wasn't planning on making a Photography set out of this, because I already have not only one, but two photography sets covering the sunrise at Virginia Beach.  But nonetheless, I was out with the tripod and the whole setup, ready to capture some vibrant stills.
But first, I had to make a mark somewhere to indicate that this was the beginning of the second day.  This is what we call a low-tech method for marking the date.  With the camera on the tripod, I held my arm out in front of the camera, holding up two fingers.  A quick flick of the button with the other hand, and the date was marked, with a photo of my hand indicating that this was "Day Two".
Having marked the date, it was out to the balcony.  In photographing the sunrise, I realized quite early on that I was a bit too early, and there would be quite some time before the camera would be able to find the first rays of sunlight, even with long exposures.  Eventually, I did find some sunlight.  However, I soon realized that something was wrong, as the photos were coming out with the sky in a royal blue color for a much longer time than I was expecting.  Once the sun got up a little further, I realized what was going on.  It was cloudy!  What a shame.  As a result, the sun's rise above the horizon was a little bit less than spectacular on this particular morning.  The sun just appeared as a fuzzy pink dot in the sky.
---
---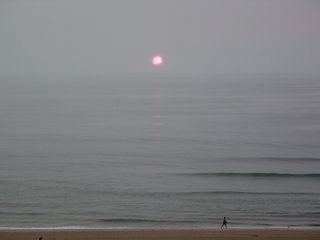 The sun was up, but this was destined to be a very gray day.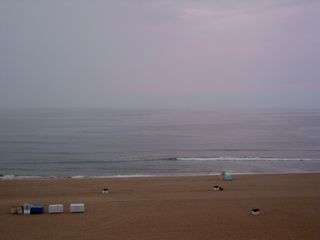 ---
After the sun was up, I went back to bed for a couple of hours, and then woke up refreshed.  This was a necessary sleep, since I didn't get quite enough sleep the night before due to the excitement of being at the beach, staying out late photographing, plus wanting to get the sunrise in the morning.
Waking up, however, I discovered to my dismay that not only was it still cloudy, but it was raining – and not just a little drizzle.  It was putting out some serious rain, which put a damper on my plans for the day to an extent, though I was able to adjust my plans.  But first, I went down to the lobby, with the intent of finding out where I could get a newspaper.  As it turns out, the Travelodge provides a complimentary copy of The Virginian-Pilot (the local newspaper) for all guests.  Cool!
Since it was raining, and since it was Tuesday, after reading the newspaper, I decided to find a public library so I could post a Journal entry, and check out whatever new stuff went onto Homestarrunner.com on Monday (turns out a cartoon called A Folky Tale was released, featuring a guy named Saddy Dumpington).  I asked the desk attendant at the Travelodge where the nearest public library was.  I got great directions.  Turn at 17th Street, and it will be a few blocks up on your right.
The problem with those directions wasn't the giver.  It was the receiver.  I followed the directions, turning at 17th Street, and without realizing it, drove right past the library.  And I kept going!  I went WAY out of the way, as 17th Street turned into Virginia Beach Boulevard and kept on going.  An interesting landmark on the way, though, was this store under construction.  The sign in large pink neon said "Fetish", with "Adult Boutique" underneath it.  At least we know they're not shy about what they will be selling.
I ended up stopping at a Crown gas station for directions, after having gone way the heck out of my way and then turning back around.  I found out at that time that I did pass it, and that it was next to something I did notice – a few stations for emergency responders (I want to say police and ambulance).  And I found the library.  So I parked, registered for a library card (they offer an Internet-only card), and I was online!  Besides checking Homestarrunner.com, I also wrote a Journal entry.  It's dated August 23, 2005, and is entitled "Vacation: So far, so good, but it's raining today."
Afterwards, I returned to my hotel, finding a space to get the car into.  By the way, the parking at the Travelodge is something of a challenge, since you are maneuvering in a very tight space, parking under and around the building.  But unlike when I checked in, this time I got a spot near the pool, which had a lot more maneuvering room than my first spot, near the boardwalk.
And now, off to see the strip!  I didn't put on any sunscreen since it was raining, and grabbed my umbrella.  I wandered south on Atlantic Avenue, checking out various shops and things along the way.  I also made an important discovery.  To discover the strip, you really only need to walk maybe six blocks in either direction from your hotel (if that), because after that, the strip starts to repeat itself.  There are a few different classes of stores on the strip.  There are stores that sell souvenirs and beach crap, stores that offer henna tattoos, oxygen bars, little convenience stores, and restaurants for seafood and pizza.  Then they start to repeat.  Seriously.  The places had the same exact names, no less.  I walked south on the strip, and found another "Holiday Department Store".  I also found three "Sunsations" stores.  It all repeats.
Speaking of the Holiday Department Store, I have "Part 2" in the rude signs saga for you.  First of all, the sign about the boxes was still there.  Let me remind you:
Break Yer Damn Boxes.
If the box is taped shut, it is not broken down.
If the box has plastic ties wrapped around it, it is not broken down.
If the box is full of merchandise, it is most certainly not broken down.
If you think wood is box, you are mistaken.  Wood and box are both made from tree, but wood is not box.
If wood is in the box, the box is not broken down.
Empty boxes do not belong in the stock room.  They go outside.  (They do not go outside by themselves.  You must take them outside.)
Empty boxes are to be broken down and placed outside in the recycling bin.
No member of the management or staff in this Holiday Department Store wants to clean up your damn mess.  Take responsibility for your work.  Your job is classified as "unskilled labor" in the real world.  It says a lot about you personally if you are not good at this type of work.  And you are not above unskilled labor, even if you are smart, strong, pretty, or older than your co-workers.
THANK YOU FOR YOUR CONSIDERATION.
THE HOLIDAY DEPARTMENT STORE MANAGEMENT TEAM.
Then I also found this one, on the door of a stock room.  It's just as bad, but at least it is mostly functional:
The Boys' Stock Room
Gender roles predetermined by nature dictate that this stock room is the boys' stock room.  Many of the items inside are heavy and awkward, and the organization system is regimented.  For the most part, the items stocked herein are manly things, not to be trifled with by females.  Nevertheless, women are welcome in the boys' stock room, and will only bring honor upon themselves by completing tasks which originate from within.
1. Holiday tags go on the shelves.  Occasionally, other items go on the shelves, too, but only so long as Adam, Mikey, or Jissan say it is ok.
2. NO "F" ING UP THE HANGERS.  If you are not certain as to whether or not you've been "f" ing up the hangers, then you probably did.  Stop it.  They are arranged by size and function.  Plastic hooks are segregated from metal hooks.  White hangers always end up in the trash because Adam always throws them there.  Shorts hangers are organized by size and go on the bottom.  See special posting next to the hangers for further details.
3. Green bags go on the white Coppertone rack.  Nothing else goes on that rack.
4. Taffy is stacked between the green bags and the Table/Shelf.  We can fit up to 32 boxes of taffy in this space, but it has to be stacked properly.  Be gentle with the taffy boxes.
5. Umbrellas go on top of the table shelf.  BU-50s on the left ($12.98 Umbrellas), $4.88 Umbrellas in the middle, and BU-36 ($9.98 Umbrellas) on the right.  Nothing else goes on the table shelf.
6. Crap that we don't use or don't want to use (like shoes and snow globes) goes under the table shelf, but only so long as Adam, Mikey, or Jissan says its ok.
7. Body boards go up top.  Mikey, Adam, and Jissan reserve the right to arrange the body boards any way we want to.  Carefully [sic] using the ladder, because it is probably broken.
8. The shelves on the left are devoted to shoes.  If you have to do shoes, then you are the "SHOEBITCH."  Do not screw up the rest of the stock room just because you get stuck doing shoes.  Shoe boxes are not allowed on the floor without permission from Adam, Mikey, or Jissan.  Shoes are supposed to stay inside the boxes and out of sight.  The boys do not even want to think about shoes, and we should not have to look at them in our stockroom.
9. Skateboards go beside the shelves, stacked up flush against the shelves no more than 8 boxes high.  Both types of skateboards ($12.98 and $16.98 are stacked on top of one another.)
10. Mini-skateboards go behind the skateboards.
11. Strollers go beside the mini-skateboards.
12. Five-position chairs ($9.98 Chairs) go beside the mini-skateboards.  No more than 5 boxes, stacked on top of one another.
13. Two-position chairs ($7.98 Chairs) go beside the five-position chairs.  No more than 5 boxes, stacked on top of one another.
14. Skimboards are immediately to the left as you enter the stockroom.  They are segregated according to size and wood quality.
15. EMPTY BOXES AND TRASH DO NOT GO IN THE BOYS' STOCK ROOM UNDER ANY CIRCUMSTANCES.
And this is why I could never work at this store, no matter how desperate I was.  While the sign quoted above is mostly functional, there's still the "shoebitch" reference (how flattering), and the open admission that the ladder is unsafe.  And this sign, like the other one, is in plain view of customers.  I did not have to wander into any restricted areas to find these signs.  Additionally, note the introduction.  Gender roles are actually determined by society, not nature.  Nature determines sex, like why men have that little hole in the front of their underwear and women don't.  Society determines gender roles.  And that #15 on there ought to have a footnote tacked onto it that should say, "See condescending sign on the fire exit door for information on what to do with boxes."
---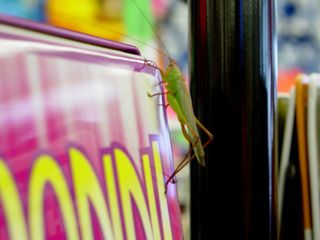 You never know what you'll find in those Virginia Beach souvenir shops.  In this case, a "big, gross bug" sought refuge from the rain on one of the racks at the Holiday Department Store.
---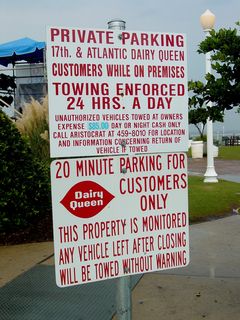 More of those obnoxious parking signs, this one at the Dairy Queen at 17th and Atlantic.  And the standard issue sign was apparently not enough, as there's a second threatening sign underneath.
---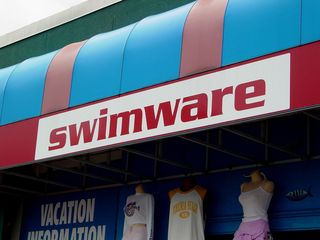 Misspelling?
---
The sun also came out, but due to lack of sunscreen, I continued to hold my umbrella up, to keep the sun off.  It worked, too.  I came back just as white as I was when I started.
Otherwise, after visiting a number of shops on the strip, and passing what appeared to be a small abandoned amusement park, I turned, walked one block west, and walked north on Pacific Avenue.  This part was mainly to get some bus photos.  I saw some interesting buses at other times in my trip, and this was the time for bus photography as I walked back.  Unfortunately, there were no Gillig Phantom or Gillig Low Floor buses along Pacific Avenue.  All I got was a photo of #947, which is an Orion V, like I got last year.
While on Pacific, I stopped at the 17th Street Surf Shop.  The building appeared fairly new, and was selling surfing equipment, clothes, and shoes.  Nice place.  Surprising, though, was how serious they were about their parking lot.  Yes, they have the usual standard-issue park-here-and-we'll-tow-you sign.
---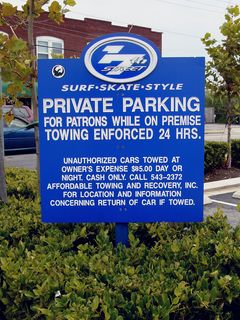 And here's the sign.
---
But they also employ someone whose sole reason for existence at the store is to monitor the parking lot.  They write down the license numbers of everyone who comes into the lot, and if someone doesn't come into the store after parking, they call the towing company, and they're outta there.  Of course, the reason is that they don't want people to use their lot for beach parking, but still, that's more serious than I expected.
---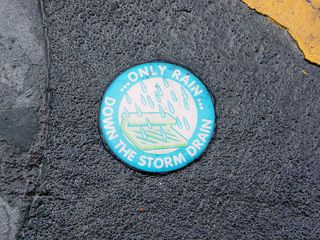 I thought this was a cute little sign on top of a storm drain on Pacific Avenue, while at the same time reminding people not to dump whatever into the storm drains.
---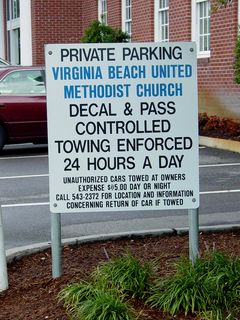 Of all the private-parking signs that I saw, this one was the most amusing, mostly due to it being for a church.
---
And then from there, back to the hotel.  At the hotel, the housekeepers had just finished doing my room, and so I stayed a while and took it easy.  I propped the door to the balcony open so as to get the sea breezes and sounds of the ocean, and turned on the TV to see what's on.  I ended up finding a showing of the movie First Kid, starring Sinbad and Brock Pierce.  It's a funny and suspenseful movie, and of course, it's neat to see DC in movies.  I also saw what I believe to be a Metrobus GMC RTS bus in a shot of Pennsylvania Avenue, and then I definitely saw some sort of Flxible Metro (still running in the current fleet) in a different shot.  Neat seeing Metrobus in a movie.
And after the movie, I did some photographing from the balcony as the sun went down…
---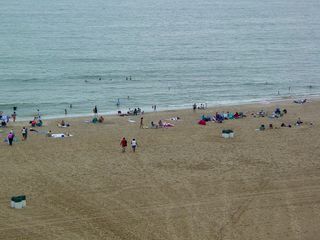 Despite the clouds, wind, and rain, the beach was still well attended.
---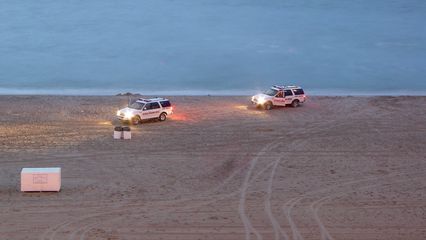 Two vehicles for the Virginia Beach Lifesaving Service were on the beach, but I had no idea what they were doing at this time…
---
And the beach is beautiful as always as natural light gives way to the orange-colored light from the lampposts along the boardwalk.
---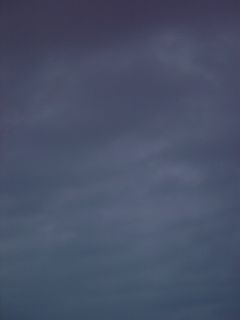 The clouds continued to cast their shadow on the land, even as the sun dipped beneath the horizon.
---
After that, I went hunting for grub, and didn't do too well in finding some.  I didn't want Mexican food again.  I didn't want Italian (which one can get just about anywhere).  I wanted seafood.  I wanted fish.  So I went walking down Atlantic Avenue, looking for the elusive food.  By this time it had also started raining again, and raining hard.  Talk about a wet and nasty walk.  My flip-flops were going "squish squish" with every step, as they'd absorbed a lot of water from this walk.  I ended up walking south on Atlantic Avenue for a long distance – far further than I'd ever gone before.  On the way, the idea that the strip basically repeats itself every few blocks became quite apparent once again.  I saw a couple of Sunsations locations, a second Holiday Department Store (the one I've referenced in the past was across the street from the Travelodge, with the haunted house above it – this one is several blocks down from it), numerous Italian restaurants, some other restaurants, but nothing that looked too appealing to me.  I did, however, stop at a number of the shops.  I was apparently being quite picky this particular evening.  I eventually got tired of walking southbound, and realized that I had gone VERY far from my hotel (which was at 19th and Atlantic) and didn't feel like walking through all that distance again in the pouring rain to get back where I needed to be.  So I crossed the street, and caught a northbound VB Wave trolley bus to backtrack my steps.  I want to say I caught the bus at 11th and Atlantic.  So I paid my $1.00 fare into the machine, and I was off!  We sat for a while at one spot along the route (who knows why – perhaps to get on schedule?), but I eventually got off the bus at 25th Street.  This brought me down near the Ocean Holiday, which was the hotel where I'd stayed in 2000 and 2004.  And, having gone down that far, I continued again in the same direction as before – south.  This would send me back in the direction of my hotel, which worked out.
I ended up finding Pier 23 Restaurant, which was a little seafood buffet.  Not a bad place.  Good food, and friendly server.  Only downside: Mirrored walls.  I cannot stand restaurants where all the walls are mirrors.  I always say it's not shameful to have a small space if it's properly decorated.  I just don't like the idea of seeing an image of myself eating in every direction I look.  Not a pleasant thing.
After that, I continued on Atlantic Avenue back to the Travelodge.  On the way, I found a true diamond in the rough – Flipper McCoy's, which is an arcade on Atlantic Avenue that is just too cool for words.  They have the modern arcade games that all the kids are playing these days, but then what really made me feel all warm inside was their massive collection of vintage video games!  And everything was just a quarter to play.  They had Ms. Pac-Man.  They had regular Pac-Man (the original!).  They had Jr. Pac-Man (that was a challenging game!).  They also had Burgertime and many other classics.  Also add two different kinds of skee ball, a bunch of pool tables and such, and another personal favorite of mine, the "Spin to Win" game with the vertical wheel that you control by rolling blue rubber balls down a little ramp and into different slots to win tickets (game starts with "You've got to spin to win!" and gives the wheel a full spin).  All in all, I had fun.  I definitely would love to spend more time in that place.
And then it was back to the hotel.  It had stopped raining by this point, and so I took a very short walk on the beach.  And when I say "very short", I mean VERY short.  The walk mainly consisted of walking down to the ocean, letting the water lap at my feet, and then going back to my hotel, stopping on the way to rinse the sand off of my feet, since by that time, I was tired.  When I got back to my hotel, I almost immediately went to bed.  And upon getting into bed, I fell asleep so quickly that I didn't even turn off the TV set.  And thus while I was asleep, Nick at Nite turned back into Nickelodeon, with its highly-annoying cocktail of children's fare.  It makes me long for the good old days when most of Nickelodeon's programming was not made in-house (think Today's Special for a moment – that was a classic show!).
Part 1