Virginia Beach 2005
Part 2
August 24, my third day, and last full day at the beach, was a real beaut.  The clouds and rain and nastiness that had made Tuesday a gloomy day had dissipated, and so we were in for a great day.
---
It was a beautiful day at the beach!
---
After my Pop-Tarts-and-soda breakfast (the breakfast of champions!), I marked the date on the camera by holding up three fingers for a photo, got dressed for a swim, and applied a liberal amount of SPF 30 sunscreen.
This year, I used the aerosol-style sunscreen in a can.  You push the button in, and you get a continuous flow of sunscreen out of the nozzle.  The advantage to this over conventional sunscreen is that the sunscreen is of a much thinner consistency.  Thus it's easy to apply sunscreen to your back, and to get even coverage over complex terrain, like your face.  For my back, I simply reached over and sprayed it on, and then rubbed it around as well as I could.  For my face, I just closed my eyes and mouth, and aimed for the center as I shot my face with sunscreen.  The only real disadvantage is that the propellant used in the can has a very strong smell, and so it's wise to use the stuff in a well-ventilated area or outside, because it can get a little overwhelming.  All in all, though, I got a good application of the stuff, and it did a good job.  After a quick hand-washing to get the excess off my hands, I headed out to the beach.
On this particular day, the lifeguards had their red flags out, which indicates that the surf is rough.  Fine by me.  Keeps the jellyfish away.  Plus I know how to swim (learning quite early in life), and am quite comfortable in the water.  Plus the rougher surf keeps things interesting.  My goal in the water was to ride over some waves, ride under other waves, get smacked by some waves, etc.  And of course, the water is very calming.  It's a time where you can think about stuff.  It's a little quiet place in my little world in the sea of other people enjoying their own vacations.  To make sure I didn't drift off, I made sure I was in front of the Fairfield Inn (which is next door to the Travelodge) at all times.
---
The red flags were out on this particular day.  Some of the flags were straight red, while some were printed with "DANGER NO SWIMMING".
---
I actually spent a good several hours in the ocean and had a lot of fun.  Very tranquil.
After a nice, long soak in the ocean, I returned to the hotel again.  I wanted to stop at the outdoor shower again to rinse off, but as there was a long line, I skipped it and rinsed off in the shower in my hotel room.  Whether that was good for the plumbing to do that or not, I don't know, but I'm guessing it's not the best for it.  I had reservations about it at the time, but it was either that or wait in a long line in the hot sun with a bunch of cranky tourists for about 60 seconds under the water to get the sand off my legs.
Following the shower, I reapplied my SPF 30, exchanged my swimsuit for a pair of regular shorts and a t-shirt, put on my glasses, grabbed a freshly-charged Big Mavica, and headed back out to the beach.  I was doing some beach photography.  I honestly don't know what I'm going to do with the photographs from this part of the trip yet.  I got quite a few gems.  Some are pegged for photo features, but with my current operating procedures, that doesn't lock a photo out for other uses.  So we'll see.
I started by going straight down to near the water.  Now sometimes when you go to the beach, it's a smooth slope from the end of the beach to the water.  Other times, the surf has carved out a bit of beach, creating an upper level and a lower level.  The latter is how the beach looked this time around.  You have the wide beach above where the surf is striking, high and dry.  Then the beach drops a foot or so, and you have the wet area, where the ocean laps around people's feet.
A number of people noticed my camera.  Not really as much what-are-you-photographing as it was what-kind-of-camera-is-that.  People often look at Big Mavica and see its unusual shape (round!) and ask me about it.  One lady commented that for going to the beach, she uses a disposable camera, since she won't risk messing up her digital camera.  I take Big Mavica with me onto the beach because of all its usual features, plus I've taken Big Mavica in harder settings than this, plus when it comes to getting great photos, if I'm going to lose Big Mavica, it might as well be in the process of shooting a great photo set.  Of course, I won't do anything stupid for a photo that will put either the camera or myself at any physical risk.  It reminds me of what Robert Ballard said in his book The Discovery of the Titanic about ANGUS: "What the hell.  If I was going to lose ANGUS, I couldn't think of a better time or place."  Besides, from my experience last year, the only thing I really had to worry about was fine mist from the ocean dirtying up my lens and my glasses.
---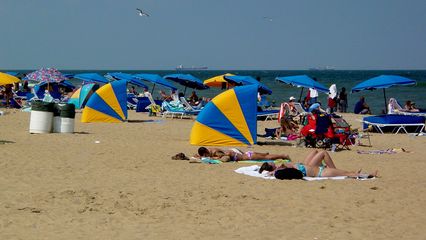 The beach and the ocean were just teeming with people.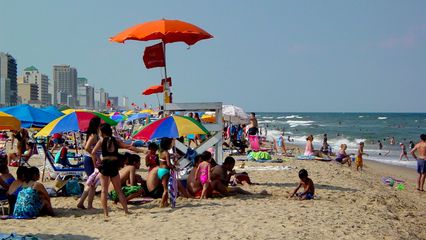 ---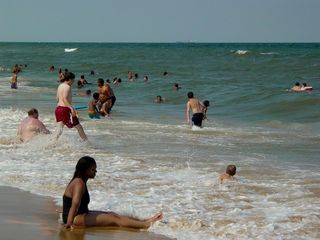 ---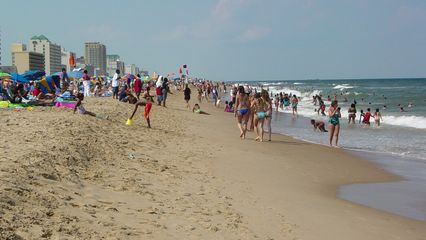 As I mentioned earlier, the beach had a bit of a ridge on it, and there was about a foot and a half's difference in elevation.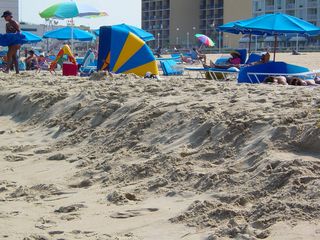 ---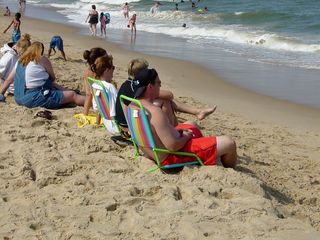 Some people took advantage of the ridge as a natural seating area.
---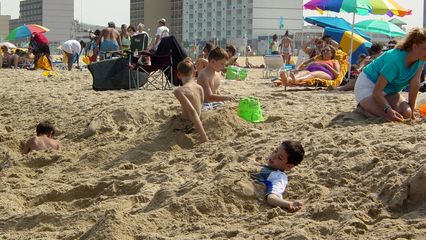 Some people spent time burying each other in the sand as part of their fun in the sun…
---
…while others built magnificent sand castles.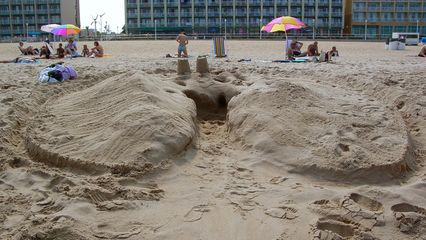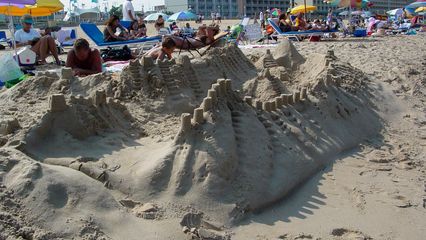 ---
The surf, meanwhile, was a little on the rough side, but it was nice.
---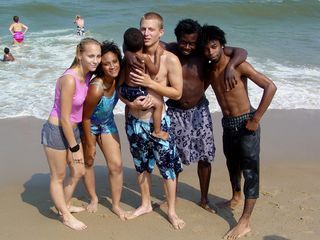 As sometimes happens in DC, random people came up to me on the beach and asked to have their picture taken.  And as I have said about the same situation in DC, what do you do in that situation?  You take the picture.  Why not, right?
---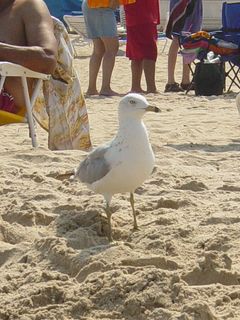 A sea gull stands atop the ridge along the beach.
---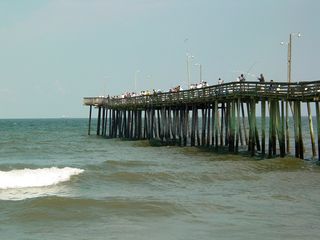 Soon, I approached the fishing pier, jutting out into the ocean.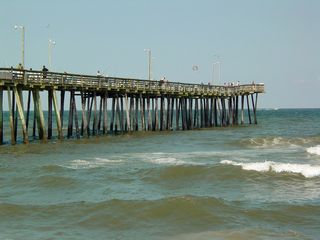 ---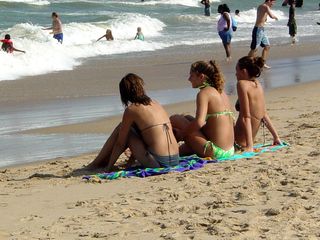 South of the fishing pier, a group sits on towels and watches the surf.
---
I walked south along the beach from the Travelodge all the way to just past the fishing pier, at 15th and Atlantic.  This took me underneath the fishing pier to get there.  People were surfing near the pier, and one girl in a gray bikini was standing away from the others while holding a surfboard.  Turns out that the reason for her standing with the surfboard was as follows: "I have no idea what the hell I'm doing."  Understandable.  She eventually sat down again with the rest of her group without surfing.
Then I went back to the boardwalk, and took a few minutes to clean up, which consisted of getting the sand off of my feet from a spigot that appeared to have been designed for that explicit purpose.  It wasn't a full shower.  Just a tap for feet.  And that was good for me.  I had Big Mavica, plus was fully dressed, and so I couldn't use a full outdoor shower.  In fact, I had to ask another person if they could turn on the water for me, because if I bent over, it would take Big Mavica too close to the water.  Don't want to short out Big Mavica.  I also ended up making conversation with the couple who helped me with the water.  Turns out that they were from New York, but the girl had spent much of her life in Washington DC.
Boy, did they choose the right words to use.  I love talking about DC.  And I still want to move there.  I just have to find a job up there first.  We spoke of Metro, protests, Malcolm X Park, driving in Washington, and so much more.  It was a lot of fun.
After we parted, I sat down for a moment.  I'd been walking around and such for some time, and I was starting to get sore.  So I took a ten-minute break.  Then it was time to go to the fishing pier.  On the way in, I noticed a large kite being flown.  It was actually six kites connected together to act as one, each with its own tail.  Its owner was flying it around a bit.  I even got a movie.  Then the owner accidentally crashed it.  He sent his kids out to get it flying again.
---
The six-part kite flies through the sky, viewed up close.
---
The six-part kite flies over the beach, viewed from a distance.  A gentleman can be heard giving a sales pitch for the Boardwalk Hotel.
---
With the oceanfront hotels in the background, the kite flies.
---
Then I went onto the fishing pier, paid my couple bucks' admission, and then took a stop at the men's room.  I mainly had to take a moment to clean up.  Wash my hands, clean my glasses, and also wipe sunscreen and other debris off of Big Mavica.  Then I continued down the pier.  I got a lot of great shots off the pier of the ocean and the beach and the hotels, and also a number of action shots of the people trying to surf.
---
These people tried their hand at surfing, and did quite a job on it, too.
---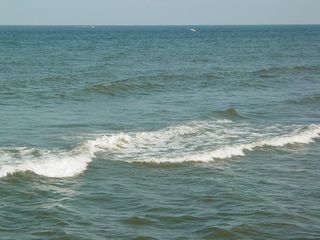 Meanwhile, further out, waves approach the beach.
---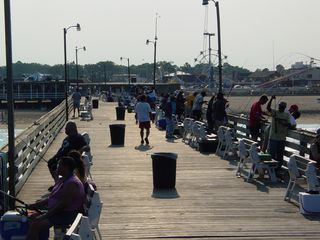 Lots of people were out fishing off the sides of the pier on this particular day.
---
At the end of the pier, there were two children running around with fishing poles.  Something told me to keep my distance from these two children.  I had this feeling that they would accidentally hook either themselves or someone nearby who happened to be in the wrong place at the wrong time.
Then nearby, a woman caught a crab!  That was quite a sight coming out of the water, with the crab still moving its legs as the woman put it in her bucket.
---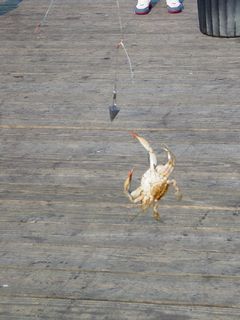 The crab is caught!
---
Going back down the pier, another woman had a whole pile of fish that she'd caught on the fish-cleaning table, and was prepping them.  She rinsed the fish off, de-scaled them, gutted them, and then rinsed them off inside.  Kinda gross.  But such is how you prepare a fish.
---
Preparing a fish – de-scaling, slicing, and removing the guts.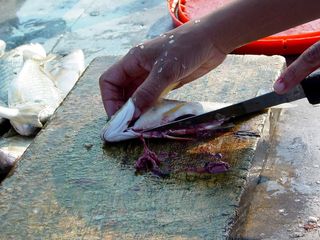 ---
By the time I got done with the fishing pier, taking time to spend some more time watching the kite in action, it was starting to get dark.  I took my time getting back to the hotel, and spent a little bit of quality time in the hotel room, both on the balcony and in the room.  I also watched a little TV.
I wasn't sure what I wanted to do for dinner entirely, but I kind of had an idea.  As it turned out, I ended up at Albie's Pizza, which is next to Guadalajara Mexican Restaurant.
But on the way there, I ran into a Canadian group singing folk songs.  For those of you who are not familiar, the city of Virginia Beach provides street entertainers on most evenings with nice weather.  This group, dressed in red, and with the maple leaf flag nearby, was singing I'se the B'y (I'm the Boy).  That song goes like this:
I'se the b'y who builds the boat,
I'se the b'y that sails her,
I'se the b'y that catches the fish,
And takes them home to Liza.
Hip your partner Sally Tibbo,
Hip your partner Sally Brown,
Fogo, Twillingate, Mortens Harbor,
All around the circle.
I was familiar with this song!  I first heard this song on Today's Special as part of the "Medley of Canadian Folk Songs from Newfoundland and Quebec" that Sharon, Lois, and Bram sang in Songs.
About the restaurant, I had to say this: Albie's had great food, but the restaurant was definitely done on the cheap.  The chairs were plastic, and thus the backs bent easily.  Everything was paper or plastic.  The silverware was plastic, and the plates were paper.  And for those of you who are familiar, plastic silverware, or "plasticware" as I like to call it, is no good on anything that requires work to fork or cut.  And on the stromboli that I ordered, the plasticware was nearly useless.  But it was good food despite all obstacles.  I think that the only thing that was served in anything that they wouldn't just throw out was my frozen margarita.  That was served in a real glass, and it certainly hit the spot.
After the restaurant, I headed back to the hotel.  I was considering another walk with the tripod down the boardwalk, but decided against it because I was tired and a little sore.  So I called it a night.  And what a lovely night it was, too.
---
On August 25, I woke up at 7 AM and had my familiar breakfast: Pop Tarts heated in the microwave, and a soda.  By the way, this is also the same breakfast I usually have on my first break at work, except at work I don't heat the Pop Tarts.  After breakfast, I marked the camera (four fingers today!), and went out on the balcony.  This was the day that I should have done the sunrise!  It was gorgeous, with a few clouds dotting the sky.  And I do like a few clouds in the sky vs. nothing at all, because it lends an interesting touch to things.  Note the way my Atlantic Sunrise photo set uses this to its advantage.
---
I think you will agree – it was an absolutely gorgeous day.
---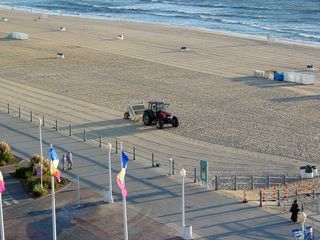 And the sand smoothing machine does its work for the last time on my vacation.
---
My objective in the morning was to get the heck out of the hotel by the prescribed 11:00 check-out time.  So, first thing's first.  Go downstairs, grab a Virginian-Pilot, commandeer a luggage cart, and go back on up.  The breaking news on Thursday basically summed up the week.  We found out that Pat Robertson had issued an apology for his call for the assassination of Venezuelan president Hugo Chávez earlier in my vacation.  We also learned that the Base Realignment and Closure (BRAC) Commission had decided the fate of Naval Air Station Oceana, which I considered to be kind of a sneaky, underhanded way of saying that they really want to get rid of Oceana.  The BRAC Commission said that Virginia Beach can keep it only if they reverse decades of development around the base – buying up and condemning approximately 1,800 houses and businesses surrounding the base, which are considered to be in crash zones.  And even after spending millions to demolish all of these structures, there's still no guarantee that Oceana will remain in Virginia Beach for the long run.
Otherwise, I packed up all my stuff, and loaded it onto the luggage cart.  The last thing to go on was Big Mavica.  Before I left, I wanted to document the one feature that is the problem spot on the Travelodge in Virginia Beach.  That would be the bathroom.  The bathroom is problematic because it's far too small, and it's not even square in shape for some unknown reason.  The sink is also separate from the rest of the bathroom (I've never understood why hotels and motels like to do this, and I find it bothersome).  This creates a truly tiny bathroom.  So small, in fact, that one must be creative when using the toilet, since you don't have the space to use it conventionally.  And to make things worse, the toilet is also positioned at an angle.  Still, you either have to sit sideways or put your legs in the tub.
---
As you can see, space is at a premium in the bathroom here, and the diagonally-oriented toilet is far too close to the tub to use comfortably.
---
The shower, on the other hand, is fine.  Good size, though the temperature control was a little challenging to figure out at first.  But once you got the hang of it, that's no problem.
I figured out how the bathroom could be improved, though.  I think that if you turn the shower the other way (where it's against the side of the bathroom vs. the back), and also remove the outside-the-bathroom sink and a small linen closet immediately adjacent, and incorporate that space into the bathroom, you ought to have a more comfortable bathroom, or at least one that will allow one to use the bathroom normally, and have the sink inside the bathroom where it belongs.
And aside from the bathroom, I got a few more photos of the beach from the balcony, packed Big Mavica, and rolled the cart on out.  From there, it was down to the lobby, where I checked out just before 11:00, and then loaded up the car.  And from there, I was off!
I first went back to the library, to post a Journal entry and check various other things out.  The Journal entry is dated August 25, and titled, "Tuesday may have been a wash, but things still went quite well!"
---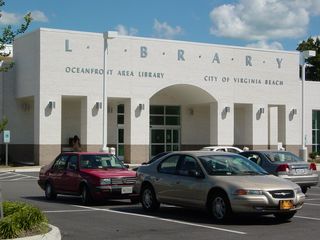 This is the Oceanfront Area Library, where I used the Internet while on vacation.  It's a nice library of fairly recent construction.
---
After the library, I stopped at the same Crown station I stopped at for directions on Tuesday, filled up, and prepared to make my exit from Virginia Beach.  I wanted to get one last look at the ocean before leaving, and then go and not look back.  So I drove back to Atlantic Avenue, went north from 19th to 22nd Street, took one last look at the beach and the ocean from Atlantic Avenue, and then when the light turned green, I was gone.  From Atlantic Avenue, I crossed Pacific Avenue, Arctic Avenue, Baltic Avenue, Mediterranean Avenue, Cypress Avenue, and Parks Avenue.  Crossing Parks Avenue, 22nd Street became westbound I-264, and I was on my way!  I nearly missed my exit to westbound I-64, though.  I was about two lanes over where I should have been.  Thankfully I was able to bust a move and make it, just in the nick of time.  And from there, it was, in theory, a straight shot back to Waynesboro.
---
Some road work on the westbound side of the Hampton Roads Bridge-Tunnel closed the right shoulder, and also made for some traffic congestion.  The traffic lights attached to the overhead signs, normally both green, showed a flashing yellow light over the right lane.
---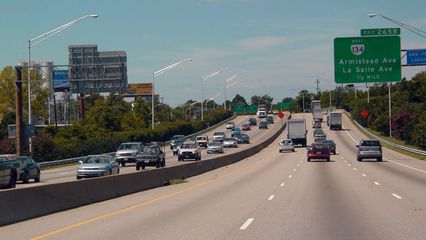 Once clear of the tunnel, however, it was smooth sailing, with traffic being fairly light.
---
I, however, made sure it wouldn't be a simple straight shot back home.  First of all, by the time I reached Newport News, I was hungry.  And for some reason, I had a hankering for Wendy's.  And Wendy's is somewhere I normally don't eat.  Last time I ate at a Wendy's was my 2004 beach trip, when I ate at a Wendy's in Virginia Beach on Pacific Avenue.  This Wendy's, however, was near Fort Eustis in Newport News.  If I'd known how far off the highway it was, though, I probably wouldn't have stopped.  However, despite its off-the-beaten-path location, it was a pleasant dining experience.  Quick food, good service, and a clean restaurant.  And, as is the case with Wendy's, square hamburgers, which I've always found strange.
From there, I made a stop at the westbound rest area in New Kent County (not at all like its far-newer eastbound counterpart) where I bought a copy of the Richmond Times-Dispatch.  I would have also read it there, if it were not for the bees.  I'd sit somewhere, and the bees would come.  I'd sit somewhere else, and different bees would come.  I retreated to my car, and I was off.
---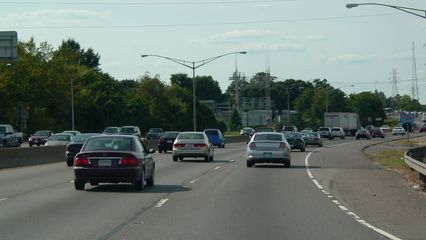 In Richmond, traffic became thicker, especially in the section that's multiplexed with I-95.
---
Richmond is where I truly blew some time.  After going through the eastern part of I-64 in Richmond, and completing the multiplex with I-95, I got off I-64 at Staples Mill Road to do what I described as "sprawl hopping".  After a very long exit ramp (seriously – REALLY long), I ended up on Staples Mill Road.  And then from there, it wasn't hard to find Broad Street (US 250).  My plan was to take Broad Street well into the suburbs, and then catch I-64 later.  Staples Mill was a good choice for an exit.  It was right at the city line.  When I made my right turn onto Broad Street, I was in Henrico County, outside the city limits.
First stop: The Shops at Willow Lawn.  I'd never truly seen the whole shopping center, so the first thing I did was drive around the whole complex.  Until now, I'd never known that there was a Kroger around the back of the place, for one thing.  I also found out that a place I enjoyed there, Tower Books, had closed, having been replaced by a Staples store.  How sad.  Tower Records was still there, but Tower Books was gone.  Willow Lawn is a hybrid as shopping centers go.  It's mostly an outdoor shopping center, but the various parts of the outdoor shopping center radiate out from a central section that is an enclosed shopping mall.  There are also offices in the mall building, though these are accessed separately from the mall.  At the time of my visit, the mall was in the later stages of a renovation.  Most of the mall had been renovated handsomely, with long, white slats making up the ceiling, replacing an earlier mirrored ceiling.  There was also a new ceramic tile floor.  At the far end of the mall, however, where a Dillard's had existed during my last visit (2003), the corridor was walled off, and the renovations kind of trailed off, waiting to be completed.  I found out that Dillard's was being demolished (which I'd noticed from outside), and that the old space would be turned into a new outdoor wing, and the former Dillard's entrance would become a door to the outside.  One would then assume that the interior work will be completed once the new wing is completed and the new entrance is built.
---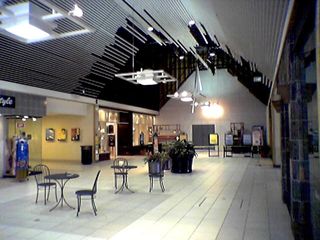 The renovation work kind of trails off as you approach the temporary wall at the end of the mall, where Dillard's used to be.
---
Following Willow Lawn, I went down the street some more to Libbie Place, which is an open-air shopping center with Chinese-style architecture.  It's of fairly recent vintage – I want to say it was built in 2001.  I made a Barnes and Noble visit to check out a few odds and ends while I was there.
After leaving Libbie Place, I continued down West Broad Street.  A funny sight while traveling through this area was seeing a Sam's Club and a Kroger sharing the same sign, despite that Kroger and Wal-Mart are competitors.  I ended up stopping at a Target Greatland store.  Target Greatland, for those of you who don't know, is a larger version of the Target department store, with a very different floor plan.  It didn't seem all that large to me, but of course, I work in a 183,000-square foot building.
From there, I backtracked slightly to get the Interstate at the Short Pump exit.  I continued to the Goochland rest area, where I finished my newspaper from earlier, without interference from the bees.  It also got dark while I was reading, but my reading wasn't affected due to a nearby lamppost.
After that, I got to Charlottesville, where I took US 250 from Exit 124 into town.  That took me along "Veterans Memorial Drive", which is the US 250 bypass in Charlottesville, to Route 29, where I went over to Barracks Road Shopping Center.  At this later hour, I was looking for something to eat.  I had thought about going out in search of food, but ultimately nixed this idea in favor of a visit to Smoothie King.  The smoothies at Smoothie King are quite filling on their own, thank you.  Smoothie King is more of a health-nut smoothie bar, with a heavy emphasis on natural ingredients, and on nutritional supplements and such.  And as such, you pay health-food prices for it.  But it's good nonetheless, though it's quite thick.
Charlottesville is of significance to me on these kinds of trips because I usually never go beyond Charlottesville going east.  And with Charlottesville's being only 30 miles away from home, it's close by, too, and thus I can go there almost any time I want.  Thus the significance is that kind of we're-nearly-home feeling.
And from there, it was a short drive over the mountain to Waynesboro, and then back to Stuarts Draft!  Not a bad vacation.
Part 2