A16: The World Bank and IMF Demonstrations
Part 1
April 16, 2005 was definitely an interesting day for all involved.  It was on this day that a large demonstration against the World Bank and International Monetary Fund (IMF) was planned, to coincide with the aforementioned organizations' spring meetings.  As is the usual case with days that I go to big demonstrations, I fit the trip into the framework of my regular trips to Washington DC that I make every two weeks or so.  The big difference on this trip, though, was that I took my sister, Ann Schumin, with me.  I normally don't take anyone with me when I go on my DC trips.  It's just me.  Last time I took anyone to DC with me was when Mom and Sis and I went to Washington DC on August 9, 2003, when we did my A Day in DC photo set.  Since then, I'd met both Dad and Mom on trips to Washington DC in April 2004 and July 2004 respectively, but since our agendas were so different, each made their way up to DC separately.
---
So at the early hour of 5 AM, Sis and I set off for Washington DC, but not before the car gave us trouble starting up.  Don't know what caused that, since it was working fine the day before, and also worked fine on the rest of the trip.  So who knows.  On the way up, we made my usual stops – the Sheetz in Mt. Jackson, and the Wal-Mart in Manassas.
---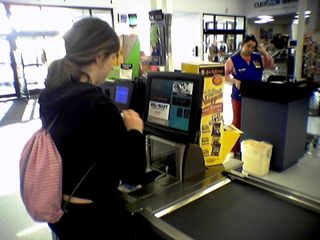 Sis got to give the IBM self checkouts in Manassas a whirl for the first time on our trip.  These are different than the ones in the store where we work.
---
Traffic in the DC area, being a Saturday, was light, and we arrived at Vienna at 8:30 AM, which was earlier than I expected, but it still worked out.  So Sis and I bought our farecards, and caught the railfan window of Breda 3086 on our way to Rosslyn.
At Rosslyn, since we were so ahead of schedule, we compensated.  Any good schedule has provisions for where to make adjustments.  So after considering our options, and since the Express isn't published on the weekends, we had to decide what to do.  Sis had the idea of going to visit Freedom Park, which I've visited twice before – once in March 2002 while doing my Freedom Is Not Free photo set, and once in November 2002 with Mom and Sis on the way back from the Iwo Jima Memorial.  So we started at one end, and worked our way through, past the Journalists' Memorial, past the various symbols of freedom, and finally past the sections of the Berlin Wall.
---
I think of all the things there, seeing the Journalists' Memorial in the bright sunlight was perhaps the best view of all.  The colored glass also left an interesting effect on the sidewalks.
---
After that, we swung around past the hole in the ground that was formerly 1117 North 19th Street and will be turned into the Waterview, and back to Rosslyn Center.  As it was still really early, we took a walk in the other direction, across the skywalk network.  We ended up about two blocks away from Rosslyn Center, at the end of the skywalks.  There were some tables there, and we sat and made conversation.
---
Going past Rosslyn Center on our way across, we found that the work on the Metro pylon on the second-floor level was complete, and the pylon once again looks like a Metro pylon should.  On March 30, 2005, the last time I was by here before this trip, this pylon was bare and about to be refinished as part of Metro's station enhancement program.
---
The high-rises of Rosslyn as seen from the spot where Sis and I sat.  Rosslyn certainly is full of modernist structures, don't you think?
---
Then as it was getting towards the time to go to the demonstration, which would be starting at Murrow Park at noon, we headed back over to Rosslyn Center, and then to the train.  As I wanted to get there early, we headed into the station at around 11:15, and rode a Breda rehab over to Farragut West.
There, it was a short walk to Murrow Park, across the street from the World Bank, where the rally, sponsored by the Mobilization for Global Justice and the Jubilee USA Network, was already underway at 11:30.
---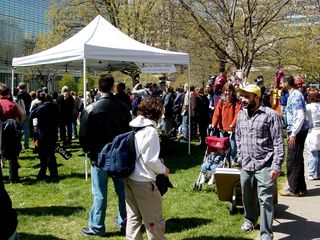 At 11:30, when Sis and I arrived at Murrow Park, the A16 rally was not only already underway, but already well attended, too!
---
Arriving at Murrow Park, Sis immediately found people selling buttons and such, and bought some.  I, meanwhile, checked out the area, which is my usual practice at these kinds of events.  I was also pleased to see that unlike in the fall, when a huge area around the World Bank was barricaded off with large, black fences, with Murrow Park penned in on three sides, this time it was far less intense, using smaller crowd-control barriers around the building itself.
---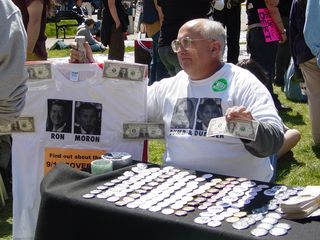 A gentleman sells buttons and t-shirts, and gives out fake dollar bills with various sites' URLs on them.
---
Finding black bloc demonstrators already present in significant numbers, I asked Sis, "Are you ready to join the black bloc?" and passed her a bandanna, which she then proceeded to wear on top of her head, which I then questioned.  I "masked up" in the normal style of black blocs.  Sis's comment was twofold.  First was that she was being a nonconformist among the nonconformists, and secondly, "You look like Jesse James!"  That was interesting, indeed.
---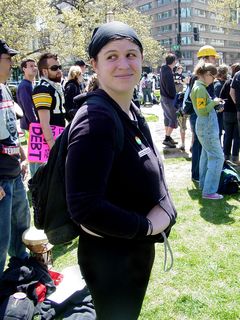 Sis wore that bandanna on her head, and kept it there, being a nonconformist among the nonconformists.
---
So Sis and I wandered around for a while, each of us taking photos of things we found interesting.  I led the way, and Sis followed nearby.  Some of the more noticeable features right up front were people wearing cardboard cylinders on their heads, that had a face painted on them as well as top hats with the name of a company on it.  There were also large street puppets out and about with messages on them.
Elsewhere in Murrow Park, there were all sorts of signs and banners present, covering the World Bank and IMF issue from a number of different angles.  Some demonstrators carried flags.  One group of three wore business suits and vampire fangs, painted their faces white, and carried large black umbrellas, pretending to be some of the World Bank's leaders.  A woman dressed up as "Georgia Bush", which basically was a woman wearing a dress, a red sash, and a rubber George W. Bush mask.  She also carried a suitcase saying "Georgia Corporate Whore".
---
As you can see, street puppets were certainly in no short supply.  They were also very well done, if I do say so myself.
---
This particular street puppet, with a likeness of George W. Bush on one side, and a skull on the other, makes another appearance at a demonstration, having made a previous appearance at J20.
---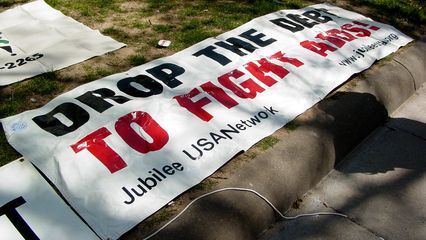 Jubilee USA's "Drop The Debt To Fight AIDS" banner makes another appearance at this rally, as it did at the fall 2004 World Bank meetings, covered in Part 4 of my Day of Activism Photography set, as well as a small picket on September 21, 2004.
---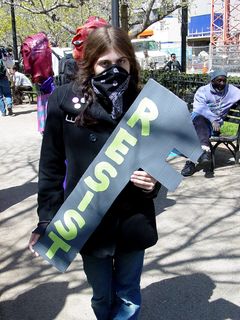 A masked woman holds up a cardboard monkey wrench, one of a number of props made in advance by the organizers.  The theme of this demonstration was "A Better World Is Under Construction", and as a result, the props took the shape of various tools and construction equipment.  Creative!
---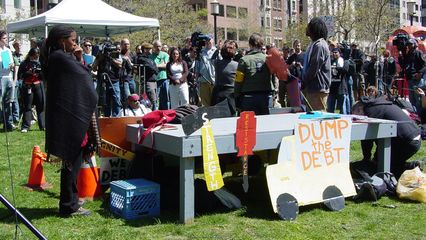 Next to the stage, more props in the shape of construction equipment could be found.
---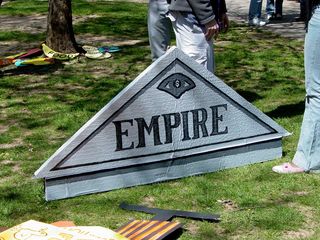 A triangular cardboard cutout simply reads "Empire".
---
A woman wears one of the cardboard cylinders with top hats.  This particular top hat says "Exxon" on it, while others said "Halliburton", "Nike", "Lockheed Martin", etc.
---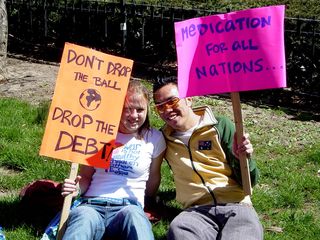 These two participants held up signs saying "Don't drop the ball, drop the debt!" and "Medication for all nations…"
---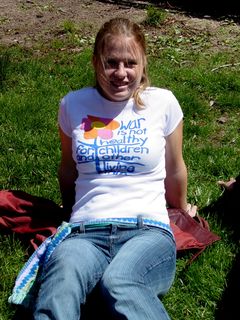 The woman in the picture above also wore a shirt saying "War is not healthy for children and other living things", a phrase which dates back to 1967 with the Another Mother for Peace organization.  As Paul Wolfowitz, former Deputy Secretary of Defense, had recently been appointed president of the World Bank, this gave good reason to also have a good anti-war presence here as well, as Wolfowitz was one of the primary architects of the Iraq war.
---
The gentleman who, for J20, carried a giant sign dropping F-bombs on George W. Bush, changed his sign accordingly, now referring to the World Bank and the IMF.
---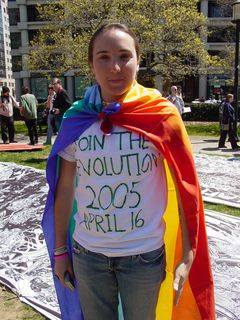 This woman wears a rainbow-colored "Peace" flag, while wearing a hand-painted shirt that says, "Join the Revolution 2005 April 16".
---
These people carried a banner regarding animal rights.  The woman at left also wears a shirt regarding the treatment of circus animals.
---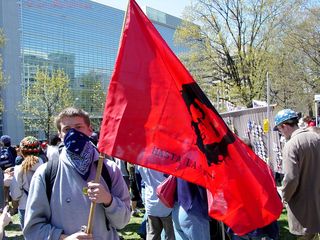 A masked demonstrator carries a flag with Che Guevara's likeness on it.
---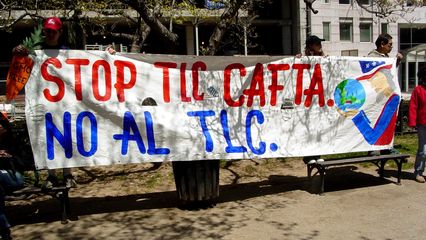 A group of people hold up a large banner advocating the defeat of the Central American Free Trade Agreement (CAFTA).  More information at stopcafta.org.
---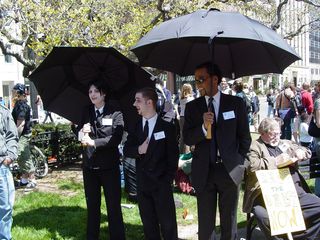 People from the Boston Direct Action Project dressed up as vampires, with black suits, white faces, vampire fangs, and large black umbrellas, pretending to be World Bank PR representatives.
---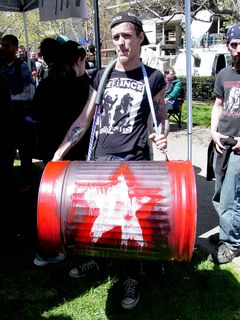 This gentleman decorated a trash can, and was using it as a giant drum.
---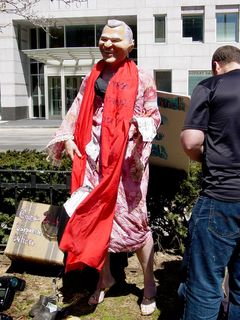 And, as mentioned earlier, this is Georgia Bush, the "Georgia Corporate Whore", according to her suitcase, complete with dress, red sash, and rubber Bush mask.
---
And then, amongst the crowds at the park, you know who I ran into?  Jess!  Yes, Jess, whom I originally met at the Million Worker March back in October.
I also introduced Jess to my sister, and we talked for a few minutes before parting company for now, basically catching up with each other since the Million Worker March.  We would meet up again twice more.
---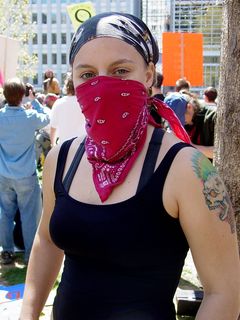 Nearly six months to the day we first met, Jess and I meet again.
---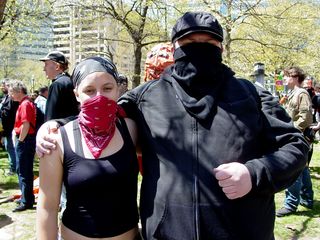 Sis agreed to take a photo of Jess and I with Big Mavica.  As you can see, the Black Bloc look is "in" at these events.
---
After Jess and I parted company, I did some more exploring and photographing.  Another black bloc demonstrator asked Sis and I if we were planning on engaging in any direct action, to which we replied no.  Turned out that no one was planning any direct action today.
This gentleman and I also talked a bit about how they had identified two people as undercover officers and to be mindful of that, because they had been seen behind police lines earlier in the day.  They were easiest identified by their Washington Nationals hats.  That led to a short discussion about how the Nationals appear to be trying to milk Washington for every penny they can get, what with public financing for the stadium, and not paying for extra Metro service if games run long.  This, boys and girls, is known as "corporate welfare".  Now if you've paid attention to what I've been involved in lately, I follow transit issues in Washington closely.  I also have followed the politics of the Montreal Expos' move to Washington DC, which turned them into the Nationals.  My position on baseball in Washington has always been that I'm fully supportive of having baseball in Washington, but not if it means DC is selling its soul for Major League Baseball.  Best example is what I described – the Nationals' not paying for extra Metro service, instead choosing to simply announce when Metro is about to close, leaving Metro to pick up the tab for extra service.  For those of you not familiar, when Metro needs to run extra service due to special events, such as for Redskins games, Metro bills the organization requiring extra service for the cost of the extra service, minus the amount collected in fares during that time.
UPDATE: Since this narrative was originally written, the DC Sports Commission, an independent agency of the Washington DC government, has stepped in to pay for any extra Metro service required if Nationals games run late.  According to my source, a spokesman for the sports commission "insists there will be a deal in which the Nationals agree to cover any costs."  As long as the Nationals actually pay for the extra Metro service that their events require, I'm satisfied. Though that will evaporate if the Nationals don't pony up the funds, since all that this does is move the cost of service from one governmental agency (Metro) to another (the DC Sports Commission).
Later, Sis and I briefly parted company at the rally so that she could use the restroom.  I wondered where she would go to find the restroom, since I'd explained it was kind of bad form to be seen leaving an anti-globalization rally to go to Starbucks.  When she came back, I found out where she went.  She was carrying a little brown bag that said "Starbucks Coffee" on it and eating some little thing she got there.  Of course, at my first big demonstration, I might have done the same thing, since I went into that one completely cold turkey.  I provided Sis with literature beforehand, but nothing compares as far as learning how these things work than to actually go to a demonstration.
Not long after Sis came back, we ran into Jess once more at the other end of the park, as she was getting her bicycle.  She was going to bike the march route, out in front.  At that time, the two of us spotted two things.  One, there was a police officer filming the park from the street with a camcorder.  That irked us both.  Of course, this is part of the reason why Jess and I were both wearing masks at this demonstration.  We also spotted a group of three people on the roof of the World Bank building in business suits watching us from above.
---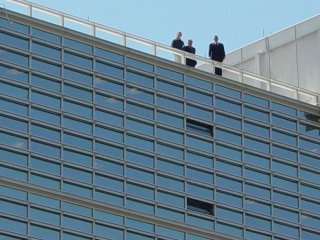 The group of people on the roof of the World Bank, watching the demonstration from above.
---
Jess poses with her bike.
---
After Jess undid her bike, she went ahead and got going with her bike.  She and I quickly shared a brief hug, and she was off.  Meanwhile, Sis and I took a moment to see some of the speakers at the stage, and I filmed a few of the speeches.
---
David Rovics sings Operation Iraqi Liberation on the stage.  You can find lyrics and a studio recording of the song here.
---
Rev. Graylan Hagler speaks from the stage: "Moral values is what YOU represent, and WE represent!"
---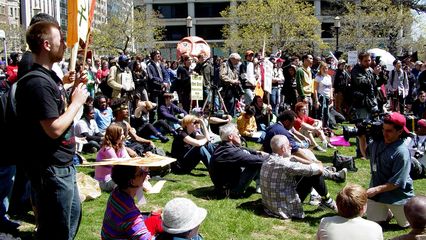 As you can see, the A16 rally was well attended, with lots of people listening to the speeches, and capturing them for posterity.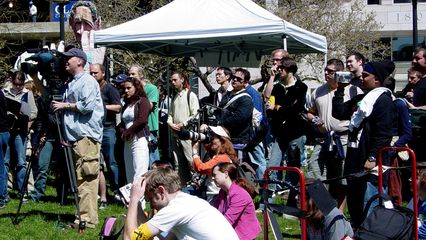 ---
Later, as the march was getting ready to begin, a group of counter-protesters showed up.  This was not the Free Republic group (better known as Freepers) this time.  This time it was a group of pro-lifers, carrying signs advertising the American Life League.  These people were chased off by the police, as a confrontation was already going on between our demonstration and the counter-protesters.  I personally found it odd for them to be demonstrating about abortion at an event about globalization.  I know that last year, the weekend of the World Bank and IMF's spring meetings was a double-punch for activists, with the World Bank demonstrations and the March for Women's Lives in the same weekend, on back-to-back days.  This time around, though, globalization was the only issue for the weekend.
---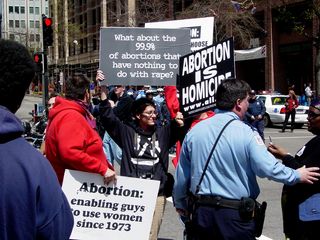 Counter-protesters at 18th and H Streets NW, in the northeast corner of the park, holding up pro-life signs.  As I said before, I found it odd that they chose a rally on globalization for their venue.
---
And then the march got underway.  The Rude Mechanical Orchestra started playing, and we were off!
Part 1