A Month in Photos
For a number of years, I had wanted to do a "photo a day" type of photo set.  My original concept for this was to do it for a year, and put the completed work in Photography.  However, I soon realized that a year was a bigger commitment than I was willing to make for one photo set, and too risky.  After all, if you miss one day, you've messed it up.  I could have a perfect record from January 1 to December 28, and then miss December 29 for whatever reason, and then it was imperfect.  So I scaled it back a bit and did one month.  A month was far more doable than a year.  So in May 2013, I did it.  I had photos for every day in the month.  And in looking at the types of photos that I took, I realized that this photo set was better suited for Life and Times than Photography.
In looking at the month's worth of photos, it would seem that May 2013 was a fairly normal month.  I went to work, I went to the pool, I went shopping, I got together with family and friends, and I noticed all of those little things that you've come to expect from me.  Not bad.
---
May 1, 2013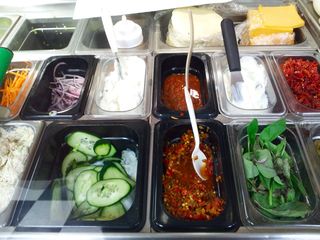 Various fixings for sandwiches and salads at Metro Cafe, a sandwich shop in the basement of my office building.
---
May 2, 2013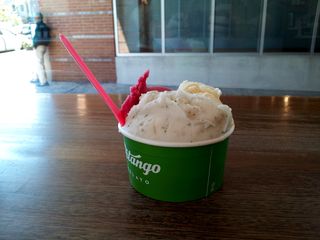 While on an errand in Logan Circle, I stopped in at Pitango Gelato on the advice of a friend.  Funny, though, in how I finally got to the point of getting it.  I was a little indecisive about what I wanted (gelato is not my specialty), and the woman working behind the counter would have been more than happy to give me a sample of every single flavor in the place.  I ultimately had to stop her and just pick something, saying, "You're going to lose the sale if you keep this up, because you're going to fill me up on free samples."  Then I picked.  This was the result of my selections: pomegranate, mojito, and passion fruit.
---
May 3, 2013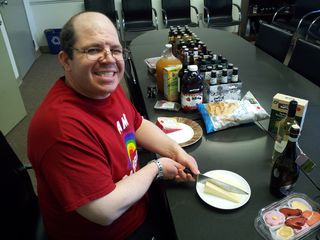 Getting ready for an office party, I sliced up a block of cheese.  I described this photo as "Schumin cuts the cheese."  Technically, that is an accurate description.
---
May 4, 2013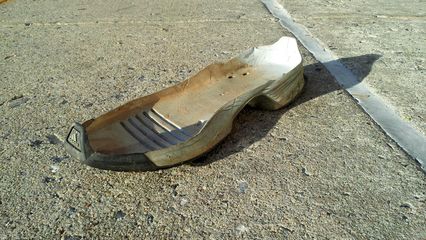 Spotted at Aspen Hill Shopping Center.  This is an Adidas sneaker sole.  First and foremost, I would love to know how this got here, and then I would love to know how it managed to be separated from the rest of the shoe so cleanly.
---
May 5, 2013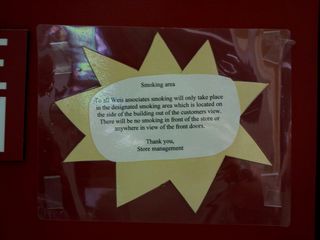 While shopping at the Weis store on Route 1 in Laurel, I noticed this sign, about the designated smoking area for employees.  In all honesty, this sign should not be in any place that I, the customer, can see it.  This kind of stuff should be in the back room of the store or otherwise in a place where customers can't see it.  Out in the view of customers, this kind of stuff is tacky.  Especially ironic when this whole memo is about keeping smoking activity out of view of customers.  Apparently it's fine that the memo about keeping smoking activity out of the view of customers is in view of customers.
---
May 6, 2013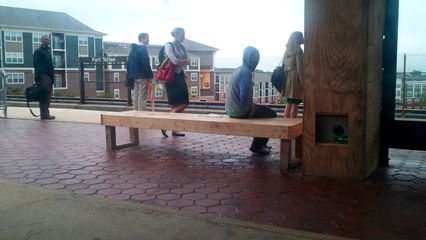 While Metro was doing platform reconstruction at Fort Totten, the regular benches were replaced with these wooden ones.
---
May 7, 2013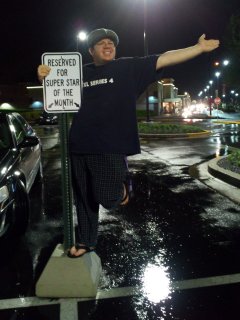 When my friend Suzie and I went to Kohl's after swimming, we both parked in the "Super Star of the Month" spaces.  I generally take a dim view of "Employee of the Month" programs, as they often are subject to favoritism, and don't recognize the equally valuable contributions of other employees.  So I parked in the space, and then got Suzie to take a photo of me with the sign.
---
May 8, 2013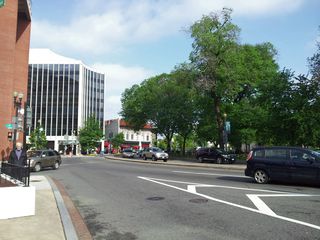 After several days of cloudy skies, the sky was once again visible, seen here in Dupont Circle.
---
May 9, 2013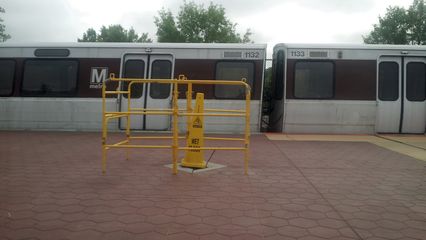 Platform reconstruction work underway at Takoma station.  Note the hole where a pylon should be.
---
May 10, 2013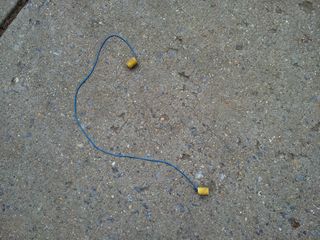 On the way home from the office, I spotted one of the more random things to be discarded along P Street: foam earplugs.  Pretty bizarre, if you ask me.
---
May 11, 2013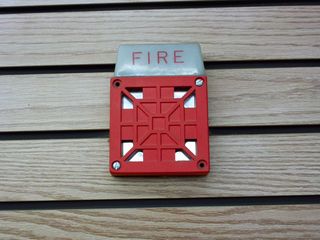 The Michaels in Aspen Hill has a classic fire alarm combination: Wheelock 7002T horn/strobes and Fire-Lite BG-10 pull stations.  However, unlike in many cases where the Wheelock 7002T is installed, this one lacked the trim plates behind it, which I've always thought makes the horn look small.
---
May 12, 2013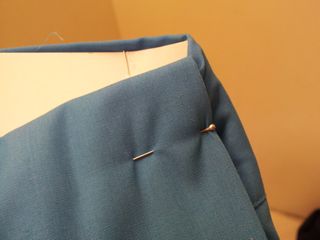 Surely there has to be a better way to keep clothes folded together than using a zillion pins.  I was trying on dress shirts at Macy's in Montgomery Mall, and found the pins to be amazingly annoying.  Even worse was missing one and not realizing it until after starting to unfold the shirt, thus burying the missing pin deeply in the shirt.  No fun.
---
May 13, 2013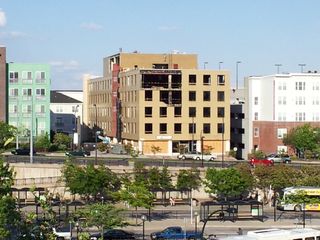 I parked at Wheaton station on this particular day, parking on the top level of the garage.  From here, you get a great view of the Computer Building, which is in the process of being rebuilt.  The building was previously a five-story office building.  It is now being converted to residential use, and as such is being gutted, and is having seven new floors added.  Surprised that they didn't just build a new building, but I suppose that if this works…
---
May 14, 2013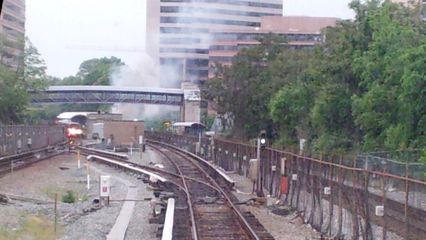 This was the day of the Red Line fire.  I was on that train before being offloaded at Takoma.
---
May 15, 2013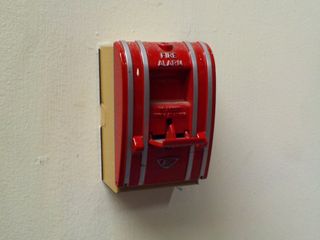 While on a work-related errand at Mammoth Office Furniture in Herndon, I spotted this Edwards 270A-SPO pull station in the "down" position.  Kind of strange, no?  Somewhat disconcerting was that there were no alarms going off, and no one gave this activated pull station any concern.
---
May 16, 2013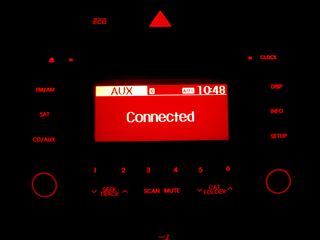 Stereo controls on my Kia Soul.
---
May 17, 2013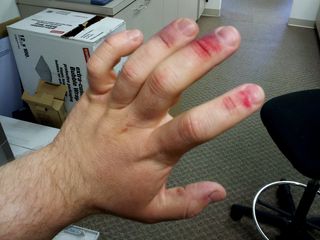 You would not believe how many people I faked out with this photo.  I got a little toner on my hand while changing the waste toner box on the copier at the office.  However, because of the color and placement of the toner that got on my hand, it looked like a pretty nasty injury.  You wouldn't believe how many people saw this – both in person and via the photo – and immediately thought that it was a horrible injury, and then were surprised to find out that it was just toner.
---
May 18, 2013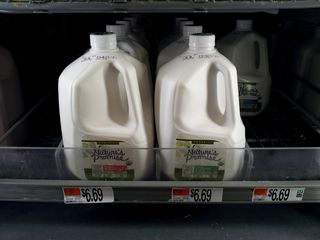 Going grocery shopping for milk.  I usually buy organic milk when I go shopping, but not for the reasons that one might think.  I get organic milk because of the later expiration date.  If you look at the expiration dates on the milk cartons, you'll notice that they don't expire until July 3.  That's about six weeks' time.  Compare to non-organic milk, where you usually get only about a week's worth of time before it expires.  Being single and living alone, I don't go through milk very quickly.  This means that I have enough time to go through milk normally without letting any milk go bad before it's finished.
---
May 19, 2013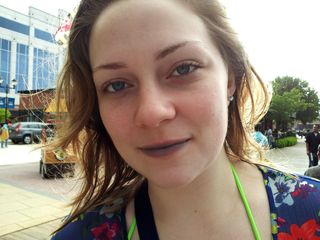 On May 19, I got together with my friend Melissa.  We went deep water running at Germantown Indoor Swim Center, then hung out at Washingtonian Center for a while, where Melissa got a snow cone.  This photo was to show Melissa how blue the food coloring in the snow cone had made her lips.
---
May 20, 2013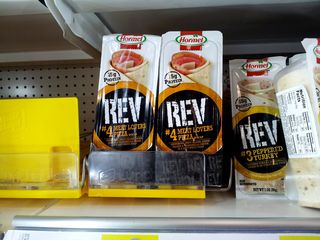 Hormel meat lovers' pizza wrap, seen here at Target.  I'm sorry, but this just sounds disgusting on its face.
---
May 21, 2013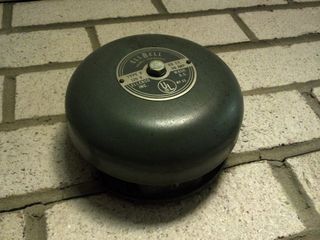 A few folks had wanted to know what the fire alarm notification appliances looked like in my apartment building, and so this is the one outside my door.  My apartment building uses Ellenco "EllBell" bells that run at 120VAC.  My building has a very old fire alarm system, likely never having been upgraded since it was built.
---
May 22, 2013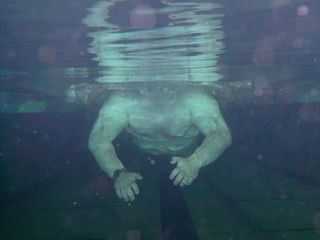 My friend Suzie, who swims with me at Olney on Wednesdays, wanted to give Duckie a spin at the pool one night, so I brought it along one night for her to take for a spin.  This was one of the photos from that photo shoot, catching me mid-stroke doing the butterfly.
---
May 23, 2013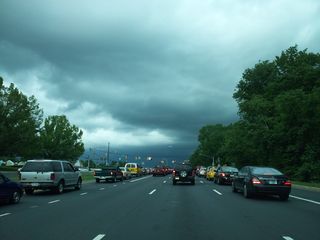 Scary looking clouds on the way to the pool, seen here on Georgia Avenue just south of Norbeck Road.
---
May 24, 2013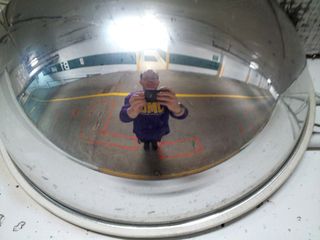 Self-portrait off a mirror in the parking garage at the office.
---
May 25, 2013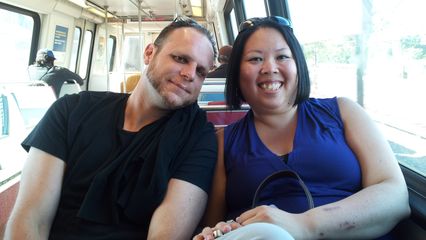 On Saturday of Memorial Day weekend, my cousin Mike and his girlfriend Tara came down from New Jersey, and we spent the day together at the National Zoo.  This photo was on the Metro afterwards, where we took CAF 5132 back to Glenmont.
---
May 26, 2013
Another gorgeous day in Aspen Hill, as seen from my balcony.
---
May 27, 2013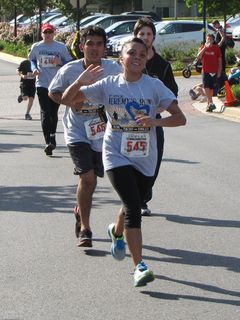 On Memorial Day, I came out to cheer my friend Suzie (#545) and her brother Carlos (#546) on as they did the Jeremy's Run 5K, which raised money for a number of different local charities.
---
May 28, 2013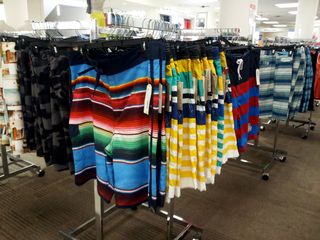 World's ugliest clothing ever, spotted at JCPenney in Wheaton.  This is marketed as swimwear, but I'd dare say that even the pool would be insulted by having someone come in wearing this.
---
May 29, 2013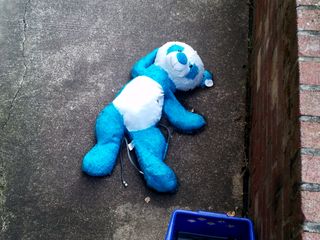 Mildly creepy stuffed animal on the patio of one of the other apartments in my building.  As I understand it, a visitor brought this, and then one of their cats peed on it.  Thus they put it outside to keep it from smelling up the house.  However, it was outside for something like two weeks before finally being disposed of.  Something about that smiling face and its otherwise looking pretty dead…
---
May 30, 2013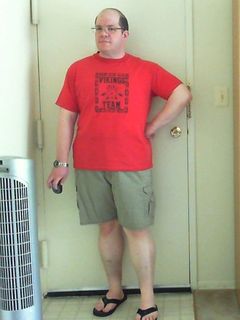 Took this photo for a "Throwback Thursday" picture.  I am wearing my old "Vikings Team" shirt from Stuarts Draft Middle School.  More than twenty years later, I still have my shirt, and it fits quite well!
---
May 31, 2013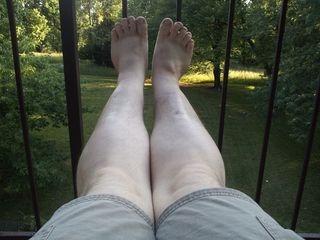 Having a relaxing afternoon out on the balcony.