Toronto 2019
Part 1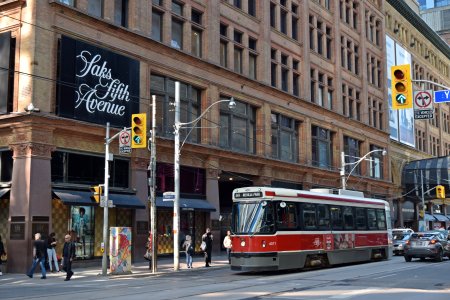 From April 10 through April 16, 2019, Elyse and I took a weeklong trip to Toronto.  This was my second visit to Canada, nearly twenty years after my first, back in 1999.  The goal was to see as many filming locations for Today's Special as possible in the time that we had on site.  I had done a lot of research on filming locations back in 2013 for the new version of the Today's Special website, on which work is still in progress as of this writing, and so this was just a matter of going and visiting them.  Elyse mapped them all out a month or so prior to our trip, which greatly streamlined the planning.
My intent was to do the trip there and back as economically as possible.  We originally considered taking a bus to Toronto, but soon realized that it was only more economical than driving if one person was traveling alone.  Once you had more than one person, the bus became more expensive than driving in the HR-V.  Driving it was, then.  Likewise, Elyse and I had our preferences for hotels.  She wanted to stay at the Novotel in North York, where she stayed back in 2017.  I wanted to stay at the Chelsea, where Mom and I stayed back in 1999.  Ultimately, it came down to price.  The Chelsea was having a sale on Travelocity on the day that I booked, and the nightly rate plus parking at the Chelsea came out lower than the Novotel's nightly rate plus parking.  Add that the Chelsea, with its downtown location, was closer to much of what we were doing, and it was a win-win all around.
---
On the morning of April 10, we rolled out at 7 AM.  Our route took us via I-270 to Frederick, I-70 to Breezewood, the Pennsylvania Turnpike (I-76) to Cranberry, I-79 to Erie, I-90 and I-190 to Buffalo and Niagara Falls.  Then, after crossing into Canada, we took the Queen Elizabeth Way (QEW) and Gardiner Expressway to Yonge Street, and finally to our hotel.
The trip up had its interesting moments as well as its boring moments.  We take 270 all the time to go to Frederick, so there was nothing too exciting there, because we see it all the time.  We stopped in Frederick to fuel up at a Sheetz that we regularly visit.  I-70 was also not very exciting.  However, we did find a paper sign at the Pennsylvania Welcome Center in Warfordsburg that caught my interest.
---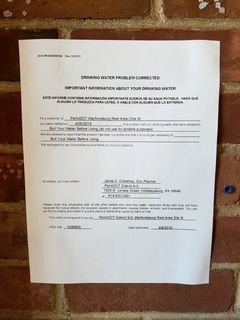 Apparently, the water was under a boil order for a time, but the situation had since been resolved.
---
After that, Breezewood was one of our planned stops, consistent with our plan to only make stops when we changed roads or changed states.  We stopped at Sheetz, where I topped up the car, and we had something to eat.  We found some unusual signs at the register.
---
Signs advising patrons of a requirement that fuel and alcoholic beverages must be purchased at separate registers.
---
As I understand it, this separation of fuel and alcohol is to prevent drunk driving, by not allowing the fuel and the alcohol to be sold together.  I find it a bit preposterous, but then again, I don't drink, nor do I live in Pennsylvania.  Some states can be very strange and puritanical when it comes to regulation of alcohol, and Pennsylvania seems to fit that mold.  This law also inconveniences everyone, drinkers and non-drinkers alike.  At least Sheetz acknowledges that it's an inconvenience.
Leaving Sheetz, Elyse and I were again taken back by the number of closed properties in Breezewood.  Recall in my discussion of our Pittsburgh trip in 2016 that I wasn't quite willing to say that Breezewood was dying, though it certainly had seen better days.  Now, taking another look in a relatively short span of time (about two and a half years), I'm willing to go there: Breezewood is a dying area.  Since late 2016, the Exxon station and the Econo Lodge both had gone out of business, and the Denny's had gone independent.  The Exxon property appeared to be unoccupied, while the Econo Lodge burned down earlier in the year.  Additionally, all of the vacant structures from before were still vacant, and there was no new construction.  Breezewood is slowly but surely turning into a ghost town, it seems, and I'm not entirely sure why.  There's still no direct connection between I-70 and the turnpike, and there are no plans to build one.  Said gap, caused by rules concerning access to toll roads, is why Breezewood came into being to begin with.  And yet it's still dying.  Will it rise again?  I don't know.  But for now, at least, it's certainly on a downward trajectory.
Leaving Breezewood, we got on the Pennsylvania Turnpike, and rode that to Cranberry Township, going near Pittsburgh but ultimately bypassing it to the north.  Elyse took a nap, while I listened to a podcast.  Then after we got on I-79, we made a gas and restroom stop at a Pilot station in Portersville.
Meanwhile, Interstate 79 through Pennsylvania is one of the most boring roads that I've ever been on.  It's a relatively straight, flat road through rural areas.  There is nothing to look at to stay engaged.  Just a straight road surrounded by fields.  The only thing that kept me engaged was the Stuff You Should Know podcast.  However, we did cross US 62, which my family regularly traveled on when we lived in Rogers, Arkansas.  That brought back some nice memories.
We finished with I-79 at the junction with I-90 near Erie.  We made our next restroom stop in Erie, at Millcreek Community Hospital, so that Elyse could also film an elevator.  I thought that the hospital was pretty boring overall, except for a specific sign in the cafeteria.
---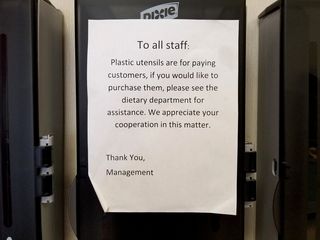 Sign indicating that staff is not allowed to take plastic utensils without making a purchase.  Also a run-on sentence.
---
How cheap do you have to be to post a sign directed towards the staff about plastic forks?  Likewise, if this is a staff problem, why is this not being communicated via some sort of internal memo out of the view of patients and the public instead of on a sign right out in the open?  I, as a member of the public, do not need to know that this is an issue.  To post a sign like this in public view for an employee matter is just plain tacky.  Any sort of message intended specifically for employees should be completely out of view of the public.  Recall that I was similarly critical of a Weis sign about employee smoking in the "A Month in Photos" set.  In any case, the bottom line is simple: don't air your dirty laundry in front of the public.
Leaving the hospital, we got back on I-90 and soon made it to New York State.  There, we quickly discovered something interesting: I-90 in New York is numbered backwards.  The normal numbering scheme for Interstate highways places mile zero at the in the westernmost or southernmost end of the state, and counts upward the further east or north that you go.  This applies to exit numbers as well.  But because it's part of the New York State Thruway system, it follows that road's numbering, which starts near New York City and heads north before turning west.  Thus the first New York exit that we saw was 61 (New York still uses sequential exit numbering on most roads rather than mileage-based), rather than 1.
We made our next stop at a service area near Angola.  This service plaza was in the median of the highway, connected to parking areas for each side by pedestrian bridges.  I was surprised to see sea gulls in the parking lot, but then I remembered that we weren't very far from Lake Erie, even though we couldn't actually see it from the road.  The inside of the service plaza was fairly generic, but I did get a few photos of traffic passing under the bridges.
---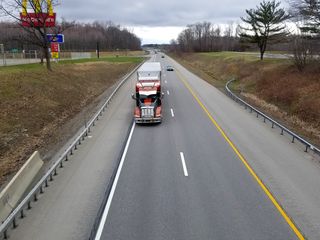 Traffic moving beneath the bridge at the Angola service area.
---
When we got to Buffalo, we quickly caught up with Alexander Bozek and his mother Laurie at Main Place Mall in downtown Buffalo.  Alexander Bozek is an elevator enthusiast like Elyse, and the two of them went off to film some elevators while I visited with Laurie for a time.  We reconvened around 5:30 when the mall closed, and explored downtown together for a little while after that.
---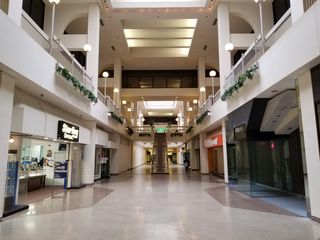 Main Place Mall was your stereotypical dead mall.  It had a dated interior, lots of empty storefronts, and very little foot traffic.  The mall also closes at 5:30 PM, which I found a bit surprising.  However, considering how little was going on in downtown Buffalo at this time of day, I imagine that there isn't enough traffic to justify keeping the mall open any later.
---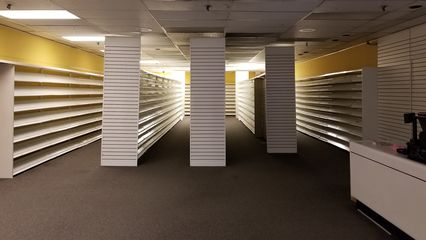 Former Payless ShoeSource space in Main Place Mall.  At the time of our trip, Payless stores all over the country were finishing up their closing sales and vacating their spaces as part of a larger winding-up of the company due to a bankruptcy.
---
Behavioral signs in the mall.  One sign bans the wearing of pants lower than the waist (i.e. no "droopy drawers"), and the other bans the playing of audible music.  While I understand the intent of these signs, they look extremely tacky, and they speak more about the attitude of the mall management than anything else.  It tells you who the typical patron of the mall is, and, more importantly, what the mall management thinks about the mall's typical patrons.  Stuff like this is why I don't feel badly about shopping malls' going out of style.  They've spent so much effort over so many years making younger people feel unwelcome in their facilities, and now that they're of prime shopping age, they're going elsewhere.
---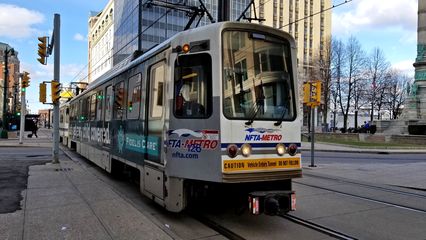 Buffalo Metro Rail vehicle traveling down Main Street.  Unfortunately, we weren't able to ride Buffalo's light rail system on this visit due to time constraints, but we did at least get to see a few trains go by.  This seems like something worth spending more time on the next time we're in Buffalo, though.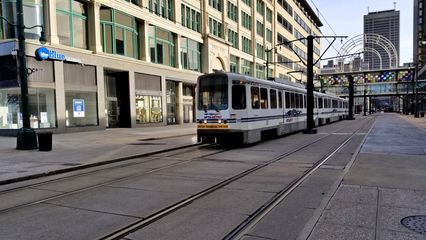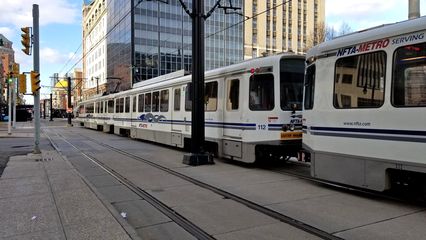 ---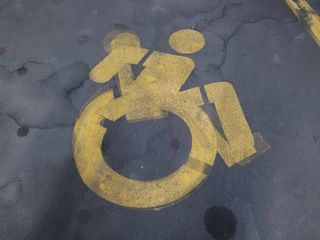 I spotted this in the garage where we parked the car.  Someone painted the new wheelchair symbol over the old wheelchair symbol.  I found this somewhat amusing.  New York is one of two states (Connecticut is the other) that has formally adopted the newer symbol.
---
Finishing up in Buffalo, we said goodbye to the Bozeks, fueled the car, and then headed to the Niagara Falls area.  The American side of Niagara Falls is surprisingly dumpy.  There was a parking garage attached to an abandoned building.  Nearby was the One Niagara Welcome Center, which was in a building that was mostly unused, save for the first floor, which housed a gift shop and a small food court.  Elyse filmed the elevator, while I was amused by a sign in the gift shop.
---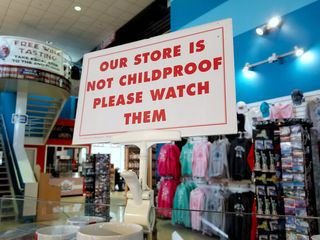 "Our store is not childproof.  Please watch them."
---
From there, we stopped in at the duty free store, and then we crossed the Rainbow Bridge into Canada.  Once we were in Canada, we made our way to the Flying Saucer Restaurant in Niagara Falls.
---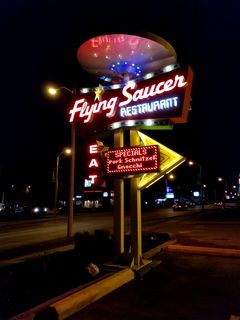 Sign for the Flying Saucer Restaurant.
---
At the restaurant, I was in a little bit of shock that I was actually in Canada again.  After all, I'd wanted to do this trip for many years.  When I asked the server if they had wi-fi and they said, "Sorry, we don't," with a very Canadian pronunciation of "sorry", it really underlined that we were, in fact, in Canada.
All in all, I enjoyed the Flying Saucer Restaurant.  The food was good, and the prices were pretty reasonable.  The biggest thing about the restaurant was the novelty architecture.  Typically, when a place sells itself based on novelty architecture, it the food is often mediocre and overpriced.  I was pleasantly surprised that the food and the prices were both quite good.
---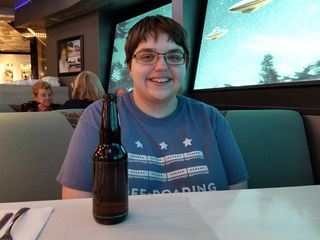 Elyse enjoys a beverage at the Flying Saucer Restaurant.
---
We also quickly discovered that we both had no data service in Canada, which complicated things a bit, because I was expecting to have Google Maps on hand for navigation.  We did, however, both get a "Welcome to Canada" text message from Verizon during dinner telling us about our international plan, which was supposed to have had data.
---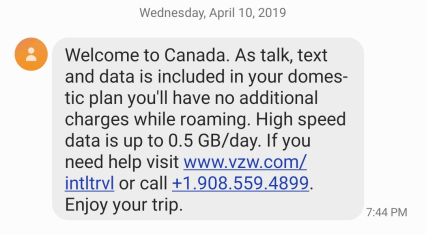 Welcome to Canada, from Verizon Wireless.  While in Canada, we would roam on various networks, mostly Bell and Rogers.
---
At the end of dinner, Elyse filmed the restroom at the Flying Saucer, while I got directions from our server on how to get to the really touristy part of Niagara Falls on the Canadian side.  Elyse wanted to film a couple of elevators, while I stayed in the car near a wi-fi source in order to figure out why we didn't have data service.  Unfortunately, I wasn't able to figure it out.
When Elyse was done, we stopped at an LCBO store for some stuff, including a six-pack of Budweiser "Prohibition Edition", i.e. non-alcoholic Budweiser, and then got directions to the QEW at a nearby Petro-Canada station.  From there, it was off to Toronto.
In driving on the QEW, I soon realized that I had to get used to reading the small numbers on my speedometer rather than the big numbers, since Canada, unlike the States, is fully on the metric system.  I found it a little difficult at first, but then I had another realization, which led to a change of strategy: stop obsessing over the speedometer, and just keep up with traffic.  That served me fairly well, paying attention to what my neighbors were doing and making sure not to go faster than the rest of the herd.  The idea was that it was unlikely that anyone would pull me over for speeding if I was going roughly the same speed as everybody else.  So as long as I wasn't passing too many people, I was okay.
The big downside of driving to Toronto is that you have to go all the way around Lake Ontario to get there.  Niagara Falls is more or less 40 miles straight across Lake Ontario from Toronto, but there is no bridge or tunnel across the lake to facilitate such a move.  Instead, the trip around Lake Ontario on the QEW covered approximately 80 miles, and took us through St. Catharines, Grimsby, Hamilton, Burlington, Oakville, and Mississauga before reaching Toronto, hugging the lake shore for much of the distance.  We were able to catch glimpses of the Toronto skyline here and there along the way, particularly around Grimsby and Hamilton.  It gave me a "so close, yet still so far" feeling as we continued around the lake.  We also noted how many American brands we saw, including Walmart, Staples, Home Depot, Toys "R" Us (which never closed in Canada), and various car nameplates.
Eventually, we reached Toronto, and then took the exit for Yonge Street.  Traveling north on Yonge Street, we made our way towards the hotel.
---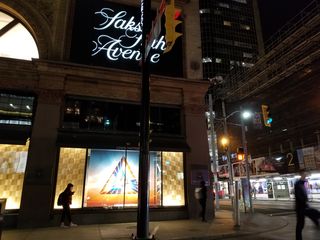 On the way, I grabbed a photo of the store while we were sitting at a red light.  I captioned it on Instagram as, "A small preview of things to come," which seemed fitting.
---
We arrived at the Chelsea around 10:30 PM, parked in the garage, and then checked in.  We got room 1459, which was accessed via the green elevators.  This would be home for the next six nights.  After we brought the luggage up, we went down the street to Pizza Pizza (which I knew about because it showed up in one of my 1999 photos) for some quick eats before going to bed.
Part 1