Wal-Mart with Becky and Rebecca
On two occasions, while coming up to fix my friend Becky's computer, Becky, her roommate Rebecca, and I, went out to eat, and then hit up Wal-Mart.  You also must admit – we have fun.  It's just strange what we get into while at Wally World.
I took these pictures with my cell phone, and so that's why the picture size and quality are a little different than they normally would be.  These were spur of the moment, and as such, I left Big Mavica at home.
---
On March 29, 2004, after the three of us had a lovely meal at Chili's on Route 33 in Harrisonburg, and then after hitting up a going-out-of-business sale at OfficeMax, we headed over to the big Harrisonburg Wal-Mart at Harrisonburg Crossing.  What did we buy?  Junk food, mostly.
---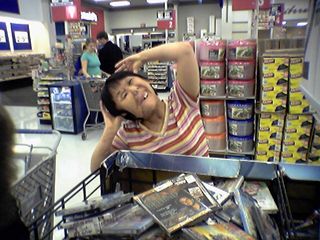 Becky is making funny faces in front of the big DVD bin…
---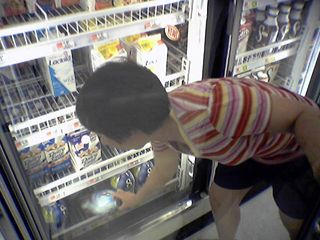 Debating whether to buy a bottle of soy milk…
---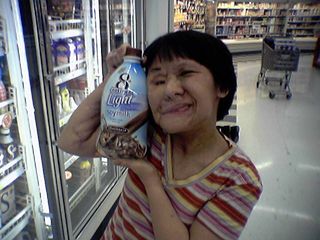 But hey, even if she didn't end up buying it, at least she posed with it.
---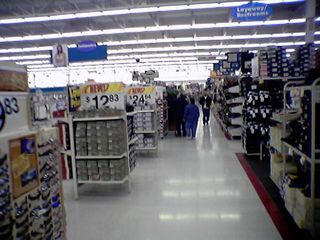 As you can see, this is a HUGE Wal-Mart!  We definitely got our exercise this evening…
---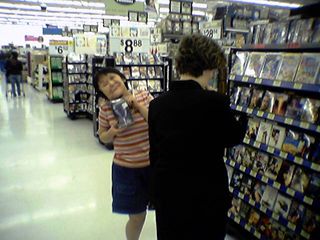 Peeking out from behind Rebecca, Becky holds up some kind of movie (can't tell what it is).
---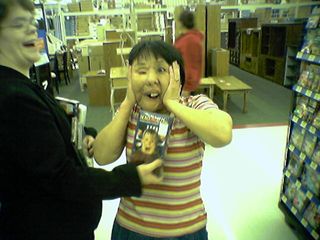 Rebecca holds up the original Home Alone, while Becky makes the face!
---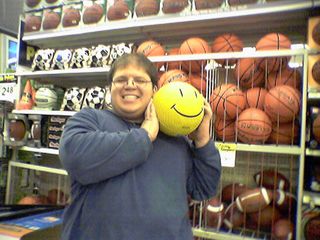 Back in Sporting Goods, Becky took a shot of me holding what I described as "the quintessential Wal-Mart item", a yellow playground ball with the Wal-Mart happy face on it.
---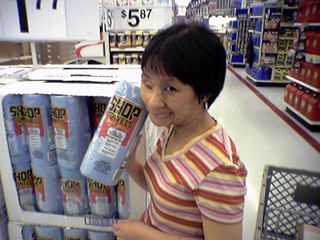 Near the Automotive department, Becky poses with a roll of Scott Shop Towels.
---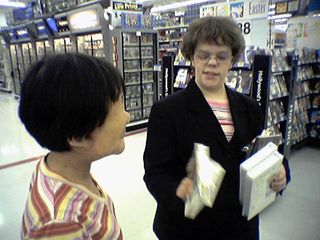 Rebecca shows Becky some movies, hoping to get her opinion…
---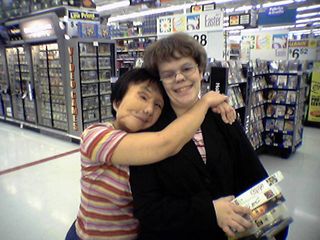 Big hug!
---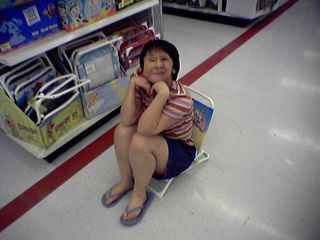 Becky takes a break during our shopping trip, alighting on this fold-up chair.  I think the chair's just a wee bit too short, but otherwise, pretty good.
---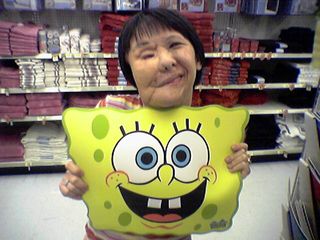 The amount of SpongeBob SquarePants stuff is really amazing.  What Becky's holding up is actually a placemat for children.
---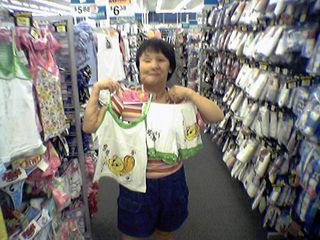 One of Becky's favorite characters is Tweety, as in "I tawt I taw a puddy tat".  And here he is, on a sleepwear set that we eventually bought, that I helped Becky pick out.
---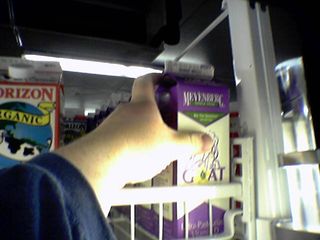 After finishing in the clothing, we went over to the grocery area to get some frozen and otherwise cold stuff.  I grabbed me some goat milk, which tastes pretty good, and is a nice alternative to regular milk from time to time.
---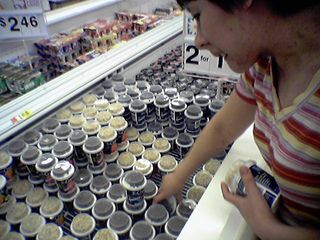 Meanwhile, Becky got some yogurt with the sprinkles on top.
---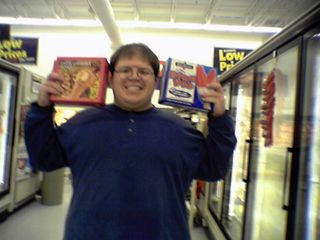 Now this is the decision… do we get the Great Value ice cream cones, or the Bomb Pops?  Turns out we got the bomb pops, just because they're so darn good, and not nearly as rich.
---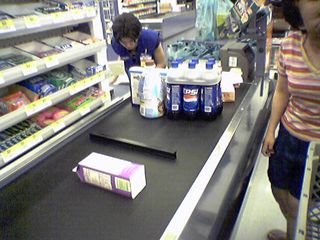 And now it's time to check out.  Becky got her stuff, and then I got my goat milk.  Rebecca also ultimately bought some movies.
---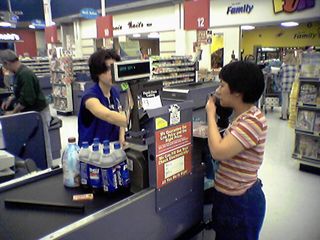 And what is the last stop in a trip to Wal-Mart?  The checkout lanes, of course, where we graced register 13 with our presence.
---
Then on April 27, 2004, we did it again!  After a wonderful meal at O'Charley's, we went over to the Wal-Mart in Dayton (Harrisonburg's "other" Wal-Mart) to do some shopping.  It turns out that Becky and Rebecca are moving, and needed some stuff to put other stuff in.
---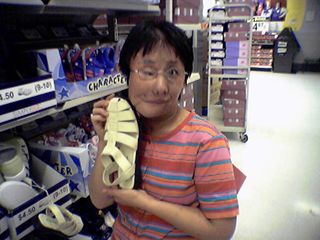 But before some serious shopping, Becky hammed it up with a pair of sandals.
---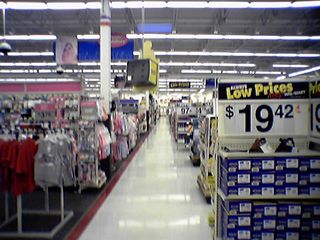 The Dayton Wal-Mart is a lot smaller than the big Harrisonburg Wal-Mart, but still a Supercenter.  We tackled this one with no problem.
---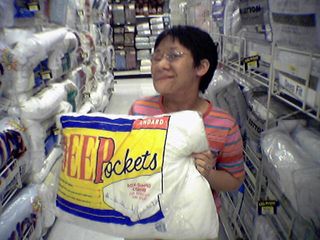 One thing Becky ended up getting was a pillow.  Looks like a darn comfortable one, too!
---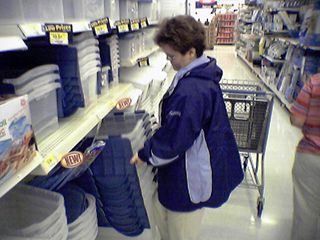 Rebecca bought some large plastic tubs to put stuff in.  She ended up getting two types.  One type had the hinged lid, and the other had a completely removable lid.
---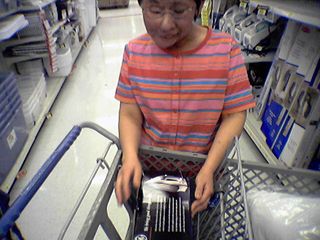 Becky also bought an iron, and placed it firmly in the cart.
---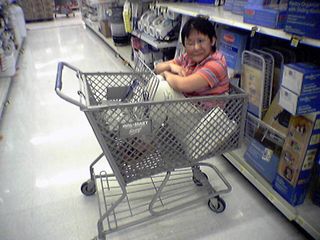 And after placing the iron firmly in the cart, she then placed herself firmly in the cart.  I even offered to wheel her around in it, but she decided to climb back out (awww…).
---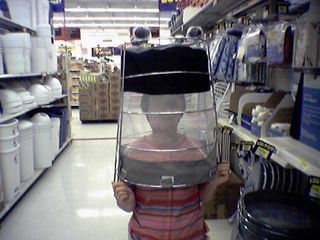 And out of the shopping cart and into the hamper, Becky?
---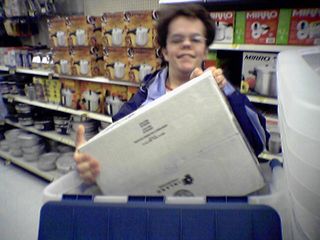 After we loaded Rebecca's tubs into the cart, she got herself a set of glasses for the kitchen.
---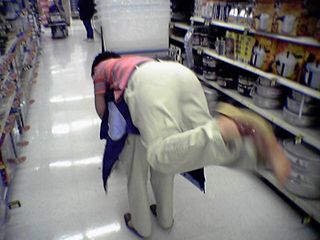 And then gave Becky a brief piggyback ride.  Admit it – we're nuts.
---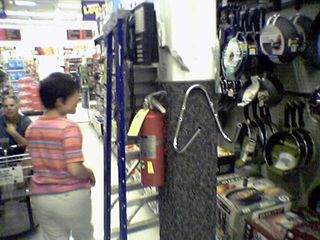 Meanwhile, while we were still in Housewares, we found a loose ladder.
---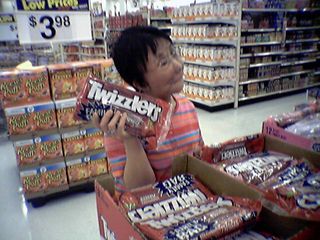 Twizzlers… makes mouths happy!
---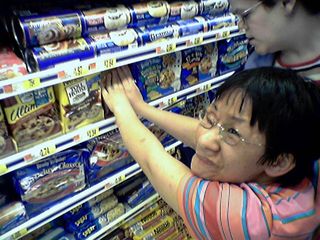 Becky tries unsuccessfully to get a package of cookie dough back on the shelf.  Turns out there was a barrier on there that she was missing.
---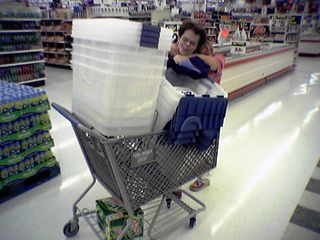 As you can see, we've got a lot of stuff!
---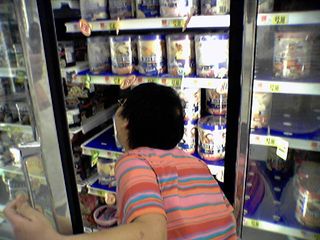 And of course, the ice cream…
---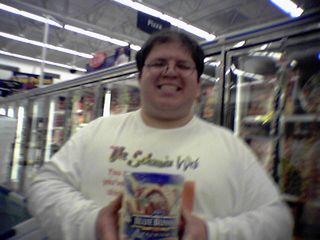 Here, I'm posing with some ice cream.  Mmmmmmmmmmmmm…
---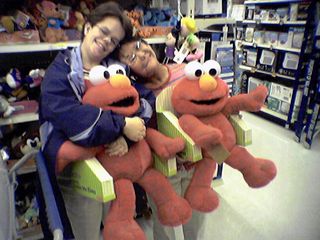 After the ice cream, we stopped by the toy department, where we found these giant Tickle Me Elmo dolls.
---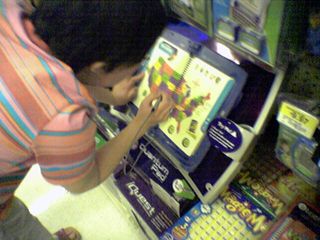 Then we made sure we were still up on our U.S. Geography (we were).
---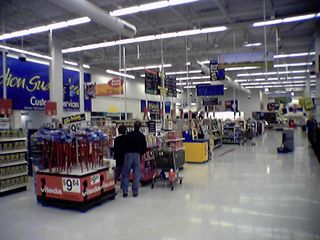 And last but not least, it's time to go check out.
---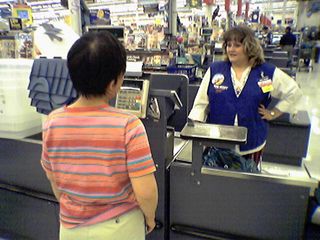 With Rebecca's stuff ready to be scanned, Becky ponders the debit machine.
---
And one last thing before leaving the Dayton Wal-Mart… this is the big that-did-not-sound-right line of the day, which I asked the person at the Service Desk: Is it okay if we leave our cart here while we go use the men's room?  That definitely didn't sound right, especially with my being in a group with two women.  But the person at the Service Desk understood, and let us park our cart.