Virginia Beach Vacation
Part 1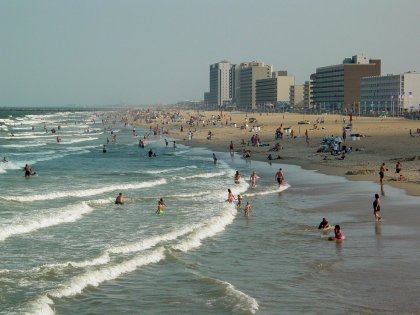 August 11-12 was my vacation!  Where did I go?  The beach!  Specifically, Virginia Beach, where I spent two days doing whatever I wanted to do.  And I had fun!  I spent a lot of time photographing, since it relaxes me.  I also did a lot of balcony sitting in my hotel room at the Ocean Holiday (which did a much better overall job this time compared to 2000), just enjoying the surf and sun from high above.  Early morning on the second day, I photographed the sunrise.  For the rest of the second day, after checking out of the hotel, I hit the surf, and then explored the strip for a while.
As you would expect from me, I saw and documented some odd sights, some more normal sights, and have something to say about everything.  This Life and Times set is a bit of a hybrid, at times being written as a narrative, and then changing to a photo set, back to a narrative, and back and forth as I see fit.
---
I ended up rolling out of the driveway at around 5:30 AM, which is the same time I leave for my regular trips to Washington DC.  However, instead of heading up the road like I'm going to DC, I took US 340 like I'm going to work, and then turned onto I-64 eastbound.  Unfortunately, halfway down US 340, my cruise control died on me, which meant that instead of setting my speed early and just riding with it, I had to put foot to pedal, driving the old-fashioned way.  I ended up stopping at the McDonald's at Zion Crossroads for a quick breakfast, and then it was nonstop until past Richmond.
I hit Richmond right during rush hour.  This was expected.  Now when you're traveling past Richmond, you have two choices on how to take it.  You can take I-295 on a northern loop around Richmond, or you can take I-64 straight in, which shares an alignment with I-95 for a few miles in the center of the city.  The way I decide which way to take is to evaluate my mood, my patience level, the traffic, and what the time situation is.  For Richmond, I have found that the I-295 route is excruciatingly boring, and quite long.  The direct route seems quicker, and is far more stimulating overall, with more interesting scenery and more traffic.  You just have to know what you're doing.  I took the direct route, and it did me quite well.  I took I-64 straight in, and then correctly switched to I-95 south (I-64 east multiplexes with I-95 south, and I-64 west multiplexes with I-95 north).  The trick while driving I-64 on I-95 is to stay as far right as possible, since the exit back onto I-64 is on the right and comes up quickly.  Once back on I-64, it's smooth sailing right through Richmond.
East of Richmond, I-64 goes back down to two lanes each direction, though traffic is heavier than west of Richmond, since this is the main corridor between Richmond and Hampton Roads.
In New Kent County, which is a bit to the east of Richmond, but still a bit to the west of Williamsburg, is the last eastbound rest area on I-64.  Last year, when I went to Norfolk to do The Schumin Web Photo Essay Blitz 2003 in March, and when I went to Water Country USA in May that same year, the rest area was in the process of being replaced.  The very old original rest area was totally demolished, the land was cleared, and a completely new facility was built.
---
Outside the rest area building, the usual facilities can be found, though with a more updated look to them.  Note how the picnic table is not in line with the sidewalk and the canopy – it's at an angle!  Also notice the bench – much more ornate, and sporting an outline of Virginia, which actually ended up being a recurring theme here.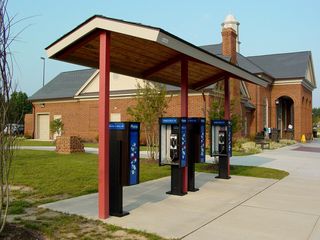 ---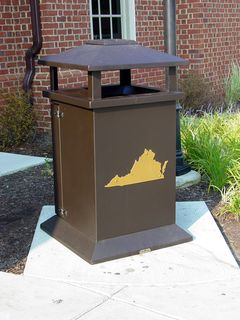 Waste receptacles, both for trash and for recycling, share the outline-of-the-state theme that is found all over this rest area.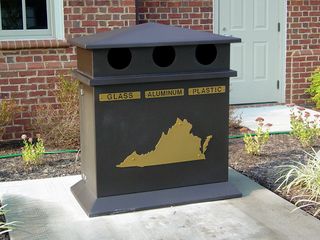 ---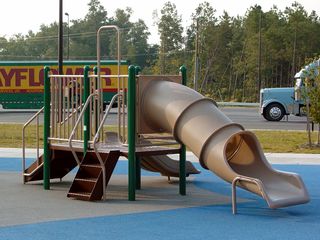 A new feature – a playground!  I'd never seen a playground for children at a rest area before.  Not a bad idea, either.
---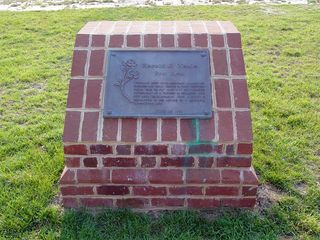 I also found the dedication plaque near the playground.  This was carried over from the old rest area.  It reads:
Harold J. Neale Rest Area
Virginia's first state highway landscape engineer – Mr. Neale served in that position from 1930 to 1957 and was recognized nationally as a pioneer in roadside and rest area development.  This facility is dedicated in his honor by a grateful commonwealth.
June 15, 1978
---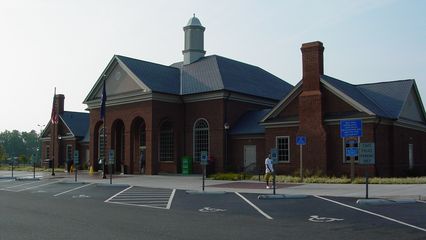 The building itself, right off the bat, is noticeably larger than most rest areas.  It's also a lot more modern looking, while keeping with the same general architectural style as other Virginia rest areas.  This is also the first new rest area that Virginia has built in some thirty years or so.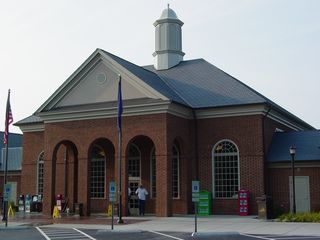 ---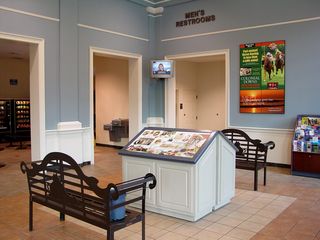 Inside, the building is far more ornate than a regular rest area.  Another first – a lobby!  In other Virginia rest areas, the closest thing to a lobby is where there is an open-air corridor running down the center of the building on some floorplans.  Nothing like this, with climate control, big fan windows, and televisions set to CNN.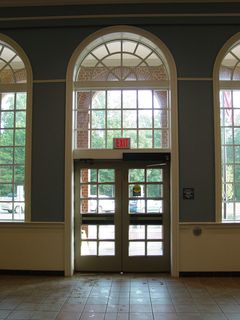 ---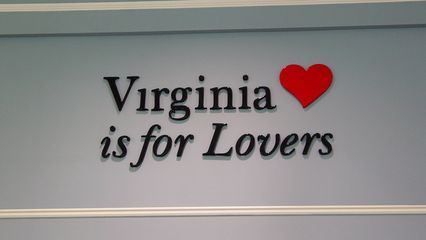 Another first – signage!  A "Virginia is for Lovers" sign is on the wall over the center of the lobby, and other signs indicate where the restrooms and vending machine area are located.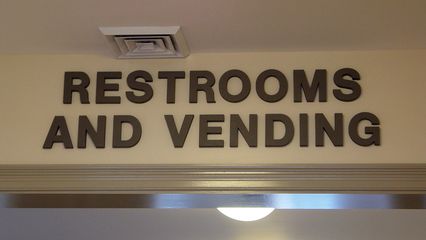 ---
The restrooms… wow!  This is nice.  Big ceramic tiles and a red border make this more upscale than your average rest area.
---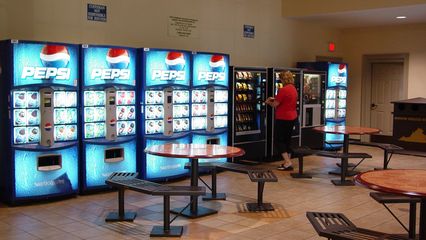 The vending machine area, usually in its own building in other rest areas where it's offered, is located right off the main lobby.  It even features indoor seating!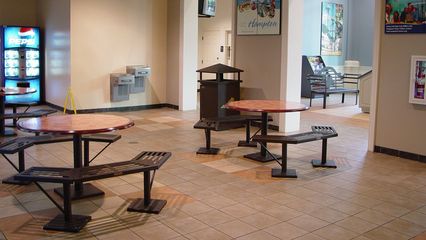 ---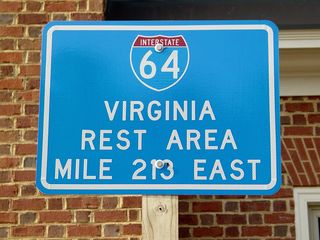 And of course, some things never change, as we find the marker sign common to all Virginia rest areas.
---
Leaving the rest area, I tested my cruise control to see if it was working again.  Turns out, thankfully, it was.  Usually after the car gets a while to sit silently, the cruise control will usually re-engage next time an attempt is made to set it.  So good deal.  I cruised.  I cruised right on past Williamsburg and Busch Gardens, and right into Newport News.  Now for those of you who don't know, Newport News is a long, skinny city, formed by the merger of the old City of Newport News with Warwick County, to create the present-day City of Newport News.  It starts out slow, and then gets more urban the further east you go.
I also used this part of the ride as an opportunity to recharge Big Mavica.  Since this was to be a two-day trip, I brought my charger with me so that I could get a fresh charge for the second day.  So any time that I had access to a power source, either on land or by car via my car adaptor (one standard 110V outlet from the cigarette lighter), I topped off Big Mavica's batteries.  This ended up being a great benefit for me in the end.
I made another pit stop at the Wal-Mart in Newport News.  It's visible from the highway, and is a converted Supercenter, meaning that the building originally was a regular Wal-Mart, and was later expanded and remodeled to become a Supercenter.  You can tell these by looking at the ceiling.  In those stores, you have a gymnasium-style ceiling over the grocery area, and a drop ceiling over the rest of the store.  Most of the Newport News store was otherwise unremarkable – just your typical converted Supercenter.  But get around to the front end, and I saw a surprise.  Thirty-three registers!  Most I've seen in any number of years is 31 in Staunton and the big Harrisonburg store.  Staunton used to have 38 registers, all in a line along the front end, but eight in the middle were removed early on to make a book department, and the others were renumbered at that time.
So after Wal-Mart, where I ended up buying a nail clipper (to remedy a nail casualty I had earlier) and a soda, I got back onto I-64 east, and headed to Virginia Beach.  This took me through a section of I-64 in Newport News and Hampton that has been under construction practically every time I've been through the area.  It reminds me of the line from the You know you're from Hampton Roads if… joke where they say, "You can leave town for years at a time to find the same sections of road still under construction."  But after the construction, it smoothed out, and I went through to the big Hampton Roads Bridge-Tunnel.  I felt quite special driving through there, mainly because I was actually moving through it, which is more than could be said for the westbound traffic, which was quite congested.
Coming out of the bridge-tunnel lands you in Norfolk.  I got off at Norfolk and gassed up a bit, just to keep the tank at a "comfortable" level.  I was nowhere near being out of gas, but just to be on the safe side, you know.  So after that, I was back on the road again, and nonstop to Virginia Beach, learning my lesson from 2000, when I rode halfway around the Hampton Roads beltway looking for VA 44, which ended up being changed to I-264.  So I took I-64 to I-264, and from there, made a beeline to my hotel.
I like to think that I made good time despite my various pit stops (six!).  I ended up rolling up to the Ocean Holiday just before 11 AM.  I made such good time, in fact, that my hotel room was not only not yet ready, but that the previous occupants had not yet left.  So I couldn't get in yet.  No big deal.  I wanted to check the information kiosk nearby, since my friend Cassie from JMU was supposed to have been working there.  Turned out she was on vacation.  Drat.  I also wanted to explore a little, plus visit this one Wal-Mart store on Nimmo Parkway in Virginia Beach, which I remember had an unusual receipt header.  And I had to get some stuff anyway.  So it worked out.  I gave the hotel my cell phone number, asking that they call me when the room is ready.  They also put my room on high priority to get it made up for me.
---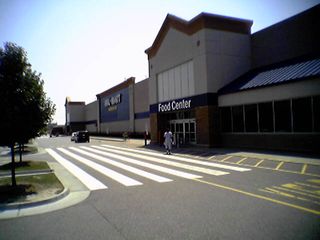 So I got to Wally World, and as you can see, this is one ornate store.  All kinds of neat exterior details, plus brown instead of gray, and no "ALWAYS" over the entrances.  Inside, it's almost exactly like the big Harrisonburg Wal-Mart.
---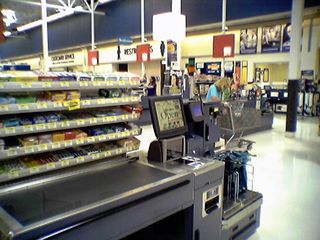 Dig the self checkouts!  These are just cool.  Also very different from the ones in Waynesboro.  I think that these are far superior to the ones in Waynesboro, with these being a lot friendlier, both in the digital voice, and with the user interface.  Wish that Waynesboro had gotten this kind, but that's not going to happen…
---
My receipt from the self checkout: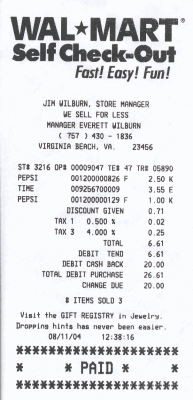 See what's so funky about their receipt?  Two manager lines!  That top one that says, "Jim Wilburn, Store Manager" is the oddball line.  I've seen some oddball receipts, but that's the first time I've seen two manager lines.  And two different names, too, though I suspect it's the same guy.
Also, if you're wondering about the two Pepsis, one was a six-pack of bottles for later, and the other was intended for immediate consumption.  I also bought a copy of Time Magazine, which I got to read here and there.
---
While I was at Wally World, I got the call from the hotel saying that my room was ready.  So after I finished at Wal-Mart, where I also ate lunch at their Radio Grill/Snack Bar, it was back to the hotel to check in.
---
As I mentioned before, the Ocean Holiday, which I gave a second chance in 2004 after not being all that satisfied in 2000, did a LOT better on its overall experience this year.  All the lights worked.  The refrigerator (seen to the left of the window in the right image) had all its pieces in place.  An ice bucket was present.  Additionally, the front desk staff was much more helpful this time around.  It was enough to change my opinion of the hotel, and recommend it to others.
---
Look what was right outside Room 822!  A Wheelock 7002T horn/strobe (and yes, the sounder plate was black), and a Fire-Lite BG-6 pull-station with a glass cover over it.  The BG-6 with the break-glass cover was standard throughout the hotel, whereas the 7002T was apparently a replacement.  The remainder of the horns were Simplex 2901-9806 (standalone horn).
---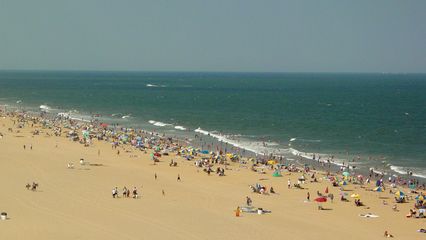 The view from the Ocean Holiday is a good one.  The beach is on the balcony side, and is more than twice as wide as it was in 2000 after a beach nourishment program called "Operation Big Beach" was completed in 2001.  The other side, seen from the windows in the corridor, is the Virginia Beach strip, otherwise known as the "resort area", and beyond.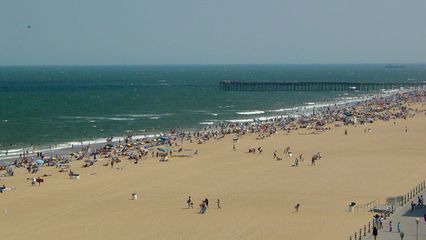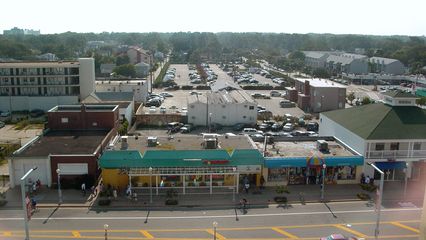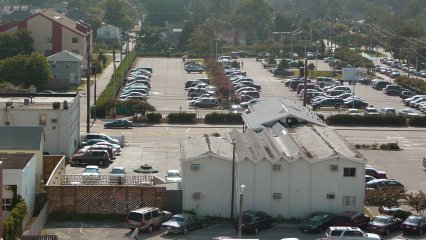 ---
After the long drive to Virginia Beach, I kind of took a bit to just crash for a moment.  I had a soda on the balcony.  I turned on the TV.  I watched it for a little bit.  I basically took some time to relax for a while, get my bearings, and figure out what I wanted to do.
I ended up deciding to go on a walk up the boardwalk to the fishing pier.  The fishing pier is some distance away from the Ocean Holiday.  It really does look a ways off in the distance when you're standing at the Ocean Holiday.  But I decided that a walk was just what the doctor ordered, and off I went.  On my first day at the beach, the wind was really strong.  That made things interesting, indeed.  Still, I grabbed my camera bag and a freshly recharged Big Mavica, and headed out.
---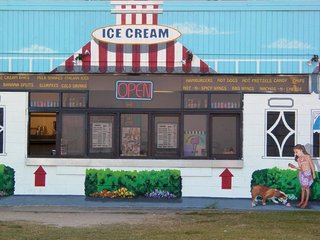 This building, not far from the Ocean Holiday, has quite an interesting paint job.  The grass actually reaches all the way up to the building.  What looks like a sidewalk is actually painted onto the wall.  The bushes are painted on as well.  The striped roof and the sky?  Also painted on.  It definitely makes an interesting impression.
---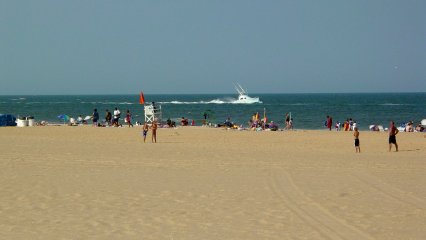 Meanwhile, from ground level, the beach is quite noticeably wider than it was in 2000.
---
Between the buildings and the main boardwalk, a bike path runs along the length of the strip.  The signage here is for cyclists, not only using regular bicycles, but also multi-seat pedaled vehicles.  Bikes are the only thing allowed on the path, and bicyclists need to take care not to run any pedestrians over.
---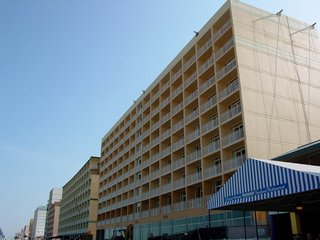 Meanwhile, a new hotel is being erected along the strip!  This will be a Fairfield Inn in the end, and from what I could tell from the outside, it's going to be nice looking.
---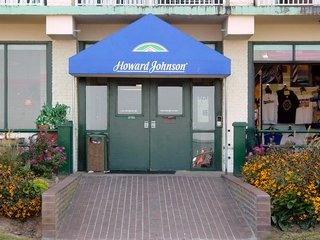 A surprise!  I did not expect to find a Howard Johnson's hotel.  This was such a surprise to me because a previous vintage Howard Johnson's had existed on the strip in Virginia Beach for many years, and was demolished in 2001.  This hotel is definitely older than 2001, but I have no idea what this place used to be.
---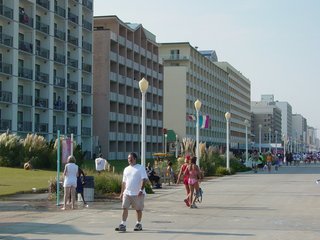 As you can see, I've made some progress!  The Ocean Holiday is actually out of sight well down the boardwalk.
---
As I got closer to the fishing pier, a few amusement park-style areas came up.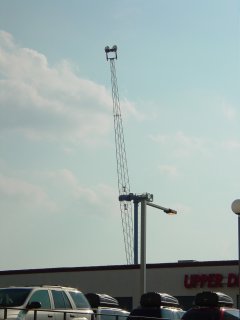 This thing has riders on both ends, and goes around and around REALLY fast.
---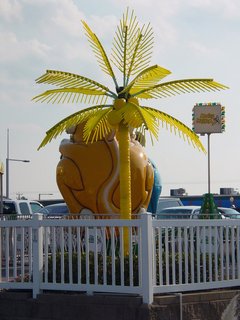 This one has a very tropical theme, with its obviously-fake palms and monkeys and such.
---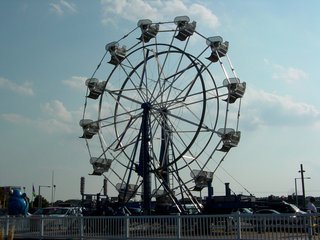 A Ferris wheel!
---
A carousel!  Listen to the music – so festive!  That is, of course, if you can hear it over the wind, which was pretty strong.
---
As I got close to the pier, I found warning signs advising people not to get too close to the pier, presumably for safety purposes.
---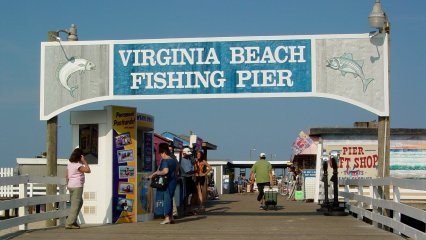 We're here!
---
As you can see, this is a serious operation.  There are businesses on this pier closer in, and there is an admission fee to access the pier, which varies depending on whether you're there to just look or to fish.  Notice how the buildings are sitting directly on the pier.
---
Take a look at these pictures, and you can see just how far out the pier goes, going a considerable distance from the boardwalk in the process of walking to the end of the pier.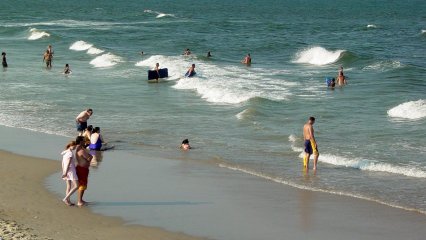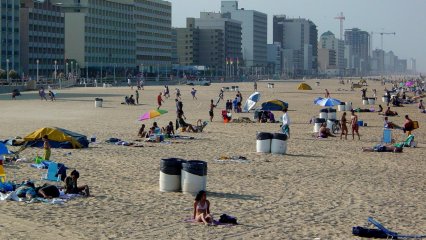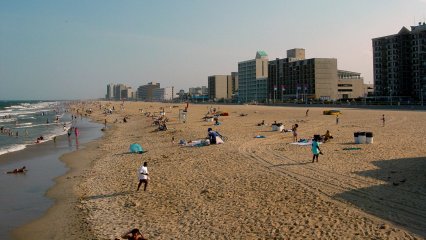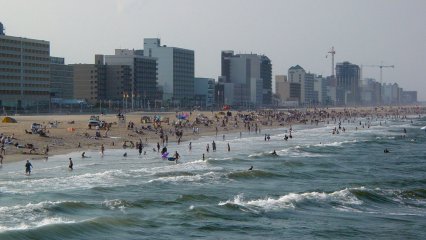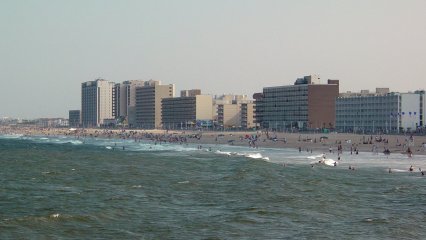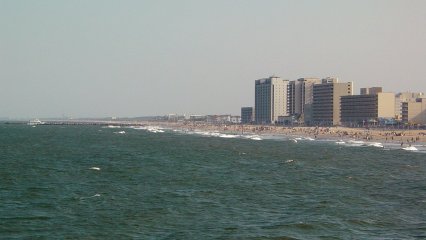 ---
All the while that I'm taking pictures, the pier is hopping!  Lots of people are fishing off the sides of the pier, catching all kinds of stuff.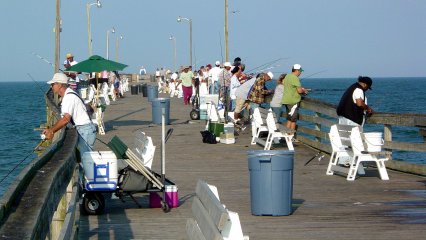 ---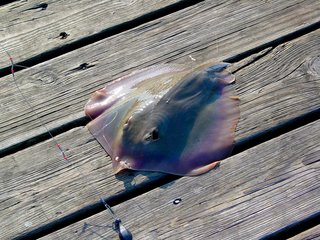 One gentleman caught a skate!  He ended up throwing the skate back, but not before first making sure to remove the hook.
---
As you can see, this is a long pier, made all the more evident when you're right on top of it, seen at left at the shoreside end of the pier, and at right looking from the far end of the pier.  The very tip of the pier appeared to be of recent construction – I don't know if it's a planned reconfiguration of the end of the pier (it fanned out just slightly at the end), or whether this is repairing damage from Hurricane Isabel the year before, which hit Virginia Beach directly.
---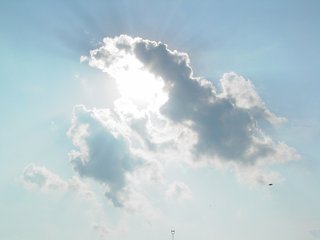 What an interesting cloud!  I love it how you can see the sunlight radiating out from behind the cloud.  This day was nearly perfectly clear, with only the occasional cloud here and there.
---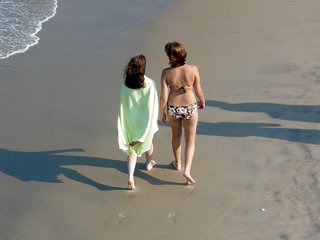 Coming back from the pier, we find some people simply walking the beach near the water, leaving their footprints in the sand behind them.
---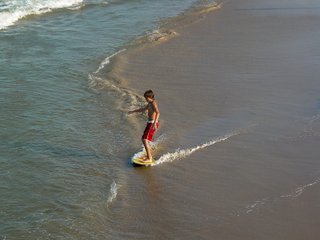 We also find a boy trying to do a little surfing on the waves as they come ashore.  Sadly, the waves weren't really sufficient to get some good surfing.  The waves were really calm on this trip – noticeably calmer than I'm used to at the ocean.
---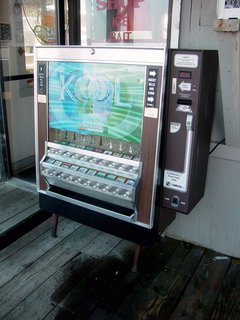 A cigarette vending machine?  I didn't think any of these existed anymore.  Before this, I had not seen a cigarette vending machine in about twelve years – back when we still lived in Arkansas.  As you can see, the machine is still meticulously maintained, judging by the recent Kool logo on the front of it.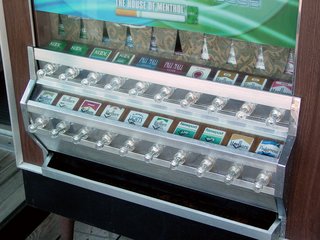 ---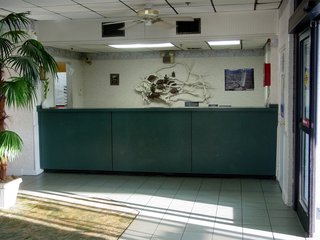 As a side note, this is the front desk of the Ocean Holiday.  The fire panel is that red box at right.
---
After returning to the hotel after seeing the pier, the decision became a matter of thinking of dinner.  First, however, back in the comfort of my hotel room, I checked out the material I'd just shot.  I also cleaned up the camera a bit, as the strong winds blew all kinds of smallish gunk onto the camera and myself.  It wasn't enough gunk to affect the pictures, but it was noticeable gunk nonetheless.  I used the lens cleaner spray that I usually use on my glasses on the camera, which did the job, cleaning the camera to a shine again.
Following this, I headed out in search of dinner at a restaurant.  I was thinking of going to some sort of seafood restaurant, and having some sort of fish for dinner.  That's not what happened.  Instead, I ended up going to Guadalajara Mexican Restaurant on 21st Street.  I ordered some enchiladas or something there.  They were good.  But you know what the thing that really was memorable about the restaurant?  The margarita that I had.  Let me tell you… that was one potent little drink.  Normally, when I have a margarita, you can't really taste the alcohol, with the other ingredients, as well as the salt on the rim, lending a stronger flavor than the alcohol.  That was not the case here.  This was a strong margarita!  You could definitely taste the alcohol, and it left no doubt in anyone's mind that it was an alcoholic beverage.  I had a bit of this drink, and I could feel it, with my face getting really warm all of a sudden and feeling a little wobbly.  After finishing the drink and my food, I paid, left a tip, and headed on back to my hotel.  Let me say this about it.  I didn't consider myself to be drunk after having that margarita.  Sure, I wasn't totally on an even keel yet, but I could still act totally sober, even though I was not.  I consider myself as being somewhat tipsy after that margarita.
Getting back to the hotel, it was now well on the way to being dark outside.  So I went back up to my room and parked myself on the balcony whilst giving myself a little time to sober up.  The waves were still calm and crashing on the shore, and the wind had long since calmed down.  After sufficiently sobering up, I headed out to the beach to take a dip.  So I grabbed one of my beach towels to make myself a place to park my stuff, and headed out to the beach.
I parked my towel in about as close a place as I could on the beach while still ensuring that my towel wouldn't get wet.  And then I put my stuff on the towel, and then inched my way into the ocean.  While I was swimming around in the ocean in the dark, a surprise came from just offshore.  A boat was setting off fireworks!  Big Fourth-of-July-style fireworks, too.  That was quite a treat, and it looked really large, too, since I was really close.  Most people were watching from their hotels, or from the boardwalk.  A few even watched from the lifeguard's chairs.  I was actually in the water.  That was an amazing display.  You could hear the fireworks' booms echoing loud and clear off the hotels as well.  Thus you had BOOM BOOM for each boom.  The end of the show was spectacular, with the people on the boat setting off practically everything that they had not done yet nearly all at once.
Well!  That was exciting!  After that, I headed back into my hotel room, and decided it was time for a little night photography.  So I grabbed Big Mavica, my camera bag, and my tripod, and went back down to the boardwalk…
---
On the boardwalk, the lights shine brightly, and ghostly images of people walking by can be seen, a byproduct of long-exposure photography.
After a number of photos up on the boardwalk, I moved down onto a wooden path on the beach itself to get some more images…
---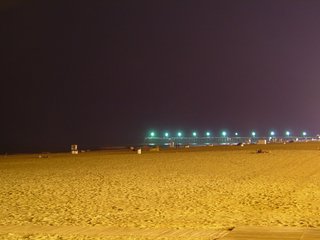 Off in the distance, the fishing pier is lit up in what appears to be a slightly greenish light.
---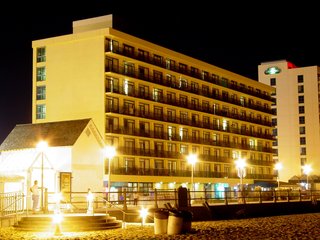 The Ocean Holiday stands here, lit up by the light of the boardwalk.  My room is the fourth one from the left on the top floor.  My light is on, but the curtains are closed.
---
The beach itself, meanwhile, is lit by the lights of the boardwalk, while showing the marks of a day of people walking across it, judging by all the footprints.
---
After a run over the beach with Big Mavica, I headed out onto Atlantic Avenue for a few night photos of the strip, right out in front of the Ocean Holiday.
---
And finally, after my round of night photography, I turned in for the night right at midnight.  I set my alarm clock for 4:00 AM in order to wake up in plenty of time to photograph the sunrise, left the tripod up, took Big Mavica off the tripod to charge, and then went to sleep.
Zzzzzzzzzzzzzzzzzzzz…
Part 1