Virginia Beach Vacation
Part 2
4:00!  Good morning!  First thing I did upon getting up was to grab one of those well-chilled Pepsis that I bought at Wal-Mart the day before.  Get some caffeine in my system.  Finding Big Mavica fully charged after sitting overnight, I was ready to do some sunrise photography.  I covered the sunrise itself in the Photography section, titled Atlantic Sunrise.  As such, I am not going to duplicate that photo set here, but I strongly encourage your taking a look at it, since it really is quite a sight.
After the sun was fully up, I had to think about clearing out of the hotel.  Check-out time was 11:00, and I needed to make that time.  First, though, I got all set for the day, taking a shower, getting dressed, and getting Big Mavica all topped off for the day.  I needed to make sure my other two batteries were topped off, plus recharge the one battery after the sunrise photo sets.  Remember that once I left the hotel, whatever charge I had on my batteries was it for the day.  So I wanted to make sure I had a completely full charge on all three batteries.
After getting all packed up, I went in pursuit of a luggage cart, which was understandably in high demand around check-out time.  So I went down to the lobby, and waited for one to free up.  I also had a few conversations with some of the other guests who were also waiting in the lobby for one reason or other.  And after a little bit of waiting, I got my cart.  So upon getting the cart, I took it upstairs and loaded it up.  Almost ready to go!  I did a quick sweep of the room, and determined that I'd gotten everything.
So with that, I left the cart in the room, and fetched the car.  I went back upstairs, got the cart, did one last sweep of the room to make doubly sure that I had everything with me before I left, loaded the car, and checked out.  That officially marked the end of what I consider to be "part one" of my trip – the one where I had a hotel room to call home base.  I had completed my stay at the Ocean Holiday, and was quite pleased with them this time.
Now we begin "part two" of the trip.  This is where "home base" is my car.  This is familiar territory for me.  Whenever I do photography trips, my car is home base.  All of my equipment and whatever else is somewhere in the car.  So I'm used to this.
So what now?  Two things take priority.  First of all, I stopped at a 7-Eleven on Pacific Avenue for some Tylenol, as I had a bit of a headache.  Secondly, I went in pursuit of some grub.  I already did a formal meal, having done Guadalajara Mexican Restaurant the night before.  So I pulled into a Wendy's on Pacific Avenue for lunch and had one of their combos.
From here, after lunch, the plan was to hit the beach one more time, and also scope out the strip.  But first we must find a place to park the car.  This is important, because if you park in the wrong place, you will be towed.  Practically every business with a parking lot had a sign stating that parking is for customers only while on the premises, and that if towed, you had to pay in the neighborhood of $80-something, cash only.
---
Here are two of these signs advising patrons about the parking situation:
As you can see, these signs were quite conspicuous, and a little on the threatening side.  I presume they really do mean business, but I was not about to find out if they really meant it.  Still, there you go – $80.00 CASH.
---
According to my friend Cassie, the reason that they have all these signs, only one city-maintained restroom facility (with most stores saying "NO PUBLIC RESTROOM"), not a whole lot of public parking, no changing rooms, and the only showers being pull-cord showers right on the boardwalk, is in order to discourage day trips, and encourage people to stay the night in a hotel.  If you stay in a hotel, you see, that facility provides parking, restrooms with showers, and changing space.  I don't really agree with this philosophy.  Usually, I am a day-tripper whenever I go places.  Washington DC is a day trip for me.  Every time.  Virginia Beach is not a day trip for me because it's slightly beyond my one-day range.  Williamsburg or Newport News is about my one-day limit.  So I take offense to treating the day-trippers like dirt in order to get them to stay in a hotel.  Particularly in my situation, where I did stay in a hotel, checked out, and thus essentially became a day-tripper.  Besides, day-trippers may not stay in a hotel, but if they can day-trip it, they live nearby, and thus can come more frequently and drop money more often.  But anyway, end of tangent.  That whole philosophy just rubbed me the wrong way…
So after Wendy's, I went hunting for parking.  Now the previous two times I went to Virginia Beach, when going without a hotel, we parked in this municipal parking lot near the giant beach balls.  So logically I go hunting for that parking lot, going north on Atlantic Avenue.  I'm driving, and looking for the parking lot.  I found the beach balls, but not the parking lot.  Hmmmmmm.  I keep going, thinking, it's got to be around here somewhere.  I ended up going all the way to the end of Atlantic Avenue, inadvertently exiting the resort area entirely.  This landed me in an area with some cottages in it, and realizing I missed something somewhere along the way.  So I found a place to turn around, and I returned to Atlantic Avenue.  We passed the beach balls once more.  That's when I realized it.  The municipal parking lot that I was looking for was still there, but it was now underneath a high-rise building.  So my parking lot was gone.  Drat.  It was good, it was right on the oceanfront, and it was cheap, too.  As I said: Drat.
I ended up finding some privately-owned parking along Pacific Avenue near the Mexican restaurant I ate at.  It was a little further out, and much more expensive, but it worked.  So I grabbed a towel, Big Mavica, and the camera bag, and I was off.
---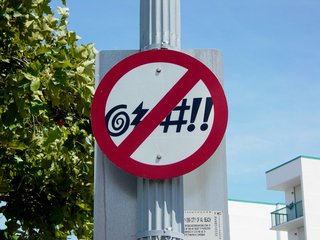 One of the first things I saw after leaving my car was the symbol of the whole "No Bad Behavior" campaign – the no-cursing sign that I discussed after my last visit.
---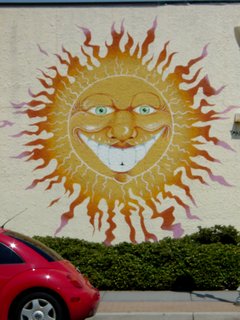 You know who this sun reminds me of?  Tillie.  As in from Palace Amusements in Asbury Park.  The reason it reminds me of Tillie is because it's basically the same premise.  A large face smiling very large on a wall.  Though Tillie has some charm that this one just doesn't have.
---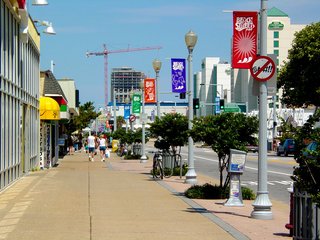 This is the area on the strip where I started out.  I ended up going south for some distance, which is behind me in this photo.
---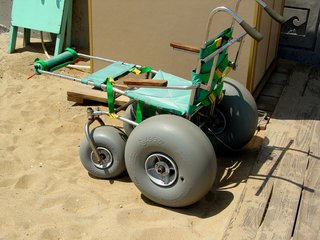 Heading down to the beach, we found what I describe as an all-terrain wheelchair.  It's got wheels by Roleez, and is designed for those with disabilities to get around on the beach, since using a conventional wheelchair would be impractical in the sand.
---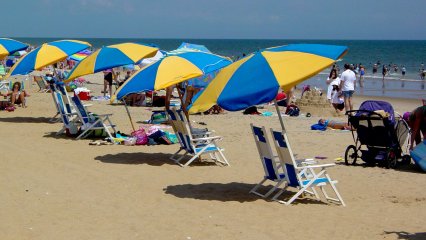 On the beach, I parked in one of those chairs with the umbrellas over them in the photo at left, and took a little dip in the ocean.  That was a lot of fun, and it definitely was refreshing.  The thing I enjoy about the actual ocean is riding the waves.  You can go over the waves, under the waves, let the waves knock you over, let the waves smack against you, dive into the waves… you name it, I probably did it.  I enjoy that.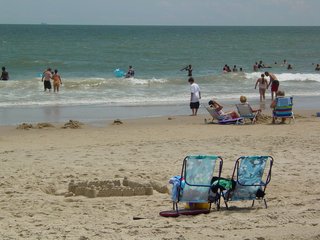 ---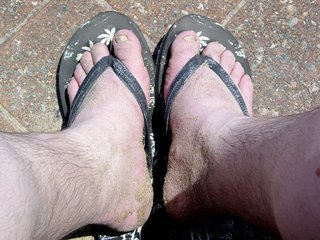 After getting out of the ocean, I headed back to the boardwalk to dry off and clean the sand off.  Still, though, look at the sand on my feet.  I certainly accumulated my fair share of sand.  One of those little outdoor pull-cord showers got that all off.  It also got most of the salt water residue off, too, especially since I'd otherwise have to live with that all day.  The water, however, was COLD…
---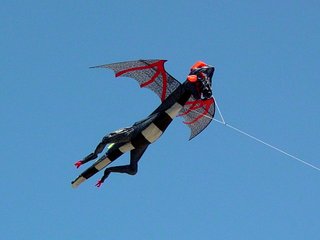 What an interesting kite!
---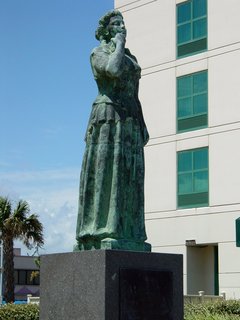 After leaving the beach, I crossed over to the strip by way of Norwegian Lady Plaza, right next to the Ocean Holiday.  The plaque beneath the statue reads:
I AM
THE NORWEGIAN LADY
I STAND HERE
AS MY SISTER BEFORE ME
TO WISH ALL MEN OF THE SEA
SAFE RETURN HOME
A second plaque states that the statue is in memory of those who have died at sea, and dedicated in 1970 by the citizens of Virginia Beach.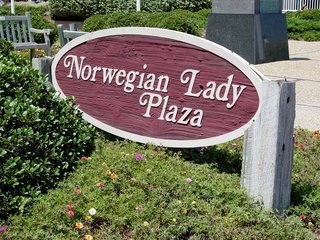 ---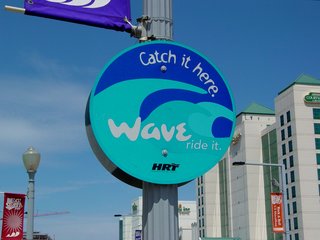 Another thing I did while I was on the strip was some transit photography.  I figure while I'm out here I might as well get something for my Transit Center site.  Most of what I photographed was the VB Wave trolley-bus, but I did also get a couple of HRT photos.  VB Wave is the resort area shuttle, and HRT is the mainstream bus service.  The VB Wave trolleybus route is designated as HRT Route 30.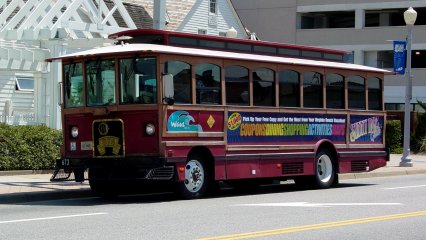 ---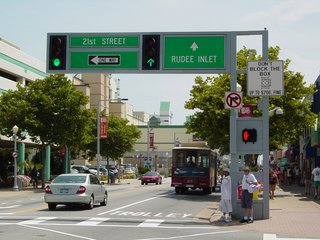 Most of the big intersections along Atlantic Avenue have several of these structures around them.  Big and overhead.  The "Don't Block the Box" sign is one that is found all over the resort area.  What they're saying is not to block the intersection, which they have marked with diagonal lines in both directions.  Thus the area is clearly designated.  Block it, and you could be fined up to $200.
---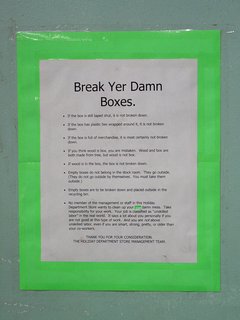 A rather rude and condescending sign found in plain sight at the Holiday Department Store, which is along the strip.  I don't know what this says more about: The intellect of the store's employees, or the holier-than-thou attitude of the store's owners.  It also says a lot considering the fact that these signs were placed in plain view of customers.  The sign says:
Break Yer Damn Boxes.
If the box is taped shut, it is not broken down.
If the box has plastic ties wrapped around it, it is not broken down.
If the box is full of merchandise, it is most certainly not broken down.
If you think wood is box, you are mistaken.  Wood and box are both made from tree, but wood is not box.
If wood is in the box, the box is not broken down.
Empty boxes do not belong in the stock room.  They go outside.  (They do not go outside by themselves.  You must take them outside.)
Empty boxes are to be broken down and placed outside in the recycling bin.
No member of the management or staff in this Holiday Department Store wants to clean up your damn mess.  Take responsibility for your work.  Your job is classified as "unskilled labor" in the real world.  It says a lot about you personally if you are not good at this type of work.  And you are not above unskilled labor, even if you are smart, strong, pretty, or older than your co-workers.
THANK YOU FOR YOUR CONSIDERATION.
THE HOLIDAY DEPARTMENT STORE MANAGEMENT TEAM.
And there were more where that one came from in lots of other places in the store.  And they were all just as rude and condescending.
---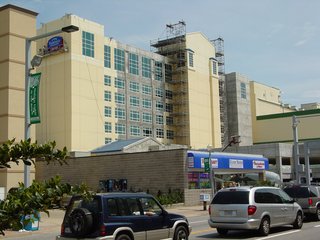 While one of the two new hotels was a Travelodge, the other was a Fairfield Inn.  The place is still quite incomplete, though getting there.
---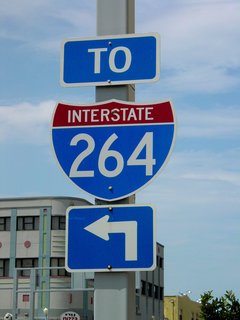 I took this picture for a few reasons.  First of all, it's a wide style interstate sign that I could use in the future for whatever I need.  Secondly, I still am amazed at how badly I botched the drive to the beach in 2000 because of the numbering change (this used to be VA 44).  It literally sent me completely around the Hampton Roads area.
---
The "Nightmare Mansion" came complete with a skeleton peering over the top of the building.  My comment: Looks like me when I wake up in the morning.
---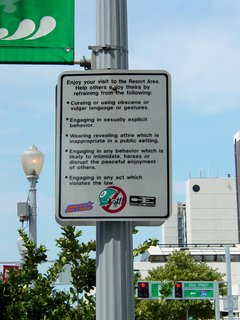 The "No Bad Behavior" campaign makes itself known with rules posted on a number of the lampposts.  The sign basically says no cursing, no sexually explicit behavior, no overly revealing clothing, no disruptive behavior, and no engaging in illegal acts.
---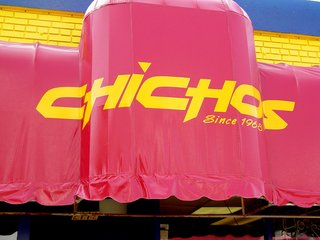 I thought that this restaurant, called "Chicho's" was neat.  Just the name, actually, as I didn't go in.  And I got some funny looks from people inside while photographing the building.  I found this building noteworthy mainly because I once created a cartoon character on my own with a similar name back when I was in elementary school.  This is what my cartoon character looked like: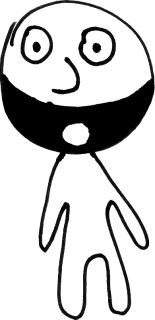 That's him, with a big bald head, beard, and funky-looking body.  His name was Chicho BliP (yes, the P is supposed to be capitalized).  Where I came up with that name, I will never figure out.  But it sounded good at the time.  Chicho had a group of other people named BliP.  Jay, who had head hair, no beard, and a perpetual smile.  Geoff, who was officially designated as Chicho's brother, looked just like Chicho, except he had hair on his head.  Then there was Amy BliP, the only female in the group, who wore a dress and had two side braids.  And stick feet based on how I drew them.  Of course, you may note that Chicho has no hands or feet.  No one said I was an artist, and I'm also not giving up my day job.  The problem with this group of people, besides the fact that these people were badly drawn, looking like a nine-year-old drew them (which was indeed the case), was that I never figured out anything for them to do.  Very, very, very stupid cartoons.  They looked like I didn't know what I was doing.
So anyway, where were we again?  Oh, yes, Virginia Beach.  Let us continue…
---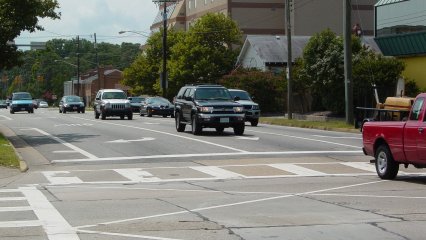 By this time, it was about time to pack it in and head home, but not first before buying some salt water taffy.  After that, I headed over to the car.  I crossed over to Pacific Avenue, and then walked past the Wendy's where I'd eaten earlier on the way back to the car.  On the way back, I encountered more people arriving at the resort area by way of 21st Street, which is what I-264 becomes for that final little stretch to the beach.
---
And that was it for Virginia Beach.  I got back in the car, found my way to 22nd Street, which turns into I-264, and I was off.  It was about 3:30 in the afternoon.  That would get me back home in plenty of time for the early shift I was to work the next day.  Plus it was beginning to cloud up, as rain was in the forecast for the evening.  Before hitting I-264, I made a pit stop at a Texaco station right at the point where 22nd Street turns into I-264.  At that point I grabbed a drink, mostly.  Something to suck on for the ride home.  Turns out that was most important, as it would be an interesting ride home.
I-264 was fairly uneventful.  I hugged the right lane the whole way, as my exit would be from the right lane.  Then at the designated location, I switched to I-64 west.  Turns out we had slow traffic from just before the Hampton Roads Bridge-Tunnel to well beyond it.
---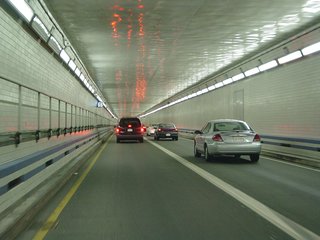 I don't know how well you can tell from this photo, but this was actually taken from inside the tunnel part of the Hampton Roads Bridge-Tunnel westbound.  As you can see, it was slow going through the tunnel, as you can see brake lights ahead of me and also reflected off the ceiling.
---
Beyond the tunnel, in Hampton and Newport News, it continued to be a slow drive, mainly due to road construction.  It actually got to a point where the westbound lanes split into two because of where the work was going on.  One set was "express", where the road bypassed a bunch of exits.  A number of miles with no exits.  The other was "local", which served all the regular exits.  Then after Newport News, the Interstate narrowed down into two lanes, meaning we were leaving the Hampton Roads metropolitan area, and we began to head to Williamsburg and beyond.  As the road narrowed down into two lanes, I started to feel the effects of too much fun on the human body, and as such started to feel fatigued.  Now in the car, "fatigued" translates into "droopy".  Which means I was starting to lose my concentration and alertness at the wheel.  Not a good thing.
So I got to right around Williamsburg when I started looking for places to stop at to refresh.  I'm looking at exit signs looking for gas stations, restaurants, anything.  I end up finding a sign for what I consider the "ultimate pit stop" at Exit 234, which is marked "Lightfoot".  Care to guess the identity of the place where I stopped?
---
It was one of these: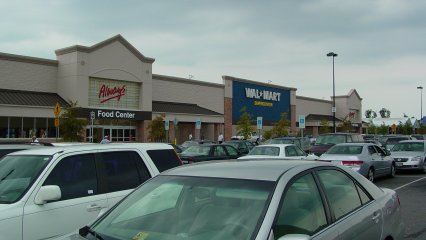 Yet another Wally World.  This one was store #3219 in Williamsburg.  Very ornate store on the outside.  I really liked the outside style.  Unlike the similarly-ornate Virginia Beach store on Nimmo Parkway, this store says "ALWAYS" on the front.  Inside, the store is basically the same as the Nimmo Parkway store, but without the self checkouts, and reversed (this store has grocery on the left).
---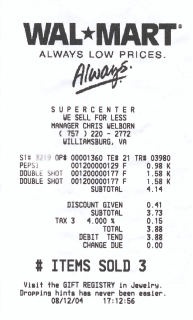 As you can see, there's a certain theme to this visit.  I'm trying to perk up.  To help accomplish this end, I also took a walk around the entire store before getting my Pepsi, and my two double espressos.  All of this managed to get the desired result, though.  I was once again all perked up and ready to cover some serious ground.
---
And so after Wal-Mart, I returned to the Interstate, and headed west.  And it's a good thing I pumped myself full of caffeine, too.  It started to rain.  Hard.  Enough to where I was like crawling down the highway.  I didn't mind too much, with my having the attitude of at-least-it-was-nice-at-the-beach.  Plus I was still doing well on time.  At the westbound New Kent rest area, however, I made another pit stop, because I seriously needed a few moments to gather myself once again after a stressful, slow run in the rain.
After that, it was all-systems-go once again, and I hit the freeway.  After New Kent, I got back to Richmond, which made for more interesting driving.  As I said before, I like cities.  So I decided to forgo the loop around the city via I-295, and took I-64 straight through Richmond.  And I joined up with northbound I-95 for that little stretch of highway where I-64 and I-95 are multiplexed.
On the west end of Richmond, I got off at the Broad Street/Glenside Drive exit, and did a little city driving in Henrico County via US 250.  US 250 runs roughly parallel to I-64 from Staunton to Richmond, and I'd also driven this little stretch of roadway before during two Photo Essay Blitz trips.  And I didn't lose any mileage doing this, meaning that I didn't have to backtrack, because I was still making progress in my overall direction of travel.  So I got off at US 250, and headed west.  This takes you through the Glen Allen and Short Pump areas.  This is where a lot of Richmond's "big box" stores live, as this is the outskirts of the city, where the sprawl happens.  And still raining the whole time I was in Richmond.  And lightning, too.  A real barrel of laughs.
I ended up making my third pit stop at Glen Allen, along this commercial strip.  Where did I make this pit stop?
---
I made that pit stop here: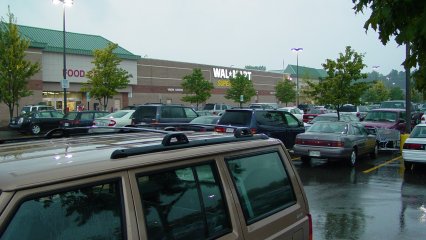 The fourth and final Wally World of the trip, in Glen Allen.  I love the exterior here.  All brown brick, and green roofs.  Matched the shopping center that it was attached to for the most part.  Inside, it was quite obvious that this store was a converted store, as it had the drop ceiling and the non-Supercenter floor plan inside, with the obvious exception of the grocery area.  I bought a Pepsi, in case I would need it later.
---
And then it was back onto I-64.  The road once again narrowed to two lanes, and it was time for the least interesting part of the trip: Richmond to Charlottesville.  It really is dull, too.  The highway is mostly flat, and mostly straight.  Not a whole lot to entertain one's self with.  The rain also let up, which made for an even less interesting trip through that stretch of roughly 70 miles.  At least with the rain, you have a little element of danger added to the mix that gets the mind excited.  No rain, no fun.
At Charlottesville, I made my final pit stop of the evening.  Yes, I made a lot of pit stops – four in all.  But you know what?  I needed to make these pit stops, because I needed to keep focused and alert, and it broke up the monotony quite well.  In Charlottesville, I had dinner at Taco Bell.  This is a Taco Bell that I visit from time to time when I go to Charlottesville.  So I ate dinner and read a bit more of the magazine I had bought.
Then what?  Back home!  With the rain still away, I took the final 30-some miles of I-64, and made it home safe and sound.  I finally got home around 10 PM, since I kind of dawdled on the way home, plus had some weather conditions that made driving slowly a necessity.
Still, I had a great vacation.  I just wished it was longer.  Whenever I return to the beach (and I don't know when that will be), maybe I'll stay for more than just one night.
Part 2