Forward on Climate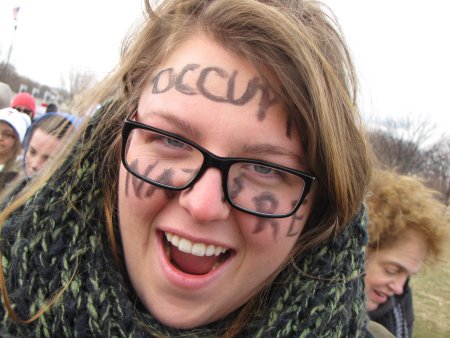 "Forward on Climate" was a political rally held in Washington DC, just north of the Washington Monument, on February 17, 2013.  The thrust of the rally was about getting President Obama to do the right thing when it comes to climate change by nixing the Keystone XL pipeline, banning hydraulic fracturing ("fracking"), and putting more effort into green initiatives.  According to sources I've found, 50,000 people were in attendance at this rally.  I was one of them.
I believe that this is my first large scale demonstration specifically on climate matters.  I've certainly been to other large-scale demonstrations before.  I can count anti-war, globalization, organized labor, religion, LGBT rights, immigration reform, whistleblowers, and sexuality among the topics where I have been involved in fairly large demonstrations.  As far as climate in particular is concerned, I believe that this is my fourth climate-specific event.  Previous climate-related events that I've attended were "Keep Winter Cold" in 2011 (as an observer), in 2012 (jammer), and in 2013 (speedo!).  But those weren't really demonstrations, though they did still get the message out that manmade climate change is a Bad Thing.
Going into this one, I wasn't entirely sure what to expect.  I knew that some of my coworkers were going to be doing some organizing work there, and others had planned to be in attendance as well, though not for work purposes.  I suppose I'd see how many of them I'd run into.  I stopped in at the office on the way in to see if anyone needed help with anything.  I ended up taking a cab down with the folks who were going to be doing the organizing work, i.e. Katy, Jorge, Aliya, and Alex Beauchamp.
The cab ride landed us at the World War II Memorial, where a group from New York was demonstrating in support of banning fracking outright.  I consider a complete ban on fracking to be a good thing.  Here, my coworkers went to work, and I went about my business photographing, starting with the New York group.
---
My Food & Water Watch coworkers got into organizing mode and started handing out materials for the event.
---
---
I really didn't expect to see anyone that I knew in the New York group.  Maybe I would see a few folks that I knew from Rochester (remembering my pals from Funk the Weekend), but I considered the likelihood of that to be low.  However, I did run into a (somewhat) famous person there.  Remember Ray Lewis, the retired Philadelphia Police captain who came out in support of Occupy Wall Street and who was arrested there?  He was here!
---
Captain Ray Lewis, in his police uniform, present at the Forward on Climate rally.
---
Soon, however, the crowd became a bit too large for the World War II Memorial.  When I stepped down into the drained fountain area to get a photo of the crowd, I was quickly asked to step out of the fountain by Park Police.  Another woman nearby started to argue with another Park Police officer giving the same request, with her point's being that it's taxpayer funded.  I didn't say anything to her, but my thought process was on the lines of, "Lady, pick your battles more carefully."  Seriously, some people need to know when to let things go.  After all, if you're expending all of your energy on minor issues, then you've got nothing left for the real issues, such as the ones that we came together for in the first place.
Everyone later left the World War II Memorial and headed over to join the main rally.  I was still in photography mode, getting photos of people with their signs and their outfits.
---
---
And then upon arriving at the main rally, in the shadow of a fenced-off Washington Monument, the speeches were underway, and there was quite a crowd.  I went to work getting photos of the people in the crowd, since the speeches being given from the stage don't interest me as much as the individuals in the crowd and handmade signs.  As far as I'm concerned, the more handmade and personal a sign is, the better.  Preprinted signs are great for getting a consistent message out, but I love handmade signs the best because they're often the most memorable.
---
The Washington Monument was behind temporary fencing in preparation for a project that would repair damage sustained during the earthquake that occurred on August 23, 2011.
---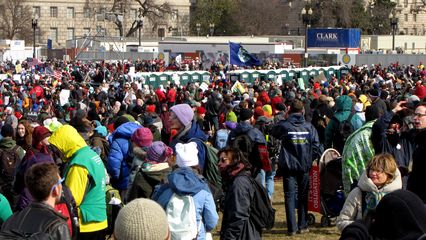 The crowd gathered for the Forward on Climate rally, viewed from the back of the rally.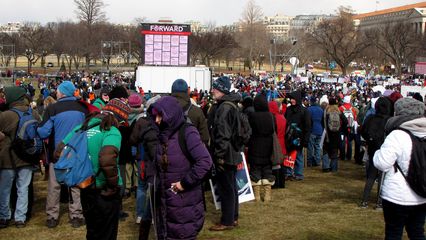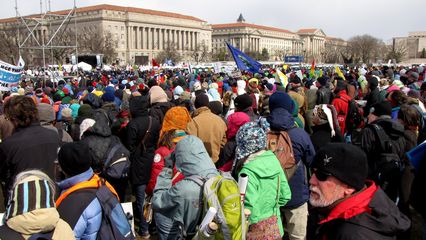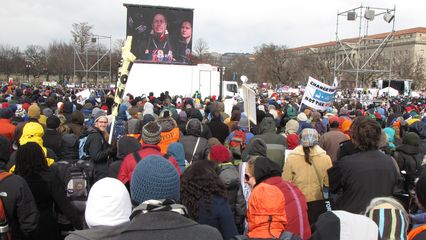 ---
---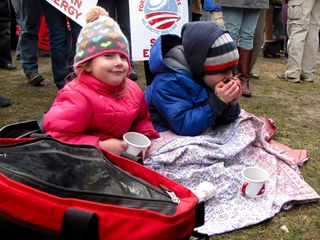 These kids were so cute, and their mother set them up well for this event, giving them blankets, hot cocoa, and snacks.
---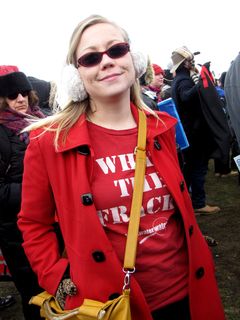 My coworker Alison in her "WHAT THE FRACK?" shirt.
---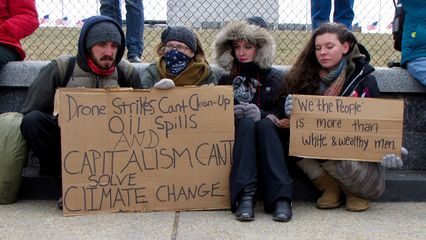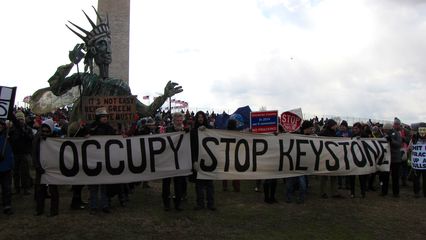 ---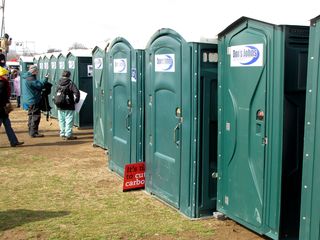 My relationship with the portable toilets at this rally was a reminder that I'm more mature than I used to be.  I used to go all day without visiting the restroom at these sorts of events.  I would estimate that I visited the portable toilets about three or four times over the course of this demonstration, and thank goodness for their presence.
---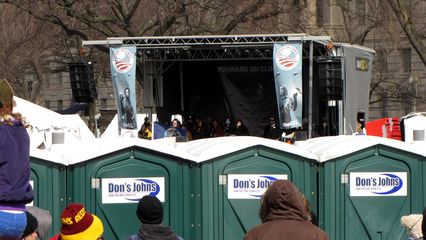 The placement of some of the portable toilets was unfortunate, however, as a row of them was placed in the middle of the rally, across the middle of the rally site.  This blocked the view of the stage from a number of areas.  Perhaps these toilets could have been placed to the side instead, like others were?
---
It was also an amazingly cold day for a public demonstration.  I was probably underdressed for this sort of cold.  I was trying to stay warm, but at the same time I was trying to put off a certain message.  I was wearing a red "WHAT THE FRACK?" shirt like Alison was wearing, with another shirt under it for warmth.  In order to keep the shirt visible for purposes of the anti-fracking message, I wore my coat open.  The two layers of shirts were warm enough there, but my hands were another matter entirely.  I think it's time to seriously consider replacing my winter gloves.  I've had these gloves for at least a decade, and I was not warm in them at all on this particular day.  These also don't have the fingertips for using smartphones through the gloves.  Not a good combination.
And then in this demonstration, the warmest people were probably the masked faces in the crowd.  After all, a bandanna not only attempts to hide one's identity, but also, as I found out at J20 back in 2005 (eight years ago!), it also is a decent insulator and keeps you nice and warm.  Looking around the crowd, though, you could tell the difference between people who masked up for the cold and people who masked up for "content" reasons.  Generally speaking, the ones who did so for the cold and only the cold were the ones with winter gear on.  Bandannas and Guy Fawkes masks were, by and large, people doing so for "content" reasons.
---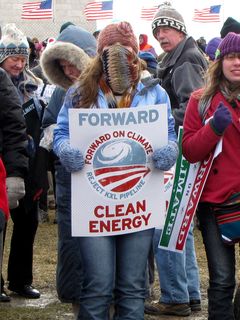 I would guess that this woman is likely masked as protection against the cold, i.e. if it were ten degrees warmer, she wouldn't be covered.
---
On the same note, I'm guessing that these folks are masked for "content" reasons, i.e. if it were ten degrees warmer, they would still be wearing their masks.
---
Of course, if you're going to mask up for the purposes of identity concealment, you need to do it right.  To quote myself in my "Protest Fashionista" Journal entry:
Now for the people who make efforts to conceal their own identity at protests and such, I do try to educate a little so that I may help.  You may remember that I wrote a bit about negating one's mask early in the Funk the Weekend photo set (towards the middle of the first page).  That was written with black bloc in mind, and assumes that the look one is going for is what I call "full black bloc".  But what about for an event like this, where one does not necessarily want to let one's identity get out, but it's not a black bloc?  In other words, it's not about being in a formation and looking like a unified mass, but just about making sure that you are a faceless John Doe or Jane Doe vs., say, Tommy Oliver and Kimberly Hart from Angel Grove, California (just go with it).  The trick is to make sure that one's anonymity is complete, and that there is no chance that one will associate you with the event later.

If that's what one is going for, then a number of points from the earlier discussion still hold.  For one thing, cover your hair completely.  If your hair is visible, like with this person, then forget it.  Likewise, cover any tattoos and/or other distinctive body marks.  If these aren't attended to, the possibility exists that someone will connect your real life identity and the alternate identity that you're building for the demonstration.  And in that case, just untie the bandanna and yank it off – you're done.  Secondly, wear an outfit that is completely out of character for your normal self, making sure that it conceals face and hair.  It's okay to not wear black in this case, and even to wear an outfit that works with and calls attention to your message, but just remember that the goal is to make sure people don't know that it's you under all of it.  If you're just throwing a bandanna over your face and wearing one of your normal outfits, don't waste your time.  And if anonymity is your goal, put your disguise on before you arrive, and leave it on for the entire time.  No one should see you wearing the outfit in an incomplete state, and don't remove your mask. […] And lastly on that point, don't remove your disguise until you're away from the demonstration and out of view.
Then once the speeches were done, the march lined up on Constitution Avenue.  The folks leading the march carried a strip of caution tape (that's right, not a large banner, but caution tape) across the front, and were telling people to stay behind the tape and off of the sidewalks.  Time would tell on how many people would heed that request.  I know that I, for one, ignored them.
The march route took demonstrators west on Constitution Avenue as far as 17th Street NW, then turned north and headed up 17th as far as Pennsylvania Avenue.  There, the march went past the White House, turned south on 15th Street NW, and then returned to the original rally site.
Over the course of the march, I managed to make my way around this march group to see what I could see.  I wanted to get signs, costumes, outfits, and as much message as I could.  I was at the front of the march, near the end of the march, hanging from lampposts to get overhead views, and in the middle of the march in so many different places.  I was in front of the caution tape.  I was behind the caution tape.  I went under the caution tape (and got yelled at for that by a lady holding the tape, but who cares?).  Bottom line is that I got photos, and lots of them.
---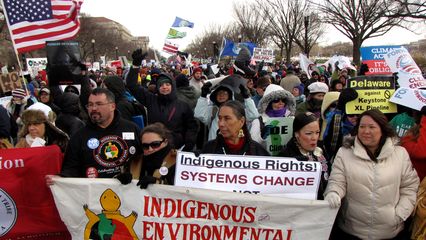 The march is lined up and ready to go!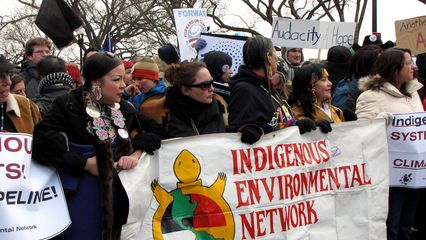 ---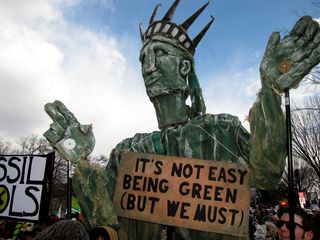 This street puppet, of the Statue of Liberty, was one of the most memorable sights in this demonstration.  I'm sure that it takes an insane amount of work to make a large street puppet like this, but they certainly do make an impact.
---
---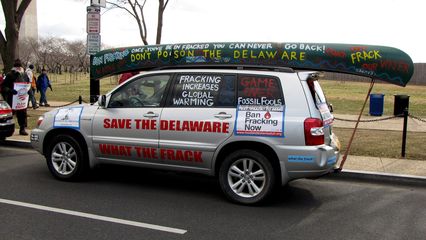 This car was the last word in anti-fracking messaging.  The words "SAVE THE DELAWARE" and "WHAT THE FRACK" were printed on the sides of the car, the rear window had an anti-fracking message and a phone number, the side windows had messages on them, the canoe on the roof was painted with even more anti-fracking messaging, and various signs from the rally were attached to the vehicle as well.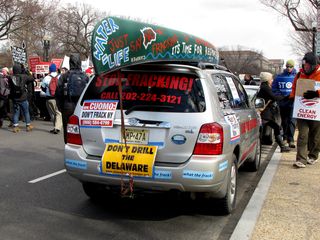 ---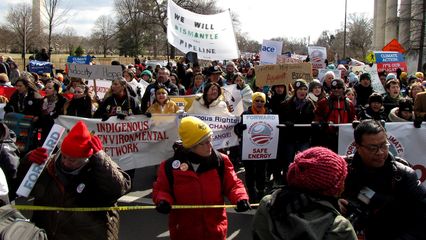 The march has begun, with the caution tape leading the way.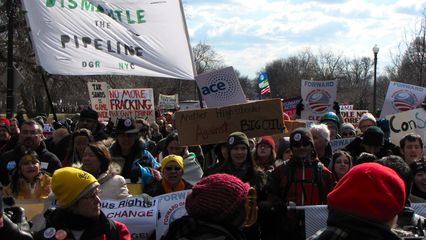 ---
---
One person was wearing a Lorax walkaround costume (as the Lorax speaks for the trees), and was posing for photos with various people, and giving hugs.
---
---
One person dressed up as Santa Claus, which, despite its being February, fit the theme perfectly.  After all, if Santa Claus came to an environmental rally, he would take a strong stand on snow, wouldn't he?  I especially loved the "COAL IS NAUGHTY" sign.  Coal is not exactly a clean fuel, after all.
---
---
A view of the crowd traveling south on 15th Street, from a stair at the southeast corner of the Treasury Building.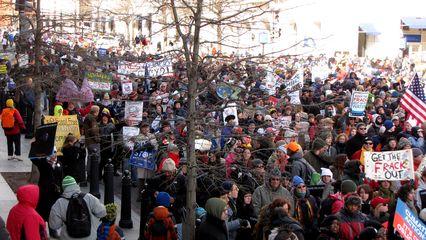 ---
---
Two sides of a highway worker's "SLOW/STOP" sign.
---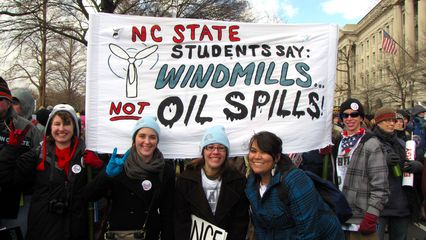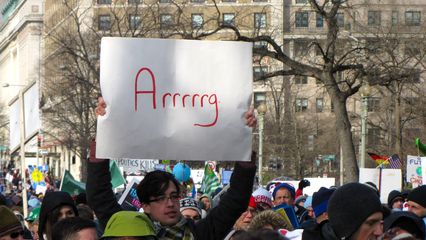 ---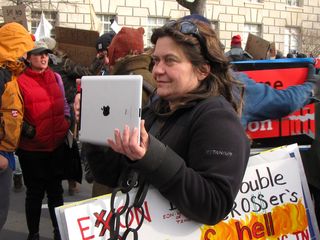 Sign of the times: a woman uses an Apple iPad to take photos of the march.
---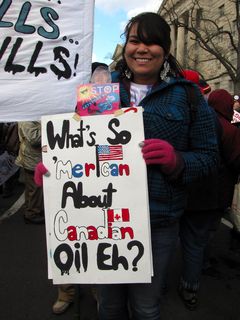 ---
At the end of the march, people were being herded back into the original march site, with the caution tape people using their tape to send people a certain way.  Note to self: bring scissors next time to address the caution tape directly.  Those folks holding the caution tape needed to have some wind taken out of their sails.  Cutting the tape would have gone a long way towards that.
---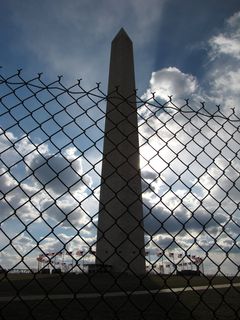 The sun was behind the Washington Monument by the time we returned to the rally site.
---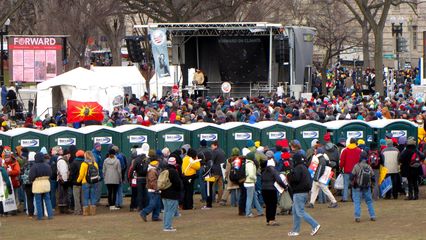 Soon after arriving back at the rally site, many of the participants hit the portable toilets.
---
---
And last but not least, the Statue of Liberty street puppet arrives.
---
From there, the demonstration was more or less over.  I think there were a few more things planned back at the rally site, but I was in no mood to see it.  I had taken so many photos of so many people by this point that I was trying to figure out if I had missed anyone interesting.  After a quick assessment of the situation, I decided that I had seen it, and so I headed out, going north on 15th Street.  I stopped in at the Hotel Washington for a warmth break on my way out.  The idea there was to warm up and decompress for a little bit before heading out.
---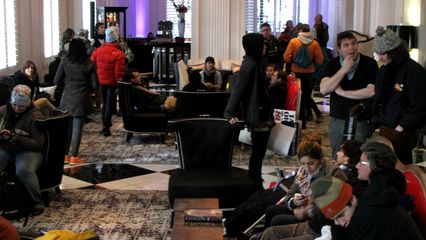 Turns out that I wasn't the only one who had that idea.  But it was a good thing to do.  Everyone needs that kind of time sometimes.
---
And that was it!  This was not a bad event by any means, and it was great to see so much energy and passion about climate issues.  After all, if, through human activity, we make this planet uninhabitable, as one person said, there is no "planet B".  So it is imperative that we take care of our planet as much as we can, because it's the only one that we have.