And if all goes well, we will have a freezing cold Potomac in winter for many years to come…
January 23, 2011, 10:53 PM
So Saturday was fun. Katy, a coworker of mine, and her roommate Ryan were going to be participating in a polar bear plunge at the National Harbor. It was sponsored by the Chesapeake Climate Action Network (CCAN), a grassroots group that works to fight global warming.
Of course, the group would pick the coldest weekend of the season thus far to have the plunge. But at least it wasn't snowing like it was for the Maryland plunge last year. The sky was clear. It was just really cold. But "really cold" is something I can handle, when you consider that I was wearing about three layers, plus warm boots and gloves.
For an event that opposes climate change, though, it's kind of ironic to have it at National Harbor. It's not very transit-accessible (only one bus route serves it), and as a result, from what I could tell, most people drove there. I suppose a better place might have been the Tidal Basin in DC, being closer to Metro. But the National Harbor seemed to work.
First up was a short program, where Anastasia Shestakova sang for a bit. She first sang "Let's Go Swimming" by Emma's Revolution:
Then she sang "Say It's Love" by AS, in Russian:
Participants were encouraged to sing along with the "oyoyoyoyoyoy" parts. Shestakova also played "If I Had A Hammer" by Pete Seeger.
Afterwards, the head of CCAN discussed the plunge, and did a show of hands to determine how many were plunging for the first time, second time, third time, etc. through the sixth time. This was proof that you can go into the freezing river and survive.
In the midst of this, Katy and Ryan showed up, and they got all of their waivers in. And we got some pre-plunge photos: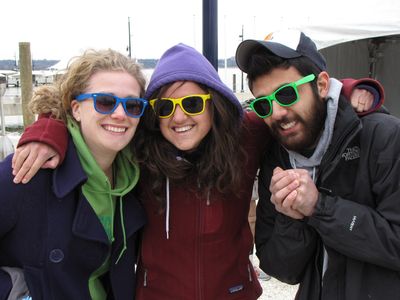 Katy, Bessie, and Ryan are all smiles prior to taking the plunge in the Potomac River.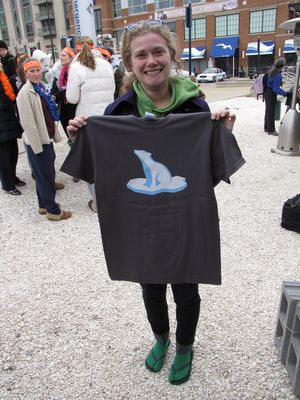 Katy poses with her polar bear plunge t-shirt.
Then all the plungers went into the changing tents to get ready to plunge. There were certainly a lot of outfits emerging from the changing tents that you wouldn't normally see outdoors in January, that's for sure. Unlike the Maryland plunge at Sandy Point, however, there weren't any crazy costumes. No one dressed up as Superman or anything like that. Nor did anyone dress as Spider Man and attempt to climb anything, be it the Reichstag (which you should not do) or otherwise. The closest thing we had to a crazy costume was this: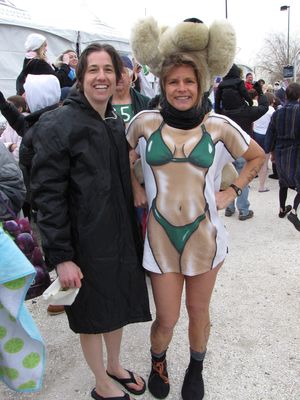 Yes, this woman is wearing a bear hat, and then one of those bikini t-shirts. I will forever remember those shirts by thinking about the time that Bruce Vilanch wore one on Hollywood Squares. Host Tom Bergeron commented, "Bruce Vilanch is wearing [panelist and Baywatch actress] Traci Bingham!"
But aside from that, people were ready to go. Katy, Ryan, and the rest of their group were ready to go: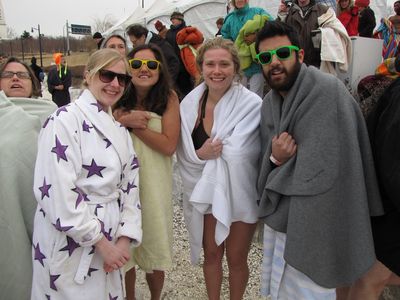 And so was the rest of the assembled crowd: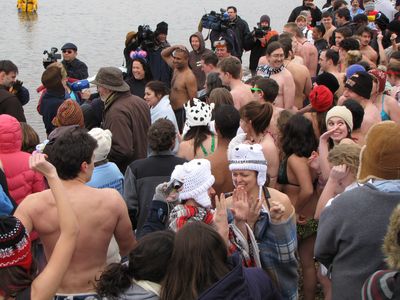 And then everyone went in, all at once: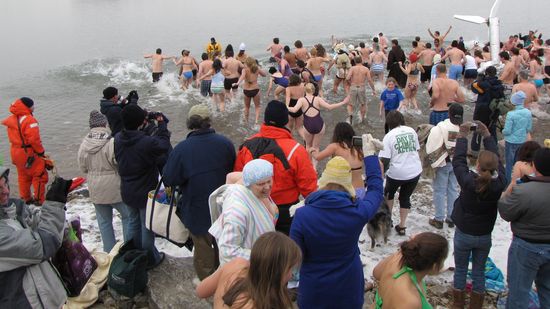 Once in the water, everyone seemed to really have a great time: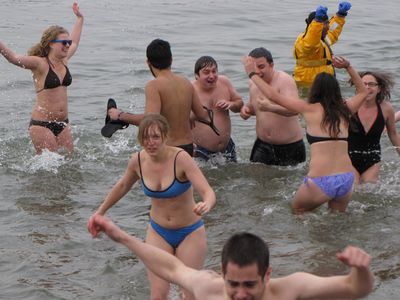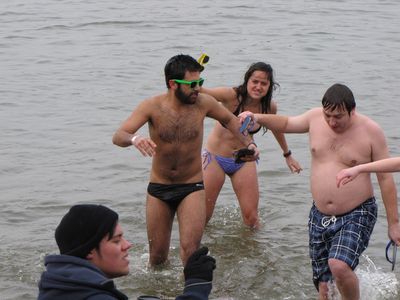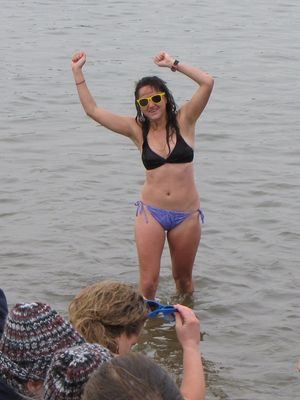 And then everyone emerged victorious: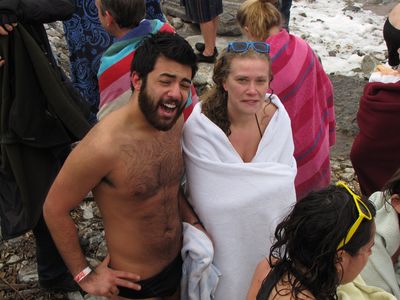 And then the group changed back into warm, dry clothes again, and we were ready to go: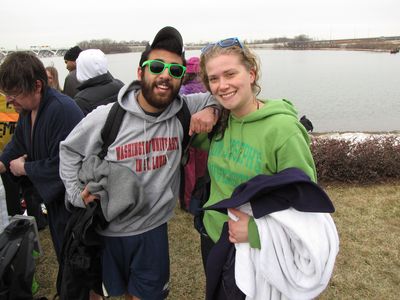 The event organizers had planned an afterparty at McLoone's Pier House. We went over there for a bit, but the prices for food were outrageous – way beyond our budgets. Plus the vantage point for viewing a basketball game that a few people were interested in watching was less than optimal. So we drove into DC and ended up at Nellie's, a sports bar on U Street. The prices were far more reasonable, and the atmosphere at Nellie's is definitely less formal. So we had our own afterparty at Nellie's.
We also got a little field trip in getting there, since we ended up driving on freeways through sections of DC that most of us weren't that familiar with. Thank goodness for GPS, though, as we got right to our destination without issue. We also passed an ex-WMATA Flxible Metro on the way, in the older paint scheme (the one with black trim, like this). The numbers had been scraped off, but the labelscar made it easy to tell that it was former bus #9492. Pretty neat to see, though I couldn't tell who was operating that bus nowadays.
Then after we finished over at Nellie's, that was it for the day. Since I was parked literally right next to Georgia Avenue, it was a no-brainer on how to get home from there, just taking Georgia Avenue right on home (or so one would think – traffic on Georgia Avenue in Montgomery County caused me to divert to the Beltway and then take Connecticut Avenue the rest of the way home).
And then next weekend, the Maryland polar bear plunge, aka "PlungeFest", is going on. According to the weather forecasts, it's not supposed to be ten degrees and snowing this year, so I hopefully can go with less layers than I did last year.
Web site: Chesapeake Climate Action Network
Song: By the way, if you would still like to donate to help fight climate change, feel free to donate on Katy's page or on Ryan's page.
Quote: Meanwhile, my answer to the inevitable "Are you going in?" question was a deadpan "Hell no." I will take photos of others going in. I will hold towels. I will give moral support. I will sponsor plungers (I donated $5 each to Katy and Ryan). But I'm not going in.