Midnight March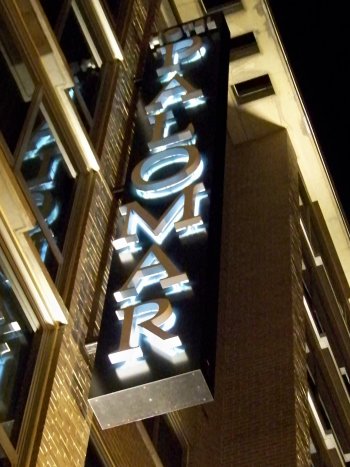 From October 11 to 13, the World Bank and International Monetary Fund held their fall meetings in Washington DC.  And as is the case with many of their meetings, both in the fall and the spring, the activist community rallies together to publicly demonstrate their disapproval of these organizations' policies.  This was no exception.
This time around, there were two demonstrations planned.  One happened on Friday morning, where activists painted lumps of coal and barrels symbolizing oil green, symbolizing the greenwashing that goes on at the IMF and the World Bank.  Additionally, an announcement had been posted to DC Indymedia calling for a "[r]owdy, noisy march to IMF/WB delegates' hotels" late Saturday night – technically Sunday morning.  The march was scheduled to start at Dupont Circle at 1:00 AM on and end at 4:00 AM.  As soon as I saw that earlier in the week, I decided that I wanted to go, but had no idea how to go about doing it, since it would seriously screw up my sleep pattern.  After all, this was even later than other late-night marches I'd previously attended.  Night March started at 7:30 PM and ended at 9:30.  The Georgetown part of October Rebellion started at 9:00 PM, and I got home before midnight.  Now, we were starting at 1:00 AM, topping all my past late-night demonstrations for lateness.  But after all, if the goal is to wake the World Bank and IMF delegates up in the middle of the night, one has to be up in the middle of the night to do it.
Then there was one logistical problem to overcome.  Specifically, with the announcement indicating that the march would last until 4 AM, I knew that Metro was out of the picture.  Metro runs until 3 AM on Friday and Saturday nights, and if the schedule was kept, we would definitely go past Metro's closing time.  I wasn't about to take Metro in and then have to take a cab back, or wait a long time on a dark street corner for a bus, and then change buses at Silver Spring to get home.  So I decided to drive in and park at work.  It helps to have an office in Dupont Circle.
This was also the Kodak's first protest march.  The last protest march I participated in was when the Nazis came to town in April, and Duckie took center stage for that demonstration.  Thus this demonstration was not only a photo set in my eyes – it was a test to see how the Kodak did in bouncy situations, since the Kodak was lighter than both Big Mavica and Duckie, but it was far more powerful.  In reviewing the set afterwards, I determined that the Kodak was okay for these kinds of situations, but a little too automated to be up to the challenge of getting great protest shots under the demanding conditions presented by a nighttime protest march.  In other words, it wasn't really able to handle what I was putting it through and still get great shots.
So here's the story.
---
At the very late hour of 11:30 PM, I got in my car to leave for the protest.  Prior to this, I had made proper preparations.  I had done my laundry, and converted the backpack that I usually take to protests back to black bloc from Anonymous.  I got to my office just after midnight, took care of a few odds and ends in the office, and then left to join the protest at around 12:40, putting on my hooded sweatshirt and then taking my usual three-block walk down P Street NW to Dupont Circle like I do every day after work.
Approaching Dupont Circle, the first thing you could see from roughly the middle of the 1700 block of P Street were flashing blue lights from the police cars parked in the circle.  Once I got in the circle, I saw some people sitting on the benches wearing black clothing.  I asked, "Are you here for the protest?"  They answered in the affirmative.  Excellent.  Then once I got to the center of the circle, I saw all of my regular protest buddies, many carrying pots, pans, buckets, sticks, and other assorted noisemakers.  Luke was there, and a whole host of others were there.  One person was notably absent, though.  Where was Isis?  She was nowhere to be found, and that left a few of us somewhat concerned.  Once I said hello to everyone, I took my glasses off and got into black bloc mode.  My black bloc hat went on, and the red bandanna went around my neck.
All in all, I think we ended up with about twenty very dedicated people for this very late-night march.  And I think that most of us were quite impressed that we even had that much.  After all, we were asking people to come out for a march starting in the wee hours of the morning, and running through the night.  With our somewhat small numbers, I am fairly certain that the cops outnumbered us.  The cops were taking no chances, as the last big anarchist-oriented World Bank demonstration was October Rebellion, and they were determined to not let this march be a repeat of that.  However, once they saw our numbers, I think they knew that this would not be another October Rebellion.  Additionally, and quite to my surprise, we were under the 25-person limit for demonstrations being held without a permit.  While Anonymous is usually quite conscientious of this limit when doing flash raids, the anarchists don't care.  But we were under the limit.
Speaking of October Rebellion, though, what a difference a year makes.  While it rained heavily last year in our Georgetown march, this time, the sky was clear, and the temperature was cool but comfortable.  One of my protest buddies indicated that she was nervous about the weather, considering that it was very cold and very rainy the year before.  So the two of us took a little survey of the sky.  We looked up, and I pointed.  "Look up there," I said.  "See?  Stars!  The moon!  Not a cloud in the sky.  There is no way in hell that it will rain tonight."
Then as we noticed a lot of people taking photos of the assembled crowd, a number of us, including myself, masked up.  When it comes to being photographed at these kinds of marches, masks are important, because you never know what potentially nefarious purposes that photos from unknown photographers will be used for.  Photographers that we know are friendly are a different story entirely.
---
Masked up in full black bloc, and waiting for the action to begin.
---
Perhaps the most surprising group of people I saw was a group of three people who came into Dupont Circle from the north wearing Guy Fawkes masks.  I was like, what the…?  What is Anonymous doing here?  It turned out that Anonymous had just flash-raided at the Founding Church of Scientology just up the street from Dupont Circle, and had gotten wind of our demonstration and came to take a look-see.  It was like when worlds collide or something, as the anarchists and the Anons came together.  But there they were.  One of the Anons was surprised to see me in full black bloc with the anarchists, but I have to admit, the anarchists have been my kind of crowd since 2004 – long before I got involved with Anonymous.  But I certainly appreciated the goodwill gesture of their coming to see us off.
---
Three DC Anons parked themselves at the edge of Dupont Circle, and saw us off on our march.  What a surprise it was to see them at a World Bank march!  People in Guy Fawkes masks were the last thing I would have expected to see…
---
And then as 1:00 rolled around, the police got everyone's attention and laid down the rules of the game.  Captain Jeff Herold articulated that we did not have a permit to be in the street, and that laws concerning noise would be enforced.  Anyone breaking any laws would be arrested.  Captain Herold also appeared to not be particularly pleased about being out this late in the first place, and his tone with us made this quite clear.  The general thought was, who pissed in his cornflakes this morning?  But his less than cheerful demeanor was understandable, as the World Bank and IMF meetings already mean a lot of extra work for the MPDC, and this was like the icing on the cake.  And to his credit, Captain Herold does have perhaps the best rapport with a lot of DC's activist scene.
However, it worked out for the police, I suppose.  We discussed amongst ourselves, and came to an agreement.  We didn't have the numbers necessary to ignore their directives, and so we determined that this was to be a non-confrontational noisy march, and that we would take to the sidewalks.  Additionally, we agreed that if we got scattered, everyone was to meet back up at "19th and Connecticut" (i.e. back in Dupont Circle).
---
We certainly hung around Dupont Circle for a bit, though.  We didn't get going until 1:30.  But once we got going, we got going.
---
Marching south on 19th Street NW past Dupont Circle station.  Participants are banging pots and pans to make as much noise as possible. The sound of the musical instrument is unrelated to our march.
---
---
We initially headed south down 19th Street past the entrance to Dupont Circle station, and eventually found our way to the Hotel Palomar on P Street.  A few people attempted to enter the Hotel Palomar to make noise in the lobby, but those people were quickly ejected by police.  But let me tell you something – we made noise, with pots and pans, drums, tambourines, whistles, and our own voices.
---
Arriving at the Hotel Palomar, making a tremendous amount of noise.
---
At the Hotel Palomar, our first target of the night, we made a great amount of sound, as the police barricaded the doors to ensure we stayed outside.
---
Stating for all to hear that the IMF is not welcome in DC.
---
We made quite a ruckus coming, and then continued to make a ruckus as we left.
---
However, on the way to our next target, the cops stopped us dead in our tracks.  Turns out that we were being too noisy.  According to the police, we could march, but anyone who continued to use noisemakers of any kind would be individually arrested.  After this warning from the police, we continued our march, though far more quietly this time.
---
A police officer gives a warning to the assembled crowd that further noise with our noisemakers will lead to arrests.
---
One person in the group collected all the sticks for safekeeping, and to help remove the temptation of using our various noisemakers.  After all, no one wanted to be arrested at this demonstration, as the goal was to get our message out and complete the march.  Being arrested was counter to that end, and thus we played the game to an extent.
---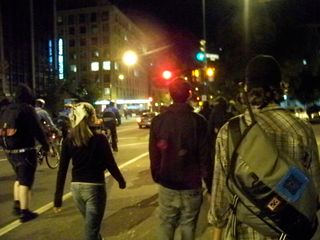 The black bloc marches in silence in the wee hours of the morning, as we weren't sure quite yet about what to make of the officers' enforcement of DC's noise ordinance.
---
We eventually arrived at the St. Gregory Hotel, which had previously been visited by a black bloc in 2006.  We arrived, the cops quickly moved to barricade the doors, and we started our noisemaking, shouting, and at one point, singing.  We attempted a Rickrolling, but it didn't "take" with everyone.
---
Demonstrating outside the St. Gregory.
---
I know a song that gets on the police's nerves, the police's nerves, the police's nerves, I know a song that gets on the police's nerves, and it goes a little something like this…
---
Our next stop was the Renaissance Hotel.  By this time, we'd figured out what we could do, and were shouting various things – thus making a lot of noise, but with our voices rather than our pots and pans.  Perhaps the most amusing chant was about the cops, where people shouted, "They're the ones with the guns!"
---
The Renaissance was a very quick visit.  We barely even stopped – it was just a quick pass by and we were on our way again.
---
As we left the Renaissance, we shouted, "They're the ones with the guns!" in reference to the police, before starting a quiet march to our next target.
---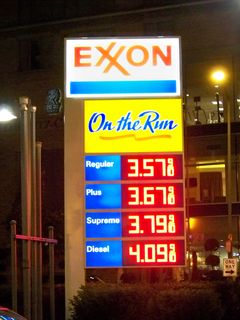 Gas prices displayed at an Exxon station along our march route.  The price of gasoline began to fall dramatically not long after this particular weekend.
---
We continued until we reached the Ritz Carlton and the Westin Grand, which are roughly across the street from each other.  Both places were housing World Bank and IMF delegates, and so we basically went between the two.  The most interesting scene was when one girl took her homemade hula hoop and started using it in the street.  She was going for quite some time with it, until the police made those standing in the street go to one side or the other.  Thus the performance ended, as everyone crossed over to the Westin Grand side.
---
Marching right past the entrance to the Ritz Carlton without stopping, while police blocked the doors in anticipation of our stopping.
---
At the Westin Grand Hotel.
---
Hula hooping in the street, using a hula hoop made out of a piece of PVC pipe found in a dumpster.
---
Leaving these two hotels, and heading towards the Fairmont, the lighter side of this march showed its face, as people started chanting about how they have to go to the bathroom.  Seriously.  The chant became, "Who else really has to pee?  I DO!  I DO!" and "Who else really has to poop?  I DO!  I DO!"
---
Yes, they really did say it…
---
However, we got back on message by the time we reached the Fairmont, and paid them a brief visit.
---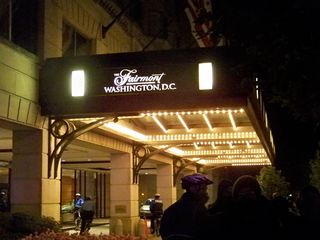 Our arrival at the Fairmont.
---
Leaving the Fairmont, history seemed to repeat itself, as Engine Company 1 on M Street had to respond to a call as we passed by, just as it did in 2006.  However, the reaction from demonstrators was different this time around.  In 2006, a number of people viewed the fire truck's appearance as an attempt to slow the march down.  This time around, a number of people accused the bike cops of blocking the fire engine.
---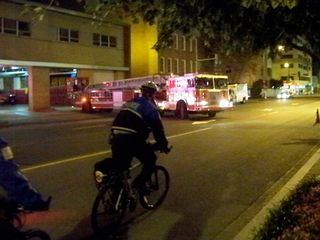 ---
And then we returned to a few spots again, as we paid the Ritz-Carlton and the Renaissance a second visit, before heading back to Dupont Circle via New Hampshire Avenue, thus ending the official march.
---
---
The cops, meanwhile, kept close by.
---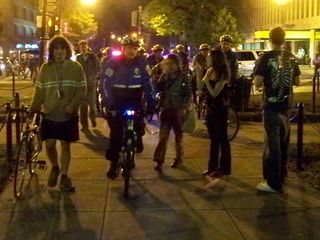 Returning to Dupont Circle at the end of the march.
---
At Dupont Circle, we continued to have a large police escort, as they waited to see what our next move would be.  They weren't going to leave us until they were certain that we were done.  But there was really nothing to it.  By this time, it was 3:00 AM, and a number of people formed a small "cuddle huddle" in the grass in the southwest side of the park, and just kind of goofed off for a while.  The black bloc stuff came off, and people were just having some late night fun in Dupont Circle.
---
Cuddle huddle!
---
While some people decided to call it a night at this point, a number of us weren't quite ready to pack it in just yet.  So we started up again, though this was by no means a march.  It was more like a group of friends going out somewhere.  After all, most everyone already knew each other and got along well.  The only way you could tell that we were a group of rowdy activists was that we still had our police escort!  We went to SoHo, a little independent coffee shop that was open until 4 AM.  There, the cops called it a night, figuring the action was probably over.  At SoHo, a number of people bought food and drinks, and many took advantage of the restroom facilities available there.
Additionally, I got to show off my camera equipment to a fellow photographer.  His old standby was a digital SLR, while I prefer a point-and-shoot so I can have movies and stills in one camera.  He was impressed about the megapixels for the price on the Kodak, plus took a look at Duckie, which I took along for this march, though it saw no action.
---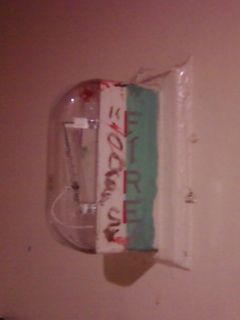 Wheelock fire alarm strobe in the restroom at SoHo.  Apparently it had been taped when the restroom was painted, and the tape was never removed.  Patrons also took the opportunity to doodle on the strobe body.
---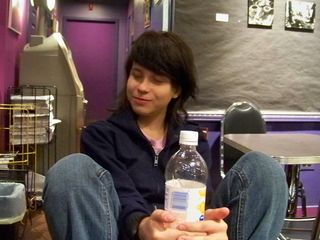 While I was in the restroom, the photographer that I showed the Kodak and Duckie to took an opportunity to give the Kodak a whirl, and shot this photo at SoHo.
---
Afterwards, our group split in two.  One group went back to the streets, and paid a visit to the hotels that the black bloc had previously visited.  The other group stayed at SoHo for a little while longer.
I went with the former group, and hit the streets, starting with the Hotel Palomar on P Street NW.  We quickly determined our plan for this march as the time approached 4:00.  The idea was to make noise as long as we could, and then as soon as we even thought we saw a police car, to immediately stop and continue like nothing was going on.  As we approached the Palomar, one person brought up the question, "Do we need to mask up?"  After all, one of the staples of a black bloc is the masks.  I responded, "Do we need to?" and people pretty much agreed that the masks were probably unnecessary.  After all, those in the media had basically cleared out after we got to Dupont Circle, thinking the march was over.  Additionally, the police had dispersed.  Who were we masking up for?
Arriving at the Hotel Palomar, we made noise, banging on our pots and pans with sticks, as per the original plan for the first march.  But with no cops around, who was to stop us?  We had a grand old time, and added one more rule to our operating procedures: Don't rap on the buildings.  When we got going at the Palomar, an employee at the hotel came out and told us we could make all the noise we wanted, but asked that we don't hit the building.  Fair enough.
---
Making as much noise as we can outside the Hotel Palomar.  In the last few seconds of the clip, everyone quickly stops demonstrating when it is believed that a police car has been spotted.
---
This march continued around to nearly all of the hotels that we visited with the black bloc, making noise with our pots and pans, and then stopping when we spotted a police car.
---
Making noise at the Hilton Washington Embassy Row hotel.
---
Shouting, "Live to annoy!" and "No war but class war!" while making noise on pots and pans outside the Hilton.  Note that our protest is getting people's attention, as lights were coming on in the upper floors of the building.
---
Demonstrating outside the Ritz-Carlton, shouting, "F— the IMF!"
---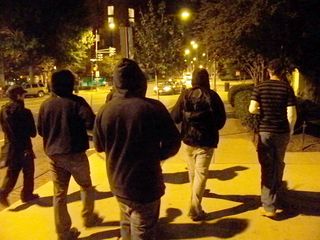 Underway again…
---
Going past the entrance to the Renaissance, shouting both "F— the IMF!" and "F— the World Bank!"  As we pass the doors themselves, note the gentleman inside the hotel, presumably an employee, pointing and gesturing at us from inside as if to say, "THEM!  They're back!"
---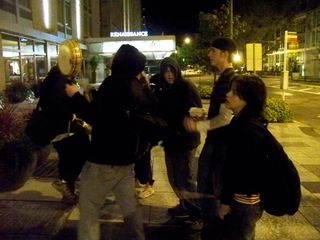 Having a grand time at the Renaissance Hotel, slightly away from the main entrance.
---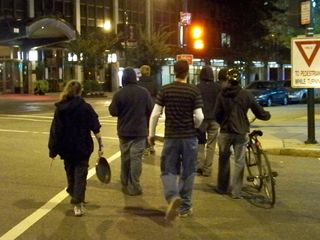 Approaching the St. Gregory.
---
And eventually, we found our way back to Dupont Circle, where we rejoined the other half of our group.  The folks going to Virginia made their own way back, and those of us going to Maryland quickly figured out a plan for getting there.  We had two cars, both station wagons.  I had my Sable at the office, and another person had a Ford Focus on 19th Street.  The group that was traveling with me went with me to my car, and then as it approached 6:00, we were off!  We first went back down to Dupont Circle to pick up the other half of our group.  There, I took my position as the lead car, as one of my passengers was the person who knew where everyone was going, and we returned to Montgomery County via 16th Street.  I'm sure that the people in the second car were wondering what was going on at times, though, as we inadvertently made a few loops in the downtown Silver Spring area, as my navigator got somewhat disoriented due to my approaching the area from the south on 16th Street, which I presume she was not used to.
After our caravan reached its destination, I bid everyone else a good night, and arrived back at my house just as the first rays of morning were making themselves visible.  I was exhausted by the time I got home at 6:30 AM, but the whole thing was very much worth the effort.  We'd stayed out all night, getting our message out, and hopefully making an impact.  Time will tell, I suppose…