Year In Review
2005 was an interesting year, with great friends and great moments.  This photo set documents a number of the random encounters that I had over the course of the year.  You have the odd, the beautiful, and the downright amusing.  Check it out…
---
A participant at The Schumin Web Community asked about a particular vending machine that I'd talked about in the past.  When I went up to visit JMU on February 18, I got a chance to film this particular machine in operation.
---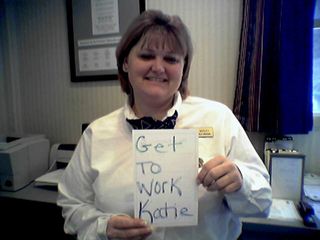 On February 23, I visited Charlottesville to do some transit photography.  But first, I went to the Comfort Inn to visit Teri, a friend and former coworker from Wal-Mart.  She had a message for Katie, another friend and coworker of mine.
---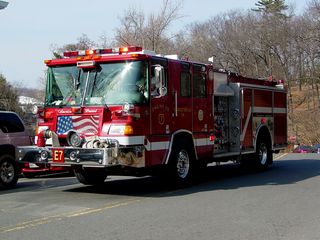 Later that day, while photographing UTS buses, a fire truck entered the University of Virginia campus with its lights flashing and siren wailing.  No one could figure out what they were there for, though.
---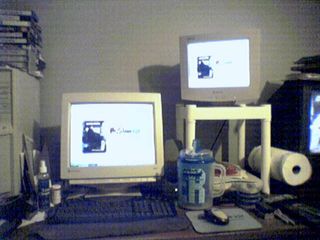 This is how my desk looked for most of 2005.  I had two monitors, with one up and one down.  Near the end of the year, I got a new flat panel monitor, and the lower monitor became the upper monitor.
---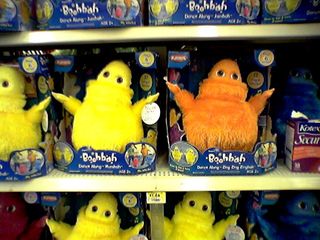 One of the most annoying toys to ever grace the face of the earth: singing Boohbah dolls.  I can still hear their little song…
---
On the trip that Katie and I took on April 7, I do one of my trademark off-the-cuff interviews with Katie while in downtown Lynchburg.
---
I discuss what the day's been like so far.
---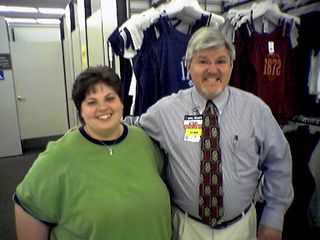 Katie poses with Steve, our old boss, in the Lynchburg Wal-Mart.
---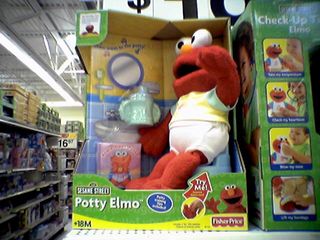 Katie and I later discovered "Potty Elmo", who sings a song about going to the bathroom to the tune of "Pop Goes the Weasel", and ending with a flush sound.
I had my own name for the toy: "Elmo takes a s—." (Get my drift?)
---
At Perrywinkle Toys at Valley View Mall in Roanoke, Katie and I each took a spin with a hula hoop, and trust me – neither one of us has a future that involves hula hoops.
---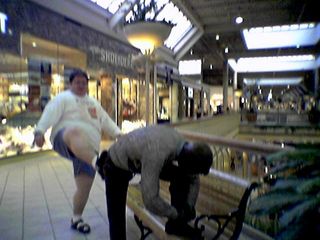 I take a moment to kick the little metal man tying his shoe in the butt at Valley View Mall.
---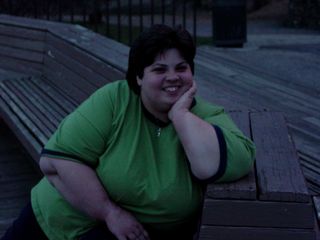 Katie poses for the camera at the Roanoke Star.
---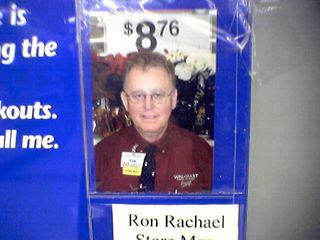 Before the A16 protest, Sis and I stopped at the Wal-Mart in Manassas.  While there, I was quite surprised to find out that I could get myself a store manager for only $8.76.
(Yes, I realize that the price refers to the poinsettias in the background, but I couldn't resist.)
---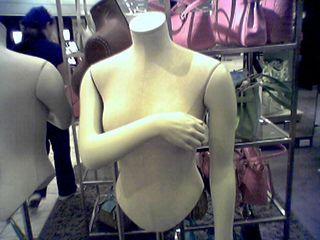 At Nordstrom, this mannequin nearly bares it all.  Reminds me of Davinia Taylor in that issue of Front magazine that I was featured in.
---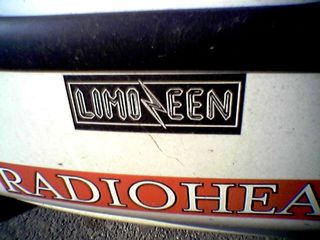 On April 25, on a trip to Staunton Mall, I noticed the car of a fellow Homestar Runner fan, seeing this bumper sticker for Limozeen.
---
This gentleman is a greeter at the Wal-Mart in Manassas.  By the end of the year, he had amassed a collection of more than 400 pins, which he wears on his vest.
---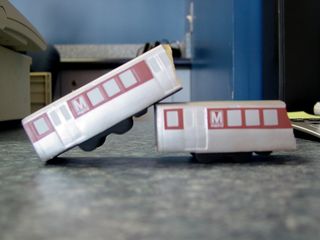 At the Old Town Transit Shop, where a friend of mine works, which I visited on April 27, they have a foam rubber Metro train that somehow got broken in two.  My friend said it was their "accident train".  Making a bit of a joke about the November 3, 2004 accident at Woodley Park-Zoo, I put the two pieces in this position.  I said that if it were really an accident train, it would look more like this, with a train's having telescoped.
---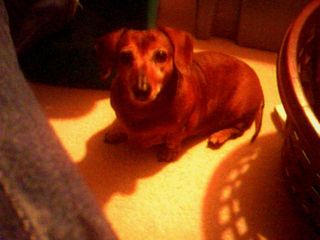 Mom, Dad, and Sis got new camera phones on April 29, and in testing out the camera on the phone, we trained the camera on Greta and took a test photo.  Greta is such a wonderful photo subject.  Never disagrees when we come up to her to take her picture.
---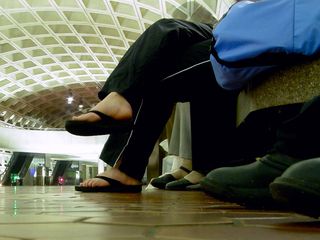 As the evening goes on, and train headways get longer, one can be waiting for the train for a while.  In this case, on the evening of May 11, I was sitting on the floor at Pentagon City, set the camera to long-exposure, set it on the floor, and took a photo.  This is what I got.  Not too shabby, getting a look at the different shoes on the platform.
---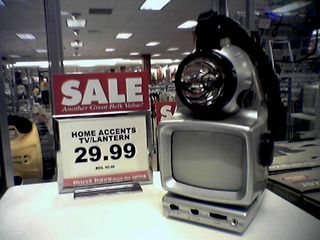 The combination here just makes me wonder a bit.  Namely, why would a person want a television and lantern combination?  I know I would not want to lug the TV part around when using the device as a lantern, and one can't watch the TV and use the lantern together without shining the light in one's face…
---
Sometimes when I go to Washington, random people ask me to take their picture on the street.  What do we do?  We take the picture.  Why not, right?  In this case on May 25, a gentleman posed for a photo outside the Shaw-Howard University station.
---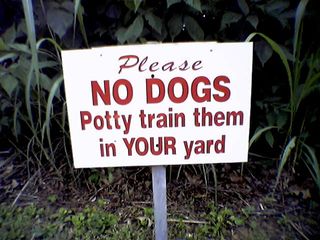 "Please NO DOGS.  Potty train them in YOUR yard."
Driving through a neighborhood in Waynesboro on June 27, I discovered this sign next to the curb.  Seems that someone's had enough with animals doing their business on their yard…
---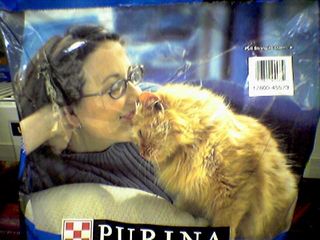 Looking at this photo on the Purina Cat Chow bag, it makes one wonder.  It makes me wonder if she's really a cat person, or if she actually hates cats in real life…
---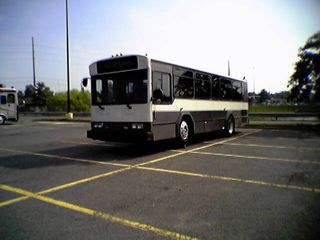 Here's an unusual sight… a Gillig Phantom up on blocks in the parking lot of the Wal-Mart in Manassas on July 20.
---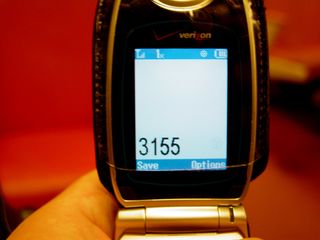 Later on that day, I rode Breda 3155 from Pentagon City to Huntington, which had one headlight out at that time.  I wasn't logging my trains regularly at that time (that started with my August 3 trip), so this is how I noted the number of this unusual car.  Key it into the cell phone, and then take a photo of the phone showing the number.
---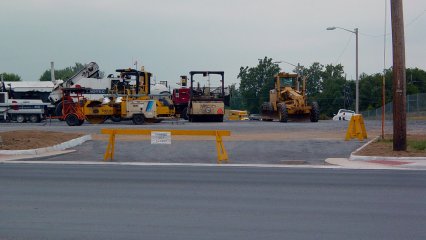 On a trip on July 28, while stopping in Harrisonburg, I discovered that the gate lodge at the former Howard Johnson's (now Rockingham Hall) had very recently been demolished.  The remainder of the complex, consisting of the guest rooms of the former motor lodge, was refurbished for its second stint as a dorm.  The former restaurant had been demolished in mid-June 2004.
---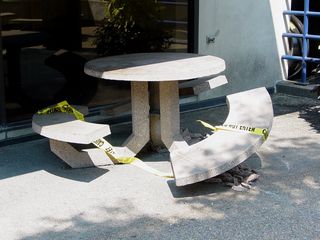 On August 3 (my black-and-white day), I took a rare color photo to show that this particular concrete table had finally deteriorated to the point of being unsafe.  A shame, too – that table was a favorite of mine.
---
On my black-and-white day, I also tried to get into it with some movies.  This is a black-and-white movie of a CAF train leaving the Shaw-Howard University station on the Green Line…
---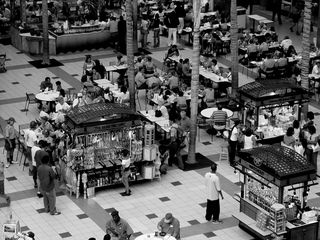 This was taken just before the big Scout Jamboree of 2005.  As a result, Pentagon City Mall was crawling with people in Boy Scout uniforms.  I took it in black and white due to this photo's being intended for my Shades of Gray set, but I wish I had also taken a color photo of this scene to show everyone in their matching scout uniforms.
---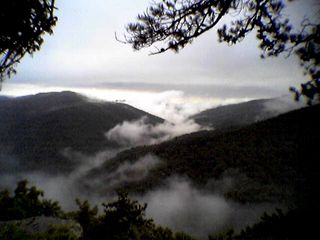 This photo was taken August 9 from Twenty Minute Cliff on the Blue Ridge Parkway with my cell phone.  Not too shabby.  I like the way the clouds are low, amongst the mountains.
---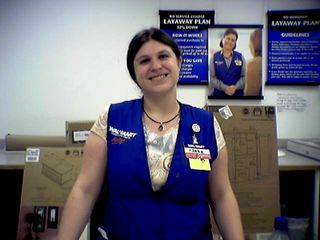 On August 12, Sis strikes a pose while working Layaway.
---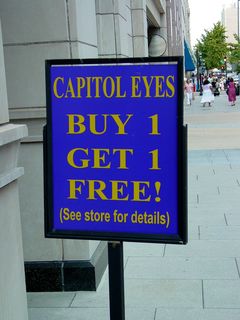 Even though we knew what they meant to say (related to buying a second pair of glasses), this sign still struck me as funny on my August 17 DC trip.  Buy one eye, and get another one free!
---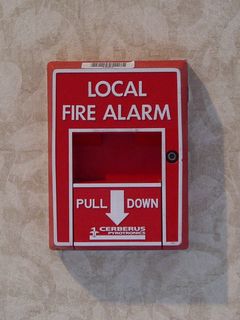 At the Loews L'Enfant Plaza Hotel, we find a "local" variant of the Cerberus Pyrotronics MS-51 pull station.  In Washington, since alarm systems are prohibited by law from transmitting alarms to authorities automatically, many pull stations in Washington carry this wording.
---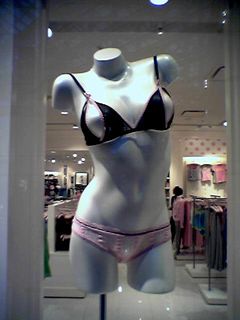 I'd dare say that with this little number in the window of Victoria's Secret, Victoria has no more secrets left…
---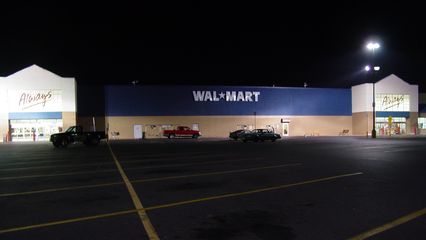 That rare moment during a Wal-Mart remodel, shown here at the Dayton store, where the word "Supercenter" is gone from the building.
---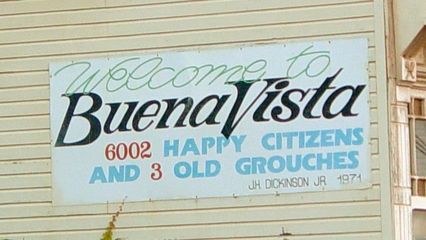 On September 21, I took a ride on the Blue Ridge Parkway from Waynesboro to near Lexington.  At Buena Vista, I encountered this sign that says, "Welcome to Buena Vista.  6002 happy citizens and 3 old grouches."
---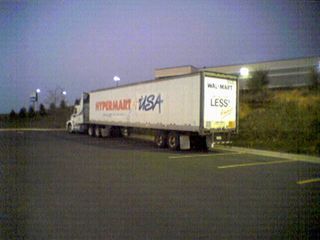 Arriving at work on October 1, I found an unusual-looking Wal-Mart truck parked in the lot.  This one advertised the now-defunct Hypermart USA format, which was the predecessor to Wal-Mart's Supercenters.
---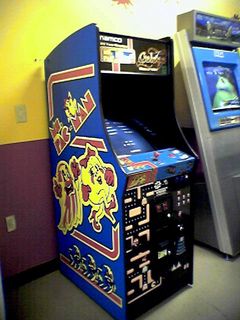 This machine is absolutely awesome.  This is the combination Ms. Pac-Man and Galaga machine in the game room at the Lexington Wal-Mart.  I've been known to play it quite a bit from time to time.  I'd sometimes play Ms. Pac-Man on there, but I'd usually play regular Pac-Man, accessible through an easter egg (up-up-up-down-down-down-left-right-left-right-left on the joystick on the select screen).  I could easily play Pac-Man for hours…
---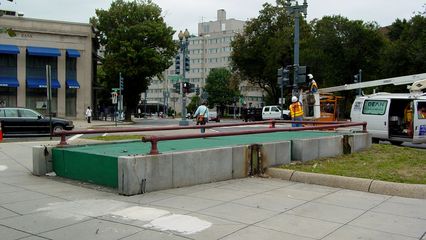 On October 12, I wandered around Dupont Circle to find the location of a few things.  This is the former entrance to the old streetcar station.  The light patches on the concrete are a repair job following the removal of a "Dupont Down Under" sign, which was an attempt at redeveloping the old station into shopping.
Here's a photo of the entrance with the Dupont Down Under signage in place, and here's a photo of the stairway not boarded up.
---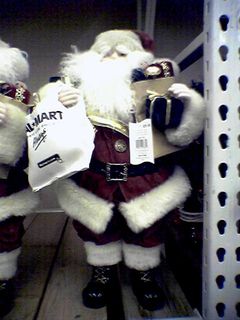 Shameless self-promotion, anyone?  I thought that this kind of advertising on products was limited to clothing and shoe companies…
---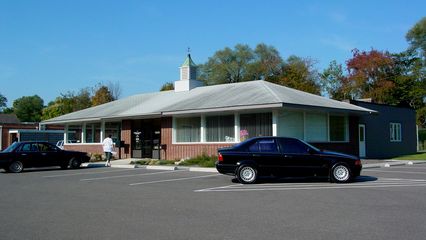 This building, photographed here on October 19, of which half is a dentist's office, appears to have originated as a Howard Johnson's restaurant based on the architecture.  The location, however, is not listed on orangeroof.org, which keeps track of those things.  Perhaps this is an undocumented former HoJo's?
---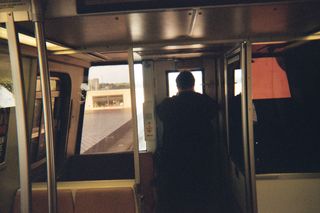 On October 26, while on a railfan trip, Matthew Tilley caught me having a blast photographing out the front railfan window of Breda 2021 at Huntington.
---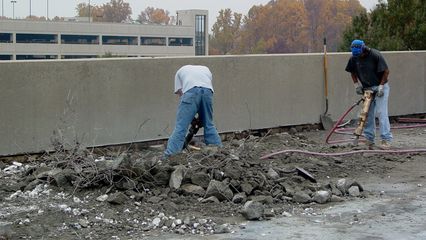 On my November 9 DC trip, I first noticed workers demolishing the sidewalk along the top level of the Vienna Metro station's North Garage.  I just love watching these things happen, though I don't like the jackhammer noise.
---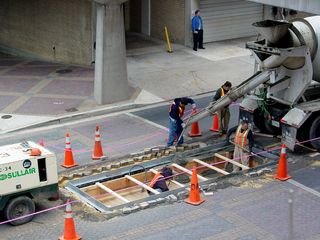 While the work at Vienna was going on, there was also a project going on in the street at Rosslyn, as a new access was being built in the middle of the street.
---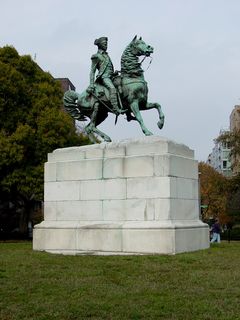 The same day, I visited Washington Circle, which is noteworthy to me because of my "accidental" DC trip.  I ended up driving three laps around the circle, because I had no idea which way to go to get to I-66.  I finally asked a girl in a convertible which way I needed to go.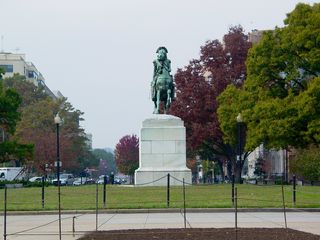 ---
Sometimes you never know what you'll find.  This truck was spewing out some kind of vapor while servicing a location outside George Washington University Hospital.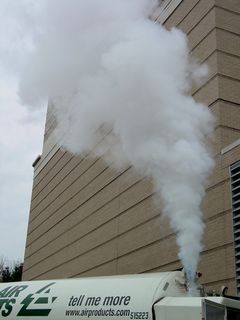 ---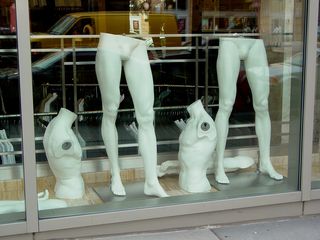 In a store on Wisconsin Avenue NW near the Friendship Heights station, I encountered this display of mannequin parts.  An odd display to be sure, but I'm guessing the display was quite unfinished.
---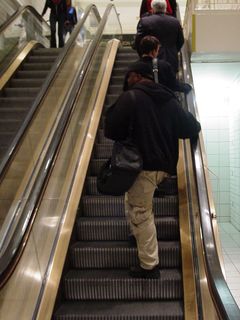 On November 16, I demonstrate for you one thing – even when shopping at the mall away from the Metro, in the DC area, we still stand to the right on escalators.
---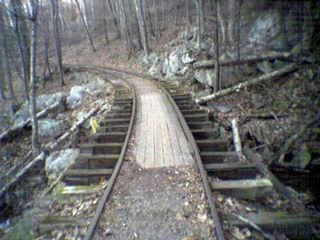 On November 25, which was Black Friday, I took a drive on the Blue Ridge Parkway after work to relax.  I had a blast, too.  I took a moment to explore this reproduction of an old logging railroad at Yankee Horse Ridge, which was a lot of fun.  I walked the track from one end to the other and back.
---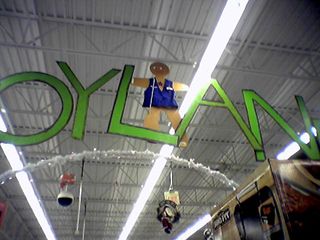 At the Wal-Mart in Warrenton on December 14, Gingy hangs from the ceiling, wearing an authentic Wal-Mart vest and name badge.
---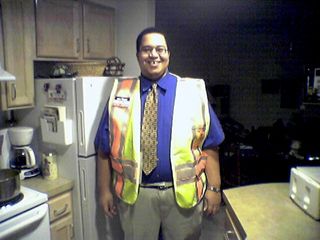 After I surprised my friend Matthew Tilley later that day, I let him try on my FliteStar vest.  It really is the exact same kind of safety vest they use on the Metro!
---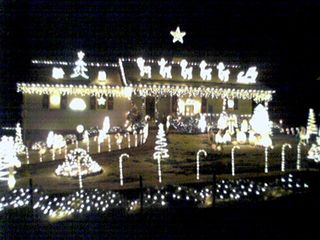 I include this photo from the light-seeing trip that Sis and I took on Christmas Eve mainly so that you can get a closer look at this… (click the picture!)
---
On December 28, I went on a DC trip with Mom, Sis, and Sis's boyfriend Chris Lysy.  We had a blast, and I got a lot of photos and such.
---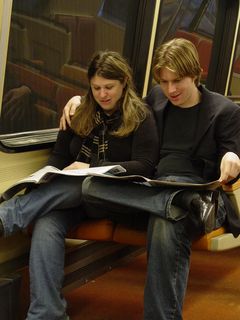 Sis and Chris read the Express and the Washington Blade.
---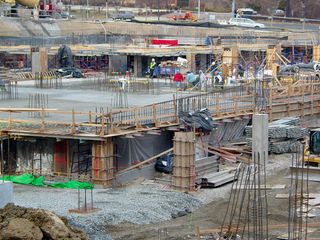 After the obligatory walk through Freedom Park (Sis loves it), I took a moment to photograph the progress on the Waterview.  Recall that I also photographed the previous building on this site in my Urban Demolition photo set.
---
"Concrete tastes funny."
---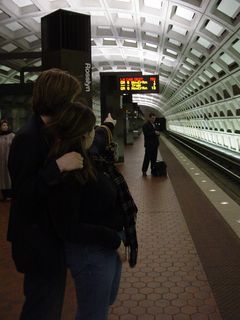 Sis shows Chris the PIDS display on the upper level platform at Rosslyn.  We would ultimately ride that six-car Orange Line train to New Carrollton that was to arrive in one minute.
---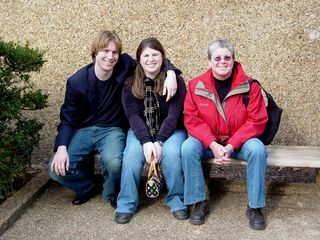 Chris, Sis, and Mom pose for a picture at Malcolm X Park in northwest DC.
---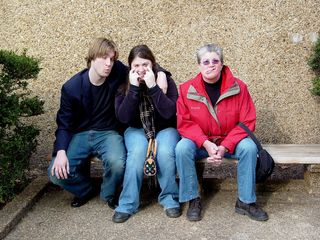 And then they posed for a silly picture.
---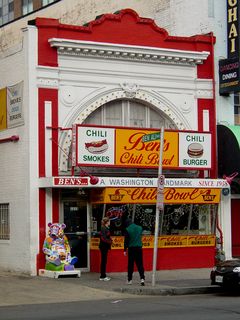 Ben's Chili Bowl on U Street is a DC landmark, which I pointed out to my three travel companions.
---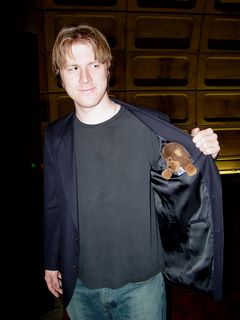 At the U Street-Cardozo station, Chris poses with Sis's stuffed monkey like a shady street salesman, commenting, "Hey, you want to buy a monkey?"
Why they brought that stuffed monkey with them is beyond me – you'll have to ask the two of them about it.
---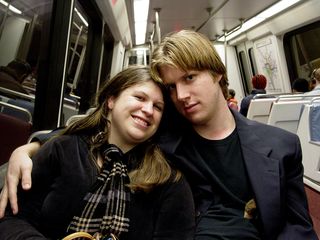 On the Metro, Sis flashes a smile for the camera, while Chris stares directly into the lens.
---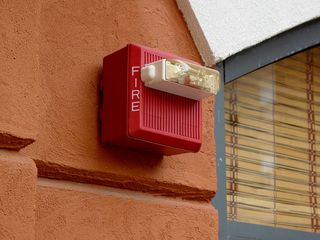 On the outside wall of Murali, where we went to dinner, I saw the redesigned Wheelock MT in person for the first time.
---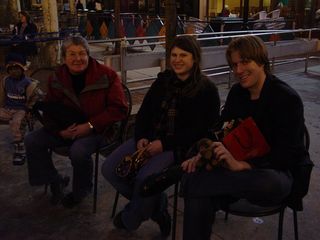 Mom, Sis, and Chris smile for the camera at Pentagon Row.
---
Another one of my crazy interview movies…