Random Encounters
While I'm out and about in the area where I live, when I'm coming to and from work, and when I would make my biweekly visits to Washington DC, I would sometimes encounter things that deserve a photograph. Some of it is downright amusing. Some of it is a bit odd. Some stuff is actually quite beautiful. In this photo set of things I've encountered in 2004, you will find that some images were taken with Big Mavica, and others were taken with my cell phone's on-board camera, which I got on January 29, 2004, according to the Journal.
---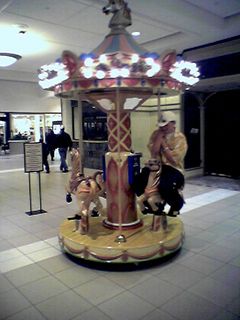 On February 26 at Fashion Square Mall in Charlottesville, a teen rides the merry-go-round while his friends watch off camera.
---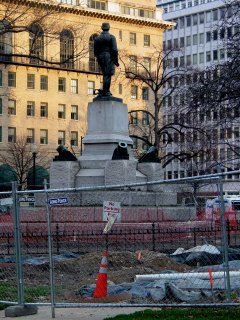 When I went by Farragut Square on March 10, the square was fenced off and all torn up! I never found out what sort of work was going on.
---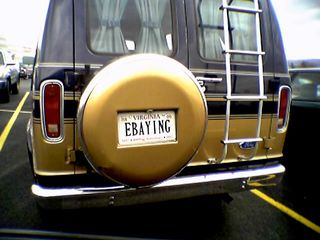 Based on the license plate, it would seem that someone spends a lot of time on eBay, spotted here in the Waynesboro Wal-Mart parking lot on March 18.
---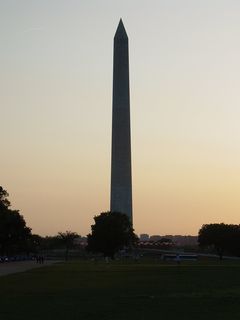 On May 8, I was back in Washington, and, near sunset on the National Mall, captured the Washington Monument in silhouette.
---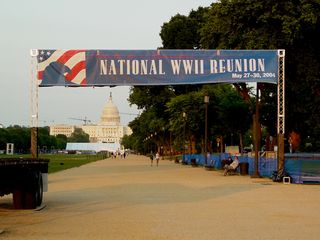 On May 8, they were already setting up for the dedication of the World War II Memorial, which would happen at the end of the month.
---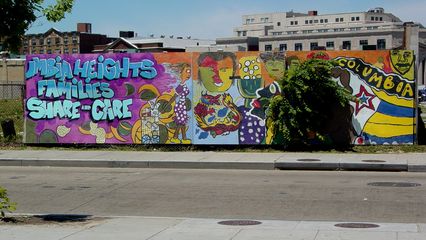 On May 29, while the World War II Memorial was being dedicated, I went railfanning up the Green Line. This wall around a vacant lot was painted up to show some "neighborhood pride" outside the Columbia Heights Metro station.
---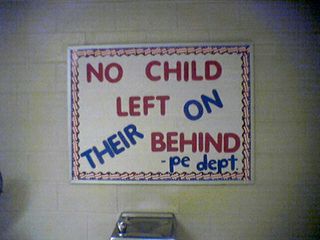 When I visited Mom at SDMS on May 25, the Phys. Ed department had taken the opportunity to make fun of George W. Bush's "No Child Left Behind", turning the phrase into "No Child Left on their Behind".
---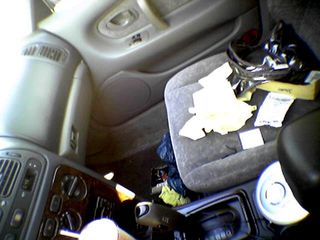 On June 2, when I borrowed Sis's car while mine was getting serviced, I found it amusing that she complains that my car is messy. Look at this – this is more of a mess than my car ever is!
---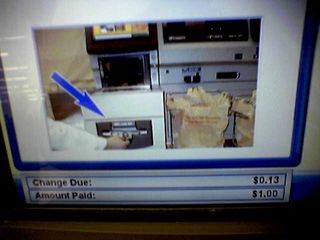 On July 5, I finally got a shot of the mistake on the self checkouts at the Waynesboro Wal-Mart. When it showed where the change came out, the bags shown weren't Wal-Mart bags. Instead, they were Home Depot bags, with the message "Thank you for shopping The Home Depot" clearly readable on the bags. This was later edited out.
---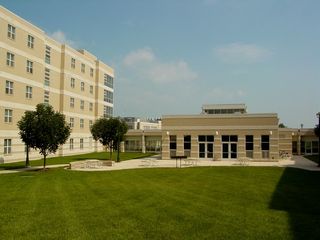 On July 6, I went up to Harrisonburg to shoot some new photos of JMU. I ended up swinging by Potomac Hall, in order to get some photos of the bricks on the side of the building for when I repositioned College Life from a section on the main site to a subsidiary site.
---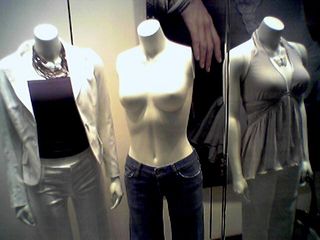 On July 21, at Pentagon City Mall outside Washington, I found a mannequin baring it all! Oh, and without arms, too.
---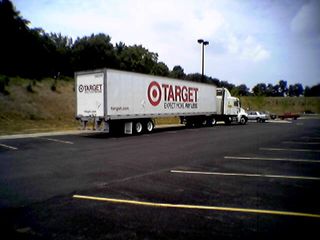 On July 23, look what I found parked at the side of the Wal-Mart parking lot! A truck clearly bearing the name and logo of competitor Target! It is unknown whether this was deliberate or inadvertent. My guess is that it was inadvertent, as there were no Target stores around for many miles.
---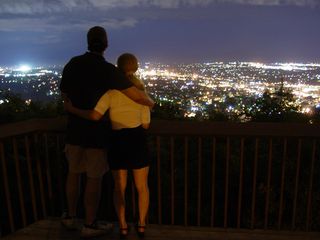 On July 27, I went to Roanoke. There, I encountered a couple that was willing to pose for a few night photos at the star. This was intended as a sequel to my original couple-at-the-star photo I took in March 2003 as part of my Mill Mountain Park By Night photo set. However, the photos were for the most part unusable because the shadow of my tripod was visible in the shot.
---
On July 31, I went up to Afton Mountain, and did some nighttime photos under partly cloudy skies and a full moon. What amazed me is that with the long-exposure photos, I actually managed to get the sky looking like daylight, lit by the full moon.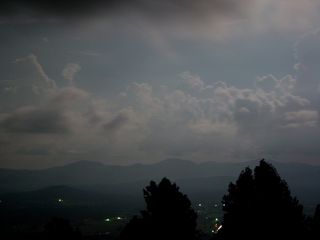 ---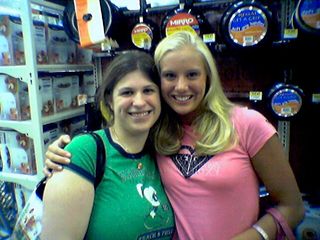 On August 17, just before Sis was to go back to Virginia Tech, she ran into Bonnie Sutton, a friend of hers from the SMAC swim team.
---
The next day, on August 18, while Sis was going back to Tech, I went to Washington, where the Washington Convention Center was hosting American Idol tryouts. The place was crawling with excited people.
---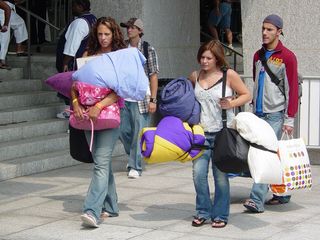 However, not all the faces in the crowd looked optimistic. Based on the look on these two women's faces, I'd say that American Idol was not kind to them.
---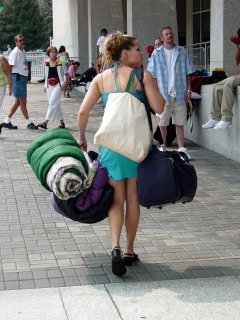 As you can see, a lot of people actually camped outside the Washington Convention Center and definitely packed for it, with this woman carrying two large bags and a sleeping bag.
---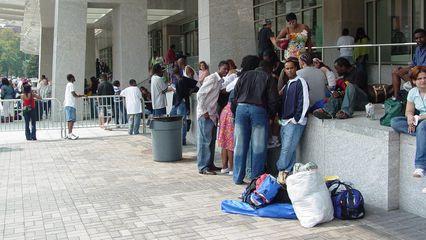 As you can see, there were quite a bit of people outside when I swung by in mid-afternoon, but based on the arrangement of the barricades, I'd say that it was far worse earlier in the day.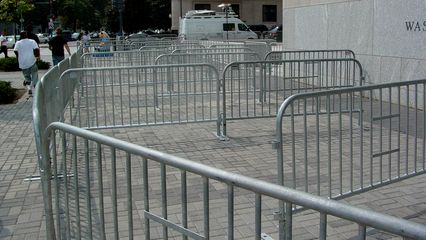 ---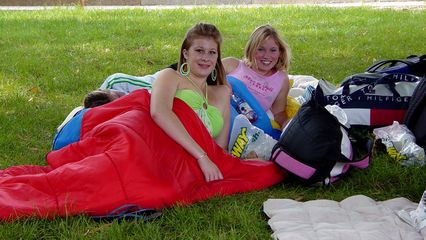 These two women, camped out across the street from the convention center, had already been eliminated, but decided to take a little time before clearing out.
---
Talking about the American Idol tryouts…
---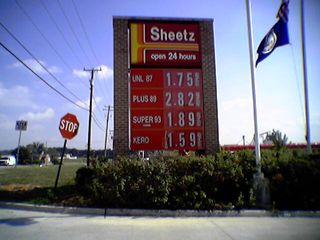 On August 26, Sheetz in Staunton was selling some REALLY expensive mid-grade gas. This was actually a blooper, with the real price being $1.82 per gallon.
---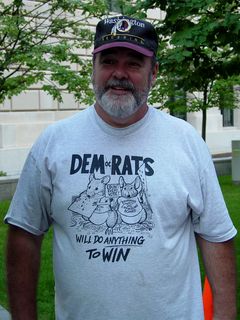 On August 28, this gentleman visiting Washington DC was wearing a rather amusing shirt…
---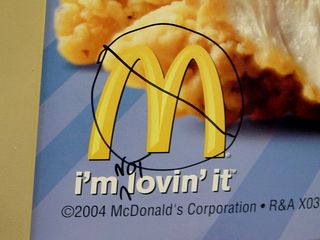 On September 8, I ran into this ad on a Red Line train, after it had been adjusted by some people.
---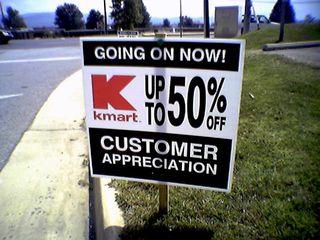 On September 12, Kmart posted these signs all along Lucy Lane across from the Wal-Mart in Waynesboro. In a Journal entry written at the time, I commented that it looked as if Kmart was screaming "desperate".
---
For more information about this September 21 demonstration, I discussed it in my Journal at the time the event happened. The organization sponsoring the event is the Jubilee USA Network.
September 21 "Drop the Debt" picket outside the Treasury Building.
---
September 21 "Drop the Debt" picket outside the Treasury Building.
---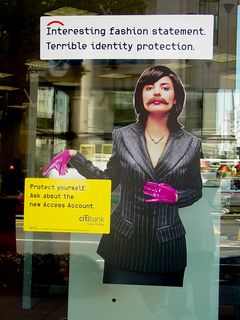 On September 21, after the protest, I encountered this amusing advertisement for secure checking.
---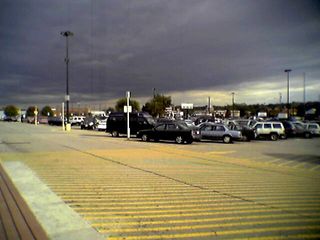 On October 14, the sky looked a little threatening over Salem. These clouds actually didn't do a thing all day, and only looked really dark because of the bright sunlight I was standing in.
---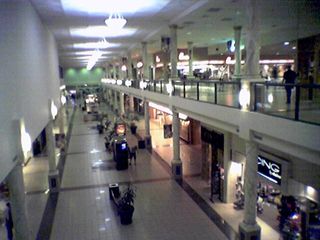 On the same day, I also went to Tanglewood Mall just outside Roanoke. This was my first time going to Tanglewood after seeing it on deadmalls.com. Learning the history of the mall caused me to notice some vintage features left in place after two interior renovations. Below left shows what is believed to be an original ceiling from the 1970s at the "dead" end of the mall where there is an empty anchor store. Below right shows what is believed to be a swath of original flooring from the 1970s next to a jewelry store near the center of the mall. The flooring is dark wood parquet, and also brick.
---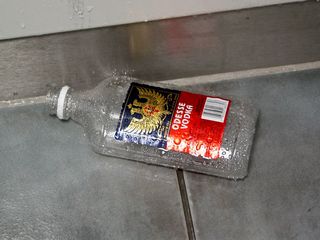 On November 24, I found a discarded liquor bottle in the Exeloo at Huntington. How irresponsible…
---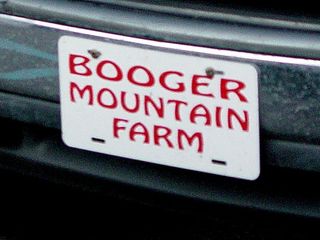 On December 2, we find an interesting vanity plate on a car outside Kroger at Tanglewood Mall in Roanoke. Why is it so interesting? They said "booger"! (yes, I'm immature)
---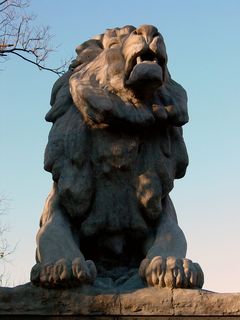 December 8 found me back in Washington once again. Is it just me, or does this lion, guarding the entrance to the Taft Bridge, which carries Connecticut Avenue over Rock Creek Park, look like it's about to sneeze?
---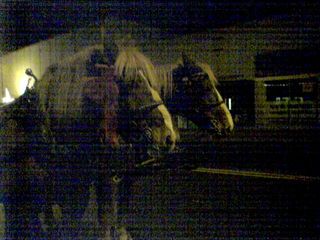 On December 10, my friend Katie and I went to downtown Waynesboro at night for a Christmas show. The turnout was somewhat low, but there were big horses there pulling carriages for people to ride in.