The Year That Was
2006 was quite the year.  I got a new car, I went to Washington DC a bunch of times, I saw a lot of stuff, I did a lot of stuff, and I had a great time doing it all.  This photo set is basically what I would consider "cleanup" for the year.  It's everything that I thought was worth showing but that I had not yet shown, either in a formal photo set, or in my Journal.  Some stuff does relate to Journal entries and/or photo sets in Photography and Life and Times, but for some reason it was never used at the time.  So here's some of the stuff that happened in 2006, the year that I turned 25…
---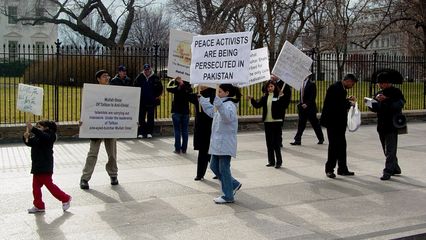 On my January 4 DC trip, I ran across this group demonstrating in front of the White House.  It appears that they are of Pakistani heritage, demonstrating about treatment of peace activists.
---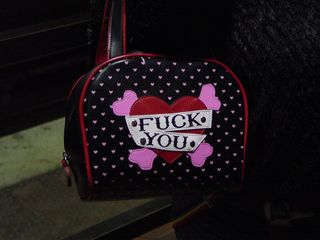 On the elevator at Fort Totten station, I was quite surprised to see this teenaged girl's handbag.  It certainly sends a strong message…
---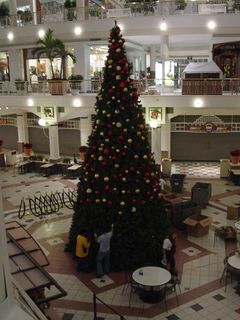 At Pentagon City Mall, the end of the Christmas season came on January 4, as workers removed the large Christmas tree from the mall's center court.
---
Discussing modifications to the Waynesboro Outlet Village's original layout.  This was originally done as notes for my Waynesboro Outlet Village photography set.  All of this is gone now, having been demolished in the late summer of 2006.
---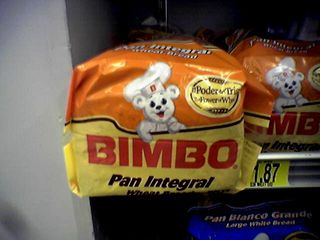 On January 17, I noticed this brand of bread and other baked goods on the shelves at Wal-Mart.  I personally find "Bimbo" to be an odd name for a brand of anything.  The brand is aimed at Hispanic consumers, so I presume that "bimbo" doesn't carry the same connotation in Spanish that it does in English.
---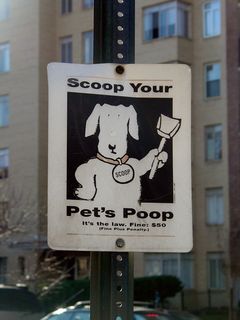 During my January 18 DC trip, I spotted this sign during my walk along 16th Street NW.  There were actually a number of similar signs along 16th Street.  Perhaps there's a pooper-scooper problem?
---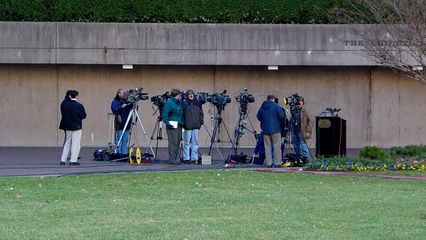 Near the end of my walk down 16th Street, I noticed a whole bunch of news organizations outside the Third Church of Christ, Scientist.  I couldn't find out what was going on, so it's a mystery to me.  Does anyone know?
---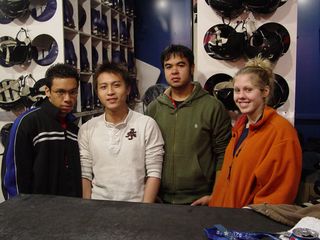 At the ice skating rink at Pentagon Row, the employees took a moment to pose for a photo.
---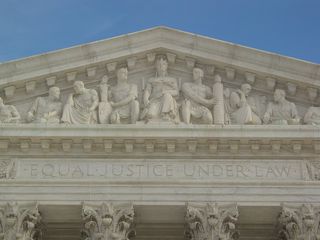 On my February 1 DC trip (also the final DC trip to use the Previa), the pediment on the Supreme Court building was covered in netting after a chunk of marble fell from the building onto the steps below a few days earlier.
---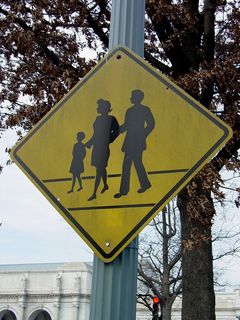 Near Union Station, this sign puts a new twist on the traditional "PED XING" sign, showing a family crossing the street.
---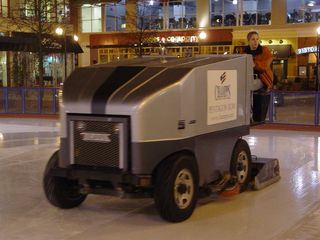 Rheannin, one of the employees at the Pentagon Row ice rink, resurfaces the ice by taking the Zamboni out for a spin.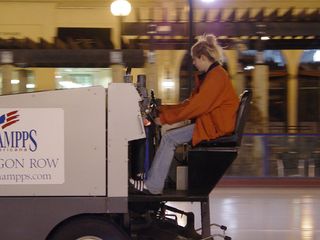 ---
A woman skates around the Pentagon Row ice skating rink.
---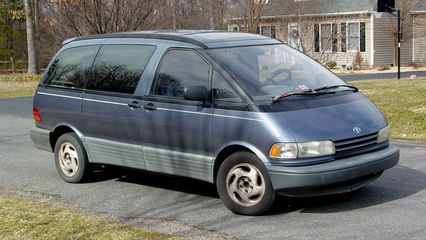 The Previa poses for a photo before its final road trip, where it went to Roanoke and back.
---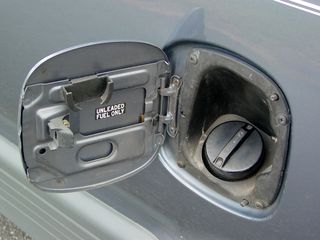 The Previa's fuel door was something I had to rig up.  I don't remember how it originally was set up, but it stopped popping open when I hit the switch.  If you look carefully near the bottom of the hinge in the center of the photo, I stuck a little piece of metal in there to act like a spring.  Worked like a charm.
---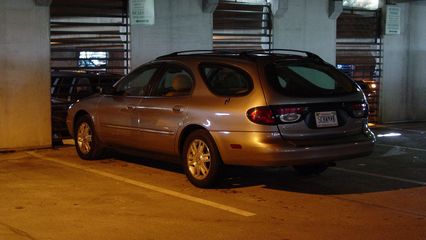 The Sable has arrived at Vienna on its first DC trip, on February 15, 2006.
---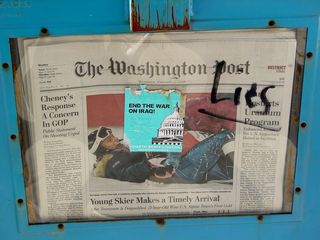 This Washington Post box has a sticker about the September 24 protest on its face, as well as "Lies" written in marker nearby.
---
It appears that a group of workers has gone on strike, and is picketing.  There were two groups.  This one was on 15th Street, and a second group was on 14th Street.  You could hear them a long way off, too.
---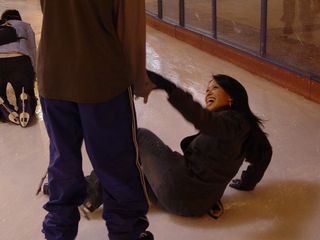 At Pentagon Row, a man helps a woman up after she took a spill on the ice.
---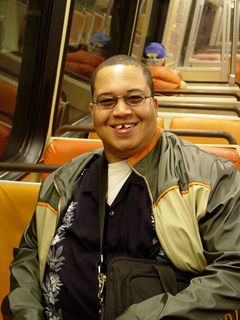 On our March 15 railfan trip, my friend Matthew Tilley and I took a ride on Breda 4018, the car which had been involved in the Woodley Park-Zoo accident back in November 2004.
---
After Matthew and I parted company, I went over to Pentagon City.  At Pentagon Row, the skating rink was partly disassembled, as it was going into storage for the warmer months.  The ice rink is generally open from December to March.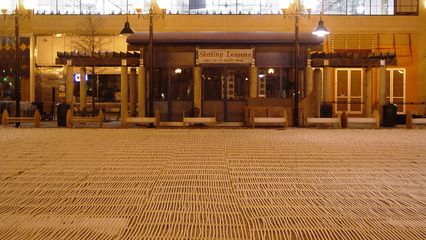 ---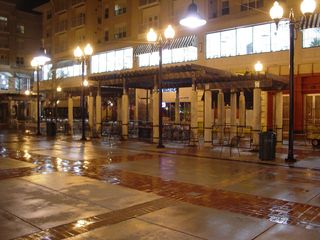 And by my next trip on March 28, the ice rink was gone, without a trace left behind.
---
Does anyone know what this sound is on Rohr cars on the Metro?  I've heard it so many times, and I still don't know what it is.
---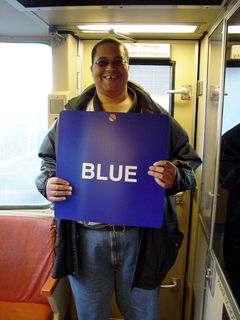 On April 4, I went on an unexpected DC trip for an "interview" with CRC Advertising.  Afterwards, Matthew and I got together, and we went around to Franconia-Springfield and back.
---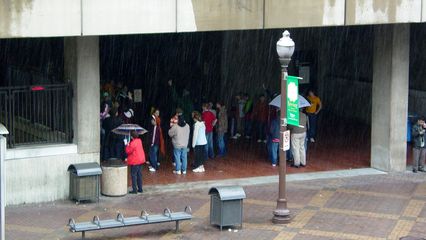 April 8 was the date of the scheduled DC trip, and what a day it was.  It was raining – HARD!  It was raining so hard that you can actually see the rain falling in this shot in Rosslyn.
---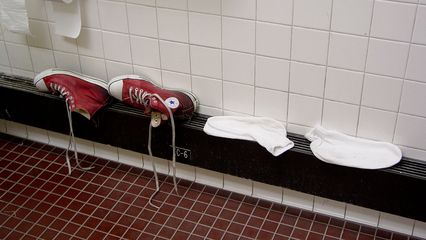 It was actually raining so hard that I soaked right through my Chucks and into my socks.  While I was out railfanning, I took a pit stop in the station restroom at Branch Avenue and put my socks and my shoes right up on the heat register, to dry them out just a little, or at least warm them up.  The socks dried a bit, and everything was nice and warm again, and that felt really good.  It was a real @#$% to put the shoes back on, but it did feel good.
---
This gentleman is one of my favorite Metro operators because he's so cheerful on the horn.  I can't imagine him ever being in a bad mood.
---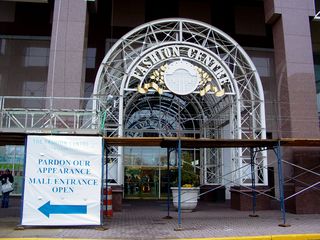 Later on in the day, when I went to Pentagon City, I discovered that the entrance to the mall was under renovation.  I actually got yelled at by a mall security guard (who obviously didn't have enough to do) for taking this photo.
---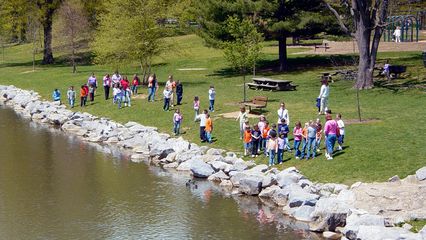 On the day I did my Downtown Waynesboro photo set, I went over to Ridgeview Park afterwards.  There, a group from Hugh K. Cassell Elementary (a local elementary school) was having a lunch break while on a field trip.  As always while I was out during my employment with Wal-Mart, a bunch of children recognized me from there, and told me about it: "I see you at Wal-Mart!"
---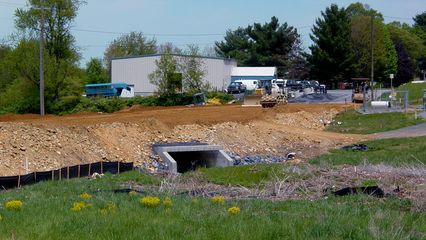 This is the area of Route 608 that caused the detour that I complained about here.  This photo was taken about two months into the work.
---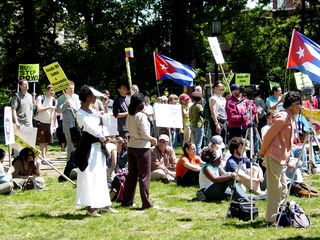 On May 20, I was in DC, and photographed a protest called "Hands Off Venezuela and Cuba" sponsored by ANSWER.  They met at Malcolm X Park, and marched to the White House – the same basic concept as J20's march route.  However, unlike J20, which was a direct march down 16th Street, ANSWER's march was far more circuitous.  I didn't march with them.  I left before they took off, and caught up with them later.
---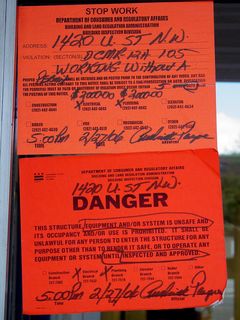 Leaving Malcolm X Park and returning to the Metro, I noticed this sign taped to the door of a business offering storage facilities and various other services.  I took a few shots of the sign.  In the process, I managed to attract the attention of an employee in the building, who came out to check me out.  He was polite about it, but I out-maneuvered him.  He gave up when I told him, "This is a public street."
---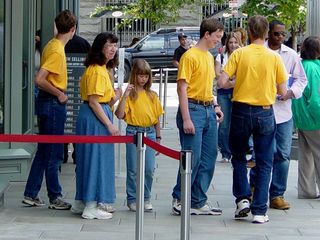 Meanwhile, outside the International Spy Museum, we found a group exemplifying Washington DC in spring: matching shirts.  It's either matching shirts, or kids wearing ID badges.  Or a whole bunch of people wearing "FBI" or "CIA" shirts.  Either way, these groups are normally not exactly well-behaved…
---
The ANSWER march arrives at Lafayette Park.
---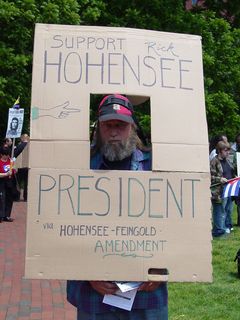 At Lafayette Park, after the ANSWER group had arrived, I ran into Rick Hohensee, who was allegedly running for president.
---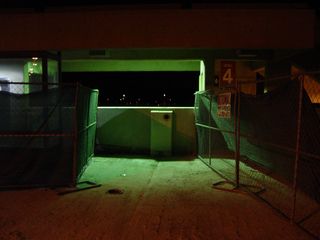 Returning to Vienna after all this on May 20, I found out that the work crew had been busy with the rehabilitation of the North Garage.  So much so that they'd blocked me out.  I had to push the fences out of the way to get from the elevator to my car, which was parked next to the elevator.
---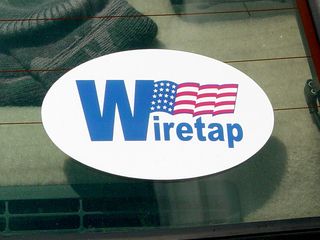 On June 6, I saw this sticker on a person's car at New Carrollton, which reminds us that "W" also stands for "Wiretap".
---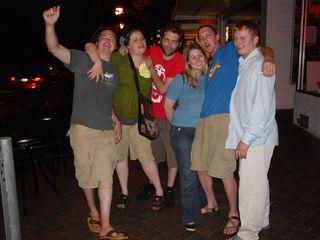 On July 2, a Sunday night, I photographed in the Corner District of Charlottesville.  It was fairly quiet, but there were still some UVA students out and about.  This group posed for a photo.  Based on how many of them were acting, I'd guess that they'd had a few drinks while they were out.
---
On July 4, Code Pink held a large demonstration in the street in front of the White House.  Here, they gave Bush a giant "pink slip", which you can partly see in the bottom photo.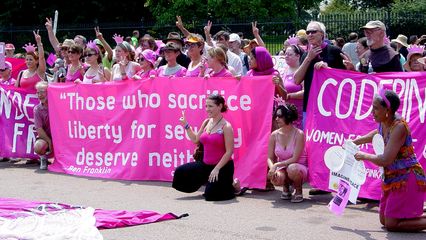 ---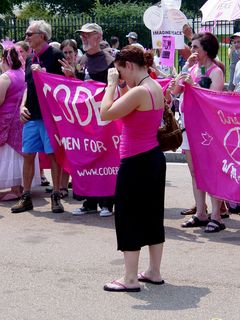 This was also a great photo opportunity, and many people were taking pictures of this assembled group.
---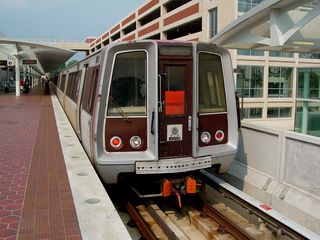 After checking out Code Pink, I went railfanning, which was the main reason for taking the trip on July 4, since Metro runs a special service pattern on that day.  Note that this Rohr at Largo Town Center is signed as an Orange Line train.  Also note the weather.  Perfect, clear skies.
---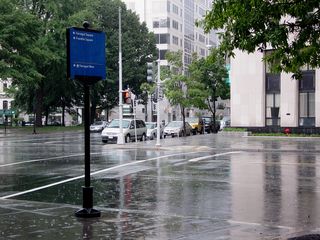 Fast forward a little bit – the amount of time it takes to ride from Largo to McPherson Square on Metro – and it was raining hard, plus thunder and lightning (I wrote about it here).  That's one storm that just came up out of nowhere, but it did serve one beneficial purpose.  It broke the heat.
---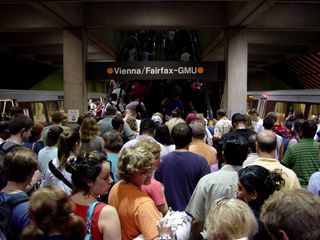 Returning to Vienna after dinner, I experienced this crowd leaving the station.  I'd never seen Vienna this crowded before, ever.  Usually, when I return to Vienna late at night, the place is deserted.
---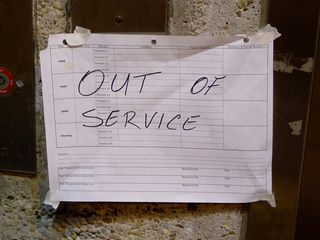 And that is the one sign I don't want to see when I'm parked on the top deck of the North Garage.  The North Garage's elevator was busted, so I had to take the stairs…
---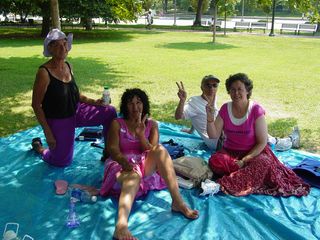 On July 18, I ran into this group, which spent each day in Lafayette Square for some time as a protest against the Iraq War.
---
The fire alarm is going off at the Hecht's (now Macy's) in downtown Washington!  Besides the slow-whoop of the fire alarm, you can also hear the camera jostling around in its bag, and me talking to a store employee.  I shot this movie covertly, with the camera in the bag the whole time, because I was really only interested in the sound.
---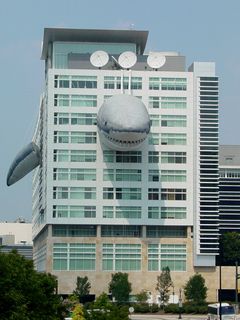 Meanwhile, in Silver Spring, Discovery Communications adorned its building with a giant shark as a promotion for "Shark Week".
---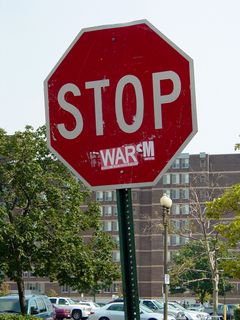 I also found this stop sign, where a sticker turned it into a message: "STOP WAR".
---
Returning to Vienna, I noticed an oddity: grass growing out of the platform!
---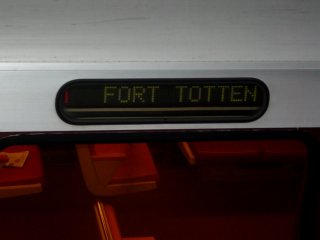 I also noticed another oddity: The train was signed as a Red Line train to Fort Totten.  There are a few problems with this.  First off, this train had just finished a run as an Orange Line train to Vienna.  Secondly, a train leaving Vienna cannot reach Fort Totten's upper level in one shot.  The A&C connection at McPherson Square is the only track connection to the Red Line from the Blue and Orange Lines, and it's pointed in the wrong direction for that to work.  It links westbound to westbound, and so it would require turning the train (i.e. changing cab ends) twice.  Once after changing tracks at the McPherson Square interlocking, and then again at the Farragut North pocket track.
---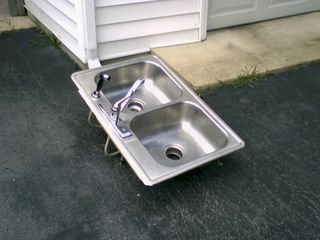 On July 27, while I was in Northern Virginia visiting Matthew Tilley, we finally got the kitchen counters replaced at home.  What a strange sight it was to see the old kitchen sink sitting out in the driveway as I was leaving.
---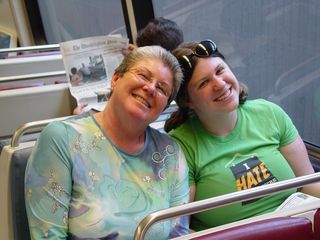 On August 1, I took my regular DC trip with Mom and Sis in tow.  Here, they struck a pose on the Metro at Vienna.
---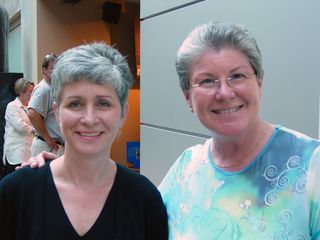 Our first stop this time wasn't Rosslyn, but rather Union Station.  There, we met Mom's friend Arlinda.  Mom and Arlinda got together for a while, and Sis and I went off on our own for a while.
---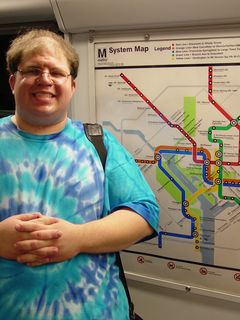 Leaving Union Station, Sis and I got Breda 2008.  You may recall that I had a rather well-known photo of me taken on that car prior to its rehabilitation.  So we redid the shot, now that 2008 has been rehabbed.
---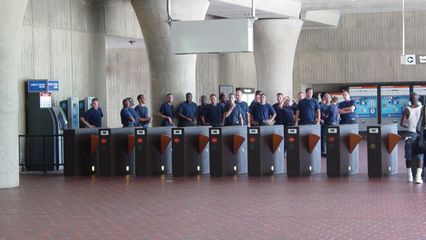 When Sis and I arrived at Largo, we saw a large group of firefighters in the station!  If not mistaken, they were there learning the station's layout.
---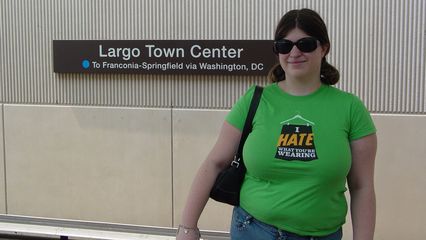 After visiting The Boulevard at the Capital Centre, we took a photo to mark the occasion, as Sis had now visited her third terminal – Largo Town Center.  This was also her first trip into Maryland via the Metro.
---
I do one of my little interviews with Mom and Sis at the Crystal City Metro station.  I found out after doing this movie that they hate my little interviews.
---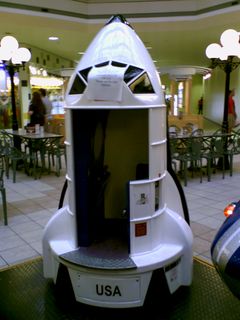 On August 9, while in Roanoke, I noticed this ride, designed to resemble the Space Shuttle.  Upon closer inspection, it appears that it was based specifically on Columbia, based on the black "chines" on the wings, and the "USA" marking.
---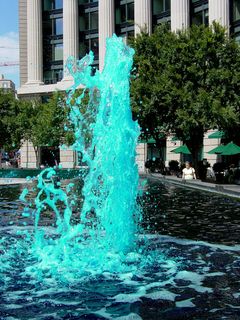 On August 17, I went past the Navy Memorial in DC, and found out that the water was blue in order to get rid of algae growth.  DCist called it the Ty-D-Bol Memorial.
---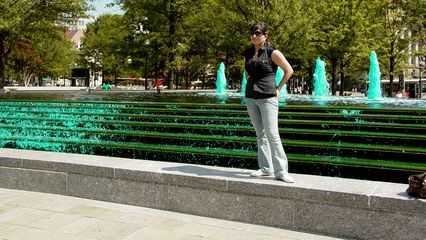 The blue water of the memorial was a bit of a tourist draw in its own right, as people had their photos taken in front of it.
---
On my August 30 trip, I first noticed this installation on the sides of Pentagon City station.  It turned out that this was the first part of the installation of a new sound system in the station.
---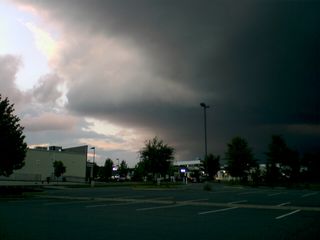 September 3 in Charlottesville: Look at the clouds… dark and threatening, but ultimately, nothing came of it.
---
On September 12, I visited Camp Democracy in DC.  Camp Democracy, operated by a number of DC anti-war groups, including DAWN, was basically a DC extension of Camp Casey, which Cindy Sheehan had founded in Crawford, Texas in 2005.  Due to other commitments, however, Sheehan herself was unable to make an appearance at Camp Democracy.
---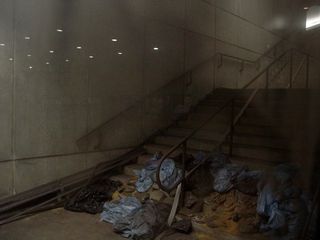 Later on in the day on September 12, I noticed the lights were on in the abandoned tunnel at Pentagon City station.  I had previously read that there was going to be work done on the tunnel to eventually open it to the public, but this was the first I'd seen of stuff actually going on in the tunnel itself.  By the looks of it, this will not be a tunnel for the weak, as there are a whole lot of stairs on both ends of the tunnel.
---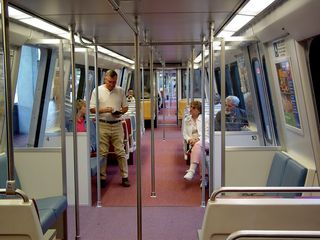 What is wrong with this September 20 picture of Breda 3085 at Vienna?  Answer is, the bulkhead doors were open all the way through to the fourth car of this six-car train.  I notified the operator when he entered, and he got on the PA: "Hey, Bruce, when you walk past the train, make sure all the bulkhead doors are closed. Some may be open."  Bruce closed them, and operator announced, "Thanks, Bruce."  The operator thanked me when I departed at Rosslyn.  Additionally, Breda 3085 was one of the cars that Metro missed when they converted all the cars to the new chimes, so I got to hear Sandy Carroll do her "doors closing" voice.
---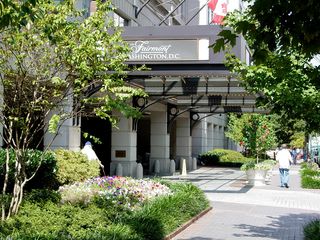 September 20 was another photography walk.  I actually went over to the Fairmont Hotel, which was one of our targets in Night March, and took shots along the way.  It looks so different during the day, with no black bloc demonstrating around it.
---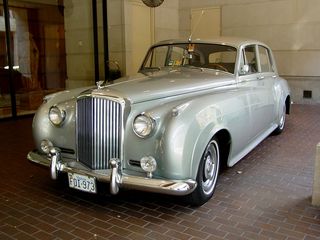 And in front of the Fairmont was this classic car, a Bentley S2.
---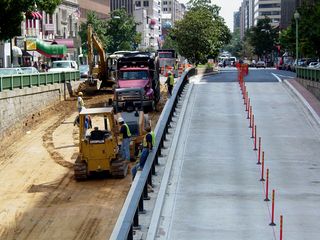 Later on, at Dupont Circle, traffic was in a bit of disarray, as construction crews fully rebuilt Connecticut Avenue going under the circle itself.
---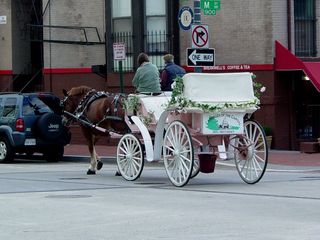 After a trip to the Infoshop, I spotted something you don't normally see in DC, and particularly not in the Shaw neighborhood – a horse-drawn carriage.
---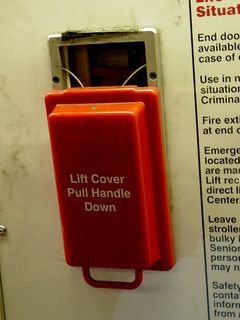 Riding Rohr 1146 back to Rosslyn from Pentagon City, I noticed an oddity – the release cover was hanging loose!  I had always figured that those were hinged…
---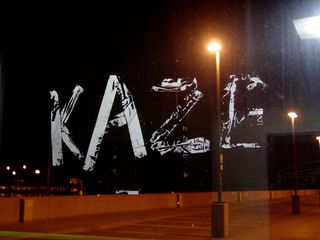 This "KAZE" message was applied to the elevator windscreen using duct tape on the top level of the North Garage at Vienna some time in mid-2006.   No idea what it means, though.
---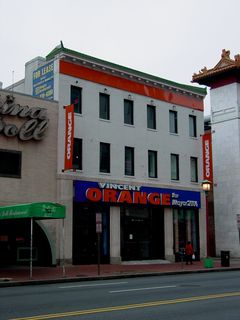 On October 11, I discovered that the former Da Hua Market in Chinatown had recently been used as the campaign headquarters for Vincent Orange, one of the Democratic candidates for the mayor of Washington DC.  Adrian Fenty ultimately won the race.
---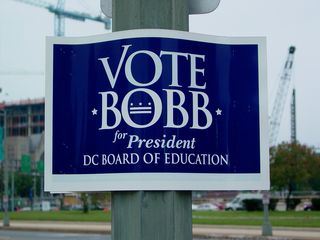 Meanwhile, Robert Bobb, a longtime city manager in various places across the country, was making his first foray into elected office by running for president of the DC board of education.  He ultimately won the election.
---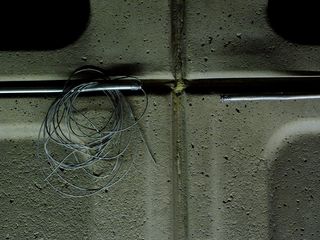 Later on in the day when I was at Pentagon City, the appearance of the sound system has changed.  The boxes are gone, and wires are sticking out of the conduit along the wall.
---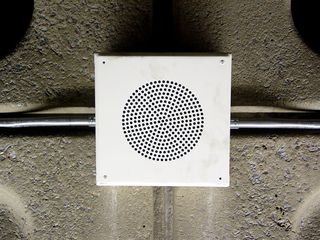 However, on October 23, the speaker boxes took on their finished appearance.  And for all that work, you still can't understand the station announcements any better than before.
---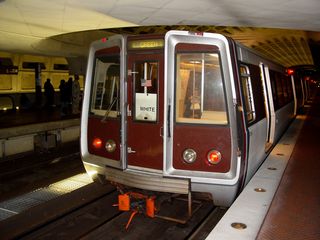 On October 26, while Matthew Tilley and I were out railfanning, the mysterious "WHITE" sign made another appearance, this time on Breda 3208 at L'Enfant Plaza.
---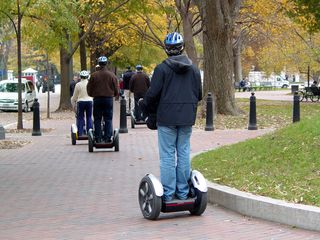 On November 7, while I was in DC, I spotted a group of people on Segways running around Lafayette Park.
---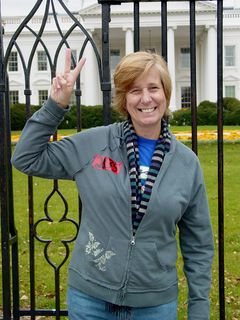 Going through Lafayette Park to Pennsylvania Avenue, I met Cindy Sheehan.  Here, she strikes a pose in front of the White House.
---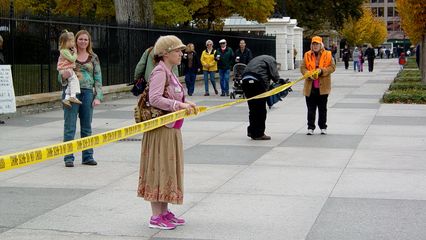 Sheehan was at the White House as part of an anti-war demonstration that sought to make the White House appear to be a crime scene (war crimes, that is).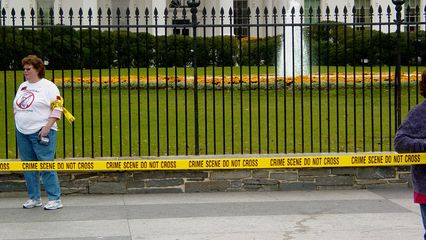 ---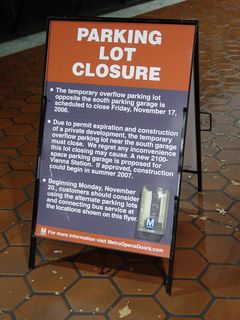 We've seen little signs like this one at Vienna before, and they're never good news.  This time, it announced that the overflow parking lot at the end of Vaden Drive, past the South Garage, would be closing for good on November 17.
---
On my December 18 DC trip, I walked over the Key Bridge from Rosslyn to Georgetown.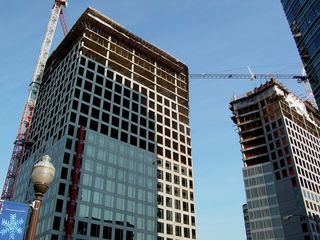 On the way to Georgetown, I got the opportunity to photograph the Waterview development.  It's really starting to come together.  Compare to about a year before, when they were still building basement levels.
---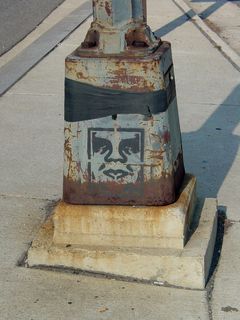 On the way to the Key Bridge, I found this face stenciled on the bottom of a lamppost.
---
On December 27, I went to DC with Mom, Sis, and Chris Lysy in tow.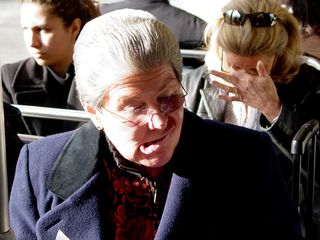 On the Metro out of Vienna, Mom makes a face for the camera while reading the newspaper.
---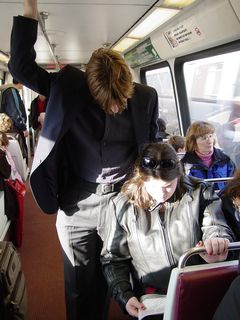 Meanwhile, Sis and Chris share a newspaper.
---
Discussing proper Metro escalator etiquette while on the long Rosslyn escalators.
---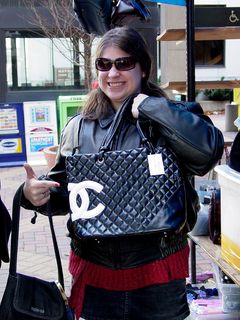 Looks like someone's happy after going purse shopping!
---
Discussing Mom and Sis's purse selections.
---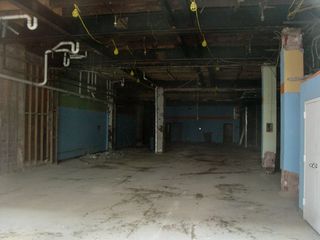 The former Da Hua Market building is kind of gloomy and dark, as the ceiling and lights had been removed since Da Hua vacated the space.  Compare to this photo from 2003 showing Da Hua Market alive and well.
---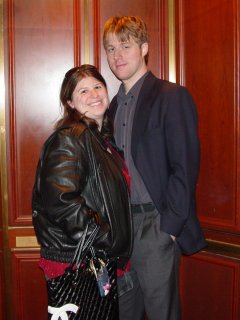 Sis and Chris pose for a photo in the elevator at the George Washington Masonic National Memorial in Alexandria.
---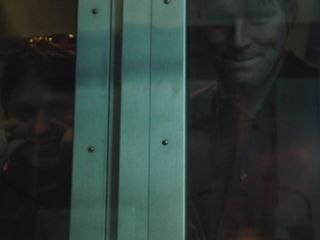 Later, at Huntington, while Mom and I took the inclinator, Sis and Chris took the escalator and beat us to the top.  Thus, when we got up to the top, we were presented with those two making faces at us.
---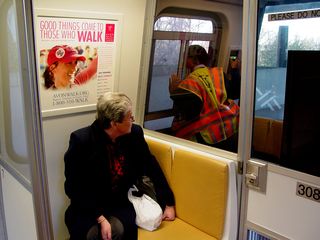 At Huntington, and going on to Pentagon City, we finally unlocked Mom's inner railfan again, as she took the railfan window of Breda 3087.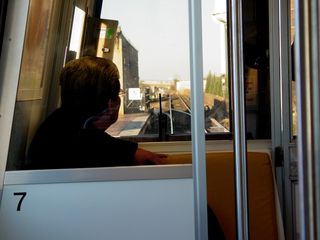 ---
In front of Murali, Sis and Chris tell of what kinds of chocolates they bought from Godiva over at Pentagon City Mall next door, and Chris demonstrates how he holds the bag just so.
---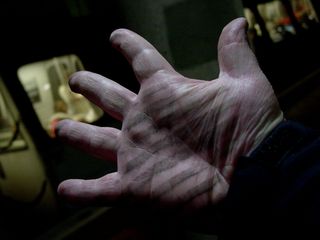 Note the striped pattern on my hand.  That is crud from the ceiling vent at the "blind" end of Breda 3030.  For all of you who might want to touch that vent, or put your hand on it as a way of hanging on while riding the Metro, don't.  It's filthy.  And it wouldn't just wipe off.  I had to actually use some serious soap and water to get that gunk off.
---
After another great day in DC is over, Mom and Matthew Tilley walk and talk as we return to the Sable.
---
Mom speaks to the woman who lives in the North Garage's elevator at Vienna.