"I have a feeling that this is not legitimate!"
April 7, 2006, 6:13 PM
For those of you who read my away messages on AIM, you may remember that this past Tuesday, I departed from my standard away messages and put up a new one. It said that I was in northern Virginia for an "unscheduled" DC trip, and to wish me luck. No word on what was going on other than that.
Well, here I am.
When I was on my March 28 trip to Washington, I saw an ad in the classified section of the Express that caught my interest.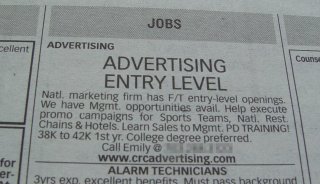 Also, in case you're wondering, I photograph any job ads that interest me so that I don't have to drag the paper around with me all day.
It turned out that CRC Advertising was their name, and it sounded like it was right up my alley. So the next day, I went to their Web site and submitted my resume in the place provided. So that was that.
Fast forward to Friday. I got home from work, and in checking the messages on the answering machine, I got a call back from CRC Advertising wanting to set up an interview. Great deal. I also got an Email that said basically the same thing:
Congratulations and thank you for your interest in CRC Advertising, Inc.! We have received and carefully reviewed your resume and would like to invite you to sit down with one of our managers to discuss our career opportunities. First, let me tell you a little about what we do and what we are offering.
And it continues, but let me sum it up: Blah, blah, blah, blah, blah.
Okay. So they want to interview me. I called them on my lunch hour at work on Monday. They want to interview me on Tuesday at 1:00 PM.
So the next day, I went up to Falls Church, where the company's offices are located, in a suit, to have the interview. I also had a change of comfortable clothes in a gym bag for later. I basically ran it like a DC trip, making my usual stops. Sheetz in Mt. Jackson, and Wal-Mart in Manassas. Both times, I told the people there (who all know me) about how nervous I was because I had a job interview at 1:00. I got wishes of good luck from both places, and even got a hug from an associate at the Manassas Wal-Mart.
I decided to drive to the interview (with the alternative being the Metro), since it was only in Falls Church. If I'd taken the Metro, I would have parked at Vienna, taken the Orange Line two stops to West Falls Church, then taken a bus to the place where the interview was. So from my perspective, it was just as well to drive. But I found the place. I got there very early, too. Two hours early. Fine. At least I now knew where it was, so getting back would be easy.
So I went to Tysons Corner Center for a while. It was cool outside, but not cold, but I took my regular jacket with me, mainly so I could hold, ball up, and twist something that I wouldn't be worried about getting all wrinkled. So I walked from one end of that very long mall to the other, basically trying to distract myself.
When it became time, I went back to the building, went up the elevator to their office, and went in. I had my resume as requested, and so all was well. Wait, wait, wait.
Then a gentleman came out of an office and asked me to come in. I gave him my resume, and he looked at it, and then the interview began. On JMU: He gets lots of people from JMU. On me: He saw that I have a strong background with people and customer service. On the date that I wanted to start, he said we'd really need to move that up. I had originally said a month, so as to be able to work out a two-weeks-notice at Wal-Mart and then move to the DC area. He showed me what kinds of ads they did. They were basically pages with coupons on them for various companies. He mentioned the Washington Nationals, Qdoba Mexican Grill, McDonald's, etc.
What got me was the question of whether or not I'm into sports. For those of you that have read around on here, you'll know that as sports go, I am more interested in their relations with local governments than anything else. I love watching elected officials squirm under the demands of sports teams. I am totally for not letting the governments get trounced by the sports teams, though. Recall I used the term "corporate welfare" in the A16 photo set in regards to the Nationals and Metro service. My response of being more interested in the relationship between politicians and sports teams than the game itself (which I could honestly care less about), and watching games when it's friends who are playing got me labeled by the interviewer as being "into sports".
It's funny… I didn't say all that much in this interview. It mostly consisted of the interviewer pitching the company to me. I think I caught him off guard when I asked him what kind of benefits they had. That response was just a short, "We have a Blue Cross Blue Shield package," compared to the flowery language he used in the rest of it.
Then in the end, he decided that I'd made it to the "second tier", and he wanted to have me back for a second interview. He asked if I could come again tomorrow at 11:00, and that it would be an all day interview, showing me how the business worked and going out to lunch or something. I said that I could make that, though quietly realizing that such a thing was a steep proposition, considering I'd not planned to be in DC the next day, and thus was fully unprepared for that. So I'd have to go home and come back up to the area the next day.
So there you go. All in all, the whole interview made me feel kind of "off". I was still in a bit of shock for much of the day about it, though.
After that, I pulled a Mrs. Doubtfire, as I called it, as I went over to a nearby Starbucks to change into my other outfit. They let me change, so I went in, locked the door, and changed. I came out in a more typical outfit for me – black jeans, my orange shirt, and a pair of Chuck Taylors. Great deal.
I'd arranged to meet up with my friend Matthew Tilley after the interview, and I'd been thinking about some time in DC for the two of us. So great deal. I drove to the West Falls Church station, found a parking space in the parking garage there, and called Matthew from the car. My question to him: "How quickly can you get to Rosslyn?" Rosslyn, by the way, is our usual meet-up place for these trips, and it works well.
I took the train from West Falls Church (an unusual station of origin for me) to Rosslyn, and called Matthew again when I got there. He'd managed to get to Vienna, and was getting ready to get on the train. Good deal. In the meantime, I called Sis on the phone and let her know how things went. I was still not thinking straight about the interview, though, since the smooth talking of the interviewer hadn't worn off yet – rational thought would come back later.
Matthew eventually did get to Rosslyn, and we did what I'd call a DC trip in miniature. We rode from Rosslyn to Metro Center on Blue, Metro Center to Gallery Place-Chinatown on Red, Gallery Place to Mt. Vernon Square on Green (to ensure a seat on the Yellow Line), and then Mt. Vernon Square all the way to Huntington. From Huntington, we rode to King Street, where we stopped to visit my friend Tristan, mainly to tell him about the interview. So good deal. Then from there, we rode to Franconia-Springfield ("FRANC-SPRINGD" on the train signs, which is also how I abbreviate it on my transit log).
At Franconia-Springfield, we got some photos. First of all, Matthew took the photo of me for this month on the Web site. We did that in the parking garage. Then back on the train, I got a photo of him: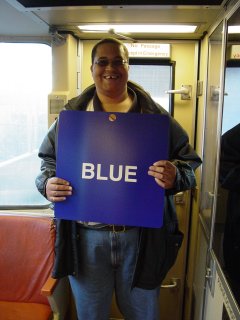 I also got a photo of him holding the sign the other way, with "ORANGE" facing out. Still, after Franconia-Springfield, we rode up to Pentagon City.
There, we had dinner. Well, Matthew had dinner. I wasn't hungry. I talked him into Au Bon Pain, which, while it was a little more expensive than where he was thinking about going, it was a lot healthier (and less crowded). I ended up getting a small cup of tomato juice, which wasn't too bad, either (except for the price).
Then from there, it was back to our respective stations – me to West Falls Church, and Matthew to Vienna. I got back to the car at exactly 8:00 PM. I still found it so weird to end my run at West Falls Church vs. Vienna, but that's what happens when, out of all the trips I've ever taken to Washington, I've only originated from another station four times. Once at Pentagon City in 1994, once each in 2001 and 2005 at Franconia-Springfield, and now this time at West Falls Church.
One thing I do like about West Falls Church vs. Vienna, though – you can hear the train motors from the parking garage at West Falls Church due to the positioning of the station and the parking garage, and the traffic volume on I-66. You can't do that at Vienna. The highway is wider, the garages are set back more, and with Vienna being outside the beltway (West Falls Church is inside the beltway), there's a lot more traffic, and the noise drowns out the trains. At West Falls Church, you can hear all four car types clearly – Rohr, Breda, CAF, and Breda Rehab.
On the way home, I made all my usual stops again. Sheetz in Haymarket, and Wal-Mart in Woodstock. Fun stuff. After Woodstock is where my rational mind took control again. I started to think. The interviewer at CRC Advertising asked if I'd been to their Web site. I admitted I'd only been as far as to apply, and didn't explore around. I probably should look at their Web site. I also realized it would probably do me well, considering that I had misgivings after the interview, to Google their name to see what comes up.
So when I got home, I did just that. I looked at CRC's Web site, and then Googled "CRC Advertising" and also tried to filter out the ads that they put out in all the various places online. At this point, I was still planning on getting up to go back the next day.
What I found during this search said a lot, confirming my suspicions.
First of all, I found this page on Ripoff Report. Then I found this thread on a message board from scam.com. Big "hmmmm" there. Also, the text from Ripoff Report was mirrored in a few other places online.
Then I found a few things in the blogosphere. I found this post entitled CRC ADVERTISING IS A SCAM on a blog called CRC Sucks. Very informative. Then I found a post called Don't make the mistake i did on a journal called Monkey Business. Then I found a post called Long time no update (Alan) on a blog called Adventures in Silver Spring. Kind of the icing on the cake there.
It was then that I determined, after ironing another shirt for the next day, that CRC Advertising was trouble, and would not be a good place for me to work. So that was it – I un-set my alarm clocks, and slept in. I basically said to myself, "I'm not going back," and that was it. It just didn't seem right to me, and my Google search confirmed it.
And to show how much I didn't see them as legitimate, I didn't even so much as call them back to tell them I was not coming. I stood them up, and I did not answer the calls from them placed to the house and my cell phone.
And you know what? I'm glad I didn't go through with them. I'm disappointed that the interview was basically a waste of time, but I still learned from it. I also got to visit a part of northern Virginia that I'd not been to before, and I got to railfan with a friend afterwards.
That last part is what really saved the day, too. Matthew Tilley saved the day by being available to do something with me after the interview. And we had fun. The two of us really have a blast whenever we get together, and it made the day a positive experience overall, even though that wasn't the original point of the day.
So there you go. I'm not getting out of Wal-Mart just yet, but I'm trying…
Web site: Wikipedia on multi-level marketing schemes
Song: Various songs - nothing special
Quote: It also was interesting hearing a coworker's story about a similar outfit around here. I'm so glad I stopped when I did. Always good to Google your stuff before you dive in head-first...