Year of Many Cameras
When I looked back on 2008, one thing stuck out in my mind – I took photos with a lot of different equipment in 2008.  Big Mavica bit the dust at Funk the War 3 in March, and Duckie and the Kodak arrived to take Big Mavica's place.  I also used my cell phone camera quite a bit, and upgraded that in May to a newer model.  Thus over the course of 2008, I was working on five different cameras, albeit not all at the same time.
And through all the changes in equipment, time marched on, as a lot happened in 2008.  You may remember some of these events from various Journal entries over the course of the year, but some stuff you may not.  So come join me, as we remember the year 2008…
---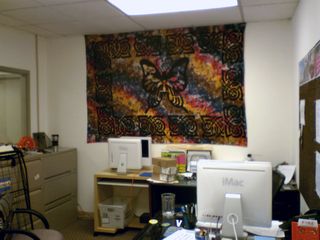 My office in 2008, shortly after we moved to a new office suite.  This was an early photo, considering the white iMac on my desk (I later got a 24″ aluminum iMac).
---
The protest outside the Canadian embassy against oil extraction in the Alberta Tar Sands was fun and spirited.  It was very cold on this particular night, but the activists present were a dedicated bunch.
---
"Canada's soil, not your oil!"
---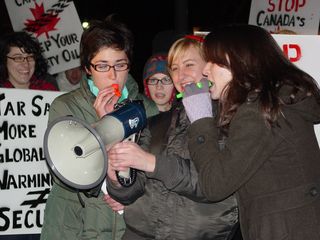 Playing "O Canada" into the bullhorn, on the kazoo.
---
"O Canada, O Canada, keep your dirty oil!"
---
It is worth noting that the Tar Sands protest was Big Mavica's next-to-last shoot, and the final successful shoot from start to finish (Big Mavica would be damaged beyond repair at its next shoot, Funk the War 3).  Big Mavica really started to show its age with this shoot, though, as the disc drive was taking longer to save images than it used to, and I managed to deplete all three batteries in the span of about an hour.  That can be partly attributed to the cold and heavy flash use at the Tar Sands protest, but even then, such short battery time was really quite unheard of for Big Mavica…
---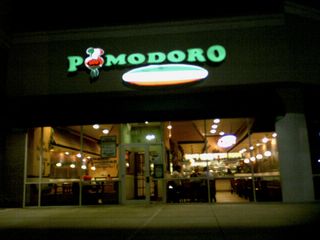 When Katie and I got together in Leesburg while she was out visiting family, we took a moment to locate an Italian restaurant that Mom and I had visited in 2007.  At that time, Mom was staying in Dulles for a writing conference, and I had just finished up with October Rebellion earlier that day.  The Italian restaurant was quite good, though I found its format somewhat odd, as it came off as a mix of a "real" restaurant and a fast-food restaurant.
---
During my morning commute on March 18, I spotted a broken pole on Rohr 1051.  I generally report maintenance concerns such as these to Metro, and so I photographed it with my cell phone in order to be able to accurately describe it on Metro's comment form once I got near a computer.  A friend of mine, in seeing the photo at right where I am trying to photograph the far side of the broken pole, commented, "You look PISSED in that shot!"  I wasn't upset or even annoyed, but was more interested in getting a decent shot of the pole than in smiling.
---
These two photos are outtakes from a video that Food & Water Watch shot as part of their Take Back the Tap program.  The idea was to create a fake brand of bottled water and see what people thought of the "product", before revealing that it was actually filtered DC municipal tap water that they were drinking.
---
The final video.  I'm not in it, but it's interesting to see the reactions of various passers-by in the video, and the child at the end is adorable.
---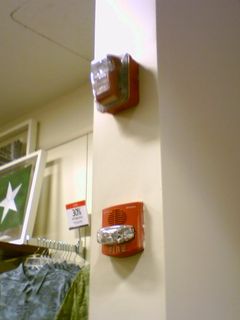 Multiple fire alarms by different manufacturers at Macy's in Wheaton Plaza.  I wonder what the purpose of that is.  Who knows.
(This is also not the first time I've seen two apparently unrelated fire alarm devices next to each other)
---
Test video during Duckie's initial acceptance testing.  I am singing "Yo He Ho" from Today's Special.
---
After the initial acceptance testing for Duckie, I did a little more testing a week or so later in order to better get the hang of how Duckie worked ahead of its first "real" use.  Thus I tested it on the view off my balcony looking towards the street, my feet while standing on the balcony, looking towards the back of the property, and my television.
---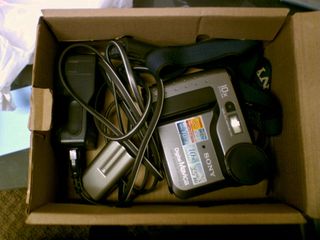 On May 1, the small Mavica followed Big Mavica to be recycled.  Unlike Big Mavica, which went out with a bang, the small Mavica went out quietly, as it had been not only surpassed by Big Mavica in 2002, but beginning in 2006, I could take higher-resolution photos with my cell phone.  Then in 2007, I got a new computer without a floppy drive, and that was basically the end of the old Mavica.  So while I was already in the recycling mood with Big Mavica, I quietly sent this one up the same road a few weeks later.
---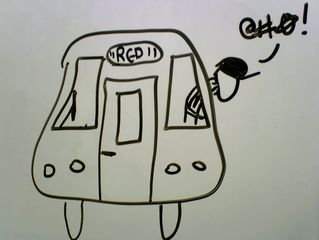 I think I was trying to explain closing the doors to someone at work, and doodled this picture on the whiteboard.  What you're seeing is a WMATA employee wearing a safety vest and a hat sticking his head out the cab window of a Breda rehab to close the doors, and cursing the fact that he can't get the doors closed.
---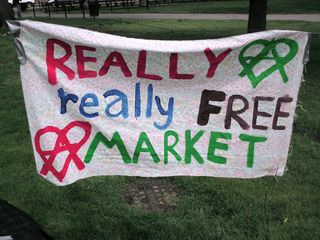 The "Really Really Free Market" was a monthly event put on by an anarchist collective in Dupont Circle during the summer of 2008.  The idea was that of a swap meet, where people brought things that they no longer wanted, and took what they wanted, and no money changed hands.  All in all, it was a fun event.  The first, shown here, took place on May 10.
---
Videos taken during the Kodak's acceptance testing.  I am again singing "Yo He Ho" from Today's Special.
---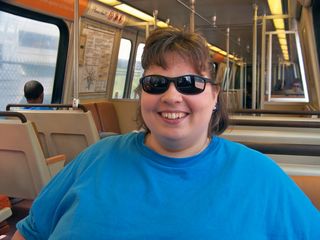 On the third weekend in May, Katie came to visit!  We had a blast, running around DC on Saturday, and going to Arundel Mills on Sunday.  We also put my then-new Kodak Z1012IS digital camera through its paces, as this was the first time it was being taken out in the field as Big Mavica's successor.  Here, Katie smiles on Breda 4007 while we waited to enter a section where Metro was single-tracking.
---
Katie and I discuss the new camera as the train finally gets moving again.  As you can tell, we're having fun.
---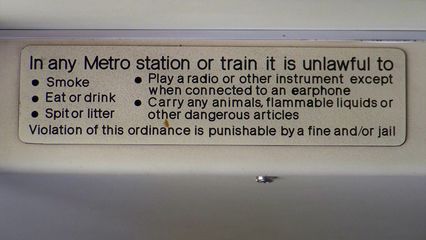 This photo of Metro's rules sign on Breda 4007, taken with a high zoom while we were stopped, came out very sharp.  I was impressed with the quality, but would later find out that this was not typical of the Kodak's image quality, which would typically not do well with fine details.
---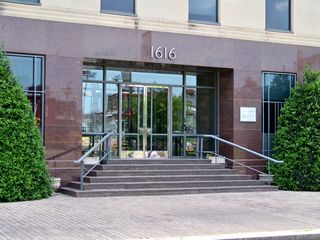 In showing Katie around Dupont Circle on this particular occasion, I showed Katie the building where I work.  And here it is.  I love the building – the lobby is still vintage 1950s, with terrazzo floors and stone walls.
---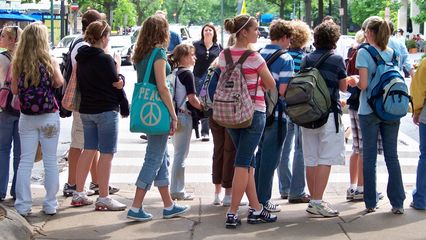 As is typical of Washington in the spring, the place was crawling with school groups.  I generally have a poor view of these groups, since they're rarely well-behaved regardless of where they are.
---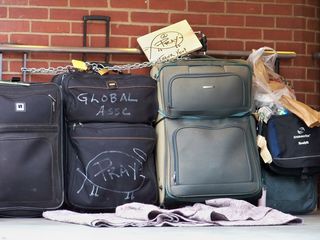 This row of suitcases chained together in front of Dupont Circle intrigued me.  Not so much the suitcases themselves, but the symbols drawn on and located around them.  It intrigued me enough to run it as a photo feature (first Kodak photo feature), but unfortunately, my research into these messages turned up nothing.
---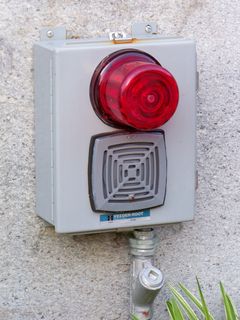 Horn and light combination spotted on First Street NE in Washington, in front of the Dirksen Senate Office Building.  I certainly knew what that horn sounded like, because a red version of that horn was the fire alarm when I was in middle school, thus I could easily recognize the sound from countless fire drills.
---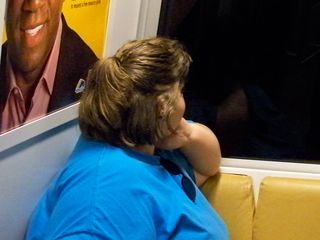 Katie checks out the view from the railfan window on Alstom 6129, on the way to Rosslyn.
---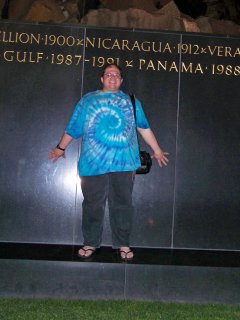 I used this photo that Katie took of me at the Iwo Jima Memorial a lot in 2008.  It became my Facebook profile picture, it became my forum avatar, it went on my Wikipedia user page, it ran on the front of Schumin Web, and a lot more.
---
Leaving Rosslyn, we headed back to my apartment.  Here, Katie and I photographed each other while waiting for the train at Metro Center.
---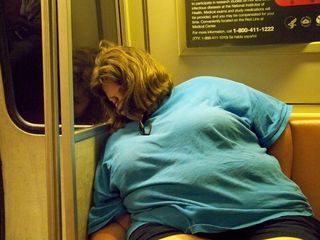 And then once we got on the train, Katie caught a few winks on Rohr 1231.
---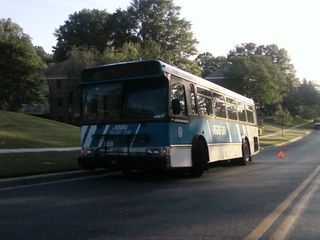 On my birthday, I noticed one of Ride-On's buses, #5580, dead along my street.  I don't know what happened to the bus to cause it to be out of commission like that, but considering its orientation on my street, it had to have been running as a 51 to Norbeck Park and Ride when it decided to die.  I'd say I picked a good day to take off work, because for all I knew, that could have been the 51 bus that I take in the evenings to get home.
Ride-On repaired this bus really quickly, and I had it as part of my morning commute two weeks later.
---
On June 1, Matthew Tilley and I went railfanning, doing the Blue/Orange/Yellow Line circuit, riding nearly the entirety of Metro in Virginia, plus going out to Largo and New Carrollton.  Here, we watched a train operator board Breda 3273 via the bulkhead door while on the tail tracks south of Franconia-Springfield, and bring it into the station.
---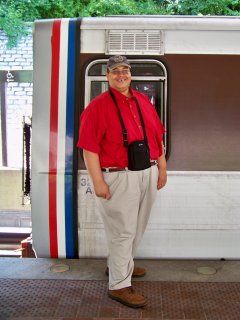 Matthew poses for a photo in front of Breda 3278 at Huntington.
---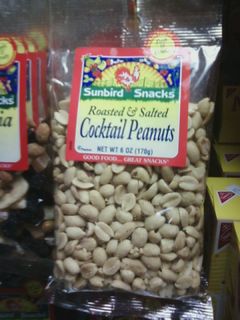 While out on our railfan trip, we noticed this bag of peanuts in a store in the Amtrak station at New Carrollton.  I figure they weren't moving because no one liked them.  Having seen enough microwave videos, it was easy to conclude: "Nobody likes roasted nuts!"
---
After Matthew and I parted company, I headed back towards Glenmont.  On the way, I stopped to snag some photos of the graffiti at Brookland-CUA station.  The piece at left is a tribute to Washington Redskins player Sean Taylor, who was killed in late 2007.  The tag at right is political in nature (fairly common in Washington), expressing support for then-presidential candidate Hillary Clinton.
---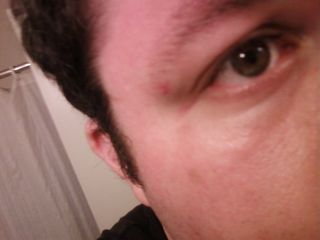 Ouch!  This is the bruise I got next to my eye when a modesty panel on a desk I was assembling at work fell on my face.  Thankfully, the bruise didn't last long, and was not very noticeable.
---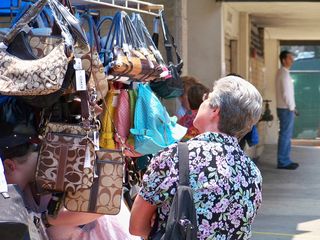 My mother and sister came to visit on June 12 and 13, and we mostly explored Georgetown.  Here, Mom checks out a street vendor's selection in Rosslyn.
---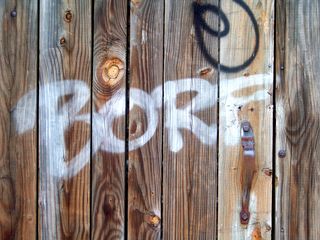 On the former Georgetown car barn, what a surprise to see "BORF" painted on a door!
---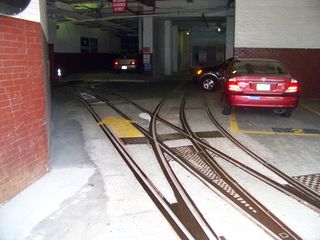 Meanwhile, inside the car barn, which has now been converted for other uses, the old streetcar tracks still exist in the concrete floor!
---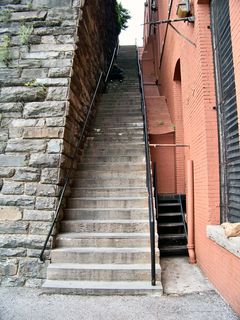 The "Exorcist Steps" in Georgetown, which was the main reason we went.
---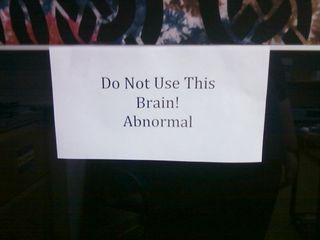 When one of our Macs broke down at work, I tagged it as out of service with a line from the Mel Brooks movie Young Frankenstein.
---
During the summer of 2008, Food & Water Watch sponsored an office volleyball team.  These games took place on the National Mall on Wednesday evenings after work.  We may have placed last in the competition, but we had loads of fun, and that's what counts in the end…
---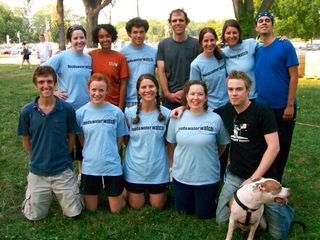 At the end of our last game, all the volleyball players posed for a photo.  This was definitely a fun evening activity.
---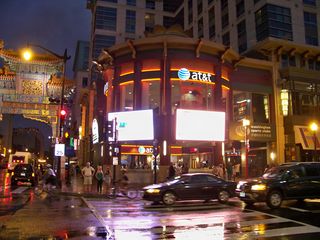 After our first volleyball game, we hit a bar in Chinatown for after-game drinks.  Coming out of the bar, I noticed some large advertising monitors had been installed on one of the buildings at the corner of 7th and H Streets NW.  I saw this, and thought it resembled Times Square in New York City.  It seems that various developers are determined to make Chinatown Chinese-in-name-only, and that makes me sad…
---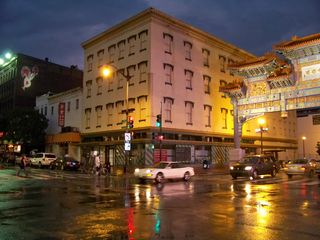 Meanwhile, across the street, a more Washington-like building is being prepared for redevelopment.  This building housed a CVS up until recently, which I remember most for having visited to get a soda after the Million Worker March in 2004.
---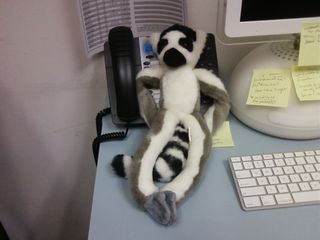 This stuffed animal belonged to one of our summer interns, who named it "Kumquat Lemur".  Interestingly enough, they even created a Facebook account for it!  This photo was taken specifically to end up on Facebook, and true to form, I tagged its face in the photo.
---
In early August, Katie came to visit again, and I took what I called my "mini-vacation".  I picked Katie up on Tuesday, and then we spent Wednesday wandering around Washington, as we usually do when Katie comes to visit.  Then we spent Thursday at Splash Down Waterpark in Manassas, and then on Friday, we both drove down to Waynesboro.  There, I dropped Katie off at her house, and I went to see my parents.  I didn't get any photos at the waterpark or at home, but I certainly did get a lot during our DC day…
---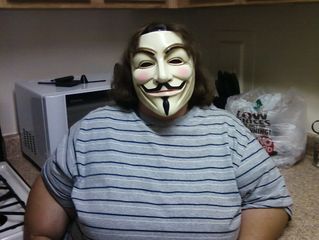 On the first day in town, Katie tried on my Guy Fawkes mask.  Looks good!
---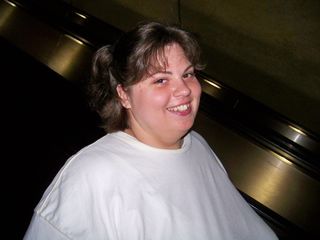 Katie descends the escalator at Wheaton.
---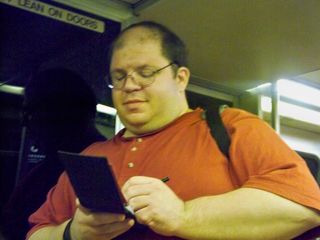 Here, I take a moment to note in my transit log that we are on Breda 4038, which we rode from Wheaton to Metro Center.
---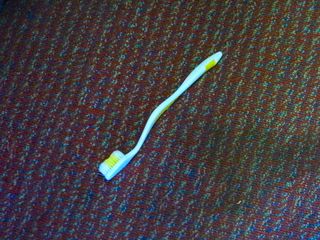 Where we were, in the broken-down cab area, we spotted a discarded toothbrush on the floor.  Gross.
---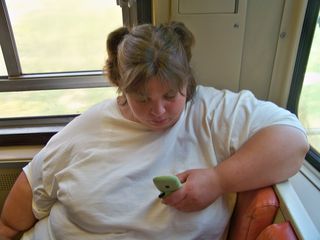 Katie takes a moment to check her messages on her phone.
---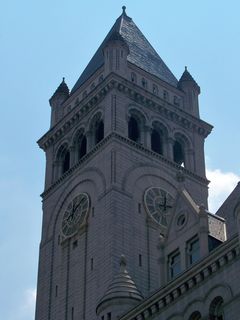 Our first destination was the Old Post Office, where we were going to pay a visit to the observation deck at the top of the tower.
---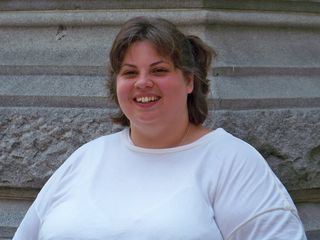 Katie smiles for a photo in front of the Old Post Office.
---
Ascending to the top of the Old Post Office tower.
---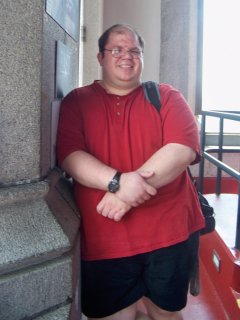 And here I am, in the top of the tower.
---
And going back down to the main level of the Old Post Office.
---
Katie and I discuss our day so far.
---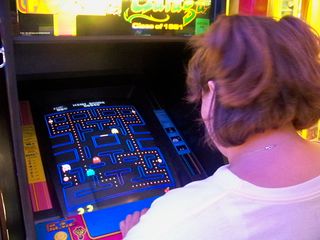 After we finished in the tower, we found a small arcade in the building's ground floor, and Katie got to play her first-ever game of Pac-Man.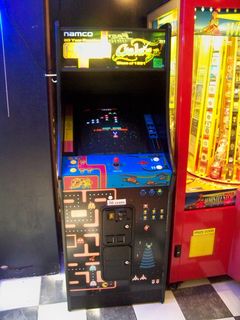 ---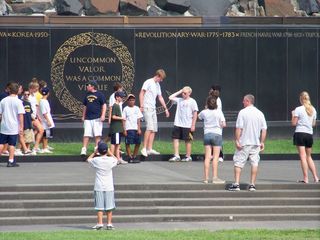 At the Iwo Jima Memorial in Rosslyn, we discovered that the memorial itself was crawling with kids from a school group or something of that sort.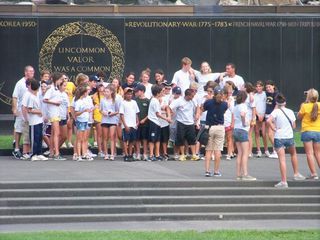 ---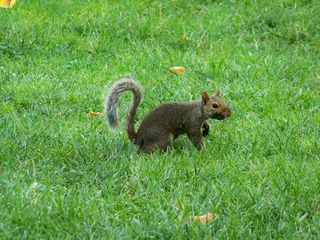 Squirrel!
---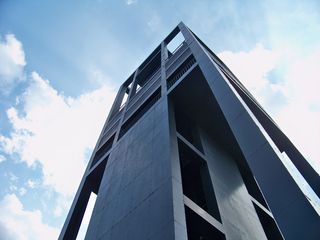 So instead, Katie and I spent some time at the nearby Netherlands Carillon while we waited for the children to leave.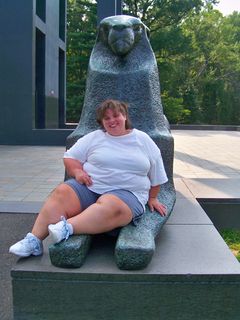 ---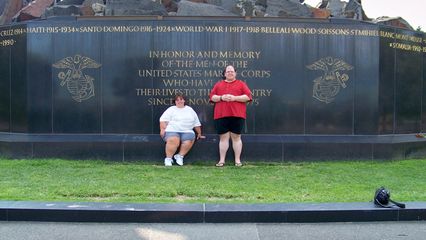 Once the group cleared, Katie and I got someone to take a picture of us in front of the Iwo Jima Memorial.
---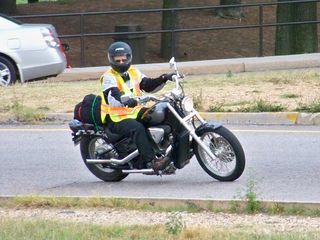 As we left, we got the surprising sight of seeing a Metro employee on a motorcycle taking an on-ramp.
---
Katie and I discuss our day as we head to dinner.  Before Rosann, Katie's mother, left after dropping Katie off with me the day before, she said not to hurt a hair on Katie's head.  Not to worry – I didn't hurt a single hair, but my coworkers accidentally beaned her a few times with wayward volleyballs during a game on the National Mall.  So if Katie came back with a bruise, I didn't do it.
---
Katie agrees with me that I do not suffer quietly, as I discuss getting a surprise on the escalator at Wheaton.
---
While on my Virginia Beach vacation at the end of August, I just set the camera to record at times, and so here is almost four and a half minutes of the waves breaking on the beach…
---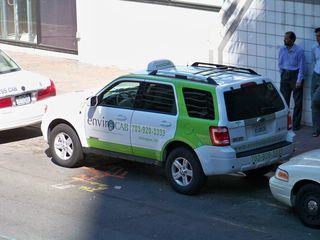 In Rosslyn in September, I spotted a taxicab operated by EnviroCab.  Apparently this cab company promotes itself as being "green" by using hybrid vehicles, but is an SUV, hybrid or not, really all that "green"?
---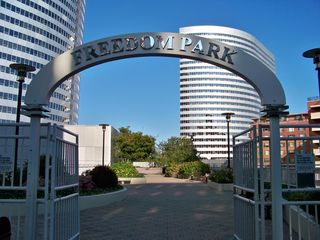 On September 7, while photographing the demolition of 1815 North Fort Myer Drive, I also swung by Freedom Park, and much to my surprise, discovered that the Freedom Forum had vacated the park!  All the exhibits, as well as the Journalists' Memorial, had been removed, and evidence of their ever having been there was removed.  The only thing left was the enclosure around where the sections of the Berlin Wall were once housed (the wall sections were moved to the Newseum in Washington DC).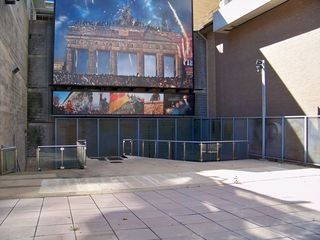 ---
When I felt an odd rubbing feeling on my left foot, I checked it out, and was surprised to see that I had blown out a flip-flop!  I burned straight through the left sole, leaving a small hole.  Never before had I burned through a pair of flip-flops like that…
---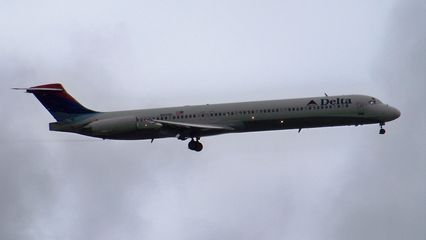 One fun thing about Rosslyn is that it's on the "River Visual" flight path to Washington National Airport.  Thus it's easy to do some casual plane-spotting while out and about.  The resolution on my camera is sufficient to read tail numbers, which makes things fun after I get back, because then I can go look up the tail number on Airliners.net and see more pictures of the same plane.  This particular plane has the tail number N931DL, and true to form, I looked it up.
---
Following another trip to Rosslyn on October 4, I swung by the Washington Convention Center.  There, a number of my protest buddies were putting on a demonstration called "Funk the HRC", which challenged the Human Rights Campaign to take a better position as it relates to transgendered individuals.
---
---
Overview of Funk the HRC demonstration.
---
Radical cheerleaders perform "Pervert" at Funk the HRC.
---
A representative from the HRC speaks with the group.
---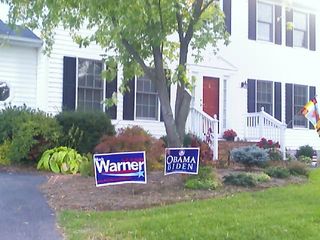 Meanwhile, in Stuarts Draft, in a surprising move for my parents, they put Mark Warner and Obama/Biden campaign signs in their front yard.  And true to form for the Republican-dominated area in which they live, someone stole their signs.
---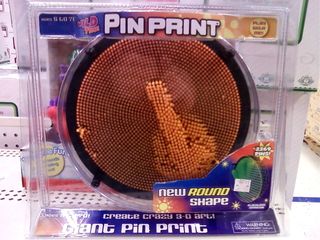 We all have our moments of great immaturity.  When Katie and I were goofing off at the Kmart store in Waynesboro the week of Thanksgiving, I made this impression on one of those pin toys.  Yes, that is exactly what you think it is.  Katie, unfortunately, would not let me leave such a rude gesture on there, and cleared it before we left.
---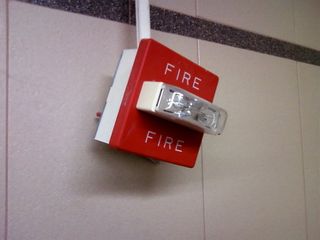 When Mom and I were out and about in Charlottesville, I ran across this – a fire alarm basically dangling from a panduit.
---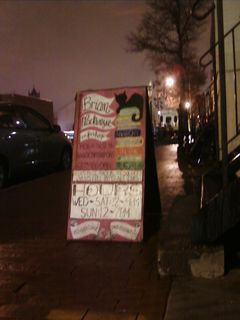 Sadly, 2008 was also the Brian MacKenzie Infoshop's final year, as a five-year run came to an end as the Infoshop closed its doors.  I took this photo during the Infoshop's final weekend in operation, after my last visit to the space.  The Infoshop will be missed…
---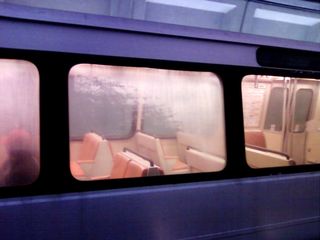 This was the situation that Metro found themselves in with the Breda 4000-Series cars at the end of 2008.  The windows were starting to cloud up, making it very difficult to see out of the windows, and distributing sunlight in such a way to make it blindingly bright on the morning commute.  This window has a moderate case of clouding – some windows were completely clouded up.  Thankfully, these were fixed in early 2009.
---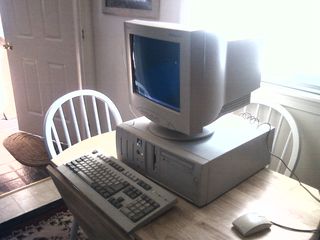 And lastly, this was Katie's "new" computer.  She got this for free, and set it up in hopes of being able to get on the Internet.  Unfortunately, however, this computer could barely run Windows 98, which is what was already installed on it when we got our hands on it.  I spent a little time with it, and determined that even for just getting online, this thing was worthless.  Katie eventually got a new laptop, which seemed to suit her needs better, and she junked this one.