My kingdom for a notepad cover!
October 1, 2006, 10:20 PM
Remember back in October 2004, when I wrote this Journal entry? It was about when a company called Myron sent me a notepad with a flip-top cover as a free sample, printed with the name of my father's consulting business, "Evolved Quality Consulting".
I actually started using that notepad back in August 2005, and still do. I've actually refilled the notepad twice since I got it. I use it to log the transit vehicles that I ride in. For instance, this is what I logged in my little notepad on September 24, 2005: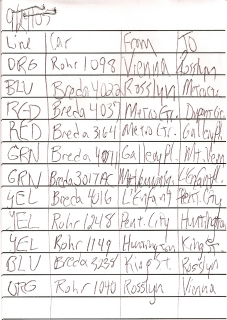 It is worth noting that I don't usually keep the paper log that long. I usually transcribe it into a text file and then discard the paper. But with this being the log for September 24, 2005, the date of the big anti-war protest, I wrote a whole bunch of stuff in my notepad related to the protest as well as the single-tracking going on that day. So I stapled it all together and kept it.
Also, if you read my narrative in Life and Times about the September 24 Protests, you will see that this list indeed is the real McCoy. In Part 1, I have a photo from Rohr 1098 on there, and I describe Breda 4037 as being lightly loaded. Then skipping to Part 5, I describe Breda 4071 and Breda 4016 as having unusual destinations (Fort Totten and Pentagon City, respectively), and I have a photo on board Rohr 1149.
But with continued use of the notepad for more than a year, pulling it out of my camera bag and stuffing it back in with every single train I ride (eleven trains on September 24, though 23 different trains is my record, set July 4 of this year), it gets a bit of wear and tear. Part of the back is now torn, the slot where the pen goes in is really ripped, and the pen itself is starting to break. But it's a little trooper despite being rather cheap, having been at my side for 35 trips to Washington to date, with another one scheduled for next week.
So with all this going on, I figured it's time to retire it and replace it with something a little hardier. So I did a little shopping, and came up empty. I went online, and ordered this little number. It arrived, and sad to say, it's too small. I can't fit my log on the size of notepad that fits it. Drat. It's not worth returning, so I've got it. I'm sure I'll find an alternate use for it eventually. Today, I went to Charlottesville. I hit a number of stores, including Target and Office Depot. Nothing that "fits the program". All either way too large, or too small. I need it to fit comfortably in my camera bag, so size is VERY important. So that was a fruitless trip.
So now it's time to go back online, and see if I can find something that fits the program. There's got to be something out there that fits the program. There just has to be. And I can't go through Myron for it. To go through Myron, I'd have to order fifty of them, for $3.49 a pop. And I really don't need fifty of them. I only need one.
Perhaps Froogle will turn up a winner. Hopefully I'll find something to hold a roughly 4×6″ notepad…
Web site: Froogle, my shopping search engine
Song: Old anti-drug song from the 1980s: "You know it's okay to say no, I'm telling you it's true. Learning how to say no... (no!) can make a winner of you..." (it goes on) Ever notice, though, that in school they teach you everything there is to know about recreational drugs? All they don't tell you is where the junkies work, and what is a fair price for your hit.
Quote: I just need a notepad cover...