Outer Banks 2017
Part 1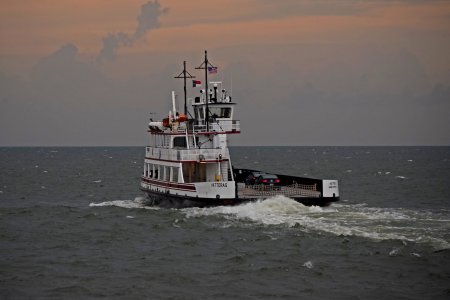 From May 30 through June 1, 2017, Elyse and I took a "weekend" trip to the Outer Banks in North Carolina.  This trip followed the same basic model as my 2014 trip with my friend Pete, i.e. we traveled down, stayed at the Hatteras Island Inn in Buxton, explored around the islands, and then returned home on day three.
So on the morning of the 30th, we headed off.  The idea was to leave right after rush hour ended, and then take periodic restroom and activity breaks along the way.  Our route took us from the Beltway to I-95 south, I-64 from Richmond to Hampton Roads, I-664 through the Monitor Merrimac Memorial Bridge-Tunnel, Route 168 to North Carolina and through Currituck County, US 158 to Nags Head, and then Route 12 the rest of the way.
I remember when I traveled to the Outer Banks from 1993 to 1997 with my family, the drive down and back was always treated as an unpleasantry that was to be accomplished as quickly as possible in order to get to the destination.  My parents made as few stops as possible, only stopping for food and restroom breaks, and then, they tried to combine the two whenever possible.  A trip to the Outer Banks with my parents typically involved one stop between Stuarts Draft and Avon, in Hampton Roads.  One stop at about the three-hour mark.  No wonder those trips always felt like an ordeal.  So much to do and see along the way, and no effort was made to incorporate things along the way into the fun of the vacation.  Bodie Island Lighthouse was always out for us, even though it was right on our route.  Nope – had to make good time on the road.
My philosophy about road trips is that getting there is half of the fun, so stops for activities along the way are just fine in order to break up the monotony, as well as experience what's along the way.  We don't make stops willy-nilly, but rather, we plan a few of them in advance as part of the trip, though I do enjoy the occasional oh-that-looks-interesting stop, just as long as there aren't too many of them.
One of these planned stops was Border Station at the Virginia-North Carolina line.  Border Station is a large convenience store, which was designed around the novelty of being built on the border between Virginia and North Carolina, and thus could offer the best from both states.  The border was marked on the floor, as well as with large signs hanging from the ceiling.  The Virginia side sold gas and alcohol, while the North Carolina side sold tobacco, plus they​ sold Carolina-style barbecue on the North Carolina side.
---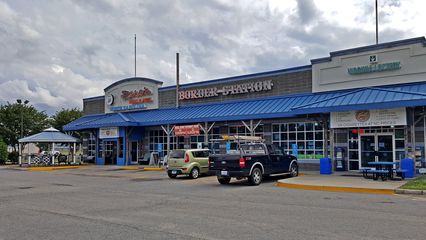 Exterior of Border Station.
---
Signs welcoming you to Virginia and North Carolina, respectively.  I thought that the choice of colors, i.e. red for Virginia and blue for North Carolina, was a bit off, and should have been reversed.  The state flag of Virginia is primarily blue, whereas North Carolina's flag has a large red section in it.
---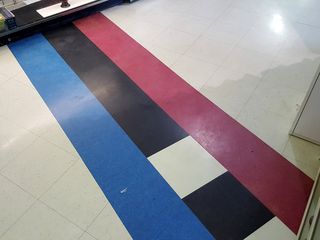 The border, marked along the floor, with the blue side in North Carolina, and the red side in Virginia.
---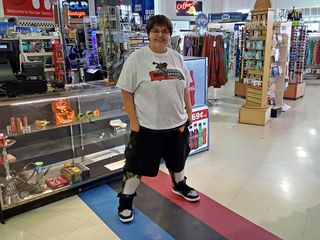 Elyse straddles the border between Virginia and North Carolina.
---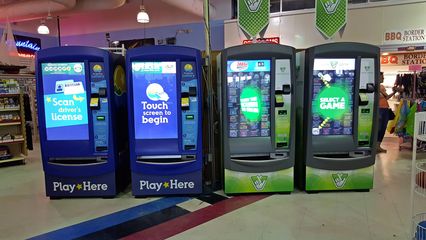 Lottery vending machines straddling the border, selling North Carolina and Virginia lottery tickets on their respective sides.
---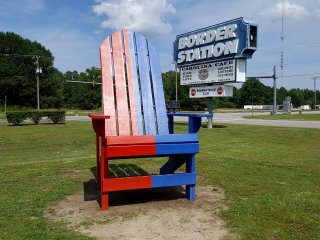 Adirondack chair straddling the border, with the red-painted side in Virginia, and the blue-painted side in North Carolina.
---
Then we ran it nonstop to Kill Devil Hills, where we stopped at the Walmart to get some various odds and ends.  This was a typical 1990s-era store when we went by it in the 1990s, except for a peak over the sign for whatever reason.  Now, the store has been converted to a Supercenter, and that interesting peak was eliminated.  The store is small for a Supercenter, but it does have a beach section in the front.
---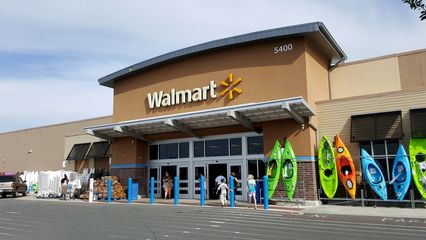 Walmart store #2000, in Kill Devil Hills, North Carolina.
---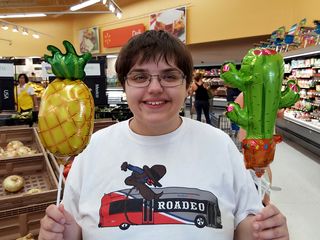 Elyse poses with pineapple and cactus balloons.
---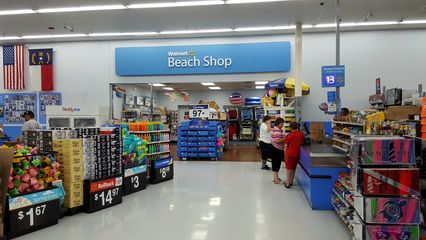 Beach shop.
---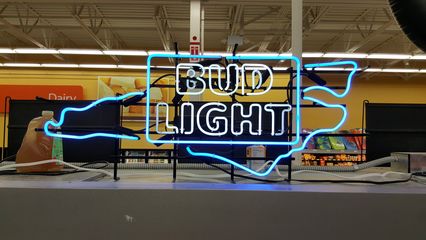 Neon "Bud Light" sign with the outline of North Carolina on it in the beer aisle, along with a bunch of others advertising various brands.  Walmart stores in Maryland don't sell alcohol, and Virginia stores don't have this sort of display, so this was certainly a novelty.  I can't say that I'm jealous, either, as I've always thought that neon beer signs were tacky.
---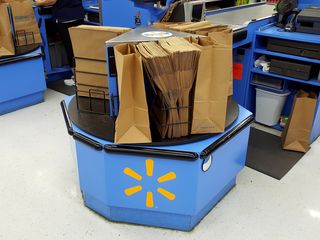 Unike most stores, the bagging wheels at this Walmart store are outfitted for paper bags instead of plastic.  This is due to a ban on plastic bags that was enacted in 2009 for the Outer Banks, affecting Bodie, Hatteras, and Ocracoke Islands, i.e. from Corolla all the way down to Ocracoke.
---
From there, we made two elevator stops in the Nags Head area.  These were Elyse's planned stops, as she wanted to see and film the elevators at these places.  The first was the Comfort Inn.  There, along with filming the elevator, she showed me the fish named Hank.  The second stop was at the Holiday Inn Express, where she filmed the elevator​.
---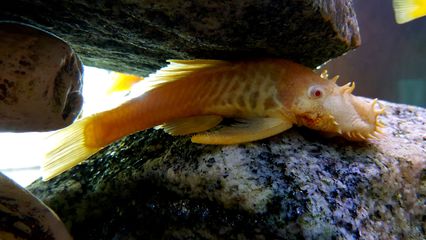 This is Hank, a bristlenose catfish that lives at the Comfort Inn in Nags Head.
---
Elyse rides the elevator at the Holiday Inn Express.
---
Our next stop was Bodie Island Lighthouse, in order to update my photos from 2014 now that I had a much better camera.  We got there after the sun had begun to set, but the clouds that had been hanging over us all day parted long enough for me to get some decent photos of the lighthouse.  It ended up being very different lighting compared to my photos from 2014, but I liked the way that they turned out.
---
---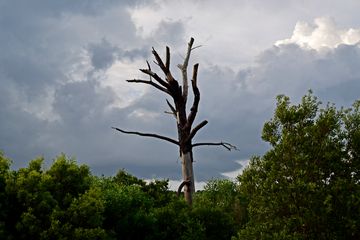 I also saw this funky-looking dead tree sticking up above the rest of the scenery.
---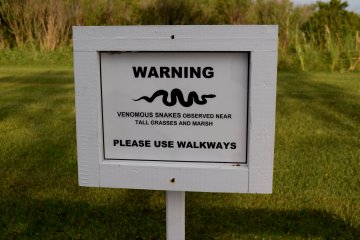 Since my last visit, they changed the sign warning about snakes to one warning about venomous snakes in particular vs. just plain snakes.  No better reason to nope my way right out of exploring near the thicker vegetation than to tell me that there are snakes.  Nope, nope, nope, nope, nope.  The grassy area around the lighthouse, however, was okay, but I kept well clear of the taller and thicker stuff.
---
Leaving Bodie Island Lighthouse, we headed over the Bonner Bridge and onto Hatteras Island.  I was pleased to see that a replacement bridge was finally being constructed, as the existing Bonner Bridge was well past its design life, and from what I've read, is a challenge to keep operational.  The highway department was also building an "interim" bridge across part of Pea Island to go across New Inlet, which opened in 2011 following Hurricane Irene.  This bridge, when completed, will replace a metal temporary bridge over the same area.  I put "interim" in quotes because, knowing how these things usually work out, this bridge will become the permanent solution for crossing New Inlet, either by explicit act or inaction on account of public officials.
Past the bridge, we went through Rodanthe, Waves, and Salvo, where I noted how much more built up these areas looked compared to 2014.  I wonder if these areas will eventually become as built up as the areas to the north on Bodie Island.  We then went through Avon, where we stopped briefly so that I could show Elyse where we used to stay in the 1990s.
---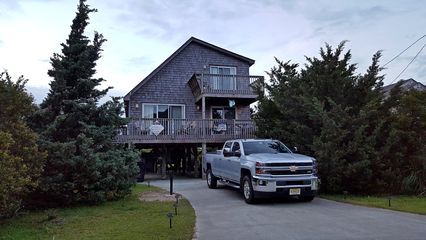 Park Place.  I want to stay here again one day.
---
From there, it was on to Buxton, where we checked into our hotel, and brought our stuff into the room.
Then Elyse discovered two fairly large spiders in the corner of the room.  Clearly, this was unacceptable, and so we went back to the lobby to see what could be done​ about the spiders.
I have always considered the mark of a good business to be not in how they handle a standard transaction, but in how​ they handle a problem.  The lady at the front desk immediately offered to move us to another room, but I asked if something could be done without our having to move rooms.  She suggested that she could remove the spiders with a nearby broom.  Perfect.  She removed the spiders with the broom while we went to dinner at a nearby pizza place and then checked out the Super Wings store across the street from our hotel.
---
Trying on different sunglasses at Super Wings.  I was thoroughly amused.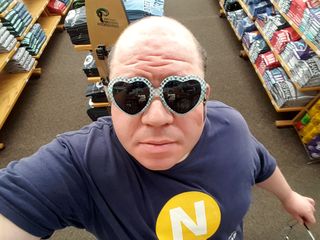 ---
When we got back to the room, Elyse spotted another spider, this one crawling on one of the beds.  I quickly killed it and flushed it down the toilet.  Okay.  Immediate problem solved, but now I was concerned that this was a deeper problem than just a few stray bugs.  A few minutes later, we spotted a large winged ant crawling on the wall.  Now I was convinced: we needed​ a different room.
The staff at the front desk was very helpful, and moved us to a different room on the other side of the building​.  Good news: no bugs other than two small flies, which we just shooed out of the room.  So the hotel succeeded in resolving our problem, leaving everyone involved happy.  I hope that the hotel took our original room out of service pending treatment by a pest control company.
Part 1