Outer Banks
Part 1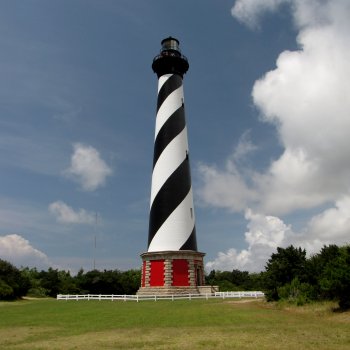 From June 27-29, 2014, my friend Pete and I went down to the Outer Banks of North Carolina for a fun three-day weekend.  We stayed in Buxton, near Cape Hatteras.  This gave the weekend extra significance for me, as my family and I used to vacation in the Outer Banks for a week each year in August from 1993 to 1997, staying in Avon, which was the town immediately to the north.  Thus this trip brought back some very fun memories from my teenage years.  However, along with a trip down memory lane, this would be special in a different way, as it was my first time going to the Outer Banks as an adult, which meant a different experience than when I was younger.  And I was delighted to go with Pete, since we always have fun together.
It all started on the morning of Friday, June 27, when I met Pete at Glenmont Metro station at the end of the morning rush hour.  That later start was deliberate, because if we started earlier, we'd be stuck in traffic, mostly due to the 270 split on the Beltway.  Traffic there is always a bother during rush hour, as traffic has to weave to get to Interstate 270 northbound, and then again when southbound 270 traffic joins the Beltway on the left.  Therefore, might as well sleep a little later if we would be getting through everything about the same time anyway.  And the traffic apparently liked us, as it was smooth sailing all the way down the Beltway.  My plan was to take the toll lanes on the Beltway in Virginia if traffic conditions warranted it, but there was no need, as traffic was moving at full speed in the regular lanes.  Likewise, Interstate 95 had excellent driving conditions as well.
On the way down, we stopped at the Sheetz in Ashland, in order to have lunch and top up the car.  Plus, of course, social media, since we got an amusing picture of a guy on a motorcycle as we were waiting to turn into Sheetz, and just had to post it.
---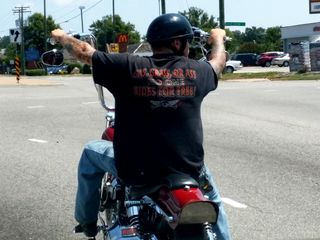 The motorcycle guy and his shirt: "Gas, grass, or ass: no one rides for free!"
---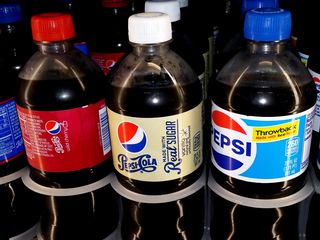 Spotted in the Sheetz where we stopped.  Wishing that they made this vanilla-flavored Pepsi in diet!
---
Hitting the road again, we soon got to Richmond, where I followed my usual strategy of going through Richmond and making "the big left turn" at I-64 rather than taking I-295 around the city.  I do this because there is more going on around me, and that keeps me more engaged.  I-295 is one of the most boring roads ever, and so I avoid it.  The difference between the two routes is five miles, and going at freeway speeds, that means only five minutes' time in order to take a far more engaging route.  This has been a longstanding practice of mine dating back to around 1999.  I wrote about it in the Virginia Beach photo set from 2004, where, at that time, I said, "For Richmond, I have found that the I-295 route is excruciatingly boring, and quite long.  The direct route seems quicker, and is far more stimulating overall, with more interesting scenery and more traffic.  You just have to know what you're doing."  I think this goes to show that a boring road just plain feels longer than a more engaging road.  And after driving on I-95 nonstop for about 80 miles, much of it through some pretty boring places, I need a good urban area to engage me.  Especially since Interstate 64 east of Richmond until you get to Hampton Roads is also pretty boring.
East of Richmond on I-64, though, despite the boring road (all you see is trees on both sides, and no mountains), things got interesting in the car, as various organizations came out of the woodwork to call me.  Good thing I have bluetooth in the car.  First, I got a call from a doctor's office in order to set up an appointment.  Then not long after that, I got a call back from a local transit agency looking to schedule a medical exam, which was very good news for me, because it meant that I had gotten a job offer from my second choice for transit employment, i.e. I now had two transit agencies that wanted me to drive for them and extended me job offers.  We also checked up on traffic conditions via the 511 system, and Pete discovered something about the car's handsfree system: only one person may speak to the car at any given time.  Pete quietly asked me a question while I was talking to the car, and the car picked it up and got confused, because it didn't know who to listen to.  Funny the way technology works.  But at least the car doesn't get offended when I curse around it.
Approaching Hampton Roads, the smooth traffic continued, as we turned from I-64 to I-664, which forms part of the outer loop of the Hampton Roads Beltway.  However, we encountered a minor delay as we approached the Monitor-Merrimac Memorial Bridge-Tunnel.  The speed limit on the variable speed limit signs dropped to 25, and then we encountered a red light, i.e. traffic was brought to a full stop.
---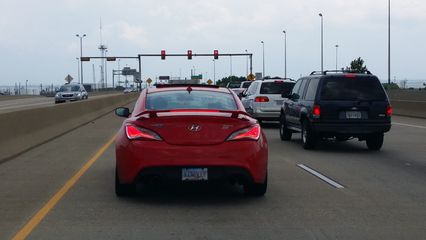 I-664 is at a standstill right before the bridge-tunnel.
---
In discussion on the Twitter with a friend while we were stopped, I found out that these stops are not uncommon, and it's usually done in order to safely address a problem in the tunnel, such as removing a disabled vehicle.  I have no idea what the specific reason was for this particular stop, though.
Once traffic started up again, it was once again smooth sailing, as we got through the tunnel, and then back onto I-64 westbound (I-64 curls around Hampton Roads in its last 35 or so miles, so westbound I-64 at its terminus carries traffic that is pointing east).  However, since the last time I went to the Outer Banks in 1997, the route had changed.  Previously, traffic to the Outer Banks got off of Interstate 64 at Battlefield Blvd, which was Virginia 168, and through traffic followed a surface road into North Carolina.  Since 2001, all of that through traffic has been shifted onto the Chesapeake Expressway, which now carries the Route 168 designation (Battlefield Blvd is now SR 168 Business).  The new freeway was certainly a faster ride to the North Carolina border, though it is a toll road, which, from mid-May to early September, is $3 on weekdays, and $6 on weekends.
Then the usual route that I remembered resumed at the North Carolina border, as Virginia Route 168 became North Carolina Highway 168, i.e. the marker went from a shield-shaped shield to a diamond-shaped shield.  This road later becomes US 158.  We made another pit stop at an Exxon station along the way, in Grandy.
---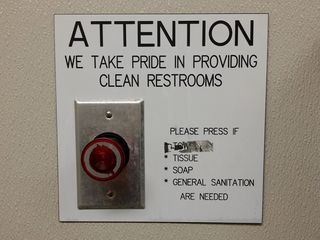 Service button at the Exxon station in Grandy.  Note that paper towels are no longer provided, much to my dismay.
---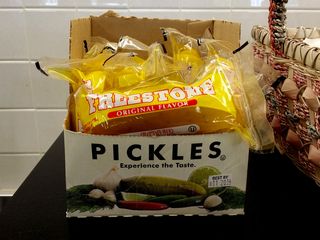 I'm sure I'm not the only one who finds the idea of an individually-wrapped pickle in a bag to be a little odd.  Would you buy this?
---
From there, we continued on down the road, crossing the Wright Brothers Memorial Bridge, which took us off of the mainland and onto Bodie Island, part of the Outer Banks.  Our next stop was at the Brew Thru location in Kill Devil Hills.  This was a planned stop that we were both looking forward to.  I remember going past Brew Thru locations, including this one, every year that we went to the Outer Banks in the 1990s.  However, being a family vacation, an outing to a drive-through beer store was not on the agenda, especially when my father is not as big into the journey as I am.  Whenever we would go on trips, my father was just focused on getting there, but for me, getting there is half the fun – and I have, in fact, had trips where the traveling was more fun than the destination.
Brew Thru was pretty fun.  The way it worked was that you drove around the back and then into the store, which was built in a converted car wash.  The staff then got all of the product out for you, and you stayed in the car.  I got a picture of the store, and the girl working the store surprised me by posing in the shot.
---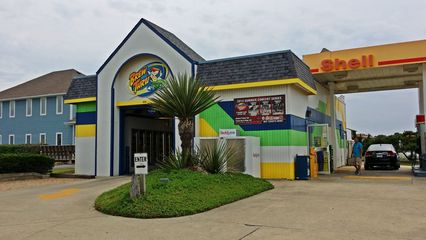 Brew Thru in Kill Devil Hills, formerly a car wash.
---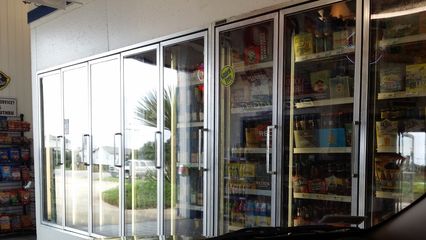 Coolers, mostly containing bottled beer, lined one wall of the store.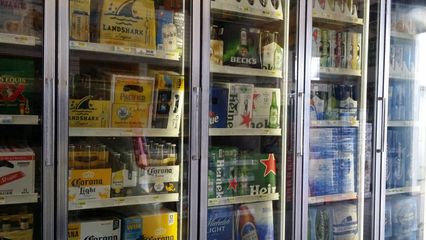 ---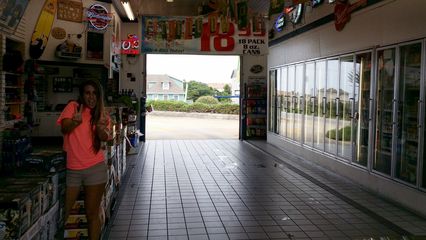 The girl working in the store poses for a photo.
---
From there, we headed down Route 158 through Kill Devil Hills and Nags Head.  This part of the Outer Banks was more built up than the part where we were staying, and we went through without stopping.  It's definitely designed with tourists in mind, as there were many miniature golf courses and other little amusement venues along the road, mostly on the west side.  At the end of US 158 in Nags Head, we continued onto North Carolina Highway 12, which began our time at the Cape Hatteras National Seashore.
---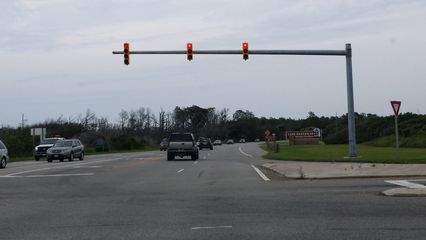 Entering the Cape Hatteras National Seashore.
---
Our original plan was to stop at the Bodie Island Lighthouse on the way down, but for whatever reason, I missed the turn, and didn't realize it until we had already crossed the Herbert C. Bonner Bridge.  So we skipped it, resolving to visit it on the way back, and continued through the Pea Island National Wildlife Refuge, and from there through the towns of Rodanthe, Waves, and Salvo.
It's funny how things seem different between one's teenage years vs. adulthood.  When I was younger, I remember the drive on Route 12 down Hatteras Island to Avon as being extremely long and boring.  But this time, it didn't feel long at all.  We got to Avon, and I thought, that was fast.  And I was driving the speed limit.
At Avon, we stopped for another fill-up at Askins Creek Store.  This was a Union 76 station in 1993, and then changed to BP by the following summer, and has remained BP ever since.  I remembered this store, but I hadn't been there in ages.
---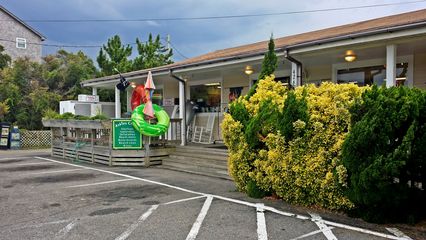 Askins Creek Store in Avon.
---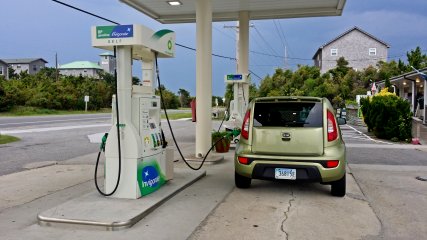 Filling up.
---
After leaving the store, we went around the corner and drove past Park Place, at 42193 Park Drive in Avon.  This is where my family used to stay when we came down here in the 1990s.  We weren't staying here this time, though, but it was worth a photo, which I sent to the rest of the family later via text.
---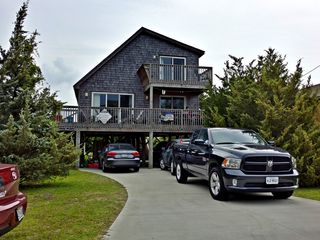 Park Place!  It was good to see it again, though the siding is different than it was in the 1990s.
---
And then, finally, we arrived in Buxton around 6:00, and quickly found the Hatteras Island Inn, where we had reservations.  Hatteras Island Inn is a former Comfort Inn, and was a good stay for the price.  My only complaint about the place was that you could only get wireless Internet in the lobby, and however far the wi-fi reached from the lobby.  So if you had the room next to the lobby, then you were in luck, and you probably had wireless Internet in your room.  If you were too far from the lobby, then you were out of luck.  Our room was just at the edge of the reach of the wireless.  Thus the signal was strong enough that our devices could see the network, but not strong enough to be able to get any use out of it.  Those are the breaks, I suppose.  Hatteras Island also doesn't have good cell phone service, either.  I'm on Sprint, and I was roaming the whole time, so while I had voice service, I had extremely sporadic data service, as in, my Facebook notification count would occasionally change, but I couldn't check my Facebook notifications, it was very difficult to send a photo via text, but regular text messages would go through.  Bodie Island to the north has Sprint coverage, but Hatteras (and as I would later find out, Ocracoke as well), is all on roaming.
First thing we did after we got settled was to do some minor shopping.  Pete needed a swimsuit, and so we went out in search of one.  We ended up going to Surfside Casuals, which was right next to our hotel.  Going into this store, it looked extremely familiar.  As it turned out, this was a new outlet of a store that I had been to a number of times up in Avon.  The store looked exactly the same as the Avon location inside, and sold the same sort of products.  And Pete got a good suit, too!
---
The Buxton location of Surfside Casuals was exactly the same as the Avon location, triggering a wave of memories from past Outer Banks trips.
---
After that, we went to dinner.  As it turned out, our hotel was two doors up from one of my favorite restaurants in Buxton: Diamond Shoals.
---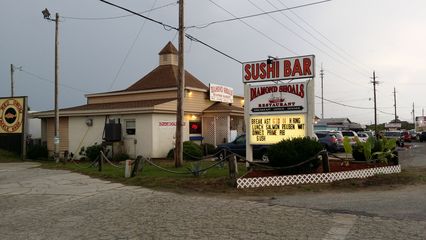 Diamond Shoals!
---
That place is a classic seafood restaurant, and since the last time I was there in 1997, they had upgraded.  There was an addition on the south side of the building, and patrons now entered the building through the addition.  They also now had a full bar, along with sushi offerings.  Last time I was down this way, there were no bars of any kind, as regulations at that time precluded any on-premises alcohol sales on Hatteras Island.  I'm told that Diamond Shoals was one of the first to take advantage of the change in regulations and have a bar.  The food was still as good as I remembered, and the service was good, too.
Following dinner, Pete and I got changed into our swimsuits, and headed over to the beach.  The nearest beach access to our hotel was at the old lighthouse site, and so we drove over there.  There's something to be said about hitting the beach in the early evening while the sun was setting.  I had a blast playing in the salt water, and I also got an opportunity to get some great photos of the beach and the sunset.
---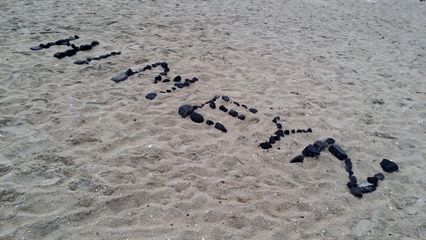 I have no idea what this means, but I found it mildly interesting nonetheless.
---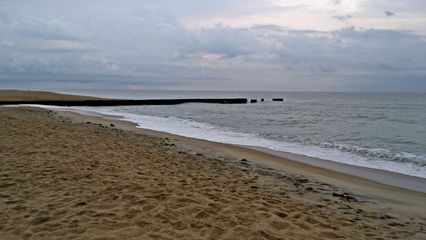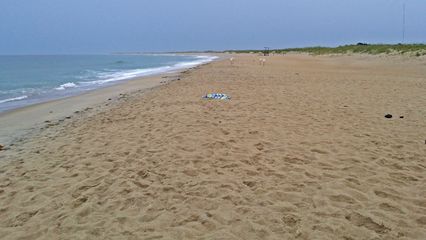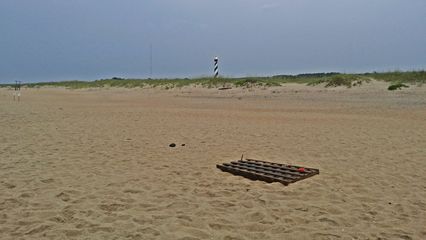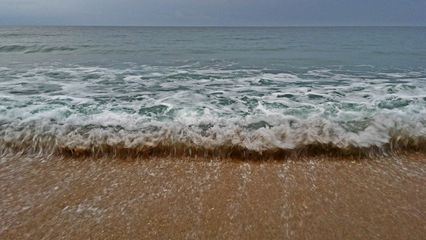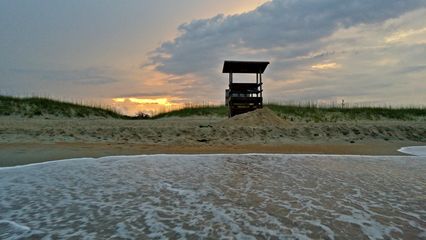 ---
And then from there, we returned to the hotel, went to the lobby, got on the Internet for a while, including uploading the day's photos to my cloud drive, and then eventually went to bed.  Not bad.  Then we had a full day lined up for Saturday.
Part 1