Pittsburgh 2016
Part 1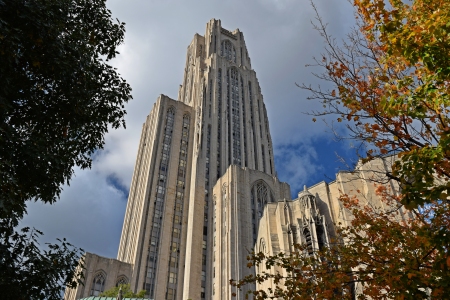 On October 25, 2016, as part of a weeklong vacation from work, Elyse and I took a day trip to Pittsburgh.  I had wanted to return to Pittsburgh for a while, having last been during a service trip with LPCM in 2003.  This would be Elyse's first visit to Pittsburgh.  We came up with our itinerary by listing what we each wanted to see and then mapping it all out.  The itinerary ended up being a combination of architecture, elevators, photography, and transit.  In other words, the various things that Elyse and I are nerdy about, all rolled into a single trip.
But first we had to get there.  We left the house at 6:30 AM, and our route would take us up I-270 to Frederick, I-70 to Breezewood, Pennsylvania Turnpike (I-76) to near Pittsburgh, and then I-376 into the city.  We had three scheduled stops: one on I-70 between Frederick and Hagerstown, one in Breezewood, and one on the turnpike (i.e. stopping about once per hour).
While our first stop was fairly quick, we spent more time in Breezewood.  We ate at Sheetz, and while we ate, Elyse did some quick research on her phone to see if there were any elevators in Breezewood.  Much to my surprise, the only elevator was in the Holiday Inn Express.  I would have expected more, but apparently the other lodging facilities were too old to be required to have elevators.  So we quickly checked that out.  It was a pair of modern hydraulic elevators.
I was surprised to see how much had changed in Breezewood.  The last time that I was in Breezewood was in May 2006.  At that time, I photographed the area for a photo set for Schumin Web that never made it to publication.  Since then, there were a few notable changes.  First, Sheetz had moved two properties over, replacing the Family House Restaurant that previously stood at that site.  The old Sheetz was vacant, with signs indicating that the building was for lease.  The Wendy's and KFC restaurants had also closed, and both of those buildings were vacant.  The Ramada Inn had also closed.  Meanwhile, Crawford's Museum was still going strong, which kind of surprised me, as I halfway expected that Crawford's would have closed by now.  And the former Howard Johnson's restaurant, which was an outdoors store called Fat Jimmy's Outfitters when I came through in 2006, was also vacant, though it had undergone some heavy remodeling in the intervening ten years, now containing some architecture that is more reminiscent of Burger King.  I believe that the remodeling was done for a now-defunct restaurant called "Your Game Bar and Grille".
---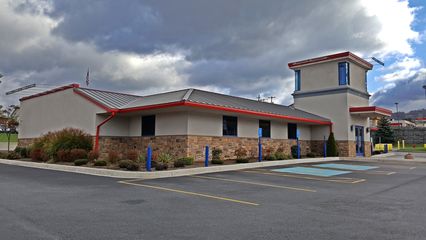 The former Howard Johnson's, having undergone significant architectural changes, had become far less recognizable as a former HoJo's than it once was.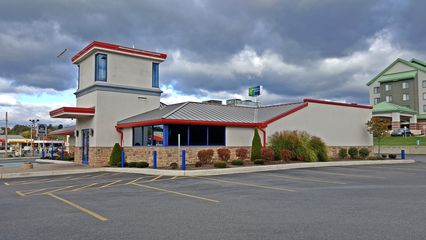 ---
I still think that a bar and grill is a strange thing to have in a place like Breezewood.  Of course, an outdoors store, which is what preceded it, was a strange thing to have in Breezewood as well.  Breezewood came about because of the non-connection with Interstate 70, and developed into an oasis for travelers, where they can stop, eat, fill up the car, sleep, and then continue on their journey to somewhere that isn't Breezewood.  Businesses that cater to locals generally seem out of place in Breezewood.
Noting all of the closed businesses, though, Elyse wondered if Breezewood was a dying area.  I wasn't quite willing to call the area "dying", but the area is definitely showing its age in many ways.
Getting on the turnpike at Breezewood, we soon made a quick unscheduled stop to photograph an amusing billboard on the side of the road.
---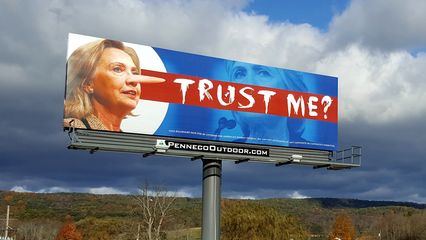 The billboard showing Hillary Clinton's nose photoshopped to be very long amused us.  This was also a reminder that we were in a very "red" area of Pennsylvania.
---
Otherwise, the turnpike drive was mostly uneventful.  Two-way operations were underway at the Allegheny Mountain Tunnel using the eastbound tube, so that was a little different from the norm.  Then we made our third and final scheduled stop at the New Stanton service plaza.
Arriving in Pittsburgh via I-376, our first stop was East Liberty Presbyterian Church.  This was a trip down memory lane for me.  When I went on that service trip with LPCM in 2003, we spent half of our time at Sojourner House, and half of it here.  While we cleaned carpets at Sojourner House, at the church, we assisted in their service work for the needy, including operating the soup kitchen and preparing food pantry kits.
One thing that I noticed about the East Liberty neighborhood was how much it had changed in 13 years.  In 2003, this was most definitely a "bad" part of town.  Now, East Liberty looked much better, and it was clear that the hipsters had arrived, and had spruced things up quite a bit.  There was even a Target!
My original plan was for us to just photograph the exterior of the church and then be on our way, but a restroom need brought us inside.  While Elyse went to the restroom, I struck up a conversation with the people at the front desk, talking about our service trip from 2003.  I was quite surprised to find out that they remembered me!  Apparently, I left quite an impression on everyone.  I also found out that much of the services that we helped out with in 2003 are no longer located at the church, having moved to a separate facility several years ago.  Additionally, I learned that Lester from the drop-in center was still doing well, and that everything overall was going quite well.  I also learned that the church would be undergoing a renovation soon, which would update much of the building's vintage features, though certainly increasing the building's efficiency.  It made me glad that we visited when we did, so that I could see the church as I remembered it one last time, rather than a new, more modern version.
---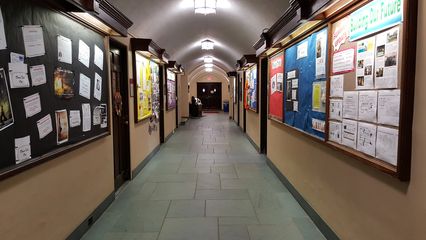 A corridor, identical to the way that it appeared in 2003.
---
Vintage urinal, seen in 2016 (at left) and from my previous visit in 2003 (at right, different location in the church).  Except for the automatic flusher, it is unchanged.
---
We also got the opportunity to photograph the sanctuary, which is something that I never got to do in 2003.  Back then, our group from LPCM walked through it once on our last day in Pittsburgh, but otherwise didn't interact with it on that trip.  A 30-second walk across this magnificent room did not do it justice.  I was glad that we could spend our time taking in this space this time around.
---
---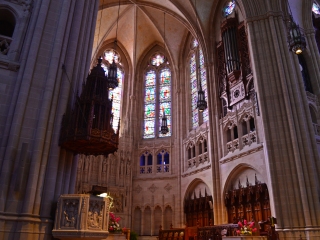 Elyse captured this view of the front of the sanctuary, showing the pulpit with its elaborately designed sounding board, as well as some of the organ pipes.
---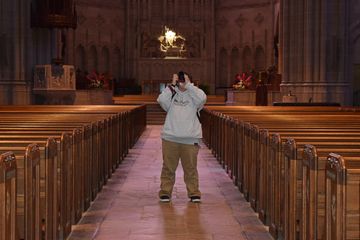 Elyse gets a photo of some of the stained glass windows.
---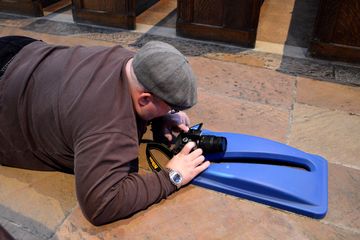 And Elyse got a photo of me setting up a low shot.
---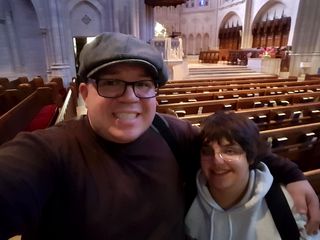 Sanctuary selfie!
---
Leaving the church, we resumed the original plan, which was to do a short photo walk around the building's exterior, photographing the church and the buildings around it, as well as check out the "Anatomically Correct Statue" that was located nearby.
---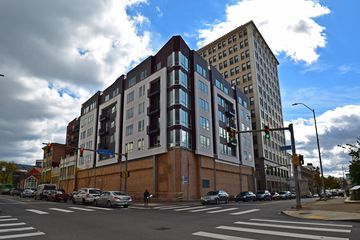 New apartment building, constructed earlier this year according to Street View, across South Highland Avenue from the church, replacing an older, two-story building.  The first floor is completely boarded up, presumably because a retail tenant has not yet been located to build out the space.
---
Neon sign for the Kelly Strayhorn Theater, located across Penn Avenue from the church.
---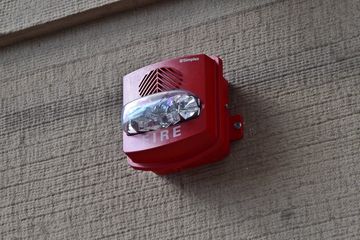 Weatherproof version of the Simplex TrueAlert horn/strobe on the exterior of the Ace Hotel.
---
We ended up doing the walk in two parts, because after we did half of it, we went inside and checked out the Ace Hotel, located across South Whitfield Street from the church, which is housed in an old YMCA building.  This is a boutique hotel, and pays much respect to the building's heritage as a YMCA, while also being very well-appointed with something of a hipster vibe to it.  The main gymnasium is very well preserved, complete with vintage paintwork on the walls.  It reminded Elyse and me of photos that we had seen of gyms in old, abandoned schools (example).  So seeing a vintage gym like that preserved and in active use, even if not necessarily as a gymnasium, was definitely a treat.
---
The old gym, with vintage paintwork, still in active use as an event space.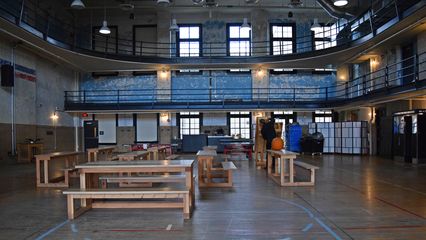 ---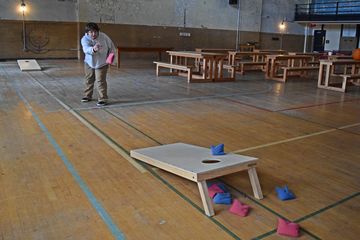 Elyse tries her hand at cornhole on the board that was set up in the gym.
---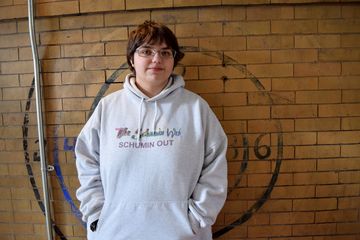 Elyse poses for a photo in front of some of the gym's vintage paintwork.  And yes, that is an older Schumin Web hoodie that Elyse is wearing.
---
Getting to the "Anatomically Correct Statue", properly called "Joy of Life", I made a startling discovery: it really is anatomically correct.  All these years, I was under the impression that the term that the LPCM people gave the statue was a mistake, based on a misinterpretation of the figures.  Kathleen from LPCM even said as much, but I don't think that any of us back then spent enough time looking at the statue to fully take it all in, as we only ever saw it in passing as we drove by on the way to other places.  Taking a closer look, however, I found some body parts that I wasn't expecting.
---
"Joy of Life", the so-called "Anatomically Correct Statue".
---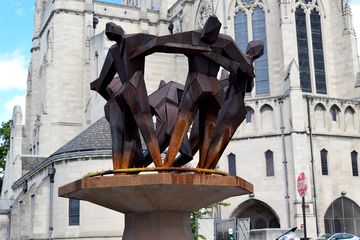 Oh, dear.  It really is anatomically correct.  For 13 years, I thought that this was more abstract, as if they were wearing zentai suits or something.  Surprise: they're naked.
---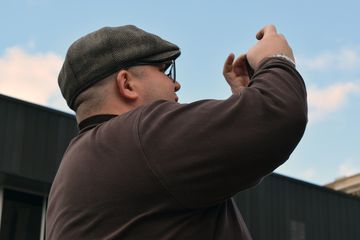 And Elyse got a photo of me getting a photo of the statue.  Ask her – I was kind of blown away by this whole naked-people-statue discovery.
---
The church.
---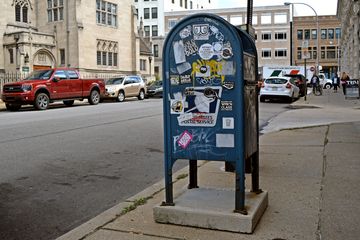 Mailbox covered in stickers, across Baum Blvd. from the church.
---
Finishing up our walk, we returned to the car and headed over to our next destination, which was a nearby restaurant called The Elbow Room.  This was to be an elevator stop, as word was that The Elbow Room had a vintage Montgomery Vector elevator.  This particular model of elevator was always somewhat uncommon, and as these elevators are modernized, they have become even more rare.  A similar elevator had just been upgraded at Federal Plaza in Rockville, so it was very important to ride this Vector.
---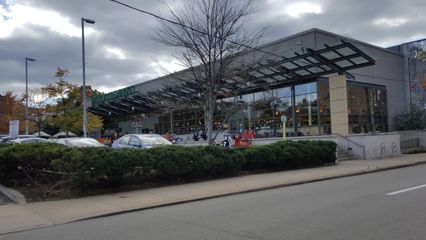 As we were leaving the vicinity of the church, I spotted the Whole Foods in East Liberty, where we went for breakfast each morning on our trip in 2003 before getting to work.
---
When we arrived at The Elbow Room, something just didn't look right – specifically, we were greeted by a one-story building.  I didn't vet this location, since the elevator stops were Elyse's responsibility.  I just hoped that this wasn't a case where the elevator was in a back room or something that required special permission to see.  As it turned out, The Elbow Room had moved within the past year, which was something that was too recent to turn up in our research.  The elevator that we were thinking about was at their old location, 5533 Walnut Street.  The hostess told us where the old location was, and we were off.  The old location was a multi-tenant building, and had very few, if any, tenants at the time of our visit, making for a very quiet experience.  However, the elevator was ready to ride.
---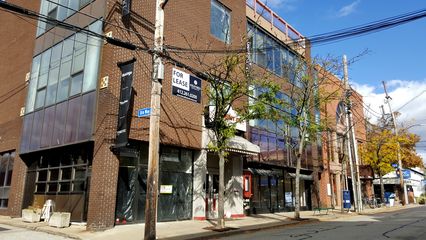 5533 Walnut Street.
---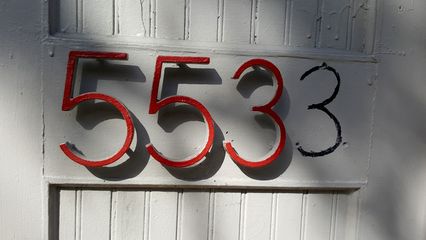 Address numbers.  Note that the last "3" is missing and has been written in with marker.
---
Elyse rides the Vector.
---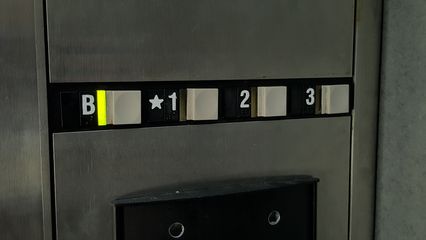 Montgomery Vector floor buttons.
---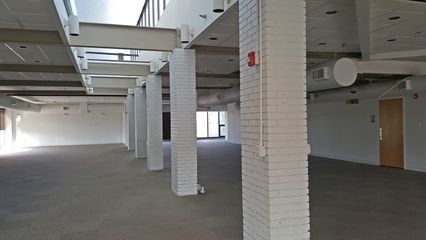 Vacant space for either office or retail use on the third floor.
---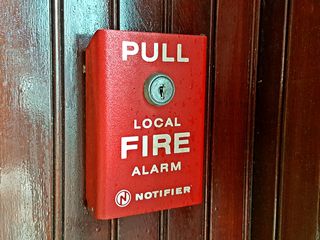 Fire alarm pull station at 5533 Walnut, a Notifier BNG-1R.
---
Leaving 5533 Walnut Street, our next stop was the Cathedral of Learning at the University of Pittsburgh.  I had heard much about the Cathedral from my friend Patrick, who grew up in Pittsburgh and went to Pitt, plus I got to see it from a distance in 2003, so it was great to finally get to see it on the inside.
---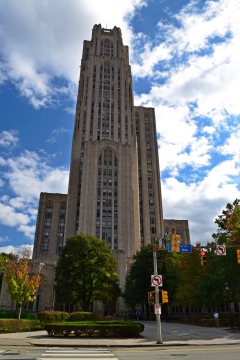 Our view of the Cathedral from our parking space on Fifth Avenue.
---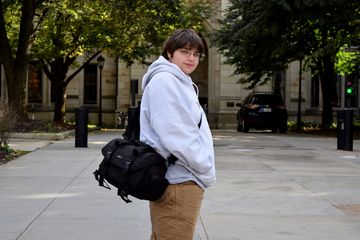 Elyse poses for a photo in front of the Cathedral.
---
The Cathedral of Learning is one of the most beautiful educational buildings that I've ever seen.  The main lobby, which extends up to the third floor, has beautiful Gothic-style arches in it and low lighting.  Elyse commented that it felt as if we had walked into a castle.
---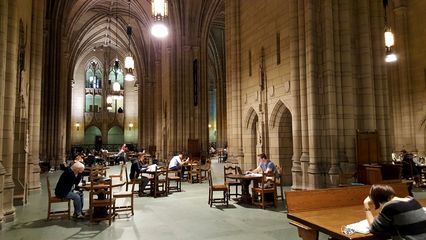 Gothic-style main lobby.
---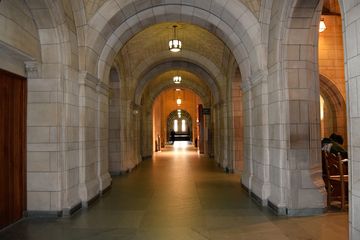 Hallway around the main lobby, in a similar style.
---
After getting our bearings, we went to see what the Cathedral had as far as views.  The elevator system, an Otis CompassPlus, was one that I had not seen before.  This is a destination dispatch system where each passenger enters their floor selection on a keypad outside of the elevator, and then is directed to wait for a specific elevator.  The idea is to get more efficient use of the elevators by grouping people together who are going to the same place, thereby reducing the number of stops along the way.
---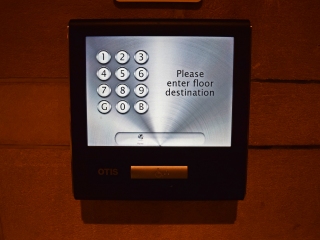 Touchscreen, where riders enter their destination floor, seen here on the main floor.  Some floors used keypads instead of touchscreens, but the function is the same.
---
Inside the elevator car.  Note the lack of floor buttons, as floor selection is done off-board.  That bar next to the screen shows the floors that this elevator is going to.  Compare to what these used to look like.
---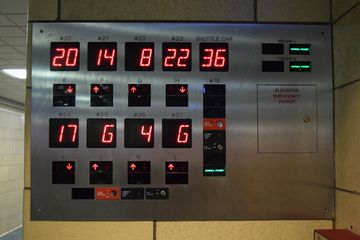 Elevator annunciator in the basement, showing the floor location of all of the elevators in the system.
---
The Cathedral of Learning's new elevator system, in a video by Andrew Reams (aka DieselDucy).
---
We went as far up as the 36th floor, which is as high as most people are allowed to go, and looked out some of the windows, taking in that magnificent view.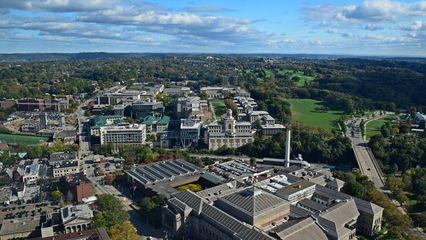 ---
While we were up here, we also took a look at the fire alarm equipment in the Cathedral.  The pull stations are your basic Cerberus Pyrotronics single-action station, either MS-51 or MS-57.
---
The notification appliances, however, surprised me.  They are Wheelock ET-1070-LSM-24, however, every strobe has white tape over the "FIRE" lettering.  No matter where it was in the building, "FIRE" was taped over.  When I later inquired with the university about this, the representative, from the facilities department, stated that this was done due to an unspecified manufacturer's design flaw.
---
We then went down to the third floor and looked at some of the Nationality Rooms.  These are relatively small classrooms that are styled to represent different nations and cultures.  When we asked about them, we were advised to check the peephole in the door first, in order to verify whether or not the room was occupied, so as not to disturb classes in session.
---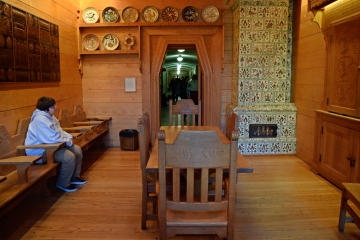 The first room that we visited was the Ukrainian Room, designed to resemble the reception room in the home of a Ukrainian nobleman.
---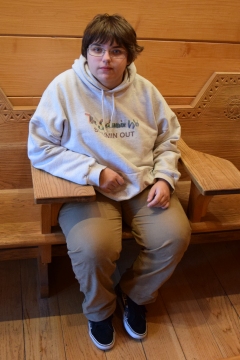 Elyse sits in one of the wall seats in the Ukrainian room.
---
The Austrian Room, designed in 18th-century Baroque style.
---
The Armenian Room, based on the architecture at Sanahin Monastery.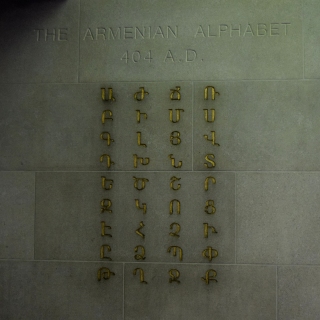 ---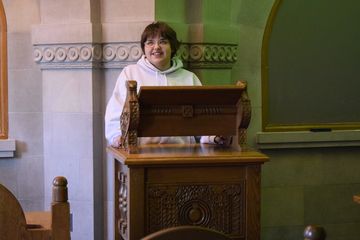 Elyse stands at the Armenian Room lectern.
Part 1