Weekend with Katie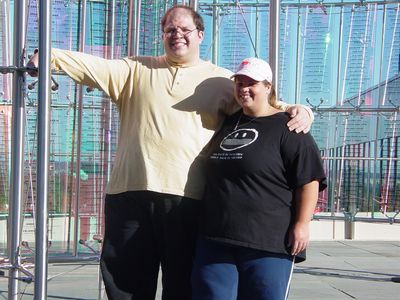 From September 28 to October 1, my friend Katie came to visit me in Silver Spring, Maryland. What fun we had, going from Washington to Reston to Chantilly and around and back.
But first, there was a bit of a snafu with the people who perform maintenance on the building where I live. I received a call at work on Wednesday, to tell me that the people who were fixing some things in my apartment had managed to lock themselves out. Strange move on their part. So as a result, I would find the maintenance work incomplete, and tools and keys in the apartment. No one told me that the shower had been rendered unusable due to the incomplete state of repairs to a fixture in there, though. So I was a little irritated when I came home, and had to hope that they would get it fixed the following day, because a non-working shower was not the way I wanted to greet Katie. I could shower at work the one day, but beyond that, I couldn't entertain a guest with a non-working shower. Thankfully, I returned home on Thursday to find the work completed, and the tools gone.
So now that the work was finished, it became time to think about cleaning. Since this was Katie's first time visiting, I went through my usual first-time-seeing-the-place procedure. I cleaned everything. I scrubbed, I scoured, I wiped, I washed, I swept, I vacuumed. You name it, I probably did it or cleaned it. I even swept the balcony (amazing how much dust came off the concrete out there). The place was looking spiffy, and smelled like a combination of Fantastik, Comet, and Swiffer WetJet.
With the cleaning complete, and having aired the place out a bit to get rid of that cocktail-of-cleaners smell, I left to go pick Katie up at Union Station. I drove down to Wheaton, and caught Rohr 1273 from there. I got to Union Station with about ten minutes to spare for her train's scheduled arrival time of 5:55 PM. However, the train was late, with the displays showing an arrival of 6:15. So… I had a little waiting to do. I played Tetris on my phone in the meantime.
Finally, Katie arrived, and we proceeded to go downstairs for a quick snack. After all, Katie had just gotten off of one train, and didn't want to get onto another one right away. Plus I wanted to hear about the train ride from Charlottesville (it went swimmingly!).
Finishing, we went back to the world of Metro, where Katie learned the joys of having Glenmont as your home station, as we had to sit out a Silver Spring train (every other Red Line train turns back at Silver Spring). When the Glenmont train finally arrived, we boarded Rohr 1297 to go back to Wheaton station. That was an interesting train ride. First of all, I discovered a plug underneath the side seats by the end doors – those seats that are distinctly Rohr because the Bredas and others don't have them. A quick inspection revealed these are your standard 110-volt electrical outlet. That could be useful in the future. Could I charge a cell phone on the train, for instance? However, with these being Rohrs, and with their being thirty years old and past their rehab, there is that chance that these plugs don't work anymore. We will investigate further later.
In investigating the plug, we caught the attention of two people. One was a woman who noticed us, and then the other was someone whom you could best describe as the "nut on every car" that Bill Cosby speaks of in his stand-up routine. This guy, while holding some twisted horn-like object around his arm, came up to us, and, while holding up a placard quoting Bible verses, started railing against George W. Bush. While I certainly can't stand George W. Bush, and can't believe that he's been president for more than six years now (sad but true), I didn't appreciate the intrusion into our time on the Metro.
We had to put up with this guy all the way from around Fort Totten to Wheaton, where we got off. There, we took the western hemisphere's longest escalator up. The guy got off, too, but rather than leave the station, he crossed over from the Glenmont side to the Shady Grove side. I presume he was going off to annoy some other people. Regardless, good riddance to him.
So Katie and I left Wheaton and crossed over to the mall next door, where I had parked the car. There, we made a brief visit to Target, where we checked out the Halloween stuff that they were selling on the first floor. After leaving Target, we went back to the car, and rode the three or so miles back to my apartment. Welcome home!
The plan for dinner on the first night was that we would order out for pizza. We went with Papa John's, and ended up getting this wonderful little vegetarian pizza, and an order of breadsticks. Not bad. Then we spent the rest of the evening watching most of Office Space.
---
On Saturday, I got up around 9:00, and per the agreed plan, went over to the folded-down futon to wake Katie up. No reaction from a few pokes, so off with the comforter. That seemed to do the trick. Good morning! We had cereal for breakfast, and headed over to Forest Glen Metro, arriving around 11:00 AM. Why Forest Glen, when Glenmont is closer? Well, first of all, Forest Glen has some interesting properties that I wanted Katie to see. It's the only station in the bunch to be elevator-only, for one thing. Besides that, I take Metro to and from work every day, and so it's nice to skip Glenmont for a change.
Arriving in the system, we quickly learned that Metro was single-tracking between Takoma and Fort Totten due to track maintenance. Thus we got to wait a bit longer in the station than I was expecting. But we managed to pass the time, as I got a chance to update my Forest Glen photos for the then-upcoming relaunch of The Schumin Web Transit Center, and we also got some photos of each other, too. Still, if I'd known that we'd have delays like this, I would have driven either to Greenbelt or College Park on the Green Line, or over to Shady Grove at the other end of the Red Line. Either way, though, too late now – we were in the station and on the platform, and had put in enough time to where it was worth it to just wait.
At last, the train arrived – Breda 4062. This car did not look as a Breda 4000-series car should. It had the pinkish carpeting that is used on the CAF, Breda rehab, and Alstom cars, but it also had the seats to go with it, as the cushions on the seats had been changed from their original orange to the red and blue of the more recent color scheme. I've commented already about the color scheme change on the 4000s. This was also Katie's first ride on a "classic" Breda car, as we didn't get any older Bredas on our May 8 trip. As the train was pretty full, Katie decided to sit down in a corner near the broken down cab, while I stood up and hung onto the handrail.
---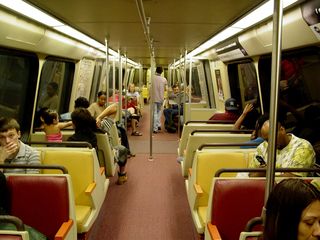 Breda 4062 with its updated color scheme.
---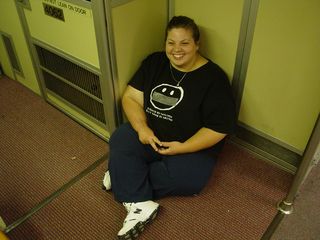 Katie sits on the floor in a corner of Breda 4062 near the cab.
---
And we waited through single-tracking. We determined that since the Red Line appeared to be pretty screwed up due to the track work, that we would switch to the Green Line. Our first stop was Chinatown, after all, and that was on Green as well.
So we changed trains at Fort Totten, and caught a Green Line train to Gallery Pl-Chinatown. Not bad. We arrived at Chinatown, and much to my surprise, the United Colors of Benetton store had closed! I was surprised, considering that this store had such a prime location – everyone coming out of the Chinatown exit of Gallery Pl-Chinatown saw this store. I guess not enough people shopped there to make it profitable. Maybe the loss of Benetton will slow down Chinatown's gentrification, but somehow I doubt it.
---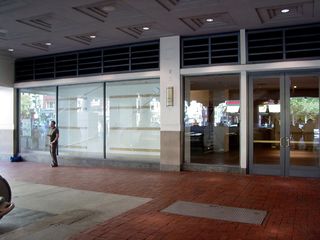 The United Colors of Benetton is gone!
---
Once in Chinatown, we wandered around a bit, and went into a few of the remaining authentic Chinese stores. Fun times. We eventually went down H Street a bit, towards Metro Center. On the way, we stopped by another authentic Chinese business further down the street than I would have otherwise expected. Katie was looking for something to contain her hair, which had gone beyond her tolerance threshold for the day. At first she was looking at hair things, but eventually settled on a hat. The touristy kind, of all things.
Now let's pause for a moment. I live in Silver Spring, Maryland, and I work in Dupont Circle. We know tourists. Big groups of people wearing shirts and/or hats that say "FBI" or "CIA" on them. They block our speedy passage on the escalator, and they block the farecard machines while they look at it cluelessly. Then they stand in front of the faregates because they don't know where they're going.
So I suggested to Katie, why don't you get the "FBI" hat? I figure, if you're going to do the tourist look, you might as well go all the way. She ultimately ended up getting a pink hat that said "I ♥ DC" on the front. So it looked really touristy, but at least it served its purpose.
---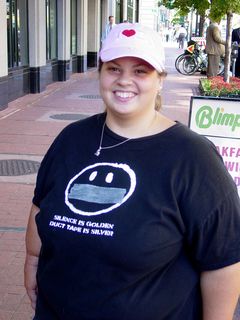 Katie shows off her "I ♥ DC" hat.
---
So with that done, we headed for Metro Center station. Here is where we learned that the single-tracking, at least for now, wasn't confined just to Fort Totten and Takoma. As it turned out, Metro was in the process of coping with a disabled train at Farragut North at the time we arrived at Metro Center. We were going to Dupont Circle for lunch, so we headed to the Shady Grove side of the platform. Not long after we got over there, Metro announced that all Red Line trains would service Metro Center from the Shady Grove side of the platform. So the folks on the Glenmont side all trudged over to the Shady Grove side en masse, because all the trains would be coming on Track 2. Talk about a crowded platform. We ended up striking up a conversation with a couple who was from Texas and was in town for a conference. They were also traveling towards Shady Grove. While we waited, two Glenmont trains serviced the station from the "wrong" platform.
---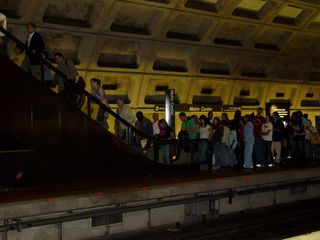 People take the escalator to cross over to the Shady Grove platform in order to catch their Glenmont-bound train.
---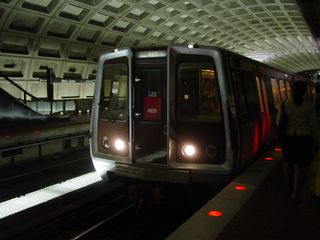 A Red Line train to Glenmont arrives at Metro Center on the Shady Grove side.
---
Then, at long last, after the Glenmont trains had cleared the area where they were single-tracking, it was our turn, and we got our Shady Grove train, in this case, Rohr 1023. You want to talk about a crowded train – this was it. Totally jam-packed full, but at least we were only going as far as Dupont Circle. Since Katie couldn't reach a bar, she held onto me for support.
Getting off the train, it was like I was going to work, since we went out the 19th Street entrance. Same escalators I take for work. Only difference was that due to the single-tracking, everyone was on the Shady Grove side, and the Glenmont side was empty. And the Metro employees on the mezzanine were trying to keep people from going down onto the Glenmont side, since there would be no trains servicing that side of the platform. Amusing: The Metro employee on the mezzanine had the "Questions? Ask me!" part of her safety vest blacked out, leaving only the Metro logo still readable.
---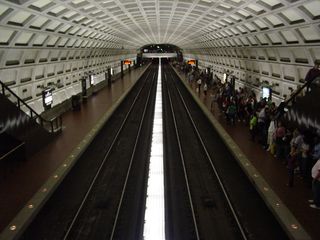 It looks very strange with one platform of the Dupont Circle station deserted and the other one crowded…
---
From Dupont Circle, Katie and I walked to Cafe Luna, which is across the street from where I work. I've gotten lunch at Cafe Luna numerous times in the past, and I've actually had a meal in the restaurant once before, on July 4. On this occasion with Katie, we had sandwiches with a little appetizer. Katie had the Luna Cheesesteak, and I had the Spinach & Mushroom Melt. It was quite tasty! Katie was also quite impressed with the quality of Cafe Luna.
---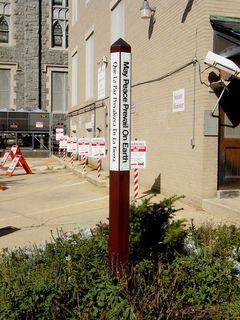 Leaving Cafe Luna, we noticed a peace pole! How neat…
---
From there, we took a walk down 16th Street in order to avoid the Red Line, which as far as we knew, was still screwed up for much of its length. It was awesome. We ended up at 16th and Eye Street, which, as the astute reader may recall, is where the anarchist feeder march started, which ultimately headed to the Million Worker March site. There, Katie and I took some photos of each other.
---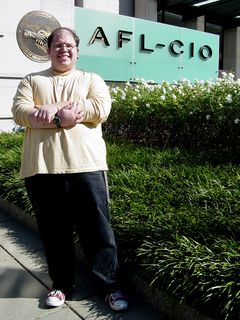 Katie and I took photos of each other in front of the AFL-CIO building.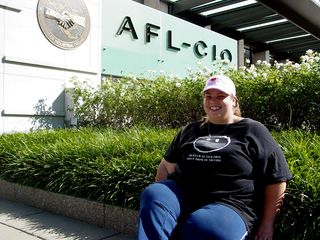 ---
My photo, first seen on the splash page for October 2007, was taken standing up. Katie's was a sit-down shot. Getting up, I gave her a hand. She commented, "Don't let me pull you down". Let's just say that didn't happen. I pulled, and boom, she was up! Katie commented that if I'd have kept going, I could have tossed her right over my shoulder.
So now what? We were at a Metro station that wasn't Red, and we still had a lot of time. We discussed, and we ultimately decided to go to Rosslyn, to see about possibly going to Bodies, an exhibition in the old Newseum building. To get there, we took Breda 2070, which was full to standing room, and we were both pressed up against the windscreens to an extent.
---
Riding up the escalator at Rosslyn as I do one of my famous interviews, and have a "brain fart" in the process.
---
When we got to Rosslyn, after a quick pit stop in Rosslyn Center, we headed over to where Bodies was, and upon our arrival, we immediately nixed that idea. Do you know how much money it cost to see Bodies? $32.50 per head – $26.50 without the audio. The reaction out of Katie and I after seeing that kind of price? I don't think so. Seriously – no Bodies for us.
We eventually headed up to Freedom Park, which adjoins the building, and is worth a look if you're in Rosslyn. And it's free, no less. Can't beat that, I'd say. We first went up to the Journalists' Memorial, where we got a few photos. Then, we headed down past the various exhibits that were out on display. Katie was most intrigued by the replicas of the banners made during the women's suffrage movement.
---
This, of course, is the Journalists' Memorial at Freedom Park, seen here in these file photos from A16.
---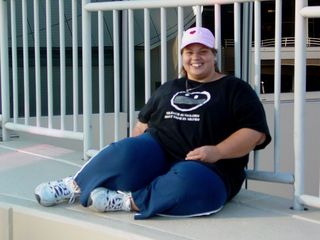 Katie strikes a pose near the Journalists' Memorial.
---
The women's suffrage banners. Katie found the "If the pool is dirty" message to be the most interesting.
---
At the bottom of the hill, of course, was the Berlin Wall exhibit. However, it was in a bit of disarray at the time of our visit. Normally, the sections of the wall are in a line, and the guard tower is behind them. This time, the sections of the wall were moved to the sides, and the guard tower was noticeably missing. Don't know what was up with that…
---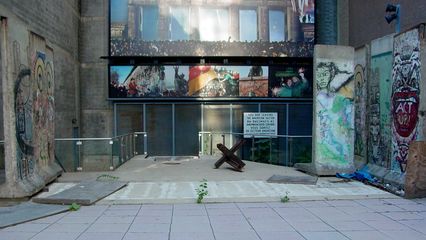 The guard tower was gone, and the pieces of the Berlin Wall were moved out of the way, presumably to facilitate the tower's removal.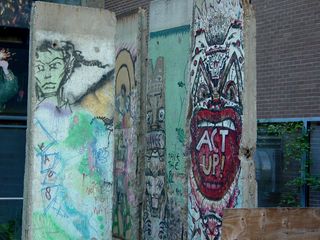 ---
Leaving Freedom Park, you're dropped onto North Kent Street near its junction with 19th Street. So we walked around past the new Waterview complex that's still under construction, and ended up in Crandal Mackey Park, which sits on a tract of land on the south side of 19th Street between Moore and Lynn Streets. Nice place. I took a moment to take a few photos of Katie, the waterfall in the park, and the two of them together. We also met Stephanie, a woman originally from France, who didn't speak that great of English, but was very friendly. She wanted to take pictures of us, and of Katie's hair.
---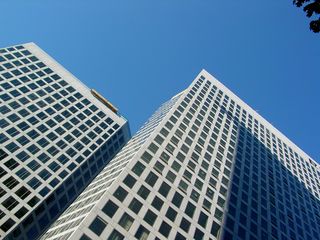 The Waterview is ever closer to completion, having been "topped out".
---
---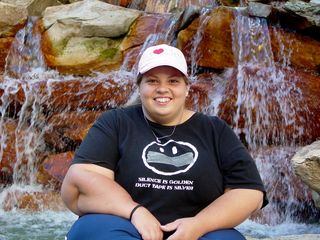 Katie poses in front of the fountain…
---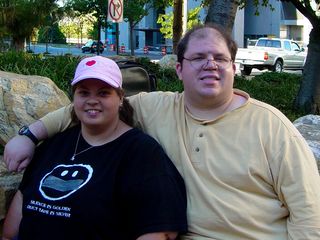 The first photo Stephanie took was of the two of us.
---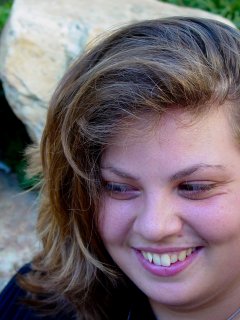 The second one was of Katie's hair. Stephanie adjusted Katie's hair, and had her look off to the side.
---
Following this, we took a walk into Georgetown. I'd forgotten since my December 18, 2006 DC trip how far it was to Georgetown. It's over the Key Bridge, and then Georgetown is centered around M Street NW. It was a fun walk, though long. We stopped at The Shops at Georgetown Park, where we made a pit stop, and went around the place, down to the C&O Canal, and back up.
---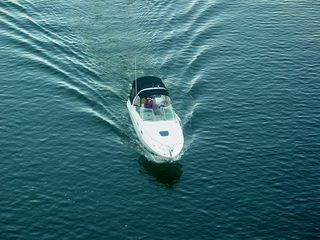 The Potomac River was just teeming with all sorts of pleasure craft as Katie and I crossed the Key Bridge.
---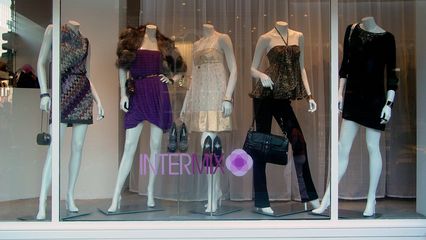 A storefront in Georgetown – Katie questioned who could wear or would want to wear such outfits.
---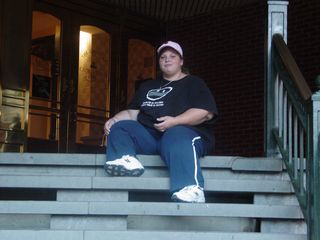 Katie sits on the steps at the back entrance to The Shops at Georgetown Park.
---
The C&O Canal, one of the landmark features of Georgetown.
---
Leaving Georgetown, we walked down Pennsylvania Avenue. This took us to Washington Circle, and from there, the Foggy Bottom-GWU Metro station. Here, Katie parked herself on the floor next to a bench, while I photographed the new LED lighting underneath the mezzanine. The last time I photographed in Foggy Bottom was December 27, 2006, when only one of these LED fixtures existed. Now there are many.
---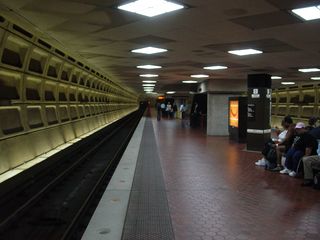 LED lighting underneath the mezzanine at Foggy Bottom-GWU station. It certainly makes for a bright platform!
---
When the train arrived, I lent Katie a hand, but unlike before, when I got her right up, this time, probably due to the tile surface vs. that of the sidewalk, I ended up just dragging Katie around the platform, while Katie laughed the whole time. I commented that hey, if all else failed, I could just drag her on into the train.
We got on board CAF 5045, and rode around to our last destination of the day – Pentagon City. We went around to the Apple store, to Claire's, and finally, had dinner in the food court.
Finally, we left the mall and returned to the world of Metro.
---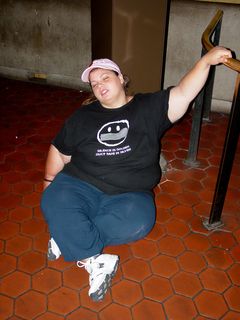 Katie, by this time somewhat tired, sits and waits for the train at Pentagon City. Reviewing this photo later, Katie commented, "I look like I'm stoned!"
---
From Pentagon City, we caught Alstom 6063, and rode the Yellow Line straight up to Fort Totten. I'll be the first to say that the Yellow Line going all the way to Fort Totten is an awesome idea, and I hope it continues beyond the 18-month pilot program. I prefer to take the Yellow Line all the way to Fort Totten before transferring to my Glenmont-bound Red Line train because I feel like Yellow's route is more direct. While on this Yellow Line train, after many false starts, we took a movie on the train discussing Metro.
---
Blooper!
---
This time, we got it and we meant it. We discuss trains that have mechanical problems in the middle of the line, and how they get them clear. Among other things, I imitate the sound of the old door chimes on the 4000s, and the brake-release sound. I'm actually trying to describe this incident from 2005.
---
And at last, we arrived at Forest Glen. A quick trip up the elevator brought us to the surface, and we joined the car again. On the way home, we stopped at Shoppers, as Katie wanted to pick up a few odds and ends. And at last we got home, where we finished watching Office Space, including the interviews with the cast in the bonus material…
---
On Sunday, Katie was already up by the time I got up in the morning. Fun stuff. Today, unlike Saturday, we were going to forgo Metro, and use the Sable for transport. We were going to go see Matthew Tilley in Reston, and we needed to get a move on.
We took the Beltway to the Dulles Toll Road and then to Matthew's house. We picked him up, and then once we were all in the car, we all discussed where we should go eat. Katie and Matthew wanted to go to Outback, and so with the two of them both wanting to go to Outback Steakhouse, I just said, "How do you get there?" Matthew helped out with that, directing me on how to get to Outback. Meanwhile, Katie was having a bit of a blast from the past, as she had previously lived in Chantilly, which was a hop and a skip away from Reston.
At Outback, we had a blast. We had the Bloomin' Onion for an appetizer, and then I personally had the Alice Springs Chicken. Not a bad meal.
Afterwards, we went back to Matthew's house, and got some photos of the three of us with Big Mavica.
---
And here we are, outside Matthew's house.
---
After parting company with Matthew, we were planning to go to Chantilly, to visit Katie's old stomping grounds. But first, Katie wanted to run some music on the radio. Now I had left my iPod at home, thinking we wouldn't need it. I also don't know DC's radio scene too well. I know WMAL (conservative talk), WWRC (progressive talk at the time), WTOP (news/talk), WAMU (NPR), and WETA (classical). Nothing of mainstream music. However, I improvised. I thought back to my listening to The Randi Rhodes Show, and the "It's Friday, ya bastards" song – "Bounce Your Boobies" by Rusty Warren. I knew Katie enjoyed the song, so I knew it wouldn't offend. She was amused that I started belting it out, though. But hey, one's gotta improvise sometimes.
We eventually stopped at a Sunoco station, where we got directions on how to get to Chantilly, which, unbeknownst to me at the time, was in between Fairfax and Reston. Arriving in Chantilly, we went to see two points of interest. The first was Katie's old house, which we drove past. We also drove by the location of a store called "Total Crafts", where Katie had worked up in Chantilly. Katie was hoping to go by, and possibly visit with some former coworkers. Much to her dismay, Total Crafts had folded, and a Dollar Tree store now occupied the space.
Following this, we went down to I-66, and eventually took Route 50 on what I could best describe as the "scenic" route into Washington. We went through Arlington, and eventually ended up going over Memorial Bridge. We went down Constitution Avenue, and then north on 18th Street, and from there north on Connecticut Avenue. From here, we hit Dupont Circle, and went to the Whole Foods on P Street.
That was an adventure in itself. The line to get in to park was almost literally out the door. Then once we got up, there were about five or six employees up there directing traffic, pointing people to where there was going to be parking. That couldn't have been fun for them. But somehow, they got the job done.
---
Just to give you an idea about how crowded it was waiting to park…
---
Inside, the place was mobbed, too, with lines going everywhere for everything. Even I was a tad overwhelmed, and I go to this particular Whole Foods all the time for work-related purposes. Of course, I usually go there during the week, and during the day on top of that, so the place is usually pretty empty when I'm there. I'd guess that at that time, the employees often outnumber the customers. Not this time!
---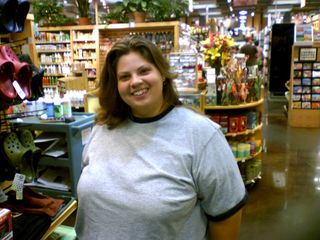 Katie strikes a pose next to a rack of Crocs.
---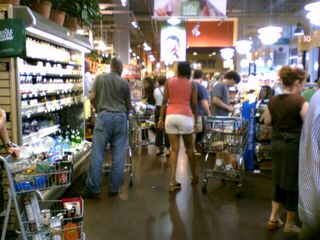 Yes, it's busy at Whole Foods on P Street!
---
But we did eventually get our bottle of cheap champagne, and we were off. We were following Connecticut Avenue for some distance, giving Katie a different view of DC than she had gotten before, as we went along, seeing a few embassies, the entrance to the National Zoo, and on down the line. Then following Chevy Chase Circle, we crossed into Maryland, and continued along Connecticut Avenue for some ways. And eventually, we made it back home.
Getting home, we eventually made dinner, where we had spaghetti, and enjoyed the cheap champagne that I had bought. Not bad. And then we watched Spaceballs for a while, and then got online for a bit. We ended up talking with my friend Nick Wilson via Yahoo Messenger. That was fun.
---
Then on Monday, everyone was on the move. Katie was heading back to Waynesboro, and I had to head off to work. Katie was taking Greyhound to get back home, and so she would be getting off the train at New York Avenue. Meanwhile, I was going to Dupont Circle as I usually do on Monday mornings. Thus we would part company on the train.
So at my regular time, we went out to the curb and caught the 51 to Glenmont, and then caught Breda 4065 at Glenmont. Katie got off at New York Avenue to catch her bus, and I was off to Dupont Circle to go to work. And that was that! What a fun weekend!