Year 2010
2010 was a pretty fun year.  We had two blizzards, I got to go to Boston and Chicago, and got involved in lots of crazy antics over the course of the year.  Thus we arrive at this, the end-of-the-year photo set, where we tie up all of the loose ends and head into 2011.  Lots of stuff here, which, for one reason or other, was not discussed in a Journal entry or photo set, but still deserves mention.  Or perhaps it was featured, but deserves better coverage.  But in any case, here it is…
---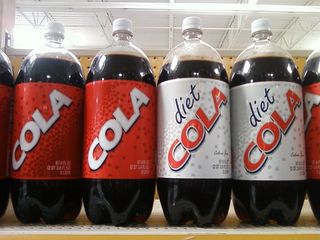 I was visiting my ex-Walmart store in January with Katie while I was in town for the wedding, and we happened upon this.  What you are looking at is a row of soda bottles, but notice the brand.  Specifically, there isn't one.  This isn't Walmart's "Sam's Choice" soda, which is the store-brand soda.  This is truly generic soda.  What's it called?  "Cola".  What's it taste like?  You probably don't want to know…
---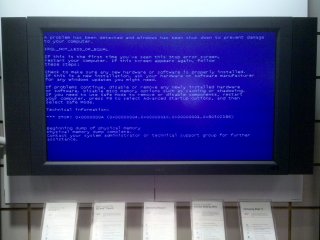 When I was stopping by the Verizon store in College Park for some service on my Droid, I noticed this screen, normally used to display information about various Verizon products, was this time showing information of a decidedly different nature.  Specifically, we all learned that this display was running Windows, as this was a Blue Screen of Death…
---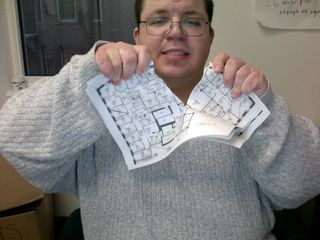 In late January and early February 2010, we shuffled a bunch of offices around at work.  This photo sums up the dramatic conclusion of that process, in what I called, "The Burning of the Maps".  Basically, after the completion of the fourth phase of the move, which completed the entire operation, I very publicly tore up the maps of the different phases of the operation in that way of saying that the mission was accomplished, and we didn't need these maps anymore.
---
Was March the month to abandon a certain style of couch in Dupont Circle or something?  Seriously, the photo on the left was taken on on March 4 on P Street NW in front of Skewers and Cafe Luna.  In this case, one arm is missing and the other has its skin torn.  Then on March 31, I spotted an identical couch in the alley next to the Avondale apartment building on P Street NW (one block west of the first couch's location).  This one, however, had the arm on it, and the cushions were spray painted.  You might think that this is the same couch, but the couch in worse condition was photographed nearly a month earlier.  Weird, but in any case, it's an ugly couch, so I can't exactly blame people for wanting to get rid of it…
---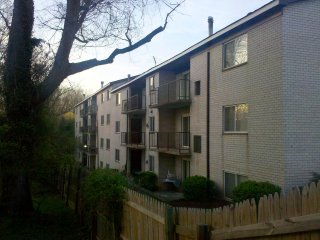 After more than a month without gutters due to the big February snowstorm, I was delighted to see new gutters going on in early April.  The white line along the roof is the new base for hanging the new gutters.
---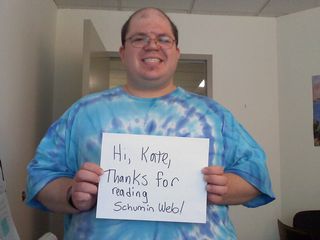 Patton got me to hold up a sign for a mutual friend of ours on May 27 (my last day at work before the Boston Megaraid), and this was the result.
---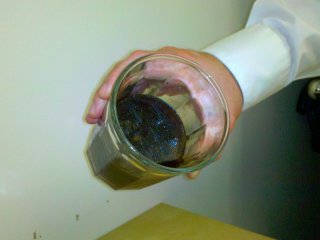 When you work in an office, and in my position managing it, you see some interesting things.  In this case, someone put some coffee in the freezer to cool it off for iced coffee, and cool it off they did.  It got nice and cool in there, all right.  Anyone for frozen (solid) coffee, anyone?
---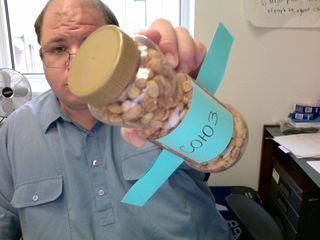 For a while, I was eating salads for lunch, and was eating peanuts with the salad.  One thing I noticed was that the peanut container (I believe this was the Target store brand) bore a distinct resemblance to a Soyuz spacecraft.  So I took a few sticky notes and made it so, and here is my Soyuz peanut container.  See the resemblance?
---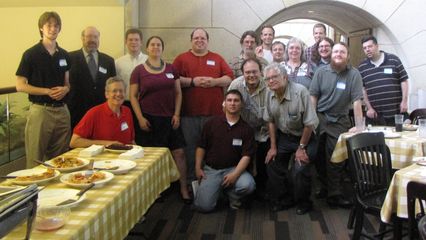 I always love the DC area Wikipedia meetups!  This is the group that met for DC Meetup 10, which was our last time going to Uno's in Union Station.  After this meetup, we took Uno's off the list because they made us cater the event, which everyone agreed was less than desirable.  One of our requirements for our meetups is that we want to be able to order off the regular menu.  Catered options are usually too expensive.
---
In mid-July, Mom and I went out to Chicago, to see Sis and Chris and see what Chicago has to offer.  We traveled out and back by train, which is way more fun than flying would be.  It definitely makes getting there half the fun, since traveling by train is an adventure all its own.
---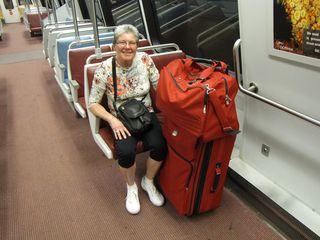 And here we go!  Mom poses with her luggage on Alstom 6083 on the Red Line, heading to Union Station.
---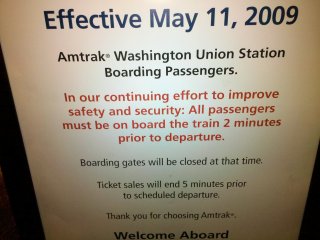 While checking our bags at Union Station in DC, I noticed this sign.  This annoyed me because Amtrak is throwing "safety and security" around when this is obviously neither a safety nor a security issue.  Let's be honest here: All passengers need to be on board the train two minutes prior to departure so that the train can depart on time.  It is a very important concern, but not a matter of safety and security to keep a schedule, unless the passengers will be revolting and subsequently offing the conductor if the train doesn't leave on time.  Keeping the schedule is important because if you're delayed leaving one stop, all the subsequent stops will be delayed as well, and that's no way to run a railroad…
---
This is a first for me.  We were on a Superliner II transition sleeper on the way out to Chicago, and I was surprised to see a fire alarm strobe on board.  There were two signals near to each other in the center of the car.  One said "FIRE", and the other said "Nofity crew member when flashing".
---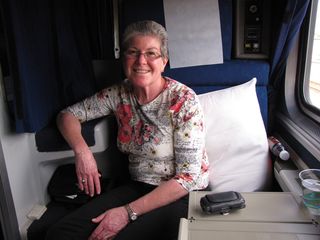 Mom smiles for the camera early on in our trip.
---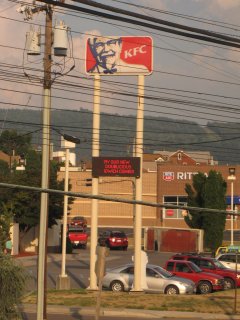 We made a longer-than-usual stop in Cumberland, Maryland.  One thing we noticed was the sign on the KFC.  Due to a problem with the LEDs on the sign, it appeared to promote their "Idwich" combo.  My camera was able to resolve the missing letters, but it certainly was good for a few laughs.
(You can see what I'm talking about a bit better if you click through to the full-size image)
---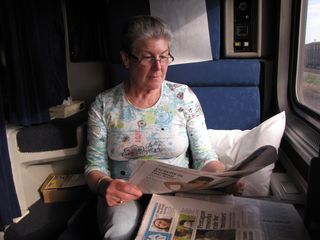 Good morning!  Mom took a moment to read USA Today, aka the "McPaper", as we traveled through Indiana.
---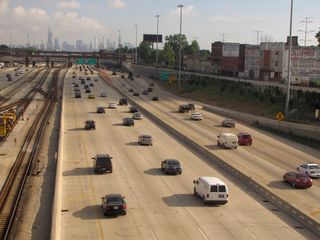 We are definitely in Chicago now, as we crossed over the Dan Ryan and the southern branch of the Red Line.
---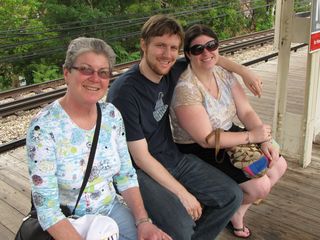 And here we are in Chicago, on the platform at Morse as we headed out to Evanston for a couple of hours.
---
The next day, after a nice, long sleep, we were ready to go again, heading over to the Museum of Science and Industry.  However, while we were waiting for the train at Jarvis, I spotted some work cars that had arrived on the southbound express track.  I took a movie of the revenue train arriving, coming past these work cars.
---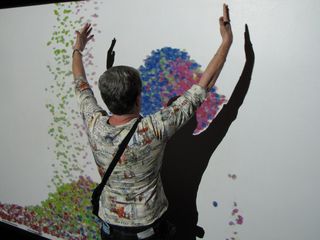 In one part of the museum, we found projectors where you could interact with what was being projected.  Here, Mom holds up a stack of something.  Then when you moved, the stuff she was "holding" fell to the ground.  I have no idea how it worked, but it was fun to watch.
---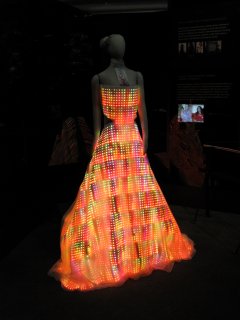 This is Cute Circuit's Galaxy Dress, which is a dress with 24,000 LEDs woven into it.  Quite a bright sight, though I can't imagine anyone actually wearing such a dress…
---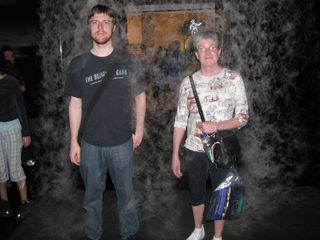 Chris and Mom stand under a curtain of mist…
---
Mom drives the avalanche simulation in the "Science Storms" exhibit.
---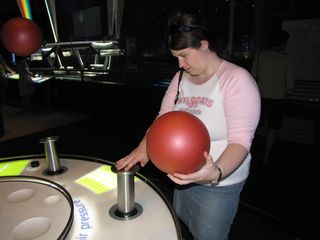 Sis explores how the floating ball device works.  Normally, the ball that she is holding in her one hand hovers over the tube that she is touching with her other hand.
---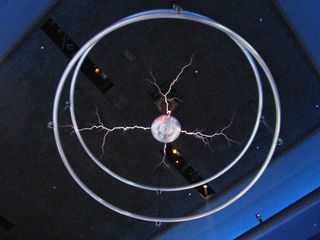 The Tesla coil was by far the coolest (and loudest) thing in the "Science Storms" exhibit.  The museum did educational shows from time to time throughout the day, and would activate the Tesla coil as part of the show.  It made a loud buzzing sound, and electricity visibly moved between the center and the rings.
---
---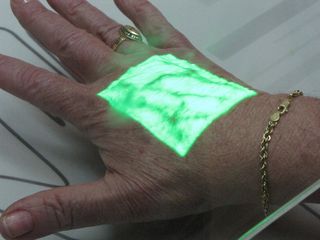 Here, Mom puts her hand under a light that reveals the blood vessels in her hand.
---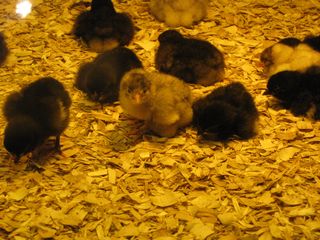 Baby chickens!
---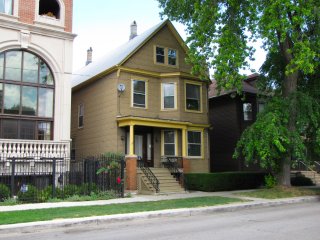 On Wednesday, we paid a visit to the Family Matters house, at 1516 W. Wrightwood Avenue in Chicago.  This was basically a quick walk-past, and I got a few photos of the front of the house.  Obviously, this house was only used as the exterior of the Winslows' house.  The interior of the Winslows' house was on a soundstage in Los Angeles (note that the front door as seen from inside on the set and the front door of the real house don't line up).  One thing that's different since the exterior shots for Family Matters were made is the house next door.  In the show's opening, the house to the left of the Winslows' house (the Urkels' house?) is a full story shorter than the Winslows' house.  That house has since been demolished, and a new building, a full story taller than the Winslows' house, was constructed in its place.
---
I discuss the Family Matters house in this video.
---
Cars drive past the Family Matters house.  Mute the sound and add some Miller-Boyett style music to get the full effect here.
---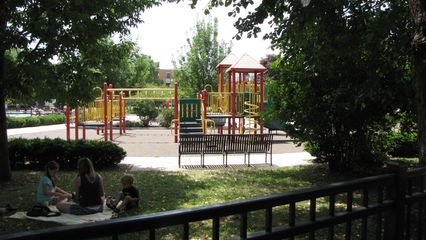 Across the street from the Winslows' house is a park.  Others have speculated, and I wonder, too, if this was the inspiration for the park where Steve Urkel, after transforming into Bruce Lee, beat up Jason David Frank in that whole park fight scene…
---
After seeing the Family Matters house, we headed over to the Lincoln Park Zoo, where we got to see how the animals handled a hot and humid July day.  All in all, we had a blast, with Sis and Chris's friend Vickey joining us.  We got to see the sand cat looking less than amused (top left), the flamingoes (upper right), the chimpanzees taking a nap (below), as well as many other animals.
---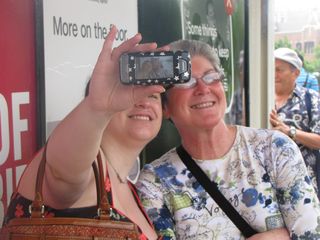 Mom and Sis pose for a cell phone photo, while I get a shot of them posing for said photo – with their camera in my shot, as intended.
---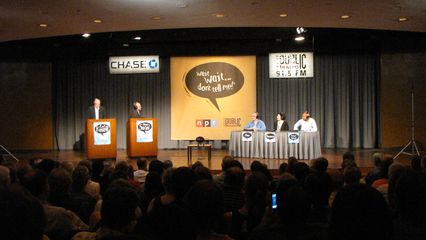 Thursday evening, we attended a taping of Wait Wait… Don't Tell Me! at the Chase Auditorium.  The panelists at this taping were Adam Felber, Roxanne Roberts and Keegan-Michael Key.  Surprisingly, I didn't enjoy the taping of the show.  Maybe it's because I didn't recognize any of the panelists, or perhaps this show just isn't my cup of tea (which is entirely possible).
---
Afterwards, Sis and Chris posed with host Peter Sagal, as did Mom.  Then the three of them all posed with Roxanne Roberts.  Chris is making his "Stephen Colbert face" with Peter Sagal.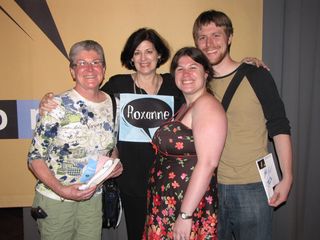 ---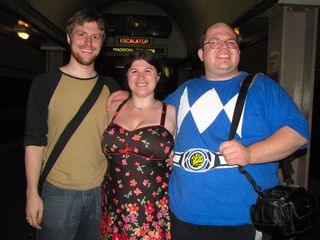 After leaving the show, at Monroe station, Mom got a shot of Chris, Sis, and me.  We do look happy, don't we?
---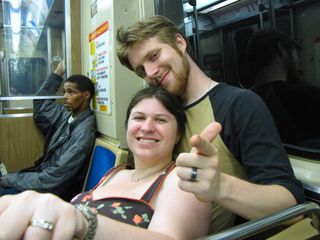 Then I got a photo of Sis and Chris on the train back to Jarvis station.
---
Friday, we were back in Union Station again, as it was time to head back to DC.  Finally, I got a chance to explore this Union Station a little, finding out that it was a lot smaller than DC's, and not nearly as hip.  But it has some excellent historical features in it.  I got photos of some of those, and also a couple of the family…
---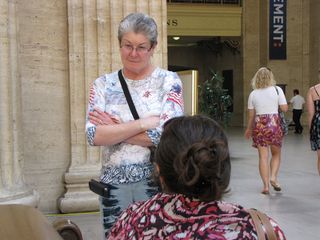 I love this picture, because it looks like Mom is giving Sis the business about something in that what-am-I-going-to-do-with-you kind of way.  That's not what it's actually depicting, but it does kind of look like that, no?
---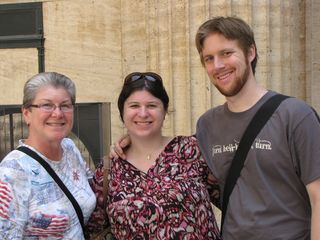 And then everyone says "cheese" afterwards.
---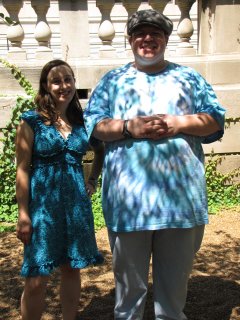 When I'm at work, on Fridays, we have what we call "Schumy Lunch".  Basically, I have lunch at my desk four days a week, and then a bunch of us go out on Fridays.  Just because I was in Chicago, however, doesn't mean that we didn't do Schumy Lunch, however.  All of us headed over to Food & Water Watch's Chicago office and had lunch with Emily and her interns.  Then afterwards, we posed for photos.  First Emily and I posed (above), and then Emily and her summer interns (below).  Lining up by height like they did was unintentional, though amusing.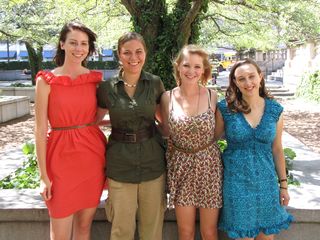 ---
After Schumy Lunch, we started heading over to Union Station to meet our train.  In doing so, we passed the Willis Tower, formerly the Sears Tower.  Here, I finally got to see the ledges in person, which I had discussed in a Journal entry the year before.  And I still wouldn't want to stand on them.
---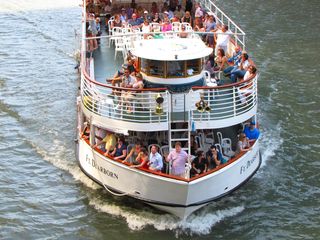 The Ft. Dearborn runs a pleasure cruise along the Chicago River.  Next time we're in Chicago, we need to do this.  This looks like fun…
---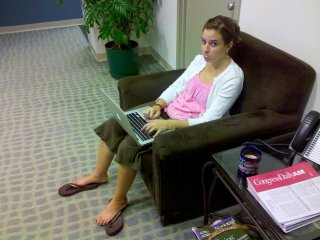 After finding out that Caitlin was leaving Food & Water Watch while I was in Chicago, it soon turned out that due to the hiring of her successor in short order, Caitlin was bumped from her desk!  Thus she is sitting here in one of the reception chairs, working on a laptop and making a sad face…
---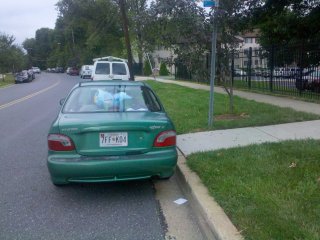 These kinds of folks really irritate me.  The sidewalk leading to that car is for the Ride On bus stop in front of my house, which this genius just parked directly in front of, blocking normal access to the bus stop.  Glad to know what the owner of the car with Maryland license number 7FF-K04 thinks about us bus riders.
---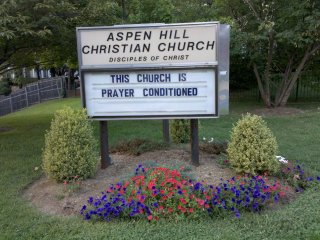 One of the churches near my house displays various messages on its sign that make an attempt at humor while trying to get people to come to church.  This was posted in August, and was one of their more clever messages, making light of the extremely hot summer that we had.
---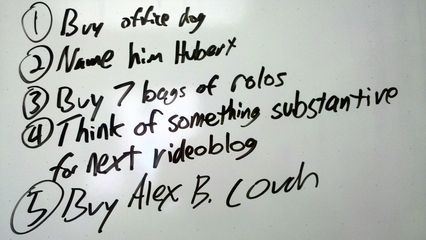 This is a "to-do list" that my coworkers, from time to time, put up on my white board at work.  Numbers 1 and 2 are traditionally "Get office dog" and "Name him Hubert", and then the rest vary from time to time.  This one was put up right after I posted this Journal entry, which was the first Video Journal entry made in my living room.  It was, to put it nicely, a poor entry, but a decent first test of the system.  Seeing the video, my coworkers put "Think of something substantive for next videoblog" on there.  I agreed that it was kind of light on content, and so the next weekend, I tried again, producing this Video Journal entry.  Much improved, I'd say!
---
When I did my September 17 Journal entry, which included my tribute to radio host Randi Rhodes via "Bounce Your Boobies", I actually rehearsed that part of the entry for the camera beforehand.  This is that rehearsal clip.  Something tells me that this rehearsal was necessary, because this one certainly had some rough edges on it.
---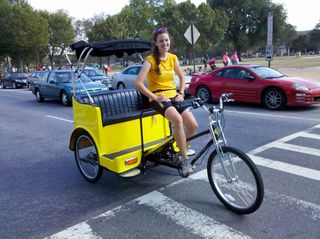 While out with Mom while she was up in DC for the weekend in late September, I was surprised to see Rachael, an intern at work at the time, driving a pedicab around the National Mall.  At the time, I totally didn't recognize her outside of work…
---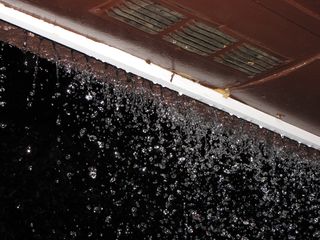 When the replacement gutters went up in April to replace the ones that the snowstorm took out, I gained a new problem.  Specifically, when it rains really hard, the gutter over my balcony tends to overflow in this one spot every time.  I have a feeling that there's a blockage there, because I can't think of any other reason to explain the gutter's only overflowing right there, seen here during a storm on September 30.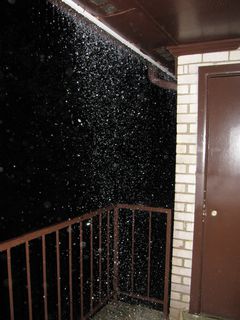 ---
After the disastrous IMF protest on October 9, I found myself in a quiet part of downtown Washington late at night.  The silence was broken by a familiar sound – a Wheelock AS.  I would know that sound anywhere, and in this case, it was coming from a small convenience store.  Strangely enough, the alarm was only coming from the convenience store, and not the whole building.  Another fire alarm device directly above it, a red bell, was not sounding.  I called the fire department just in case, but thinking about it later, I actually question whether this horn was being used as a fire alarm device at all.  In other words, I wonder if this was a general signaling application where someone, perhaps inadvertently, installed a fire alarm signal instead.
---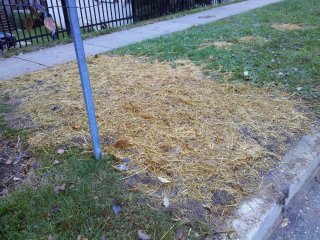 The end of my old bus stop, as the sidewalk was removed and the ground seeded.  This was replaced by a new bus stop about 50 feet away, to line up with the traffic islands that were installed on my street at the same time.  Funny – I never thought I'd see this sidewalk get torn out, because I remember when it was first put in back in 2008.  I figured it would easily last many years, but much to my surprise, it only lasted about two and a half years.
---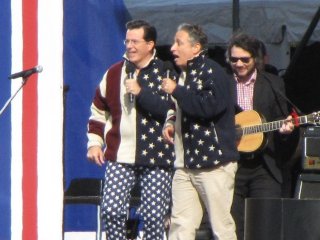 You may recall that my coverage of the Stewart-Colbert rally did not include any photos of either Jon Stewart or Stephen Colbert.  This is because I was there mainly to people-watch.  That I did, but I did get a photo or two of the stars of the show, and here they are.  From this vantage point, I couldn't hear a lick of what they were saying (the sound was terrible), but at least I got some photos with the zoom lens.
---
I also got a movie of Stewart and Colbert singing, and in the process, proving that (A) Jon Stewart and Stephen Colbert can't sing, and (B) that the sound really was terrible.  Apologies if my camera work makes you seasick.
---
One of the times when you really need to be in Dupont Circle is on halloween.  After the Stewart-Colbert rally, I found myself in Dupont Circle (somehow, I always end up in Dupont!), and got a chance to photo a few of the halloween costumes.  The person at left is dressed as Sweetums the muppet, in the middle we have Papa Smurf and Smurfette (reminds me of this SNL clip), and at right, we have Flo from Progressive Insurance.
---
At Glenmont, I encountered more halloween revelers – one dressed as Pee-wee Herman, and a couple (who as it turns out are friends of one of my coworkers) who dressed as Fred and Wilma Flintstone.
---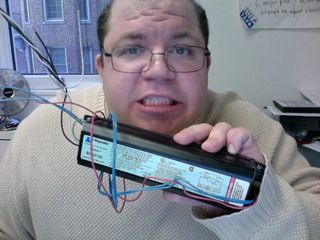 After a light ballast burned out and we had it replaced, I noticed that the ballast, with all the wires sticking out, looked like a "suspicious object" of sorts.  So I posed menacingly with it.
---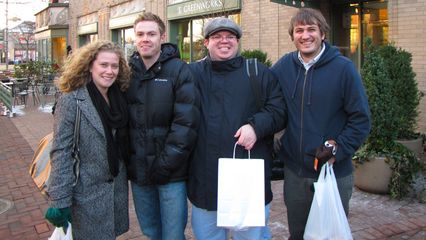 On December 19, a few of us from work got together to do some Christmas shopping at Eastern Market in DC.  The final group turned out to be Katy, Alex Patton, me, and Alex Beauchamp.  As you can see, we did fairly well in our shopping effort.
---
In late December, I finally went up to Philadelphia with my mother to take a spin on their transit system.  One thing's for certain: SEPTA is a different creature from WMATA.  While they both run rail and bus systems, Philadelphia's two subway lines, the Market-Frankford Line and the Broad Street Subway are not like Metro.  The two lines are not compatible with each other, requiring different rolling stock for each.  The Market-Frankford rolling stock, seen above, is newer, and noticeably narrower than its Broad Street counterparts.
---
The Broad Street Subway, on the other hand, uses older rolling stock over its tracks.  The trains were wider, and looked a lot older than the Market-Frankford trains.  However, this is where I really noticed how clean the SEPTA trains were.  I don't know if it was because we were visiting over Christmas, but I was taken back by the cleanliness.
---
The day after going to Philadelphia, Mom and I went over to Arlington Cemetery, where we saw the guard "walking the mat" in front of the Tomb of the Unknowns.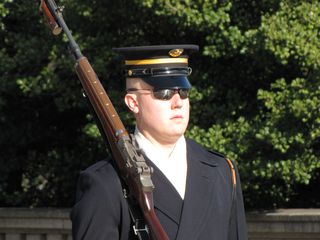 ---
The full process of "walking the mat".  In this process, the soldier walks 21 steps in front of the tomb, faces the tomb for 21 seconds, turns to face the opposite direction, changes the weapon to the opposite shoulder (always the shoulder furthest from the tomb), and then the process repeats.
---
Across the path from the amphitheater at the Tomb of the Unknowns are the memorials to the two Space Shuttle missions that ended in tragedy.  These were STS-51-L (Challenger) and STS-107 (Columbia).