October Rebellion
Part 1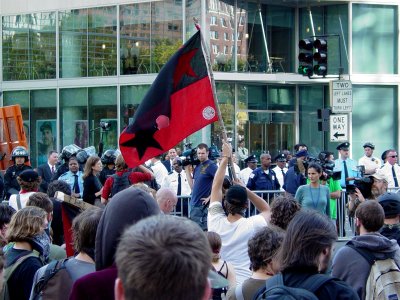 What was advertised collectively as the "October Rebellion" were the protests marking the fall 2007 meetings of the World Bank and International Monetary Fund on October 19 and 20. It involved a number of events over multiple days. There was a rally and press conference at the office of Immigration and Customs Enforcement, a "rowdy" march through Georgetown, gentrification tours, the mainstream march, and a "people's tribunal".
I decided that I would go to the "rowdy" march through Georgetown on Friday, and the mainstream march on Saturday. I also got with my newfound friends from RCDC, Washington DC's radical cheerleading squad, and would join them when they cheered at the mainstream march.
October Rebellion began for me right after work on Thursday, October 18. Leaving my Dupont Circle office, I got on CAF 5187 and rode up to Tenleytown-AU station. There, I caught the shuttle to American University, where RCDC was having cheerleading practice in front of the Kay Spiritual Center. Now that I'd made it, I had a little downtime, but before you knew it, it was time to cheer! The biggest thing on the agenda for Thursday night was a new cheer to the tune of The Clapping Song, called 3-6-9:
Oh, 3-6-9, debt is on the line
World Bank/IMF policies ain't fine
These countries are broke
This debt is a joke
And we're all going to hell in a little rowboat
Clap clap, clap clap, clap clap, cla-a-a-ap clap (x2)

Well…

The State has told me
That it would fund me
Now it exploits me
And won't support me
This debt is bullshit
Cannot get over it
It's illegitimate
And we won't stand for it

Oh, 3-6-9, debt is on the line
World Bank/IMF policies ain't fine
These countries are broke
This debt is a joke
And we're all going to hell in a little rowboat
Clap clap, clap clap, clap clap, cla-a-a-ap clap (x2)
We practiced that cheer several times until we got it right. The biggest issue was getting our "clap clap" motions coordinated, since it was a lot of moves fairly quickly. Clap clap to the person in front of you, clap clap to the person to one side of you, clap clap to the person on the other side, and then cla-a-a-ap clap with the person in front of you. It was tricky, but with enough repetition, it worked. We also got a chance to practice the various other cheers, like "Ugly" and "George Bush" to make sure we had the motions down for Saturday. After we finished, we agreed on a meeting place for a quick practice on Saturday before going down to Franklin Square for the mainstream march.
And that was it! It was back to the Metro for me, so I took the AU shuttle back to Tenleytown-AU station. Since it was going to be something like an hour before I got home, though, I got a quick snack at the Tenleytown Whole Foods to tide me over – a scone and a Nantucket Nectars lemonade. After finishing my snack, it was back to the world of Metro, where I got Breda 4025 to Glenmont. I also was able to pass on the details for Saturday to Maddy, plus I got to talk to Katie on the phone for a while. Fun! Then when I got home, I went to bed, because Friday would be upon us before I knew it.
---
I took off of work on Friday for the protest, because I needed to catch up on a bunch of housework that I wouldn't otherwise get to do that weekend. But then by 5:00, I was ready to go. I had the cheer costume laid out for Saturday, and I had full black bloc for Friday night packed in the backpack. I had also determined that I could not drive to the Metro for Friday's festivities for two reasons: Metro-operated parking was too expensive, and I couldn't sneak over to the mall in Wheaton to park there because I would be returning too late to not get caught parking there for non-shopping activities. That left taking the bus to Glenmont as if I were going into work as the most cost-effective method of travel.
So at 5:50 PM, I was out in front of my apartment complex to catch the 51 to Glenmont. Now mind you, the bus is normally comfortably filled, since when I'm usually taking the 51 to Glenmont, it's during the morning rush hour. This time, I was the only passenger on the bus, because most of the 51's ridership would be traveling in the direction of Norbeck Park and Ride. Weird feeling. Arriving at Glenmont, and I went on into the world of Metro, where I caught Breda 3288. It was again lightly loaded – I'm used to a full train during evening rush hour, but now I was traveling against the rush hour direction. At Metro Center, I transferred to an Orange Line train, and rode Rohr 1009 to Foggy Bottom-GWU station.  There, I discovered to my dismay that it had started to rain.  It wasn't raining in Silver Spring, but now it was raining in DC. Greeeeeeeeeeeat.
My philosophy of "hurry up and wait" once again served me well, as I arrived a full two hours early for the protest. The protest didn't start until 9 PM, and I was there at 7:00. So I had to wait.  But at least I was at the site of where it all started, and not heading in at the last minute wondering if I'd make it in time. I ended up passing the time in the George Washington University Hospital's cafeteria, where I had a quick snack, talked to Sis on the phone for a while, and played a game on my cell phone.  Not bad.  By the time 8:30 rolled around, I was ready to go.  For this "rowdy", unpermitted march through Georgetown, I was going in full black bloc, and needed to be ready.  Thus I made a quick wardrobe adjustment: hoodie on, glasses off, and red bandanna in my pocket (for later).  Then I walked the one block to Washington Circle.  The rain had stopped by now, which was a welcome development.  Hopefully it would hold until the march was over.
Arriving at Washington Circle, it was quite a scene. Lots of protesters dressed in full black bloc, and lots of cops. I quickly finished my outfit, going into full black bloc, and got Big Mavica fired up and ready to roll. I saw a number of people that I knew from previous demonstrations and the Infoshop, including Isis. I also ran into Missy, with whom I'd attended a number of protests before.
---
By the appointed time, a crowd had assembled in Washington Circle, most dressed in full black bloc.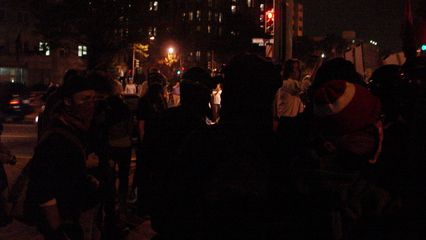 ---
My view on how to handle this first demonstration was that this was only the "appetizer", and that the main demonstration was tomorrow. Therefore, the idea was to not do anything that would prevent me from going to the mainstream march on Saturday. Likewise, I did not want to tire myself to the extent that I would be in no condition to march on Saturday. Additionally, due to the expected nature of the march, this marked the first time I'd brought goggles to a protest march (just in case). The goggles, which I'd originally bought for the radical cheerleading costume for halloween, but then rejected as being too over-the-top for it, finally saw actual use, though they were in my pocket until possible need.
When this "rowdy" march through Georgetown was to commence at 9:00, the cops read the assembled crowd the riot act.  It would seem that this was quite literally the "riot act", as they were explaining how they would be functioning during this action.
---
A police officer reads the riot act to the assembled crowd, and flubs one of the lines.
---
Following the reading of the riot act, we were off!
---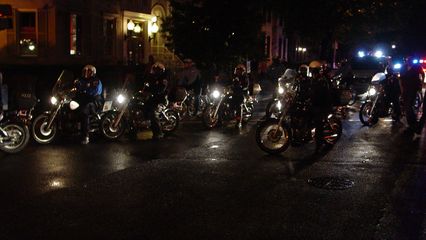 The police were also along for the march with a huge complement of officers, most on motorcycles.
---
We marched straight down Pennsylvania Avenue to its intersection with M Street. We passed the Lukoil station, a random gas station in that part of the city, is approximately at the line between Georgetown and Foggy Bottom. Once in Georgetown, we marched along M Street, with a heavy police escort the entire way.
---
Marching up Pennsylvania Avenue towards Georgetown…
---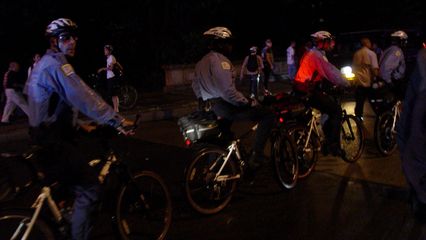 There were lots of cops on bikes, trying to act as a buffer between the demonstrators and any potential targets.
---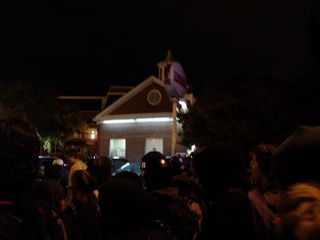 Passing the Lukoil station and entering Georgetown…
---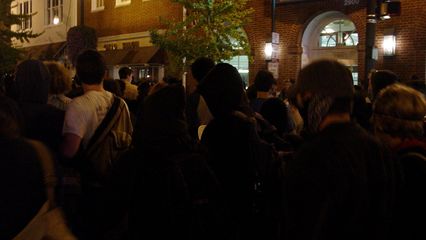 Marching through the streets of Georgetown.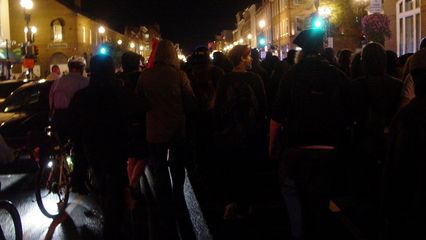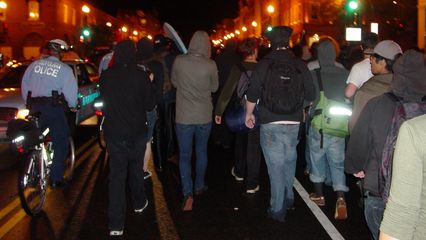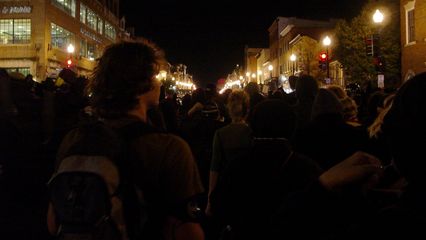 ---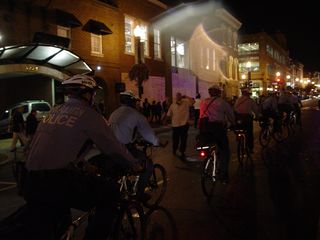 Soon enough, we approached the first boarded up building of the evening.  Buildings with board-ups on them turned out to be a fairly common sight on this particular evening.
---
Going along M Street NW, one thing we noticed is that while our goal of our march was to "shut down Georgetown", Georgetown seemed to have shut itself down ahead of time, as a number of stores, the upscale chains that believed themselves to be potential targets of demonstrators' wrath, had boarded up their storefronts in preparation for our march. They seemed to realize that something might be going down, and they didn't want to pay for new windows. I commented that Georgetown looked like a hurricane was coming through, with so many windows covered with plywood. I was kind of surprised that they boarded up ahead of time – one would think that the stores might turn it into a bit of a PR boost for them to stand tall against us, the anti-globalization crowd, but instead they boarded up, almost appearing to be hiding with their heads in the sand. True, the promotional material for these demonstrations worked to conjure up memories of the Battle of Seattle in 1999 and the original A16 in 2000 – both of which were wild demonstrations in their own right. But still, to board up ahead of time for a protest seems wrong for some reason…
---
A large number of chain stores in Georgetown had boarded up their storefronts ahead of this march. Those boarded up included Sephora, the Gap, Gap Kids, Wet Seal, Diesel, Restoration Hardware, and several others.
---
We continued along M Street as far west as Wisconsin Avenue, and then turned north, heading up Wisconsin. Around this time, the rain really got going. It had started as a little sprinkle, but soon turned into a downpour. The wind picked up as well. At first, Missy and I shared her umbrella, but it turned out to be useless, and so we discarded the umbrella in the street. The umbrella was ultimately picked up by another demonstrator. Due to the quickly deteriorating conditions, I soon went from using Big Mavica in light rain to protecting Big Mavica from the rain. At first, I was protecting the camera with my hands, and then eventually stuck it inside my hoodie as conditions deteriorated to the point where I feared that I would lose Big Mavica if I continued using it in these conditions.
---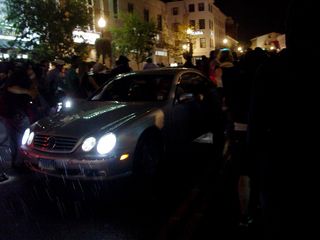 Going north on Wisconsin Avenue as the rain started to intensify, we literally stopped traffic in its tracks.
---
Missy and I discuss the fact that the umbrella has basically failed.
---
In the rain, we followed a somewhat circuitous route. I know we went as far west as 33rd Street, and as far north as P Street, but I couldn't tell you how we got there, as many turns at night and in the pouring rain disoriented me somewhat. We took a wrong turn into a residential neighborhood at some point, but eventually we got ourselves back on track and headed back towards M Street via Wisconsin Avenue. It was raining so hard that water was streaming down the streets, everyone was drenched, and water was sloshing around inside my shoes. Thankfully, the rain let up not long after we got back to Wisconsin Avenue.
---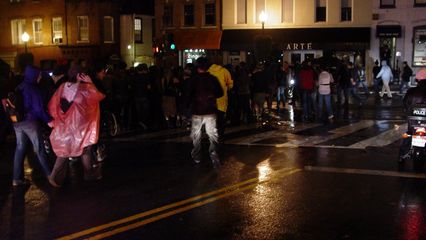 The demonstration continues, returning to Wisconsin Avenue.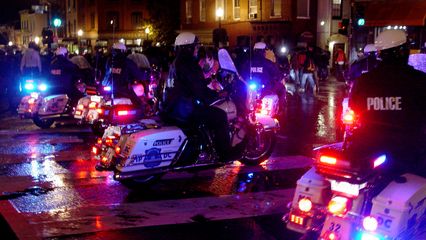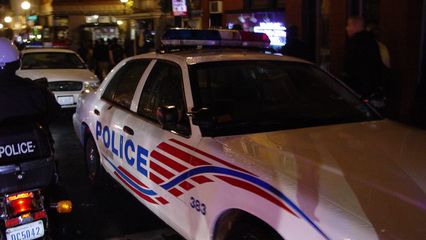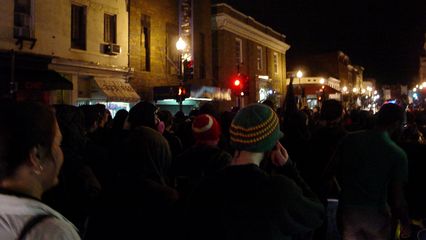 ---
Marching south on Wisconsin Avenue, shouting, "No justice, no peace, no pigs on our streets!"
---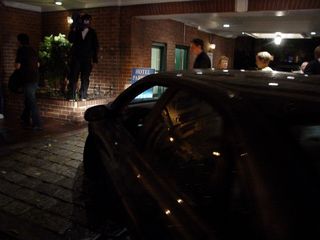 Along Wisconsin Avenue, we inadvertently penned a non-participating vehicle in while it was trying to make a maneuver into a driveway.
---
On the way back down Wisconsin Avenue, we again went past a lot of the boarded-up storefronts.
---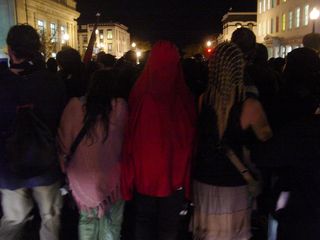 We returned to M Street the same way we departed it – via Wisconsin Avenue, at the former Riggs Bank building.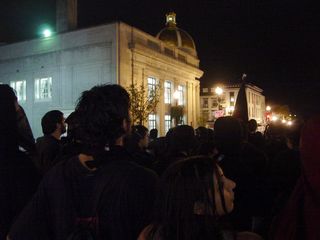 ---
Before leaving Wisconsin Avenue, however, one demonstrator did take a parting shot at a chain store that had not boarded up its windows like many of the other would-be targets. Thus the United Colors of Benetton took a brick via a window just to the right of its entrance, shattering the window.
---
The United Colors of Benetton loses a window, in one of two glass breakages that evening.
---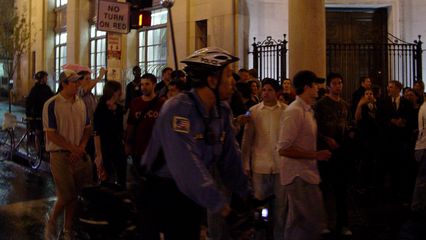 All the while, the march continued, as it turned east on M Street.
---
One could also tell that the mood at this march was tense. Any unexpected movements caused demonstrators to retreat quickly, such as when a police officer wiped out on his motorcycle due to the rain. One definitely had to be quick about their movements, as the crowd's direction could change at any moment, and happen very quickly.
Turning back onto M Street, we headed east. As we turned onto M Street, however, the evening was soon marred by the one accident of the evening – a bystander was struck by a projectile. What happened was that a demonstrator threw a brick intending to strike a chain store, but the brick bounced off the building and struck a woman in the head on the way back down. The street medics were called over, but thankfully, the woman was able to walk away from the incident. The building that was the target of the brick was unscathed.
---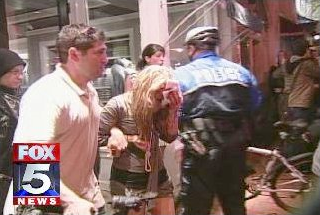 As seen here in this Fox 5 news image, the evening was marred when a woman was struck in the head by a projectile thrown by a demonstrator.
---
Continuing along M Street, while I was filming, I heard the sound of shattering glass a second time. I didn't see it, but I heard it coming from my right, so we presume that it was a storefront on the south side of M Street that got it. I was filming a video at the time, and the sound of glass breaking shows up on the video. I noticed no broken window, however, so I cannot confirm the second target's identity.
---
In the midst of the crowd's chant of "Hey, hey, ho, ho, gentrification has got to go!" the sound of glass breaking is heard, along with reactions from other participants in the bloc to what was believed to be the breaking of a window.
---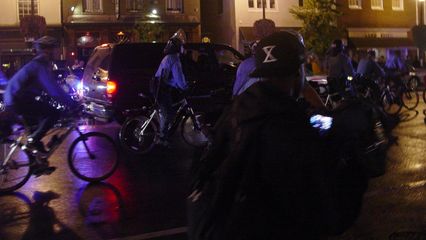 At one point, the police managed to get the center of M Street, and had the demonstrators to the sides.
---
Police order demonstrators out of the street under threat of immediate arrest.
---
As the march eventually stalled, demonstrators locked arms.
---
Eventually, the police decided that enough was enough. They declared the march disorderly, and ordered everyone to disperse. They indicated that they would be allowing people to leave in groups of ten, and that anyone remaining would be arrested.
---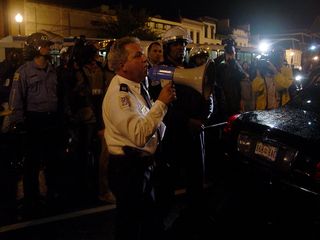 Captain Jeff Herold of the MPDC laid out what was going on, and indicated which way people were to go to leave the event.
---
Pan around the crowd as the march is dispersing.
---
Personally, I figured that enough was probably enough, and so I went out with the first group of ten. After all, our march was a huge success. We did it. We shut down Georgetown, even if only for an evening. They even diverted the Metrobus routes that go down M Street. In fact, just the mere idea of our presence as a "rowdy" bloc was enough to cause Georgetown to shut down, board up, and basically stick its head in the sand.  We shut down Georgetown before we ever put foot to pavement.  However, the locally-owned businesses knew that they were certainly not the target of the march, as no local businesses boarded up to the best of my knowledge, and a number of locally-owned bars and restaurants were in fact open for business and doing quite well that evening.
Eventually, just about everyone got out of the march unscathed, with the exception of two people who were arrested. Missy and I parted company for the evening here. More than likely, we would be seeing each other again tomorrow. A smaller black bloc re-formed east of the area that police were directing everyone to leave, and they marched in single file back to Washington Circle. Meanwhile, a lot of us took it more casually going back to Foggy Bottom. We took off our masks, and discussed things. The general consensus among this group was that with the Georgetown march, this was just the appetizer. There were more protests over the weekend to attend, and thus we didn't want to get arrested or sprayed or physically overtaxed, because any of those could put us out of action for the remainder of the weekend. I also gave a number of people in this same group directions back to Foggy Bottom Metro, as inevitably at a demonstration, many of those from out of town aren't familiar with where the Metro stations are, and need a little help. Even though I've only been living in the DC area for five months, I've been going up to DC long enough that I'm quite familiar with the way Washington DC is laid out.
---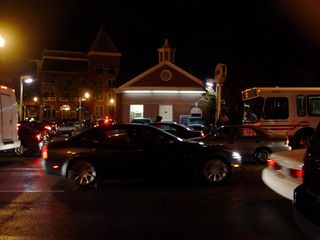 We left Georgetown the way we came, once again passing the Lukoil station at the junction of Pennsylvania Avenue and M Street.
---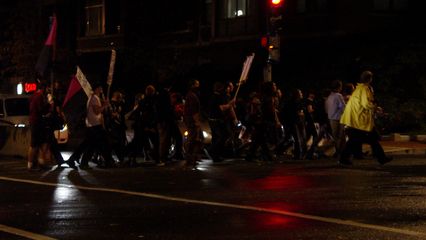 The black bloc that reorganized east of the police lines marched southeast along Pennsylvania Avenue in more or less single file.
---
I eventually walked back to the Metro station with a woman who turned out to be a volunteer with ANSWER. We discussed ANSWER's poor reputation among the anti-war and activist community, the way ANSWER operates, and also experiences at various protests. After all, I've been to just about every big anti-war event in DC in the last few years, and with her being affiliated with ANSWER, we've been to some of the same marches.
At Foggy Bottom station, we saw a strange sight – what was everyone doing congregated around the station entrance? Turns out they were just kind of hanging out for a bit before going in. Eventually, after figuring this out, we went in, and headed to the platform. There, we parted company, as she was traveling on the Blue Line towards Franconia-Springfield, while I was going back to Glenmont, and thus taking Blue to Largo or Orange to New Carrollton, in order to transfer to my Red Line train at Metro Center.
---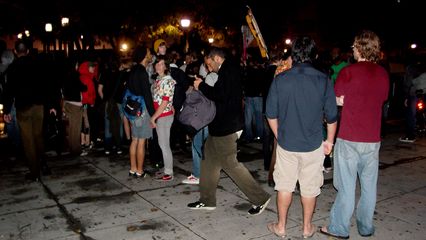 The demonstration ended at Foggy Bottom Metro, where everyone congregated before leaving.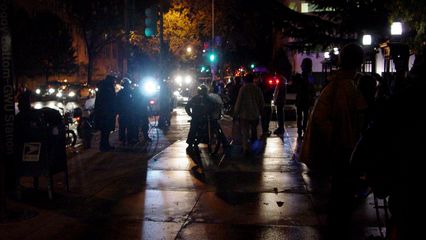 ---
And on the platform, I saw something that made me all warm and fuzzy inside – seeing the whole platform filled with the whole Georgetown march crowd, heading back to St. Stephen's Church – the convergence center for this weekend. Most of them would be transferring to the Green Line at L'Enfant Plaza.
---
The platform at Foggy Bottom Metro, filled with anarchists…
---
We all eventually piled onto a Blue Line train to Largo, and I got on CAF 5126 with a number of others. At Metro Center, I wished everyone a good night, and that I would see them tomorrow.
---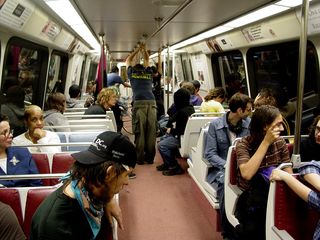 Riding back from the march on CAF 5126.
---
CAF 5126, part of a train filled with a lot of demonstrators, departs Metro Center. Note the anarcha-feminist flag near the center of the car.
---
All of us transferring to Red switched at Metro Center, and I got Breda 3137, a rehab. A bunch of us from the protest discussed the day's events all the way up to Silver Spring. Then I got to Glenmont, caught the Y9 right away, and got home. Now I had to dry a lot of stuff out for the next day. I washed the mud off my Chucks, and hung my hoodie to dry. Then I also had to recharge Big Mavica's batteries, in order to be ready for Saturday. I'd completely gone through one battery, and partly through another. Those needed to be topped off.
And that was it for Friday! All I had left to do was to go to sleep, and I'd be all set for Saturday's march…
Part 1