The Last Months of Normalcy
2020 was quite the rollercoaster of a year, defined primarily by the COVID-19 pandemic, which turned many aspects of life on their head due to (likely misguided) rules and restrictions put in place by the government, ostensibly to prevent the spread of this novel virus, including requirements to stay six feet apart in public, orders to wear masks while out in public, limitations on indoor occupant capacity, prohibitions on large gatherings, the suspension of indoor dining, the closing down of so many "non-essential" businesses, plexiglass shields on everything, and constant "sanitizing" of every surface imaginable.  Additionally, many people's more judgmental sides went out on display, as lots of folks were quick to become hostile to their fellow human beings over disagreements related to this situation.  Because of all of this, society looked quite different than it did at the end of the year than it did at the beginning, as things turned quite dystopian, with practically every place that one could visit making sure to put the pandemic right in your face at every opportunity.  Through all of this, it's easy to forget that for much of the first quarter of the year, life was normal.  We did normal things, like going to events, standing shoulder-to-shoulder next to strangers, eating in restaurants, visiting family, and so much more.  With the onset of all of these changes to society in mid-March, in hindsight, the first months of 2020 began to feel like the last moments of a much more innocent time.
In this photo set, I want to give a reminder of what life looked like in the early part of the year, at least as Elyse and I experienced it, before the world went completely off of the rails with COVID mania.
---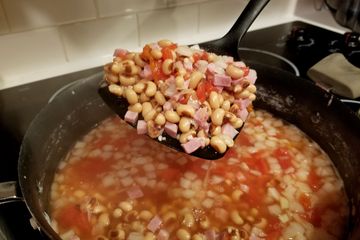 The year started out innocently enough, with Elyse's making a dish consisting of black-eyed peas and ham for New Year's.  This particular dish was her own creation, based on traditional recipes.
---
The year also started with the completion of a project, as I finished up the accent wall in the living room.  Mind you, I still had to finish painting the walls leading up the stairs, but at least I could put the entire living room back in service again.
---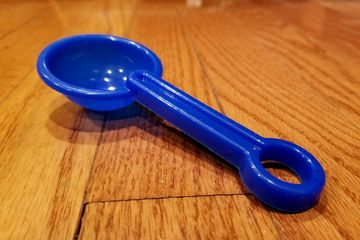 We also found a surprise in one of the living room vents: a plastic spoon, likely from a beach kit.  I can only assume that this spoon was dropped in the vent by a small child many years ago, and that someone was likely missing it at one time.
---
On January 2, Elyse and I headed into the city so that I could get a medical exam prior to my returning to work following weight loss surgery the month prior.  While we were out, we also went to Pentagon City Mall, where Elyse visited the Lego store.
---
It's also easy to forget that I started out the year with a beard.  I agreed that I wouldn't shave while I was off of work for four weeks following the weight loss surgery, and this was the final result right before I shaved it.
---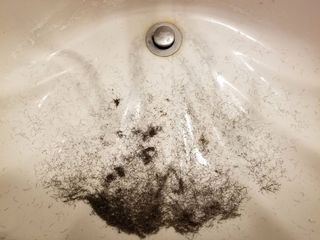 This was the beard in the sink after I finished shaving.  Rest assured that I was glad to be rid of it.
---
On January 7, Elyse and I visited the book sale at the Wheaton Library and found this gem about the Soviet Union, published in 1965.  Read the "Some things to know before you read this book" section in the right-hand photo.  This was definitely some anti-Soviet propaganda, pushing the "communism is bad, mmkay?" message pretty hard.  I suppose that this was a rather simplistic message, but this book was very much a product of its time.
---
Elyse fiddles with and shows off a pincushion at Muscatello's, then the uniform vendor for my work.  If I recall, we were here to get new nameplates for my uniform.
---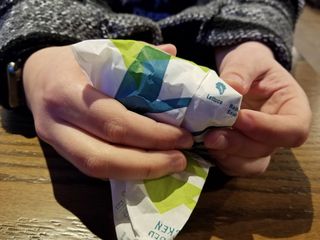 Elyse holds the wrapper for a taco at a Taco Bell in Alexandria, Virginia while we were eating out after a union meeting.
---
On January 8, Elyse and I took this Smart car for a spin around Arlington and Alexandria.  We initially had the idea when we were walking around DC a few weeks prior, and so we signed up for it, and then after my membership was approved, we went for a ride.  This would be our first and only time, as Car2Go/Share Now exited the North American market at the end of February 2020.  The idea was simple: we both just wanted to take one of these things out for a spin.  We drove down to Pentagon City, I parked the HR-V nearby on the same block, and then after we got the vehicle, we drove down local roads to the Beltway, and then took the Beltway and I-395 back up to where we started.  Not a bad time, and it was definitely an interesting experience driving a tiny car around.
---
We found our way up to the Dulles Airport Marriott later that evening, where we snuck into the Bonvoy lounge.  We were cool about it, having a light meal while there, and discussing "traveling back to our homes in Missouri".  If I recall, the purpose of this adventure was because we needed to hit up the Walmart in Sterling, and wanted to get out there quickly and cheaply from where we were in Pentagon City.  So we took the Dulles Access Road to the airport, and conducted some "airport business" while we were there in order to satisfy the requirements for taking the free road rather than the toll road.  The original plan was to hit up the convenience store on the airport property, but instead we went to the Marriott so that Elyse could see the elevator, which led to our visit to the Bonvoy lounge.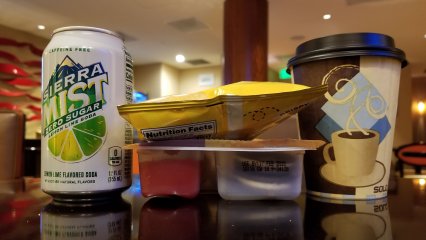 ---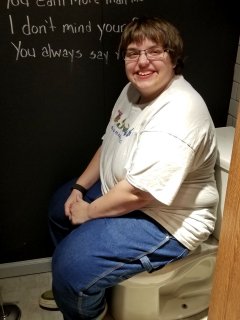 On January 14, we made a trip up to White Marsh, which is a northern suburb of Baltimore.  Here, Elyse sits on a display toilet at IKEA.
---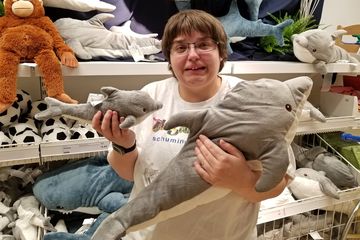 Here, Elyse makes a face as she illustrates the difficulty of a decision about which dolphin to get: the big one or the little one.  She ended up getting the big one.
---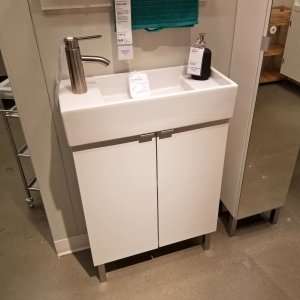 Vanity and sink combination at IKEA.  We had considered buying this combination for the bathroom in the basement, but never acted on it as other projects soon took priority.
---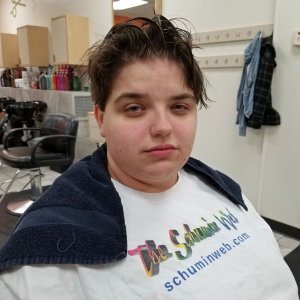 Elyse gets a haircut at the Hair Cuttery in White Marsh.
---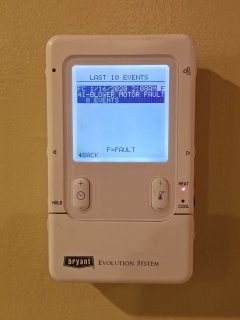 On January 18, the heat pump in the house broke down on account of the blower motor's going bad.  The rush fee to get the technician in the next day was worth every penny in order to quickly get heat flowing throughout the house again.  As I said it, "Let's do it, because I'm cold now!"
---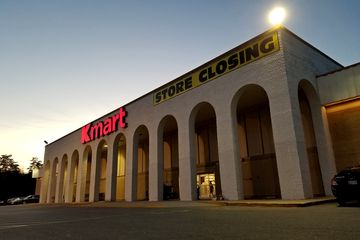 On January 22, we paid a final visit to the Kmart store off of Sargent Road in Chillum, Maryland.  This store was housed in a former Memco building.
---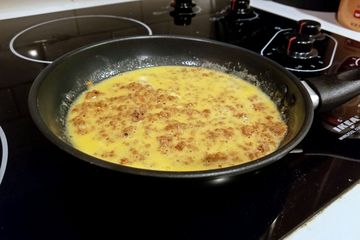 On January 26, I was experimenting with a new food combination.  In this case, I made eggs for myself with some Gardein "vegan beef" to see how I liked it, based on a recommendation by a colleague.  It wasn't bad, but the Gardein didn't really add much to the ensemble, unfortunately.  Real meat had much more flavor.
---
On January 28, Elyse and I went to the Washington Auto Show.  I'm no big fan of the Washington Auto Show because the fleet vehicles, which is what we're really interested in, are only open to the trade, and they also make you go through a long gauntlet of vendors before you ever get to see what you actually paid to see, which tries my patience and leaves me pissed off before I ever get to see a single car.  But despite all of this, Elyse still enjoys the show, and so we went.
---
Hank the Robot, in the Ford area of the show.  I think that everyone was impressed by what the robot was able to do, including noticing when I was photographing it, as well as having a discussion with another participant.
---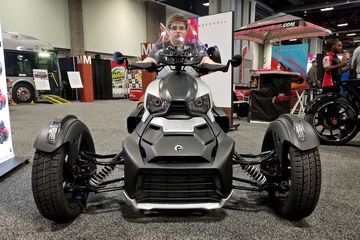 Elyse poses for a photo on a Bombardier three-wheel motorcycle.
---
A Honda HR-V that was used in a crash test.  They even showed a video of the crash test itself show how what we saw was done.  Considering that I own a vehicle very similar to this, I found it comforting that while the mechanical areas awere smashed up, the cabin, where I would be, was more or less intact.
---
Food on the hot bar at the Whole Foods store in downtown Silver Spring, Maryland.
---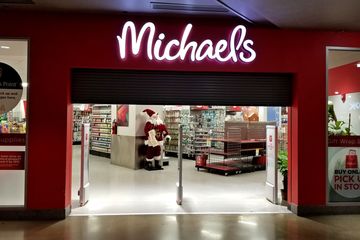 The entrance to the Michaels store at Ellsworth Place in downtown Silver Spring, just before closing.
---
Later that evening, we headed down to Benning Road NE in DC in order to photograph the Ethel Kennedy Bridge.  I photographed, while Elyse waited in the car for me.  It was very cold, made no better by my having to spend a lot of time standing around waiting for long-exposure shots to run out.  One look at my hand at the end of this adventure was enough to give an indication of how cold I really was.
---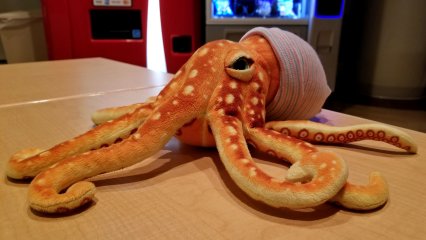 On January 29, we headed down to Washington Hospital Center in order to visit a friend who had given birth earlier that day.  While we were there, Woomy got to wear one of the hats that they give the newborns.  Woomy was none too pleased with his new fashion accessory, and complained, "I don't like that!" about it the whole time.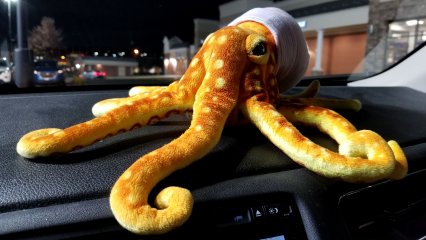 ---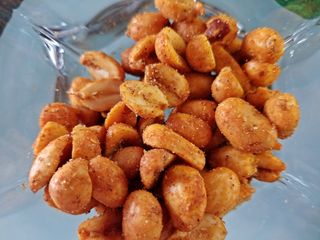 This was a small package of ghost pepper peanuts from 7-Eleven, which I tried on January 30.  They weren't bad, but they were very spicy.  Unfortunately, they were too hot for my body, which rejected them within an hour or two of my finishing them.  I suppose that there's nothing like spicy diarrhea to really brighten your day.
---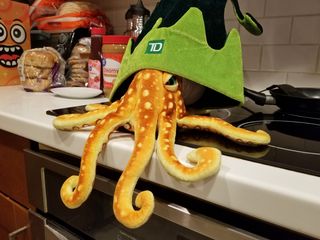 We also put Woomy in another hat, which we got from a TD Bank location in downtown DC.  Woomy was none too pleased about this.
---
On February 2, while out, Elyse and I couldn't decide which restaurant we wanted to eat at while we were out and about in Rockville.  We went to Slapfish (menu at left), Honeygrow, Cava, and Mod Pizza, looked at the menus, and left each without purchase.  We eventually settled on Whole Foods Market, where Elyse had this big brussels sprout, among other things.
---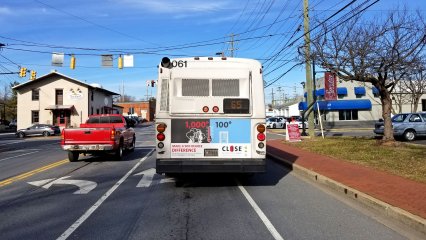 On February 3, Elyse and I went up to Frederick.  While we were up there, Elyse wanted to ride the bus in Frederick, and so I agreed, since it was going where we wanted to end up anyway.  She rode, and I followed behind in the car.
---
Later on, we went to downtown Frederick, where we posed with some wings that had been painted in chalk on a building wall for the "Fire in Ice" festival that had recently been held.  Elyse was too tall for the small wings, where they looked like they were coming out of her butt, but too short for the big wings.  I was a little more successful with the execution, being the right height for the big wings, and doing a wall squat to fit the small wings.
---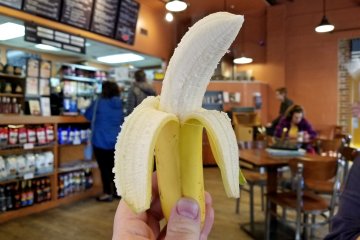 We later went to Frederick Coffee Company, where I had a banana.  The banana was pretty good, and then we put the peel on the ground (don't slip!) for a photo before disposing of it properly.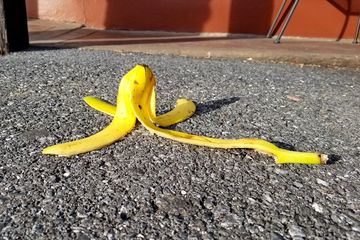 ---
We also paid a final visit to the Kmart in Frederick, which was in the later stages of a closing sale.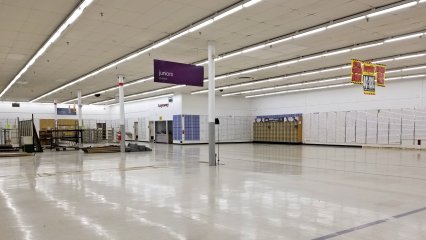 ---
Elyse found some loose underwear at Kmart.
---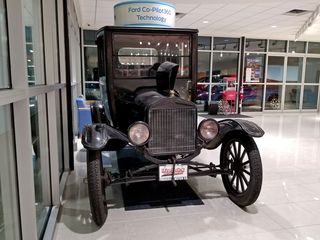 We visited The Frederick Motor Company to take a Ford Ranger for a spin in order to redeem a gift card offer from the Auto Show, and while we were there, we spotted a "Gertrude", i.e. a Ford Model T.
---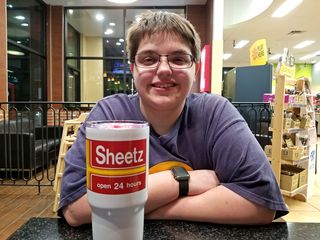 We got a heavy duty reusable cup at the Walkersville Sheetz while we were out.
---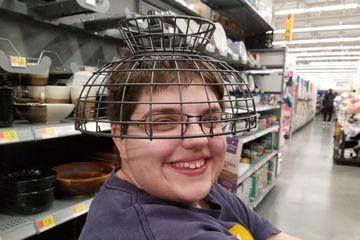 Elyse wears a fruit basket on her head at Walmart.
---
On February 5, Elyse and I went up to Fells Point, where we went to Bond Street Social and Barcocina to redeem some gift cards.  At Bon Street Social, Elyse got an orange whip, among other drinks.  At Barcocina, I got chili, while Elyse got some dessert tacos.
---
On February 10, Elyse waits for a train with me at West Falls Church.
---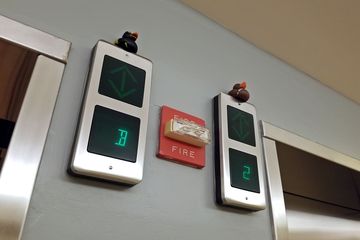 On February 18, while visiting a doctor in the medical office building at Montgomery General Hospital, I couldn't help but notice these rubber ducks on top of the elevator floor indicators.
---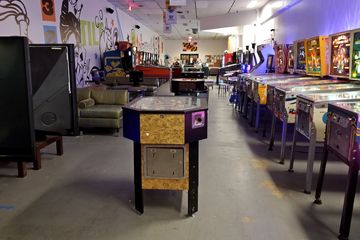 Later that day, Elyse and I found our way up to Frederick, where we played at Spinners Pinball Arcade for a few hours.
---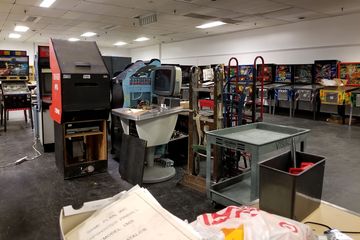 This is the other side of Spinners, where they're still restoring games and such.  They eventually plan to have this section filled with games and open for playing, but it is very much a work in progress.
---
Some late night Walmart selfies.
---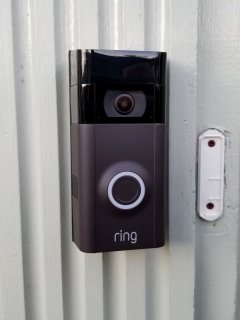 On February 19, I finally got a proper doorbell, as I installed a battery-powered Ring device next to the door.
---
On February 21, Elyse and I went out after work to deposit a package at a UPS locker near our house.  While we were out, we spotted one of Ride On's new all-electric Proterra buses' being delivered to their Gaithersburg facility, which is across the street from the UPS locker.
---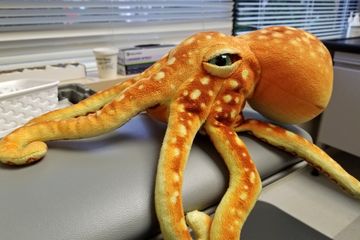 On February 25, I went over to LabCorp to get some blood drawn.  Woomy came, too, and he didn't like it there.
---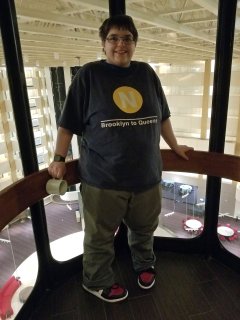 Elyse smiles while in the elevator of the Hilton in Rockville on February 26.  This hotel had a very large atrium, and two banks of glass elevators.
---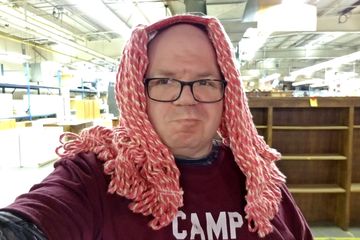 On February 27, after photographing the old Leesburg Walmart, Elyse and I found ourselves at the Habitat for Humanity store in Winchester, Virginia.  Here, I'm wearing a mop head on my head, and trying to hold it together for a serious-looking photo of me with long hair.  Clearly, I didn't succeed in keeping a straight face, but at least I get an "A" for effort, right?
---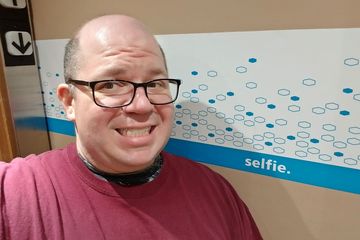 Selfie?  Don't mind if I do!
---
Elyse tries on a Super Mario hat, as well as some kind of smart sunglasses.  Clearly, she is much better at keeping a straight face than I am.
---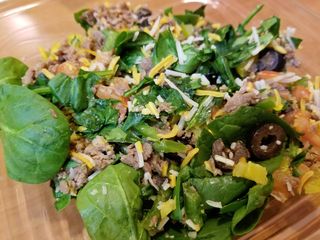 I try out a salad from Subway.  For the record, it's not bad by any means.  Definitely a good solution when you find yourself going to Subway.
---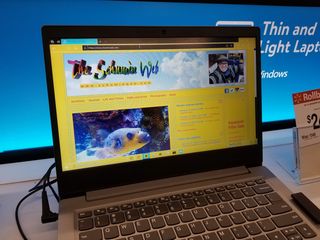 Elyse played with a Chromebook that I was looking at and made Schumin Web into a yellow website!  As entertaining as this might be, though, I have no plans to make Schumin Web this color in real life.
---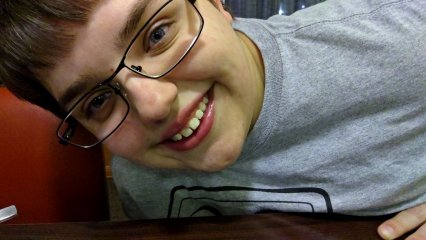 On March 1, Elyse and I did an overnight trip to Pennsylvania, where, on the first day, we explored an abandoned Days Inn in Warfordsburg, and also visited Breezewood, before scooting over to Harrisburg, where we were staying the night, staging ourselves for the next day.  I've discussed much of this trip already, but this photo that didn't make the cut is a nice one.  Here, Elyse looks into the camera of my then-new Surface tablet.
---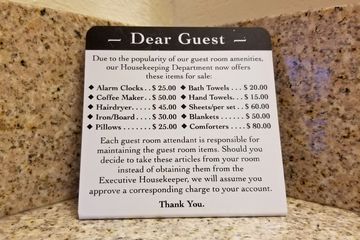 Sign in our room at the Residence Inn in Harrisburg, advising guests of charges that would be assessed for missing linens.  One look at those prices indicates to me that they would really rather that you didn't take the items from the room at all, but if you still want to, they will indulge you, but you're going to pay above market for it.
---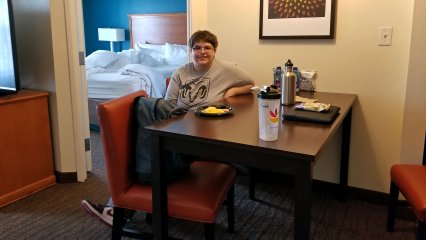 Elyse sits at the table in our room at the Residence Inn with her breakfast, which was a full-on hot breakfast where you served yourself, which I was kind enough to bring up for her.
---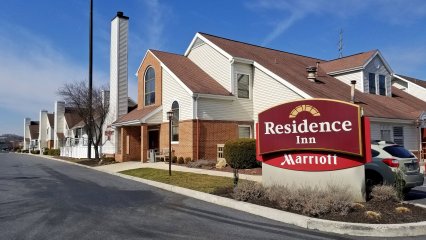 Our hotel, the Residence Inn in Harrisburg.
---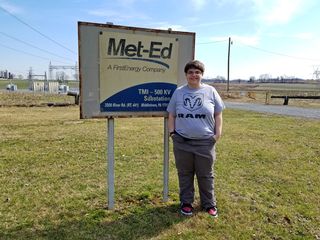 Elyse poses with an old Met-Ed sign near the Three Mile Island nuclear power plant.
---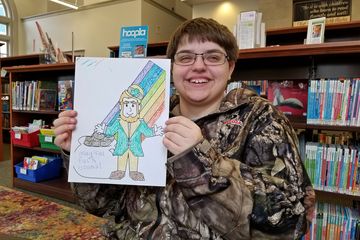 Elyse poses with the page that she colored at the McCormick Riverfront Library, showing a leprechaun with some magical beans.
---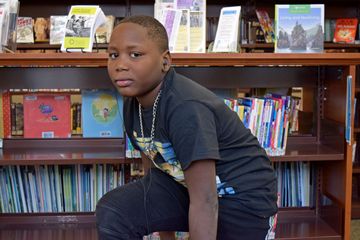 While we were at the library, we met this child, who had made friends with Elyse by the time that I arrived at the library.  He saw my camera and asked for me to take his photo.
---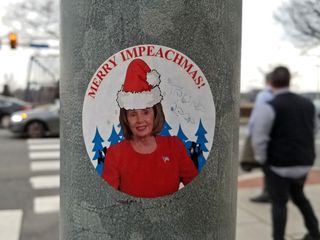 Around the time of this trip, one of the bigger political events to have occurred was the recent impeachment of then-president Donald Trump.  This was related to that, showing a photo of House Speaker Nancy Pelosi wearing a Santa hat, with the words "Merry Impeachmas!" around it.
---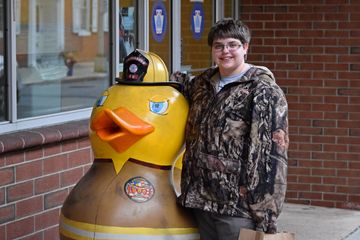 Here, Elyse poses for a photo with a duck sculpture, where the duck is dressed as a firefighter.
---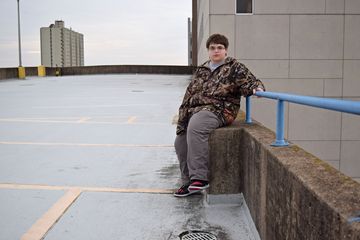 Elyse poses for a photo on the roof of a parking garage in downtown Harrisburg.
---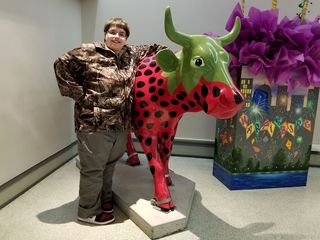 Elyse poses with "Strawberry Cow" at Strawberry Square in downtown Harrisburg.  This statue is from the "Cow Parade" event that occurred in Harrisburg in 2004.
---
On March 3, we went around Rockville.  Here, at Bob's Discount Furniture, Elyse and I each had a glass of water.
---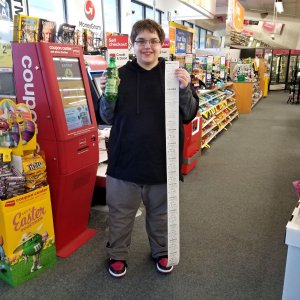 On March 4, prior to going up to Baltimore, we stopped at the CVS store near the house so that Elyse could get a drink.  Here, Elyse shows off the receipt that is nearly as tall as she is, which she got for a single bottle of ginger ale.
---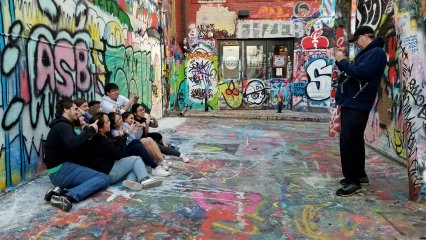 In Baltimore, we visited Graffiti Alley, which is a place where graffiti is legal and encouraged.  We photographed around, we interacted with a group visiting from Vanderbilt University in Tennessee, and generally had a good time.  We also met up with a friend of ours who runs the Crumbling Decay America page, which is what first got me interested in drone photography.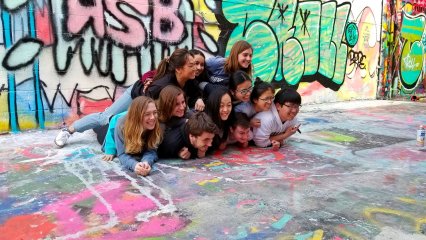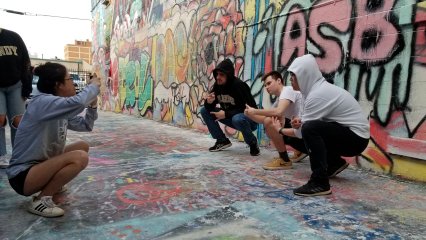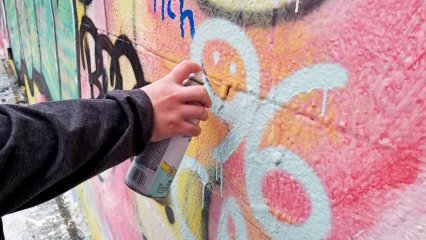 ---
We later went to Dangerously Delicious Pies, where Elyse got some pie, and I had a frosty glass of milk.  When it was time for us to go, I was particularly proud of how perfectly I had set the cover on the pie plate.  Elyse, however, didn't find it as perfect as I did, and flattened my beautifully crimped edge.
---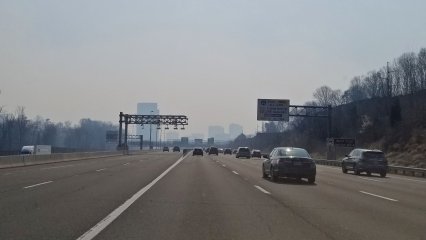 On March 8, I was surprised to see how smoky the air was in Northern Virginia as I was driving to work.  As it turned out, this smoke had originated with a controlled burn in Quantico, in southern Prince William County, and traveled with the winds up to the Tysons Corner area.  The smoke was gone a few hours later.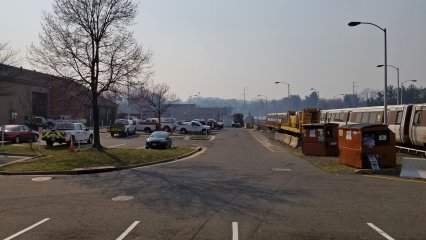 ---
On March 10, we started to see the first sign of things to come at the Target store in Rockville, but we regarded it as more of a curiosity.  As far as we could tell, it was just some people overreacting to the news, and making a run on the stores like a snowstorm was coming, and nothing more.
---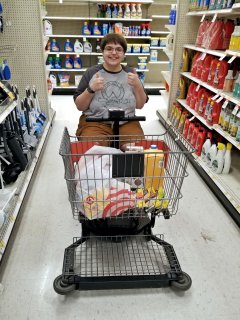 Elyse, meanwhile, smiles for the camera in the cleaning aisle.
---
On March 11, Elyse and I upgraded our phones.  She got the iPhone 11 Pro Max, and I got the Samsung Galaxy S20 Ultra.  We then did some test photography with our new devices in the Rockville area.
---
On March 13, I finally got the tree in my front yard removed.  As far as I was concerned, good riddance to that ugly thing, as well as the mess that came with it.
---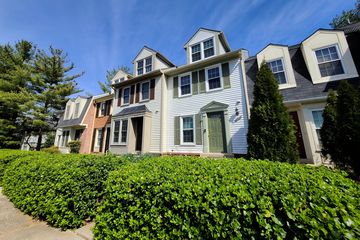 The front of the house on March 14, much improved because of the tree's now being gone.
---
And then the following week, things started to get weird as people at all levels of society were told to be really scared about COVID-19, and life started to change pretty dramatically because of it.  Elyse and I were both of the opinion that we should have never moved away from normalcy in the first place, but apparently, what did we know.