Adventures in Tennessee
Part 1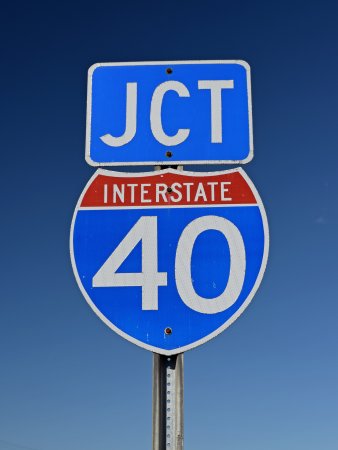 From October 12-18, 2022, Elyse and I went down south on an adventure to Tennessee.  Our focus was primarily on Knoxville and Kingsport, seeing some sights, and visiting with friends and family along the way.  It was a well-deserved escape from normal life, especially after life threw a major curveball at me a few days prior to our departure date.  For those not familiar, in the early morning of Sunday, October 9, while I was driving home from work, someone driving a red Nissan Pathfinder ran a red light and hit my HR-V, totaling it.  Elyse was concerned that the accident would spoil our travel plans, but I was fully committed to going.  As long as I had anything to say about it, Tennessee was going to happen.  I quickly pulled things together, renting a car, getting a new pair of glasses, and visiting my chiropractor to get straightened back out.  With that done, we were on our way as planned, doing the trip in a rented Jeep Renegade rather than my HR-V.
This trip was structured similarly to the North Carolina trip from the year before, in the sense that we were going down, spending half of the trip in one area, and then relocating to a different area for the second half of the trip.  This was also a fairly linear trip, as everything was, for the most part, along the I-81 and I-40 corridors.
The first day was to be the hardest part of our adventure, as we were driving about 500 miles from Montgomery Village all the way down to Knoxville.  Google gave about seven and a half hours for the drive, and then I figured that stops and what have you would stretch that out to about nine or so hours.  The goal that day was to get on the road and get down to Knoxville.  The route was, for the most part, a no-brainer, since we were taking I-81 all the way to the bottom, and then taking I-40 for the remainder of the trip.  Leaving the DC area, since I didn't want to deal with traffic on I-66, I opted to go the "alternate" route to I-81 for southbound travel, which takes us up to Frederick, and then through Harpers Ferry and Charles Town in West Virginia via US 340, and then along Route 7 to meet I-81 in Winchester.  We stopped at the Sheetz right by I-81 for gas, a quick meal, and a potty stop, and then Elyse also wanted to go to the Sharp Shopper in Winchester for some provisions.
We've been to Sharp Shopper plenty of times, but I didn't need to get anything this time.  So while Elyse was at Sharp Shopper, I entertained myself in the parking lot with my camera.
---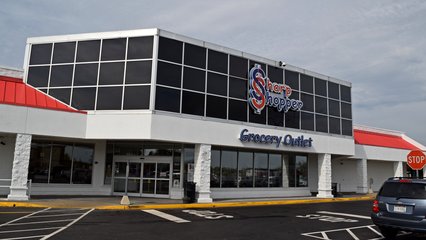 Sharp Shopper in Winchester, housed in a former Martin's (Giant-PA) building.
---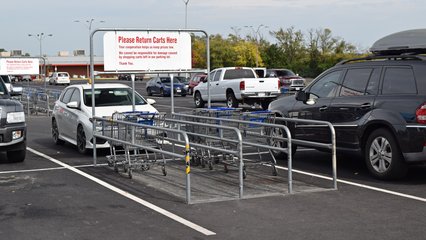 Cart corral.
---
A very weathered stop sign in front of Sharp Shopper.
---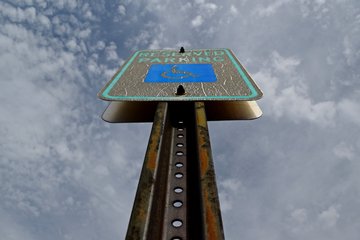 A similarly weathered reserved parking sign.
---
Leaving Sharp Shopper, we went nonstop until we got to Roanoke.  That was a first for me, blowing right through the entire Shenandoah Valley without stopping.  After all, I grew up in Augusta County, my parents still live there, and I went to college in Harrisonburg.  I always stop somewhere in there.  It felt quite strange going past the exits for US 250, I-64, and Route 262 in Staunton, as well as the Route 654 exit in Mint Spring without stopping.  Then we cleared the exit for Greenville, and we were through it.  We did, however, talk on the phone with Dad while we were driving through Augusta County, since I had an idea while I was in the shower that morning about my car problem once the rental coverage through the insurance ran out, and I wanted to see what he thought.  That led to my borrowing Mom's Scion xB as an interim solution until the new HR-V arrived.
We also got a phone call from the insurance company during this part of the drive, formally notifying me that the HR-V was totaled and what my payout would be, and that my rental car coverage would run out in three days.  When I explained that I was on a road trip with the rental and would not be home until the 18th, they extended the rental car coverage until the 19th, which was the day after we would get home.  I could live with that, as that allowed me to do the trip in the car that I was already in and then deal with the car situation later.
So with all of that in mind, I devised a plan.  We were going to run the trip in the Renegade, and then on last day of our trip, we would return the Renegade at Enterprise in Staunton, and do the final leg of the trip in Mom's car.
In addition to all of this, while we were going down the road, Elyse was tapping away on her phone, checking the inventory at various Honda dealerships that we would be going within range of to see if we could turn up any HR-Vs that met our requirements with the idea of snagging one while we were on our trip, and not having to worry about the rental anymore and making the idea of borrowing Mom's car a moot point.  We checked from Harrisonburg all the way down to Knoxville.  Unfortunately, we came up empty.  However, there was one potential hit at a Honda dealer near Asheville, North Carolina that had the HR-V in the EX-L trim, though not in the color that I had wanted, but it was listed as "coming soon".  That was a big question mark.  Did that mean that it was coming tomorrow?  Did that mean it would be here in a few months?  We didn't know.  We resolved to call them and find out, but later on in the trip.  Going out there would definitely derail part of our trip, but if it meant solving my car problem quickly, then it would be worth it.
When we got to Roanoke, the plan was to make a quick stop to see some friends to take care of some specific things, and then get back on the road and keep it moving.  We saw our friend Fred, whom we were bringing some things to, and then we went over to our friend Andrew's house in order to pick up some items that Elyse had left there the last time that she was down in Roanoke.  I was trying to make Roanoke a get-in-get-out visit, but that unfortunately would not be the case, as we got to Roanoke at around 4:00 in the afternoon, and didn't leave until 6:30.  The whole time, I'm thinking, come on, you're killing me, and gave the occasional reminder of "safely and efficiently", which is transit-speak for "you're dragging my schedule, so hurry it up".  I also threw a healthy dose of "remember, we'll be back here for a proper visit on Monday" in there to both Fred and Elyse in an attempt to keep the visit brief.
---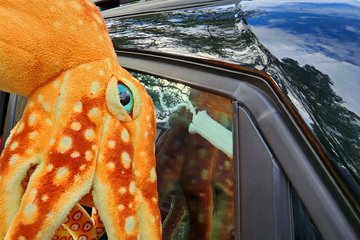 While we were in Roanoke, Woomy took a look at the solution that Elyse came up with for a rattling sound in the passenger window.  To dampen the sound, she shoved a tampon up there, and while it was a bit crude, it worked.  Woomy didn't like it (of course), but he did appreciate the lack of rattling.  The way I figured, this wasn't my car, so I was only doing what it would take to make the sound not annoy me.  Enterprise could solve the rattling window noise on their own.
---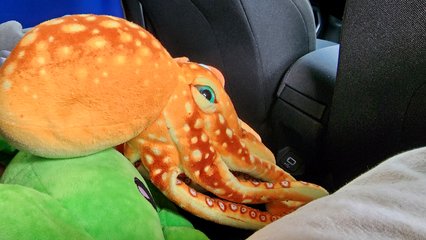 Woomy sits in his spot in the back seat of the Renegade, right next to David and Crabthulu.
---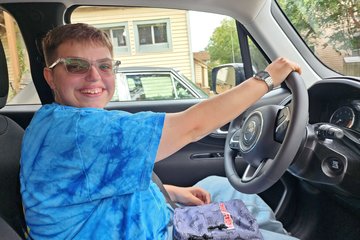 Elyse posed for a photo in the driver's seat of the Renegade while we were at Fred's house.
---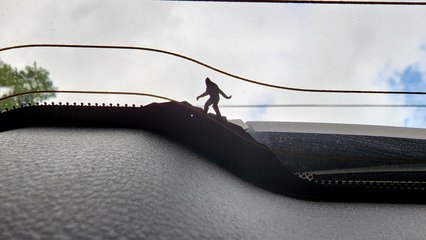 While we were in Roanoke, we discovered the first of many little easter eggs scattered throughout the Renegade.  This one was on the back window, showing a tiny mountain climber.
---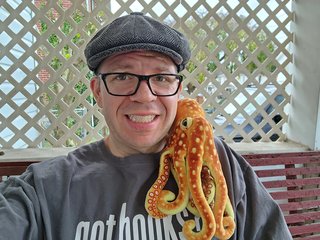 Woomy and I pose for a selfie at Andrew's house.
---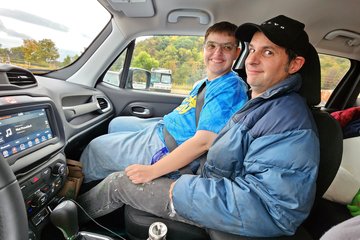 This is how we solved a problem with taking three people around in the Renegade.  The back of the Renegade was full of our luggage and such (I do not typically travel light on these road trips), so we didn't have any space in the back seat.  What we did was that Elyse sat on Fred's lap, and then we buckled them in together.  Problem solved.  Everyone fit and was in a seat belt, even if not everyone necessarily had their own seat belt.
---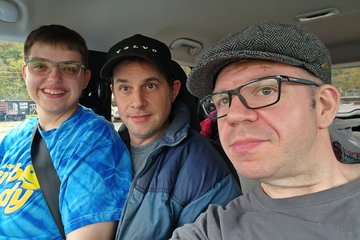 Group selfie in the Renegade.
---
Our last stop in Roanoke was Texas Tavern, which is a favorite food spot of Elyse's.  I wasn't hungry, but Elyse got some food to go.  While she got her food, I entertained myself outside with the camera.
---
---
And then we were on our way again, continuing our journey down I-81 through Salem and Christiansburg, and going through the wrong-way concurrency with Interstate 77, where drivers are simultaneously traveling southbound on I-81 and northbound on I-77 (the road is actually oriented east-west in that area).  We did not stop again until we got to Wytheville.  That was a food and fuel stop for me, and Elyse needed time to get up and walk around.  So I dropped her off at a nearby Walmart, and then went across the street to Sheetz.  I clearly didn't do my homework when I picked a Sheetz location to stop at, because while I picked a Sheetz that was as far down as I could find (Sheetz does not have locations in Tennessee), this Sheetz had no indoor seating area.  I later found out that there was, in fact, a Sheetz further down, closer to Bristol, and that location also had indoor seating.  Well, crap, but whatever, I was where I was, and I wasn't stopping again.  That's what happens when you assume that a modern-looking Sheetz building on Google Maps will have indoor seating.  I ended up eating outside, at one of the outdoor tables.  That wasn't ideal, but it worked well enough, and meant that I wouldn't need to stop again.
---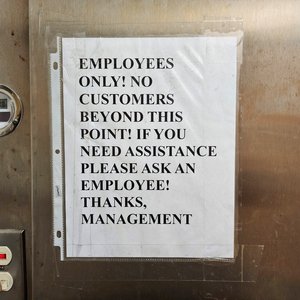 Spotted this sign at Sheetz.  Clearly, this Sheetz has had issues with customers' going into the coolers to grab items, and they're advertising that they have a problem.
---
Finishing up at Sheetz, I checked up with Elyse, who was still at the Walmart.  There, she was in the toy department looking at diecast cars, with the intention of getting one to use for a special purpose later on in our trip.  I helped her decide, and she eventually got a diecast model of a vintage Cadillac sedan.
Then we continued on.  We had about 70 more miles to go in Virginia, and we were determined to make tracks.  It was very strange seeing low exit numbers on I-81 in Virginia, since in the past thirty years, the lowest that I'd been on I-81 was milepost 118, to visit Blacksburg.  I had never been below that point going southbound, and the last time that I had been below milepost 118 on the northbound side was on August 31, 1992, which was part of the road trip where we came to Virginia to stay.
We did, however, make a quick stop at Pal's Sudden Service in Abingdon.  For those not familar, Pal's is a regional chain in southwestern Virginia and eastern Tennessee.  Abingdon is the chain's northernmost location (this would be a common theme, as a lot of brands that we saw ended their coverage around this point).  Elyse wanted to swing by, so I was like, why not.  Elyse got a milkshake, and I got some photos of the place at night with my phone.
---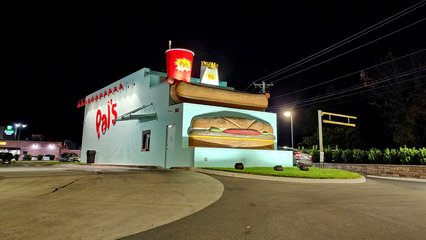 Pal's Sudden Service in Abingdon, the northernmost location in the chain.
---
Eventually, we reached the final mile in Virginia, and crossed into Tennessee.  There, we stopped at the Tennessee welcome center for a quick potty break.  The welcome center part was closed, which stymied some of my attempts to get a photo to show that we made it to Tennessee, and stymied Elyse's attempt to get an official road map.  We couldn't do anything about the road map right now, but I took care of my photo proof by posing for a selfie with a "green hospitality" certificate that was on the wall across from the restrooms.
---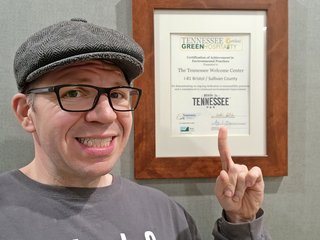 Selfie with the Tennessee certificate, pointing at the name of the state.  In other words, proof that we had cleared Virginia, and had entered Tennessee.
---
From there, we continued our journey, doing the entire 75 miles of I-81 in Tennessee in one shot, and then merging onto Interstate 40.  I had not been on I-40 in over thirty years, so it was a nice feeling to be back.  We had come close to Interstate 40 last year in North Carolina, but due to time considerations, we couldn't ride at that time.
Once we were on I-40, it was just 24 more miles to our hotel, which was the Hampton Inn off of Sawyer Lane, at exit 398, arriving right at midnight.  This was about as far east as you could go and still be in Knoxville, as the city has a long neck running eastward along I-40 that flares out around a couple of exits, which technically put our hotel within the city limits, though it feels like it's not.  Elyse complained about its location relative to the rest of Knoxville, as well as its lack of access to transit, but there was some strategy with choosing this spot, in that it allowed us to make a quick escape on Saturday.  When we left Knoxville, we would be heading back east, and that meant that we wouldn't have to deal with city traffic when we were leaving.  This really worked out in my favor later on, but more on that later.
Once we got to the hotel, we got checked in, got the car unloaded, went up to our room (515), and we were good.
---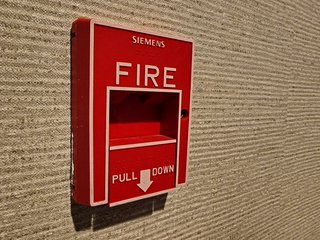 We spotted this pull station pretty quickly upon our arrival.  Why was the handle down like this?  I wasn't sure whether this was just slightly low but nonetheless not activated, or if it was actually pulled, and so it made me question whether or not the fire alarm system was operational.  Usually, if there's a pull station in the down position and no alarm is sounding, that's a good indication that the system is not working, but I wasn't about to test it and find out for sure.
---
David poses for a photo amongst this table decoration in the lobby that kind of resembles tube sponges.  Elyse and I figured, let's put a sea creature with a sea-like item, and David was happy to oblige.
---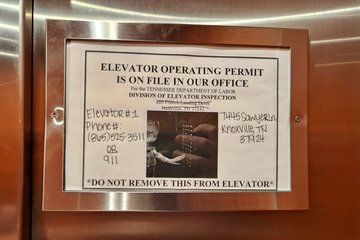 Sign in the spot for the operating certificate in one of the elevators.  Not the classiest looking, for sure, considering the handwritten notes, and the "DO NOT REMOVE THIS FROM ELEVATOR" admonishment.
---
And then it was time for bed.  We had a full day planned for Thursday, and we needed our rest in order to make it so.
Part 1