North Carolina and Hampton Roads
Part 2
On Saturday morning, I was up relatively early and got breakfast downstairs, sharing the breakfast area with a bunch of young (let's say late elementary to early middle school) athletes that were attending a softball tournament, along with their parents, and who had all been arriving at the hotel around the same time as we did the night before.  Breakfast was about what you would expect for a mid-tier hotel, with eggs, sausage, and the like along with cereals, pastries, a waffle iron, and so on in a serve-yourself format.  All in all, a good, solid way to start the day.
---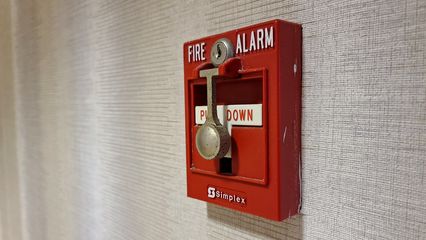 One thing that I found curious about our hotel in Goldsboro was the fire alarm system.  They had a Simplex system with break-glass pull stations.  The glass had been removed from all of the pull stations that we saw, but the hammer was still in place (except at the front desk, where the hammer had been cut off).  With the glass consistently missing like that, it's clear that the removal of the glass was intentional, but I have no idea why it was done.
---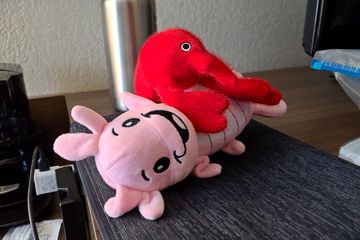 When I got back from breakfast, we spotted Hugh the lobster (whom Woomy had locked onto for a while in Hampton Roads) giving a tummy rub to Louie the shrimp.  However, when Woomy came around, he did not approve.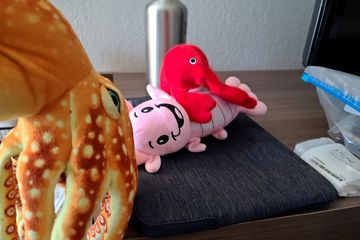 ---
We left the hotel around 10:00, and our first stop was Shelton's Harley-Davidson in Goldsboro, where Elyse planned to buy a poker chip.  Because the poker chip was so inexpensive (continuing a trend that everything costs a lot less in this region than it does at home), Elyse ended up buying two chips of different styles.
---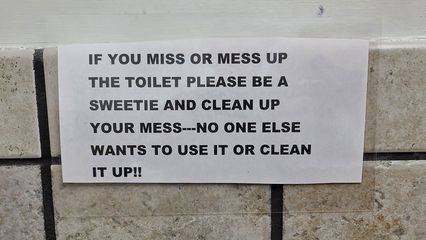 I spotted this sign in the restroom at the Harley dealership.  I love this sign, because it's so true, especially with boys, and it is so polite and yet quite blunt at the same time.  And the message is so simple: if you miss, clean up your own overspray.
---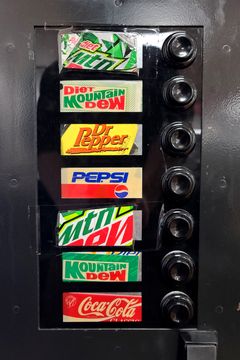 I loved looking at the labels on this vending machine, because based on those logos, you can tell that it's been around since at least the nineties, with a couple of extra Mountain Dew slots added in the 2010s.
---
After this, we began something of an odyssey in search of sirens and water towers and any other infrastructure that we could get our hands on.  Elyse had mapped our her sirens in advance, and so we picked some stuff to see on the way based on that when constructing our manifest for the day.  Our first stop was the Belfast Fire Department, where there was a siren.
---
The Belfast Fire Department siren and vicinity.
---
Our next stop was somewhat spur of the moment.  As we were driving towards Collier Motors, which is advertised as the last AMC dealership in existence, we saw a field of cotton, and stopped to take some photos.
---
---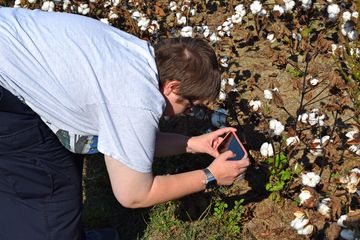 Elyse photographs some cotton.
---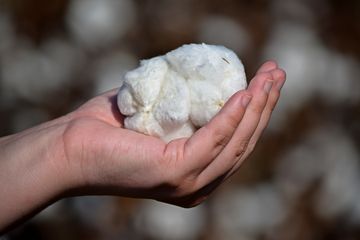 Elyse picked a few pieces of cotton off of a nearby plant to keep as a souvenir.
---
I suppose that nothing cements the idea that we're a bunch of city slickers from the north more than stopping along the side of the road to photograph cotton, and experiencing what cotton feels like right off of the plant, seeds and all.  We were surprised at how soft it was straight off of the plant.  We live too far north to grow cotton (we mostly have corn and soybeans in Maryland), so it was a fun experience to see cotton growing in a field for the first time.
It also just so happened that where we stopped to admire the cotton was adjacent to the facility for Reese Sign Services, which handles commercial signage.  We took a quick drive around their building just to see what was there.  We then went back to our original location by the road, and I took the drone up to get a better look at what was over there, since ground-based photos would not do this location justice.
---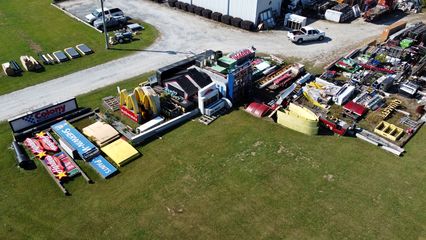 The grounds of Reese Sign Services contained the signs for many well-known brands, including McDonald's, Michaels, Sherwin-Williams, Quality Inn, and a whole host of other national and regional companies.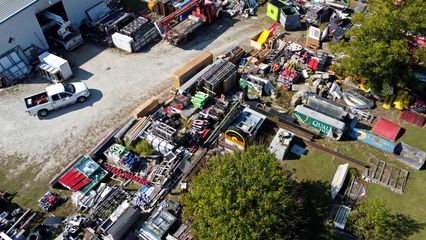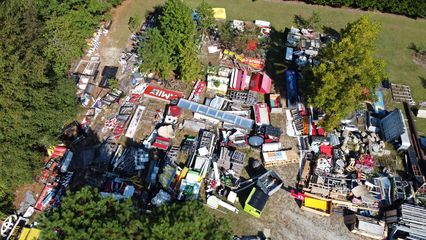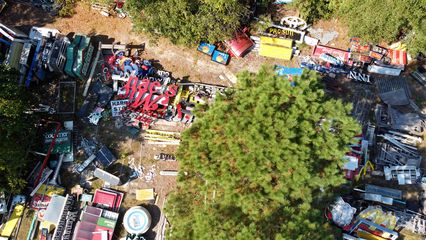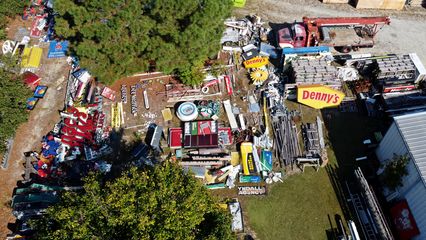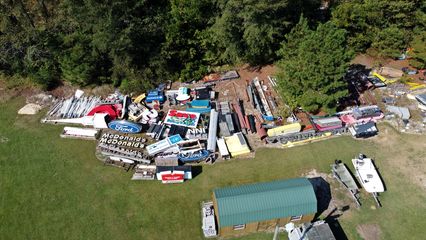 ---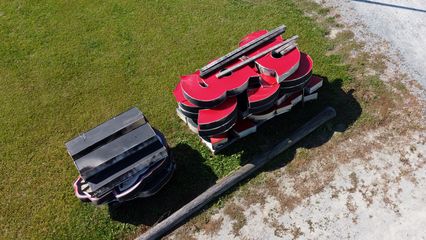 Elyse and I saw this sign pile from the ground when we were driving around, and had no idea what company it was for.  Once we flew over it with the drone, it was obvious: Piggly Wiggly.
---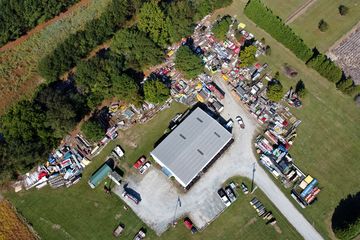 The entire Reese Sign property.
---
Finishing up here, we made our way to Collier Motors.  I wasn't quite sure what to expect with Collier Motors.  My understanding was that it was an active AMC dealership, but AMC as a brand has been gone for many years.  When we got over there, the property looked abandoned, as it was fenced off with no way to access the property, and it was quite overgrown (I would find out later that the dealership is actually not abandoned, and that all of the cars inside actually were for sale, despite appearances, and they do have an active Facebook page).  Seeing that the place appeared inaccessible, Elyse lost interest in exploring at that point.  I wasn't so quickly deterred, figuring that if I can't access it by conventional means, then I might as well see what I can do with my little eye in the sky, and broke out the drone for a flight.  Noting all of the trees, I considered this to be a high-risk flight, because without on-board obstacle detection, even with line of sight at all times and careful planning, one wrong move would bring my drone down, and there would have been no way to recover it due to the lack of access to the ground.  But in the end, I did pretty well, and came back with the goods.
The Collier Motors property contained a lot of cars.  Some were vintage AMC cars, and some were from other brands.  Some of the cars from other brands were more recent than any AMC vehicle could ever be.
---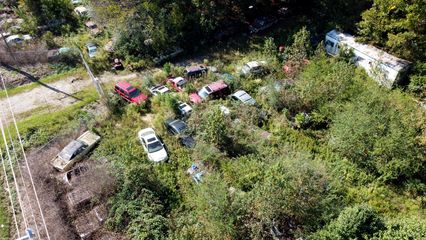 Overhead view of the Collier Motors lot.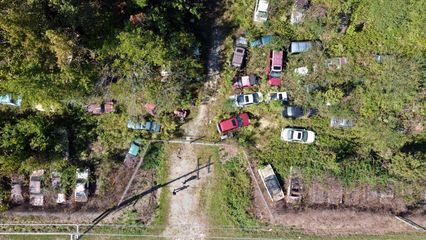 ---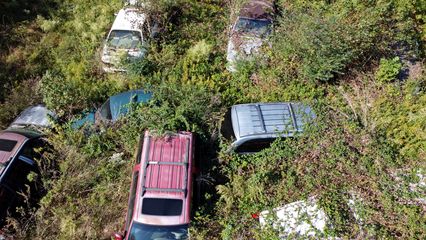 A whole lot of cars with varying amounts of growth in, on, and around them.
---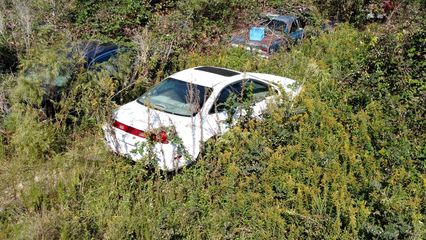 A white Honda Accord coupe.
---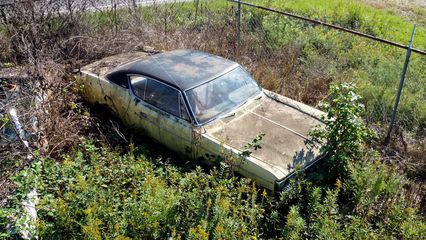 A yellow AMC Matador.
---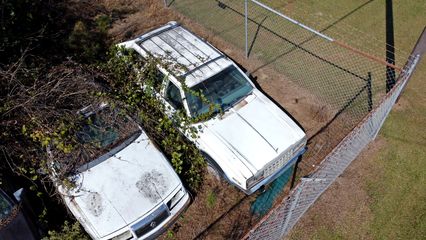 AMC Eagle next to a Chrysler Lebaron.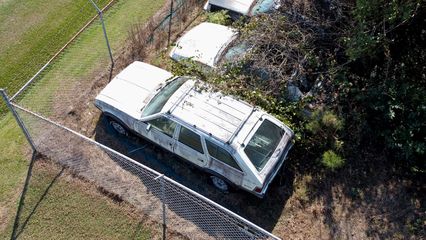 ---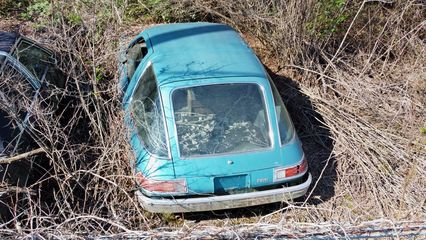 A blue AMC Pacer.
---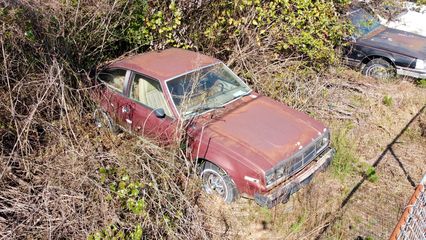 A maroon AMC Spirit.
---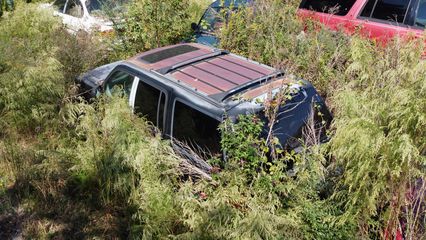 A black Ford Explorer, buried in the weeds.
---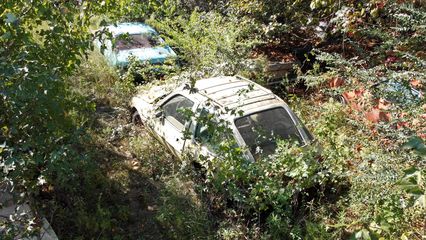 A white AMC Pacer, with a blue Matador beyond it.
---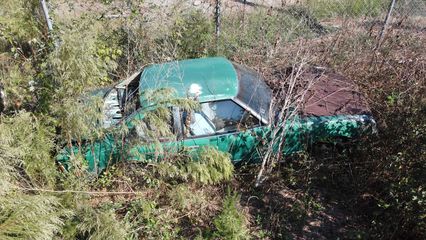 A green Toyota Celica coupe near the street.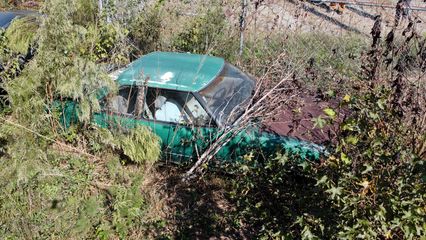 ---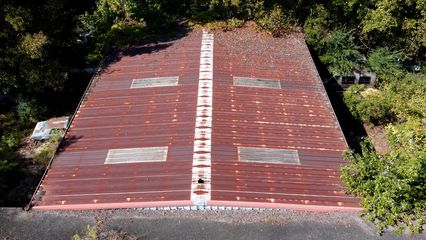 Roof of a building on the Collier Motors lot.
---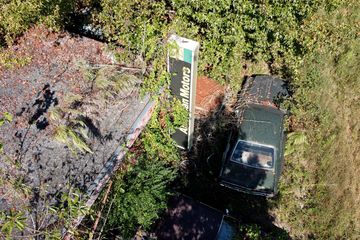 "American Motors" sign on the property.
---
All in all, I enjoyed taking a look at the Collier Motors lot via drone.  While I was flying, I attracted the attention of a fellow photographer (@blastwave.official) who was also checking the place out, and who had come to the same conclusion as Elyse did, that the site was inaccessible by conventional means.  He was interested in my drone, and so as I was flying around the site and photographing it, we discussed what my drone is capable of, and what my plans were for future drone equipment purchases.  I explained that this was my first drone, and I had owned it for a little over a year, and I was intending to go one more year before upgrading to something better.
Finishing up there, we went through the drive-through at a nearby Hardee's so that Elyse could get something to eat.  The Hardee's surprised me in that the dining room was not open, and that the restaurant closed completely at 2:00 PM.  I guess that they are either so short-staffed that they only have enough manpower to run the operation for lunch, or they just don't do enough business beyond the lunch hour to justify being open.  In any case, it was a quick and easy time through there, and we were soon onto our next stop.
Our next destination was another spur-of-the-moment stop.  I spotted a vintage water tower along Railroad Street in Pikeville, and stopped by to check it out, getting both aerial and conventional photos of it.
---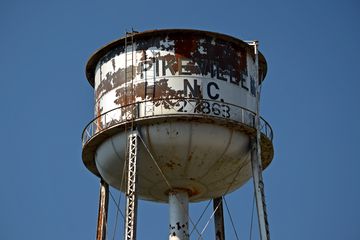 A conventional photo of the water tower, taken with my DSLR.
---
Aerial photos of the water tower.
---
We then headed down to Rosewood Fire Department, and got another siren.
---
The siren at Rosewood Fire Department, a W.S. Darley Model 2.
---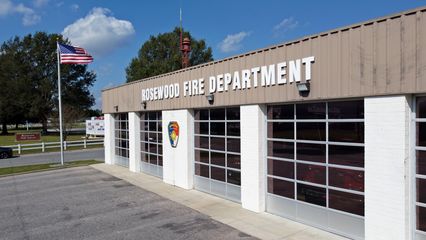 Rosewood Fire Department building, with the siren mounted on the roof.
---
Going to show that you never know what I'll end up locking onto, I ended up taking a lot of photos of the flag in front of the station, flying in the breeze.
---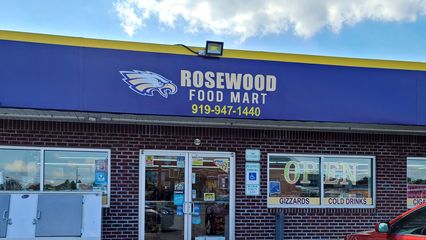 On the way out, we spotted a sign at the nearby Rosewood Food Mart, which carried the mascot for the local school sports team, the Rosewood High School Eagles.  The school uses a logo identical to that of the Philadelphia Eagles, in purple rather than green.
---
After a quick pit stop at a nearby Sheetz, we headed back into Goldsboro, where we visited the Goldsboro Flea Market.  Here, we did some antiquing, checking out what was available to see.  Elyse ended up getting a few older Harley-Davidson poker chips, from events in Las Vegas and elsewhere from about ten years ago.  While she did her thing, I took a few photos around the place, and some selfies with a Dracula plush that I found on a couch.
---
Elyse and I were a bit surprised about the state of some parts of the beverage cooler at this particular Sheetz.  I don't know if this was related to supply chain issues or what have you, but it certainly was low on stock.  We did not observe this at other Sheetz stores, though.
---
I found it curious that the flea market had a fence topped with razor wire around it.  My understanding is that prior to the flea market's taking over the spot, the building housed a gun store and shooting range, and the fence is left over from that.
---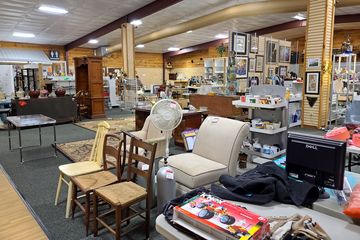 The interior of the Goldsboro Flea Market.
---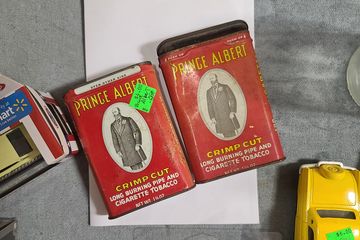 Two tins that once contained Prince Albert brand cigarette tobacco.
---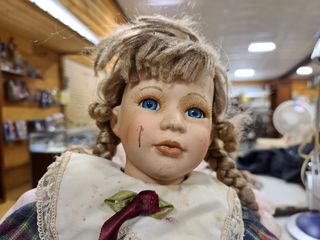 I found this doll on one of the tables, and couldn't help but to comment, "This doll looks like she's been through a few fights in her life."
---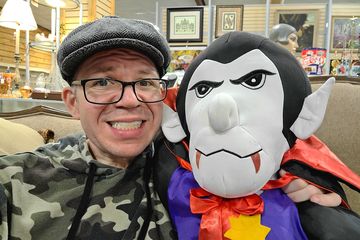 Selfie with a dracula plush.
---
Leaving the flea market, we started making our way down toward Mount Olive.  While en route, we made a side trip to the Mar-Mac Volunteer Fire Department for another siren.  It just so happened that we came by at the tail end of their first annual Mar-Mac Firehouse Cook-off, where they were serving up Carolina-style barbecue.  As far as I was concerned, that was perfect timing, since it was just about time for lunch.  I got a barbecue sandwich, put some Carolina-style barbecue sauce on it, and ate it with a fork.  That was some good eating right there.  We also got to visit with the people working the event, and also got to watch a Wayne County Sheriff's Office helicopter take off.
---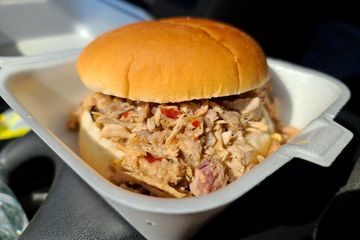 My lunch, minus the bun, which I set aside.  Gotta love some good Carolina-style barbecue.
---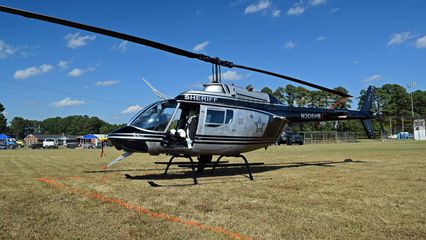 N306HB, a Bell OH-58A Kiowa helicopter, formerly owned by the US Army during the Vietnam era, now in service for the Wayne County Sheriff's Office.
---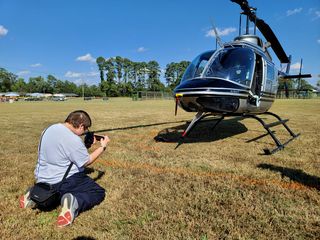 Elyse photographs the helicopter.
---
One amusing moment was when I was taking reference photos for later (this helps to remember what I'm looking at later on).  The shirts that the people working the event were wearing had information about the event on them that I would need for later.  I asked one of the men if I could take a photo of the emblem on their shirt for reference purposes.  I wasn't about to ask one of the women because of the placement of the emblem, because would make me uncomfortable (i.e. I didn't want to photograph something sitting on top of a woman's boob), let alone coming off as improper in general.  The guy was willing to oblige, but he acted all surprised because no one had ever asked to photograph his chest before.  But I needed a reference shot.  For the back side, one of the women volunteered her shirt without my asking, which worked out just fine, because it's just someone's back.
---
Leaving the fire department, we drove the rest of the way to Mt. Olive.  Our first stop was the Mount Olive Pickle Company's factory store, but it turned out that they were closed on the weekend, so that was a bust.  Something for next time, I suppose.  We then stopped by the nearby Mount Olive Fire Department, where we did another siren.  I initially took the drone up to photograph the siren, but I quickly brought it back down and aborted the mission.  That particular siren was near a large antenna with lots of guy wires, and once I got up in the air, I did not feel confident in navigating around those to get the shots.  So I ended up getting ground-based photos of the siren instead.
---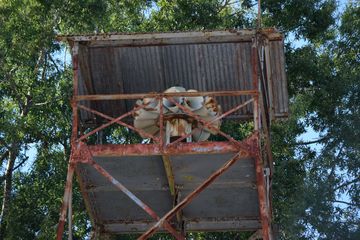 The siren on the Mount Olive Fire Department was a Federal Signal STH-10, housed in a little tower.
---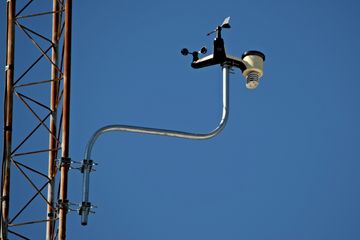 On the guyed antenna that prevented me from getting to the siren with the drone, Elyse and I spotted a small weather station, used to measure the speed and direction of the wind.
---
Like at Rosewood earlier in the day, I ended up taking the most photos of the flag flying in front of the station.  Apparently, this was a good day for photographing flags.
---
On the way out, we spotted a flashing signal at the intersection of North Church Street and East College Street.  You really don't see these things all that often anymore, so any time I find one, I consider it noteworthy.
---
We then headed over to the local Piggly Wiggly supermarket.  Elyse and I had never been to a Piggly Wiggly before, and so we wanted to check it out.  While it was, for the most part, a pretty typical grocery store, we did notice a few regional differences, such as more selection of Mount Olive pickle products and plenty of Carolina barbecue sauce.  We were also going around looking at all of the prices and going "OmG iT's So ChEaP!" at everything due to the relatively low cost of living in Wayne County.  This is again where I comment, "Cries in DC region," as I acknowledge how expensive it is to live where we do.
---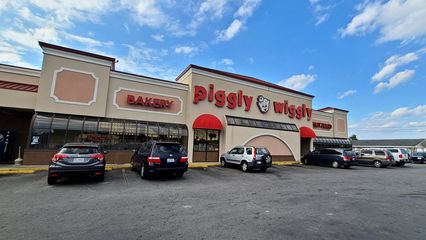 Exterior of the Piggly Wiggly in Mount Olive.
---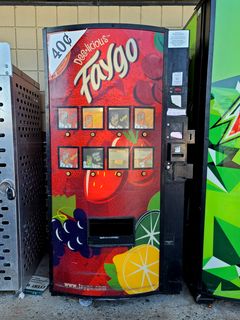 Faygo machine in front of the Piggly Wiggly in Mount Olive.  Where we live, Faygo is really only found at Sheetz, so a vending machine for Faygo is pretty much unheard of.
---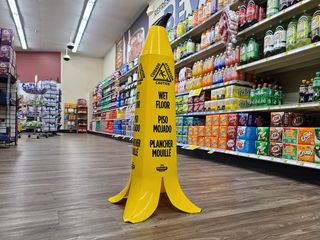 Banana wet floor cone in the soda aisle.
---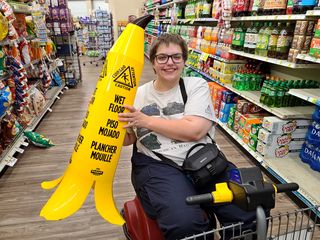 Elyse poses for a photo with the banana cone.
---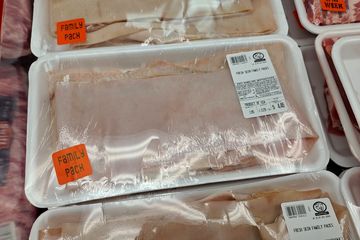 Fresh pork rinds.
---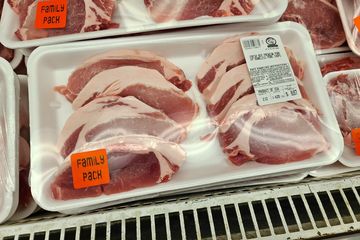 Boneless pork chops for $8.67.
---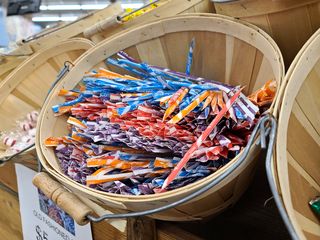 Pixy Stix.  I commented, "Aren't you supposed to take this nasally?"  (I know, not very funny, but it made me laugh, so…)
---
Bottles of Pearl Milling Company syrup on the shelf at Piggly Wiggly, with one bottle's still carrying the older Aunt Jemima name.  Around this time, the Aunt Jemima name was finally being phased out and the new Pearl Milling Company name was being phased in with a transitional design that reassured customers that this was the same product that they knew as Aunt Jemima, but with a new name.  Most of the remaining product that was already packaged with Aunt Jemima branding had been pulled from mainstream stores, and was being sold at closeout grocery stores.
---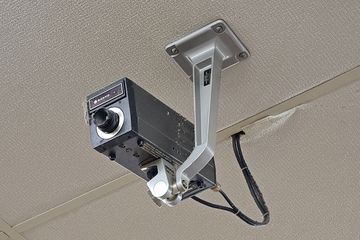 Vintage Sanyo security camera on the ceiling near the checkouts.
---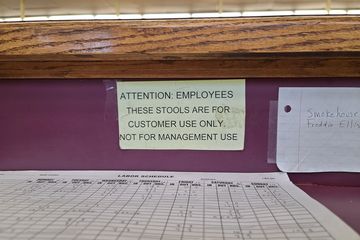 Sign on a seating area advising employees that the stools are intended for customer use only.  Clearly, no one pays attention to this sign, because based on what I found there, someone had been using it to work on employee schedules in that seat.
---
Leaving the Piggly Wiggly, we continued on our journey, heading towards the Calypso Volunteer Fire Department.  However, on the way, I spotted something interesting: a feed mill operated by Case Farms.  The sky and the lighting was perfect, so I pulled over and got the drone out for a quick flight.
---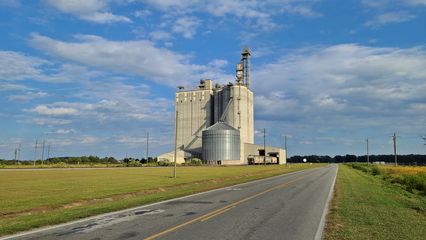 This was my only ground-based photo of the feed mill, taken with my phone primarily to get a lock on the location for later.  All of my cameras have GPS on them, but between the DSLR, the drone, and the phone, I consider the phone's GPS to be the most reliable of the three.  Therefore, if I'm not really familiar with an area, I will make sure to mark the location with a phone photo.  These photos intended solely for marking a location are often crappy, but sometimes, like this one, they end up being really nice photos in their own right.
---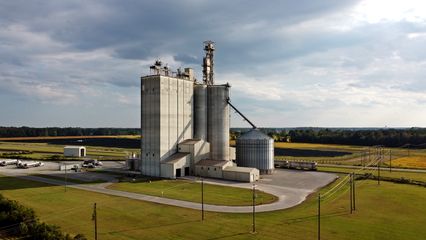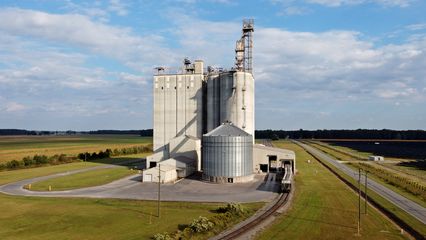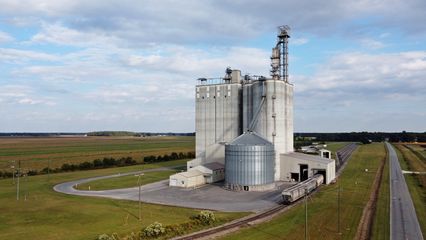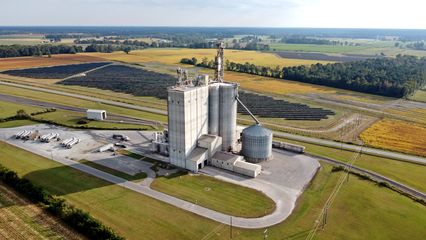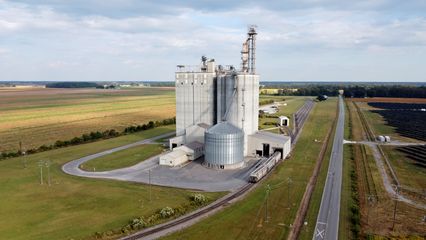 ---
There's nothing like flying around an industrial site, since I don't get to do those all that often.  Finishing up there, we continued on our way, and made it to the fire department.  There, Elyse and I each got a shot at the siren with the drone, and then I also flew around a nearby water tower.
---
The siren at the Calypso Volunteer Fire Department, a Sentry 10V.
---
The water tower near the fire department in Calypso.  The water tower is marked with the mascot of the local high school, North Duplin Junior-Senior High School, the Rebels.  The logo is a palette swap on the logo for the University of Notre Dame.
---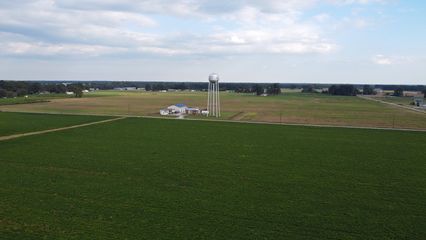 I attempted to visit the other water tower visible in the distance in some of the earlier shots, but unfortunately, I couldn't get close enough before I went out of range.  This was about as well as I could do before losing signal.
---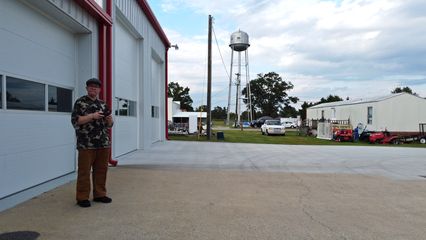 A selfie while landing at the fire department.
---
Before leaving Calypso, we stopped at Brock Equipment Company, where earlier, on the way to the fire station, we had spotted a Reinke center pivot irrigation rig on display.  Elyse loves center pivot systems, so we checked it out.
---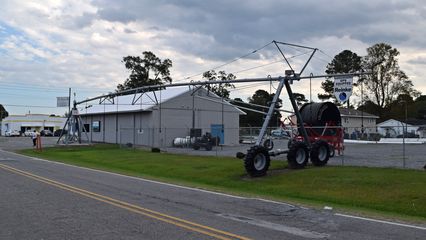 A Reinke center pivot irrigation rig on display.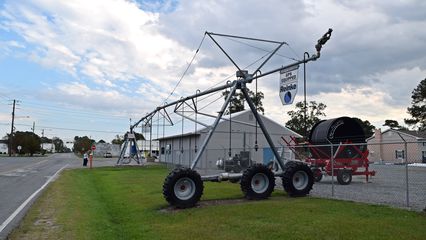 ---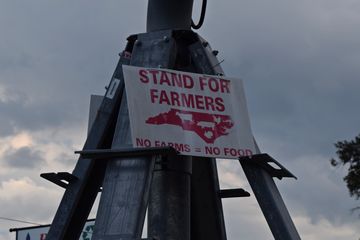 "Stand for farmers" sign on the irrigation rig.
---
Elyse poses for photos with the Reinke.
---
Elyse also got some photos of me being cute while we were out there.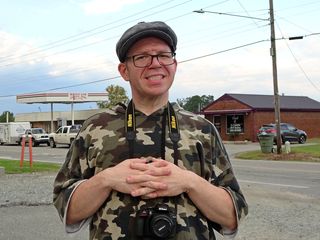 ---
We also had a conversation with a gentleman who noticed our Maryland license plate, and wondered what we were up to.  Nice guy, and it was nice to talk about the stuff that we were up to and get some pointers.  We then headed down to our last siren of the day, at the Faison fire department.  On the way, we spotted a sign assembly with a highway that I had not seen in nearly 30 years: Interstate 40.  The last time that I was on Interstate 40 was August 30, 1992, when we were moving from Arkansas to Virginia.  We rode Interstate 40 over two days, from US 71 in Alma, Arkansas to the I-81 split in Dandridge, Tennessee.  Unfortunately, we couldn't go for a ride on I-40 because of time considerations, so the shield was the best that we could do this time.
---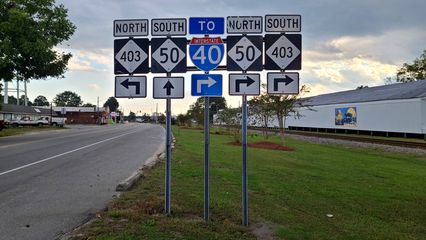 Signage assembly including an I-40 shield.
---
When we got to the Faison fire department, Elyse got the siren with a regular camera, while I visited a nearby water tower with the drone.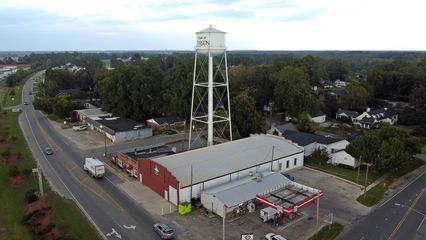 ---
This was a very quick stop, as in, go up, attend to your business, and get out of the sky.  The reason for the quick treatment was weather, as a storm was starting to roll in, and it was just starting to rain as we got there.  I got up in the air just as the rain was starting, so I got my shots and then quickly brought it back for a landing.
At this point, Elyse needed to hit the restroom, and so we first dipped into a Dollar General store in Dudley hoping that they had a restroom (they didn't), and then found a Speedway staton about five miles up the road that did.  We then headed over to see Patrick and his wife Anna at their house back in Goldsboro.  Surprisingly, I managed to nail the arrival time that I gave.  I expected that it was more wishful than it turned out to be.  One thing that I noticed about this part of North Carolina was that things were pretty far apart from each other, but the roads got you between stuff very quickly.
At Patrick and Anna's house, we got to come in and visit for a while, and I got to meet their dogs, Jackson, Lexi, and Maggie.  The dogs were quite excited to meet me.  Patrick, Elyse, and I then headed out to go to the Marr Branch Haunted House down in Duplin County.  Arriving there, Elyse and I purchased our tickets (Patrick had bought his in advance), and we got in line to go in.  Elyse sat down on a nearby stage, and one of the actors, in character, came up to her and did a "wet willy" on her glasses, messing them up.  I suppose that it was all in good fun, but I had to clean her glasses after that, which I did not appreciate.
While waiting, we also got to see the so-called "Carolina squat" for the first time.  For those not familiar, the Carolina squat is a modification to a truck or SUV where the front of the vehicle is raised , and/or the rear of the vehicle is lowered, with the result's being that the vehicle is sitting at an angle, with the front's being much higher than the back.  The examples that we saw were accompanied by loud motors along with the "squat" orientation (one should probably get a magnifying glass and check the genitalia of the people who feel the need to have cars like this).  In any case, I hope that they enjoy it while they can, because come December 1, 2021, the "squat" modification will be illegal in North Carolina.
Marr Branch was my first haunted house since 1992.  That last haunted house that I went to was in the gymnastics room at my old middle school, at what would turn out to be the school's final "Halloween Bash" event.  That haunted house was pretty tame, but it wasn't bad.  The Marr Branch event was not that.  This event was intended for adults, and as such, had higher production values than the one in middle school.  The actors would not touch you, but they would get close by, jump out at you, and make a lot of noise, and they used props like chainsaws and such to provide additional frights.  There was also a lot of theatrical smoke, and they made good use of lighting.  I also admit that they got me a few times throughout the haunted house, but there were considerably more times where they didn't get me than when they did.  It was presented in two sections.  I felt like the second section was a bit better than the first, though the first wasn't bad by any means.  I didn't get any photos at the haunted house, because photos were not permitted inside the house, and they would escort anyone out of the facility who pulled out their phone.  I paid too much money for this to get escorted out, so no photos it was.  And I get it – they don't want people copying their haunted house.
Afterwards, the three of us headed over to the Sheetz with the empty shelves that we went to earlier, where we all got dinner.  We then headed back to Patrick and Anna's house, where we parted company for the night and headed back to our hotel.  We definitely had a fun time with Patrick and Anna, and I look forward to seeing them again.
Part 2