North Carolina and Hampton Roads
Part 3
On Sunday, we got up, and I got breakfast downstairs.  The kids were all checking out this morning, much to the hotel staff's delight.  As I understand it, while we were out at the haunted house and such, the kids were running loose in the hotel, doing all of the things that kids do when they're full of energy.  From what I was told, the kids absolutely meant no harm, but they certainly were in, on, and around everything as kids tend to do, and in the process, drove the hotel staff crazy.
---
Elyse didn't want to go down for breakfast, but that doesn't mean that I ate alone.  Instead of Elyse, Woomy came down and joined me.  He wasn't that great of a conversationalist, though.  All that he did was to say, "I don't like that!" about everything.
---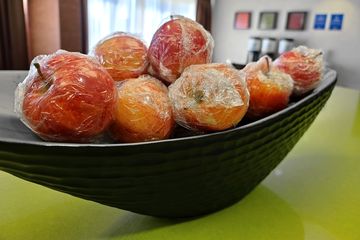 This fruit in the breakfast room, wrapped in cling wrap, was one of only a very few pandemic-related safety theater measures being taken by the hotel.  For the most part, our stay at the Hampton Inn in Goldsboro felt completely normal, with minimal safety theater, and almost no one was wearing masks.  It was a beautiful thing to see.
---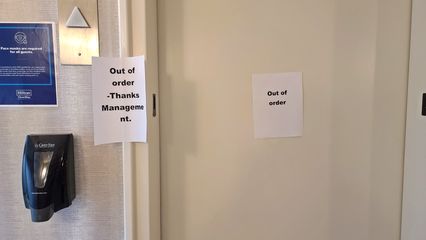 The left elevator was offline this morning, after it had broken down the night before.  It would be out of commission for the remainder of our visit, as a service technician would not arrive until Monday.
---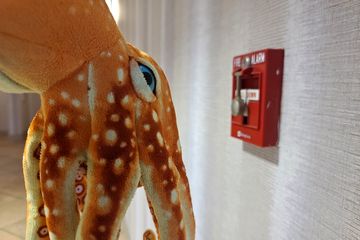 Woomy also took a moment to inspect the fire alarm that we had observed earlier, with the hammer and the missing glass.  His comment was, "I don't like that!"
---
Our mission today was to head down to New Bern.  I had not been to New Bern since 1993, when we visited my grandmother, who was then living in nearby Fairfield Harbour, for a few days before going to the Outer Banks for a week.  As such, we spent very little time in New Bern itself on that visit.  As it turned out, New Bern would be a completely new experience this time around, not only because of the passage of time, but also because there was absolutely zero overlap between what I did in 1993 vs. 2021.
In any case, Elyse hit the restroom in the lobby before we left the hotel, and was surprised at what she found in the middle stall.
---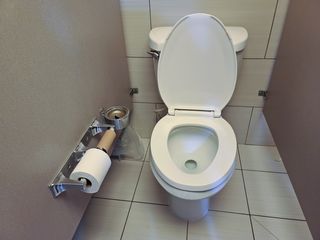 That is an ashtray in the bathroom stall, presumably so that people can smoke while they're sitting on the pot.  I have only seen this once before, at the Hatteras Island Inn in Buxton.
---
I can only assume that being able to smoke on the toilet was a thing that people once did in North Carolina, but now that smoking is prohibited in most indoor spaces, they're relics.  What puzzled me about this one at the Hampton Inn was that according to the elevator certificate, our hotel was built in 1995, which would be a little late as far as indoor smoking in buildings went, save for restaurants.  In other words, I would not have expected an ashtray in the bathroom here, but there it was.
Our first stop after leaving the hotel was the Target in Goldsboro, which was practically around the corner.  Elyse needed to run in for something, and so I went to the back of the lot and took the drone up for a quick spin, because why not.
---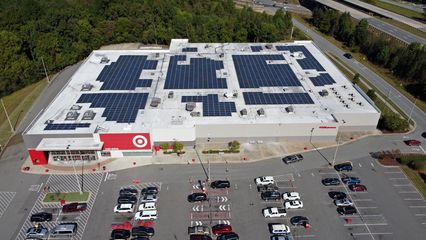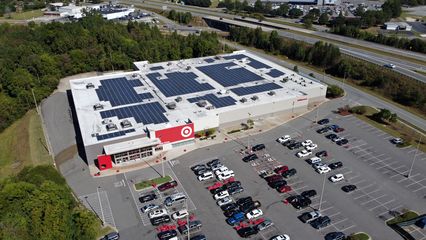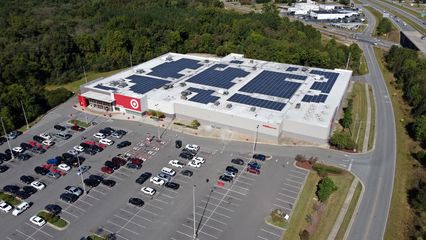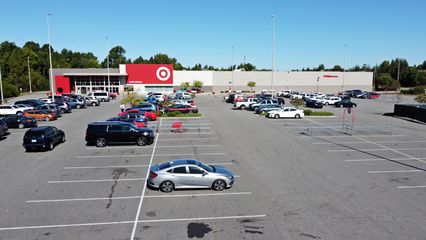 ---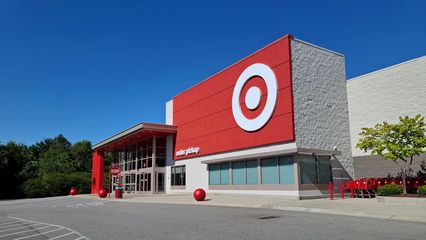 I also got some ground-based photos of the store.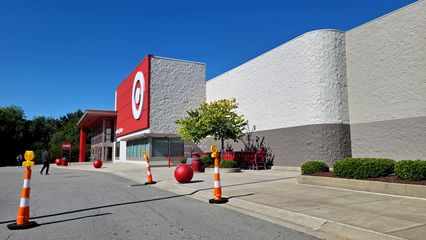 ---
In looking at and flying around this store, noticing a curved section on the front wall, in contrast to the angular design of the rest of the front of the store, I got the sense that this was an older store that had been updated over the years.  A quick look on Google indicates that an addition was built on the west side of the building some time around 2006, which would explain everything: the original entrance was likely the old rounded style, and then a new entrance to then-current architectural specifications was built when the building was expanded.  That would make that curved section of wall a remnant from the original entrance.
Before leaving Goldsboro, we also made stops for Elyse to film toilets at the Lowe's and the Ross stores.
---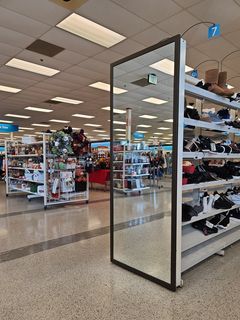 While waiting for Elyse at Ross, I found it curious that this mirror was positioned so as to make the reflection line up perfectly.
---
We then finally got moving in earnest, getting out of Goldsboro and heading towards New Bern.  Our first stop was about four miles down the road, at the El-Roy Fire Department, so that Elyse could get a siren.
---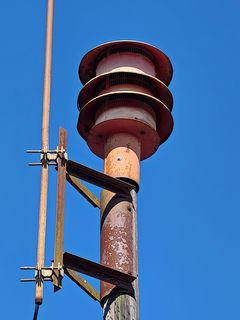 The siren at the El-Roy fire department.
---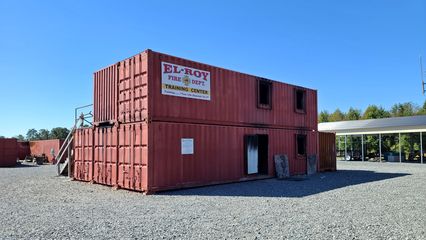 A structure on the property built out of shipping containers, presumably used for training purposes.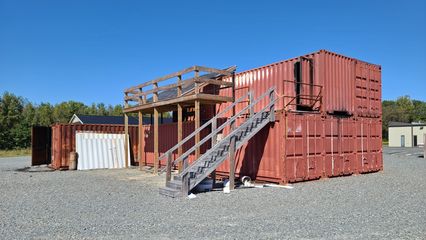 ---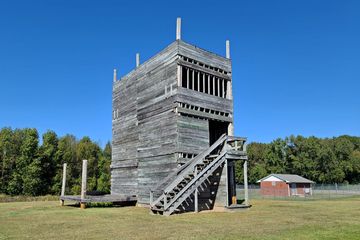 A wooden structure on the property, also presumably used for training.
---
From there, we made it to Kinston, which is about midway between Goldsboro and New Bern.  Here, we made a few stops in relatively quick succession.  We went to another Piggly Wiggly, we stopped to photograph a Waffle House that was housed in a former Burger King, and then we stopped at a Taco Bell to get some sustenance for Elyse.  I also wanted to take some quick photos of an abandoned Super 8 Motel in Kinston, mostly of the vintage sign, but Elyse strongly advised against doing so because she felt like she wouldn't be able to limit herself to just the sign.  Therefore, if we didn't want to do a full exploration of the former motel, it was best to keep it moving.  Something for next time, I suppose, since I really don't believe that this place will be going away any time soon.
---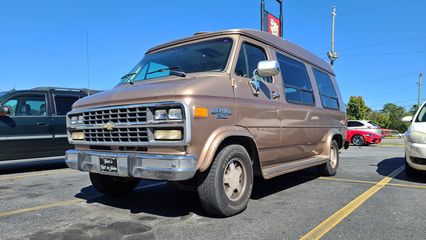 While we were at the Piggly Wiggly, we spotted this vintage Chevy Van in the parking lot.
---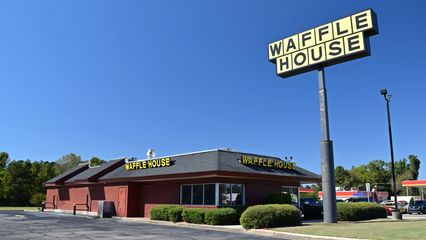 The Waffle House in Kinston, housed in a 1980s-era Burger King building.
---
Before leaving the Kinston area, we also stopped at the Wyse Fork Volunteer Fire Department in order to do another siren, after completing two laps around a section of US 70 in order to get there.  The first time, we saw it too late and turned around at our earliest convenience in order to get it.  The second time, I misunderstood where the entrance to the facility was (it was on a side street, while I thought it was directly on the main road), and so because I shorted myself, we had to go around again.  Third time was the charm, and we got to the fire department to get our siren.
---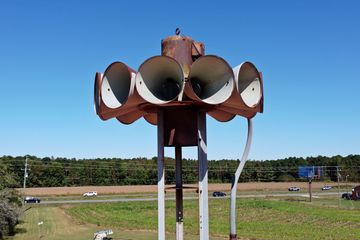 The siren at Wyse Fork Volunteer Fire Department, a Federal Signal STH-10.
---
That was the end of our visit to Kinston, which was mostly unplanned (I had intended to go straight through without stopping), but we had fun, with each one's complaining about the other one's desired stops.
Between Kinston and New Bern, US 70 took on freeway characteristics, and we found a sign indicating that this was intended to become an Interstate highway in the future: Interstate 42.  I would assume that before that happens, there is more to build, such as a bypass around Kinston, but it seems a reasonable enough place for an Interstate, since these roads are already wide and fast.
---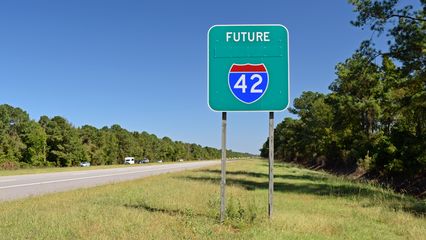 Sign advising motorists that this road is planned to become an Interstate in the future.  Surprisingly, "Interstate" is plated over on the sign, and the red portion on the Interstate shield does not contain the word "Interstate".
---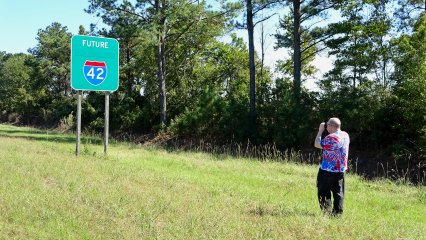 Elyse also got a photo of me geeking out at the sign.
---
When we got to New Bern, our first stop was the New Bern Mall.  Elyse wanted to do toilets in the mall, and I entertained myself with the drone and drove around the property while she did her thing.
---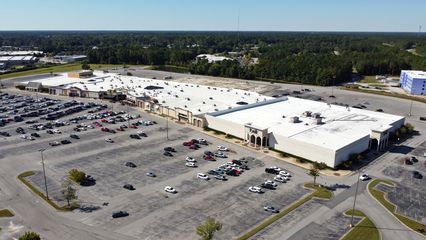 New Bern Mall, a fairly average single-level shopping mall.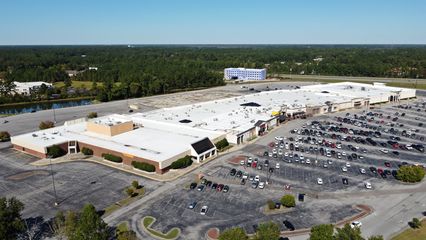 ---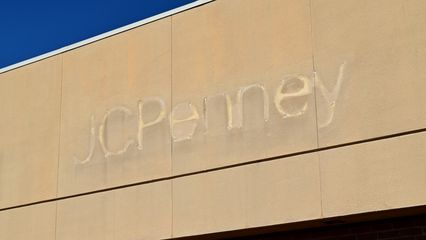 Labelscars on the former JCPenney building.  This store closed in 2020 as part of the company's bankruptcy that year.  At the time of our visit, part of the store was being used for Spirit Halloween.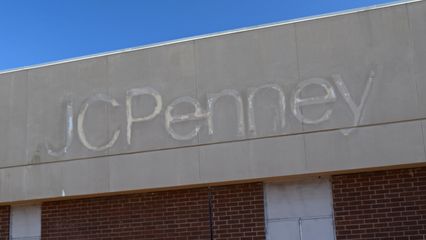 ---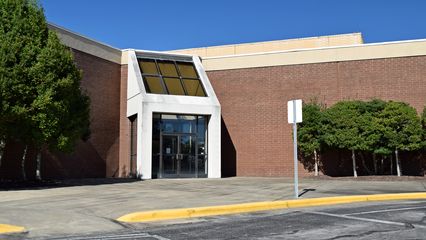 Exterior of the former JCPenney.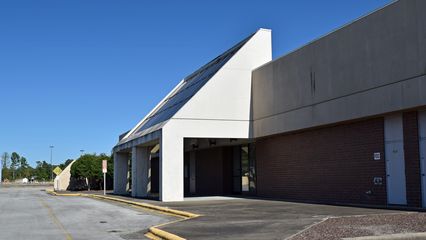 ---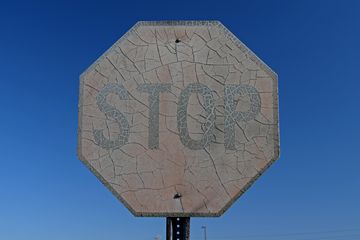 A very weathered stop sign outside of the JCPenney building.
---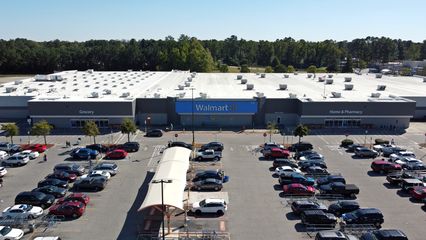 The Walmart in New Bern is located across the street from the mall.  I remember when my grandmother talked about the grand opening of this store back in the late 1980s.  This store was originally a pylon-style store, and was later expanded to a Supercenter.  The architecture here is a bit unusual for a conversion, as the original sign and pylons were retained, and the grid pattern was extended across the entire front.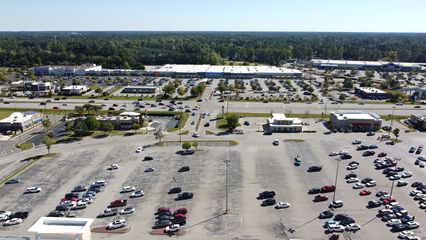 ---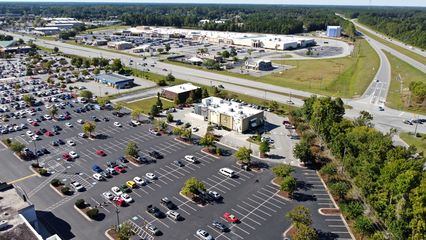 The east side of the Rivertowne Square shopping center (the one that has the Walmart), facing northwest, looking towards the mall.
---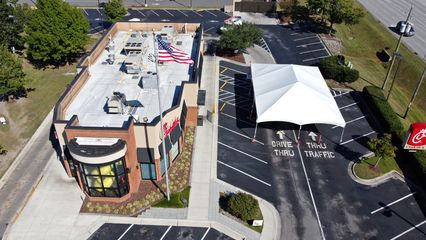 Chick-fil-A, closed because it's Sunday.
---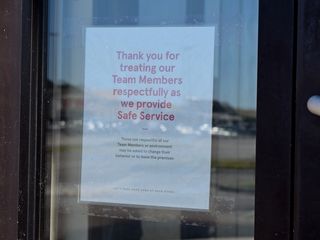 Sign in the window at Chick-fil-A, asking that people be polite to the employees in the restaurant.
---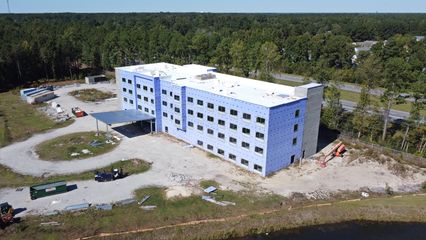 A brand new Holiday Inn Express being built behind the mall.
---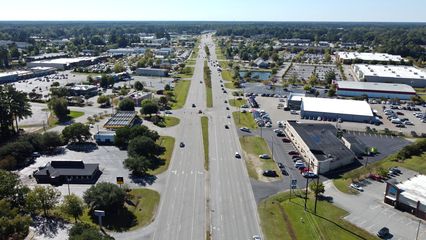 US 17 Business in New Bern.  US 17 was a rare case of a familiar route number in North Carolina, as 17 runs through the southwestern part of the DC area as well.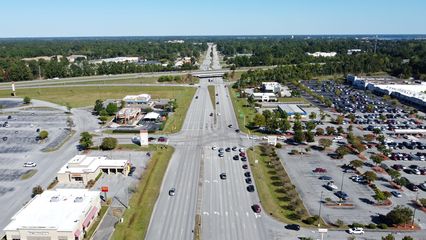 ---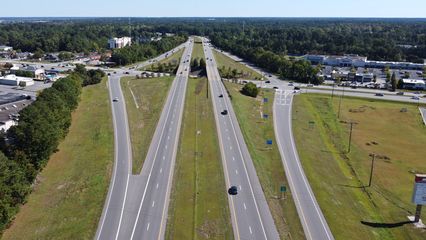 US 70 at the interchange with US 17 Business.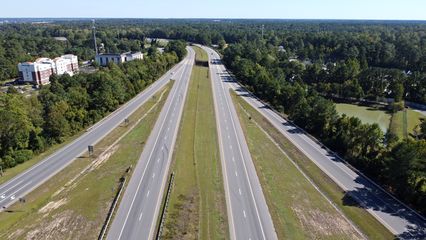 ---
After this, we started to head down towards downtown New Bern.  I wanted to see what downtown had, and we both wanted to visit the Birthplace of Pepsi-Cola.  On the way, though, Elyse spotted a tobacco store that she wanted to visit (she doesn't smoke or anything, but she finds it interesting), while I photographed some highway shields nearby.  We also made a second stop in order for me to drone an AT&T Long Lines tower near downtown.
---
Junction sign assembly for North Carolina 55, a little bit up MLK Boulevard from the mall.
---
The next sign assembly, pointing the way to westbound 55.
---
The AT&T Long Lines tower.
---
Arriving downtown, we found parking, and walked over to the Birthplace of Pepsi-Cola.  It was interesting, but not something that you would spend all day doing.  Rather, it was mostly a gift shop with a small area containing various Pepsi memorabilia.  But it worked, and we enjoyed the place.
---
Pepsi-Cola light fixtures.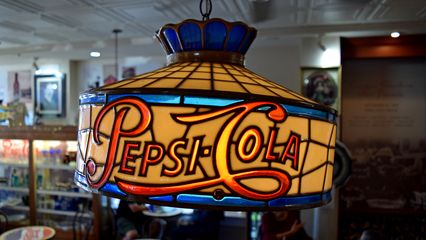 ---
Two pieces of Pepsi memorabilia at the Birthplace of Pepsi-Cola.  Considering how much Coca-Cola plays up Santa Claus and all, it was amusing to see Santa portrayed as a Pepsi drinker for a change.
---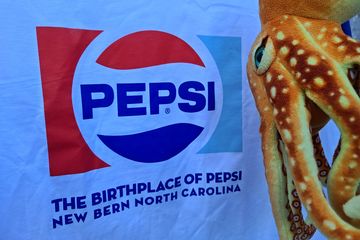 A shirt that we bought at the Birthplace of Pepsi-Cola.  Woomy inspected it, and, unsurprisingly, he took issue with it.
---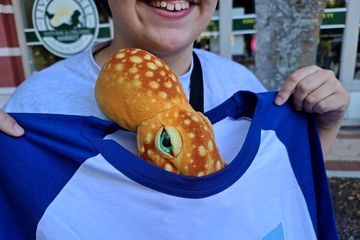 Woomy tries on the shirt, which was a bit big on him.  I suppose that's why he didn't like it.
---
While we were at the Pepsi place, we met up with Anthony Vick, a friend of ours who used to live in the DC area, but had since moved to the New Bern area.  It was a considerably shorter visit with him than I was expecting, but we had a good time together.  Hopefully we'll see him again soon.
After we parted company, Elyse and I headed over to Smithfield's Chicken 'N Bar-B-Q, located near the mall, where I got some Carolina-style barbecue for lunch.  That really hit the spot.  So good.
---
A barbecue sandwich (minus the bun, which I set aside) and a carton of milk.  So good.
---
Finishing up with lunch, we stopped at a couple of nearby hotels so that Elyse could film elevators and toilets.  We then headed back over to downtown, where I took the drone for a flight around the mouth of the Trent River.
---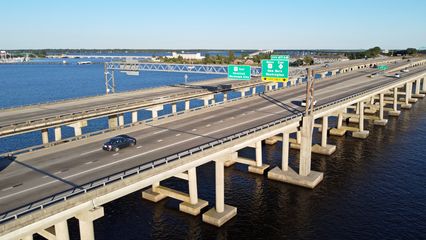 US 17/US 70 bridge over the Trent River.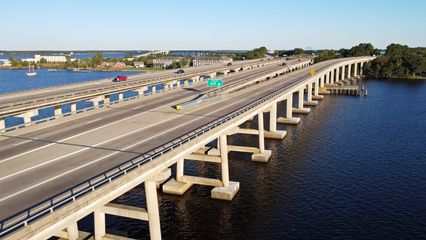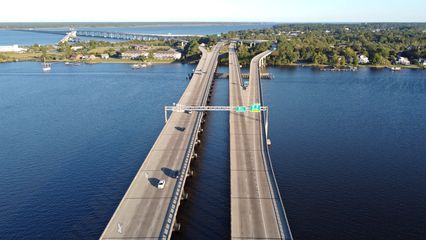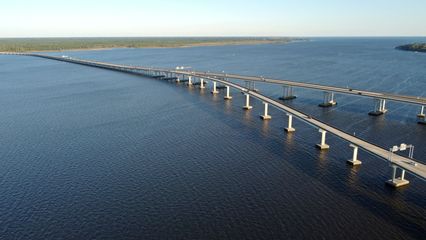 ---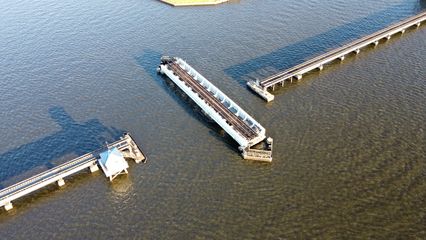 Swing bridge carrying a Norfolk Southern track across the Trent River.
---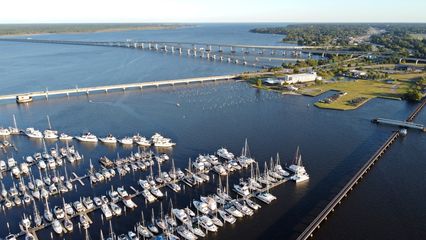 The mouth of the Trent River, where it flows into the Neuse River.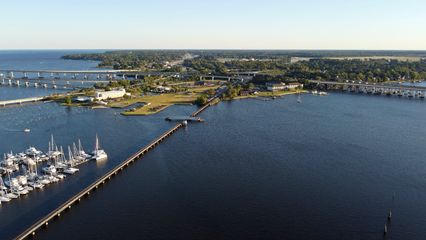 ---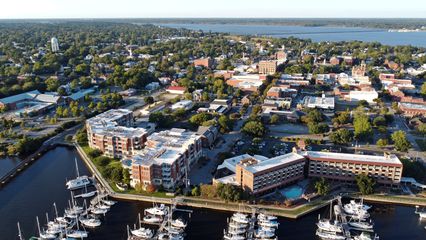 Downtown New Bern, as viewed from above the Trent River.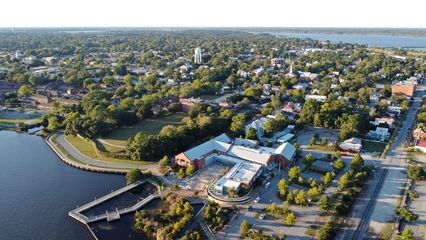 ---
After this, I packed up the drone and we headed over the Front Street bridge, where we found ourselves at the Bridgepointe Hotel and Marina.  This was a little independent hotel, where Elyse wanted to do the elevator.  I initially came along for the ride, but then Elyse kicked me out of the elevator and deleted the initial footage with me in it.  Apparently, I was cramping her style.
---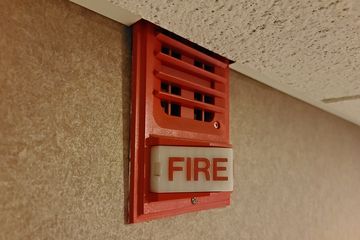 Fire alarm horn/strobe at the Bridgepointe.  It was mounted just a little higher than the drop ceiling, and so a hole was cut to accommodate it.
---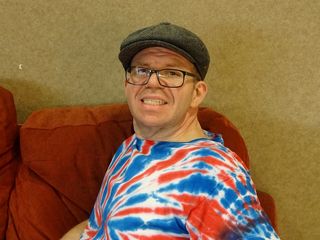 Me on the couch at the Bridgepointe, after waiting patiently for Elyse.
---
At this point, I figured that our trip to New Bern was mostly complete.  We were running out of daylight, and I had considered the day seized.  We found our way to a nearby Food Lion store, where we took a look at the various regional brands that they don't carry at grocery stores near us.
---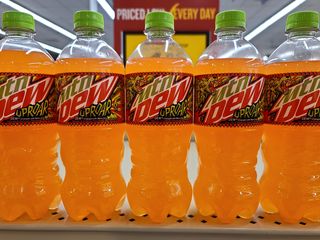 Mountain Dew Uproar, a Food Lion exclusive that isn't sold in the DC area.  For some reason, the soda bottlers in the DC area only sell the basics, and so we get almost no niche brands, and very few variations on the big brands.
---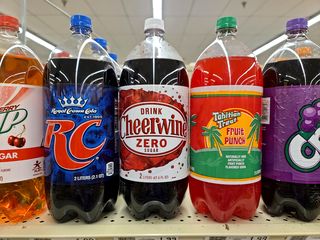 RC Cola, Cheerwine Zero Sugar, and Tahitian Treat fruit punch.  I've seen RC before, though it's uncommon, but I've never seen a diet version of Cheerwine, nor have I ever seen Tahitian Treat before.
---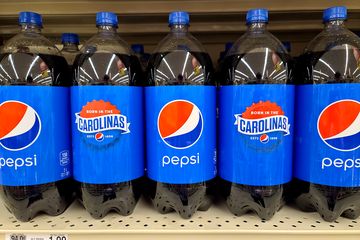 Pepsi bottles, with "Born in the Carolinas" labeling.
---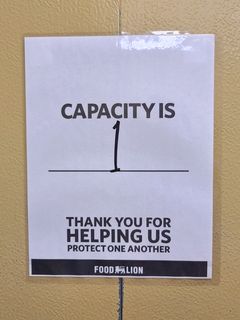 Social-distancing sign for the restroom.  I found this somewhat redundant, because the restroom was single occupancy to begin with.
---
From here, the intent was to return back to our hotel in Goldsboro and call it a night, but that was not to be the case just yet.  As we were going down Route 70, we spotted a carnival at a nearby exit, and so we stopped over there to take a look.  I had the tripod with me, and I saw it as a good opportunity to get some night shots on something that I don't normally get to do.  So we parked the car, and went in for a look.  Admission into the carnival was free, and then all of the rides were ticket-based.  I found some nice out-of-the-way spots to get some photos, and generally had a good time with it, while Elyse wandered around.
---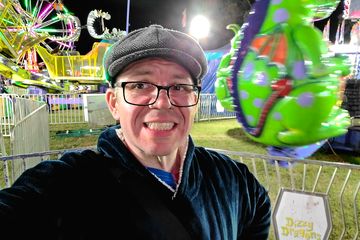 Carnival selfie.
---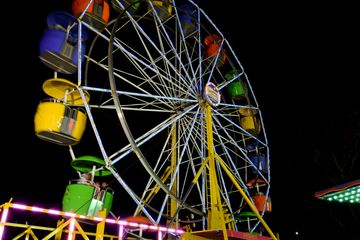 Ferris wheel.  This wheel lit up in all kinds of color combinations, brought out by some longer exposure times.
---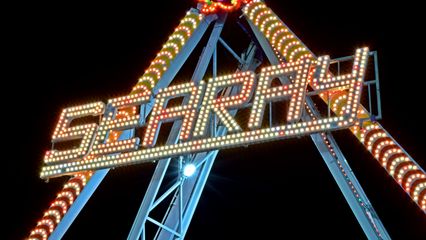 Lighting on the "Searay" ride.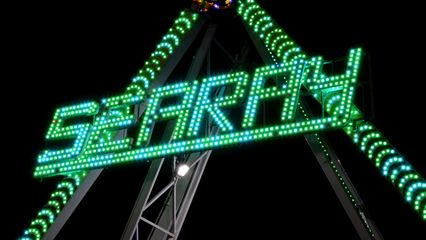 ---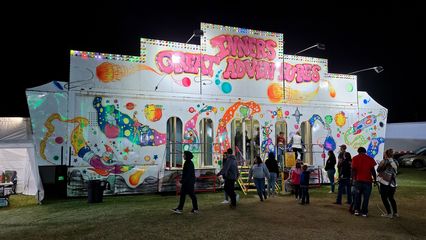 "Inners Great Adventures", which contains some artwork lifted from the SpongeBob SquarePants episode "Sandy's Rocket".
---
Height limit sign on a children's funhouse attraction, specifying the allowable height range.  Adults were prohibited, as were kids that weren't tall enough.
---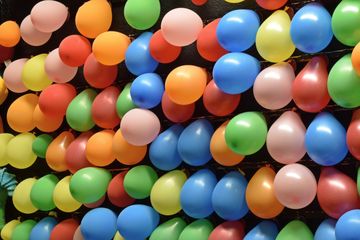 Balloon pop game.
---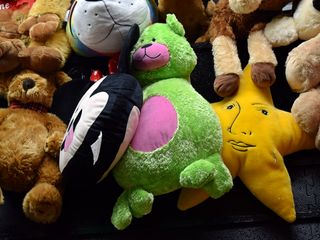 For what it's worth, we have no idea what this green and pink bear-like thing is on the balloon pop game.  Your guess is as good as mine, I suppose.  Elyse, meanwhile, commented that the star next to it resembled Nicholas Cage.
---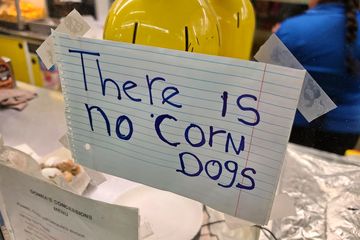 Sign in the window of a food vendor: "There is no corn dogs".
---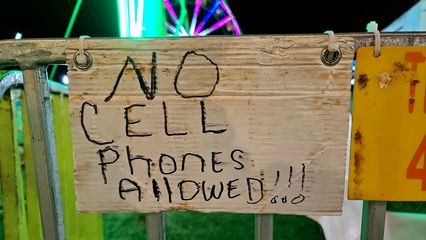 Handwritten sign disallowing cell phones on one of the rides.
---
Finishing up at the carnival, we made our way back towards Goldsboro.  On the way, we stopped at the Walmart Supercenter in Kinston, where I picked up some proper Carolina-style barbecue sauce.
---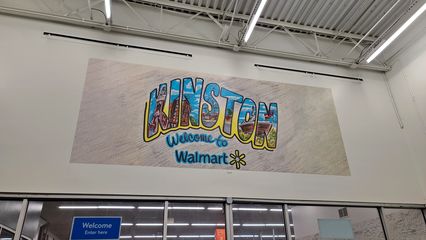 Special "Kinston" sign in the entrance to Walmart.
---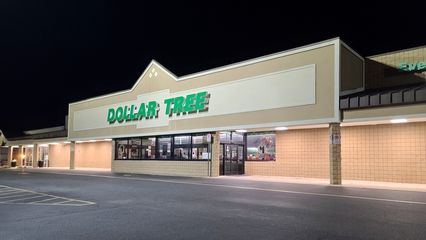 A former Food Lion turned Dollar Tree store in the same shopping center as the Walmart.
---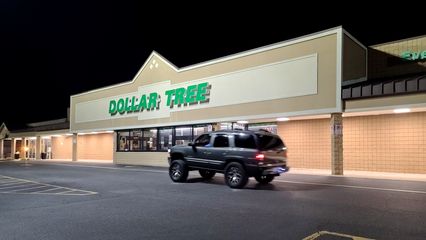 While I was photographing the Dollar Tree, I spotted an SUV modified in the "Carolina squat" position going by.  I find this modification to be pretty ridiculous, and it will be illegal as of December 1.
---
As we got back to Goldsboro, we stopped in at the Handy Mart store at the intersection of US 70 and NC 111, where Elyse got some boiled peanuts.  We then headed back to our hotel.  All in all, we did pretty well in New Bern, and that area, along with Kinston, seems like a good candidate for further exploration on a future trip down this way.
Part 3