North Carolina and Hampton Roads
Part 7
October 21 was the final day of our trip, and we were heading home.  I got up, showered, got dressed, got mostly packed up, and headed down for breakfast.  Elyse wanted to sleep a little longer, so I went to breakfast alone, where, no doubt, the breakfast attendant would try to micromanage over safety theater once again.  Today, I expected would be a little different, since I was not in a group this time, and so I wondered if I was going to get extra attention from the attendant because I was alone.  I also felt like I had nothing to lose, because I was leaving on this particular day, and based on my experience there, I most likely would not be back.  The attendant this morning was again the older woman, so she was a known quantity.  I went in, and started serving myself.  She told me to put on gloves.  I responded, "We're not doing that."  She then told me that I needed to go to the front desk and get a mask.  "We're not doing that, either."  She then threatened to shut down the breakfast service.  I ignored her, thinking, suit yourself, I suppose, because in any case, I was holding the plate containing my breakfast in my hand, and so she wouldn't be able to affect my ability to get the breakfast that I was paying for.  Rather, she would only inconvenience other guests.  Unsurprisingly, she didn't press the point beyond this, nor did she actually close down the breakfast service.  I suspect that she knew that she had no recourse.
In any case, this whole breakfast drama over the past three mornings was completely unnecessary.  My stance on it is that if you feel that it is so much of a safety risk to serve breakfast that people need PPE in the form of gloves and masks in order to do it, then don't offer the service at all, or provide an alternative instead.  For example, if it's that much of a risk to have people serve themselves and share serving utensils (don't want the spoons to catch the Ronies, after all), then offer a prepackaged grab-and-go breakfast.  If you're going to provide the full serve-yourself breakfast service, then offer it 100% normally and leave the safety theater out of it.  And if corporate is requiring that you run the full breakfast service, that doesn't mean that you should load it down with safety theater to make yourself feel better.  Take the hint that it's probably perfectly safe to offer it normally and do so.  All that these attempts by the franchisee to micromanage their guests in the furtherance of safety theater did was piss people off, and it ensured that I would never be back, because I was paying way too much money to stay there and be treated in that way.  I could deal with the dated decor and the weird location of the hotel, but if the folks in Newport News had been as pleasant as the folks in Goldsboro had been, and let their paying guests just do their thing without throwing safety theater in their face at every turn, then my experience at the Hampton Inn Newport News-Yorktown probably would have been enjoyable.  Here's a tip: when people are paying hundreds of dollars to stay somewhere, let them be.
Heading up to the room, I made sure that Elyse was up and moving, and started bringing things down to the car, including a few folks who live in the sea.
---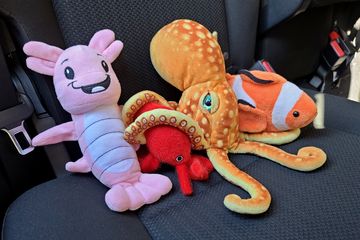 Louie, Hugh, Woomy, and David are in their seat and ready to go for a ride.  Woomy is holding onto Hugh, similar to what he did the year before.
---
Once I got everything in the car, I did a sweep to make sure that we hadn't missed anything, and I got my photos of the room.
---
Room 506 at the Hampton Inn in Newport News.  This room came off as dated – nowhere near as modern as the Hampton Inn in Goldsboro.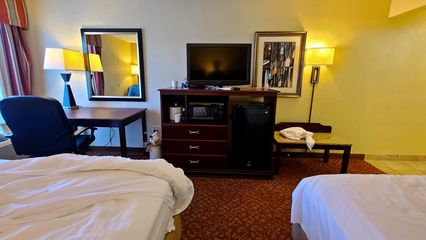 ---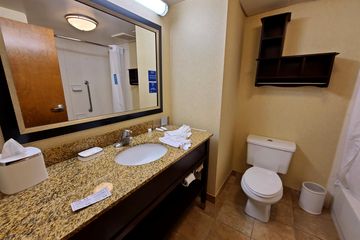 The bathroom.
---
Elyse paid particular attention to the toilet in our room, which was a pressure-assisted model.  It may look like a regular household toilet on the outside, but the inside is different, using a combination of water and pressurized air to ensure a complete flush.
---
From there, we went down and checked out of the hotel.  And as far as I was concerned, good riddance to them.
Our next stop was less than a mile away.  There was a little office park in the neighborhood across Victory Boulevard from the hotel, and so Elyse went in to film an elevator.  We then went to a nearby shopping center, where we visited Wild Birds Unlimited.  After dealing with the rude people at the hotel, I appreciated how nice the folks were at Wild Birds Unlimited.  After checking out the store, we spent some time sitting in the rocking chairs out on their side patio, just looking at the trees for a bit.
From there, we traveled to the Hampton Roads Harley-Davidson dealership so that Elyse could get her poker chip.
---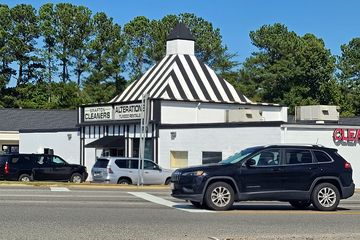 On the way over there, we spotted this building at the corner of US 17 and Wolf Trap Road that was built to house a KFC, and which now houses a dry cleaning business.  I especially appreciated that it still had stripes on the roof, much like KFC did when it still occupied these buildings, albeit in black vs. red.
---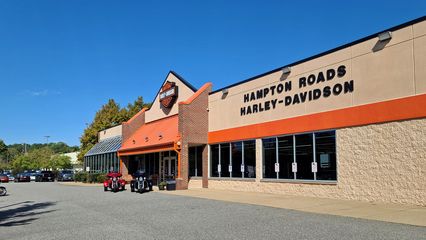 Hampton Roads Harley-Davidson.
---
At the Harley dealership, Elyse checked the place out, got her poker chip, and inquired about getting a tube of touch-up paint in a color that she liked called "deadwood green", which is kind of like an olive drab color.  They didn't have it in stock.
Our next destination was Williamsburg, where we wanted to swing through in order to update some photos from the year before.  On the way, we spotted a siren on the grounds of a school, and we stopped so that Elyse could get a photo from across the street.  We then continued on, mostly taking State Route 143 to Williamsburg.
As we were arriving in Williamsburg, we spotted Shoofly Dairy Bar, a little ice cream and snow cone stand on the side of the road, so we stopped by.  As is usually the case with these kinds of places, we got a snow cone, and picked from one of the sugar free flavors.  In this case, we chose a blue flavor in a size to share.  We both enjoyed it thoroughly.
---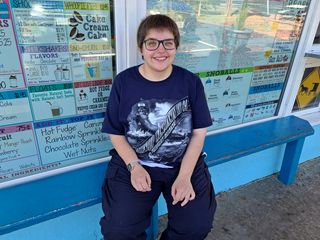 Elyse is all smiles on the bench in front of Shoofly just before we ordered.
---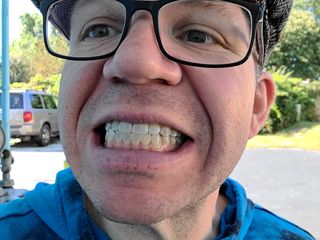 Selfie in order to inspect the slightly blue tinge on my teeth after consuming this sugar-free delight.  After all, half of the fun of these things is having a blue mouth afterwards, right?
---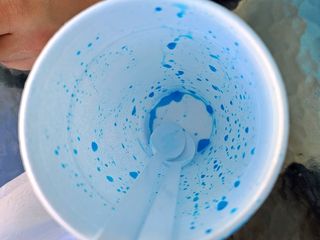 The remains of our snow cone after we were finished with it.
---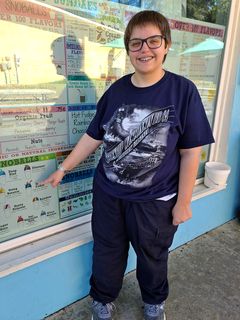 Elyse points out the gummy worm in the "Gone Fishin'" snow cone.
---
After leaving Shoofly, we headed into Williamsburg.  We first dipped into the Williamsburg Transportation Center, which is somewhere that we visited on our 2020 trip in order to photograph buses, but this time, we hit them at a bad time when all of the buses were out and would not be back for a while.  So we skipped it and continued on.  Our next stop was Whitley's Peanut Factory, which was a little store that mostly sold peanuts, clearly aimed at the tourist market.  Elyse enjoyed the little stuffed peanuts and other critters that they had for sale in the store.
---
Elyse investigates some stuffed peanuts that we found at Whitley's.
---
Next up was one of my stops.  When we arrived in Williamsburg on our 2020 trip, we photographed the former Kmart in Williamsburg, which had closed permanently in January 2019.  Now, the former Kmart had been leased by Ollie's, and had been built out for that purpose, and was in the process of being set up ahead of a November 10 opening.  I took the opportunity to update my photos of the outside, with the new Ollie's signage replacing the Kmart sign.
---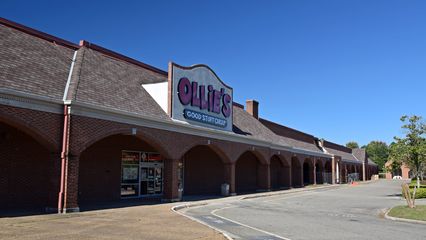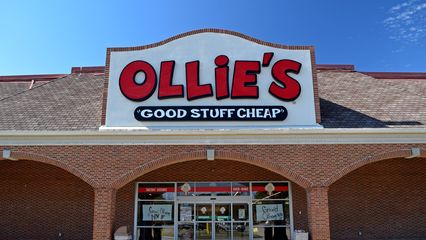 ---
We then took US 60 out to Lightfoot, and stopped in at the Lightfoot Marketplace shopping center.  There, I planned to fly my drone up to another AT&T Long Lines tower, and it was also a good time for lunch.  So I dropped Elyse off at the Harris Teeter, and I went to the back of the lot to park.  In looking for a place to launch, I quickly located some benches in an open area in the center of the property.  I launched, and I flew around and photographed not only the Long Lines tower, but a few other things nearby.
---
(I guess you could say that I really had a field day with the Long Lines tower…)
---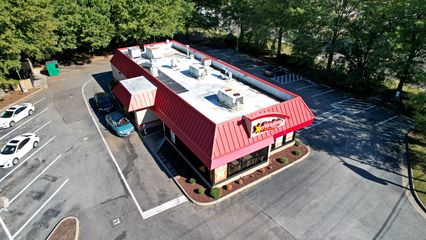 Hardee's restaurant across the street from Lightfoot Marketplace.
---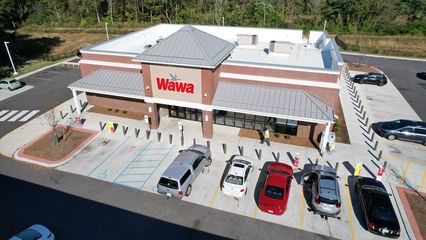 Wawa store next to the Hardee's.
---
Aerials of the Lightfoot Marketplace shopping center.
---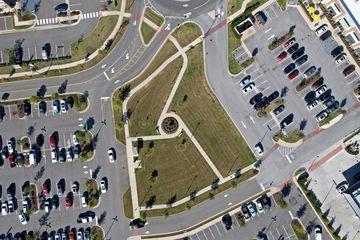 Grassy area in the middle of the shopping center.  I am sitting on the bench around that circular formation, flying the drone.
---
Finishing up the flight, I put the drone away, and moved the car to a better parking space and went into Harris Teeter.  I quickly found Elyse, and then went in search of lunch for myself.
---
The salad bar is back, in all of its glory.
---
You do not know how happy I was to see the salad bar back in its full, pre-pandemic form.  After having weight loss surgery at the end of 2019, I can't put food away like I used to, and most packaged portions provide too much food, which, in situations like this where I can't get leftovers into refrigeration in a reasonable amount of time, leads to wasted food.  With the by-the-pound option, I can get exactly what I want in the quantity that I want, and I tend to do pretty well that way with no wasted food.
When we finished up in Lightfoot, that marked the end of our time in Hampton Roads.  We found our way to I-64 via the Croaker/Norge interchange, and it was off to Richmond.  There, we were looking for a VCU parking garage with a siren mounted on it, with the intention of flying the drone up to it and getting some nice, detailed photos.  We ended up going to a different garage than intended, mostly due to a bit of confusion with the directions, but we still managed to do everything that we wanted, finding an equivalent siren on a building near the parking garage that we did go to.
This was my first time flying the new drone in a busy area.  It's also where I take my obligation not to overfly people or vehicles very seriously – especially so in light of the accident with the old drone earlier in the week, where the Mavic Mini threw a propeller blade mid-flight and fell nearly 400 feet to the ground.  I'm not about to risk the possibility of accidentally beaning someone with a drone – especially one that is larger and heavier than the old one.  Therefore, to do what I needed to do and get where I needed to go, I needed to plan my flight carefully.  Getting up in the air was easy enough, since we were on top of a parking garage, but then to get across West Broad Street, I had to act like a pedestrian and wait for a break in vehicular and pedestrian traffic before zipping across.  Once I got across West Broad Street, I could fly over buildings to get the rest of the way there.
The first mission was for Elyse, where she flew around and photographed a siren on a nearby building.  After we brought it back from that mission in order to change batteries and memory cards, I took it out and flew around a water tower on another nearby building, and then doubled back for my own photos of the sirens.
---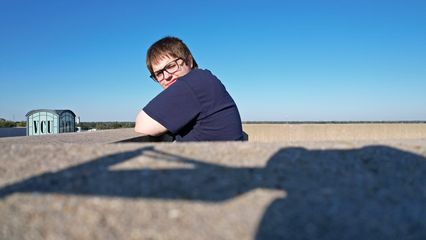 Elyse looks at the drone just before launch.
---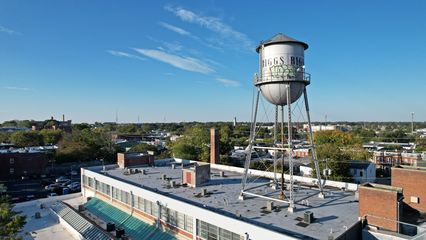 ---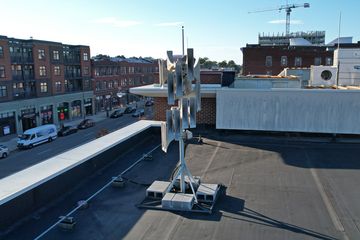 The sirens that we found at VCU.  The siren above is an Alertus High Power Speaker Array, while the siren below is a Federal Signal Eclipse 8.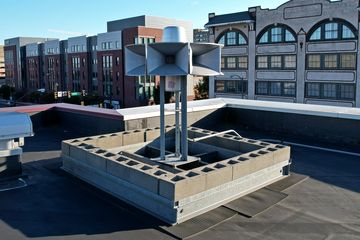 ---
The parking garage was to be our only stop in RIchmond.  We had originally planned more for Richmond, including giving Elyse an opportunity to film some more toilets, but we had to cut those stops due to time considerations, as we spent a lot more time in Williamsburg than I had allotted.  The decision was made easier because we were now back in day-trip territory, i.e. we could come back and do Richmond whenever we wanted without too much hassle.
The next stop was Richmond Harley-Davidson, which is up in Ashland.  There, Elyse got her poker chip, and we checked the place out.  She also priced out the "deadwood green" touch-up paint, but didn't purchase.  All in all, our last Harley-Davidson stop on this trip wasn't a bad place by any means.
We then headed to the Bass Pro Shops in Ashland.  Prior to visiting this location, I had been to the locations in Hanover, Maryland (i.e. Arundel Mills), Harrisburg, and Atlantic City, and I am fairly confident that this is the largest Bass Pro location that I've been to.  I had never been to a Bass Pro location with a bar and restaurant, and this one had that.  It even had a very large fish tank in the middle, visible from just about anywhere in the restaurant.  Elyse got some soup while I had a glass of water, and we sat at the bar, watching the fish swim around.
---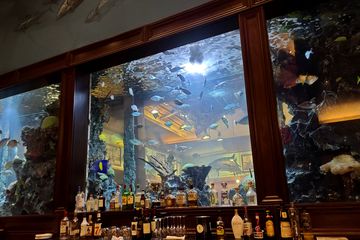 The fish tank in the restaurant at Bass Pro.  We were thoroughly entertained watching the fish swim around.
---
The Bass Pro in Ashland is a two-level facility, and the largest Bass Pro location that I've been to by a wide margin.
---
After we left Bass Pro, we headed up to Fredericksburg, which seemed like a logical stop.  I was feeling Taco Bell, and I knew that the Steak 'n Shake on Route 1 that we went to in 2017 had been converted to a Taco Bell, and was planning to go there.  Unfortunately, as it turned out, that particular Taco Bell had closed, and the building was now vacant.  No worries, though, as there was another Taco Bell just down the road.  I dropped Elyse off at a nearby Publix store, and then had dinner.  Elyse wanted me to get photographs of the toilets while I was in there, so I obliged.
---
The fixtures in the men's restroom at Taco Bell.  Note the bedpan lugs on the commode, designed for use in healthcare settings.
---
When I finished up at Taco Bell, I headed back over to Publix to scoop up Elyse.  She had done a little bit of grocery shopping, and I got a few odds and ends while I was there as well.  When we got back into Northern Virginia, we made a quick one-two stop at the Target in Dumfries as well as a Sheetz in nearby Woodbridge so that Elyse could film some toilets and I could gas up the car.  Finishing there, we ran it nonstop the rest of the way home, arriving around 11:30 PM.
All in all, I'd say that we had a good trip.  We got to explore a lot of new territory, and we got to spend a lot of time with friends, some of whom we'd not seen in quite a while.  I would love to get down to these areas again some time, because there is so much more exploring that I would love to do.
Part 7